The idea of Honeymoon is to spend a few days with your partner in a place that offers privacy, fun and an experience that you like to remember as your firsts. Popularly, honeymooners from India have always wanted to spend these special days abroad, visiting foreign countries, which seem to be more accommodating. However, the scene is changing drastically. Honeymooners of today can find a lot of new destinations within our country that are as good as places abroad, sometimes even better! It's not just about a romantic scene or destination but the popular honeymoon packages of today incorporate activities that are more fun and social. From adventure honeymoon packages to camping honeymoon treks, there's a lot of new avenues and opportunities to explore. Of course, you will also be able to do it in far less price than if you had taken a foreign trip. The experience however is as giving!
Here are 20 such places that are unique in their own terms and can be a great honeymoon destination.
#1 Andaman & Nicobar Islands
A honeymoon vacation in the Andaman Islands is a popular pick among young couples from the country. Full of lush greenery, blue and immaculate beaches, incredible marine life, a happening night life and several luxurious accommodations, Andaman and Nicobar Islands can be bliss. There are several different islands that have become popular among honeymooners in recent years and include Neil Islands, Campbell Bay, Havelock Islands, Port Blair, Little Andaman Islands, Cinque Islands, Barren Islands, Diglipur, Mayabunder, Rangat, Baratang Island and Long Islands. Each offers pristine blue seas and beautiful beaches to relax and enjoy your stay in privacy.

Best Time to visit for Honeymoon – October to May (During Winters & Summer)
#2 Goa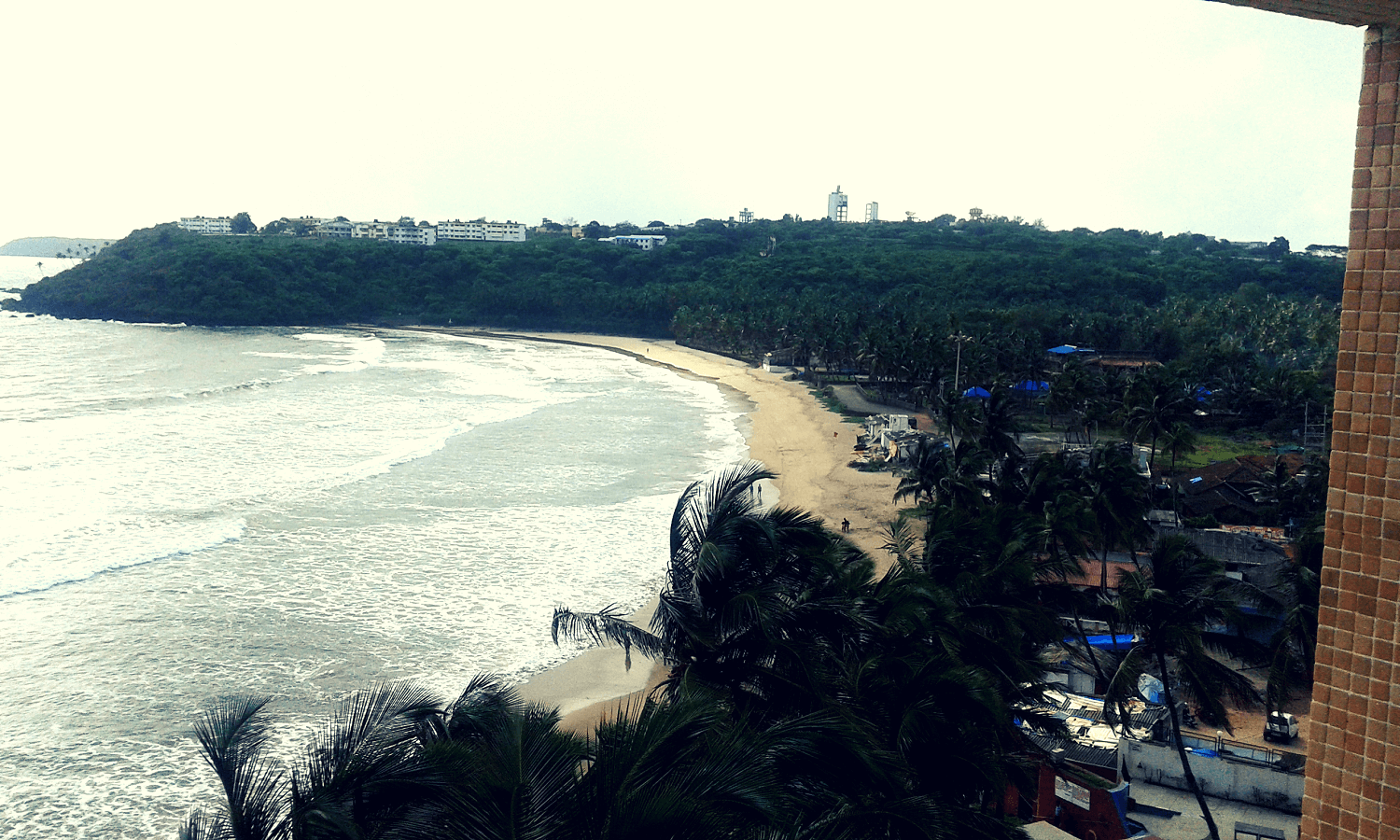 Goa has always been a popular honeymoon destination and also one of the oldest for the country. Honeymooners flock to Goa for its long stretch of beaches, pristine locations, adventure sports and a lot of beach and night activities. Spread across the coast and facing the sea are several honeymoon suites that you can pick from. So whether you are up for a romantic walk on the beach in the evening or a champagne breakfast, it's all there. You might also want to rent a bike and check out the Portuguese Heritage Homes, the lover's point of Dona Paula de Manezes, take a trip to the Salim Ali Bird Sanctuary or just spend some alone time with your partner at unexplored Cola beach! Goa is again perfect during the winters when the sun isn't too harsh on your skin.
Best Time to visit for Honeymoon – October to January (During Winters)
#3 Alleppey
A foremost backwater destination in Kerala, a honeymoon in Alleppey is one of a kind of experience. You can either opt for a lakeside resort or a luxury houseboat that allows you to spend you night in the backwaters; it would be a calm experience, perfect for couples who are looking to be with each other on their most special vacation. Wading through the serene backwaters and just hearing the chimes of nature with your partner in your arms is certainly a beautiful and romantic experience. The backwaters of Alleppey are at their best during the winters.
Best Time to visit for Honeymoon – September to March (You can visit in all seasons as well)

#4 Manali
Another popular destination among honeymoon tourists from India and abroad, Manali offers a well rounded romantic package. Full of beautiful riverine valleys, snowy peaks, magical forests and other unique vistas, the hill station has everything that guarantees a memorable stay. It would be a destination for all kinds of honeymooners, whether you are looking for some peaceful and private escapade or a romantic vacation that is dotted by adventure and fun. Apart from the Monsoons, Manali is perfect all round the year. However, be prepared for some snow fights during the peak winters!
Best Time to visit for Honeymoon – All Seasons (Winter season is best to view snow mountains and do activities)

#5 Munnar
Among the highest and most 'giving' honeymoon destinations in Kerala, Munnar is situated at the heart of the lush green tea estates and offer opportunities that you always looked forward to with your partner. You can choose among romantic garden cottages and plush villas for your stay. Wherever you are in Munnar, the misty mountains, valleys and waterfalls are never far away. A trek in the hills is an experience that you wouldn't want to miss, especially with your partner by your side. It's the charming forest and you two and nothing else in between! The background score is omnipresent, thanks to a variety of birds and wildlife! When you are back from your trek, it will always be amazing to have a candlelight dinner waiting for you. Kerala has so many non-touristy places as well which is unexplored by tourists so on a trip of Kerala- God's own country tourists can enjoy at various places.

Best Time to visit for Honeymoon – During Winters (Climate it cool and comfortable)

#6 Coorg
An all embracing lush and natural environment, Coorg is a place where nature ensures that you have the best of time with your partner and loved one. The destination offers a range of natural settings, shifting from waterfalls to mysterious forest trails. Within a comfortable distance from Bangalore, Coorg is a place dotted by waterfalls, coffee plantations, mountains, flower valleys, lakes, leisure centers, temples and much more.

Best Time to visit for Honeymoon – October to February
#7 Darjeeling
Darjeeling is a magical land of mountains, lakes, waterfalls and people. Its culture and experiences are perfectly suited for honeymoon couples looking to spend their special days in the laps of nature. This is a place where people from across the world rush to have a view of the Himalayas and fall in love with the mountains. Seeing the sunrise and the peak of the Kanchenjunga Hills glow it the golden light is a perfect moment for any couple. Darjeeling is popularly known as the "Queen of the Hills".

Best Time to visit for Honeymoon – September to April

#8 Dalhousie
Nestled in the laps of the Himalayan Valleys, Dalhousie is another magical destination for honeymooners looking to get away from the city and have a perfect vacation of fun and romance. Apart from the beautiful valleys, mountain lakes, waterfalls and forest, Dalhousie is also the stop for adventure tourism and outdoor activities. Walk on a hill trek or paraglide with your partner over the hills – it is certainly a one of a kind of experience.

Best Time to visit for Honeymoon – March to October

#9 Tawang
Located in the evergreen Arunachal Pradesh, Tawang boasts both natural marvels and manmade wonders. A pre-arranged honeymoon tour will let you soak in the experience of orchid gardens, warm valleys, the colorful tribes, ancient monasteries, and romantic evening that you are looking forward to. Due to the recent popularity of honeymoon tourists, you will find several special hotels and holiday resorts catering to the requirement of couples.

Best Time to visit for Honeymoon – June to October

#10 Pahalgam
Jammu and Kashmir has always been and will always remain the first destination when it comes to high mountains and snow covered peaks. Pahalgam in the northern part of Kashmir has attracted honeymooners for several years now for its scenic view, the small town culture, the warm ambiance and the romantic opportunities. It's all fresh and green all around and this is especially perfect if you are a lover of the outdoors. With a variety of rich flora and fauna, Pahalgam is also well connected to other popular destinations like Gulmarg, Srinagar, Kokernag, Jammu and Ladakh.

Best Time to visit for Honeymoon – January to April

#11 Kumarakom
Generally romantic vacation would mean holding hands and long walks in the beach and pampering your partner with candle light dinners, luxurious accommodations and similar things. Well, how about an authentic spiritual experience in a laid back houseboat that drifts on silent waters and wades through mangrove forests! Kumarakom is a place where you can opt such an opportunity. This is also a honeymoon destination where you can book a tree house to spend some really unique and romantic time with your partner. If you think chocolate and flowers are passé to showing your love, this is what you should try!

Best Time to visit for Honeymoon – October to April
#12 Lakshadweep
If you have always loved to get away to the deep blue frontiers, Lakshadweep is a perfect choice. Not being a highly frequented place also makes Lakshadweep a perfect honeymoon vacation for honeymooners looking for a private and romantic getaway. The options for accommodations are many and range from beach houses to expensive sea facing resorts. Apart from being away from the crowd, this is also a place where you can enjoy several water spots, snorkeling, diving and a happening nightlife and culture. Lakshadweep is perfect all round the year but you may want to skip the summers when the sun is too harsh.
Best Time to visit for Honeymoon – All Seasons (Avoid to visit in peak summer season)

#13 Dhanaulti
A destination in Mussoorie, Uttaranchal; Dhanaulti is widely popular for its natural landscape and scenic views of the hills. Located at 2286m, it's a place where you can indulge in moonlight trails, romantic trails, adventure sports and private evenings. Throughout the year, Dhanaulti is frequented by adventure tourists for its opportunity in rock climbing, mountain biking, excursions, and treks. Join the camp barbeques and dance till the end of the night under the starry sky. The best time of the year to visit Dhanaulti is between the months of October and April.
Best Time to visit for Honeymoon – October to July
#14 Shimla
The Himachal landscape has always bewildered the nature tourist and if you are planning your honeymoon, Shimla is one of the top picks for your vacation. It has everything that you would want to incorporate of a romantic vacation – amazing natural views, couple activities, sports, hiking, romantic restaurants and a culture that is exceptionally accommodating. From romantic walks along the intimidating snow covered roads to being adventurous n love over skiing, ice skating or fishing, Shimla offers all. The best time to be at Shimla for winter activities in between the months of November and February.
Best Time to visit for Honeymoon – November to February

#15 Srinagar
Srinagar is a paradise and offers a heavenly feeling all round the year. It's not just because of the natural scenery that abounds and surrounds the city but the innate culture that make Srinagar a amazing place to explore with your partner. Take a Shikara ride on the Dal Lake or just travel around to places in houseboats or spend your evening in the tulip gardens, it will all be an experience that you would save for a lifetime. The best time to visit Srinagar with your partner is between the months of October and April.
Best Time to visit for Honeymoon – April to October

#16 Jaisalmer
If you have been planning for a royal and luxurious experience for your honeymoon, Jaisalmer is perfect. This is a destination that will welcome you will a royal splendor. Choose among the various palace hotels and recline to evenings that are perfect for a romantic start to your married life. The city of forts, palaces and grandeur, you will sure find fun and indulgence in Jaisalmer. Jaisalmer provides you the mesmerizing view of Sunset from the desert. You can also do lots of activities in desert like Jeep Safari, Enjoy later night music shows, Camel riding and many more. For the best experience, visit Jaisalmer between the months of October and February.
Best Time to visit for Honeymoon – October to February

#17 Nainital
The lake city of Nainital is nestled amidst green mountains and is a serene destination for honeymooners. It's a quite little valley with centrally located lakes that brings in tourists from across the globe all round the year. Nainital is hill station surrounded by 9 lakes and this was the main reason behind its name.  If you ever plan for your honemoon to Nainital then don't forget to visit Bhimtal, Navkuchiya tal, Khurpa tal, Sattal, Sukha tal and Navkuchiya tal. You can take a lake tour, view the Himalayan glory, explore the cave gardens, trek to China peak or just watch the sunset in golden glory. Nainital is perfect all round the year.
Best Time to visit for Honeymoon – Throughout the Year

#18 Ooty
Ooty has emerged as a popular honeymoon destination in recent years as several couples are looking for a laid back experience among natural treks. Several nature cottages and home stays ensure that you can be a part of the land and enjoy the hill station at its prime. Ooty is perfect all round the year and monsoons are especially enchanting.
Best Time to visit for Honeymoon – Throughout the Year

#19 Auli
Auli is a perfect winter destination is you want to make snow a part of your romantic experience! Auli also has huge rivers, high mountains, scenic valleys and a variety of opportunities for adventure sports. It's especially suitable for young couples who are outdoor lovers and would want their honeymoon to be a natural escapade. Auli is best visited during the winter months between October and March.
Best Time to visit for Honeymoon – October to March

 #20 Gangtok
Situated above 1600 meters, Gangtok is more than a hill station and is a perfect pick for Honeymooners. While Gangtok lures all kinds of travelers, the beauty of nature and the amazing culture of the place make is a romantic destination par excellence. Several love birds and couples visit Gangtok between February and June for an out of the world experience amidst an unparallel natural ambiance. Well, you may also visit Gangtok during the winters if you are keen of playing in the snow! It would be an excellent opportunity for winter sports with your partner!
Best Time to visit for Honeymoon – Winter Season