I belong to the land of forts and palaces, the land of royalty preserved in its original grandeur – Rajasthan. But that is not the reason why I am coaxing you to choose Udaipur as your next travel destination. Do you know that there are many more intriguing reasons than one to pick this most lake city of India as the next travel spot?
A city soaked in history, culture, and architecture; a land dotted by three mesmerizing lakes, lush green gardens, and majestic forts & palaces; a place that is home to ancient temples; a region with stunning romantic backdrops to come up as one of the amazing wedding as well as honeymoon destinations of India; the region of amazing food delights and folklore – Welcome to the capital city of Mewar – the majestic UDAIPUR named after Maharaja Udai Singh II.
And my travel story this time will take you to visit the best places in Udaipur as well as the best places to visit near Udaipur with family. And you will be surprised to know that all these are very much near the best hotels in Udaipur, so you can rest assured of an easy journey to each one of these.
Best Places to Visit in Udaipur in 2023
1. City Palace, Udaipur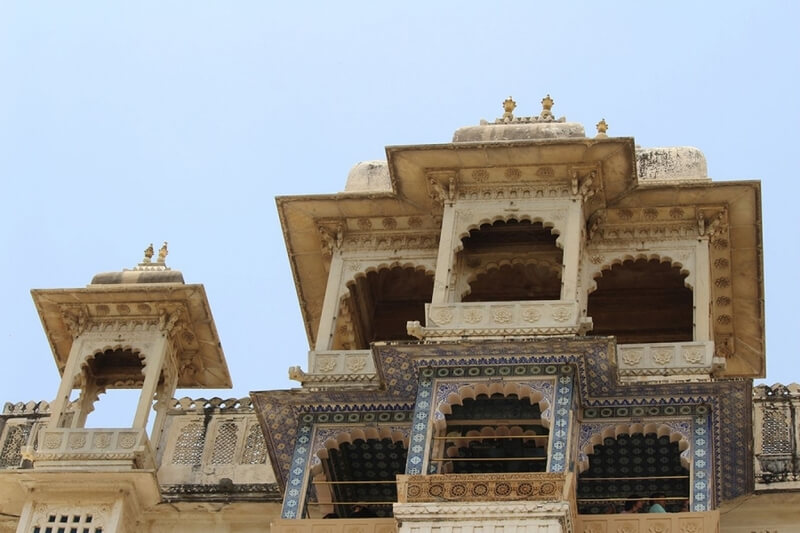 The City palace was crafted in 1559, under Maharana Udai Singh's reign, this majestic beauty looks straight out of fairy tales. Located at the banks of Lake Pichola, the palace boasts of grandeur like no other in Rajasthan – a flamboyant architectural mix of Mughal and Mewar art. A place that leaves you wanting for more, even after the five hours minimal that it will take you to have a 'quick tour of the place!' Mor Chowk is an eye-catching court in City Palace.
Entry Fee: Rs. 250 for Adults
2. Lake Pichola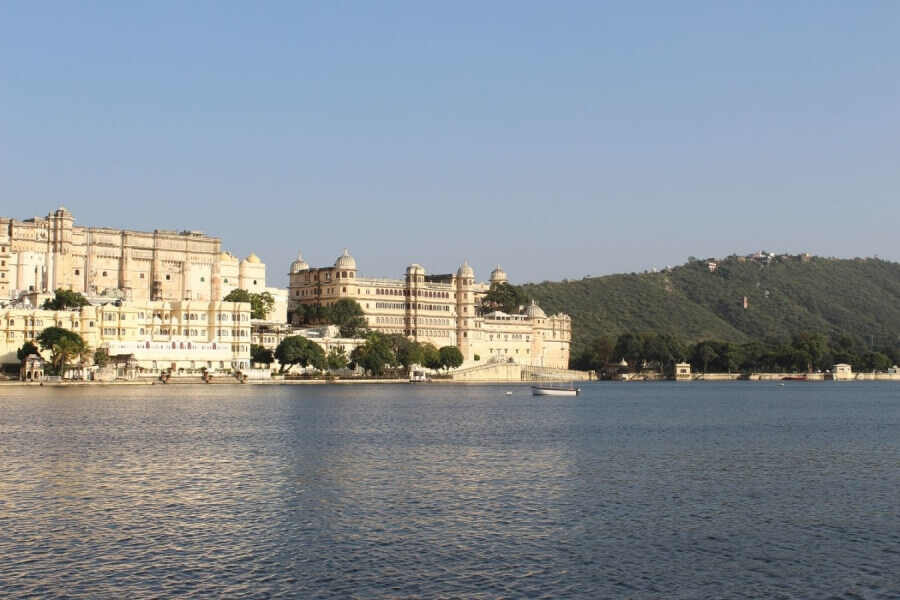 The four-kilometer-long stunning beauty is often compared to Venice in the West. One of the best Udaipur tourist places to soak in the natural beauty – do you know that it and other lakes are the results of the far-sightedness of the Maharanas? Yes, each lake including Lake Pichola is a man-made lake dugout as a water reservoir in the arid city of Rajasthan. And today lakhs visit the banks and even go for boat cruises to soak in its peaceful aura to enjoy the Sunrises and Sunsets. And also to enjoy the lake destinations – Jag Mandir and Jag Niwas, which are world-famous wedding destinations now.
3. Jag Mandir Palace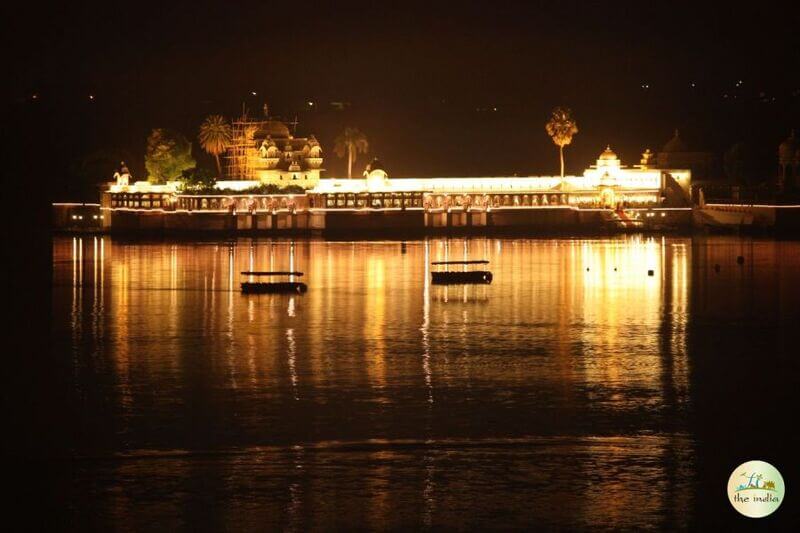 Right from James Bond Movies to various celebrity weddings, this small yet stunning palace is located at an estuarian island in Lake Pichola – the Jag Mandir palace can be reached via pre-booking through a boat from the Bansi Ghat Jetty. Highlights of this three-story facade, are stunningly crafted umpteen elephant statues, 12 solid marble pillars of the Bara Patharon ka Mahal and the Gul Mahal which once upon a time had walls decorated with rubies.
4. Fateh Sagar Lake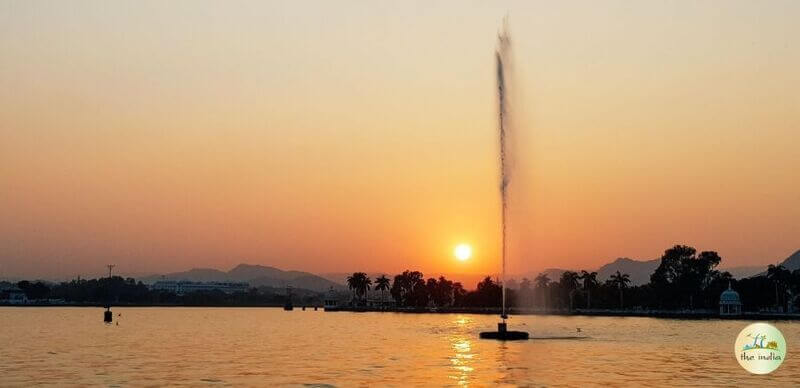 Yet another jewel in the crown of Udaipur – its second-largest man-made lake which finds its beauty in its surroundings – the majestic Aravalli Hills. Its sunset is a sight to behold – simply serene. And a lot of adventure sports are held in and around this one. An evening walk or cycling around the lake and some amazing street Rajasthani food at the local stalls will be a memory that you will cherish forever.
5. Jaisamand Lake
The second-largest man-made lake, which sprawls across more than one hundred square kilometers, always leaves me in gratitude – thinking of the humongous effort the workers would have put in. What makes this lake stand apart from the other two is the Jaisamand Wildlife Sanctuary – a trek down which leaves you with an experience like no other. Endangered species of flora and fauna, the mesmerizing backdrop of the summer palaces of the Queens of Udaipur, and lush green surroundings – would you have imagined all these in Rajasthan?
6. Sajjangarh Palace (Monsoon Palace)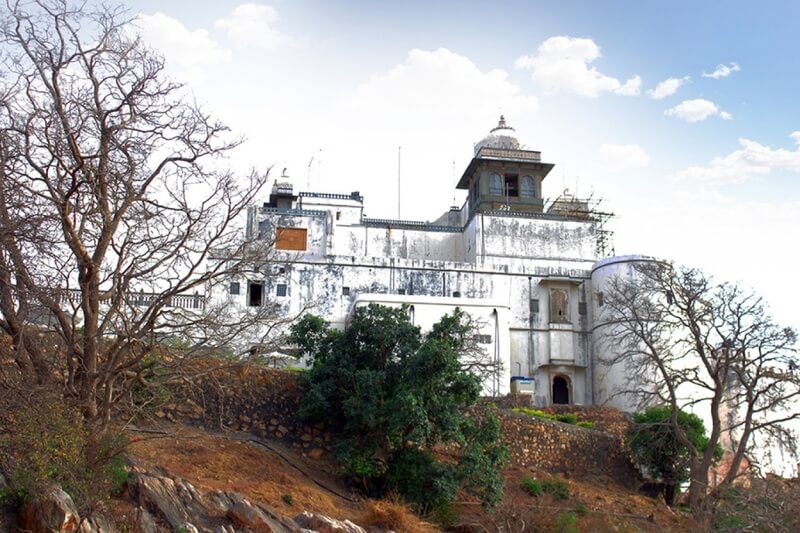 Thankfully I visited Udaipur close to the Monsoons to actually understand why Sajjangarh Palace was the Monsoon Palace of the Maharanas. Perched at the highest point in Udaipur, it gives a stunning view of the three lakes and the majestic city that Udaipur is. And in the Monsoons when the greenery is at its best, the city's beauty is a sight to behold. Tiger Lake and the simple palace are just an add-on. But, you will have to rent a private vehicle for a day to visit this palace.
7. Jagdish Temple
The 400-year-old temple takes pride in being one of the most majestic works in Udaipur. This temple is dedicated to Lord Vishnu. With its Ornately crafted sculptures and very intricately carved pillars, the Jagdish temple opens its heart to anyone and everyone who seeks peace and solace in an undivided faith. An absolutely stunning marvel of ancient Indo-Aryan style!
8. Jagat Niwas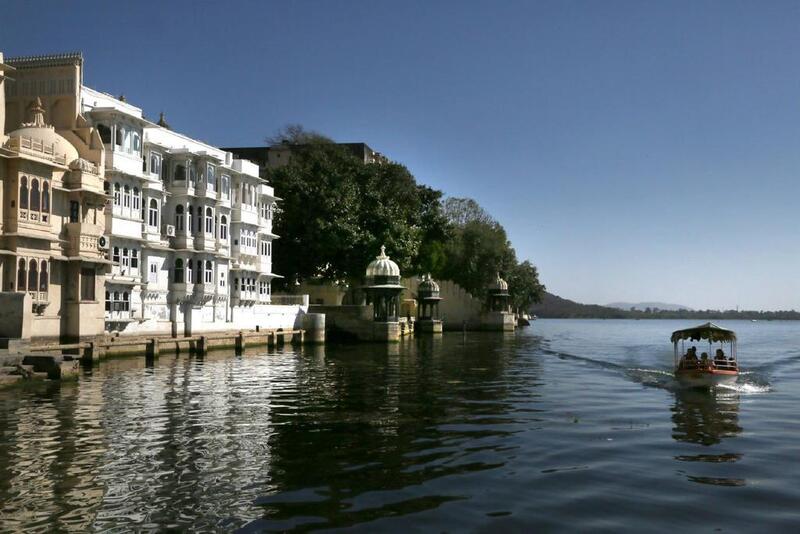 An early 17th-century mansion, Jagat Niwas, has now been converted into a luxurious heritage boutique hotel. Situated in the heart of the city of Udaipur, on the eastern banks of Lake Pichola, Jagat Niwas is surrounded by ancient mansions, temples, and lakes. The place offers picturesque scenic beauty. All the rooms are opulent and palatial, enriched with beautiful vintage decor. The suites and lake-view rooms in this hotel give a beautiful view of Lake Pichola and the majestic Aravalli Hills. Jagat Niwas has two wonderful dining areas, named Chandni and Jharoka, where you can enjoy delicious Indian, Continental, Chinese, and traditional Rajasthani dishes. The place also has an in-house bakery. People staying here can enjoy boat rides, private dinners on Jagat Sagar, live music, and live puppet shows.
Room Tariff: There are Standard rooms, Haveli rooms, Heritage rooms, Jagat Suite, and Presidential Suite. The price starts from INR 4750.
9. Jawahar Nagar
Jawahar Nagar is a locality in Udaipur. Here one of the most popular tourist activities is riding a cable car. While riding the cable car, you can enjoy mesmerizing views of the lake and mountain. The cable car in Jawahar Nagar takes you to Shri Manshapurna Karni Mata temple, situated above the Machla Magra Hills. After reaching this temple, you can have a bird-eye view of the entire Udaipur city. So, next time you visit Udaipur, don't forget to add Jawahar Nagar to your travel list.
Temple timing: From 4 am to 7:30 pm.
Ropeway fees: INR 87 for Indian adults and INR 43 for children below the height of 110 centimeters.
10. Ghats in Udaipur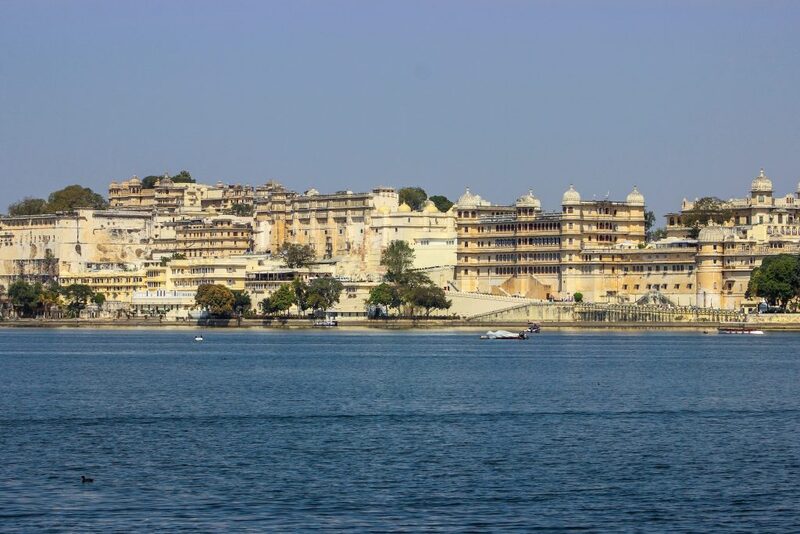 If you are looking for a unique and beautiful destination to visit, the Ghats of Udaipur should be at the top of your list. The four ghats you should visit on your next trip to Udaipur are –Gangaur Ghat, Ambrai Ghat, Laal Ghat, and Nav Ghat. These ghats are extremely peaceful and some of the best places to visit in Udaipur within 100 km at night. Spending ample time here can really bust your stress. All these ghats are connected to Lake Pichola. So, don't miss the chance to take a boat ride on Lake Pichola, where you can see the ghats from a different perspective. Exploring the ghats is a must-do activity during any trip to Udaipur. It will leave you with unforgettable memories and photos.
Best time to visit the ghats in Udaipur: The evening time, just before sunset, is the best time to enjoy the sunset and then see the aarti.
11. Vintage Car Museum
The name is enough to pull you to this vast and stunning collection owned by Arvind Singh Mewar. Right from a 1924 Rolls Royce to a Vauxhall-12 to even antique rickshaws that ran on solar power, this Car Museum is actually an automobile museum of the best and the most unique. This place can be reached easily within 20 minutes from any of the best hotels in Udaipur.
12. Saheliyon Ki Bari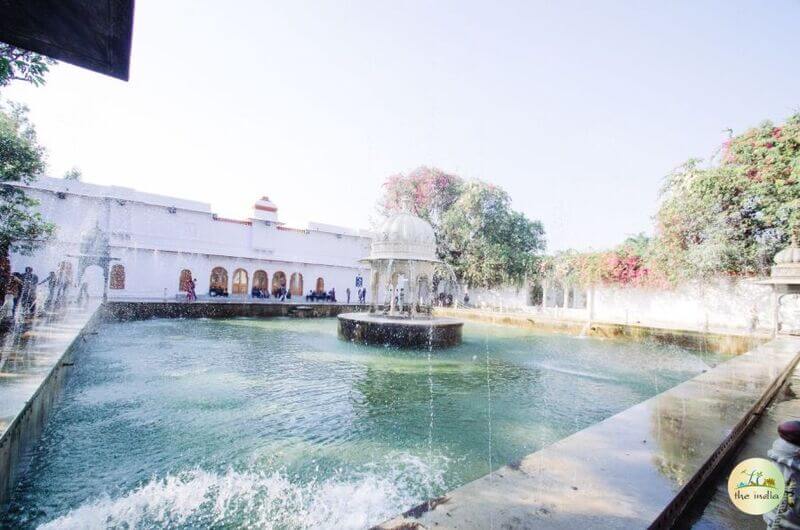 Saheliyon Ki Bari, Built in the memory of his 48 maidens, Maharana Sangram ensured that this architectural marvel had everything that a woman would love to enjoy. So right from a lush-green garden to rain fountains dancing to the tunes of Rajasthani music; from a huge Lotus pool that actually looks like a standalone Lotus Garden to various small stages and rooms for fun, frolic, dance, and music, this place is a must-visit destination in Udaipur.
13. Gulab Bagh & Zoo
View this post on Instagram
It is one of the largest bio-reserves in India which was set up by Maharana Fateh Singh in 1887. The Gulab Bagh derives its name from the more than 200 varieties of roses that are grown here. Kamal Talai here has some stunning varieties of Lotus. And the zoo once upon a time also had a White Tiger, gifted to the then Maharana by a foreign dignitary. Lately, a toy train has been added to its various fascinations.
14. Ambrai Ghat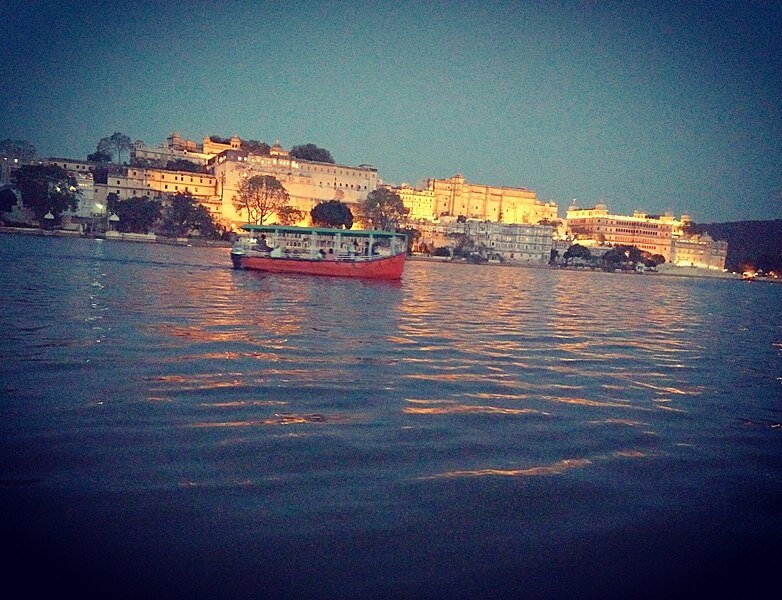 Also known as the Majhi Ghat by the locals, this is the best place to enjoy sunsets in the city. And also enjoy lakeside Puja Aartis which takes place at sunset hours throughout the year. The city lights that come up right after the Aartis end are a spectacular view.
15. Hathi Pol Bazar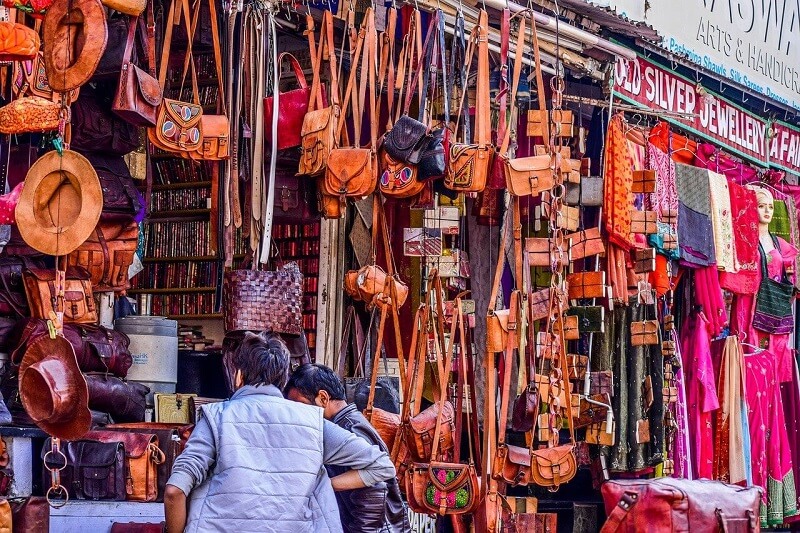 The best place to have all kinds of souvenirs to buy and take back home! Right from Rajasthani attires in block-printing or Bandhani Prints; from jewelry to various home decors; from tasty Rajasthani snacks to homemade pickles – the Hathi Pol Bazaar is a shopaholic's delight.
16. Mansapurna KarniMata Ropeway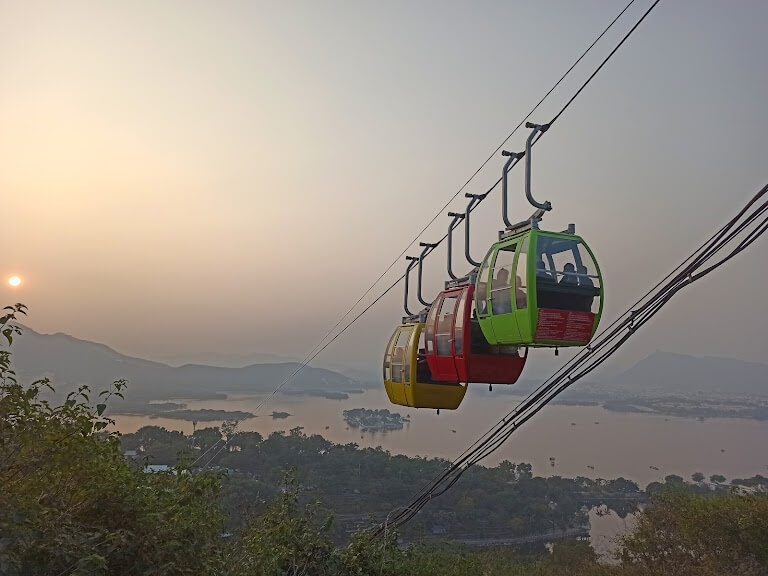 This is a 3-km ride through a ropeway that connects the route of Sri Karni Mata Temple situated at Machhala Hill Top and Deendayal Upadhyay Park in Udaipur. One of the best tourist places in Udaipur, the ropeway is a ride amid the lush green Aravallis which gives a stunning view of the city, the lakes, and the grandeur.
17. Maharana Pratap Smarak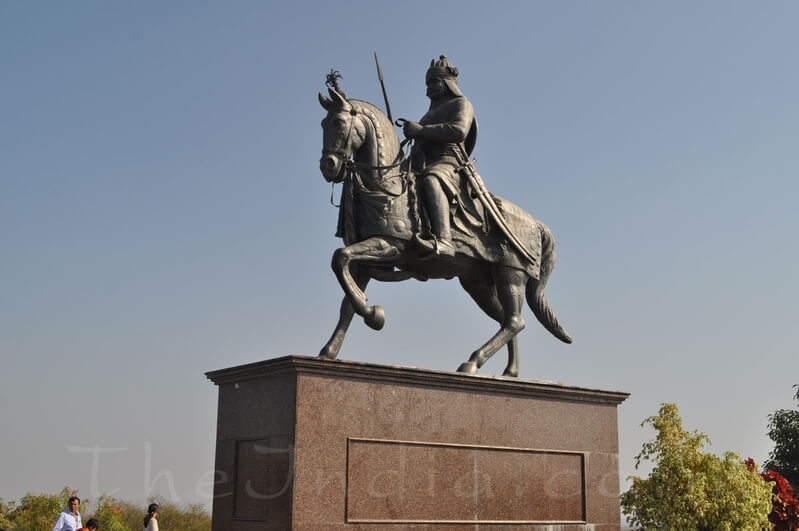 Overlooking the majestic Fateh Sagar Lake, the Maharana Pratap Smarak is a nostalgic place. The beyond-life-size bronze statue of Maharana Pratap riding his horse Chetak, its stunning silence, speaks volumes of the living sacrifice the great warrior Rajput King did for his motherland. For us Rajasthanis, it is not a tourist destination, but a place of deep homage.
18. Sukhadia Circle Fountain
View this post on Instagram
Named after one of the CM's of Rajasthan – Sri Mohanlal Sukhadia – the 21-foot high fountain in the heart of the city is a sight to behold at night. A lighted fountain with its drop dancing to music – it is one of the oldest musical fountains of modern India. Another attraction here is best street food in Udaipur. Fingerlicious food at the backdrop of a musical fountain makes it one of the best and most unexplored places near Udaipur. In fact, each night I spent in Udaipur, I would end up being here to call it a musical night.
Best Places to Visit Near Udaipur
No, that's not the end of the Udaipur Trip Story. Now let me take you to the 10 Best Places to Visit Near Udaipur.
1. Ranakpur
A quaint little town sandwiched between Udaipur and Jodhpur, Ranakpur is famous for being a Jain Temple site, the most prominent ones being Parasnath Temple and the Adinatha Temple. And for the revelers, a thrilling jeep safari at Ranakpur Wildlife Sanctuary is the best idea after a spiritual sojourn.
2. Nathdwara
View this post on Instagram
Situated at the banks of the Banas River, 48 kilometers away from Udaipur, Nathdwara is famous for its temples dedicated to Lord Krishna. But Nath Dwara or the Gate to The God's homes more than it meets the eye. It is renowned as the abode of Lord Krishna's current idol since the 17th century when the idol was brought here to protect it from Mughal ruler Aurangzeb who was then plundering temples across the North. So it was brought here to be safe under the valor of Rajputana Swords!
3. Lake Badi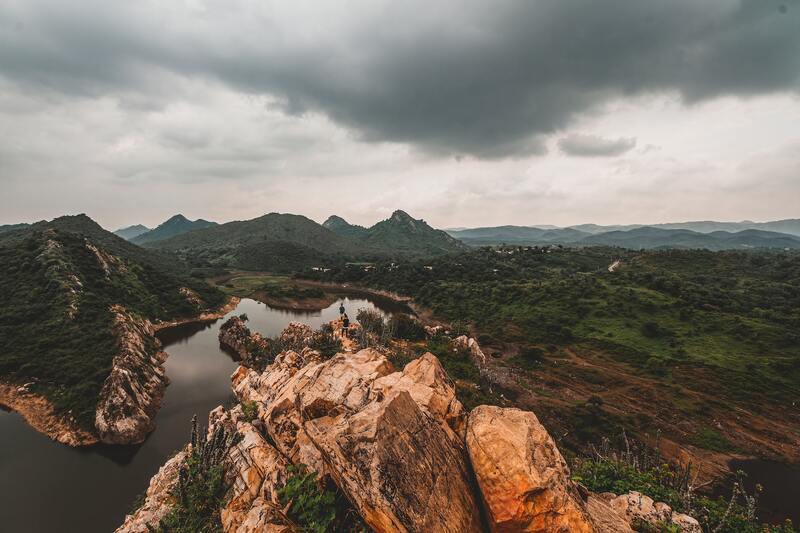 Also called the Badi Talab meaning the Big Pond was constructed in the second half of the 17th century to diminish the devastating effects of a famine. In 1973 again, during a severe drought, Lake Badi supplied water to Udaipur which is just 12km away from it. What makes it among the best places to visit near Udaipur is its serenity, which is devoid of any commercial activity near it, and stunning Aravallis protecting its 155 square kilometers vast expanse.
4. Aravalli Ranges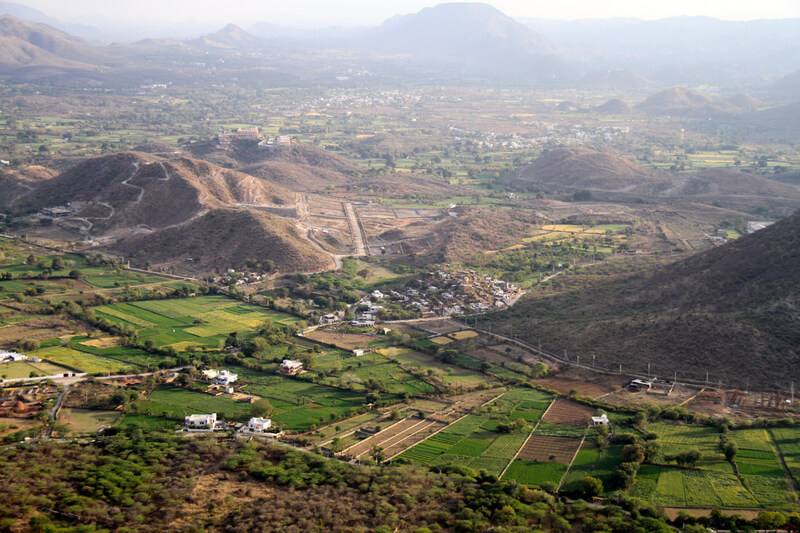 The name Aravalli originated from Hindi literature, meaning "line of peaks". The role of this mountain range in beautifying Udaipur city is significant. The city lies upon the south slope of Aravalli range in Rajasthan. When you visit the lakes in Udaipur, especially Fateh Sagar Lake, you can have spectacular views of the Aravalli ranges in the surrounding area.
Needless to say, Aravalli ranges not just elevate the captivating scenic beauty of the city of lakes, but also play an important role in the city's climate changes.
5. Haldighati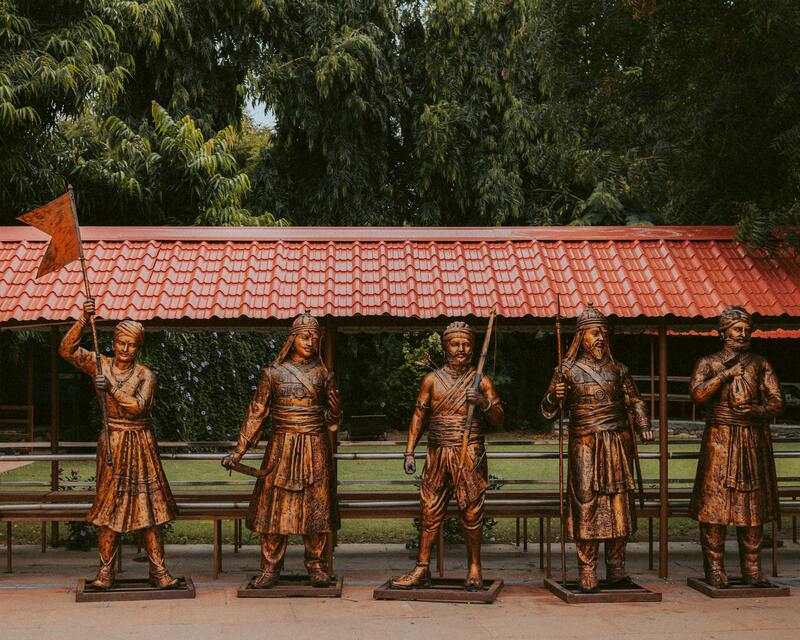 To reach Kumbhalgarh, you need to cross Haldighati at the 40 km milestone of Udaipur towards the east. The place gets its name from the bloodshed that led to the color of HALDI (or deep Turmeric) to its soil after the great Battle of Haldi Ghati was fought here between Maharana Pratap and Mughal emperor Akbar. Earlier, it used to be a vast sandy valley between the Aravllis. Now it is just a long passageway to your next destination – Kumbhalgarh.
6. Kumbhalgarh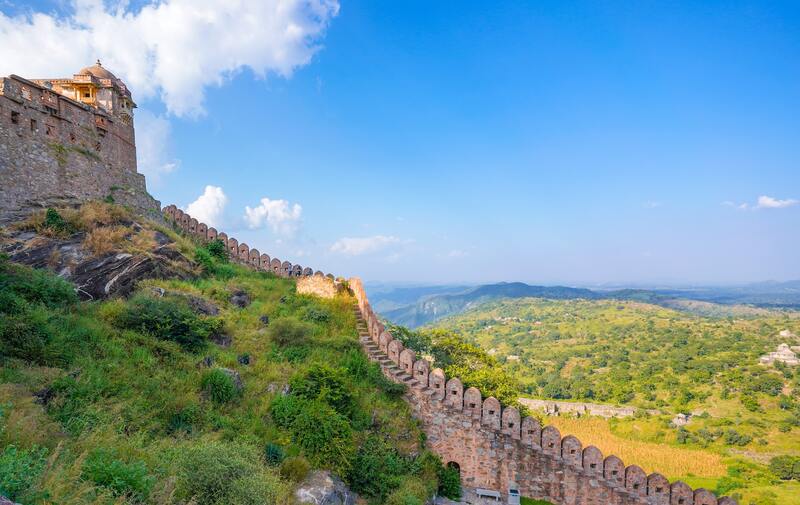 A UNESCO WORLD HERITAGE site, the Kumbhalgarh Fort was named after Rana Kumbha in the 15th Century. The birthplace of his son Maharana Pratap, this fortress is an amalgamation of various faiths and their architecture that comes alive as Badal Mahal, Kumbha Palace, stunning Jain Temples, the Chhatris, the Baoris or water reservoirs, etc. But the most amazing site of the fort is its wall facade which is often compared to the great wall of China.
7. Chittorgarh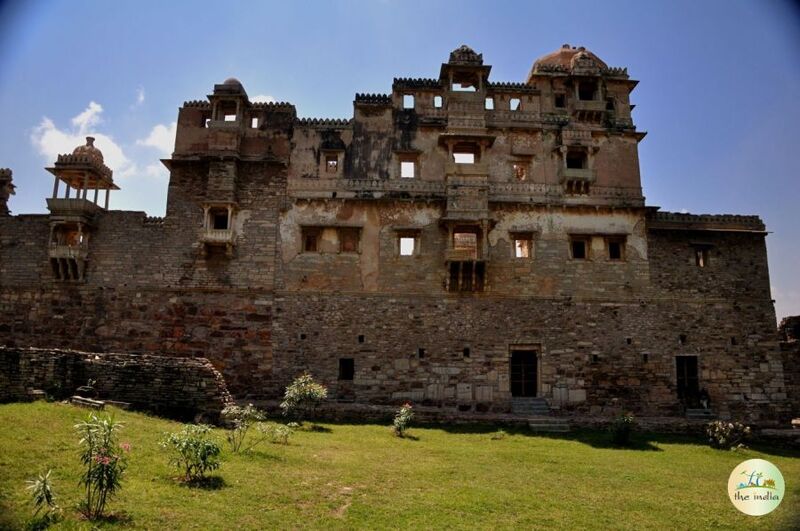 Located just 115km away from Udaipur, the Chittorgarh Fort is one of the largest forts in India. Know for its seven watchtowers, mainly 'Kirti Stambh', and 'Vijay Stambh', the Chittorgarh comes alive as the finest Rajput architecture in Rajasthan. The other highlights here are the splendid Fateh Prakash Palace, the majestic Rana Kumbha Palace. And lastly, the Rani Padmini's Palace – that needs no introduction post the legendary Bollywood film Padmavat recreated the history of the Rajputana women and their supreme sacrifice.
8. Taragarh Fort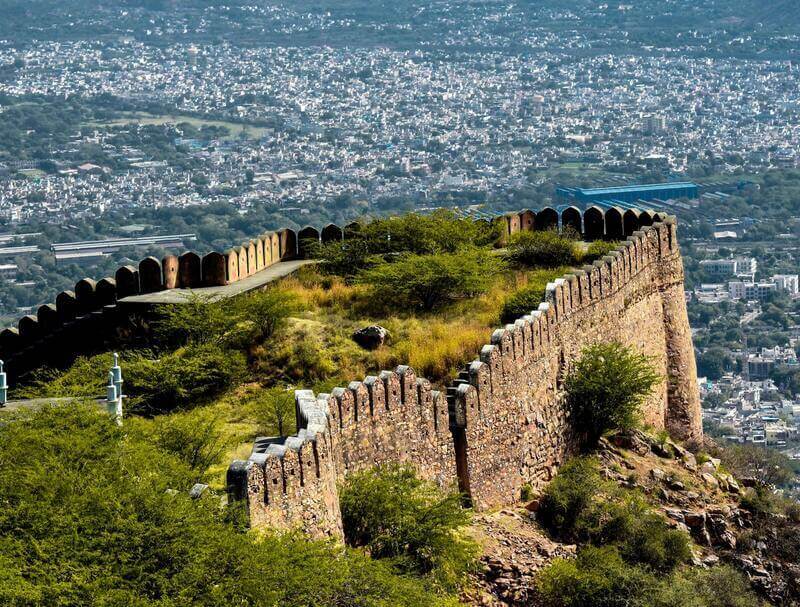 Located some 250-plus kilometers away Taragarh Fort in Bundi is a hidden gem near Ajmer. The 1534 AD stunning architecture and its mystic yet majestic aura; perched atop a hillock of the Aravallis, makes it one of the best tourist places in Rajasthan.
9. Mount Abu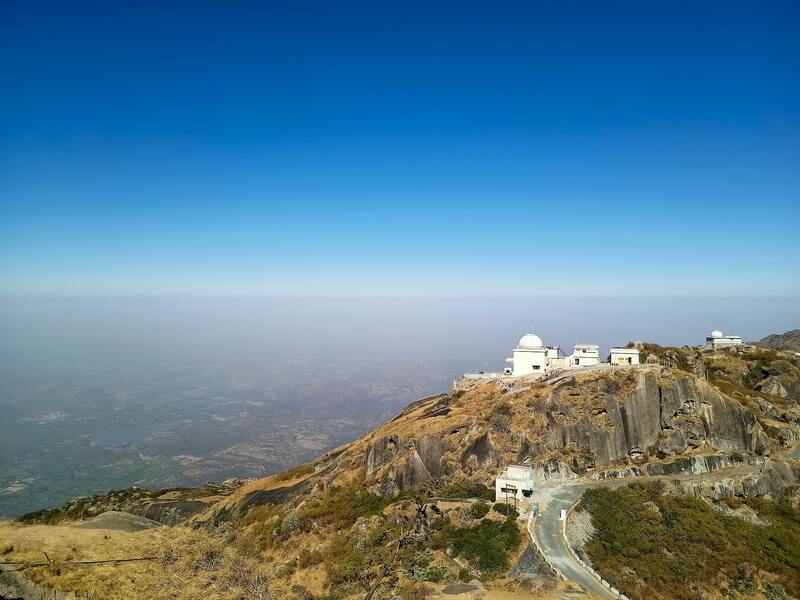 The hill queen of Rajasthan, the topmost point in Rajasthan or the only hill station of Rajasthan, this place is visitable any time of the year. It is famous for its umpteen temples, various Yoga Ashrams, the Nakki Lake, GuruShikhar Temple, and the Observatory (to visit which you would need prior government permission). Located just 163 km from Udaipur, you can reach this place via a private taxi or even the train.
10. Om Banna Temple
View this post on Instagram
Also, known as the Bullet Baba Temple is famous for its supernatural history. The legend has this Om Banna or Bridegroom Om Singh Rathore met with a fatal accident at this place, which is 11km from Udaipur. His motorbike that was found here, was attempted several times to be removed from here, but mysteriously it always came back to this spot all the time. And since then, this site of supernatural significance keeps attracting young and old alike, especially by those who buy new vehicles in and around Udaipur. And come for blessings of Om Banna.
11. Umaid Bhawan Palace
It is actually one of the largest, Royal yet private residences in the world. Though it is still the home to the Royal Family of Jodhpur, yet most of its area is open to tourists. One part of the Heritage Hotel where you can actually stay and boast off that you stayed in a real palace! And the remaining part of the palace is the stunning museum in this majestic mansion, which showcases the history of the royal family of Jodhpur since its inception. It also houses vintage automobiles of the royal family.
So what are you waiting for? Pack your bags for Udaipur. Because the best time to visit Udaipur is from September to March. But for those who are game enough to have fun even in summer, then even July to August isn't a bad idea either. Just avoid April to June when the temperatures reach up to 45 degrees Celcius these days!
FAQs on Udaipur Tourist Places:
Which is the nearest hill station from Udaipur?
Mount Abu, which is situated in the Aravalli Range in the Indian state of Rajasthan, is the closest hill station to Udaipur. From Udaipur, Mount Abu is roughly 160 km away and can be reached by car in 3–4 hours.
Which is the beautiful village near Udaipur?
Ranakpur is a beautiful village near Udaipur in Rajasthan's Pali district. Ranakpur is roughly 90 km from Udaipur and is famous for its beautiful Jain temples.
Which month is best for Udaipur?
The best time to visit Udaipur is between October and March when the weather is cool and pleasant.