Patna is one of the oldest cities in the world that offers some of the best weekend gateways for locals to enjoy their time with family and friends. A few little-known gems of Patna are the hill stations with verdant green pastures and a soothing climate away from the scorching heat of the city. Let's explore the amazing tourist places to visit near Patna city, this list could help you if you are looking to spend quality time over the weekend.
Best Tourist Places to Visit Near Patna in 2023
There are various amazing places near Patna, but we have shortlisted some of the best for you. Each one of them offers exciting sightseeing options.
1. Nalanda: A World Heritage Site
A well-deserved UNESCO world heritage site stands as a proud edifice of the glorious past. It's a popular tourist destination in Bihar attracting a large number of Indian and overseas visitors every year.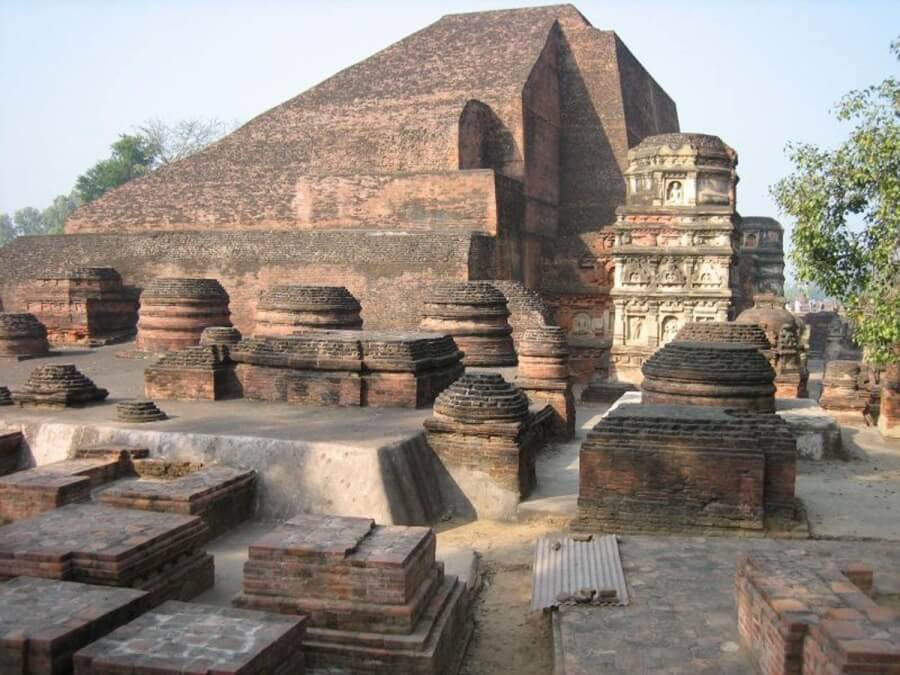 Distance from Patna – 62 Km
Best time to visit – October to March
Some of the Best Places to Visit in Nalanda
Nalanda University Archaeological Complex spread over 14 hectares is the excavated site of an ancient university. The red brick building hemmed by gardens is a major tourist attraction.
Hiuen Tsang Memorial Hall dedicated to Chinese scholars is a reminder of the architectural style of Nalanda University. Multiple writings of Tsang are preserved here.
Kundalpur; the place believed to be the birthplace of Lord Mahavira and Gautam Swamiji.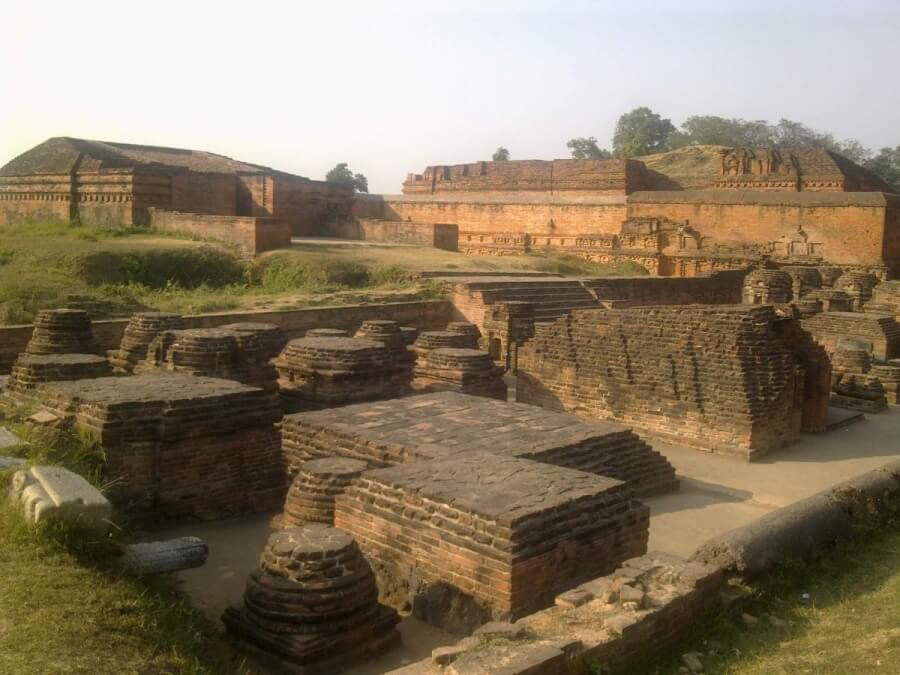 Nalanda Archaeological Museum offers a glance into the culture of ancient Nalanda.
Surya Mandir Nalanda is dedicated to the Sun god, Buddhist, and Hindu deities. The main attraction of this place is a five feet high idol of Goddess Parvati.
2. Muzaffarpur: Litchi Capital of India
A significant educational and commercial center. It is also known as "the Lychee Capital of India". Various temples, historical places, and monuments are major tourist attractions.
Distance from Patna – 73 Km.
Best time to visit – October to December
The Best Places to See in Muzaffarpur
Litchi Gardens will provide you with complete festive vibes during cultivation. Get the taste of garden-fresh Lychees here.
Gareeb Sthan Mandir resides in the heart of the city. The temple being the home to the Shivaling is crowded during the holy month of Shravan.
Jubba Sahni Park named after the freedom fighter Jubba Sahni as its tribute is a children's park. It is located in the Mithanpura area.
Khudiram Bose Memorial is a tribute to an 18-year-old freedom fighter. Tourists here are fascinated by the story of a young fighter who was martyred with a smile on his face.
Ram Chandra Shahi Museum holds exhibits of ancient utensils, artifacts, and intricate statues like Ashtadikpal and Manasa Nag which is a unique attraction for visitors.
Motijheel, the main market of this area incorporates all kinds of things in the market, from shoes, clothes, jewelry, books, home products, and street food at reasonable prices.
3. Bodhgaya: One of the Most Religious Places to Visit near Patna
One of the oldest and most enchanting cities in the world is a popular tourist spot as well as a sacred site for people of the Hindu religion. The place is no less than a historical tale giving a feel of time traveled back to the 19th century. People usually visit here to attain salvation but apart from this, being located by the River Lilanjan the surrounding view is quite pretty.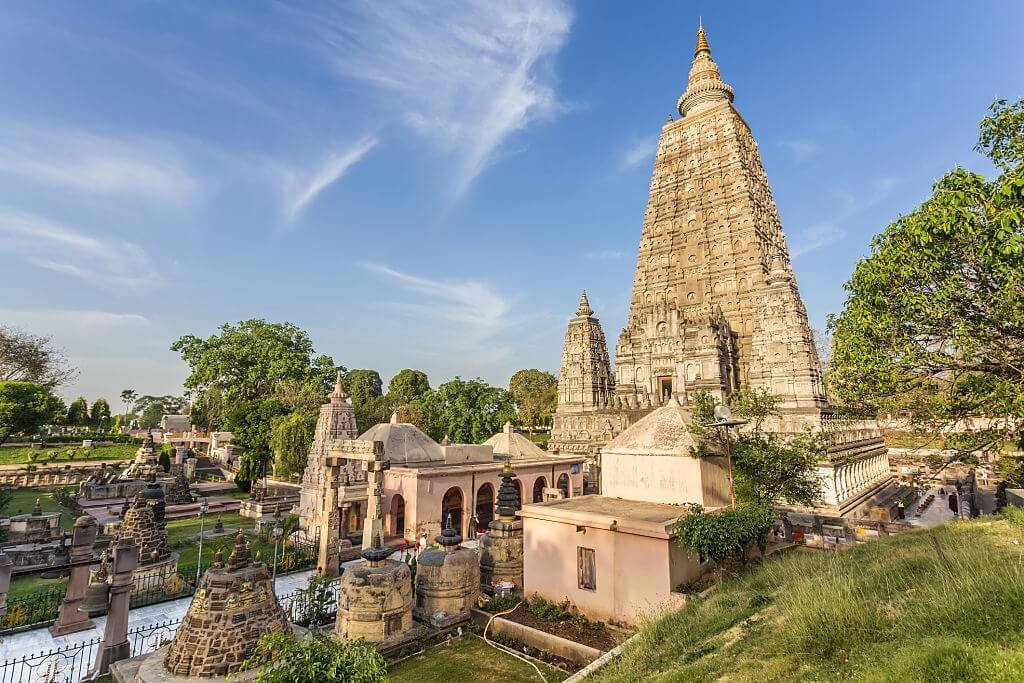 Distance from Patna – 94 Km.
Best time to visit – November to February
Some Must-Visit Places in Gaya
Vishnupad Temple located by the bank of river Falgu has a 40cm footprint of Lord Vishnu inside the temple. The temple also has idols of different gods and goddesses.
Mahabodhi Temple is the place where Sidharth Gautam attained enlightenment under the blissful shade of the Mahabodhi tree and became Gautam Buddha. It is believed after being enlightened, Buddha spent several weeks meditating across the places near the tree where the temple was later built. In 2002, UNESCO declared the place a world heritage site.
The Great Buddha Statue was consecrated in 1989 near Mahabodhi temple. This magnificent statue is around 25 m tall and carved from sandstone and red granite.
Barabar Caves is a distinctive place for history lovers. These are the oldest rock-cut caves in the world which were found between 322 to 185 BC.
Chinese Temple and Monastery have a statue of Lord Buddha which is over 200 years old. While exploring India many Chinese scholars took shelter here.
Archeological Museum is just 500 meters away from Mahabodhi Temple. Here you can find various ancient articles, scriptures, artifacts, and educational aids that are connected with Buddhist and Brahmanical beliefs.
Bodhi Tree is an immensely renowned and sacred tree as Lord Buddha attained enlightenment under it. The place is located close to Mahabodhi Temple.
4. Darbhanga
The city located in Mithilanchal, Bihar is well known for music, folk art, monuments, and religious places. Maldah variety of delicious mangoes also belongs to this place.
Distance from Patna – 127 Km
Best time to visit – October to March
The Best Tourist Attractions in Darbhanga
Shyama Kali temple a place of absolute holiness buzzes with a lot of activities and festivity in December for the annual Shyama Mai Festival. Lush greenery with a wide expanse will give you a soulful experience with positive energy.
Ahilya Asthan has its significance from the time of Ramayana. Ramnavmi is celebrated enthusiastically here.
Chandradhari Museum embraces rare artifacts made of glass, ivory, wood, metal, and clay along with coins of different ages and library facilities.
Kusheshwar Asthan Bird sanctuary is a perfect spot for wildlife lovers. Villages here remain waterlogged most of the time making it a winter capital for 15 endangered species of migratory birds.
5. Pawapuri
This place gained its fame from the fact that Lord Mahavira was cremated here in 500 BC.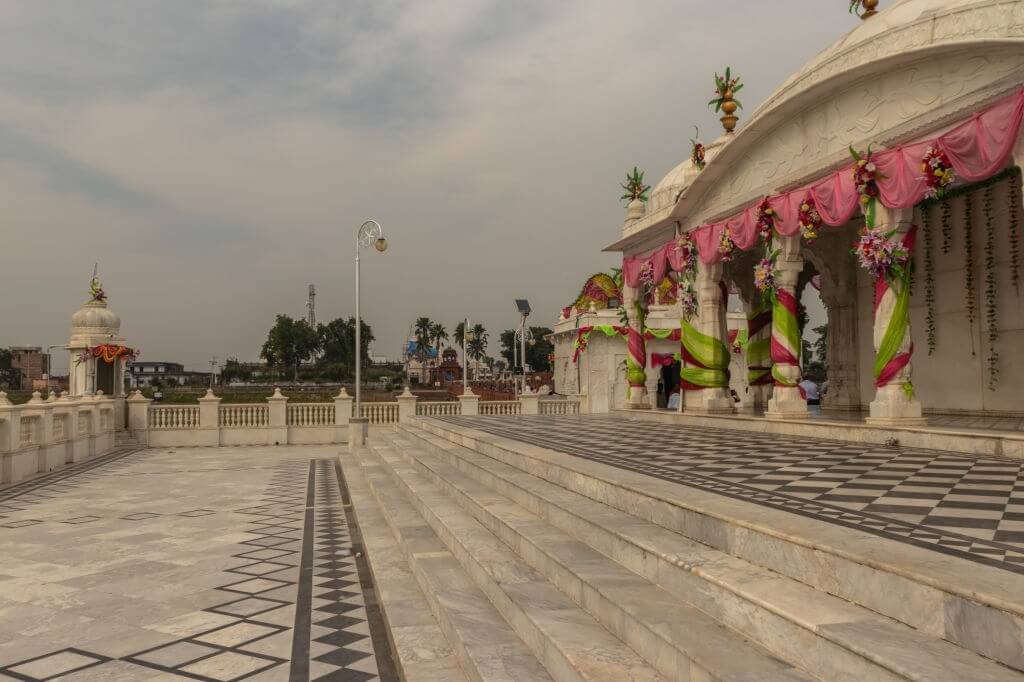 Distance from Patna – 101 Km
Best time to visit – October to March
Places to Visit in Pawapuri
Pawapuri Jal Mandir has a beautiful pond full of red lotuses. Lord Mahavira attained moksha at this place.
Vishwa Shanti Stupa is a dazzling masterpiece of white marble.
Griddhakoot Hill is a blessed place that Buddha used to visit.
Bimbisara Jail is the place where the famous king Bimbisara was imprisoned by his son Ajatshatru.
6. Bhagalpur
Another historical place that can be a great weekend getaway from Patna is Bhagalpur. This is known as Silk City. It is one of the biggest and most flourishing cities in Bihar.
Distance from Patna: 235.2 km
Best time to Visit Bhagalpur: December to February
Must-Visit Attractions in Bhagalpur:
Vikramshila is the best place for history buffs and those who want to have deep insights into Indian Buddhist history. It is an ancient monastic university. The name of its place was even found in the writings of great Chinese monks and scholars Fa Hien and Hiuen Tsang.
Mount Mandar is an 800 ft high granite hill, famous for its scenic beauty and ancient statues. The place is surrounded by many rock-cut sculptures depicting Brahmanical inscriptions.
Colganj Rock Cut Temple shows the glorious history of the Gupta Dynasty. Here you can find beautiful artistic carvings linked to different religions.
Das Driftwood Museum & Park is well-maintained and truly a treat for visitors. Here in the museum, you can see ancient sculptures and wonderful driftwood.
7. Motihari
Motihari is one of the best places to visit in Patna for couples and those who want to spend some time in a peaceful place with an outstanding legacy of patriotism and spirituality. The place is in Champaran where the Satyagraha movement led by Mahatma Gandhi started.
Distance from Patna: 151.6 km
Best Time to Visit Motihari: November to March
Top Tourist Places to Visit in Motihari:
The Ashokan pillar is a tall stone column built by Lord Ashok. It has been classified by the Archeological Survey of India as a protected monument.
George Orwell Monument is a museum in Mitihari. It used to be the birthplace of renowned English novelist George Orwell.
Areraj Temple is a beautiful temple of Lord Shiva. Every week numerous devotees visit the temple to offer prayers. During Shrawan, the number of visitors increases every year.
Hill Stations Near Patna
There are various tourist places near Patna. Here we will explore the famous hill stations near Patna.
8. Hazaribagh: Famous Tourist Attraction Near Patna
The hidden gem of Jharkhand located 230 Km from Patna is a place that offers undisturbed nature trails, serene lakes, and lush greenery. It offers a pleasant climate throughout the year at an elevation of 2000 meters above sea level. Tourists can spot rare species of birds at Hazaribagh National park, visit Narsimhasthan a famous lord Narsimha temple, and shop for brass handicrafts at Urban Haat Going for a picnic lunch at Hazaribagh Jheel is the best option.
The best time to visit here is from October to March.
9. Kathmandu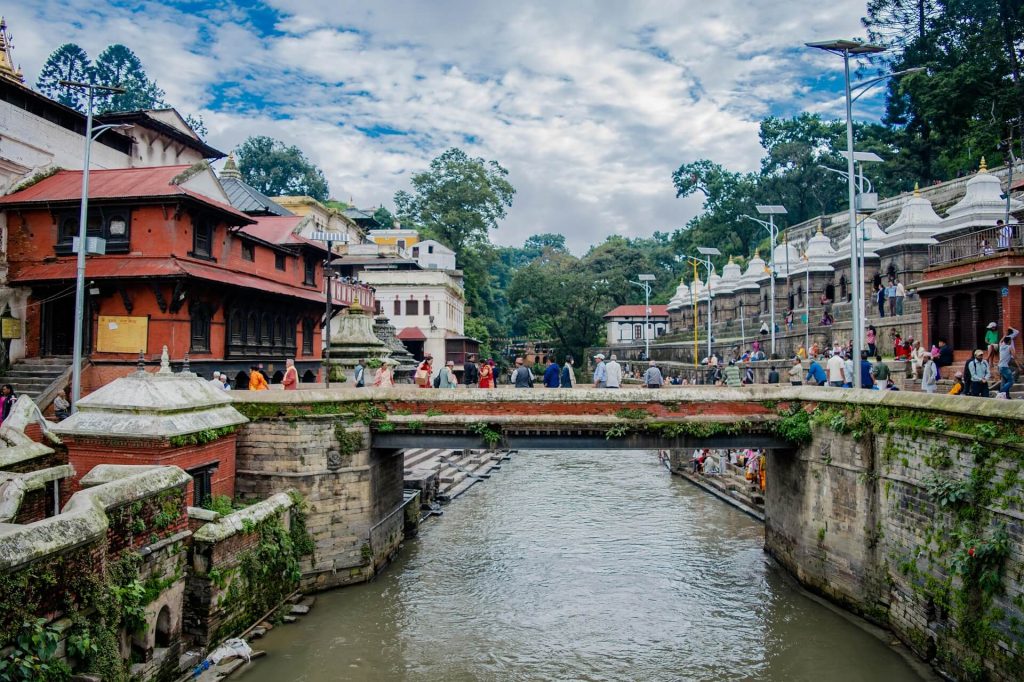 At a distance of 340 km from Patna, Kathmandu is a valley surrounded by 4 prominent hills. It's an amalgamation of serene beauty with spirituality. You can explore historic sites, huge temples, and fascinating villages. Mountain climbing and trekking can be best enjoyed here. Carpets and paper prints by local artisans are among the major tourist attractions. Boudhanath Stupa, Pashupatinath, and Swambhunath Temple are the must-visit spots.
September to November is the best time to explore this place.
10. Rajgir: One of the Beautiful Tourist Places to Visit Near Patna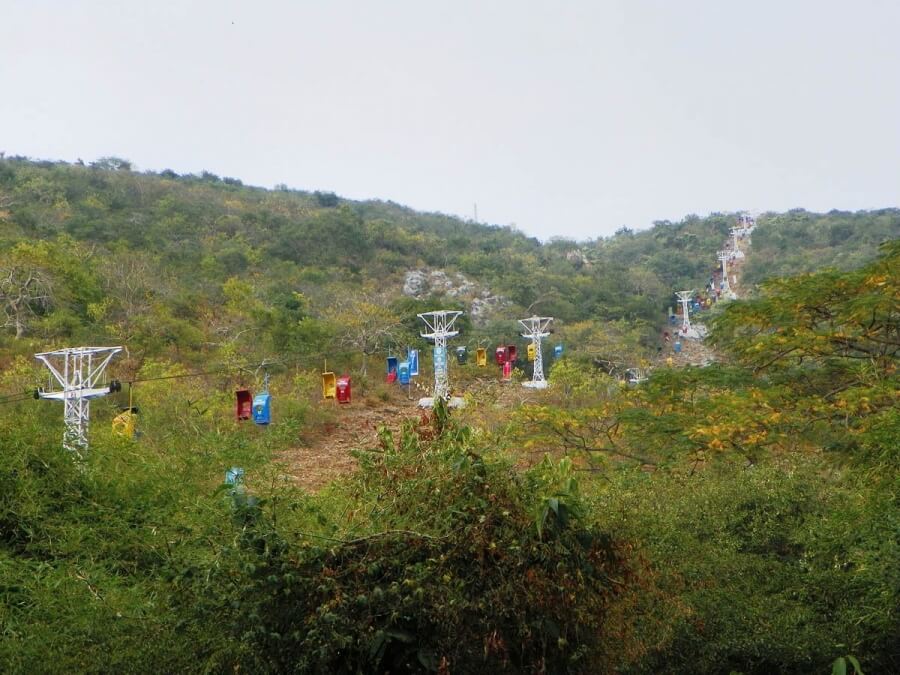 Scenic rajgir hills are located in a green valley surrounded by rocky hills, dense forests, and mysterious caves is located 93 Km from Patna. It is covered with seven different ranges that contribute to its breathtaking beauty. Venuvana, Japanese Stupa, Vulture's Peak, or Griddhakoot are the places one must surely explore.
October to March is the best time to visit this place.
11. Lumbini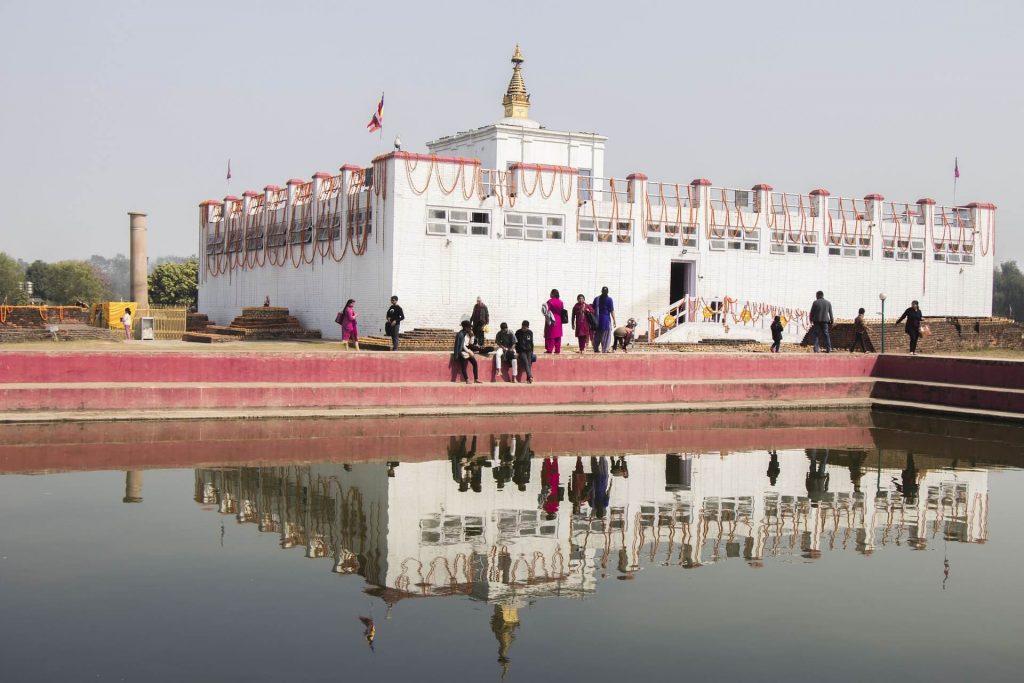 Lord Buddha's birthplace is located 334 Km from Patna. It's a pilgrimage tour along with a display of the great archaeological triumph of mankind. The 62 archaeological sites depict different events in Buddha's life. Maya Devi Temple, Bodhi Tree, Lumbini, and Maya Devi pond are major attractions here.
The best time to visit here is from April to May.
Pack Your Bags
Time to explore much talked about and never visited Indian state Bihar for some memorable vacation. Get a mix of culture, history, and civilization during your visit, and do not forget to taste the local delicacies.
Keep visiting theindia.co.in for some interesting travel articles like this.
FAQs on Tourist Places to Visit Near Patna:
Which is the most beautiful city in Bihar?
Madhubani is Bihar's most beautiful city.
What is famous near Patna?
Patna is well-known for its fascinating museums, stunning historical buildings, ancient Hindu and Buddhist temples, age-old mosques, and bustling street markets.
What is the best time to visit Patna?
The winter season is the finest time to visit Patna. The temperature stays pleasant, making it ideal for seeing Patna's monuments and other points of interest.