Recently during my visit to Kerala, it was honored to have a luxury experience staying in super luxury 3 bedroom houseboat in Alleppey (Kumarakom), Kerala. In this blog post, I am going to share my experience and complete review of this premium houseboat aka floating house make from wood.
A Luxurious experience amidst the flowing backwaters of Alleppey.
Talking about the luxury houseboat in Kerala, the very first name that comes in mind is Palazhi houseboat that is in Kumarakom (adjacent to Alleppey) of Kerala, India. To briefly describe this boat, it is a 3 bedroom super luxury houseboat beautifully decorated with wooden furniture and consists of many amenities.
Before I describe my experience, let me share the video review of this houseboat.
Inside Look of Palazhi Houseboat
The Palazhi is one of the best houseboat in Kerala which consists of 3 bedrooms with attached washrooms, one big lobby, kitchen, fully air conditioned lower deck and a top floor. Lets have a look at all these section separately:
Top floor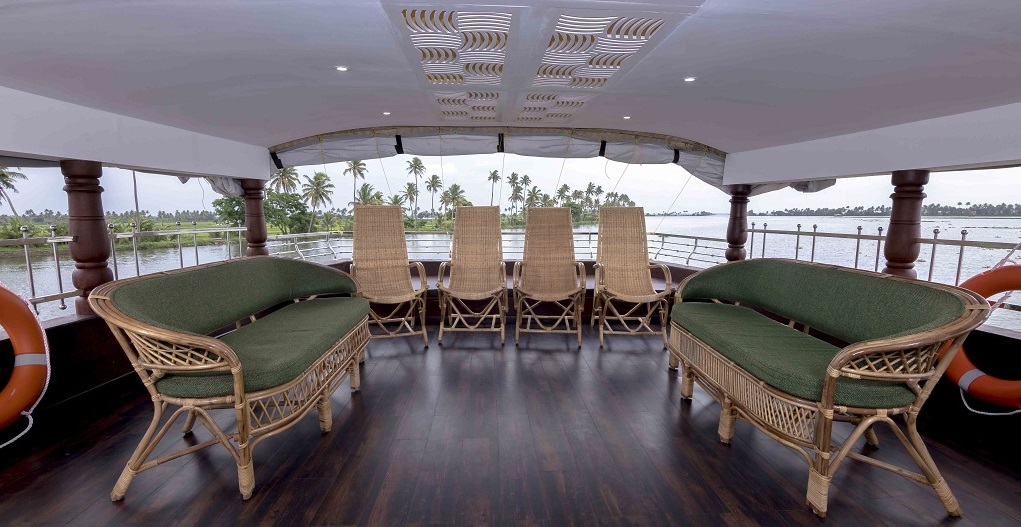 The top floor has a roof and is open on side walls, where one can have a mesmerizing view of the lavish green forest passing behind, as the boat house makes its way. The top floor has a comforting sitting arrangement as the cane chairs, sofa sets and also has an open space known as the 'sun deck', where one can take sun bath while still being in the middle of the lake. The main motto of the top floor of this houseboat is for sight seeing. It has the capacity of accommodating nearly 25 persons at a time. There is music system also which helps you forget the hustle – bustle of city life.
The Main dwelling area of the Palazhi Houseboat
The main body of the boat consists of a lobby and bedrooms.
The lobby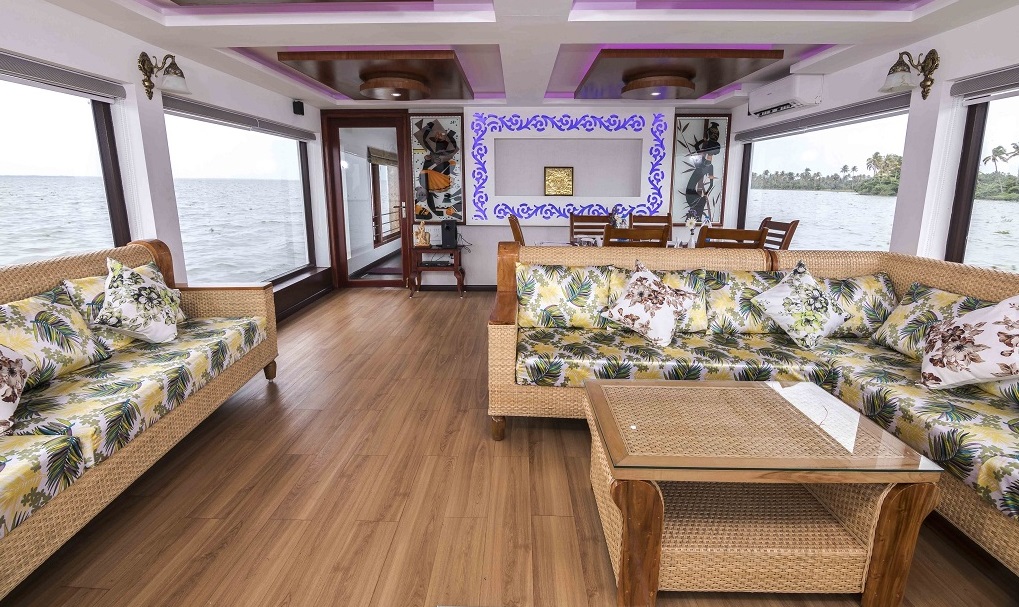 The lobby is the well covered place to ensure the guests being protected from the insects and the mosquitoes while traveling at night. It has a sitting area and a dining area. Whole of the place is well furnished and decorated with wooden furniture and complimenting fabrics. The on playing music system keeps the tourists relaxed and enjoying and keep well their happy mood.
The bedrooms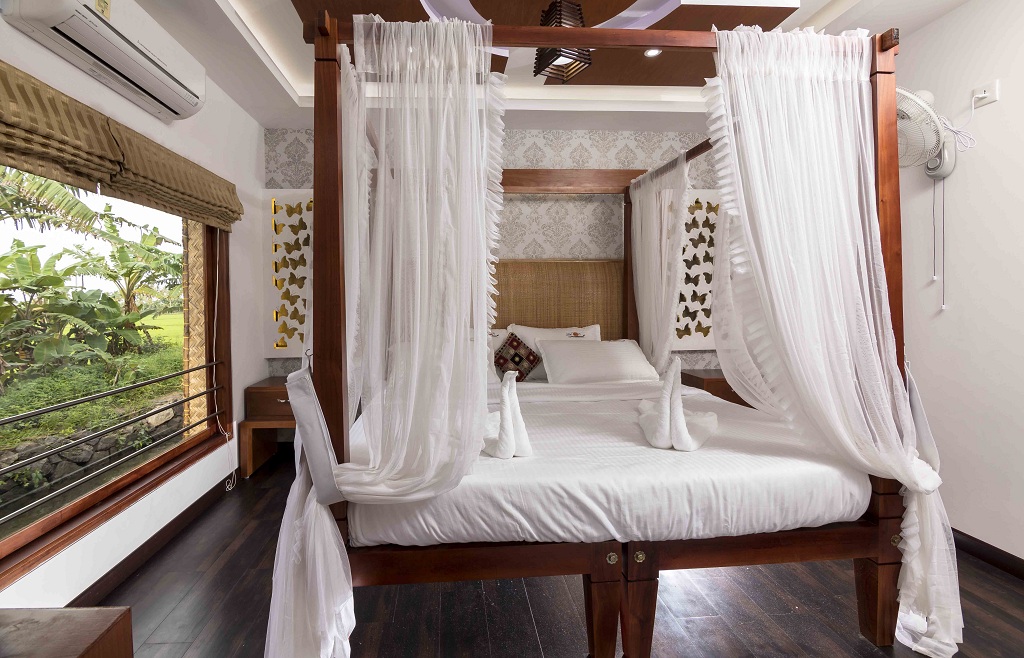 The bedrooms have luxurious wooden double beds which can accommodate up to 3 persons at a time. The rooms are provided with attached personal bathrooms. The bathrooms too are very attractive and hygienic.
What's the size of giant houseboat?
It is interesting to learn about the size of this premium houseboat and will definitely amaze you.
The gigantic boat measures
102ft in length x 16ft in width
The bedrooms being 12 x 10ft having the beds of sizes 6 x 6
Tentative cost to book this houseboat?
To book this premium houseboat, you must plan in advance as generally this boat is booked in advance most of the time due to its popularity. If you are looking to have this luxury experience, plan your trip prior to 15 days in advance. If it is peak season, you must book the boat atleast 30 days in advance.
The money you need to spend to have such a super luxurious experience is as follows –
A single trip for 4 adults accommodating in 2 rooms costs about 28k INR
For 6 adults accommodating in 3 rooms will cost about 39k INR.
But believe me, this amount is too small in front of the amazing experience you will have.
Note: The cost to book this houseboat is tentative and best of my knowledge. It may vary depending upon season and the duration of your stay. Kindly contact houseboat owner to get best price and deal.
The facilities on the boat
This luxury ride gives you the right to enjoy various facilities provided on the boat like:
Entertainment via music system and home theater
Providing hot water for bathing
Toiletries for personal hygiene
Full air conditioning
Free Wi-Fi
Room fridge
Other available amenities
Food in Houseboat
I must admit that the food served at Palazhi houseboat is very unique and you will hardly find this taste in other local restaurant. Here is the photograph of food served during our lunch.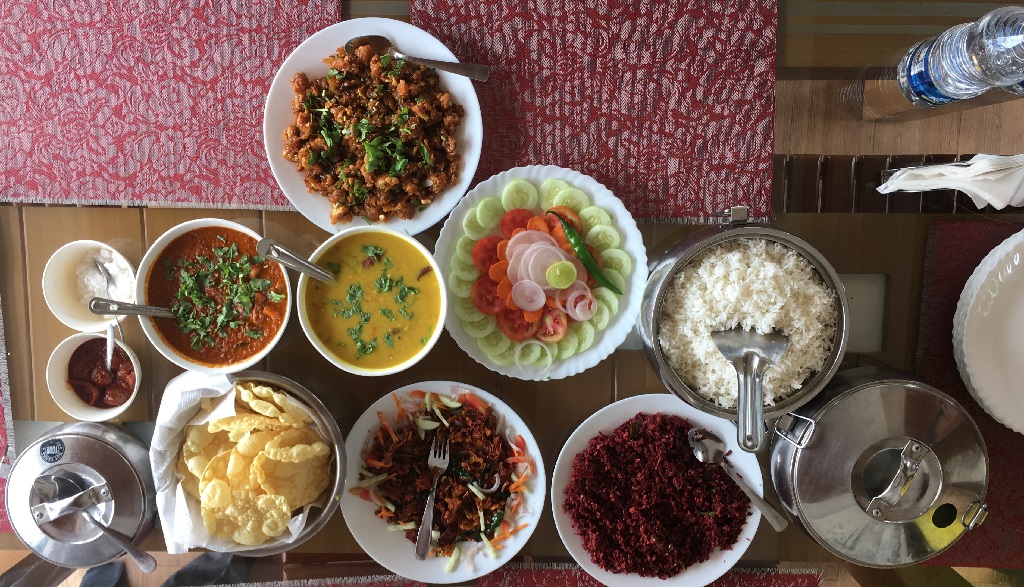 Note: I am a Vegetarian and the food served during lunch was yummy. I learned from the cook at Palazhi houseboat that if you are non vegetarian, you can have more choices to enjoy the cuisines of Kerala.
Here is the brief about different meals being served during your stay at Palazhi houseboat:
Welcome Drink (Coconut Water/ Cold Drink),
Lunch (Veg or Non Veg depending upon your choice)
Snacks (Tea / Coffee & Vada) and
Dinner (Veg or Non Veg depending upon your choice)
And, most importantly – The Soothing Trip
Making your way through the lake: journey in the backwaters
One can have this luxury houseboat experience in the backwaters of Alleppey, by boarding the boat at Kumarakom Government boat jetty and making their way to R Block and C Block in Alleppey backwaters. The route can also be customized according to the wish, need or request of the guests.
Final words about 'The Palazhi houseboat'
I must say, it's an amazing experience in itself. This is highly recommended in the 'to-dos'  when you visit Kerala and if you want a relaxing, pleasing and luxurious experience.
So what are you waiting for? Pack up your bags and enjoy this rare and pleasing experience.
Happy Traveling!!