The idea of caravan trip is very exciting, who wouldn't love to travel inside a fully furnished mobile home? Caravans are flexible and offers the comfort that is required during long travel. One can explore remote places on earth while on caravan trip because you really don't have to worry about the stay. Nowadays, because of the pandemic, traveling has become a lot difficult as there is a huge risk in other modes of travel. The caravan is one of the safer ways to travel during this pandemic. Tourism of Caravan is in full swing and the Indian states governments are giving caravan tourism a go-ahead.
Caravan trips are luxurious and comfortable and along with that, it will also give you the feeling of independence. The caravans are equipped with all the basic amenities and it is also fully furnished. It is easy to rent a caravan and it is a perfect choice to enjoy with your friends and family.
Caravan Road Trip Providers
You can rent RV based on your preference as there are various options available. You can hire a luxurious or basic caravan and you can also see different options in various budgets. Caravans is an isolated way of traveling and this way you can enjoy completely with your company of friends and family. Traveling in caravans is affordable and safe and it is an amazing option for campers as they can stay close to nature and stay wherever they want and enjoy a bonfire. Below we have mentioned some of the best Caravan road trips for you.
1) Luxe Camper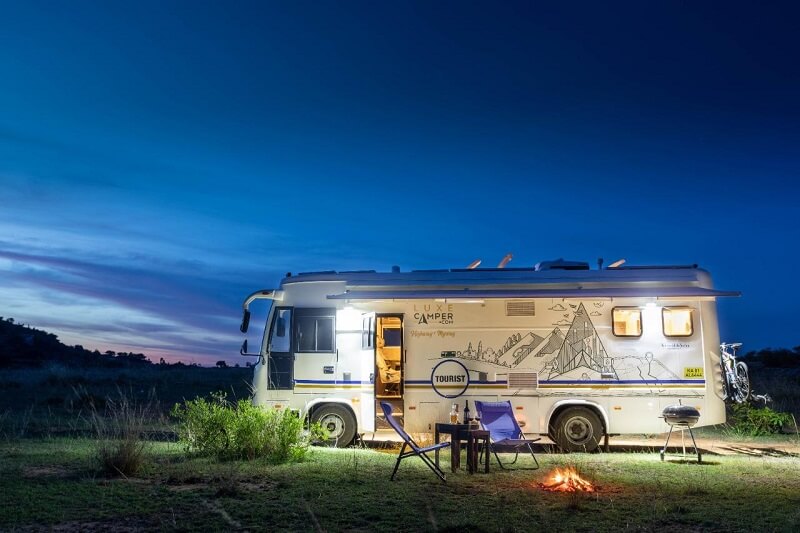 Luxe Camper is a Bangalore-based startup and it is now working with the Karnataka government in order to promote caravan trips. With Luxe Camper you can select the type of Caravan you want based on your preference and requirement and on top of that you can also select the route you want to travel. The different routes cover various places like sanctuaries, historic sites, beaches, etc. Some of the amazing places that you can visit are Hampi, Bandipur, Bheemeshwari, Kabini, etc. The Luxe Camper caravan has a space of 200 square feet. It offers a seating area with sofas, bedroom, kitchen with kettle, toaster, freezer, RO system, and refrigerator. There is also the facility of toilet and shower. Some of the amazing features of a Luxe camper are 2 Queen size beds, GPS tracking, Wi-Fi, Entertainment, Solar power, etc.
The Luxe Camper can carry up to 4 people. The price mainly depends on what type of route you are picking. Here, we have mentioned the trips that you can take on Luxe Camper along with the price,
Beautiful Bheemeshwar – ₹ 49,000
Quick Break: Kabini – ₹ 49,000
Quick Break: Bandipur – ₹ 55,000
Kabini calling – ₹ 75,000
Bandipur Beckons – ₹ 75,000
Breathtaking BR hills – ₹ 75,000
Heritage Hampi – ₹ 99,000
Apart from this, you can also build your own trail.
2) Wacation on Wheels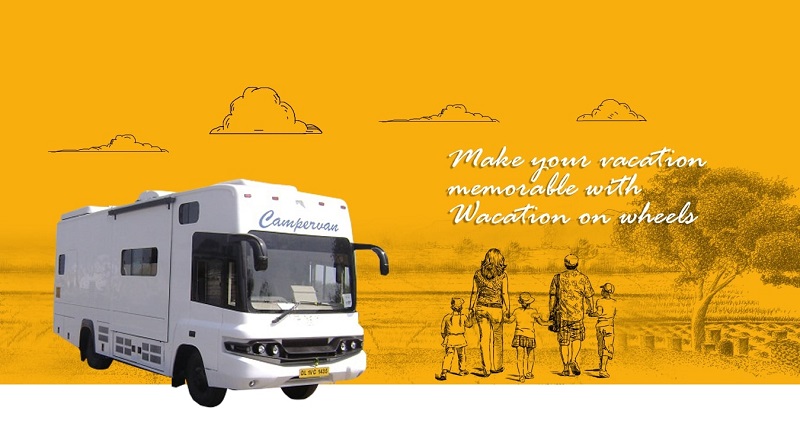 Wacation on Wheels is a Nagpur based caravan hire company that allows users to rent caravan at an affordable price. It was launched in the year 2016 and with Wacation on wheels, you can visit any place across Central, Western, and Northern India. There are numerous caravans that you can rent with Wacation on Wheels. The largest caravan has a total of 9 expandable berths and every berth has pillows, bedsheets, and blankets. The caravans have all the basic amenities like toilet, shower, air conditioning, hot & cold water, Television, Music system, camping chairs, tables, etc. The kitchen is well equipped with gas, refrigerator, utensils, microwave, and barbeque.
The price of renting a caravan per person per night is approximately ₹ 2,500 and it includes caravan rental with driver & helper, diesel charges, toll charges, and cooking utensils. For more details regarding the pricing, you can visit their official website.
3) Motorhome Adventures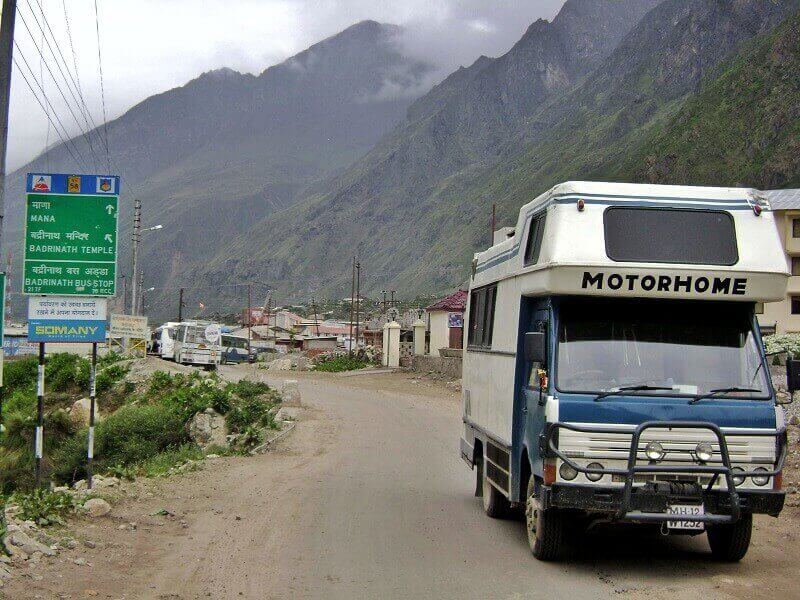 Motorhome Adventure is a Delhi based company that allows you to visit various amazing destinations like Ladakh, Rajasthan, Himachal Pradesh, and Uttarakhand. There are different caravan options available that can include up to 2, 4,5 to 9, and 12 people. The facilities included in a Caravan depends upon the size of a caravan. Some of the basic features available in the caravans are a lounge with sofas, bathroom, shower, hot & cold water, microwave, refrigerator, safe, slide-out kitchen off-board, basin, burners, storage for utensils, etc.
One of the amazing caravans offered by Motorhome adventures is Club on Wheels and it includes a party caravan with a bar, DJ cabinet, dance floor, etc. For details on pricing of different routes visit their official website.
4) Camper Trails
Camper trails is a caravan hire company that is based in Bangalore. With camper trails, you can visit various destinations like Chikmagalur, Gokarna, Mangalore, Mysore, Kabini, Bandipur reserve, etc. It can accommodate up to 5 people comfortably and the caravans have all the basic facilities needed like central air-conditioner powered with a generator, toilet, tub, shower, hot water, Television, music system, mini-refrigerator, microwave, barbecue grill, camping chairs, indoor games, other sports equipment, etc. For more information regarding the pricing, caravans, and destinations you can contact them.
5) Trippy Wheels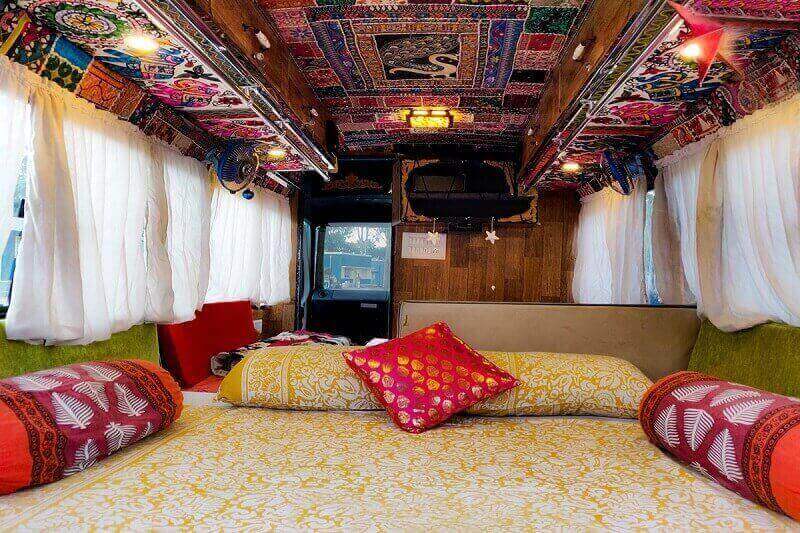 The caravans offered by Trippy wheels are creative, funky, and colorful as they are spray-painted. It is a Bangalore based caravan hire company that offers various amazing caravans with different seating capacities. Every caravan has a name and unique features. The largest caravan offered by Trippy wheels has a seating and sleeping capacity of 8 persons. The basic amenities included in the caravans are a central air-conditioner, outdoor barbecue facility, board games, charging points, tents, chairs, lights, fan, music system, kitchen, gas, utensils, etc.
You can visit various locations in Karnataka like Hampi, Dubare forest camp, Kundapura, Bhadra sanctuary, Tala Kaveri, Hirekolale lake, BR hills, etc. The caravans along with the price and seating capacity are mentioned below,
Kanasu – ₹ 8,999 per day (8 people)
El Zorro – ₹ 4,999 per day (4 people)
El Toro – ₹ 4,999 per day (4 people)
Summer of Love – 2 persons
Into the wild – 3 persons
For the pricing of 'Summer of Love' and 'Into the wild' contact Trippy Wheels.
6) Camping Co.
Camping co. offers a different and unique caravan experience. It offers different vehicles that you can use for your caravan road trip and camping like Xenon soft-top, Mahindra Thar, Xenon hard-top, and Caravan. It is a perfect option for road trips and camping because xenon comes with a rooftop tent. Hence, if you decide to stop anywhere then you can use the tent for camping. There is also an option of self-drive so you can take it anywhere around Northeast India. You can have an amazing experience at an affordable price with camping co. For more details on pricing, you can check their official website.
7) Green dot expeditions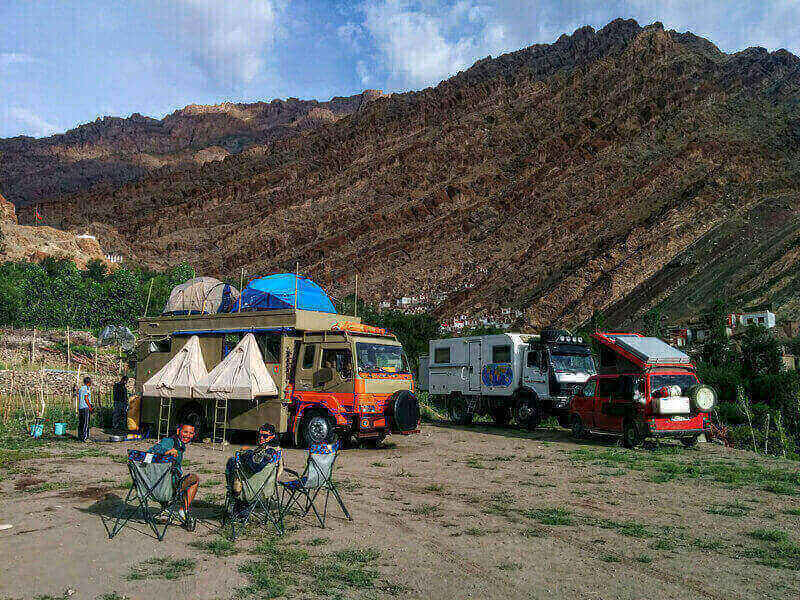 The spacious overland truck Taurus is a perfect option to enjoy a caravan trip. You can visit various amazing places like Himachal Pradesh, Kutch, Punjab, Rajasthan, Ladakh, etc. Green dot expeditions can accommodate up to 8 people and comes with all the basic amenities. Some of the amazing features of Taurus are front-facing reclining and pushback seats, two toilets (onboard and portable), solar panels for charging purposes, tents, chairs, tables, lockers, kitchen, etc. Taurus is a hybrid of the caravan, campervan, motorhome, and overland truck. you need to contact them for detailed information regarding the price.
These are some of the best Caravan road trips options and you can rent an RV as per your requirement and preference. The RV rental prices depend on the features of the RV and the destination. With caravans, you can enjoy a unique and amazing road trip experience.