Are you traveling in Kerala or Planning for a trip? Checkout this article to make a perfect shopping list about things you should buy in Kerala.
"Kerala" is the perfect destination for all types of tours, be it honeymoon trip or pilgrimage, Kerala has all kinds of destinations. Yes, it can entertain you with its dance forms and martial arts, satisfy your taste buds with delicious Kerala food and tempting species, rejoice you with the variety of festivals celebrated in Kerala, provoke you for shopping with handicrafts, jewelry, dresses and sarees sold here, heal you with the ever demanding Yoga, Meditation and Spa and lot more on the list. Kerala is very popular destination among tourists across the world as the best place for honeymoon, houseboat & backwaters etc.
Each place in Kerala has something different to offer, be it things to buy or food. In this article we have listed such 17 best things you can buy from Kerala during your visit. We have handpicked these shopping list by personally visiting places, asking tourists and locals.
Best Things to Buy in Kerala
1. Aranmula Kannadi (Mirror)
Enigmatic in its formation matchless in its beauty, it is an exceptional object. Élite to Aranmula, this mirror is crafted of metal, not glass! It is famed for fetching wealth, luck and fortune into life. This is a must product in your Kerala shopping list but you also need to care about the size and transportation.
2. Aromatic Oils and Essence
The best and purest forms of oils and essence are found in Kerala. These are not to be used as cosmetics. Many of them are beneficial in treating ailment from Asthma, enduring skin infections, joint and back pain, headache etc. Make sure you choose the right shop to buy Aromatic oils and essence as quality and purity of the product may differ from place to place. Just discuss your requirement with shop keeper and see the different options before you make the purchase decision.
3. Banana Chips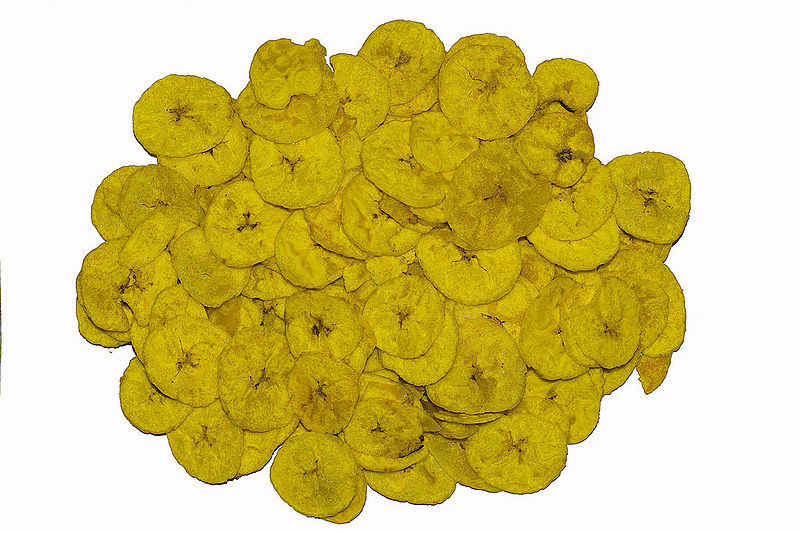 These golden crunchy wafers of unripe Banana are fried in the coconut oil. They are obtainable in two varieties; one is made from raw bananas and the other is made out of seasoned plantain. During my last trip to Kerala, I bought 2 packages of Banana chips from Trivandrum near Padmanabhaswamy temple. The taste and quality was awesome.
4. Coconut and Coir Products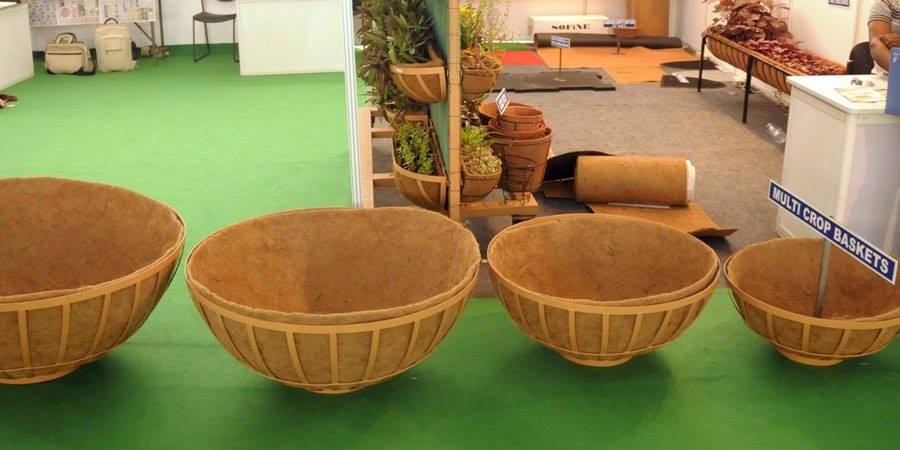 About 50% of the accessible coir shell is used to create coir products. Customarily, it has been used to create rope, string, besoms and brushes, rugs, carpets, pail lasses and other padding. The given photograph is taken from Coir Kerala Fair official page which was held in Alappuzha (Alleppey) last year. If you are around, check for the Coir Kerala Fair where you can see all amazing Coir products to buy in Kerala.
5. Handicrafts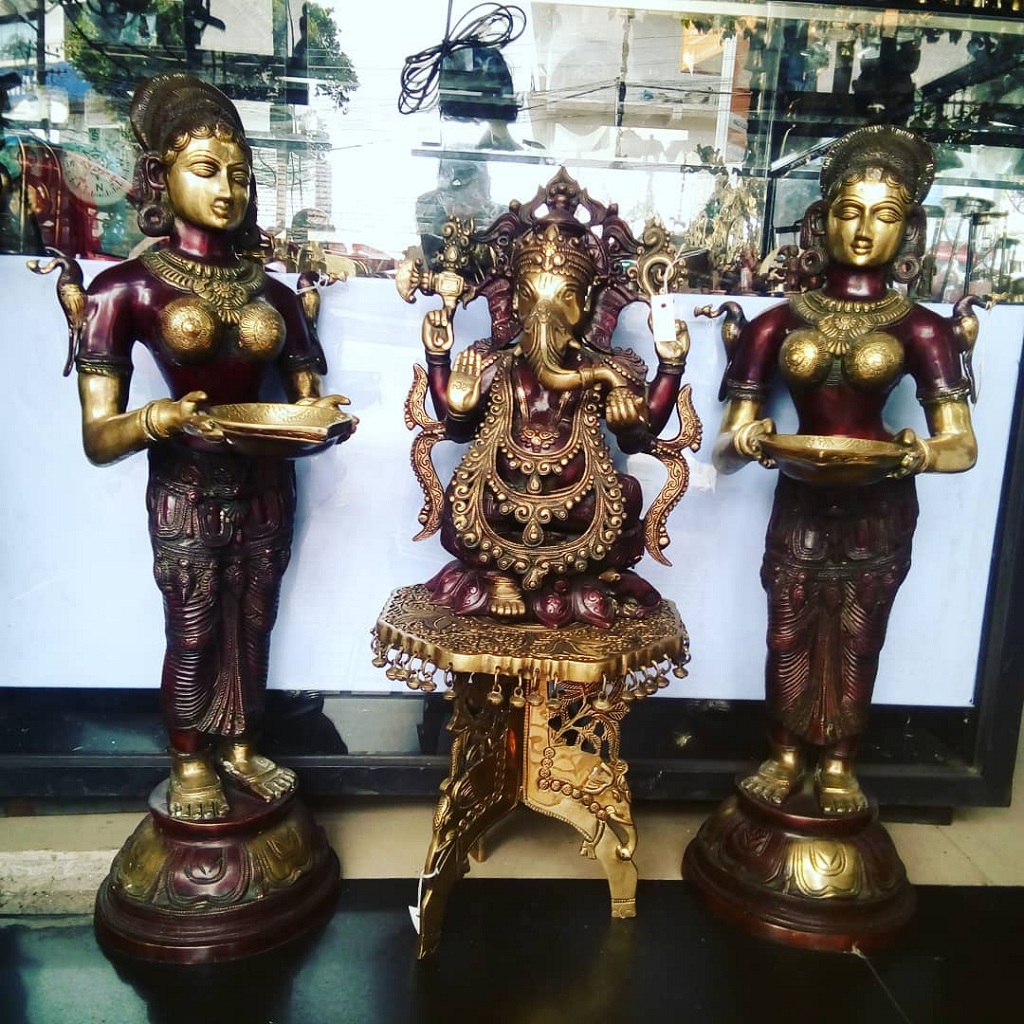 Image Source
Kerala has a custom of creating attractive handicrafts with ivory, cane, palm leaves, seashells, wood, coconut shells, mud, textile, metals, stones and so on. Each of these Kerala handicrafts vitrines era old ethnicity.
6. Jewelry
The famous customary adornments are Payyannur Pavithra Mothiram(ring), gold trinkets like Manonmani, Ilakkathali, Poothali, Palaykkamala, Mangamala, Dalamini, Chuttiyum Chelum and  Earrings such as  Jimikki, Kannuneerthulli, Thoda etc; Armlets like Kappu, stones, pearl and enamel painted bracelets etc are must buy.
7. Kasavu Mundu, Sarees, and Dress

Image Source
Kasavukada is a magnificent tradition followed here. Buy the Sarees with multi-colored strips with a touch of golden shade and Dhotis for men. The traditional dress is just unavoidable. Purchasing them from here would be a wise decision.
8. Kathakali Masks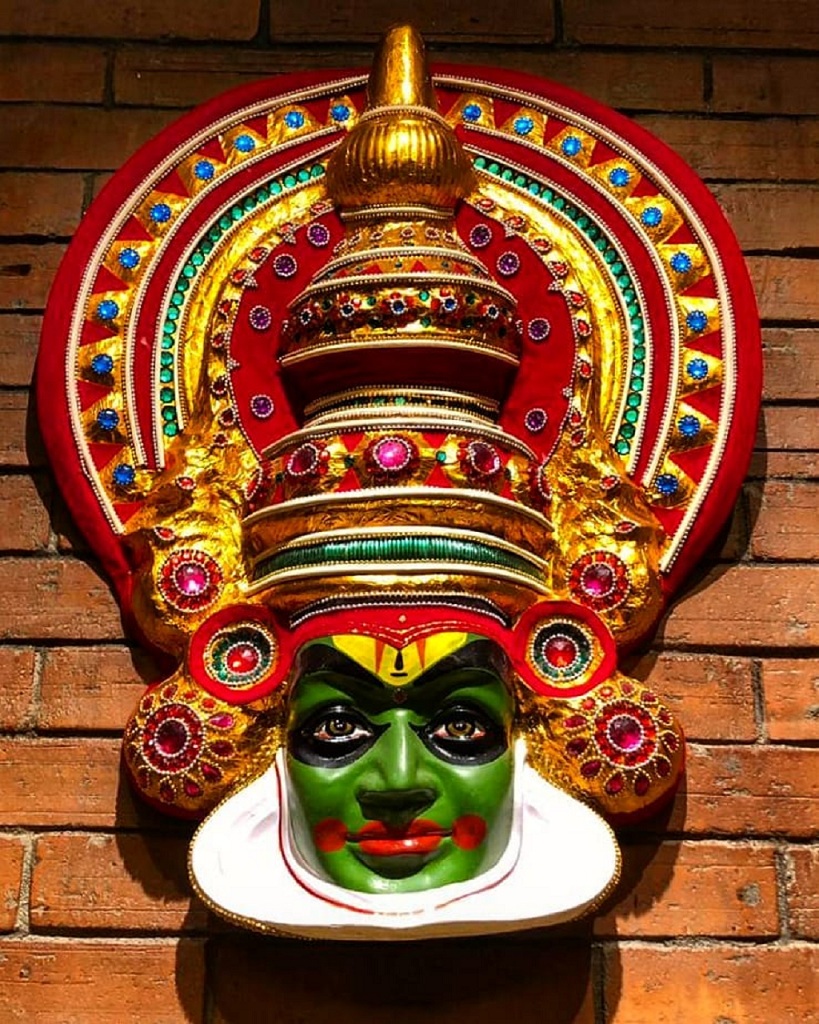 Image Source: Instagram.Com
The colorful Kathakali Masks available here can be used as a decorative piece for your homes. They are available in variety of sizes with amazing expressions. Buy them from here as they are unavailable anywhere else.
9. Kerala T-shirts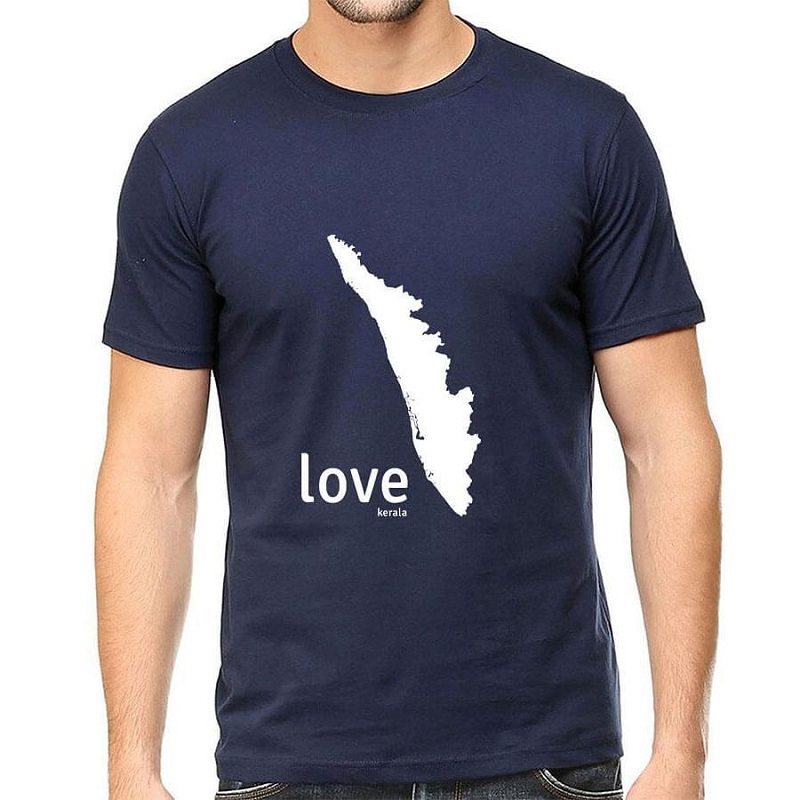 Image Source: Instagram.com
Mostly bought by Honeymooners from here. These Kerala T-shirts are found having quotes printed as "God's Own Country", "I lost my ♥ in Kerala" and many more. Mostly in white so that can be paired with any shade of bottoms.
10. Nettur Casket (Old Makeup Box)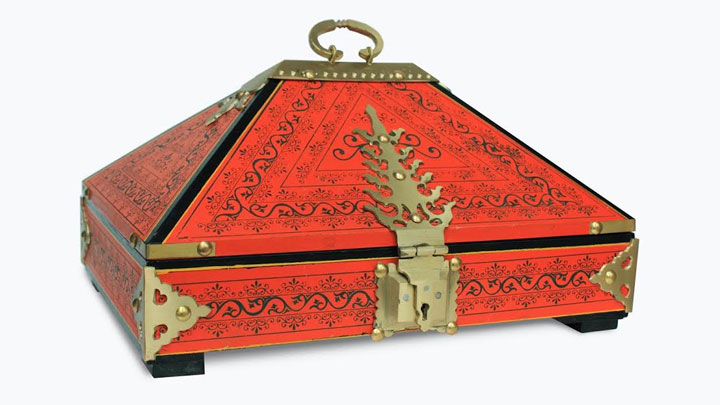 Traditional coffer is a marvelous mishmash of wood-carving, brass work and, occasionally, canvas skills that verve into it. The box is made with rose wood and embroidered with complex brass features evocative of the temple style.
11. Nilavilakku
It is a traditional lamp used generally in Kerala made of bronze or brass. Lighting it on every event is supposed to be fortunate. Special care has to be taken while cleaning this lamp. These lamps are heavy.
12. Snake boat/Houseboat Models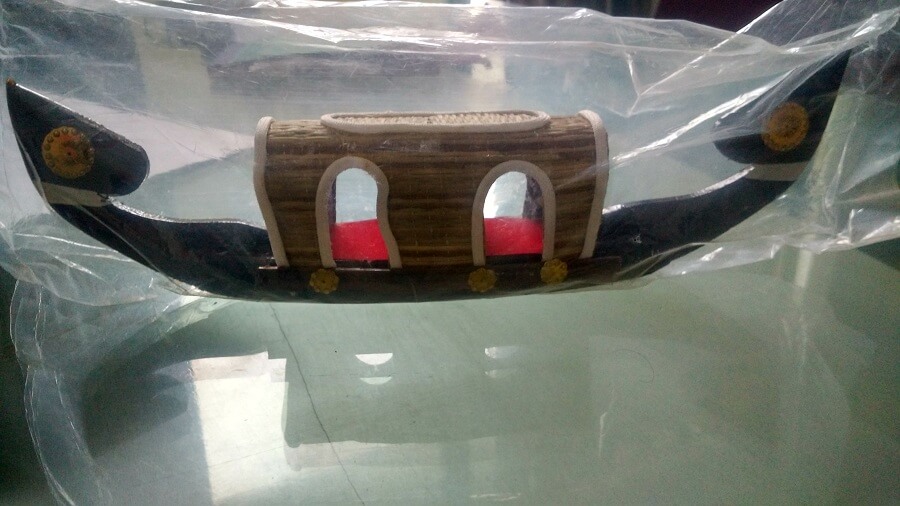 Chundan Vallam, the traditional war boat of Kerala, grosses us to a dash through the mysterious backwaters of Kerala. The miniscule model of the Chundan vallam would sure to embellish your living room with its alluring charisma. Every year in Kerala boat race happens and it has so much importance in Kerala culture so never miss to buy small boat model. Kerala is also very famous for it's houseboats roaming in beautiful backwaters. Tourists can also buy houseboat models from Kerala.
13. Spices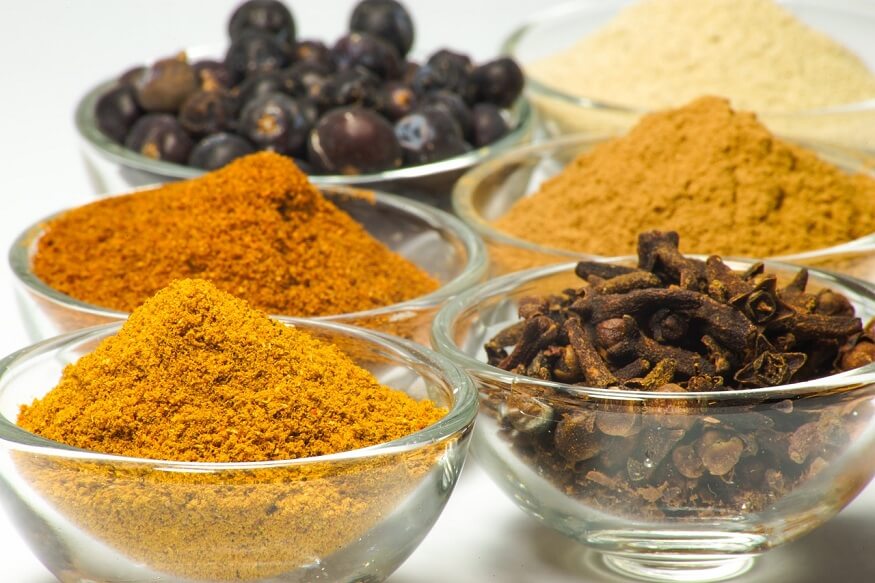 Kerala spices are world most famous and there is huge market in almost all the popular tourist places in Kerala. From pepper, cardamom, clove, nutmeg, star anise, ginger to turmeric, cinnamon, vanilla and lot more Kerala has always been renowned for rich and outlandish spices. This was also the main reason why ancient dealers trailed the 'spice routes'.
14. Tea & Coffee
Enticing entreaty of the fragrant and energizing tea and coffee estates of Kerala draw travellers from everywhere. Kerala tea and coffee tastes best in the world. Carry the real taste in highly secured and sealed packs. Tea museum in Munnar is one of the best place to buy tea & coffee in Kerala. You can also get a chance to see how tea is processed from green leaf.
15. Temple Paintings
The temple paintings of Kerala are painting of dexterity and ingenious brilliance. They abide an imprint of exceptionality in skills used and aesthetics. They can be one among the best decorative wall paintings.
16. Uru Models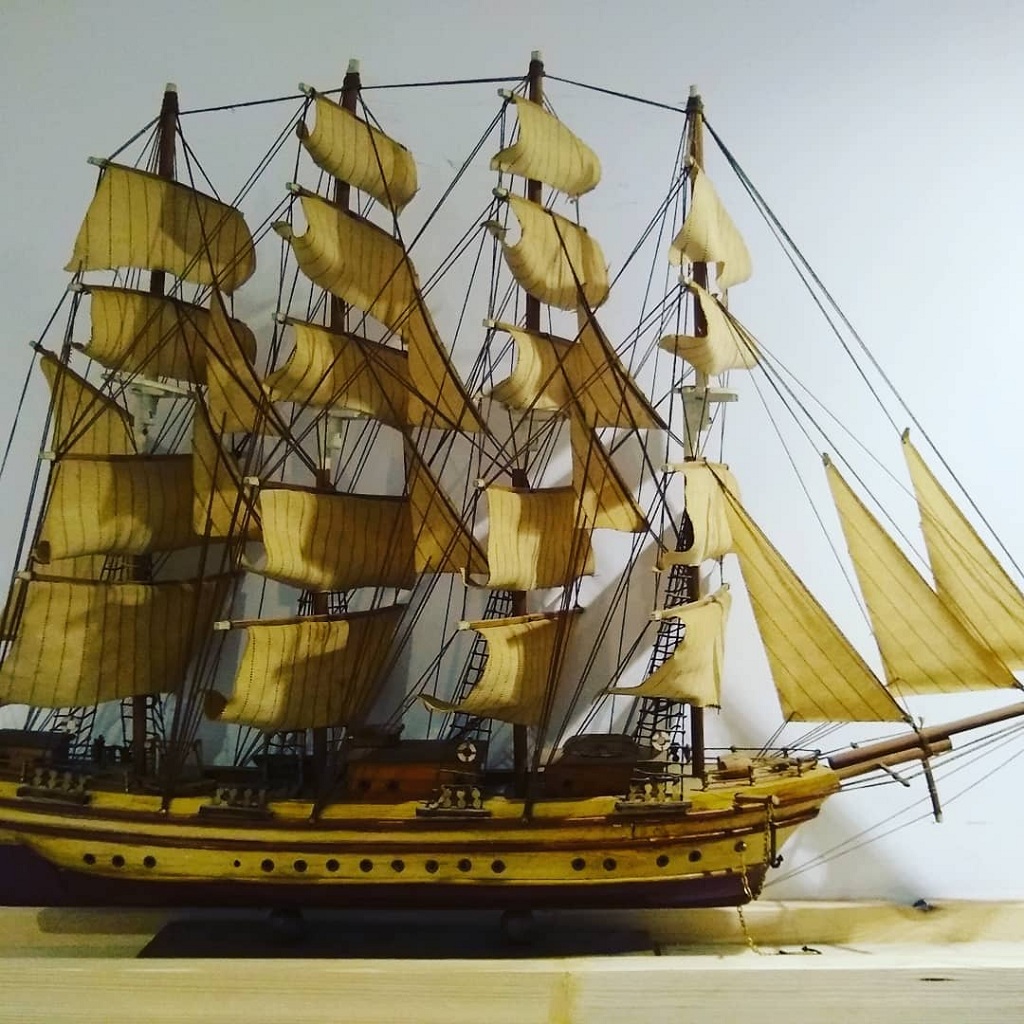 Image Source: Instagram.com
The uru are the customary Arabian trading receptacles.Take home this uru model from Rs.500/- to Rs.2500/- for a 10 inch piece based on its design. You can also customize them as per your wish to fit in your budget.
17. Wooden Idols
From wooden elephants to showpieces and lot more Kerala wooden art is here to take home with. Depending upon size and shape, the idols could be purchased. There are special wooden craft market in different cities of Kerala, you can ask your driver to plan a visit.
The list can be even bigger as Kerala is home to art, craft, culture and spices, you can create your shopping list depending upon your choices. Hence, getting any of these things from your Kerala trip would be token of love and remembrance forever.