Are you planning for an unique holiday experience this winter? Why don't you explore Kutch Rann Utsav 2020 in Gujarat? Let me explain why!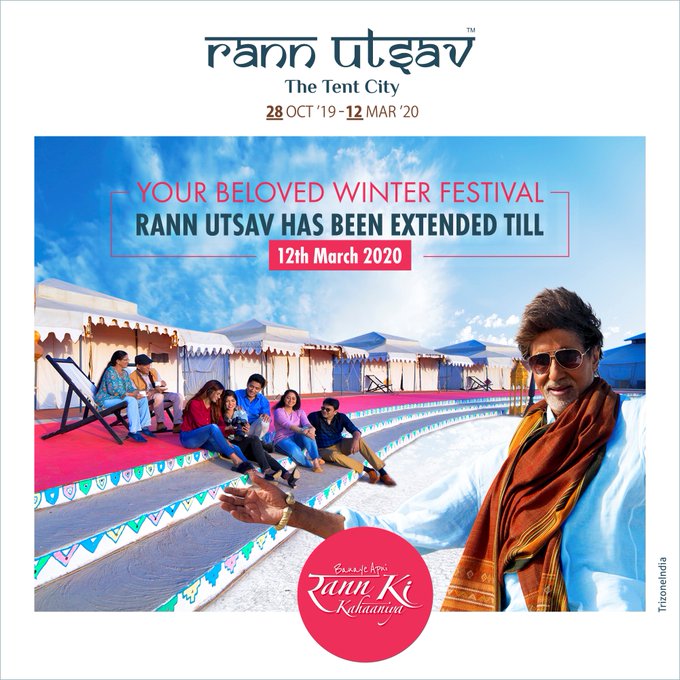 "Holidays!": the word that instantly reminds you of a beach destination or hill station. For ages, many of us have been traveling to either beach destinations like Goa, Alibagh, Chennai, Kanyakumari etc. and hill stations like Shimla, Kullu-Manali, Munnar, Jammu-Kashmir and so on…
How about planning the upcoming holidays to the desert? How about dumping yourself into the white sand of desert? How about taking a camel ride rather than doing water sports? Doesn't the idea sound different?
Yes! Let us help you in planning the upcoming holidays to the Rann of Kutch. during the famous Rann Utsav being organized by Gujarat tourism every year. Before I explain more about Kutch Rann Utsav 2020, let me briefly take you through the Kutch and the beautiful white rann of Kutch located in Gujarat.
Authority has already started preparing for the Rann Utsav and here is the recent tweet from official account:
આગામી #રણોત્સવના પૂર્વ તૈયારીને લઈને ધોરડોથી કાળો ડુંગર જતા રોડની કામગીરી કરવામાં આવી જેથી પ્રવાસીઓને પ્રવાસ દરમ્યાન અગવડતા ન પડે.#RannUtsav #BlackHill @CMOGuj @vijayrupanibjp @pkumarias pic.twitter.com/xzY7iAecUx

— Collector & DM, Kachchh (@CollectorKutch) October 16, 2019
Rann Utsav 2020 Dates & Venue
The Rann Utsav of Kutchh held in winter season and last for around 4 months from Nov to Fed. This is the season when the salt water converted into the white salt desert and can give best view to tourists. Here are some important dates about this festival and venue.
Event: Rann Utsav 2019 / 2020
Venue: Tent City, Dhordo, Kutch, District – Bhuj, Gujarat 370510, India
Start Date: 28th Oct 2019
End Date: 12th March 2020
Introduction to Kutch and The Rann of Kutch
With an area of around 45,652kms2 Kutch holds the position of being the largest district in India with the population of approx. 2,092,371. A huge part of Kutch is widely known as Rann of Kutch and a best place to visit in Gujarat. The district is popular for banni grasslands and the seasonal, swampy wetlands. It is enclosed by Arabian Sea and the Gulf of Kutch. The place is best addressed as "Cradle for Craftsmanship"; for the handiwork and the famous "bandhini" i.e. tie & dye along with the different styles of embroidery.
Rann of Kutch is one among the largest salt deserts of the world; the Great Rann of Kutch is a white land covering an area of around 7,505 kms2. The name "Rann" is derived from the Hindi word which means "desert". To promote the village culture and the surrounding beauty of this white rann, Gujarat government has been organizing Rann Utsav since long attracting thousands of tourists every season.
Rann Utsav 2019 / 2020 – The Festival When Your Camera Don't Stop Clicking
Unlike the Kite Festival and Navratras; Kutch Rann Utsav is a famous festival of Gujarat. It is a colourful festival to celebrate life with beautiful and blooming nature, soothing dance and beguiling music. A walk on the desert on a full-moon night makes it a remarkable experience. In addition to its beauty, it is a diamond of calmness to be valued. If you are on your trip to Gujarat, you must revise your itinerary if the white desert visit is not in your list.
The celebrations of dance, music, and fun with the exhibition of Gujarati culture and traditions last for around 107 days to captivate the fiesta for another year. The rich cultural heritage of Rann Utsav is the beautiful fête of 'White Rann'.  It is a destination for holiday with family and friends to enjoy and create the splendid memories.
Rann utsav was initially organized for just 3 days in the year of 2005 and shockingly received great response. Progressively, it went on for a span of two months owing to the phenomenal response from the visitors. This year dates Rann Utsav is taking place from 28th October 2019 to 23rd February 2020.
Activities to do at Kutch Rann Utsav 2019 / 2020

From cycling, ATV Ride, Camel Cart Pleasure trip, Para-motoring, to Meditation and Yoga you get everything to enjoy the Gujarati Culture at its best. For die-heart shoppers, the Gujarati clothes, accessories, show-pieces and utilities will be a treat to shopper. There are abundant stuffs to discover in this white desert festival of Kutch for making a night stay.
Rann Utsav Packages

Gujarat Tourism organizes this rann utsav with full authority and management & offers various packages to enjoy the Rann Utsav to the core of it.  These packages vary from 1 Night / 2 Days to 3 Nights / 4 Days, covering stay in the exquisite tents and exploring the nearby areas of Kutch & white desert. Though, it should be noted that the tent booking charges are different from November to January & December to February . Hence planning according to your budget to available holidays would be your choice.
Rann Utsav 2019 / 2020 Packages
Currently there are different packages available for this rann utsav to choose from:
1 Night 2 Days package starts at INR 5500/-
2 Night 3 Days package starts at INR 10000/-
3 Night 4 Days package starts at INR 14000/-
Besides there are various packages available for group tours. Based upon number of travellers, days, choice and budget you can plan to visit areas and destinations in and around Kutch.
How to Plan Your Stay in Rann Utsav?
Unlike every big festival, Rann Utsav is also planned to offer people the best of holidays where from stay to food and fun to calmness each moment is worth. Despite the number of tents available and packages offered, sometimes you may not get any place to stay in Rann Utsav. It is when you can stay in the nearby places and come to Rann Utsav for its celebrations.
Through this piece of writing you are being suggested to visit Dhordo. Dhordo is a village in Bhuj Taluka of Kutch District and is a tourist spot that is known among tourists for its natural desert beauty. Dhordo is popular as the host of Rann Utsav annually and becomes crowded. Tourists hire vehicles and drive right up to the very edge of this white desert to stay over for a night. The area is captivating and will hypnotize visitors. Those who visited here could best describe the charm of this place.
Alternate accommodation options
If you find staying in Dhordo tent city costly, here are few alternate accommodation options you can use during your visit to Kutch rann utsav 2019:
Stay in Bhuj
Bhuj is a perfect trigger for holidays to the nearby villages and to Great Rann of Kutch. The textile tourism; here fascinates people from around the world. It takes 1 hour and 25 minutes to travel from Bhuj to Dhordo. Great Rann of Kutch lays approx. 70 kms from Dhordo. If you are unable to find a stay in Utsav fraternity, then staying in Bhuj would be a great idea. You can also make a visit to the Aina Mahal and Prag Mahal here. Taking some time out for shopping of Kutchchhi handicrafts would be a great idea indeed.
Stay at Kalo Dungar (Dattatrey Temple)

It is situated at an altitude of 1516 ft. above sea-level in the Kutch district. You can reach Kalo Dungar by hiring vehicle from Bhuj which is 75 kms. away. One day trip from Bhuj to Kalo Dungar would be enough to discover the black hills around. There is one dharamshala to stay overnight and offers basic food like rice, chapati, dal and vegetable.
For two reasons you should stay either in Bhuj or Kalo Dungar:
When you did not get a confirm booking in Rann Utsav Tents.
When you wish to save on accommodation charges and spend it in exploring two more destinations.
What can upset you in Rann Utsav?
Despite of many measures to keep the place neat and clean, the travellers make the place look untidy by dumping the garbage here and there. This disturbs the overall beauty of the place.
To Wrap Up
Don't miss a chance to visit Rann Utsav whenever you get it. The beauty, calmness, and excitement would make you feel like heaven. The pictures clicked here would work as an example of colours of life. The local people are helpful and will treat you like God.