Are you planning a trip to Gujarat? Then this post will be helpful you to find best places to visit, best food dishes, famous festivals, hill stations, national parks, wild life sanctuary, archaeological sites, beaches and many more such things of Gujarat. Let's explore the best/famous things of Gujarat.
Introduction of Gujarat
Gujarat, the land of lions and textiles, has much to offer than just the Calico Museum of Textiles at Ahmedabad. The much-known state is recognized for Sabarmati Ashram has some of the majestical places to visit and witness some alluring experiences. It is one of the largest states and attracts fantastic tourists due to its incredible attractions. The beauty of the state is scenic. It is rich with historical monuments, showcases some of the remnants of ancient civilization, the long coastal beaches, the national parks and more.
Gujarat at a Glance
Formation – 1 May 1960
Capital – Gandhinagar
Spoken Language – Gujarati
Total Area – 196,024 km2
Population (2011 Censos) – 60,383,628
Literacy Rate – 79.31%
Districts – 33
Tourists are not only inclined to visit the sightseeing destinations but also live life here. The unique folklore, the cuisines and the language of Gujarat makes it all so demanding. Although India is one of the wealthiest states, it can be best enjoyed during June to March, however, if one can tolerate the heat and humidity during April and May. It can be a favorite destination for all times. Gujarat's National Highway, International Airports, and its connectivity to major cities and towns are superlative. This is why Gujarat remains the favorite destination for many across the world.
If you thought you knew all the reasons on why you should travel to Gujarat, the veil is unveiled right here-
Famous Festivals of Gujarat
The festivals in Gujarat are celebrated with much fun and frolic. The entire atmosphere lightens up with color and light. Gujarat's favorite celebrations are commemorated with much zest and enthusiasm.
1. Navratri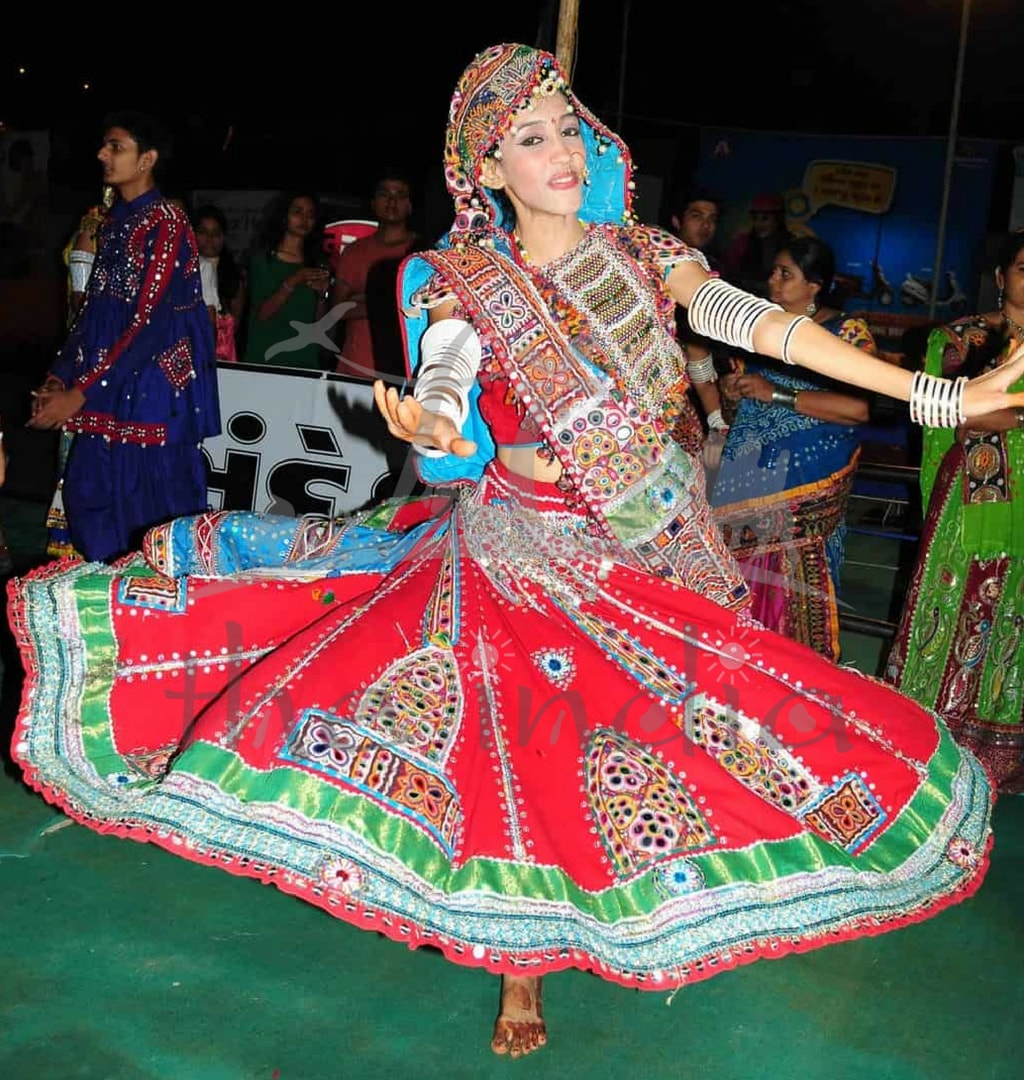 Navratri Date 2022 – 26th September to 6th October 2022
Navratri is one of the important festivals of Gujarat. For most people, it must be a festival of nine nights of fasting and devotion, but Gujarat holds nine-nights of the dance festival. It is possibly the longest dancing festival globally. The best part is every little town; village celebrates the Goddess Shakti with absolute divinity. The dances are often referred to as dandiya that is danced with the use of small wooden sticks that sees its birth from Lord Krishna's worship. Much of the crowd seeks interest in the garba circle that encircles around the Goddess shrine. The garba explores its importance wherein an earthen pot along with betel nuts, coconut and silver coin is placed in front of Goddess Shakti. Every night people gather to dance in a circular motion to seek Goddess blessings. The festival comes in the Georgian months of September or October. Gujarat on these days is best with their colorful attires
2. Makar Sankranti (International Kite Festival)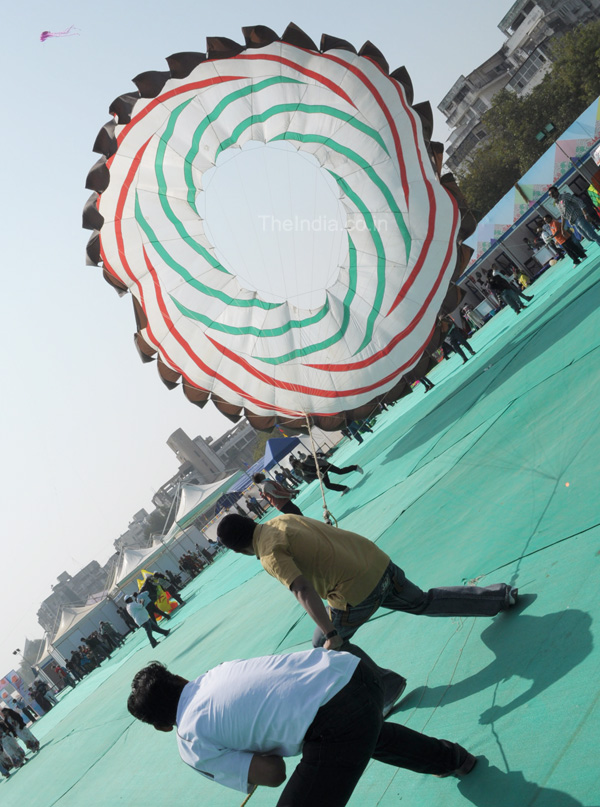 Makar Sankranti Date – 14th January 2023
Every year, tourists mark the date 14 January as the International Kite Festival day and make plans to witness the exceptional display of kites in the blue sky. Uttarayan is one of the biggest festivals. The preparation of which is triggered months before. The festival is mainly for the farmers as the sun is back from the winters and the harvest season is approaching. The happiness of it is celebrated by organizing several kite flying competitions. The Uttarayan festival has become such massive that it has become the synonym for International Kite flying festival. Tourists who visit the state during this time of the festival can enjoy some lip-smacking must local food such as Undhiyu (a mixed vegetable), Sesame Seed Laddoos and Jalebis. Many countries around the world come to Gujarat to participate and flaunt their country's kites.
3. Rath-yatra
Date of Rath Yatra – 1st July 2022
One of the most significant festivals awaited every year is the Jagannath Rath Yatra. Rath Yatra is a century-old festival celebrated for years. The Yatra is held all over the state, but its celebrations can be felt in the city of Ahmedabad. Every year a chariot begins for a 15 km journey. It starts from the 400-year-old Jagannath temple and returns after completion of the 14+ km of travel. Thousands of devotees come on the streets of the city to take darshan. The entire environment is blissful and fragrant with marigold flowers and essence sticks. Tourists who come along this time to visit Ahmedabad ought to feel mesmerized with the caparisoned elephants. The procession consists of 18 well-decorated elephants. Besides along with the procession follows 101 trucks, 30 odd religious congregations, and singing troupes chanting bhajans and mantras. One could witness the several floats that have different themes every year. The procession can be seen during the Ashad Shukla Dwitiya (2ndday in the bright fortnight of the month of Ashad). It is the month of June-July as per the Georgian calendar.
4. Shamlaji Melo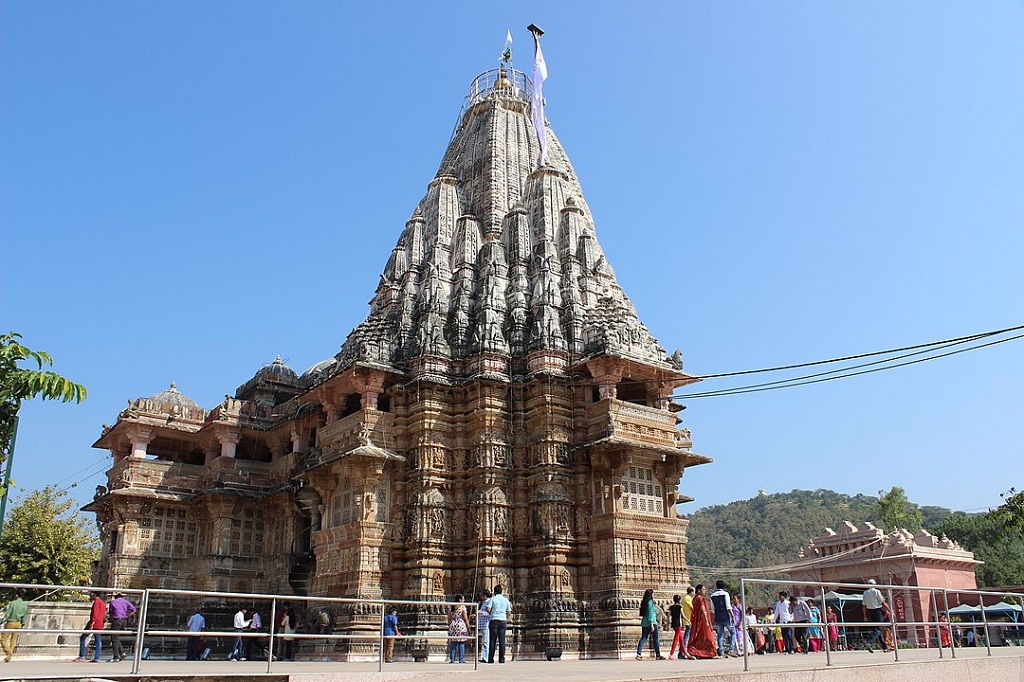 Image Source
Shamlaji Mela 2022 Festival in November
Unity in diversity can be felt with this fair. Held in the small town of Shamlaji in Gujarat, the festival rejoices with utmost sincerity and devotion. Held in November (full moon day of the Karthik month) the fair is hosted for a good one week. The tribes from Gujarat and Rajasthan participated in the market showcasing their art and culture. The fair is organized near the temple of Shamlaji were devotees of millions come to take blessings from the deity. The pilgrims take a holy dip in the river Meshwo before entering the temple to seek blessings from God. It is a spectacular view of tourists who come during this time and become a part of the Holy Spirit. There is an entire range of stalls set to exhibit art crafts, clothing, decorative times, snacks, etc. Shamalji Melo is a real essence of harmony and brotherhood that the two states bestow onto each other.
5. Rann Utsav 2021/2022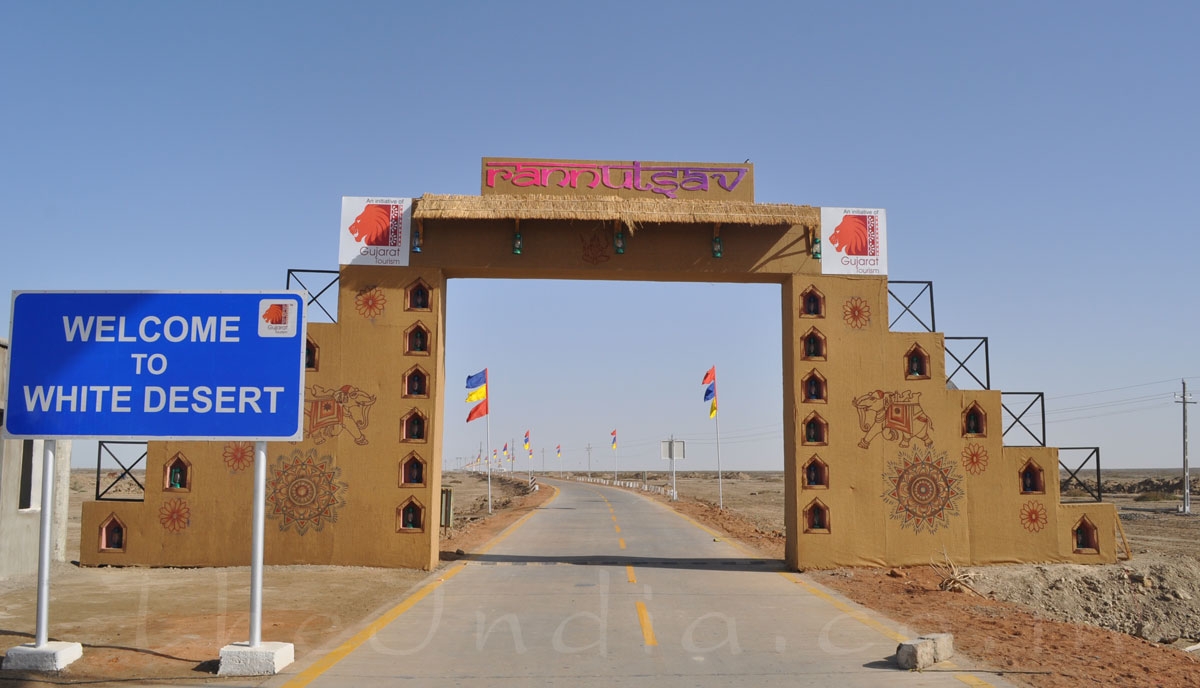 Kutch is a tourist destination that invites its visitors to witness the rich culture of the land. Rann Utsav is a long festival starting from November and ends in February month with boats of exhibiting authentic flavor of the place. The festival encourages its natives to showcase and the array of folk music, dance performances, artisan, art crafts, etc. The event is primarily hosted in Kutch to enjoy the tranquility of the places. There are several resorts and hotel, camping, etc. are ready to make their guests comfortable. The festival is hosted during the full moon night of the winters (November and December especially) Visitors can indulge themselves to the authentic cuisines of the place, be a part of their cultural dance and theatre.
6. Modhera Dance Festival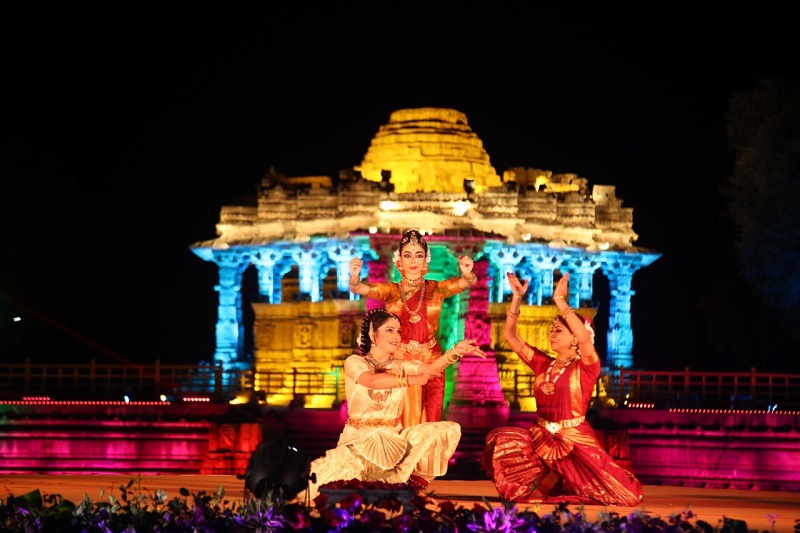 Modhera Dance Festival Date 2023 is January 21st to January 23, 2022
Modhera Dance Festival is very well known all around India, which is organized by Gujarat tourism along with the beautiful classical and musical performances at Modhera Sun temple.
7. Bhavnath Mahadev Fair
Bhavnath Mahadev Fair in 2022 in March
People who are truely religious and believe in Lord Shiva, they spend around 5 days as a real devotee of Mahadev in Junagadh Bhavnath temple. This fair is celebrated by dance and music performances and many more.
8. Madhavpur Mela in 2022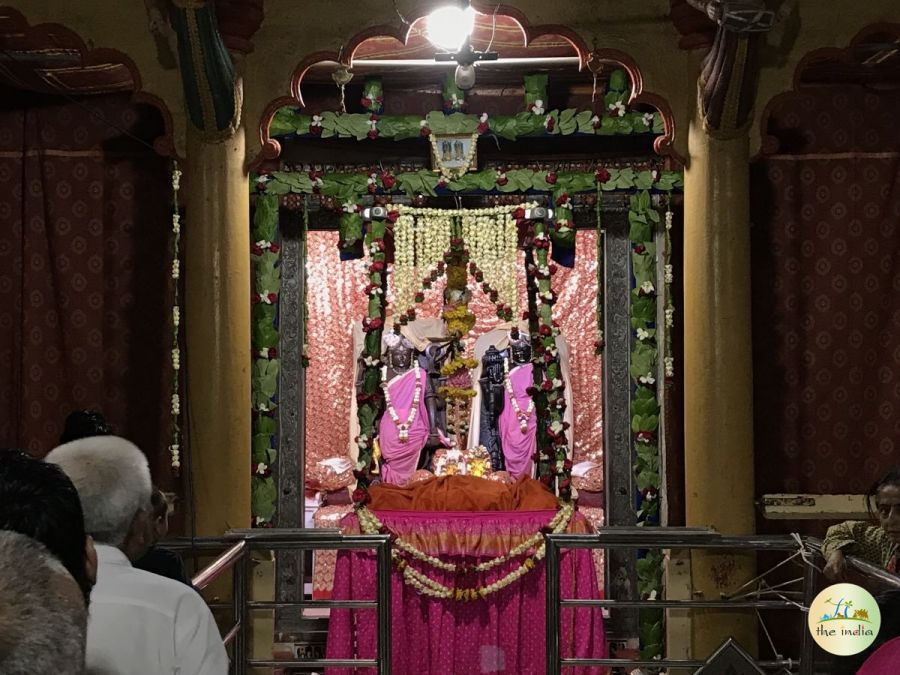 Madhavpur Mela of Gujarat will take place from 10th to 14th April 2022. Madhavpur festival celebrates the beautiful moments of Lord Krishna and Rukshmani's journey which starts from Arunachal Pradesh to Gujarat. The government of Gujarat and the central government together maintain our relationship of historical culture with Arunachal Pradesh. These cultural events are essential to sustain our culture. Ancient Madhavrai temple of Madhavpur is the sign of the marriage place of Lord Krishna and Rukhmani.
9. Kankaria Carnival Festival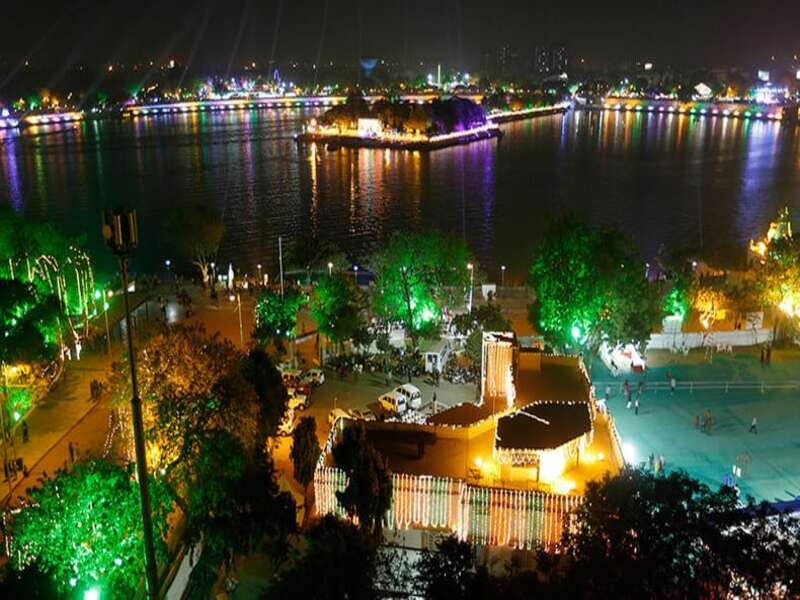 Kankaria Carnival Festival is celebrated in the last week of December at Kankaria Talav, which is one of the best places to visit in Ahmedabad.
This is a week-long annual festival featuring music and dance performances, sports & yoga activities, cultural programs, fireworks displays, performances by students, social activities, etc.
10. Riverfront Flower Show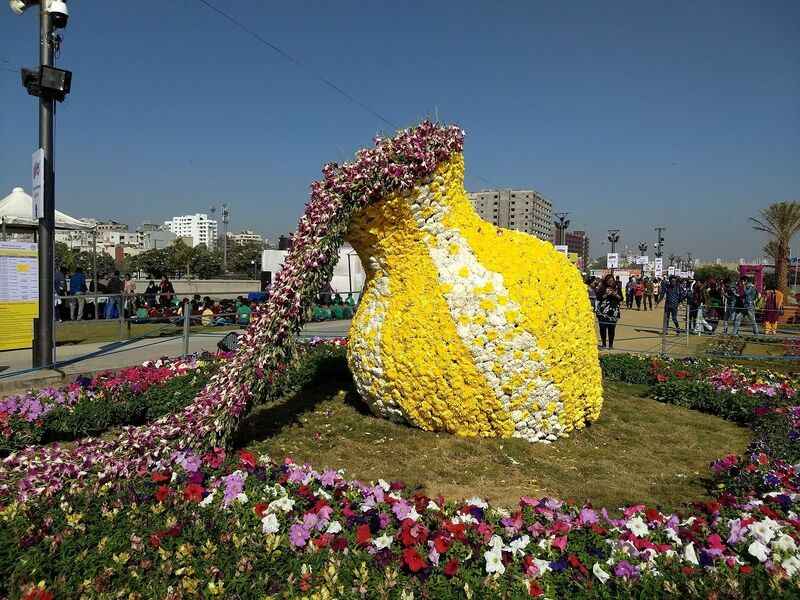 The smell of freshly blossoming flowers and bursting blooms will scent the Ahmedabad air once again for the Ahmedabad Flower Show presented by Ahmedabad Municipal Corporation in 2023 over 10 glorious days.
The visitors will also be surrounded by the colour and fragrance of the gorgeous and mysterious blooms and greenery. From the first fortnight of January 2023, Sabarmati Riverfront Flower Park will transform into a floral wonderland in full bloom.
Best Food Dishes to Eat in Gujarat
For all the foodies, here's what you can indulge yourself too.
Khaman – Dhokla – Handvo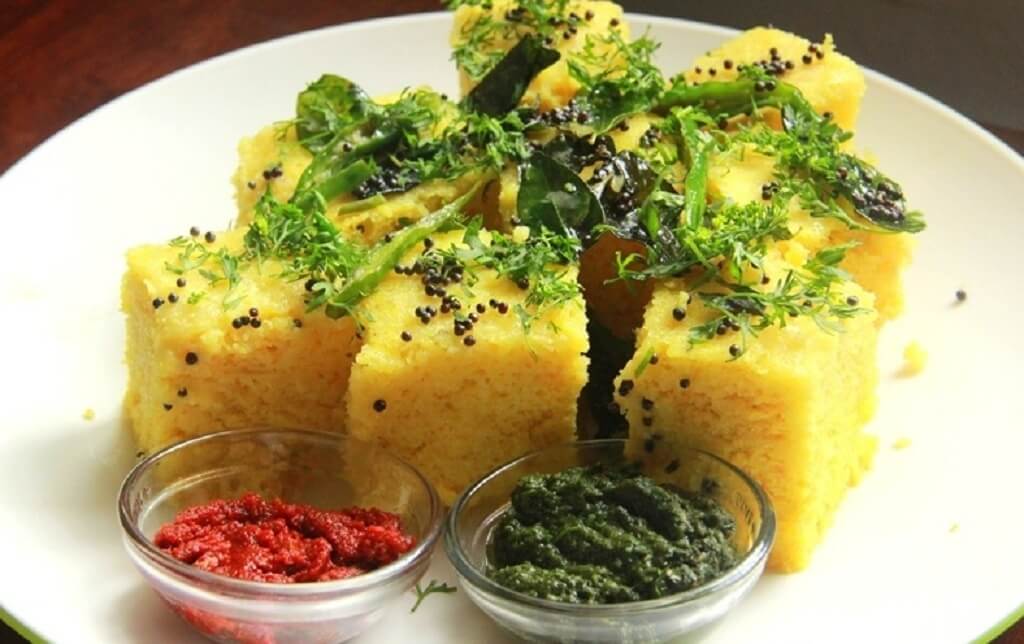 Image Source
If you are in Gujarat and haven't tasted the Khaman, Dhokla and Handvo, your tour to Gujarat has gone in vain. One of the lip-smacking snacks of Gujaratis is the Khaman, Dhokla and Handvo that is made up of Bengal Gram Flour. It is mostly served with green chutney and green chilies. It can be had during breakfast or evening snack or for traveling too. Food lovers love the taste of these snacks that are savory, sweet and salty.
Gujarati Thali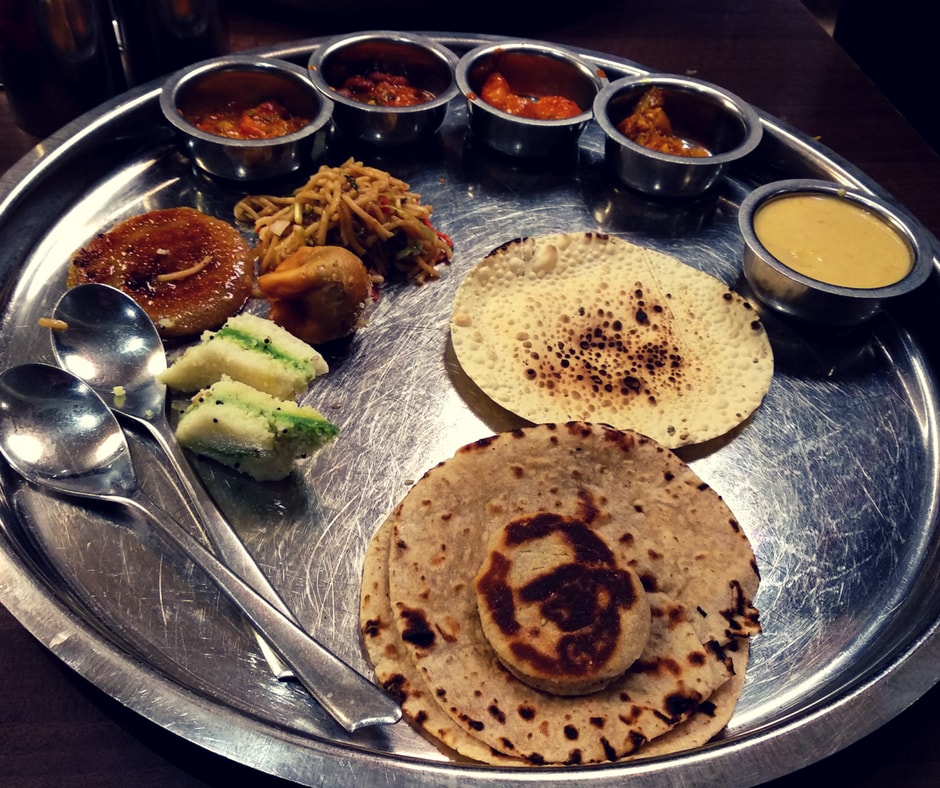 A complete scrumptious meal of Gujarati Thali consists of Rotli (flatbread), Dal (lentils) Sabzi. A typical Gujarati Thali comprises of Chakli (a crunchy spiral spicy snack). Daalparatha, Dal Dhokli, Gujarati Kadhi (made up of yogurt), Khaman, Khandvi, Dahi Tikhari, Ringan nu Bharthu, Khichu, Kakdi Nu Raita(yoghurt and cucumber salad), Makai Ka Bharta, Undhiyu (mixed veg), Toor Dal, Batata Bhaaji, Vagharelo Rotlo, Shrikhand, Masala Puri and much more.
Undhiyu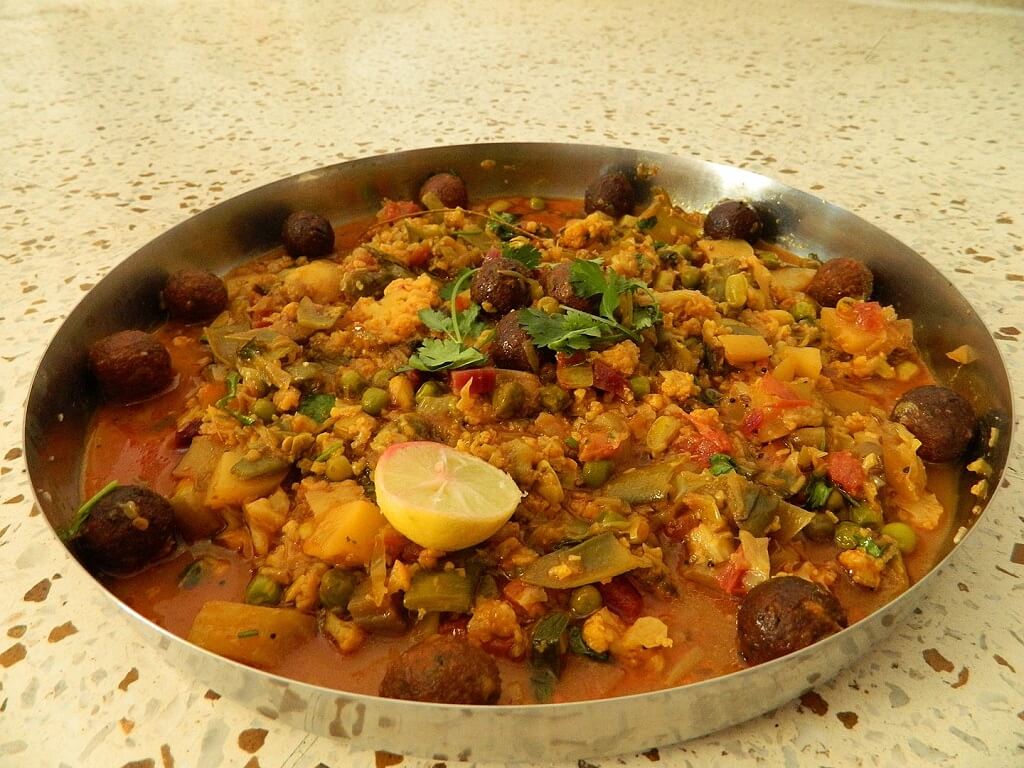 Image Source
This mixed vegetable dish is a specialty in every Gujarat festival. The best part about Undhiyu is the way it is made. The dish is made by cooking the vegetable upside down in an earthen pot. It is this reason that this dish is called undhu-meaning upside down. The dish is best enjoyed during winters. The cuisine is made up of unripe bananas, small eggplants, chickpea flour, purple yam, potatoes, etc. It is a full meal and has nutritional value. It is best enjoyed with Puri (fried Indian flatbread) and Shrikhand (the sweet delicacy made up of hung curd). People eats Undhiyu – Puri specially on Makarsankranti (Uttarayan) festival in Gujarat.
Dabeli (Kutchi)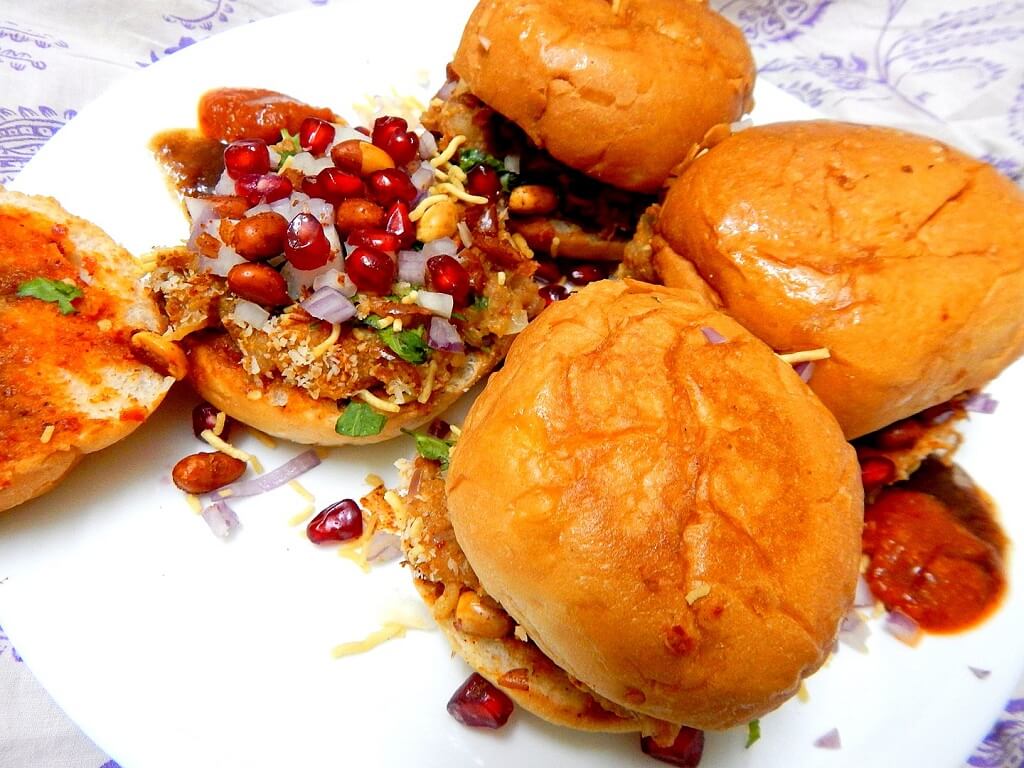 Image Source
One of the handiest snacks of Gujarat is Kutchi Dabeli. As the name suggests, it originates from Kutch. It is a light snack that is made by mixed boiled potatoes with special masala. It is best accompanied with pomegranate and roasted peanuts and is placed well on the burger bun. The spicy, sweet and savory snack is enjoyed by everyone and especially for the tourists.
Surti Locho

The word Surti Locho has originated from the beautiful city Surat. Locho is a steamed Gujarati snack. It is made from Bengal gram flour. It is a favorite snack. It is best enjoyed with butter, sev, coriander leaves and onion.
Best Tourist Places to Visit in Gujarat
The bucket lists ought to comprise of the following sites.
Rann of Kutch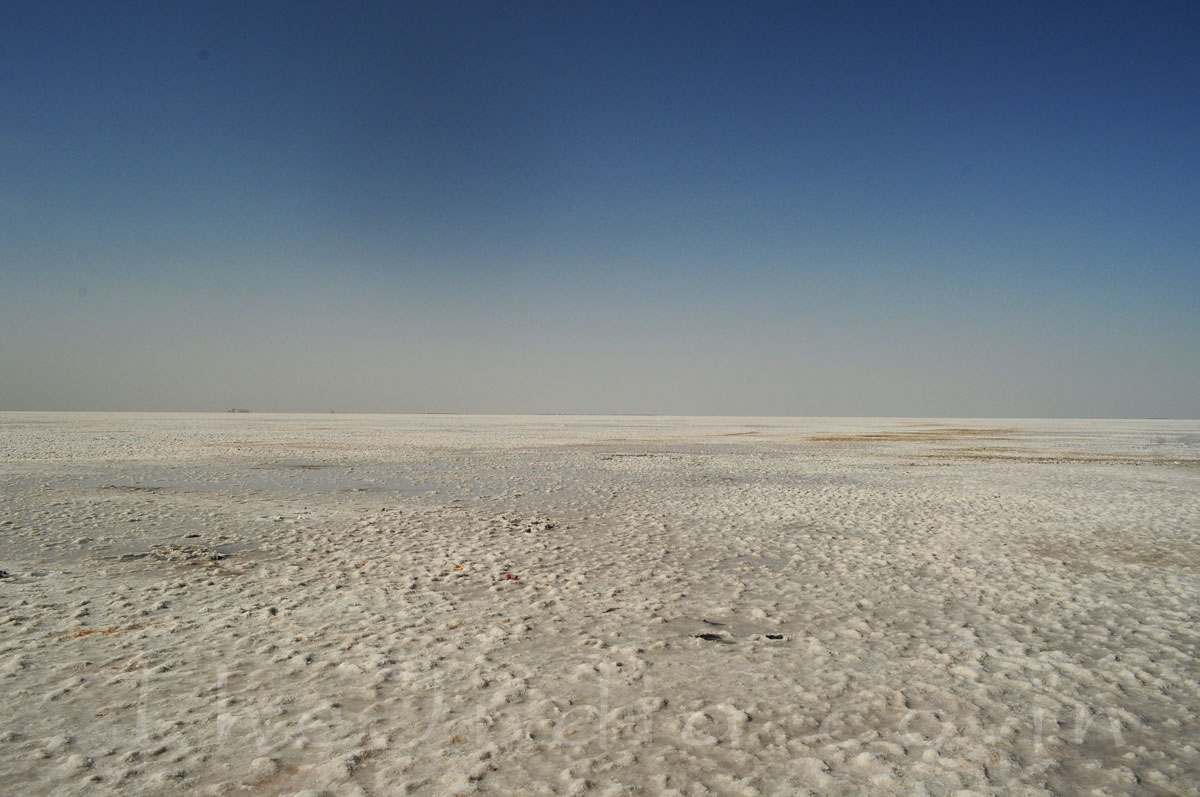 The salt marsh of the state situated in the Thar Desert of Gujarat is famous for some reasons. It is one of the largest slat deserts of the world. Rann essentially means desert. Tourists who come here remain spellbound seeing the Great Rann of Kutch. The region also has Kutch Desert Wildlife sanctuary and Kutch Museum where there is a lot to explore about this place. Visitors who come here also pay a visit to Mandvi Beach and the other nearby areas.
Polo Forest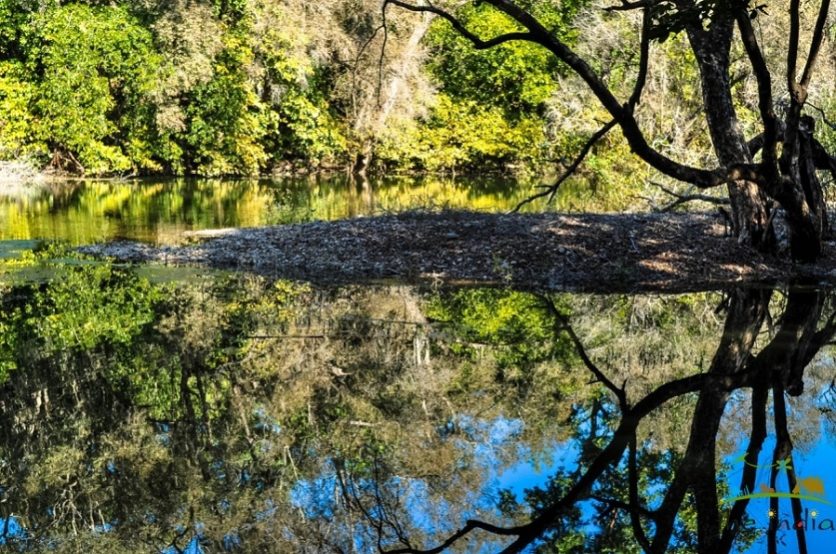 Polo Forest weekend destination near Ahmedabad offers lush green scenic beauty for its visitors. It is spread over 400 sq. Km. One can visit this place without seeking any permission. The rich flora and fauna attract every vacationer to be a part of the splendid experience. Among the other areas, The Sadevant Savlings Deras, Surya Mandir, Jain derasar, Polo Jain Nagri, and Lakhena Temple are must visit places. There is Harnav River, Shiv temple at Sarneshwar where devotees of Lord Shiva can pay their homage. Polo Forest is also one of the best places to visit near Ahmedabad and every weekend people visit this place to enjoy the calmness of nature.
Sabarmati Ashram / Riverfront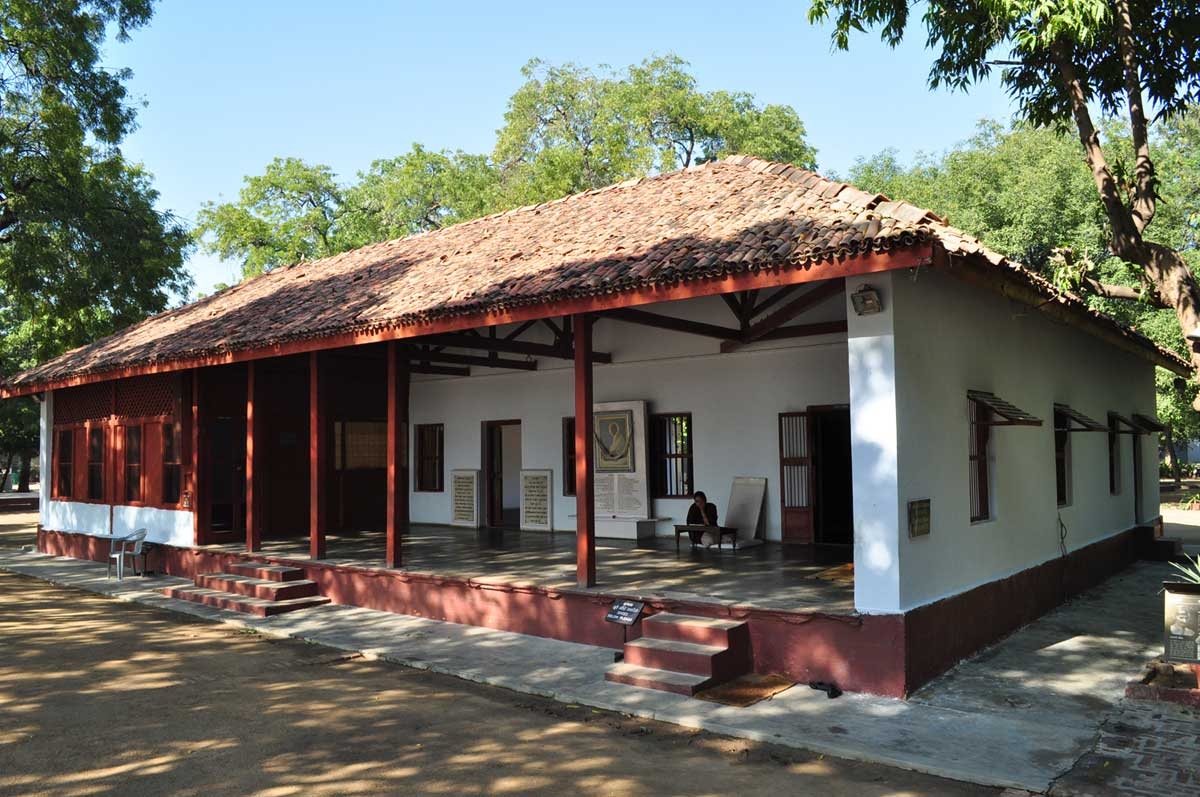 When you are on a Gujarat tour, and if you haven't visited the Sabarmati Ashram, you have not completed your trip. Though Sabarmati Ashram is a bucket list for many visitors, the famous riverfront is quite alluring for visitors to visit. It is now at riverfronts that several cultural and educational events are held. Many international leaders visits this place for sure when they were on India tour.
Girnar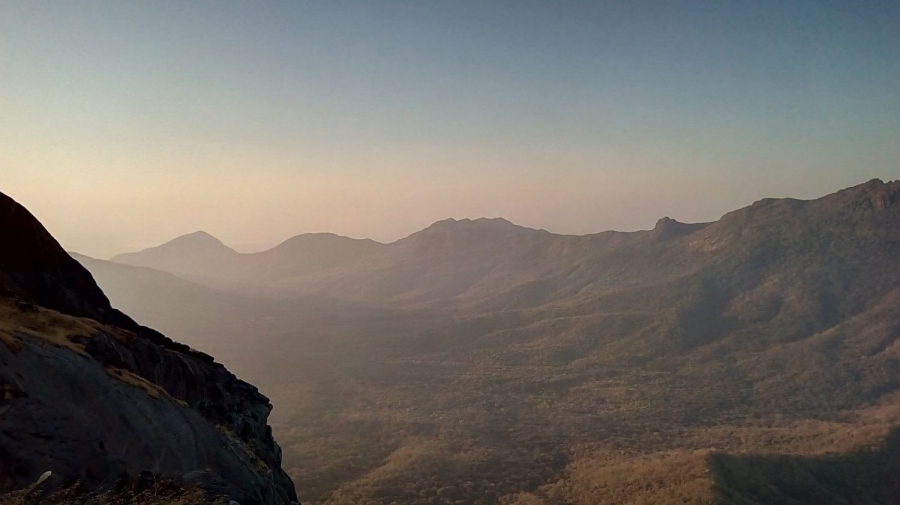 If you wish to witness tranquility, Girnar is the highest point in Gujarat where one can seek soleness. It is one of the most pilgrimage sites. Visitors enjoy taking the stroll on the mountain ranges. There are about 4000 steps to reach the summit. The levels begin at Damodar Kund. On the way to the summit, there are several Hindu and Jain temples to visit. It is an expedition that one cannot give a miss. Girnar can be reached by road as there are buses available that can drop you till Junagadh. There are rail lines too that connect to Junagadh.
Best Temples to Visit in Gujarat
Blessings and solemn together at the doors of temples is here at Gujarat.
Dwarkadhish Temple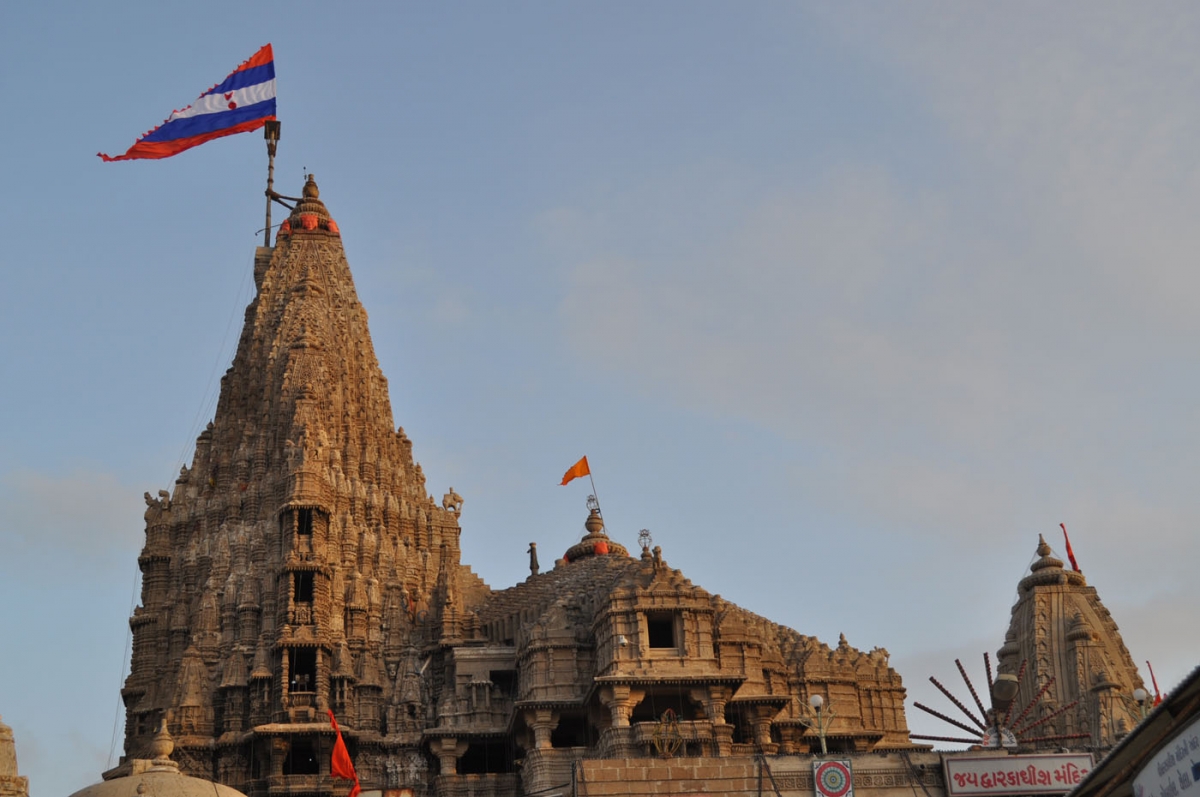 Every visitor who comes to Gujarat seeks blessings from Dwarkadhish Temple, a Hindu Temple where Lord Krishna is worshipped. The architecture of the temple is worth a site for a five storied building supported by 72 pillars standing reliable for over 2200 years. This temple is also a part of the Char Dham pilgrimage yatra which is sacred for Hindus. Capturing the exquisite of the building with shutterbugs is a must.
Somnath Temple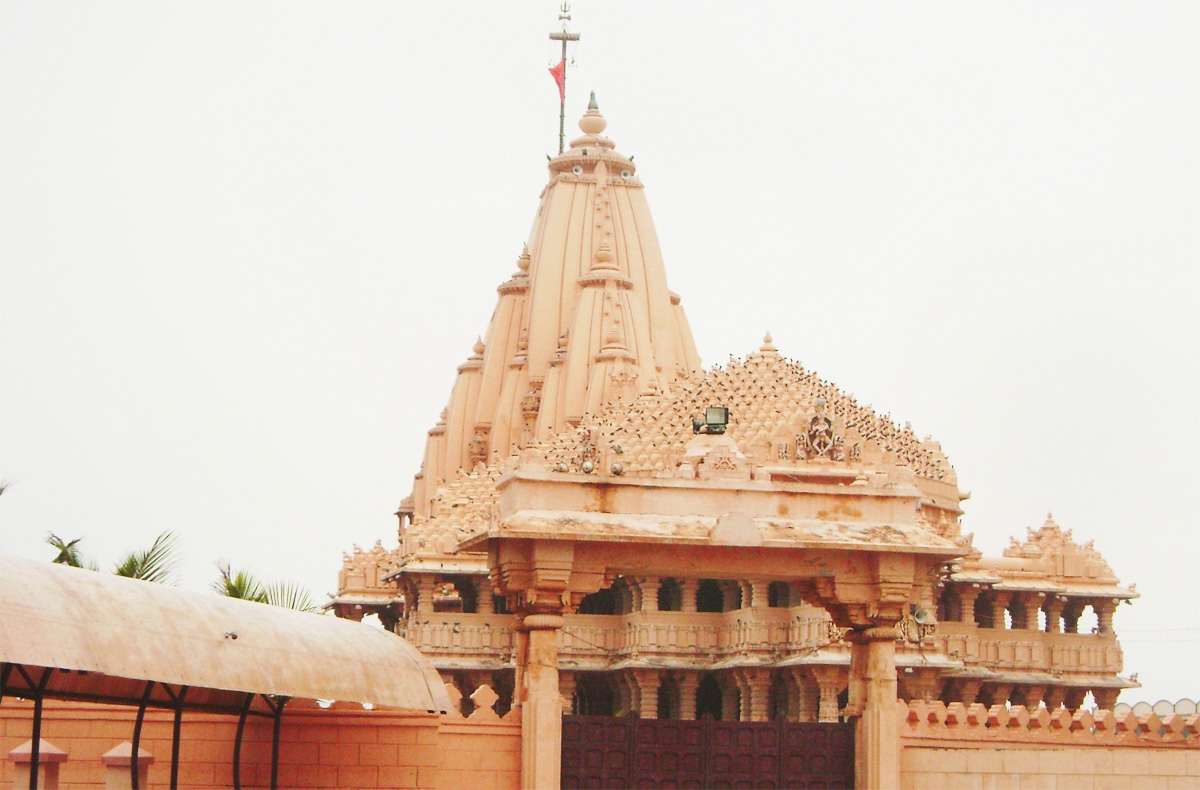 Gujarat's very own Somnath temple in Saurashtra is situated on the coastal border. It is supposed to be the first among the twelve Jyotirlinga shrines of Lord Shiva. It remains not only an important pilgrimage site for the natives but also a loved tourist spot. Every tour operator includes a visit to the Somnath temple for this reason.
Palitana Jain Temple

Palitana Jain Temple situated on the Shatrunjaya hill of the Palitana city seeks excellent importance amongst the Jain population of the country. It remains holy for some reasons as it is believed that 23 of 24 Jain Tirthankaras have sanctified the hills every time they have paid their visit. There are nine clusters of the marble–carved temples set on the hilly areas and make it look divine. It remains one of the temples to be visited once in a lifetime to achieve nirvana (salvation) according to Jain mythology.
Sun Temple – Modhera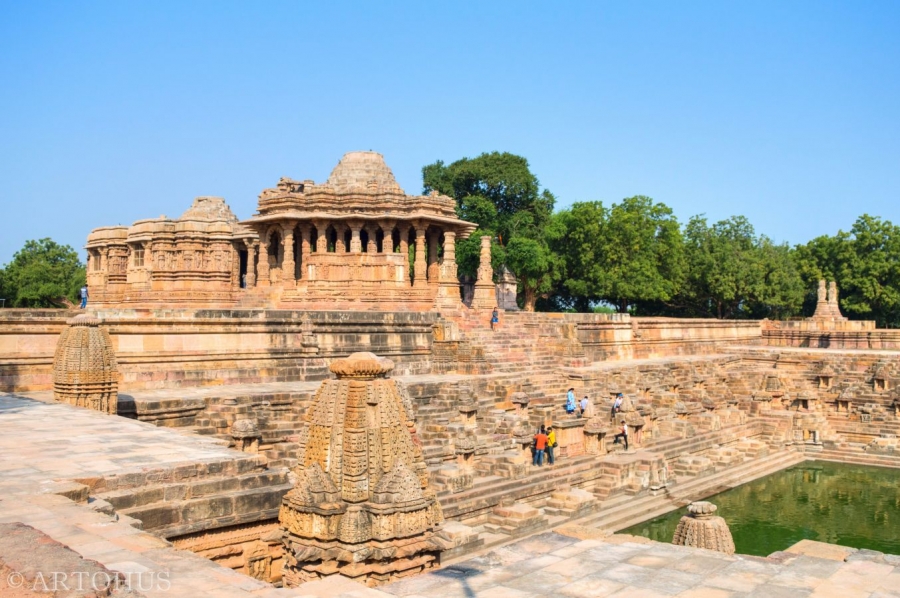 The name essentially means the temple that is dedicated to the solar deity. This Sun temple is situated on the bank of the river Pushpavati. However, this place no more remains a place to be worshipped as it is maintained by the Archaeological Survey of India. Tourists come here to witness the temples exteriors and pillar carvings. There are several steps to reach to the bottom of the temple where one can find more number of small shrines.
Shri Arasuri Ambaji Mata Temple, Ambaji, Banaskantha

If you are in or around Mount Abu, visiting Shri Arasuri Ambaji Mata Temple, Ambaji is a must. It is known to be one of the 51 Shakti Pithas. What's interesting is there is no idol of Goddess that is prayed on, but a Gold Plated Holy "Shakti Visa Shree Yantra" is worshipped as the chief God. One can reach the Ambaji Mata (the original impression is on the Gabbar hilltop) that can be achieved by taking the steps or use of Rope Way. The place hosts a large fair on the Bhadarvi Poornima (full moon day- in September) where one can find pilgrims in large numbers. Apart from seeking blessings, this temple is known for its architectural value too. One can remain spellbound at the sight of a glorious golden pot that shines at 103 feet placed on the top of the temple.
Hill Stations in Gujarat
Whether you are on a honeymoon or a family vacation, Gujarat's hill station bound to keep you in complete awe.
Saputara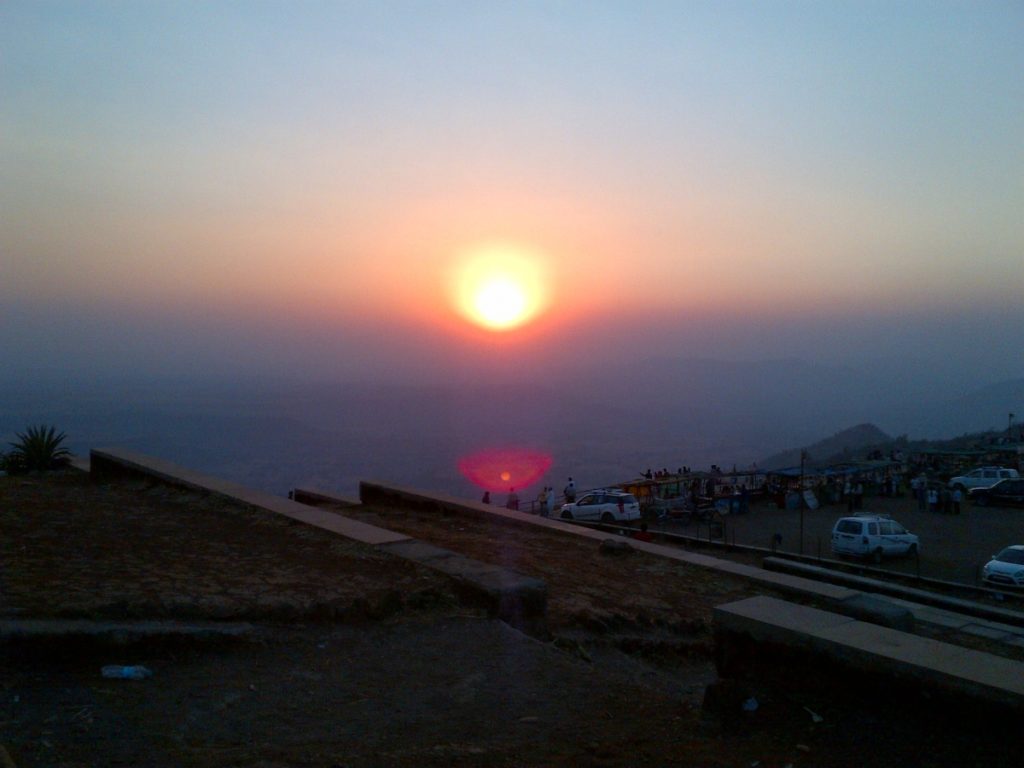 Saputara hill station is a much-loved destination amongst the natives and the tourists. Saputara is a hill town situated on the western side of Gujarat. It is culturally rich, and it is its weather that one falls in love with. The Artist village exhibits several cultural center displays, tribal art crafts. The Dang tribe at Saputara Tribal Museum is a must visit. The Step Garden and the Lake Garden are some of the places to visit and enjoy a little picnic.
Don Hill StatioN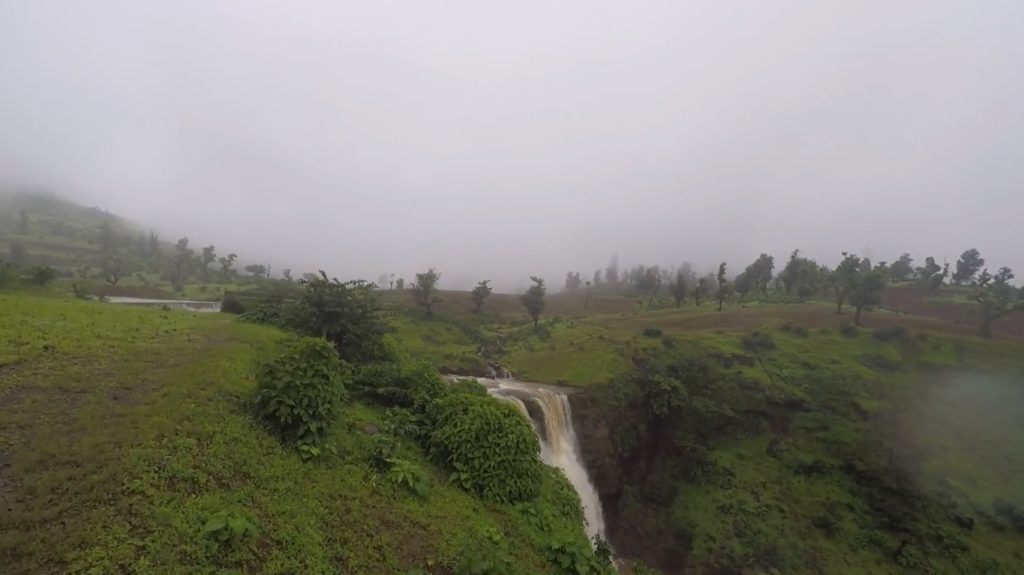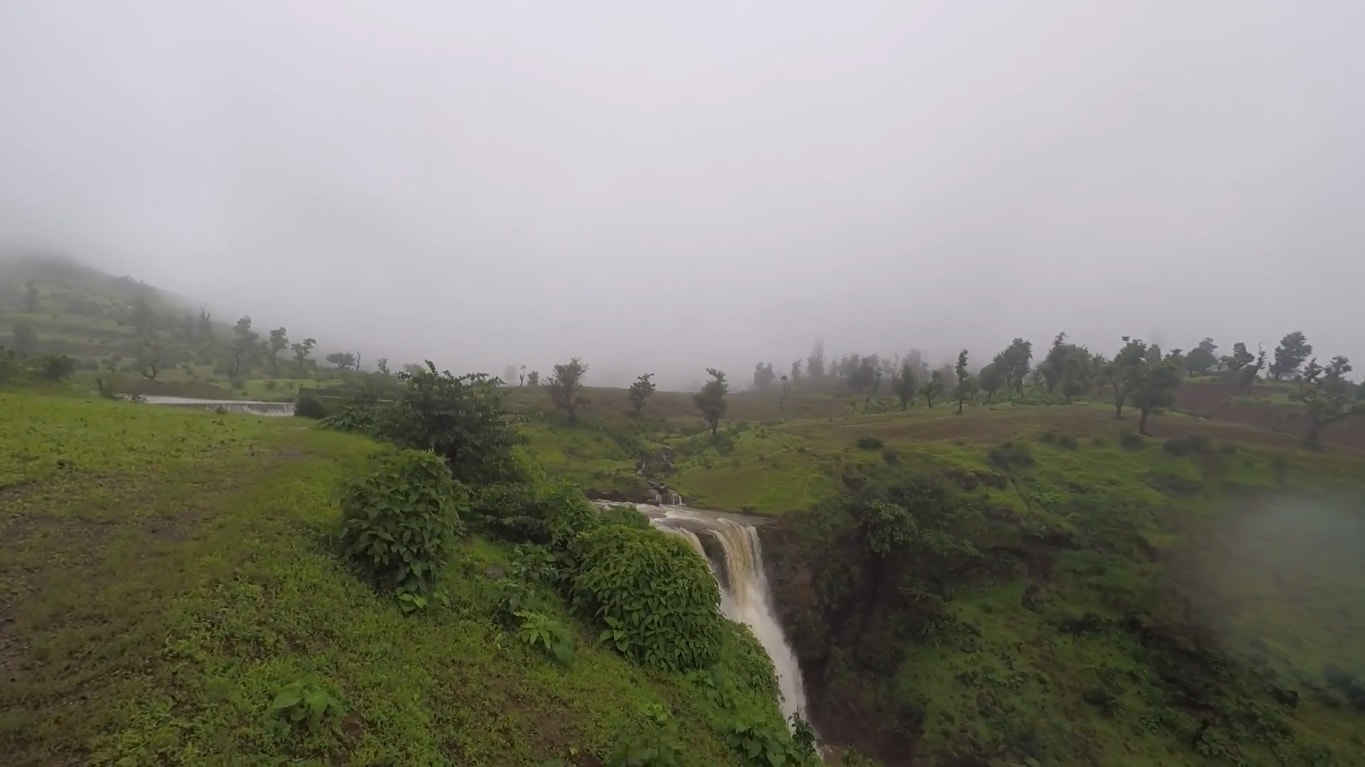 Don hill station is an amalgamation of Gujarat and Maharashtra. It is located on the border of these two states. The much under-rated hill station has a scenic landscape to offer to its visitors. This place can be visited throughout the year due to its low temperature. Visitors come here to enjoy the bio-diversity that the site boasts off. The site has beautiful waterfalls and caves to explore.
Wilson Hills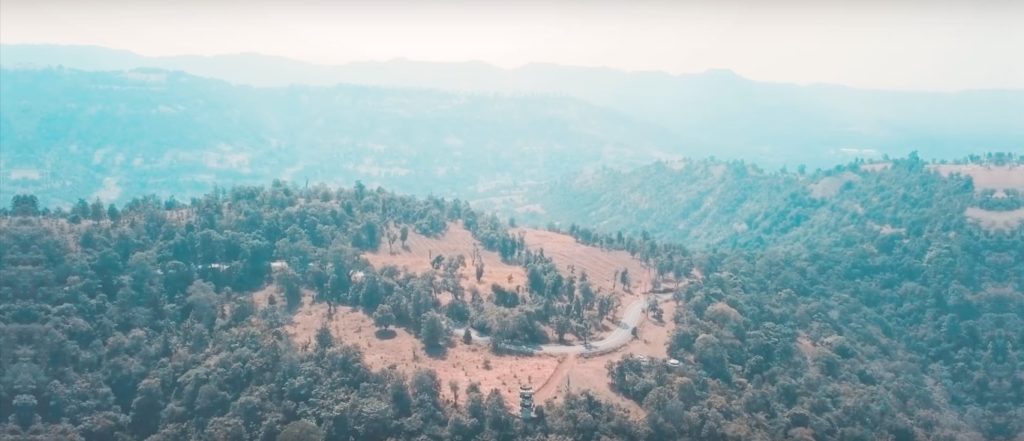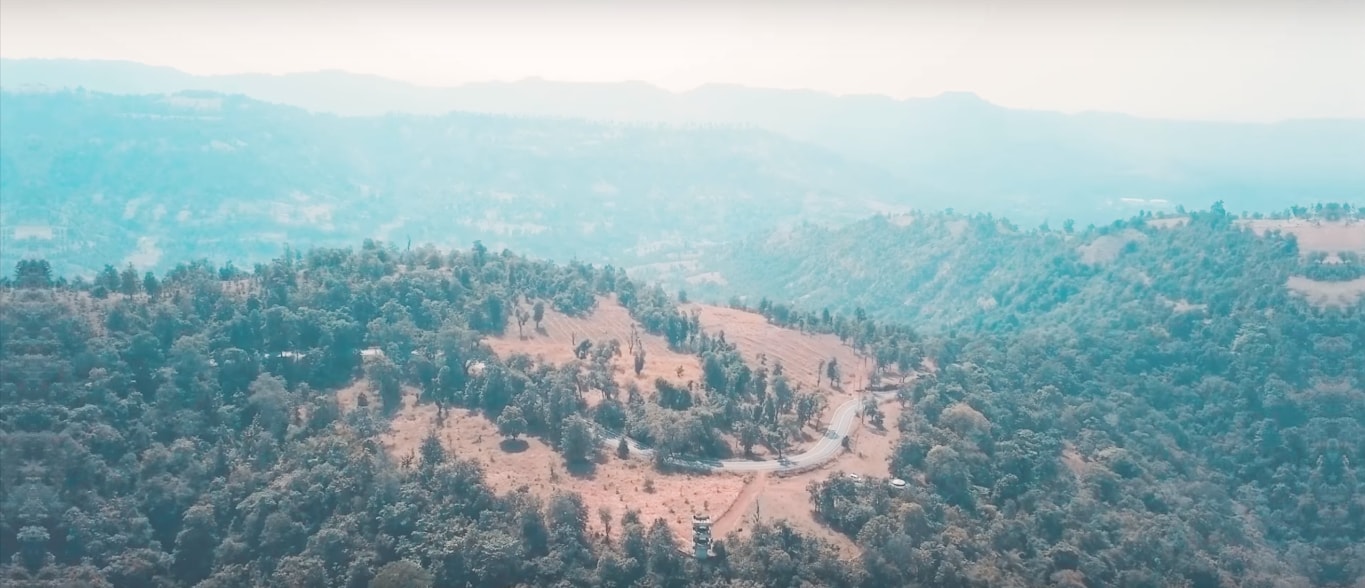 One of the densely forested region and yet remains a hill station is the Wilson Hills. There are six points of interest at the hills-Marble Chhatri Pt, Steep Valley Pt, Ozone Valley Pt, Sunrise Pt, Sunset Pt, Shankar waterfalls pt. The hills are near Dharampur Tahsil and also nearest to the city of Surat. Due to the elevation of 2500 ft, one can see the glimpse of the sea. Other places of interest are the Barumal temple, Lady Wilson museum, the district science center, Jalaram Dham faladhara and the Bilpudi twin waterfalls.
Best National Parks in Gujarat
Gujarat is known as the place of lion dwelling. This is so true for this state has some national parks to offer, few that are one of its kinds too.
Gir Forest National Park (Sasan Gir)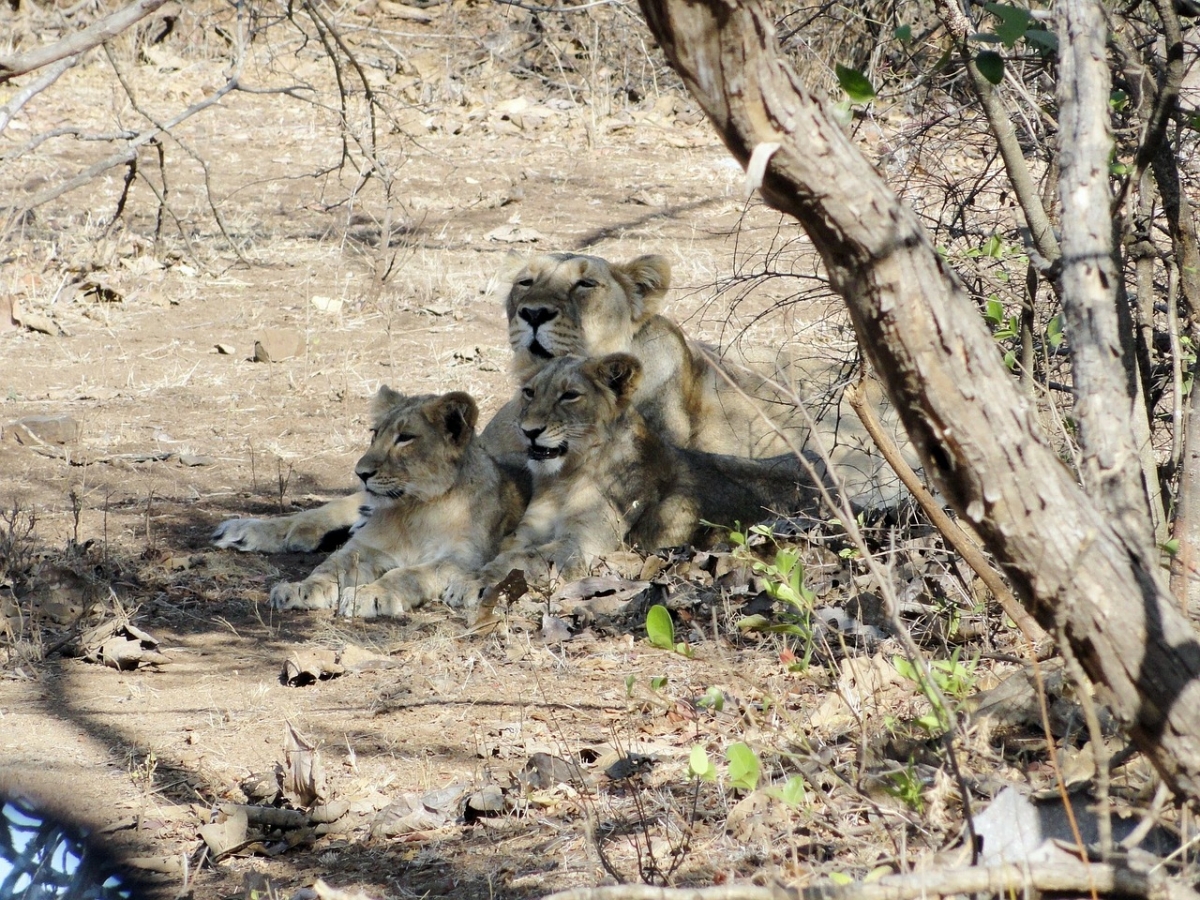 Every nature lover wishes to visit Gir Forest to capture the Asiatic lion onto his Kodak. Gir Forest National Park is a wild-life Sanctuary situated on the western side of Gujarat. Apart from Lions, one can trace leopards and antelopes, vultures and pythons. The Kamleshwar Dam is an excellent habitat for marsh crocodiles and birds. The place hosts jeep jungle safaris for its visitors.
Blackbuck National Park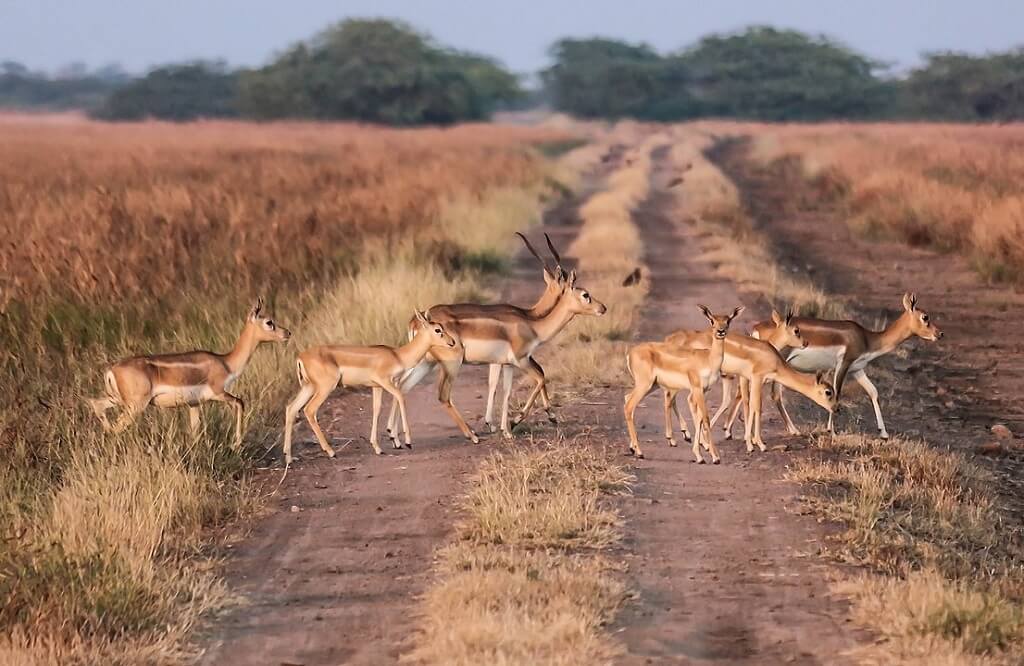 Image Source
This national park is a home for several blackbucks, wolves, lesser florican, antelopes, and hyenas. This park was established in the year 1976 in the Bhal region of Saurashtra. This national park remains as one of the classified 4B Gujarat- Rajwada biotic province towards semi-arid bio geographical zone. This place can be hiked as well as roamed with a vehicle. Alternatively, guides can be hired to guide through the trails of the animals. Except for monsoon time (June to October), this park remains open to visitors.
Marine National Park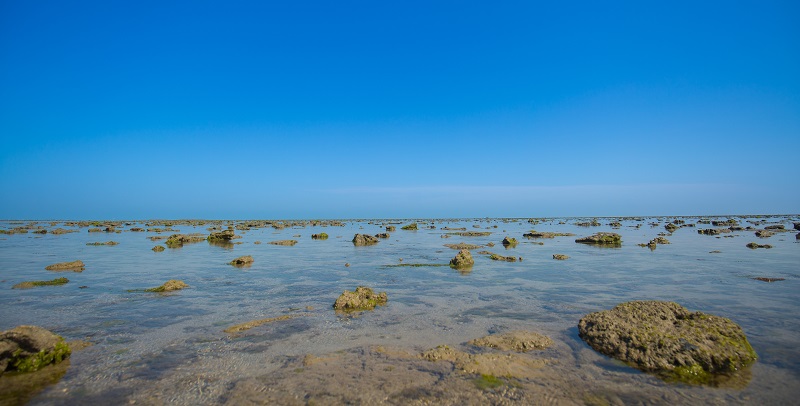 Established in the year 1982, this national park is one of its kinds. It is famous for mangrove and coral reefs. Located in the Gulf of Kutch it covers an archipelago of 42 islands. It is a habitat of 37 species of hard and soft corals, 70 species of sponges, more than 160 kinds of fishes and 27 varieties of prawns. Best time to be a part of this park is between Novembers to January. One could also glimpse the Dugong, Dolphin, Olive Ridley Turtles, Sea turtles, Mangroves, Coral Sponge, Green Sponge, Puffer fish etc. The nearest way to reach the destination is to arrive at Jamnagar.
Vansda National Park
Vansda national park, also known as Banda national Park is densely populated with trees reaching a height of 120 ft. in the district Navsari. One can witness a variety of plants. Visitors are bound to be in complete awe looking at the 60 species of butterflies and 121 kinds of spiders. In fact, the most massive spider of Gujarat known as the Giant wood spider can be seen here. This is a place where insects, centipedes, millipedes, snails, frogs, snakes, the variety of birds find their dwelling in. Visiting the site after monsoons is best.
Best Wild Life Sanctuary of Gujarat
Want to get wild with the wildness of this place, experience the best wildlife sanctuaries of Gujarat here.
Kutch Desert Wild Life Sanctuary
As the name suggests, located in the Great Rann of Kutch, is one of the most significant seasonal saline wetlands. It is a home for several birds and wild mammalian life.
Jambughoda Wild Life Sanctuary
This wildlife sanctuary that is embedded with forests of teak, mahuda, bamboo is a rare sight. It is this ambiance that makes it a home for all kinds of wild-life habitation. One can capture the glimpse of the leopard, wild boar, nilgai(largest antelope of Asia), jackal, hyena, sloth bear, four-horned antelope, barking deer, etc. This place is easy to access due to its nearest bus and rail transportation to Shivrajpur.
Rampara Wild Life Sanctuary
Rampara wildlife sanctuary has a considerable population of mammoth antelopes. They can be seen roaming flocks. Apart from antelopes, it is a home for wolves, jackals, fox, hyena, blue bulls. A varied species of birds flock to these regions too. To name a few, partridges, common peafowl, ringdove, Sunbird, etc. Located near Rajkot, this place is easily accessible.
Barda Wild Life Sanctuary
Situated near Porbandar, many mammals such as lions, Chinkara, sambar, spotted dear leopards and wolves find peace here. The park is rich with venomous species of snakes. The sanctuary safeguards the endangered birds such as the spotted Eagle and crested hawk eagle. For reptile lovers, there are crocodiles and chameleon that are rare and are endangered.
Shoolpaneshwar Wildlife Sanctuary
If you wish to witness pythons, flying squirrel, big cats, come to the Satpura range where Shoolpaneshwar Wildlife Sanctuary is located. Bharuch is the nearest railway station to reach this destination. This sanctuary is one of the protected areas of Gujarat state. The rich dry deciduous forest and riverine forests make the refuge a living habitat for many endangered species.
Bird Sanctuary in Gujarat
Bird lovers and watchers can spend the entire day and evening listening to the birds chirping, capturing their wings in the shutterbugs.
Thol Bird Sanctuary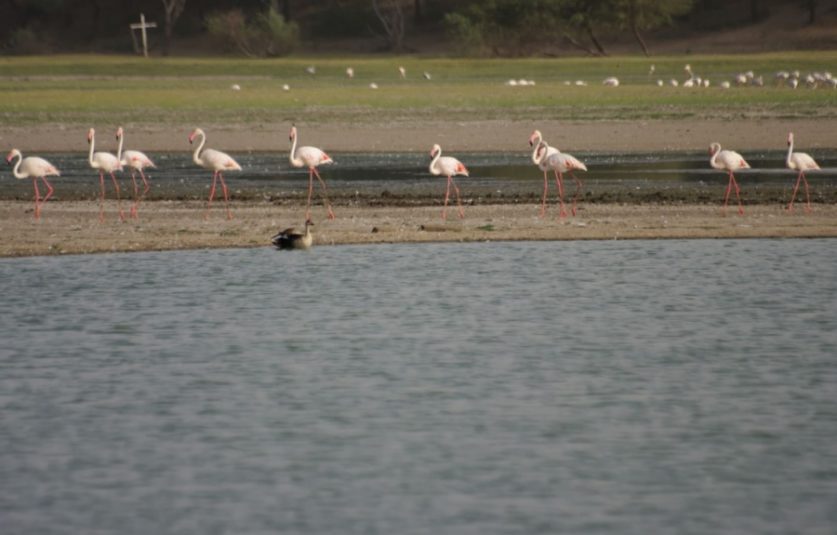 This bird sanctuary is situated near Thol village of the Mehsana District of Gujarat. The bird sanctuary was established in 1988, and one could see a variety of 150 birds. The refuge has an artificial freshwater lake that makes water birds come and make their habitat here. One can sight flamingos and cranes easily.
Nalsarovar Bird Sanctuary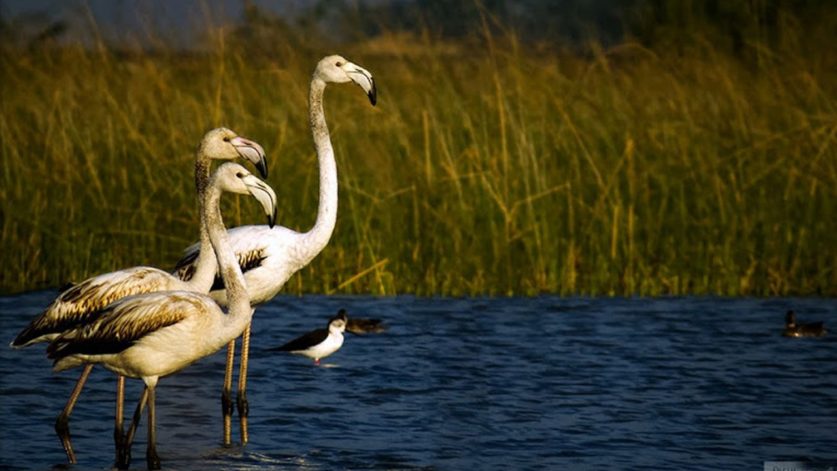 Near Ahmedabad in the Sanand village, Nalsarovar sanctuary is known for inhabiting migratory birds. It is one of the largest wetland bird sanctuaries in the country. It was established in the year 1969, and there is a lake that inhabits 210 kinds of water birds. Nalsarovar has a good population of wild ass and black bucks. For a bird watcher is the sheer delight to see rosy pelicans, white storks, waterfowl, ducks, grebes, herons, etc. flying at their own pace. There is a scope for the horse ride or country boats on the lake by which a visitor can take a round of the bird sanctuary.
Khijadiya Bird Sanctuary
A home for jackals & cats, snakes & mongoose, reptiles & bluebells and occasional winter migratory birds can be seen here. Khijadiya Bird Sanctuary has turned to an eco-tourist village where kids and tourists can enjoy the sight of the birds along with playing activities. It is located in the Jamnagar district and attracts birds during September to February. It was in the year 2010 that International Bird Watchers' Conference was held.
Porbandar Bird Sanctuary
Located in the heart of the city of Porbandar is a perfect example of man and nature's co-existence. The project was founded by naturalist Peter Jackson and conserves exotic species of birds. Within a kilometer range, the sanctuary inhabits migratory birds like flamingos, wildfowl, pelicans, avocets, ibis, curlews, spoonbills, jacanas, herons, teal, egrets and more. The sanctuary is well maintained with the lake being supplied with fresh water regularly it makes a dwelling place for birds hence.
Best Heritage Sites of Gujarat
Gujarat embraces many heritage sites to its land. There are many studies conducted on such grounds. Tourists often come to witness the essence of the olden civilization and their whereabouts.
Rani ki Vav, Patan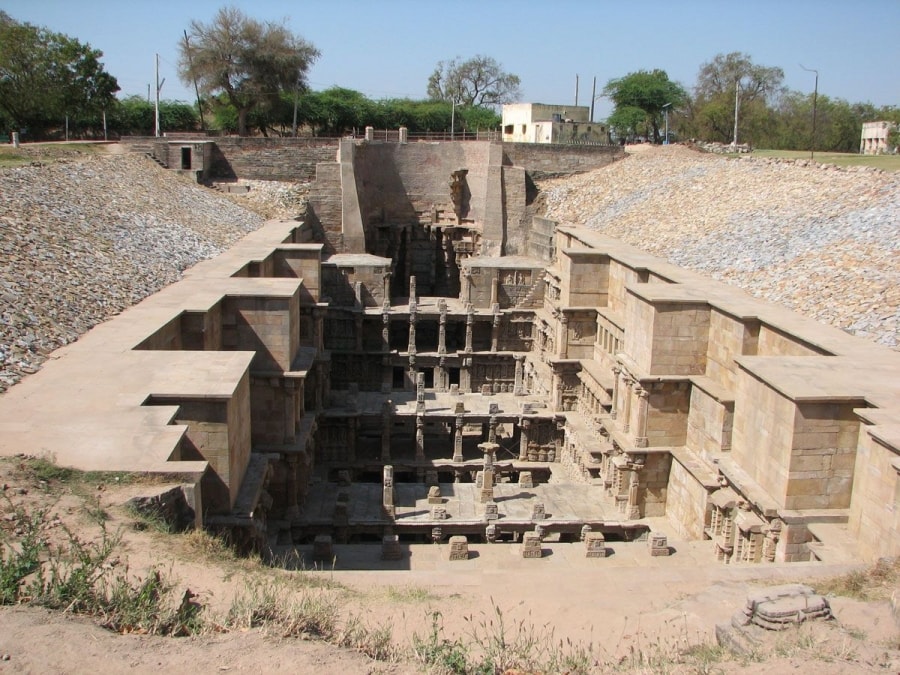 Rani Ki Vav located in the banks of the river Saraswati, this heritage site was built in the 11th century as a memorial towards AD king Bhimdev. The heritage got listed to the UNESCO World Heritage sites in the year 2014 due to its intricate structure of step well. The construction is one of its kinds where it shows distinctive features of subterranean water resource and its storage systems. One can see the Maru-Gurjarat style of architecture that shows an inverted temple and seven levels of stairs that holds 500 plus principal sculptures. This heritage bagged the "Cleanest Iconic Place" in the year 2016.
Adalaj Step Well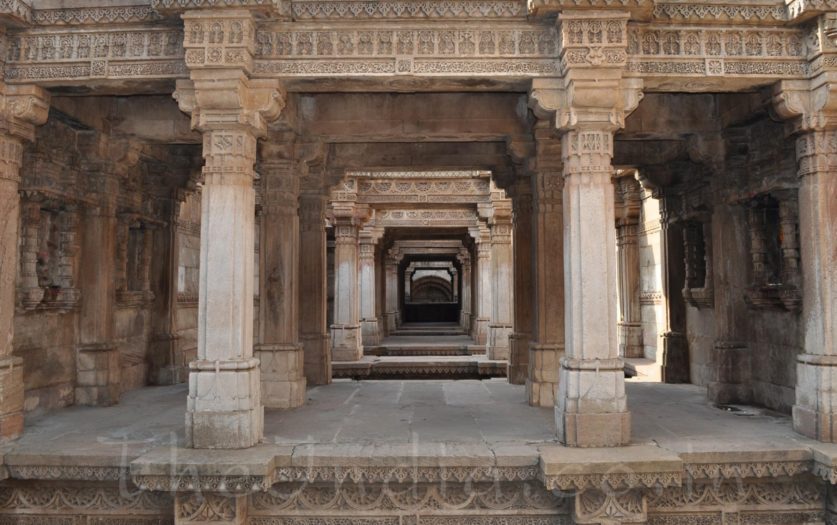 For pilgrims, Adalaj step well serves as their dwelling place. It was built by Queen Rudabai. The five stories step well serves as a cultural hub, utilitarian and a spiritual refugee space. Villagers of Adalaj offer prayers to the deities that are carved on the walls of the step well. There is natural sunlight that enters the octagonal well. The temperature in the well is six degrees cooler than the rest area. The architecture shows a complete amalgamation of Indo-Islamic design. One can see the blend of Islamic floral patterns, mythological scenes, ornamentation, etc. The striking feature is the Ami Khumbor – a pot that contains water of life and the Kalp Vriksha –tree of life that is carved on a single slab of stone.
Lothal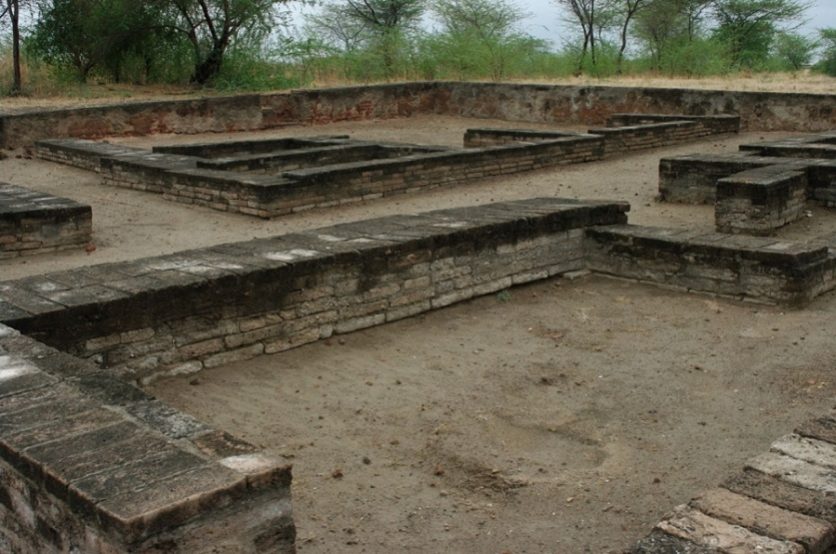 Want to stand on desolate ruins and feel the historical importance; it is here in the village of Lothal in Gujarat! Lothal means "Mound of the Dead." Lothal is one of the excavated Indus Valley civilizations. The local museums exhibit a lot about ancient Lothal.
Siddi Saiyyed Jali (Mosque)– Old Ahmedabad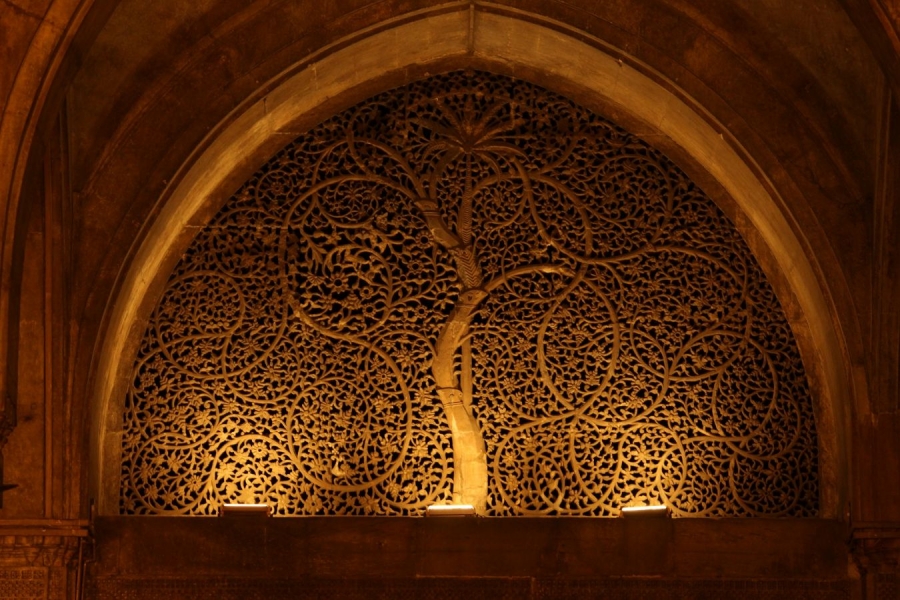 Attested by the marble stone tablet, Siddi Saiyyed Mosque was built in 1573. It was made during the procession of Bilal Jhajar Khan by Sidi Saeed. Due to the ten stone latticework windows, the name Jali is prefixed to the mosque. The geometrical designs on the square stone pierced panels are a real architectural sight.
Champaner-Pavagadh Archaeological Park
This UNESCO Heritage site located in the historical city of Champaner is studded with some forts with bastions. The location was built under Sultan Mahmud Begada of Gujarat. A visitor can remain studded with the archaeological landscapes, the historical importance attached to it and the Chalcolithic sites that keep all the people with complete admiration. It is a well-equipped landscape that embraces gates and arches, tombs, mosques and temples. The Kalika Mata Temple at the top of the Pavagadh Hill attracts pilgrims throughout the year.
Best Beaches in Gujarat
With country's longest coastline of 1,666 km, Gujarat attracts many tourists due to its magnificent beaches. They are a complete recreational destination to enjoy along with family and friends.
Dumas Beach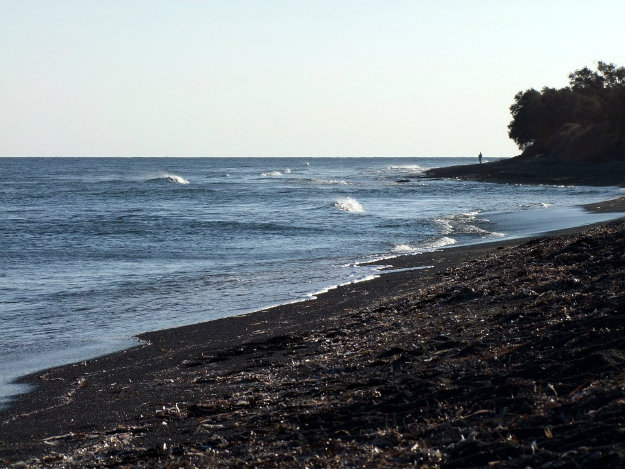 The black sand beach situated in southern Gujarat. Vacationers often take a swim in this area. Along the way, there is Dariya Ganesh Temple that can be visited. Many recreational activities are held for adults and kids. One can get there quickly to Surat by road, rail or airways.
Mandvi Beach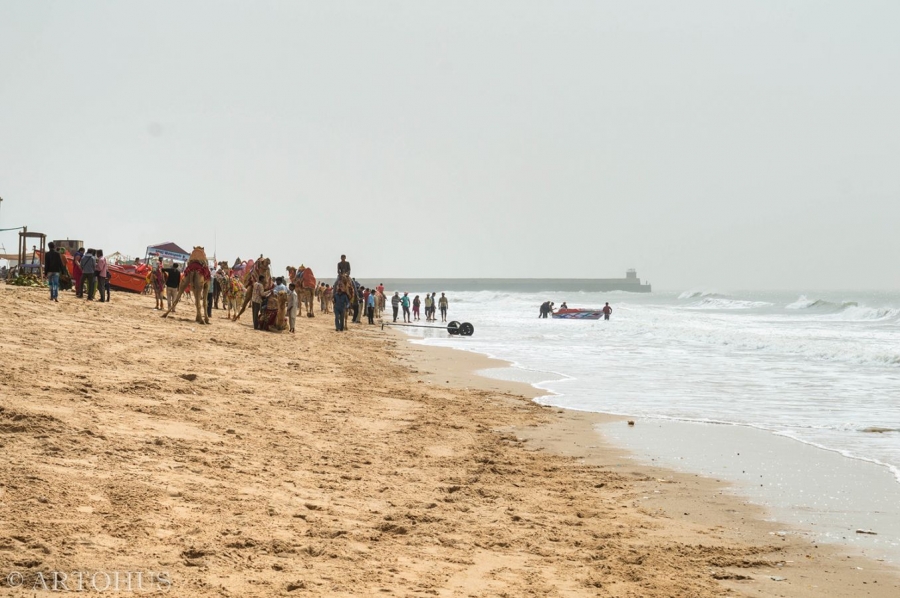 Often termed as kasha – Vishvanath Beach, the seashore of Mandvi Beach is the most excellent part of it. It is closest to the town center. Visitors enjoy the fresh coconuts and other lip-smacking Gujarati snacks. One can also take a stroll at the Maharao's private beach that can be accessed with a nominal fee. For more privacy, a visitor can further go to the Vijay Vilas Beach where the white sand and the air-conditioned tents make it a whole desirable place to spend the day.
Diu Beach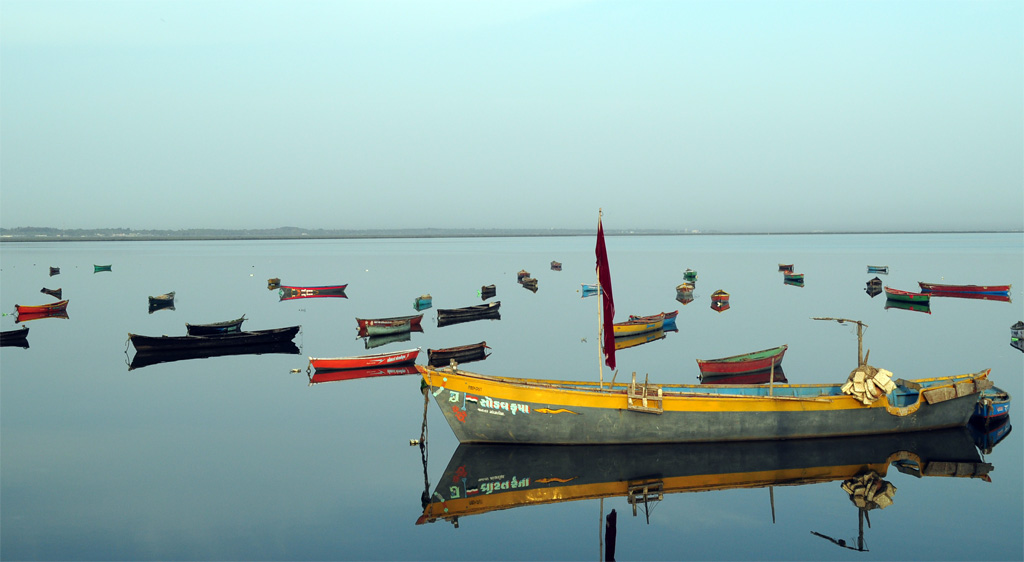 Enjoy the soft sands of the Diu Beach located in the Diu Island of the Arabian Sea. It is surrounded by monuments, churches, lighthouses, and forts. There are few beaches one can explore. The Goptimata Beach is perfect for a quiet vacation. The shore is suitable for swimming, picnics, sunbathing surfing and meals. The golden sandy beach of Nagoya is famous for its swimming expeditions. Water sports and camel riding are prominent here. There are Jalandhar beaches is for those who wish for peace and beauty. Many couples opt for the beachfront dining and lounge facilities.
Tithal Beach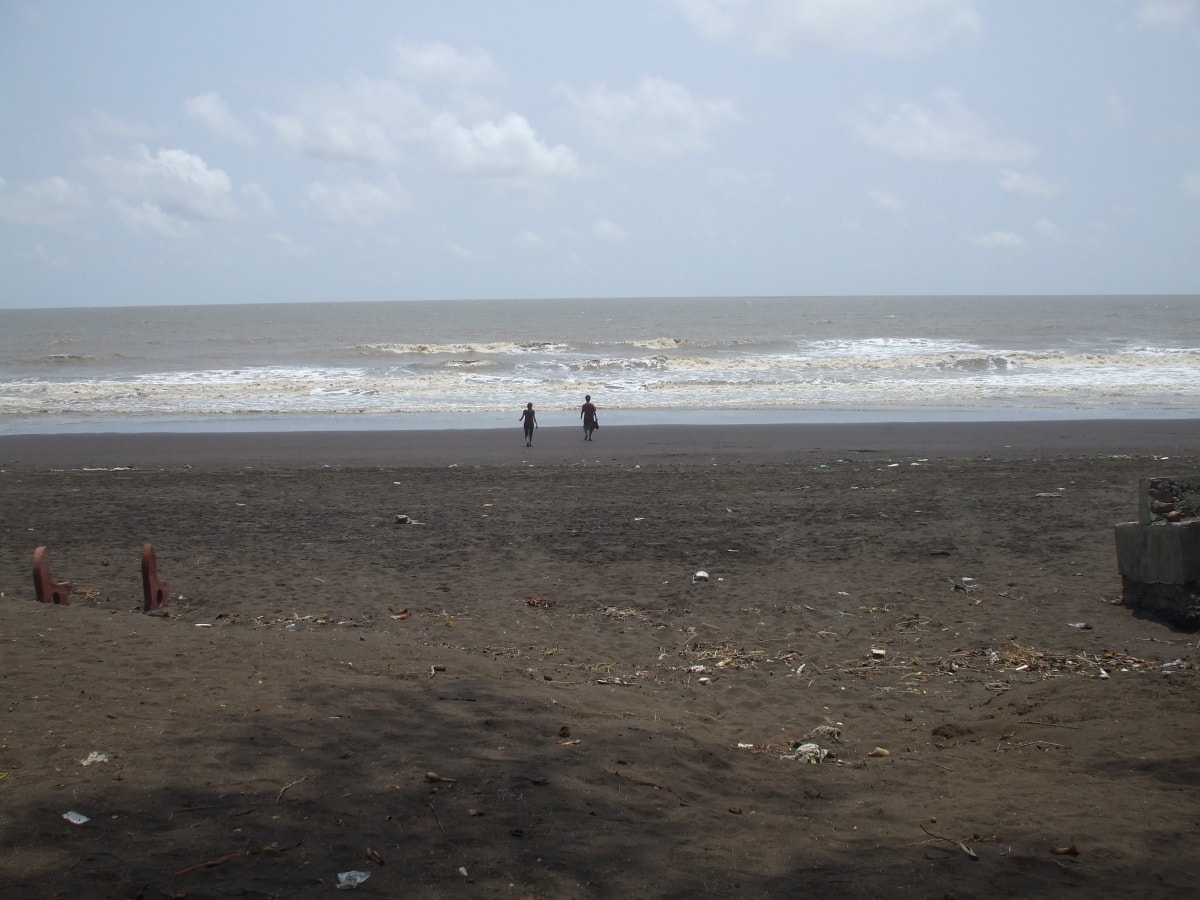 Tithal beach is located on the coastline of Valsad. The clean black beach is best for the picnic. There is also a little joint under the shacks where you can enjoy the authentic shore meals. Along the coast is Swaminarayan Temple where visitors often pray there. Tithal beaches have resorts to offer too. Apart from the monsoons (June to October), this place is best to sit and watch the shore waters touch your feet.
Momai Dham Beach

If you are in Dwarka, you must visit this beach. The beach is surrounded by low lying hills. 14 km away is Momai Mata Temple that is on the top of a cliff. Momai Dham beach is one of the least populated beaches. One can get enjoy the roaring waves sound crystal clear.
Waterfalls in Gujarat
Gujarat are bountiful with natural waterfalls. The noise of the gushing water takes one entirely to another new level. Here are few names to explore the beauty of the state.
Hathni Mata Waterfall
How about gazing at the Hathni Mata Waterfall that stands 100 meters tall! The waterfalls are surrounded by lush green hills with blossomed flowers. You must be in for a Bollywood photo shoot. But hold behold. This is the perfect scenic beauty that everybody plans a trip for and is a great picnic spot. The Waterfall is situated in Jambughoda which is 30 km from Pavagadh. The nearest city is Vadodara. It is the look of the rock that looked like a baby elephant that's how this place derived its name. It remains a favorite destination for not only natives but also tourists. During monsoon, this place looks splendid. Many try bathing under the waterfall too.
Zarwani Waterfall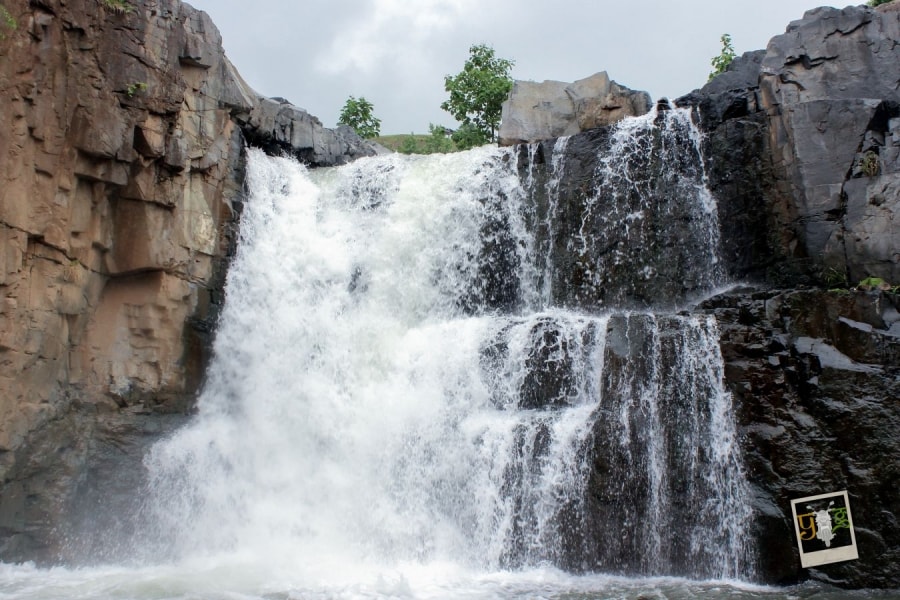 The amazingly nestled waterfall keeps its visitors in complete admiration. It is a good excursion site. Zarwani waterfall is located in the Narmada district. One can also visit the Shoolpaneshwar Wildlife Sanctuary and the Gheer Khadi. It is a complete outing with national park visit and taking a shower under the waterfall. The experience is splendid.
Pic. by- Yogesh Gupta
Gira Falls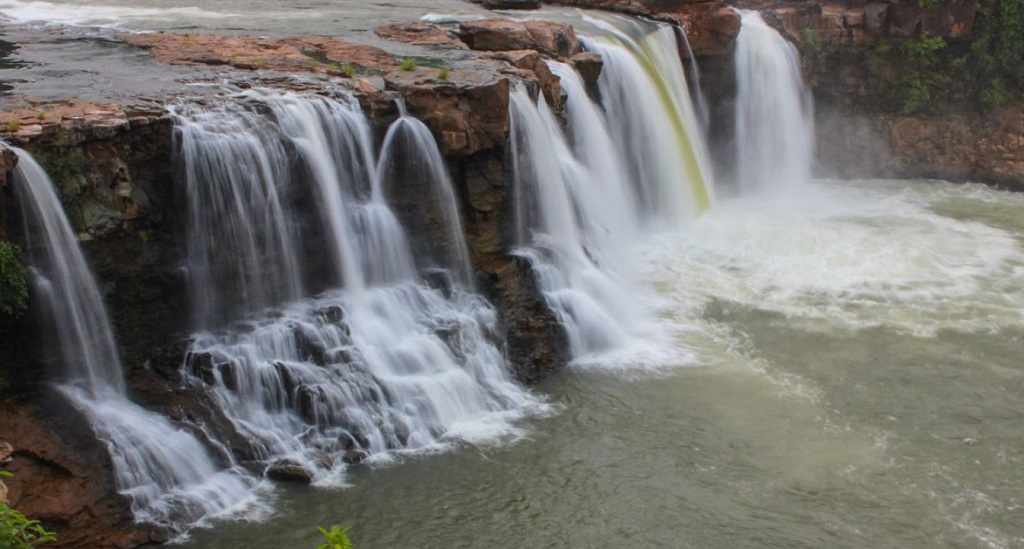 Pic.by- Yogesh Gupta
The much talked about Gira falls best enjoyed during monsoons. It is located near Waghai town. It is 50 km away from Saputara. On a clear sky, one can even spot a rainbow above the waterfall. Some photographers keep their cameras ready to take that perfect capture. It is a great picnic spot, bathing ideas; however, it can be populated on weekends. Do not forget to carry an extra pair of clothing and shoes.
Gujarat is beyond words. Its explicitly can only be experienced. If you have an excellent tour operator, he can plan a perfect holiday for you where you can embrace all the beautiful elements of the place. What's more the natives in Gujarat know how to impress their guests. A trip to Gujarat is worth a treat!