India is the country where many festivals are celebrated and is known for its vibrant culture. You can find a local festival or event that represents the culture and spirituality of the place such as Modhera Sun Festival that will be celebrated on October 16, 2022, at 7:00 p.m. The venue is decorated with beautiful colorful lights.
The Sun temple located in Modhera is one of the well-known spiritual places in Northern Gujarat. The Sun Festival is organized by the Gujarat Tourism Corporation in Modhera. The Crraft Of Art has the privilege to bring the Sun Festival to you.
This event attracts a large number of artists nationally and internationally. This is mainly focusing on reintroducing monuments and heritage to the general public, especially the youth.
This event also features Chenda Melam with Odissi Dancers. It is one of the famous instrumental music forms in Kerala. You can feel a thrill to watch this type of dance during such festivals.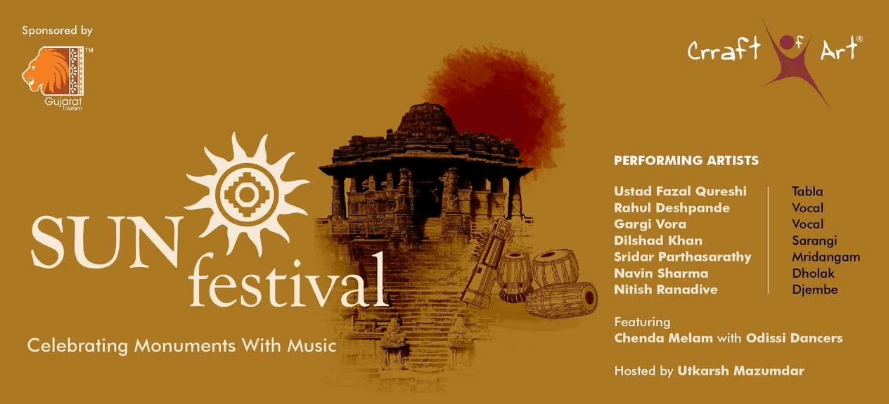 Performing Artists @ Sun Festival, Modhera
The event starts in the evening with different performances by the most talented artists personally or in a group all over the country. Visitors or tourists can grab the opportunity to experience the cultural diversity of India by the following performing artists at Sun Festival in Modhera.
Ustad Fazal Qureshi – Tabla
Rahul Deshpande – Vocal
Gargi Vora – Vocal
Dilshad Khan – Sarangi
Sridar Parthasarathy – Mridangam
Navin Sharma – Dholak
Nitish Ranadive – Djembe
How To Reach Modhera
If you travel via airplane to attend this magnificent festival, then Ahmedabad airport is a more convenient option. It is about 70 kilometers from Modhera. You can also arrive here via train, local bus, or a private cab. This place is suitable for visitors all over India.
Date and Time: October 16, 2022, Sunday, at 7:00 p.m.
Venue: Modhera Sun Temple, Mehsana – Becharaji Road, Highway, Modhera, Gujarat 384212, India
Book An Entry: Book through BookMyShow. Free invites available on a first-come first-served basis. Few seats reserved. No entry without an invite.