As the popularity of the classical dance forms in India increased, festivals of dance came to be celebrated in some temples with an aim of bringing the religious and devotional dances and temples close to each other. Modhera Dance Festival 2023 proved to be one of the most awaited and famous festivals of modern times and has achieved immense popularity in recent times. At Uttarardh Mahotsav in Modhera, this performance will allow youngsters to see youth their own age executing traditional Indian culture and exposing them to Indian culture.
Modhera Dance Festival 2023 At a Glance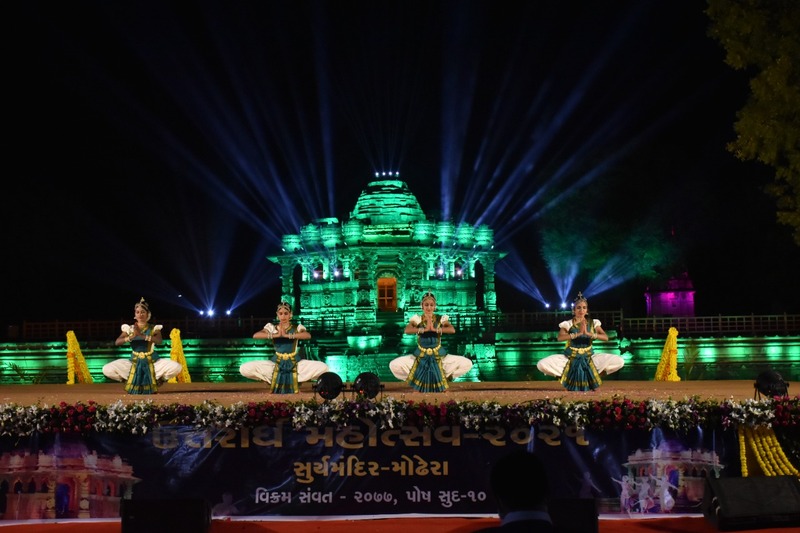 Modhera Dance Festival is a common platform for classical dancers and artists to display the traditional art forms of India and the dance connoisseurs. This dance festival is an annual cultural celebration to showcase Indian culture and highlight the traditions, diversity, and values of India through music, art, and dance. Within an indigenous traditional dance, each act has a principal and a number of secondary purposes, which may reflect the people's universal values and social relationships. This three-day dance festival is organized by the Tourism Department, Government of Gujarat.
History of Modhera Dance Festival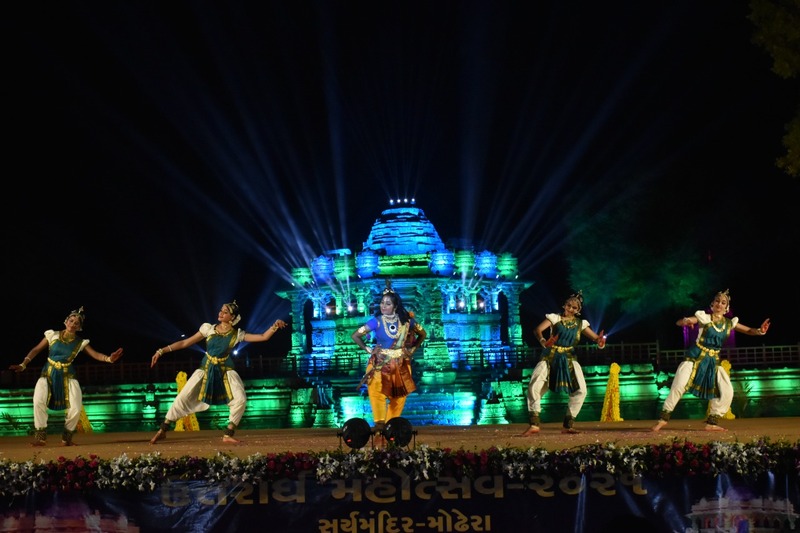 Modhera Dance Festival is also known as the Uttarardh Mahotsav or Modhera Utsav, dedicated to Lord Surya or Sun God. Uttaradh Mahotsav is named because the earth moves north and starts getting closer to the Sun by the end of winter. It is celebrated on the grounds of Surya Mandir, which the Solanki King Bhimdev I developed.
Northern Dance Festival Modhera is usually held after the Makar Sankranti festival on 14th January in the third weekend of January to bring together brilliant artists and dancers to showcase the rich traditional heritage.
Activities in Modhera Dance Festival 2023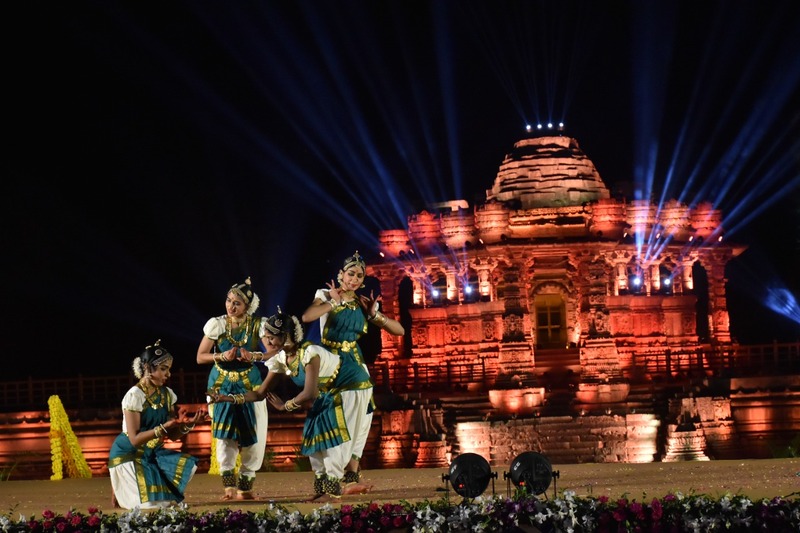 A large number of artists perform Indian classical dance through a fusion of Kathak, Bharatanatyam, Kuchipudi, and Odissi with their costumes and jewelry sets. Nowadays, the Gujarat Tourism Department arranges various tourism events and festivals like Kankaria Carnival to encourage young artists to express themselves through dance. You can enjoy a variety of dances like Bharatnatyam, Mohiniattam from Tamil Nadu, Kuchipudi from Andhrapradesh & Karnataka, Kathakali from Kerala, Odissi Chhanu from Odisha, Manipuri from Manipur, Kathak North India, etc.
How to Reach Modhera Sun Temple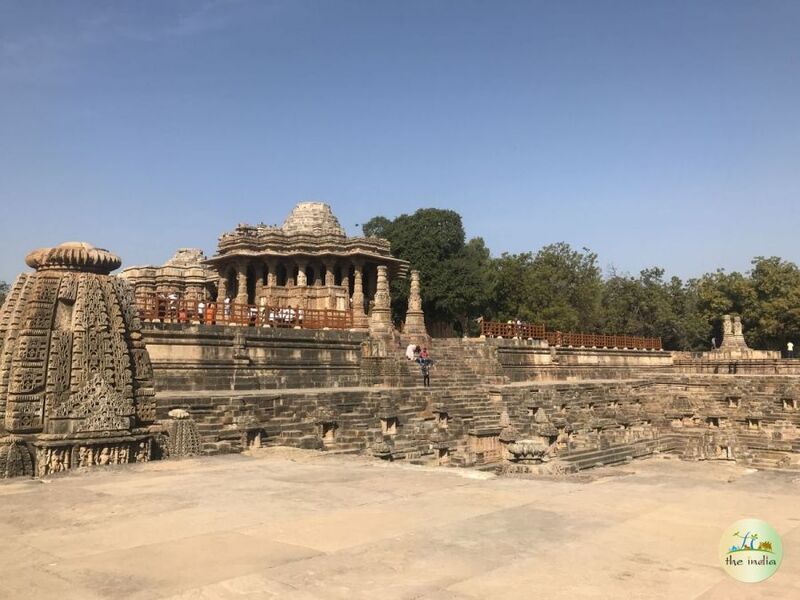 By Air
Sardar Vallabhbhai Patel International Airport in Ahmedabad is the nearest airport to attend this magnificent festival. It is approximately 95 km from the Modhera Sun Temple. You can rent a taxi or a cab for the remaining journey.
By Train
Mehsana Railway Station is the nearest railway station. It is around 35 km from Modhera. Regular bus transportation services are also available from Mehsana to Modhera.
By Road
You can also arrive at Modhera Sun Temple via a private cab. This place is convenient for all tourists all over India.
Places to Visit Nearby Modhera Dance Festival:
Rani ki Vav, Patan
Bindu Sarovar, Siddhpur
Umiya Mata Mandir, Unjha
Becharaji temple
Performance in Uttarardh Mahotsav at Modhera Sun Temple:
Additional Details on Modhera Dance Festival 2023:
| | |
| --- | --- |
| Modhera Dance Festival Venue | Modhera Sun Temple, Mehsana-Becharaji Hwy, Modhera, Gujarat |
| Modhera Dance Festival Date | January 21, 2023 – January 22, 2023, as per the official website |
| Modhera Nritya Mahotsav Entry Fee | Free for all visitors |
| Official Website | Modhera Dance Festival 2023 |
Closing Words
This incredible classical dance festival showcases the cultural landscape and journey of Indian dance styles bringing together expert dance artists to perform. It offers a wonderful window into the culture, traditions, and heritage of the land. Attend this magnificent event and you are sure not to regret it! Let's know your thoughts in the comments.
FAQs on Modhera Sun Festival 2023:
Why is Modhera Sun Temple famous?
Modhera Sun temple is famous for its architecture and artistic value. It was built by Bhimdev of the Solanki dynasty in the honor of Surya, the Hindu Sun God, in 1026 A.D. It is located on the banks of the Pushpavati River.
What is the well-known Indian dance?
A variety of dances are famous in different parts of India. Like Bharatnatyam, Mohiniattam from Tamil Nadu, Kuchipudi from Andhrapradesh & Karnataka, Kathakali from Kerala, Odissi Chhanu from Odisha, Manipuri from Manipur, Kathak North India, etc.
Modhera Dance Festival is celebrated in which state?
Modhera Dance Festival is celebrated in Gujarat.
When is the Modhera Dance Festival held?
The festival is usually held in January of every year.
How long does the Uttarardh Mahotsav last?
The Uttarardh Mahotsav usually lasts for two days.
Who can attend the festival?
The festival is open to the public and anyone can attend.
Are there any other activities or events during the festival?
In addition to dance and music performances, the festival also includes cultural programs such as workshops, lectures, and exhibitions.