Varanasi is one of the oldest living city in the world and is also known as Kashi (City of Life). This city in the state of Uttar Pradesh is the spiritual capital of India. Varanasi lies along the bank of the River Ganga which adds to its importance. The city has a labyrinth of narrow lanes and there are many temples on every street.
Banaras city is considered auspicious in Hinduism and people from across the country come to Varanasi. It is believed that one can attain liberation from the circle of life and death or 'Moksha' if they die here. The old town of Varanasi is an experience, and you can immerse in both spirituality and enjoyment in the town's narrow lanes.
22 best Varanasi tourist places
With over 2000 years of human habitat, Kashi is one of the oldest cities in the world. Below are some best Varanasi tourist places you must visit to experience the culture of this ancient city.
1. Bharat Kala Bhavan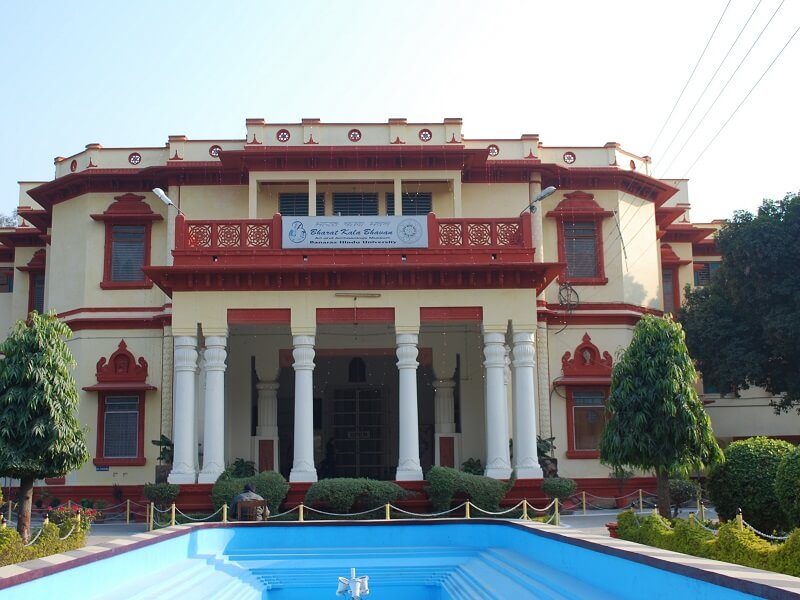 The Benaras Hindu University was founded by Madan Mohan Malviya and within the university campus, there is the Bharat Kala Bhavan Museum. It has a rich collection of Indian paintings dated between the 11th century and 20th century. It houses Mughal miniatures, the Gandhara sculpture, and the sculpture of the marriage of Shiva and Parvati, and other attractions.
2. Gyan Vapi Well
This well is right adjacent to Vishwanathan Temple and it is believed that this well's water has the Linga from the Vishwanath Temple. This temple was vandalized by the Mughal emperor Aurangzeb and the Linga might have been thrown in this well. The Gyan Vapi Mosque that was built by Aurangzeb is also situated in the temple.
3. Bharat Mata Mandir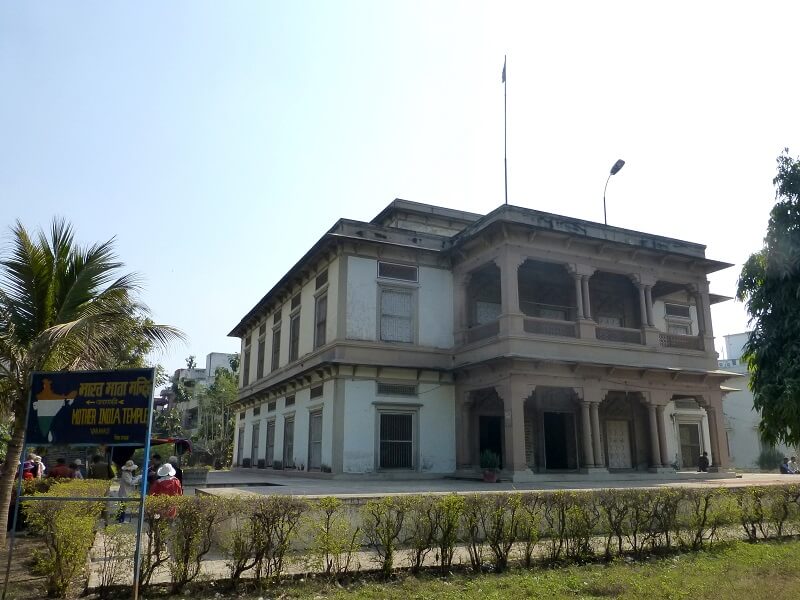 The temple is dedicated to Bharat Mata and is situated on the campus of Mahatma Gandhi Kashi Vidyapeeth. The temple was inaugurated by Mahatma Gandhi and was dedicated to the war of independence. There is a statue in the shrine that denotes plains, mountain, and ocean
4. Tulsi Manasa Temple
The temple is an important shrine in Benaras, and it is dedicated to Lord Rama. The Tulsi Manas Temple is situated near the Durga Temple. The temple is built in white marble with the walls covered with text from the religious text Ramcharitra Manas by Tulsidas. This temple is believed to be located where Tulsidas wrote the epic book.
5. Monkey Temple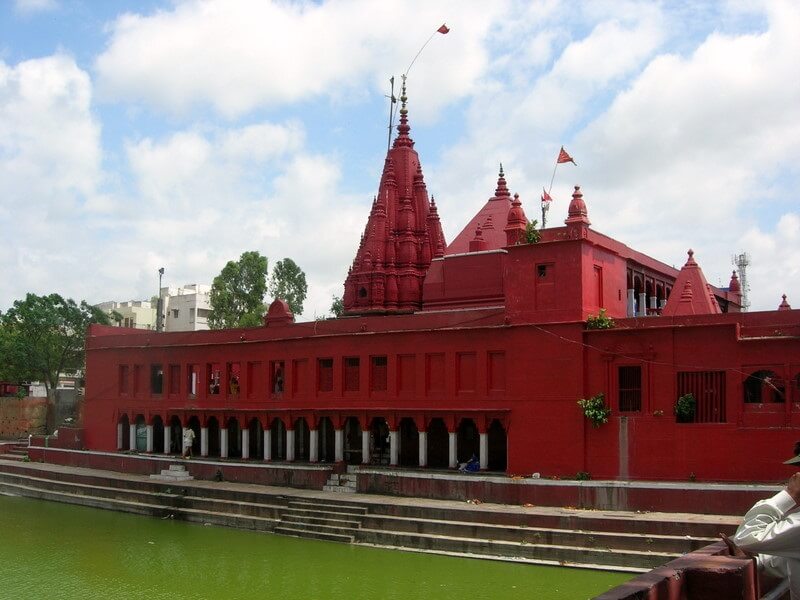 This is one of the popular places to visit in Varanasi and is also called Durga Temple. The temple has an excessive population of monkeys hence the name. The deity in the temple is believed to have appeared on its own. It was built in a Nagara style of architecture.
6. Ramnagar Fort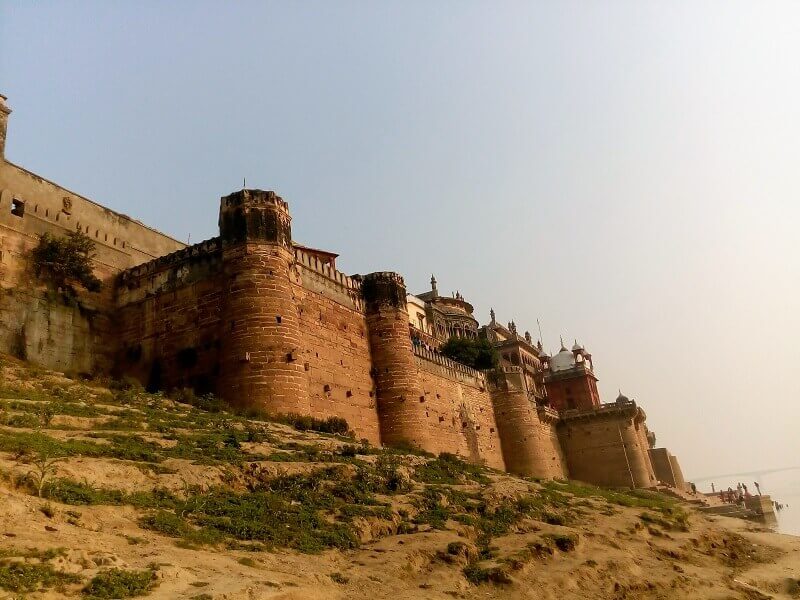 This fort is located 14 km from Varanasi and is a popular 18th-century fort built in sandstone. It was built as a defensive structure and houses a museum that houses vintage automobiles, hookahs, antique weapons, chairs decked in jewels, and an astronomical clock. There is a temple in the fort dedicated to Veda Vyasa, the author of the Mahabharata.
7. Kashi Vishwanath Temple
This is the most popular temple in Varanasi on the banks of the River Ganga. This is one of the 12 Jyotirlingas and is dedicated to Lord Shiva. Vishwanath is the main deity of the temple and is important for Hindus. The Jnana Vapi is well for devotees to take a bath. The Kashi Vishwanath Temple is mentioned in many holy Hindu scriptures. The temple has intricate carvings and has many small temples like Kaalbhairav, Vishnu, Virupaksh Gauri, Vinayaka, and Avimukteshwara.
8. Devdari Waterfalls
Located 65 km from Varanasi, Devdari Waterfalls are a prominent spot that has beautiful water falling amidst lush green surroundings. The falls are at a height of 58 meters and are a popular tourism spot
9. Aqua World
This is a popular water park located on the Varanasi- Allahabad highway. It has many fun rides and water slides and this theme park is perfect to spend a great day with friends and family.
10. Tibetan Temple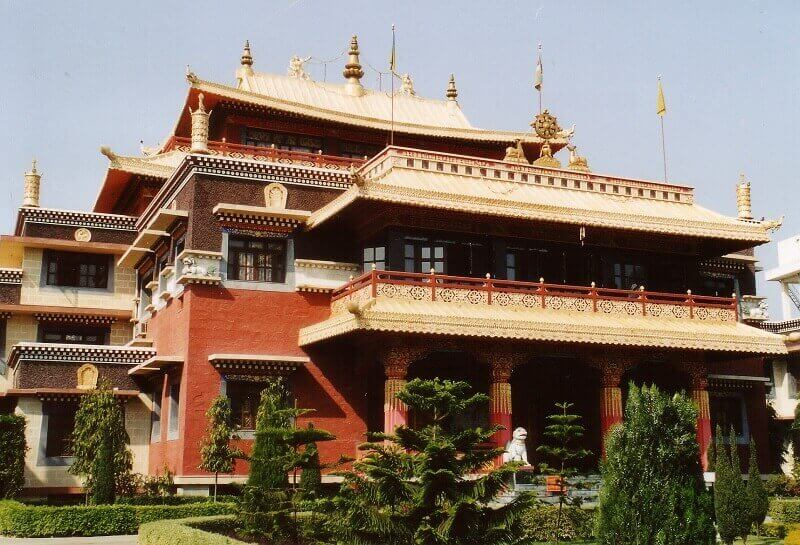 This is a beautiful shrine with wonderful Tibetan architecture, and it was built at the spot where Lord Buddha taught his disciples. This edifice has a statue of Shakyamuni and prayer wheels decorated with Buddhist paintings. The temple has beautiful prayer wheels which also release strips of chant paper.
11. Ramnagar Ramleela
The Ramleela is traditionally performed to depict Lord Rama's journey. This was performed under the Royal House of Benaras. It was organized on a grand scale and the performance happens over a month in Ramnagar. Many visitors come to Uttar Pradesh to attend the annual festival.
12. Sita Samaheet Sthal
This spot is in Bhadoi district in Uttar Pradesh and at 44 km from Varanasi. The Sita Samahit Sthal is a Hindu temple that is enshrined by Goddess Sita. It holds historical importance as it is believed that Goddess Sita descended into Earth here. The temple premises have 110 feet high Lord Hanuman statue and a quaint pond that surrounds the temple.
13. Chunar Fort
This fort is located 40 km from Varanasi and is an ancient Fort in Chunar town in the Mirzapur district. The Chunar Fort was established by Maharaja Vikramaditya and was later ruled by Mughal ruler Babar. The fort is bordered by River Ganga and is known for its natural beauty. While ascending Chunar Hill, you will witness a chain of low hills. The Samadhi of Bhartihari, Hanging Place, Sonwa Mandap, and Bungalow of Warren Hastings is the prime attractions. The fort is opened from 10 am to 4 pm.
14. Vishwanath Gali
This is hustling bustling lanes and one of the famous places to visit in Varanasi for street shopping in Benaras. The street sells a variety of items at affordable prices. It has many traditional and modern items, household items, apparel, home decor items, and other items. There are many local sweets and snacks vendors on this street.
15. ISKCON Varanasi
The divine ISKCON temple of Varanasi was built in 1966 and is one of the best places to visit in Varanasi. The temple has devout followers of Krishna and devotees chants 'Hare Rama Hare Krishna' to pray and seek blessings of God.
16. Lakhaniya Dari Waterfall
The waterfalls are situated 54 km from Varanasi. The falls cascade from a height of 150 m and look magnificent during the monsoons. The water from the falls is stored in Ahraura Dam and it is a popular picnic spot for trekkers. Many visitors carry food and enjoy the falls during the daytime.
17. Rajdari Waterfalls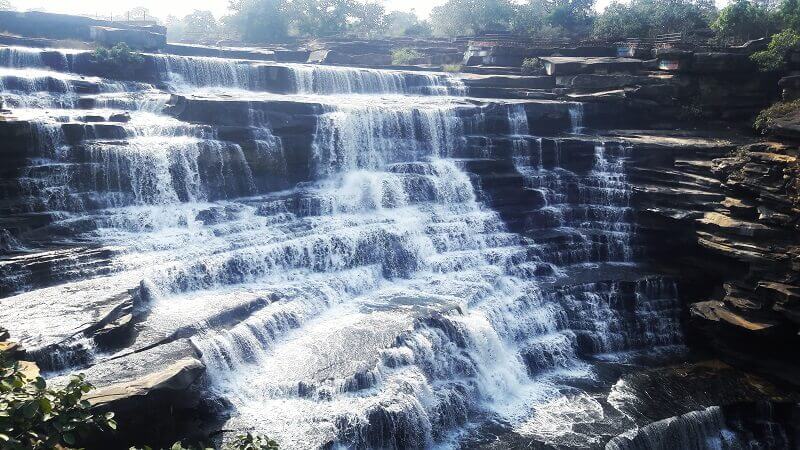 This waterfall is in Chandauli at 60 km from Varanasi. They are a popular picnic spot as the huge waterfalls are a visual delight for the visitors. Many people reach the top spot of these falls to get beautiful views of the valley.
18. St. Mary's Church
This is a popular church that is famous due to its beautiful doors and ventilation. St. Mary's Church has beautiful designs and a projecting portico. The church opens at 7 am and closes at 8 pm daily.
19. Sankat Mochan Hanuman Temple
This is one of the popular Hindu pilgrimage centers in Varanasi and is dedicated to Lord Hanuman. The temple is close to River Assi and is constructed by Madan Mohan Malviya in the 1900s. Hanuman Jayanti is an occasion when a special procession is arranged in the temple.
20. Banaras Hindu University (BHU) Temple
The temple is located inside the BHU campus hence the name. It is dedicated to Lord Shiva and houses many other temples too. The temple also has many paintings from the Hindu scriptures. The temple is clean and peaceful and is surrounded by gardens. It a great place to enjoy with family.
21. Varanasi Fun City
This is a popular water park in Varanasi and it bustles with activity during the weekends. There are many swings, roller coasters, and other attractions here. The park is ideal for enjoying with family.
22. Batuk Bhairava Mandir
Batuk Bhairava was an incarnation of Lord Shiva and many miracles are associated with this old temple in Varanasi. The temple is visited by the Tantrik community and an 'Akhand Dweep' or an unbreakable lamp burns here forever.
Famous Varanasi Ghats
When in Benaras, one should not miss out on its street food and the chaotic lanes near the Ghats. The Ganga Aarti along the Ghats of Ganga is a ceremony that is worth witnessing due to its grandeur. No matter what time of the day, one can find spirituality seekers and pilgrims bathing on the Ghats. Below are some famous Ghats of Varanasi that will give you different experience of life.
Dashashwamedh Ghat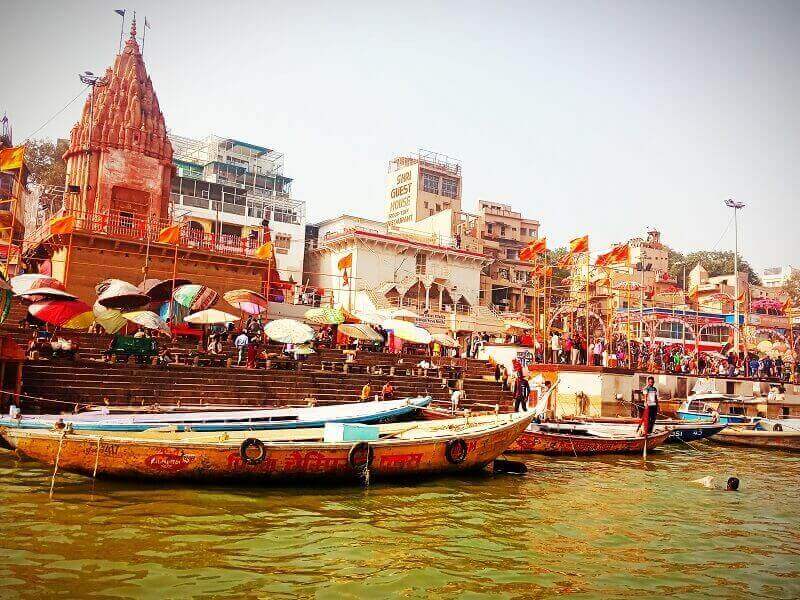 This is the most visited Ghat and a top attraction in Varanasi. The Ghat is among the oldest of Varanasi Ghats. The Ganga Aarti takes place here every evening. There is a marketplace just around the Ghat.
Assi Ghat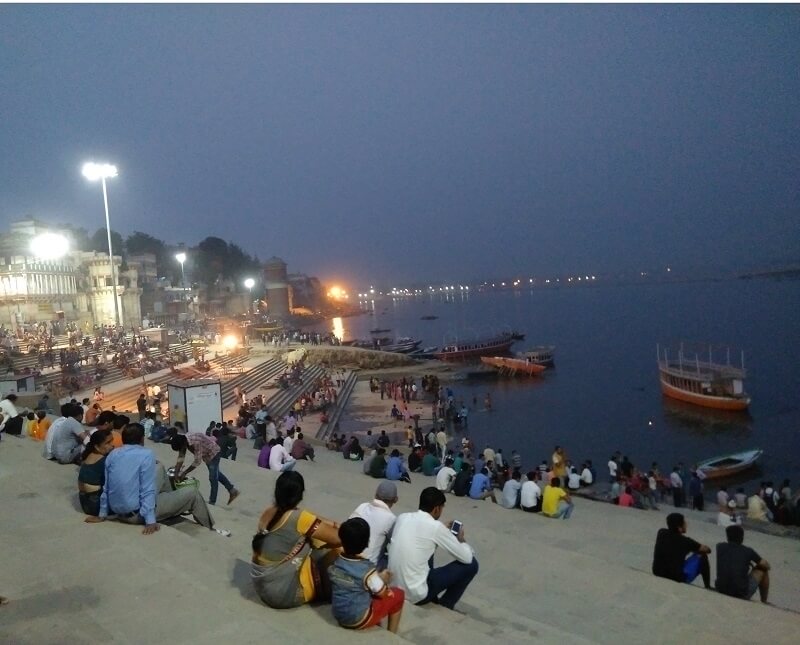 The Assi Ghat is one of the most important burning Ghats where many dead bodies are cremated. Many Hindus believe that getting burnt here will liberate them from the cycle of birth and death. Many priests around the Ghats van show the cremations on a walking tour offered by the Heritage Walk Varanasi.
Manikarnika Ghat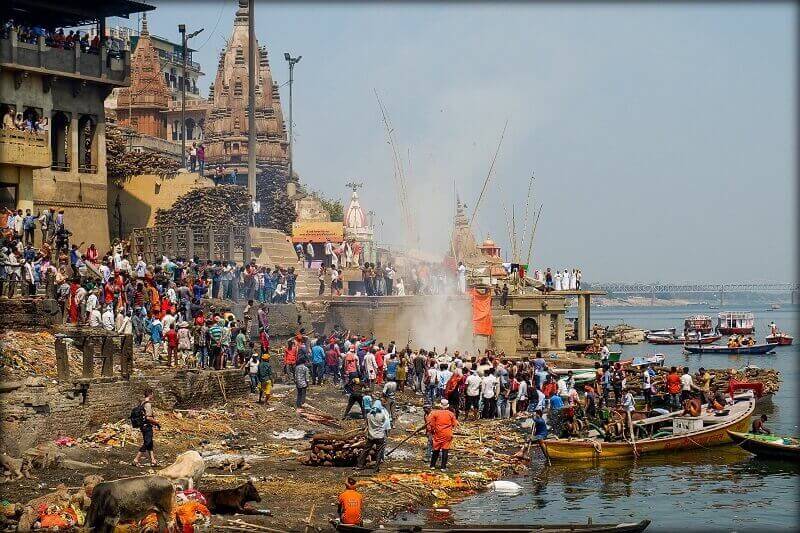 This Ghat also witnesses many Hindu cremations every year. There are piles of firewood that are continually burnt here, and you can also watch these cremations from a distance.
Kedar Ghat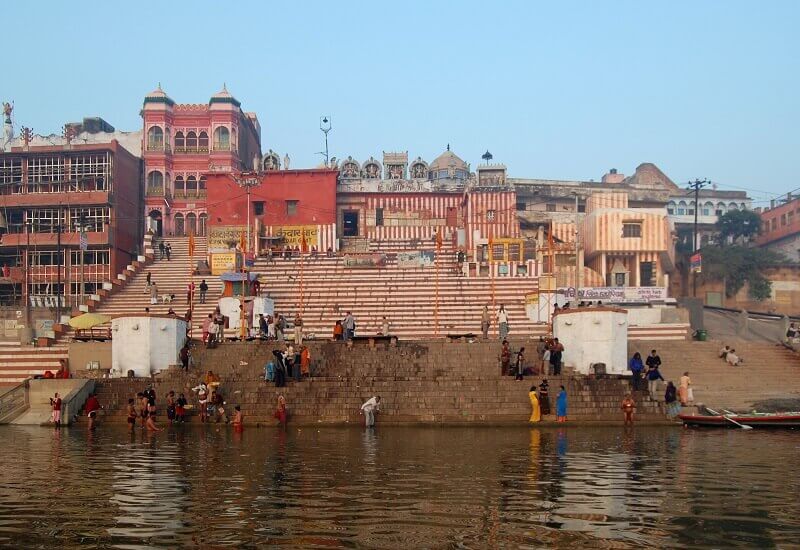 This Ghat is named after Lord Shiva, and it is situated in the southern part of the town. There is a beautiful temple on the Ghats dedicated to Lord Shiva. The Parvati Kund is a pond situated here that is believed to have medicinal properties.
Manmandir Ghat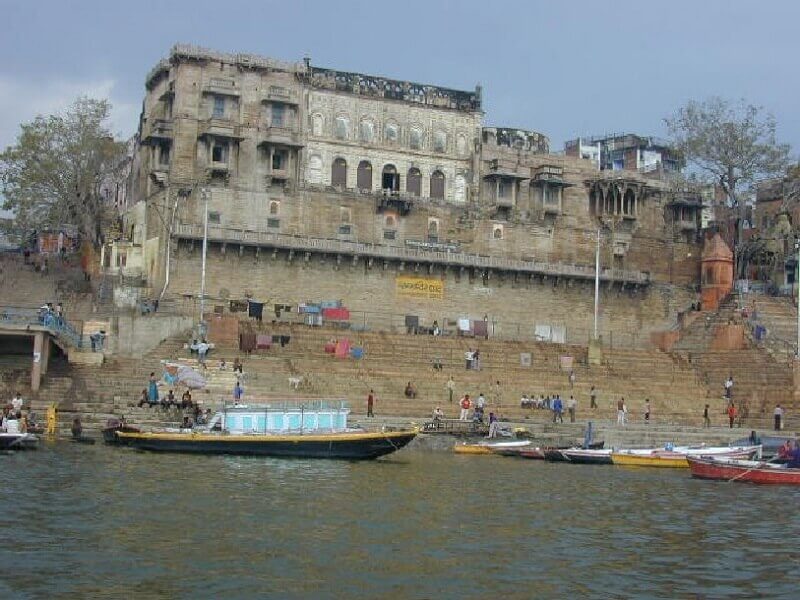 This is also an old Ghat in Varanasi and is known for its Rajput architecture. There is an observatory near the Ghat that has astronomical instruments which are in good condition and you can get fabulous views of the Ganges River from here.
Tulsi Ghat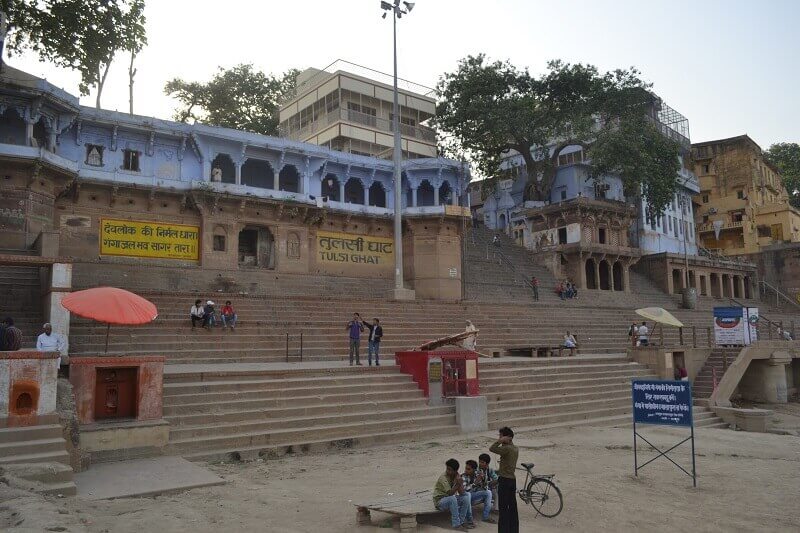 This is another essential Ghat named after the poet Tulsidas. There is a temple of Lord Rama that was built on this Ghat. Tulsidas had died in his house near the Ghat that has also been found intact here.
The Ganga Aarti of Varanasi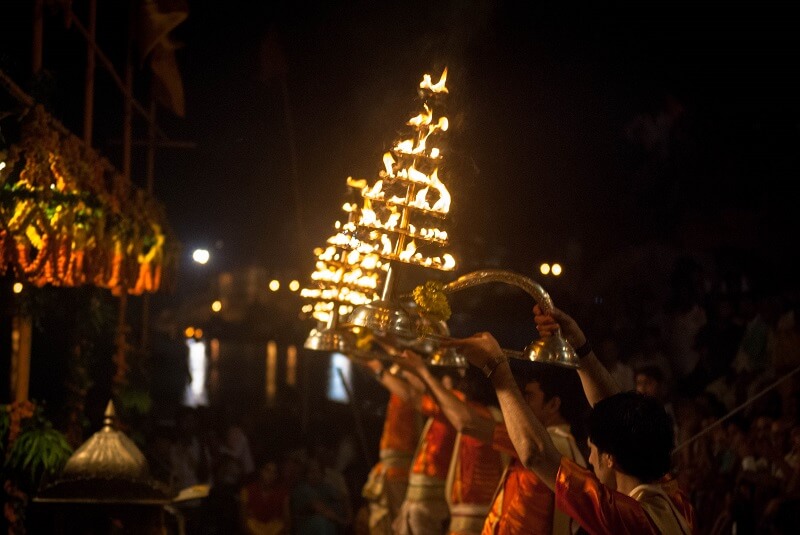 One of the most awaited and a witnessed daily event in Varanasi is its Ganga Aarti. It is done by the priest in-charge who wears dhoti and kurta and performs the Aarti on a set-up of five elevated planks. They perform the Aarti using a layered brass lamp, an idol of Goddess Ganga, incense sticks, flowers, and conch shell. The sight and sound of this spectacle are both electrifying and meditative. Many spectators take a boat ride from other banks of the Ganga River to witness this Aarti performed on the banks of Dashashwamedh Ghat. The Aarti and rituals are headed by the priest of Gangotri Seva Samiti.
Not All Holidays Are Meant To Spent On Beaches and Hills
Yes, you may not find beaches and hills in Varanasi but spending an evening at any Ghat would surely be an experience to cherish forever. Plan your upcoming vacations with your Family and visit this holy city of Lord Shiv Shankar. Varanasi welcomes you throughout the year.