Rohit and Nisha have just completed their exams and eagerly waiting to enjoy their summer vacation holidays. Their parents were also planning for the best summer holiday trip for a long but couldn't make the choice about places to explore. If you are also looking for the best tourist places in India for summer vacation holidays, this article is for you.
Scorching summers are on their way, and so are vacations. You must be looking for summer destinations to hang out with family and friends, but the hot sun and even more humid environment must be pushing you into the rooms equipped with AC and Coolers. Thus there left one way of rejoicing during the summer vacations in India and that is to go to places with plenty of water. Be it a beach, waterfall, riverfront, or island.
Places to visit in Summer Season
The write-up takes you to the water places where water lovers and lazy lads can enjoy the summer vacations to the core.
1. Radhanagar Beach – Havelock Island, Andaman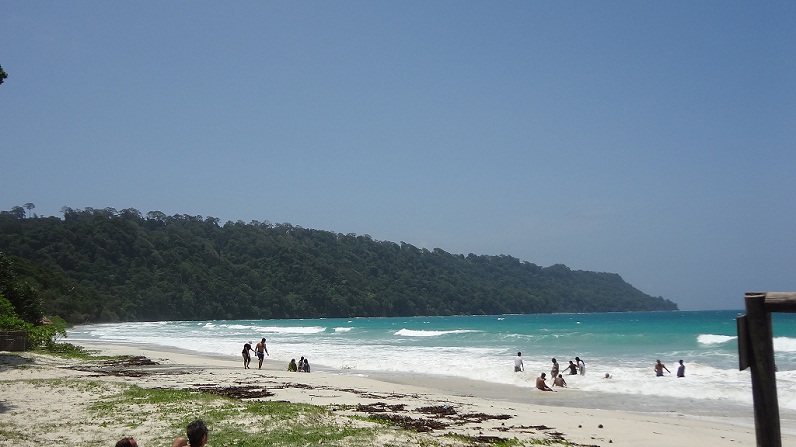 Andaman and Nicobar island is our favorite summer destination which is blessed with beautiful beaches and marine life to experience your vacation to the fullest. Havelock is one of the most popular Islands among-st all and offers various activities to enjoy.
This is a perfect spot with an excellent view. Havelock island is spread over an area of 113 sq. km. and is located 39 km to the northeast of Port Blair. The sunset view of this beach is unforgettable view. You can reach Havelock island by following two different options:
Government ferries provide shipping services.
Private luxury boats are operated.
First, you need to reach Port Blair, and from there these two options are available. The first (Government Ferries) will take around 2:30 hours whereas the private luxury catamaran ferry will take around 90 minutes from Port Blair. Make sure you book tickets well in advance during pick season.
Transportation on Havelock Island: Rickshaws, taxis, buses, and motorbikes are available for transport on the island.
You can enjoy sunbathing and swimming here on the beach. Snorkeling and other adventurous sports are must-do activities here. Relish the fresh seafood and coconut drinks on various food stalls here.
Best time to visit: October to February (Winter) is the best time to explore this beach. Whereas in Summer, you can visit from March to May. You will have lots of good memories after visiting this beach.
2. Bangaram Beach – Lakshadweep Island
It is one of the best getaways in the world. Here you can enjoy the richness and beauty of aquatic life. The airway is the easiest way to reach this island. You can book the flight from your destination to Kochi to Agatti. From there boats are available that connect Agatti to Bangaram beach. Only on Sundays boats are not available. Activities you can do on the beach include:
Beach volleyball
Fishing
Kayaking
Scuba Diving
Snorkeling
Swimming
Water Skiing
Will get a chance to have a good sunset view
Resorts at Bangaram beach offer swimming pools, deluxe cottages, and non-AC beach huts depending upon your choices. They are cozy and comfortable facing lagoon, also are quite large and eco-friendly.
The best time to visit is from October to March. Here you will get a beautiful view of oceans and beautiful coral reefs.
Note: If you want to visit the island of Lakshadweep you need to get a permit, for this, you can contact any travel agent.
3. Kempty Fall – Mussoorie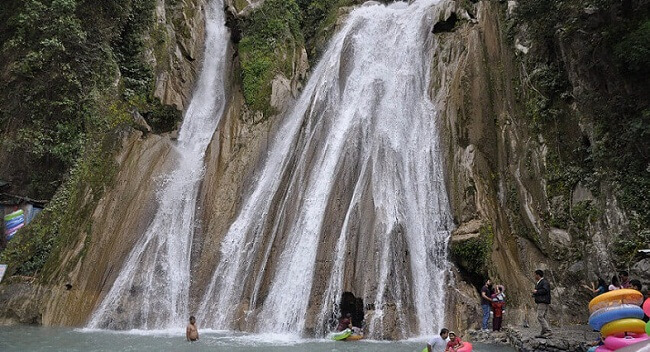 Kempty waterfall is situated on the rough tracks of Uttarakhand at around 13 km from Mussoorie, Dehradun. This waterfall is one of the famous and oldest spots near Mussorie and a famous summer destination for tourists. It has a remarkable view of white streams of water. There are two waterfalls from which the upper is calm and has a good look, and the lower fall attracts lots of tourists. You can play in the water, get refreshed, and take a bath in the fall.
Best time to visit Kempty Fall is from June to October. It is open in the daytime that is 8:00 am to 5:00 pm. You can also do boating in the small human-made pond. There are several food shops where you can get snacks to eat. Entry to this fall is free. You can spend some time sitting and can have a good time with nature and greenery. If you want to visit this fall during the summer holidays, you can hire a taxi from Dehradun or Mussorie whichever is comfortable for you.
Note:
Hill station can be the best option to plan your summer vacation in India and Uttarakhand can be the best choice in this case. You can visit Haridwar, Rishikesh, Rajaji national park, Mussorie, and Dehradun. It can be the best combination of religious and adventure trips to Uttarakhanda.
4. Hogenakkal Water Fall -Tamil Nadu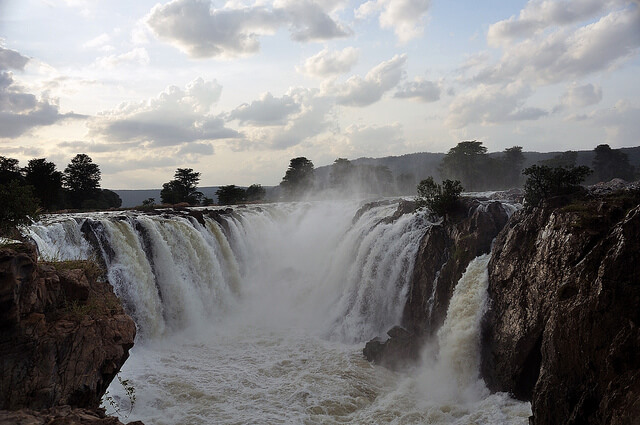 It is a waterfall in South India. It's near Bangalore from here you can take a bus or taxi to visit Hogenakkal Water Fall. It is well-connected to major cities via buses. It is a fall on the Kaveri River located in the Dharmapuri district. It is one of the most beautiful places to visit near Bangalore.
Best time to visit this place is July to October, if you want to enjoy the nature and surroundings you can take a boat ride, usually in peak season boating is stopped. If you are planning to visit this place in monsoon or winter, you can enjoy coracle riding. There are few food stalls available near the fall. Another activity you can do is trekking. Entry to fall is free but for boating, you have to pay INR 500/- per 5 people for 3 hours, but it is worth paying as you will get a chance to enjoy the surroundings.
5. Paradise Beach- Pondicherry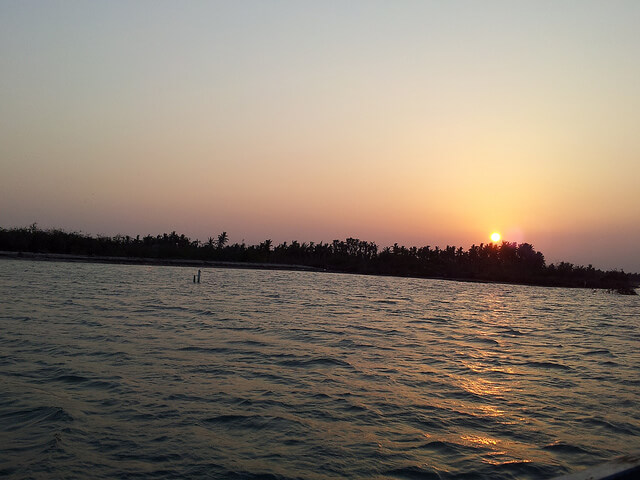 This beach is situated in Chunnambar, a town close to Pondicherry. If you want to reach here with the help of a ferry from the boathouse which is one of the most beautiful parts of this beach; you have to pay INR 200 per person. This beach is open from morning 9:00 AM to evening 5:00 PM. You will find golden, soft, and grainy sand here. You can have a nice walk with your partner and enjoy the waves. Water sports like canoeing, skiing, kayaking, etc. are available. If you are willing to take a dip down on the beach, you can carry your clothes as changing and shower rooms are available here.
The best time to visit the place is from November to March. The beach is quite clean, and you can see plenty of coconut trees around the beach. The island views are delightful and memorable.
6. Elephant Beach – Andaman and Nicobar Islands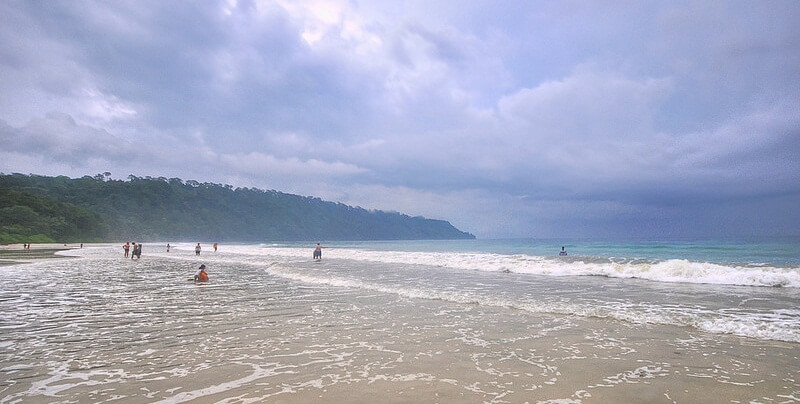 Elephant Beach is 20 mins away from Havelock Island; it is one of the best places to visit on Andaman and Nicobar Island. If water sports attract you, then this is the best beach. You can spend leisure time here walking near the beach. Enjoy coral reefs and exotic underwater marine here. To reach here, take a bus from the main jetty or a boat from
Activities you can do at Elephant Beach are:
Bird watching (golden ball, vibrant and beautiful birds)
Kayaking
Mirror boat rides
Scuba Diving
Sea walking
Snorkeling
Swimming
Trekking
This beach is less crowded and can be visited throughout the year.
Read Also: 10 Best Beaches In Maharashtra To Unwind And Relax
7 Varkala Beach – Kerala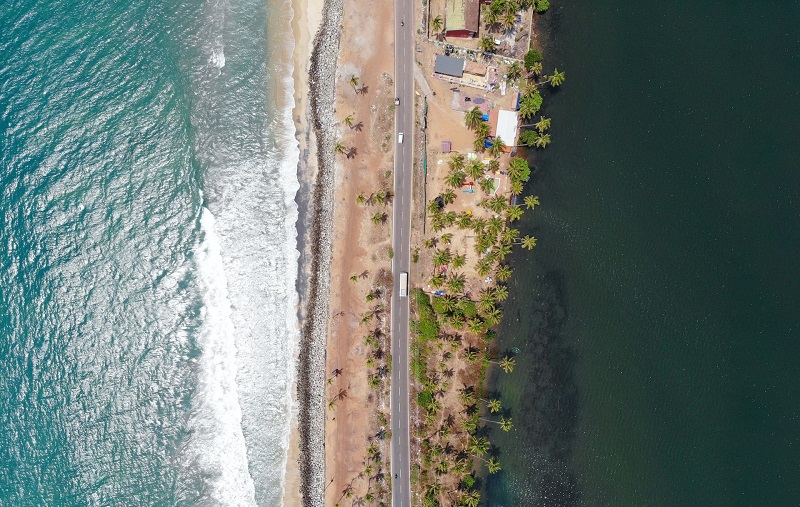 This beach is also known as the Papanasam Beach due to the belief that its water is holy and can wash away the sins and impurities from the soul. It is located roughly 3 kilometers from the railway station of Varkala, on the outskirts of Thiruvananthapuram and the Trivandrum International Airport is 57 km away.
The beach has a two-thousand-year-old shrine called the Janardhanaswamy Temple that stands on the cliff near the beach. It is a short distance away from the beach. You can also visit the Sivagiri Mutt founded by the philosopher Sree Narayana Guru and witness the devotion of thousands of devotees at his Samadhi (the resting place). It is one of the best places for spending Summer vacation in India.
Transportation: Reach by air from Trivandrum Airport, by road using KSRTC buses, by train that travels between Thiruvananthapuram and Ernakulam
Best time to visit: Varkala is suited for the winter season around October, November, December, January, and march. The temperature is quite reasonable during these months.
8. Kashid Beach – Maharashtra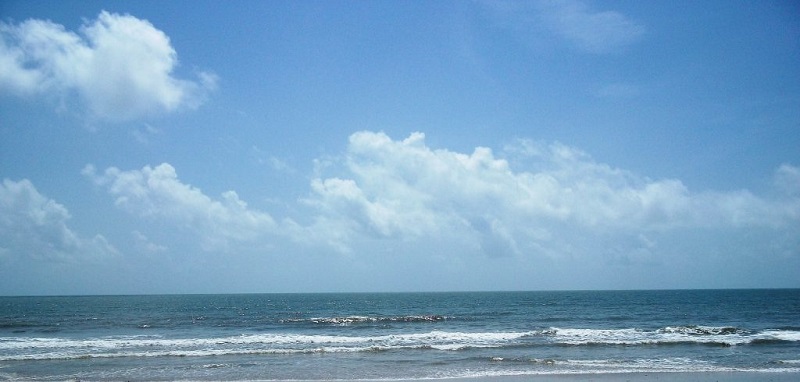 Kashid Beach is approximately 30 km from Alibaug and about 125 km from Mumbai. It is an exotic beach situated on the coast of the Arabian Sea.
The unique feature of Kashid beach is its white-colored sand, and it is one of the cleanest beaches in north Konkan.
The Murud Janjira Fort is at a distance of 20 km from the beach. The fort is an attractive tourist spot for history lovers and a point of intrigue for adventurists. This is the reason why it ranks among one of the best beaches in India. If you're looking for places to visit in summer in India with friends, then this one makes a great cut out for it.
At Kashid Beach, you can perform the following activities:
Jetski
Boat Ride
Parasailing
Surfing
Night camps
Horse Riding
Transportation: You can reach Kashid via air from Mumbai Airport, by train from Panvel, which is located 64 km away, and by road from Mumbai and Alibaug
Best time to visit: It is extraordinary during November and February when the weather is comfortable and suitable for outdoor activities.
9. Agatti Beach – Lakshadweep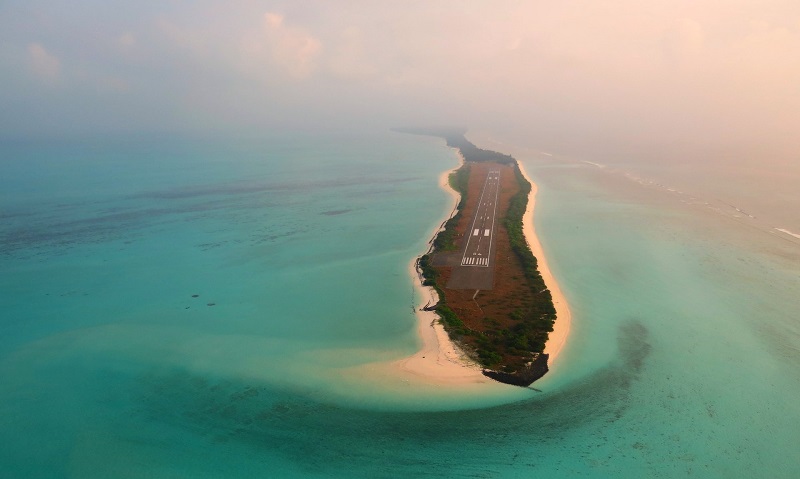 Spread over an area of 8 km, Agatti is inhabited by around 8000 locals. It is a heavenly beach for nature lovers and creates a connection with the self due to its serene environment.
The island has its airport making it very accessible from all major cities. This airport is situated roughly 460 km from Kochi, India. The languages spoken are Malayalam and English.
Things to try at Agatti
Snorkeling
Swimming
Water skiing
Scuba Diving
Transportation: Two-wheelers are available to rent within the beach. You can reach Agatti via air from Agatti Airport, and it is connected via sea route and from Bangaram Island.
Best time to visit: you should visit during March and October as the weather is pleasant and the sea remains calm. Monsoon seasons bring moderate to heavy rainfall.
10. Malpe Beach – Karnataka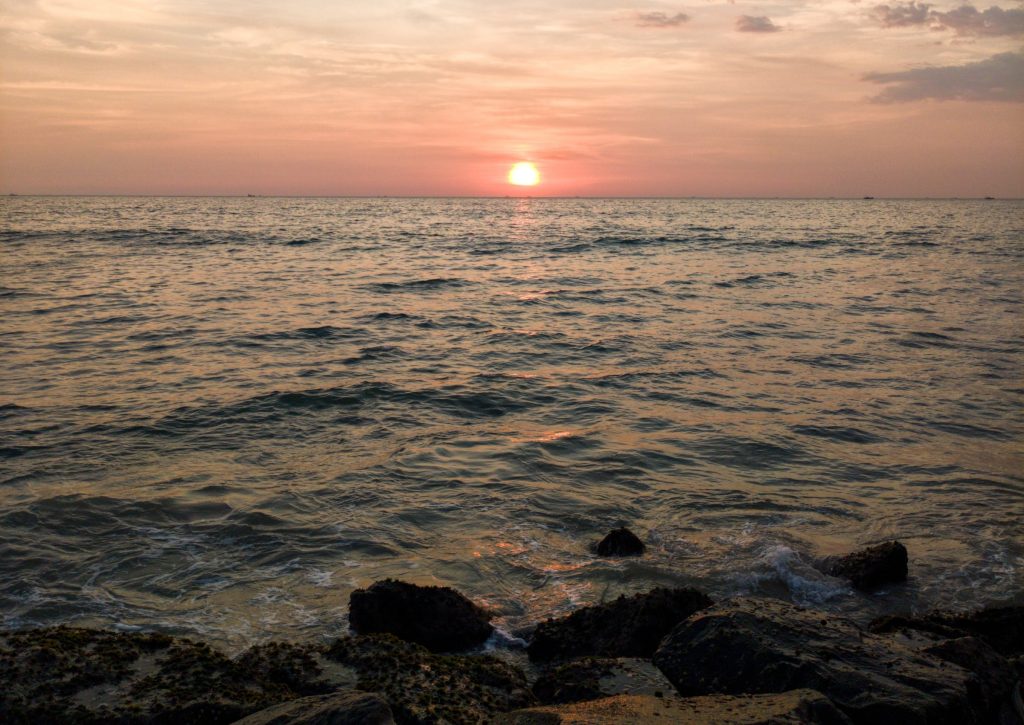 Malpe beach is located 66 km from Mangalore and 6 km from Udupi. The beach is famous for its white sand, beautiful weather, and delicious food stalls. The wifi facilities are available 24X7, so you're never out of touch even being surrounded by nature deeply. This makes it one of the most beautiful beaches in India among others.
Things to do at Malpe Beach
Speed boat rides
Water scooter rides
Surfing
Speed boat cruises
rock climbing
Rappelling
Transportation: Malpe is connected via buses from Udupi, auto-rickshaws are available for minimal fare, and Udupi railway station is just 9 km from Malpe.
Best time to visit: Visit anytime around October and January to witness clear skies and avoid summers and monsoons that might hurdle your travelling.
11. Athirapally Waterfalls – Kerala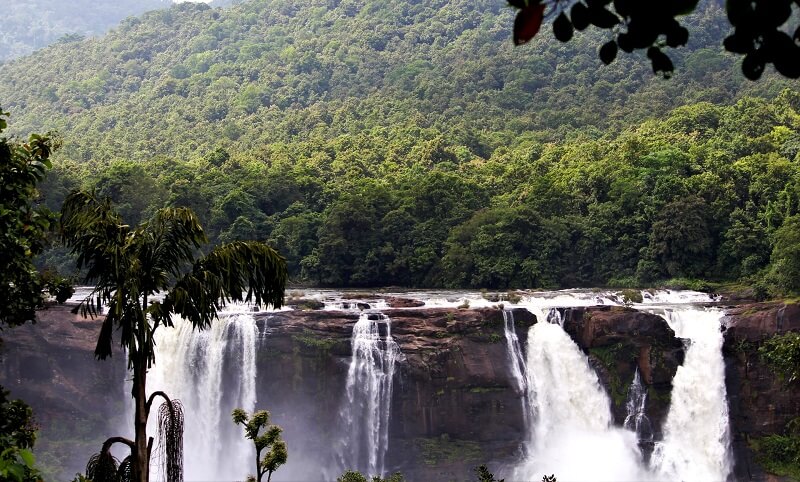 It is located at about 1000 feet above sea level at Chalakudy River in Kerala. The waterfalls are one of the most significant and most lively tourist experiences. It is the biggest waterfall in Kerala.
You can reach the top of the falls after a 15-20 minutes walk and witness a scene like never before of the Sholayar hills and the Western Ghats. You can swim in the waters as the falls spray over you. The rivers are blessed with 85 species of fish, and the forest has fascinating wildlife like elephants, lion-tailed macaque, and grey hornbill.
Transportation: Athirapally is roughly 32 km away from the nearest railway station of Chalakudy, and the nearest airport, which is the Cochin Airport, is 40 km away. You can take public transport as well to reach the waterfall from Chalakudy.
Best time to visit: Visit around September to January when the waterfall is in its glory. It never dries up and is exceptionally breathtaking during the monsoon, which might cause inconvenience.
12. Soochipara Falls – Kerala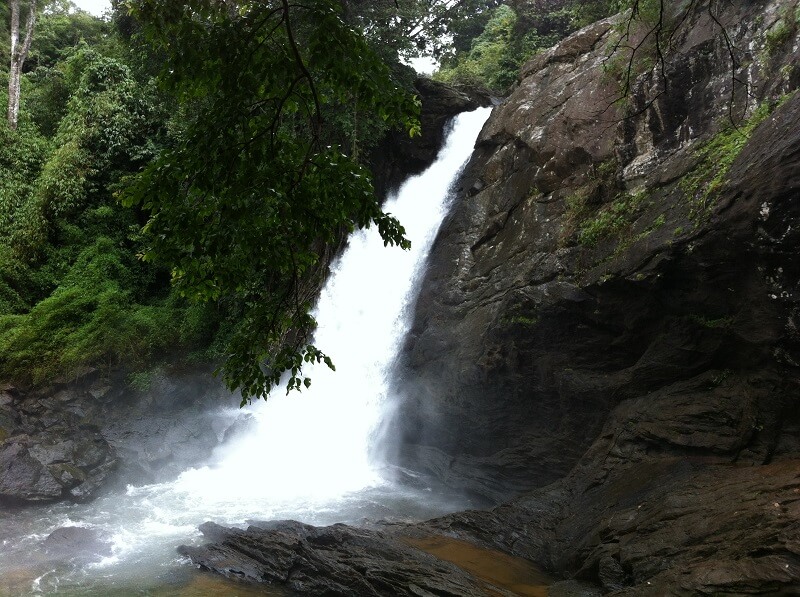 They are also called the Sentinel Rock Waterfalls, and their unique quality is their three-tiered waterfall structure. They are surrounded by evergreen forests, making them one of the most scenic waterfalls in the country. It is the best beach that you can find in Kerala, it's a definite go-to place.
Transportation: Hire a cab that drops you at the entry point of the waterfalls or public buses that sink you near the waterfall point.
Best time to visit: Since the falls become dry during summers and are closed for tourists from March to June, Soochipara should be visited in the monsoon season when the falls are glorious.
13. Nohkalikai Waterfalls – Meghalaya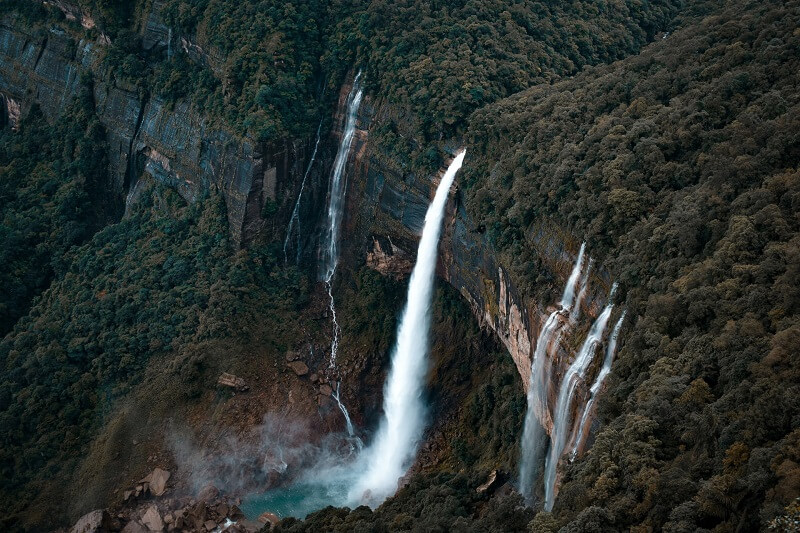 The world's fourth-largest plunge waterfall, Nokhalikai, is a sight to behold. It is one of the most famous sights in North East India. The site is filled with activities like angling, birdwatching, swimming, and trekking. It is the biggest waterfall in India or the biggest plunge waterfall in India to be more specific.
Transportation: The Shillong railway station is 81 km away, while the Shillong airport is 80 km away. From Guwahati railway station, it is 146 km, and Guwahati airport is 164 km away. Local transport can take you near the falls from the bus station, which is a mere 8 km away.
Best time to visit to see is from October to December or March to May for a complete experience of natural beauty.
There are 100s of places to visit in India during summer vacation but one can choose based on their interest, budget, and time. We will keep updating this article with more of such places for you.
Pack your bags; book your tickets and hotels. Happy Summers
Image Source: Flicker/jjm303in, Flicker/Sankara Subramanian, Flicker/rajkumar1220/ Flicker/Aditya Patawari, Flicker/Mukul Banerjee
FAQs on Beach Places and Waterfalls in India:
What are some of the best beach destinations in India?
Some of the best beach destinations in India include Goa, Kerala, Andaman & Nicobar Islands, Puducherry and the beaches in Mumbai.
What is the best time to visit beaches in India?
The best time to visit beaches in India is from November to February as the weather is pleasant and there is less humidity.
What are some water sports activities that can be done at Indian beaches?
Some water sports activities that can be done at Indian beaches include jet skiing, parasailing, scuba diving and snorkeling.
Which is the highest waterfall in India in summer?
Nohkalikai Falls, at 340 meters in height, is India's tallest waterfall. The waterfall is located in Cherapunji in the Indian state of Meghalaya.
Which Indian Falls are similar to Niagara?
Chitrakot Waterfalls in Chhattisgarh located in the Bastar district are similar to Niagara.