The city of Bangalore has emerged as a frontier of the Indian IT revolution attracting the headquarters of major global tech companies in the last decade. Despite the technical advancement, the city has managed to preserve different monuments of historical importance and is one of the most popular tourist destinations in the country. Although the city is tagged for busy, tiring life and congested traffic, however, the city has plenty of recreational options; from exploring the natural flora and fauna to revisiting history through monuments; from adrenaline rush-inducing treks to spiritual solitude, the city has something to offer for everyone. Let's get started with the guide of places to visit near Bangalore for a one or two-day trip.
Much has been written about the tall buildings, high-end shopping streets, luxurious restaurants, and nightlife and our focus here is to list out places that provide a perfect getaway to escape the hustle and bustle of the metro city and get you some time of your own amidst natural beauty. It is impossible to cover every tourist place near Bangalore, Karnataka in one article so we are listing the selected best places categorized in one day trip from Bangalore for a short vacation.
Places to Visit near Bangalore for One Day Trip
#1 Nandi Hills: One of the Must Visit Hill Stations near Bangalore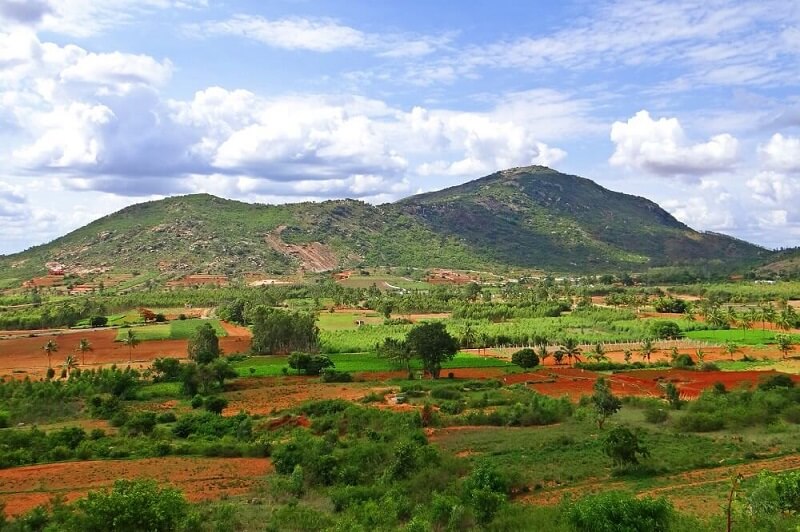 Probably one of the most popular places to visit near Bangalore, Nandi Hills is known for offering a spectacular sunrise from the top. Nandi Hills is situated about 60 kms from the city center and is famous among Bangaloreans for early morning drive to catch the sunrise and escape the chaos of the city.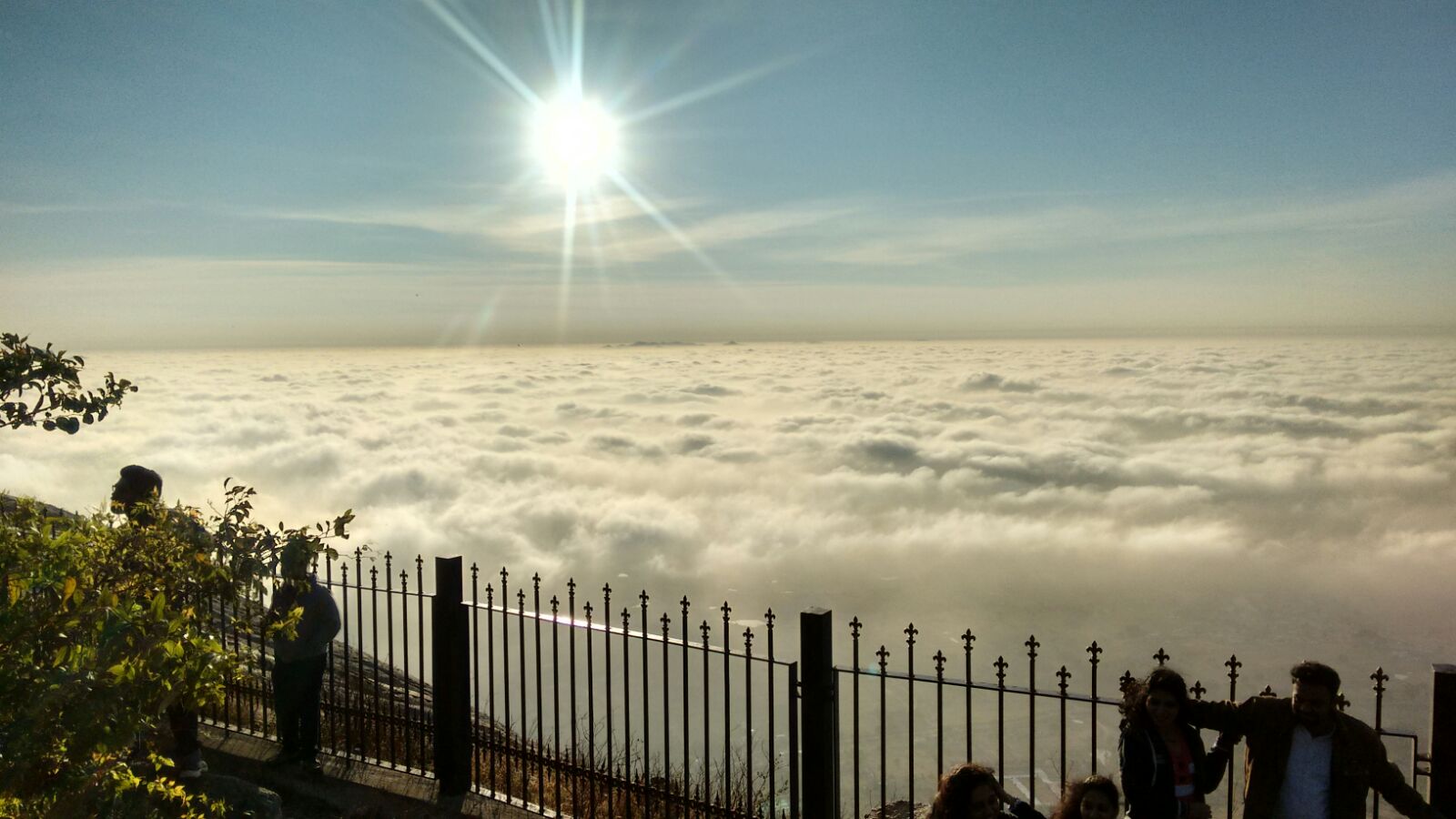 It takes around an hour and a half to reach and the hill is open to visitors daily from 6:00 A. M to 10:00 P.M. This makes the hills one of the best places for one day trip from Bangalore. The peak spot of the hills stands tall at 4850 meters above sea level and is blessed with a pleasant climate throughout the year. Nandi Hills is a perfect weekend getaway for nature lovers offering stunning greenery, fascinating view and solitude. Although the best time to admire the beauty of this place is early mornings, it is frequented by adventure enthusiasts for trekking and cycling throughout the day.
The place was once used as a summer retreat of Tipu Sultan and is home to a few shrines and monuments. The most popular spot of the hills is a trail called Tipu's Drop; a 600-meter high jaw-dropping cliff used to drop prisoners down to their demise during Tipu Sultan's reign. Another popular attraction is Tipu's summer residence which features huge pillars with beautifully painted walls and ceilings.
Distance from Bengaluru Railway Station:- 61.2 KM
Things to Do:- you can go for various adventurous activities like paragliding, cycling, or biking, can witness various spots like Bhoga Nandeeshwara temple, Yoga Nandeeshwara temple, Amrita Sarovar, Tipu's drop, Tipu's summer residence, Brahmashram, Muddenahalli, Nehru Nilaya and can also go for shopping.
#2 Cubbon Park: Among the Best Places to Visit near Bangalore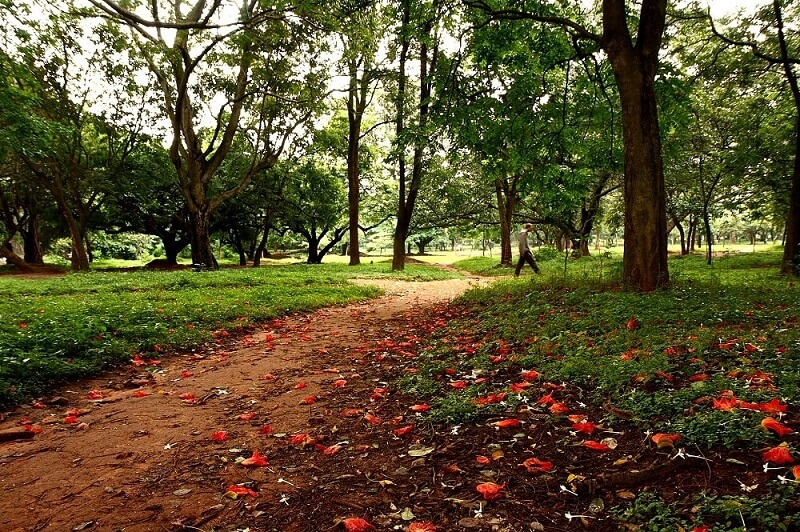 The Cubbon Park dates back to 1870 and was made by Major General Richard Shankey- the then Chief Engineer of Mysore. The park spreads around 300 acres and is one of the major sight-seeing attractions of Bangalore famous for its diverse flora and fauna. The park houses more than 6000 trees and plants and is a haven for nature lovers. Frequented by botanists, tourists, and joggers, the park contains many aesthetically designed buildings and breath-taking statues of famous personalities.
The park features a variety of native as well as exotic botanical species; massive bamboo trees, mahogany, and silver oaks are a few to mention. Another tourist attraction of the park is the Bangalore Aquarium which takes pride in being the second largest aquarium in India. The Cubbon Park is situated behind the High court of Karnataka and is open from 6:00 A M. to 6 P.M. and remains closed on Mondays and Second Tuesdays.
Distance from Bengaluru Railway Station:- 1.3 KM
Things to Do:- you can visit library, museums, tennis academy, an aquarium, ride a toy train, see many statues and pavilions, can also take your pet for a day out, do slacklining, run at anytime, enjoy doing yoga and picnic, cycling, bird watching, Or can even indulge in various fun activities always.
#3 Chikballapur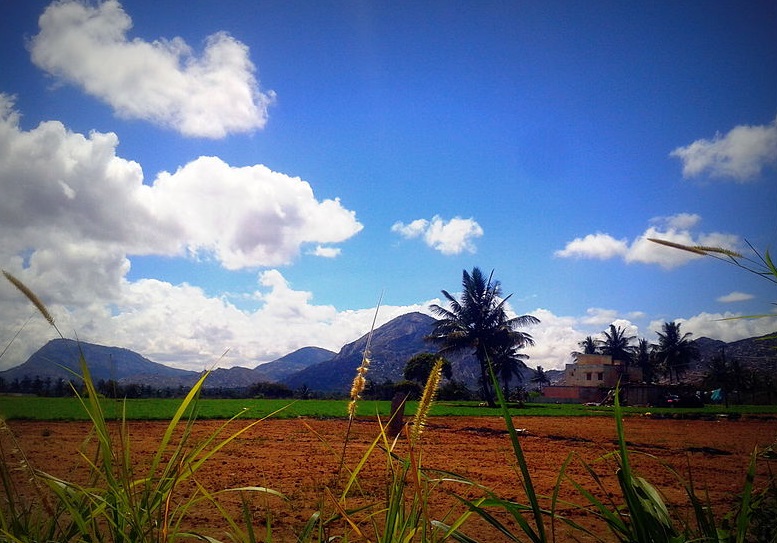 Chikballapur is the district headquarters of Karnataka's new Chikballapur district. Chikkaballapur's tourism industry is well-known all over the world. Some of the best places to visit near Bangalore are Nandi Hills, Skandagiri Hills, and the temples of Bhoganandishwara and Yoganandiswara, which are notable for their architecture.
Chikballapur has many natural and man-made attractions that draw visitors. The Chikballapur Taluk is home to the well-known Nandi Hills. The main attractions here are the Yoga Nandeeshwara Temple on top of the hill and the Bhoga Nandeeshwara Temple in the village at the bottom of the hill. Between June and February is the best time to visit Chikkaballapur.
Distance between Bengaluru and Chikkaballapur:- 60.6 km.
Things to Do:- Apart from its scenic beauty, you can also visit nearby places, do a lot of shopping, and enjoy lots of mouth-watering delicacies.
#4 Lal Bagh Botanical Garden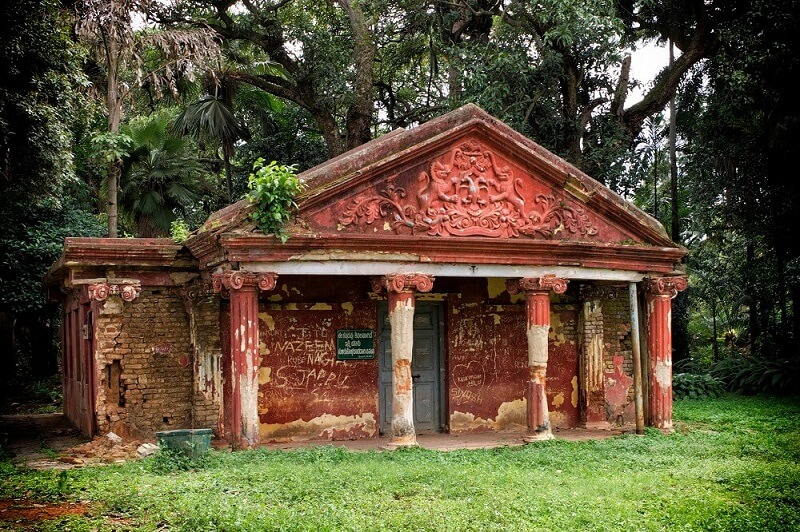 The Lalbagh Botanical garden was initially started as a private garden by Hyder Ali, the most famous ruler of old Mysore in 1760. The park was subsequently expanded by Tipu Sultan and British by introducing different varieties for plant species. The garden covers an area of 240 acres and is home to some of the rare Afghani, Persian and French plants. This garden has earned a place on the global map as one of the best gardens in the East for its design, maintenance and scientific variety. It is probably the most appreciated genetic resource centre in India assisting botanical study in various educational institutes and offering advancement of cultivation. This makes it one of the top places to visit near bangalore one day trip.
The garden has also become a major tourist attraction providing ample entertainment to general public by drawing them towards nature. The garden has well curated streets, pathways and a mixture of open spaces and shades to intrigue the visitors and enhance the scenic beauty of the place.The garden is located at Mavalli, Bengaluru and is nearly 8 kms from the city centre. Lalbagh garden is open from 6:00 A. M. to 7:00 P. M. and the entry fee of the garden is INR 20.
Distance from Bengaluru Railway Station:- 4.6 KM
Things to Do:- you can see Lal Bagh Botanical Garden, Glass House, Flower Clock, Lotus Pound, Lalbagh Lake and enjoy your day picnicking. Apart from this, you can also visit nearby places like Chokkanathaswamy Temple, Visvesvaraya Industrial and Technological museum, Bangalore Palace, ISKCON temple, Bull temple, Bugle Rock etc.
#5 Bannerghatta National Park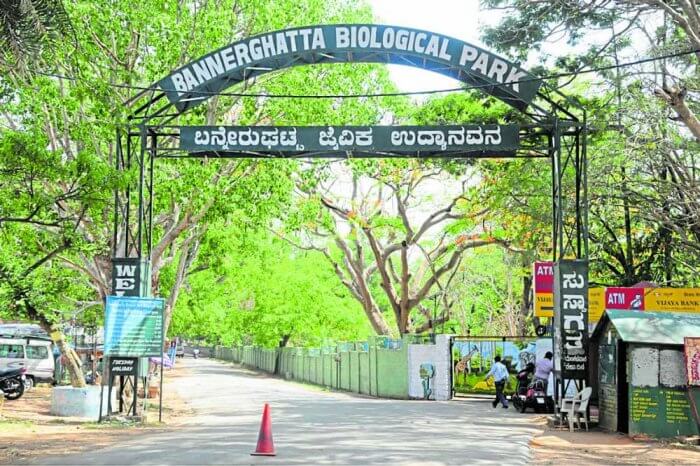 The Bannerghatta National Park was established in 1971 and sprawls in over 25,000 acres. The park offers a variety of wildlife species like elephants, leopards, Asiatic Lions, Royal Bengal Tigers, wild bears, cobras and more. The massive park is rich in floral diversity as well featuring tamarind, sandalwood, bamboo, neem, eucalyptus and many more trees. The Bannerghatta national park is intriguing for both adults as well as children offering a wonderful rendezvous with nature in its wildest form. For adventure enthusiast, this is surely the best place for one day trip from bangalore.
The most popular activity in the park is the Jungle Safari which gives a chance to interact and observe with the wild animals in their natural habitat. The park offers different packages of the safari and they usually cover 12-16 kms (return trip) though the beautiful scenic trip where one can spot big cats and herbivores. Although the weather is pleasant throughout the year, the best time to appreciate the beauty of the place is from November to June. The park is open from 9:30 A.M. to 5:00 P. M. and the entry fee is INR 260 for adults and INR 130 for children ages 6-12 years.
Distance from Bengaluru Railway Station:- The park is situated 23 KMs from the city centre and is easily accessible through public transport.
Things to Do:- Separate establishments such as crocodile Farm, Snake Park, Museum, Zoo, Children's park, an aquarium and the country's first butterfly park within the Park are sufficient to keep you occupied throughout the day. In addition, the park also offers various routes for trekking and river rafting for adrenaline junkies, also a Jungle safari trip for the wildlife lovers.
#6 Bangalore Palace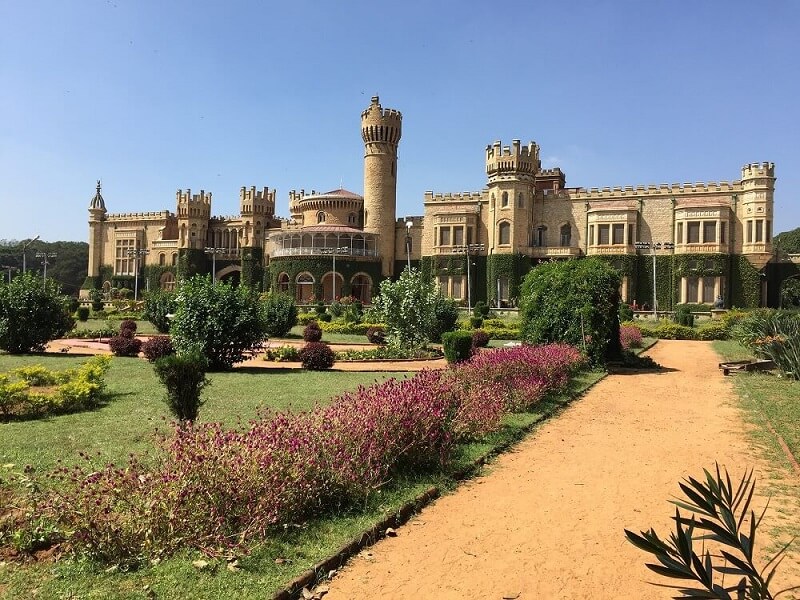 Located at the heart of the city, the Bangalore Palace spreads across 45,000 square feet and a mixture of Tudor and Scottish Architecture. The palace was built in the year 1878 and the beautiful carvings inside as well as outside showcase the royal culture and opulence. The royal residence is embellished with flower themes, furniture made to resemble different body parts of elephants and the roof beautifully decorated with artistic creations. The royal residence consists of 35 rooms with imported mirrors and Victorian style furniture.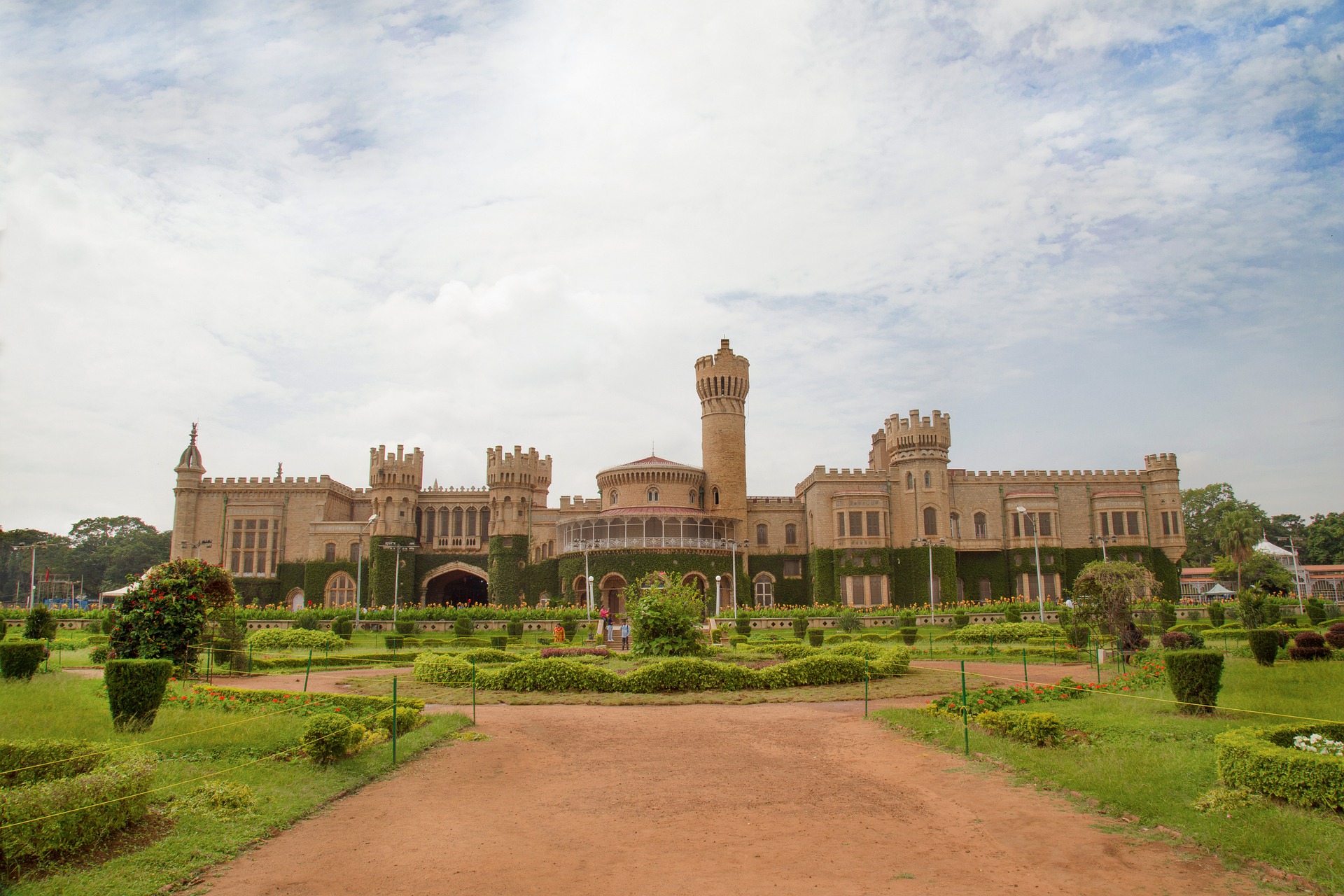 Recently the Palace has been made available to various cultural events and social functions including concerts, weddings and sporting occasions. The palace has witnessed performances of internationally acclaimed artists such as Elton John, Backstreet Boys, Iron Maiden and the likes. 1 hour long audio tape is available in 7 different dialects to understand the history of the palace to the visitors. The palace is open from 10:00 A. M. to 5:30 P.M. and the entry tickets are priced at INR 250.
Distance from Bengaluru Railway Station:- 4.1 KMs
Things to Do:- Apart from visiting the Palace, you can also visit nearby area such as Saptamatha Temple, art gallery, Shanmukha Temple, National Gallery of modern art, Jawahar lal Nehru Planetarium, National military memorial, St. Mary's Basilica etc.
#7 Vidhana Soudha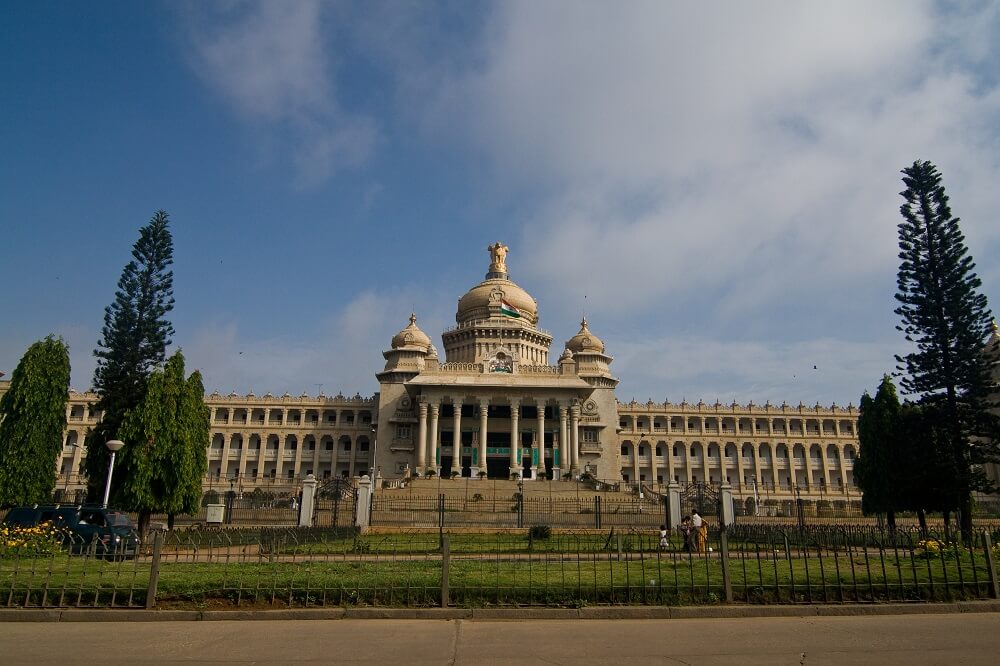 Proudly boasting the title of being the largest state legislative building of the country, Vidhan Soudha houses the State Legislature and the Secretariat of Karnataka. Vidhan Soudha is one of the most magnificent buildings of the city and is popularly known as the "Taj Mahal of South India". The 46 meter tall building consists of 300 rooms distributed in four floors above ground level. The entire building complex is bound to impress the onlooker with its Neo-Dravidian style of architecture and grandiose. Spread in more than 60 acres, this grand white building was inaugurated in 1956 and houses 22 different departments of the state government.
The building is open to visitors from 8:00 A.M. to 8:00 P.M. and remains closed on weekends and other national holidays. Although there is no entrance fee but a special permission is required to visit the building. The building complex is beautifully lit up on Sunday evening and is a treat for eyes.
Distance from Bengaluru Railway Station:- 3 KMs
Things to Do:- Apart from seeing this magnificent building, you can visit Vikasa Soudha, Seshadari Iyer Memorial, Cubbon park, Visvesvaraya Industrial and Technological museum etc
#8 Jawaharlal Nehru Planetarium
The Jawaharlal Nehru Planetarium is devoted towards providing detailed knowledge about space through various exhibitions, models, and audio visual aids. The planetarium is administered by Bangalore Association for Science Education (BASE) and has emerged as a popular tourist attraction especially for children. The planetarium has a dedicated Science Park and a Science Center and the main attraction of the place is the Sky Theater attracting lakhs of students through the year. For space exploration lovers, this is surely the best places for one day trip from Bangalore.
The Sky Theater utilizes computer animations, video clips and special effects to showcase astronomical events such as solar eclipse, the transition of planets, passing of comets, etc. It also has a live scope show of these astronomical events through large video projectors in a magnificent screen. The theater has a seating capacity of 210 and kids below 3 years are not allowed.
Many educational institutes bring their students for an academic picnic with prior booking. The students get to learn things in more practical way outside the classroom while enjoying a day out with classmates. Various educational experiments and demonstrations on gravity, rocket launches, astrophysics are quite a hit with students intriguing their scientific temper.
The Jawaharlal Nehru Planetarium is located at High Grounds and is roughly 2 kms from the city centre. The planetarium remains closed on Mondays and is open from 10:30 A. M. to 5:30 P.M. rest of the week. Entry fees are INR 50 for adults and INR 30 for children under 16 years of age.
Distance from Bengaluru Railway Station:- 2.6 KMs
Things to Do:- You can also visit India post, National gallery of modern art, Karnataka Chitrakala Parishad, Vidhana Soudha and Attara kacheri, Indira Gandhi musical fountain etc.
#9 Ulsoor Lake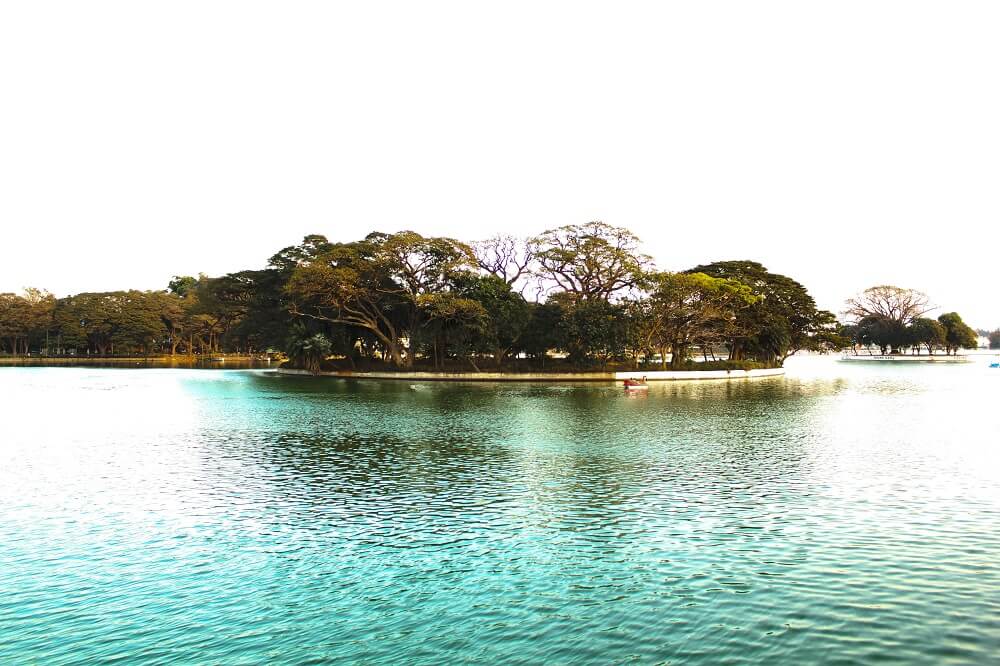 Sprawling over 50 acres, the magnificent Ulsoor Lake is one of the largest lakes in Bangalore. The magnanimous lake is surrounded by lush greenery and houses a number of islands all along which enhance its natural beauty and attracts picnickers and nature lovers. Water lovers can surely choose this for one of the best places to visit near Bangalore one day trip.
Also known as Halasaru Lake, the place is a popular attraction of the city owing to its breath-taking view and relaxing ambience.
The lake is situated 3 kms from the city centre and one of the most popular activities is boating which gives an unparalleled experience to understand the terrain of the place. Visitors also indulge in watching the endemic birds and clicking pictures.
Distance from Bengaluru Railway Station:- 3.8 KMs
Things to Do:- Sri Someshwara swamy temple, Hanuman temple, Bangalore walks, Infant Jesus Shrine, Suryanarayana temple etc.
#10 Lumbini Gardens
Lumbini Gardens is a public park dedicated to Lord Buddha and named after Lumbini of Nepal. The park is located on the banks of Nagawara Lake and spreads over 1.5 kms. The garden is an ideal place to visit with friends and family and is one of the best tourist spots in Bangalore. The beauty of the park is enhanced by serene landscapes offering mesmerizing view. The garden is illuminated with various lights in the evening which is a visual treat. The garden is also famous for various food stalls and eateries offering dishes of extensive variety of different cuisines. Although the garden attracts crowd throughout the week, it has emerged as one of the most popular weekend destination with families and groups.
The park is located 8 km from the city on the Ring Road, Hebbal in Bengaluru and is open from 11:00 A. M. to 8:00 P. M. Children below 3 years of age are admitted free of charge and the entry ticket for kids beyond this age as well as adults cost INR 50.
Distance from Bengaluru Railway Station:- 11.9 KMs
Things to Do:- The park offers a variety of waterfront activities and promises a thrilling time. Boating and Spanish Bull Ride are the most popular activities to make the visit worth remembering.
#11 Bangalore/Devanahalli Fort
The fort is located 35 Kms north of the Bangalore City and is prominent for its historical significance and archaeological brilliance. Bangalore Fort covers a large area of 20 acres and is a testimony to the extensive battles of history. The fort was initially built as a mud fort in 16th Century by Kempe Gouda. It was later taken over by Hyder Ali and converted to the stone form in the 18th Century before being passed on to Tipu Sultan subsequently. From this you can make out that for historic place lovers, this is surely the best place for one day trip from Bangalore.
The fort is administered by the Archaeological Survey of India and boasts of twelve semi-circular bastions. The main attractions of the fort are wooden royal residences of Hyder Ali and Tipu Sultan. The entrances are decorated with cut- plaster work and have carved decorations on the wooden doors. Although the fort is presently in a crumbling state with most of the walls falling prey to graffiti, the fort nonetheless has a historical importance showcasing yesteryear's grandeur and glory. The fort is open for visits from 9:00 A. M. to 6:00 P.M. and entry tickets are priced at INR 5.
Distance from Bengaluru Railway Station:- 34.3 KMs
Things to Do:- apart from this, you can see Shree Nakoda Avati 108 Jain Temple, Goravanahalli Maha Laxmi Temple, Skandagiri, Siddheswar Swamy temple, Raghabendraswamy Math, Chandramouleswar Temple etc.
#12 Art of Living International Centre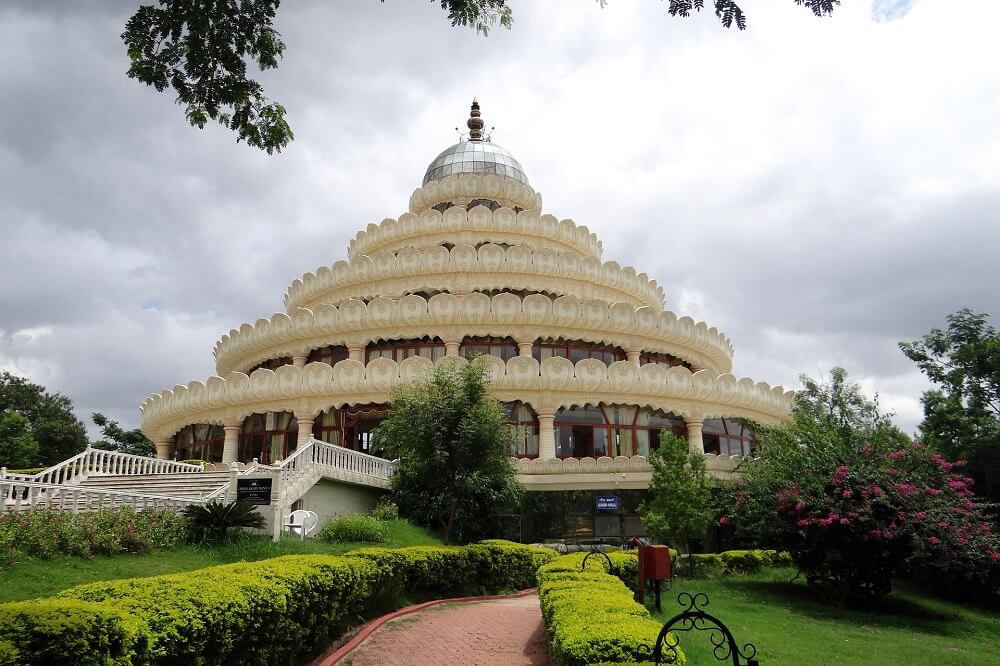 Located 21 kms southwest of Bangalore atop Panchagiri Hills, the centre is head-quarter of the spiritual and cultural organization Art of Living Foundation. The centre was constructed in 1986 and aimed at creating a stress-free society through different programs such as yoga, meditation, Ayurveda treatments etc. The lush green and vast campus houses several mini gardens, tiny water lake and abundance of trees. It is estimated that over 1.2 million people from across the world visit the centre annually.
The centre is established atop the hill and offers solitude and seclusion from the chaotic life of the metro city. Fresh air, flowering gardens, calm environment in a tranquil backdrop this ashram is an ideal retreat from the strain and monotony of the regular routine. The center also aims to provide food for thought to reflect on life through various satsangs, and spiritual talks to get closer to nature. A typical daily routine includes yoga, meditation and an optional voluntary work to achieve inner peace. There are customized courses to cater to the demands of different people. The ashram is an ideal retreat not only for followers but also for nature lovers where one can get lost in nature to discover oneself through solitude and spiritual bliss. This is surely a must visit place for one day trip from Bangalore.
Distance from Bengaluru Railway Station:- 1.9 KMs
Things to Do:- Apart from rejuvenating yourself in this beautiful place, you may also visit Prani- pet sanctuary, Pyramid valley international, Dwadasha Jyotirlinga, Big Banyan tree, Bannerghatta Biological park, The Big Barn farm, Manchanabele Dam, Madiwala Lake, Butterfly park, Turahalli forest, Shri Anjaneya Swamy temple etc.
#13 St. Mary's Basilica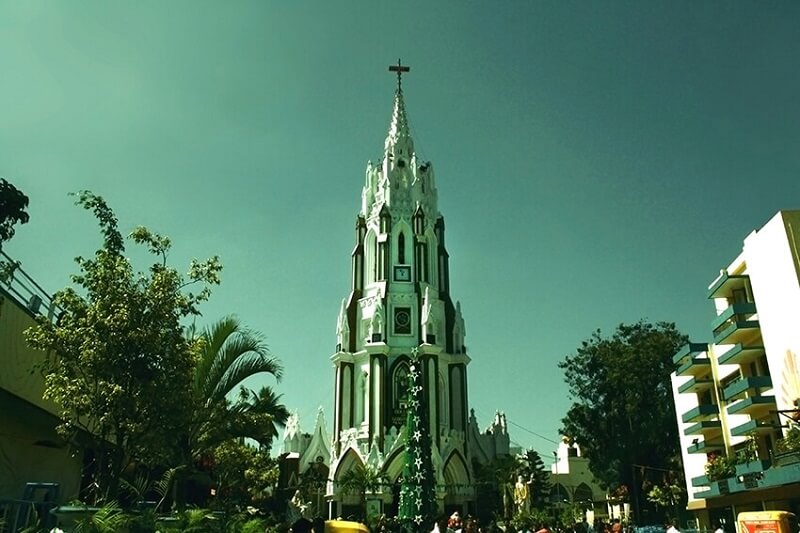 St. Mary's Basilica is one of the most eminent churches in India and holds the distinction of being the only Church in Karnataka to be elevated to the status of a minor basilica. This is the oldest church in Bangalore and dates back to 1875. St. Mary's Basilica is an elegant gothic-style Church built in the form of a cross and represents the Christian faith with utmost reverence. The Church is 172 feet long and 50 feet broad while the tower forming the Church's façade is 160 feet in height. The main source of inspiration of the Church is the beautiful statue of St Mary draped in Saree and holding baby Jesus in her arms. The magnificent tower and pretty glass windows present a soulful sight to the devotees visiting the revered place.
The Church holds St. Mary's Feast every year in September which is considered one of the most important feast by the devotees in the entire state of Karnataka. The Feast is celebrated to commemorate the Feast day of the Nativity of Blessed Virgin Mary and is a throwback to the colonial era of Christianity with masses and feasts. The Church is located in the heart of city and is open from 6:00 A. M. to 8:00 P.M.
Distance from Bengaluru Railway Station:- 2 KMs
Things to Do:- apart from visiting the church, you can also visit nearby places as Culture Rings, Indira Gandhi Musical fountain, Shanmukha temple, Lady Jehangir Kothari Memorial hall etc.
#14 ISKCON Temple: Among the Religious Places to Visit Near Bangalore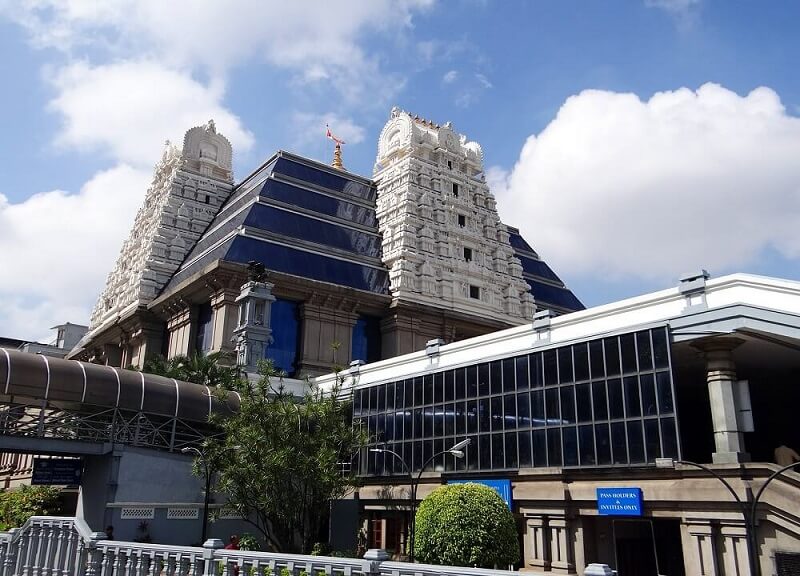 The ISKCON temple is located in Rajaji Nagar area of Bengaluru and was inaugurated in 1997. The temple is religious shrine dedicated to Lord Krishna as well as a cultural complex. ISKCON temples have a presence worldwide and are known to enroll the devotees of Lord Krishna for life and arranging various programs involving Lord's consciousness and public awareness through songs and recitals. The ISKCON temple community frequently conducts wide variety of lectures and prayer services to rediscover the spirituality of the individual devotees as well as communal harmony.
The ISKCON temple at Bengaluru has a gold-plated column with a banner that is 17 meters high and features 8.5 meters high Kalash. The temple is located at Hare Krishna Hill which is roughly 8 km from the city center. Darshan's timings at the temple are from 4:15 A.M. to 5:00 A.M., 7:15 A. M. to 1:00 P.M., and 4:00 P.M. to 8:30 P.M.
Distance from Bengaluru Railway Station:- 2.8 KMs
Things to Do:- you can see nearby places like Sri Annamma Devi Temple, Ragigudda Sri Prasanna Anjeneyaswamy Temple, M N Krishna Rao park, Shree Mukti Naga Kshetra, Banashankari Temple, Malleswaram etc.
#15 Tipu Sultan's Summer Palace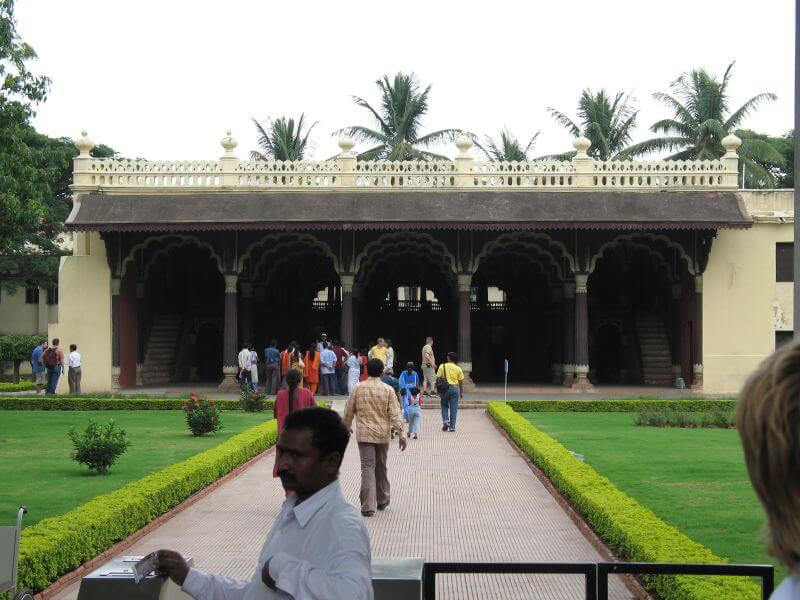 The summer residence of well-known Mysore ruler is an important monument and a popular tourist attraction for people visiting the city. The Tipu Sultan's Summer palace was the summer residence of the celebrated Mysore ruler Tipu Sultan. The development of the palace was initiated by Hyder Ali which was carried on by Tipu Sultan after his demise. The two-storeyed royal residence was completed in 1791 and the construction follows Indo-Islamic design in teak wood. The entire supporting columns are engraved with complicated cuttings and rich themes.
The front portion of the royal residence is beautifully maintained by the local Horticulture department in the form of lavish gardens, lawns and sparkling fountains. The ground floor of the palace has been modified into an exhibition hall showcasing the art works of Tipu Sultan's era as well as the accomplishments of the ruler. The museum features a copy of the Tipu's Tiger, which is kept in the Victoria and Albert Museum in London. Prominent crowd-pullers of the museum are Tipu Sultan's garments and his crown mounted in silver and gold platforms.
Tipu Sultan's Summer Palace is located at Albert Victor Road, Chamrajpet in the heart of the city and can be accessed from 10:00 A.M. to 6:00 P.M. from Mondays to Saturdays and from 8:30 A. M to 5:00 P.M. on Sundays. The entrance tickets are priced at INR 15.
Distance from Bengaluru Railway Station:- 7.3 KMs
Things to Do:- besides spending your time in admiring the beauty of this mesmerizing place, you can also visit Bull temple, Gavi Gangadhareshwar Temple, Bengaluru by Foot, Dodda Ganapati temple, Chikka Tirupati Temple, Vijayanagara, Lalbagh Botanical Garden etc.
#16 Innovative Film City: One of the Exciting Places to Visit Near Bangalore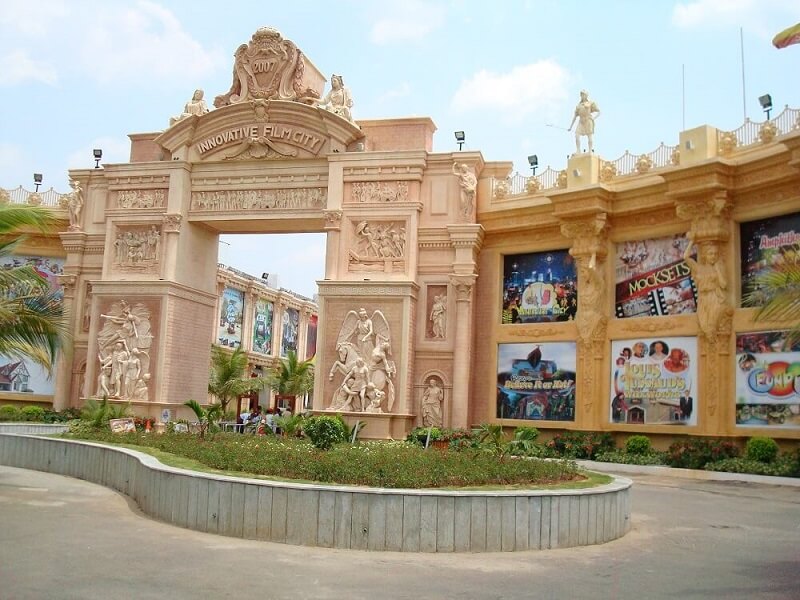 The Innovative Film City is another major tourist attraction of the city. It is an Indian Theme Park situated 40 Kms from Bangalore at Bibadi on the Mysore Highway. The park is spread in 58 acres of land and offers unique experience to shop, eat, stroll and revisit childhood.
The film city is broadly divided into 3 sections and has plenty to keep you engaged throughout the day. The first section is named as Innovative Attraction and features an amusement park with a variety of rides. The Innovative Studio promises peep into the world of movies and glamour with a wax museum, haunted mansion and more. Innovative Style offers you the opportunity to shop in style and gorge on global cuisines like French, Mexican, and Italian.
The park is open from 10:00 A.M. to 7:00 P.M. Entry price for the parks costs INR 599 before 3:00 P.M. and INR 399 after that per adult.
Distance from Bengaluru Railway Station:- 38.5 KMs
Things to Do:- there are lots and lots of things to do here, that will keep you occupied all the day long like Cartoon city, Aqua Kingdom, Dino park, Mini Golf, Petting Zoo, Haunted Mansion, Minning, Innovative talkies, Mirror Maze etc.
#17 Venkatappa Art Gallery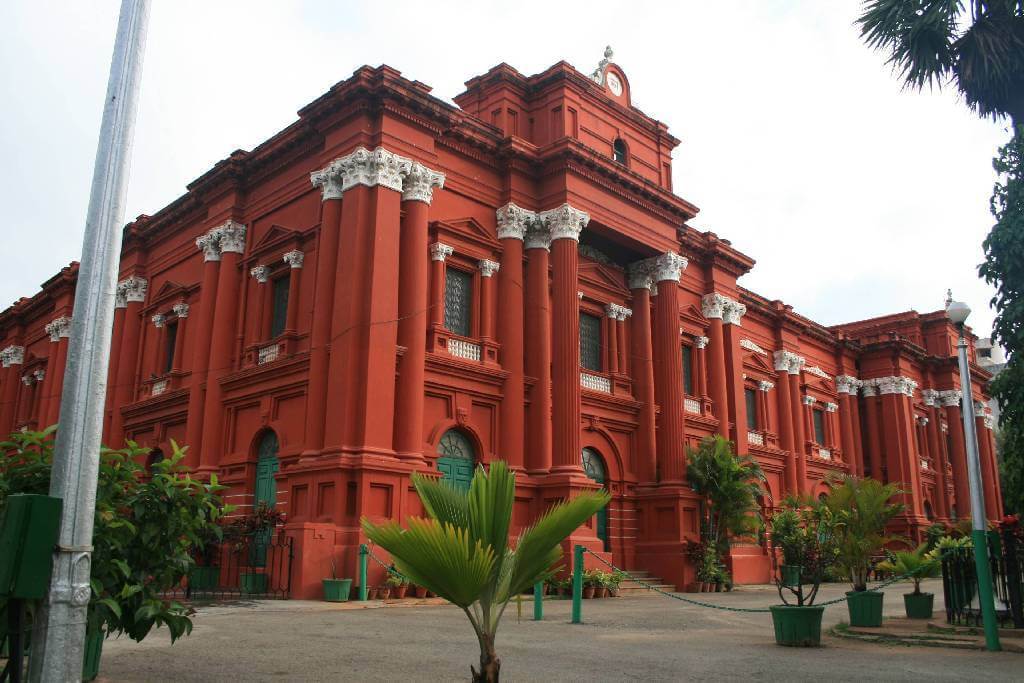 Named after the most famous artist of Bangalore city – K. Venkatappa, the gallery is located in the premises of Karnataka Government Museum on Kasturba Road. The two-storeyed museum flaunts over 600 paintings. It is further divided in different sections. Venkatappa Art Gallery gives an insight into the life and times of the past with a variety of exhibits. It displays on Indus Valley Civilization, exquisite wood carvings, intricately carved sculptures, specimens of geology and art, ancient musical instruments etc. Some of the rare artworks displayed at the museum date back to 2000 BC. Art lover must visit this place making a one-day trip from Bangalore.
The first floor of the museum houses fascinating works of Venkatappa. That includes the very famous painting of the Ooty sunrise, the dazzling Nilgiri hills, etc. Other notable artists featured along with him are M. F. Hussain, Vasudev, Yusuf Arakkal, and N.S. Bendre. The second floor is solely dedicated to the paintings of K. K. Hebbar. Additionally, there is an entire section dedicated to the arsenal exhibition. It shows different sorts of swords, daggers, gun-powder holders, bullets belonging to the medieval period. The Gallery remains open from 10:00 A. M. to 5:00 P.M. throughout the week except for Mondays. The entry tickets cost INR 10 for adults and INR 5 for children.
Distance from Bengaluru Railway Station:- 3.3 KMs
Things to Do:- you can also visit nearby places like Sree Kanteerava Stadium, Cubbon park, Bangalore Aquarium, Jawahar Bal Bhawan, Sublime Galleria etc.
#18 Indira Gandhi Musical Fountain Park
One of the biggest artificial fountains in India, the Indira Gandhi Musical Fountain was created in 1995. Probably the most technically advanced fountain in India, it is located on T. Chowdaiah Road and is based on multimedia technology and hardware architecture. The massive fountains are surrounded by beautiful gardens and two light and sound shows are displayed daily in the evening. The enthralling display of neon lights dancing on rhythmic water jets through as many as 1000 nozzles is visual treat. The fountain has 15 formations and 27 different combinations to result in a captivating display.
The landscape park is maintained by the Horticulture department and located opposite to the Jawaharlal Nehru Planetarium. The park has a separate play area for kids and the seating capacity of the show is around 700 individuals. The park is closed on Mondays and second Tuesdays of every month. It is open from 7:00 P.M. to 8:30 P.M. Entry fee for adults is INR 10 and children between ages 6 and 12 are charged INR 5.
Distance from Bengaluru Railway Station:- 2.1 KMs
Things to Do:- apart from soaking yourself in the beauty of the fountain you can also plan to see Statue of King Edward VII, Cubbon park, St. Mary's Basilica, Vidhana Soudha and Attara Kacheri, St. Andrew's Church, Bangalore Palace etc.
#19 HAL Aerospace Museum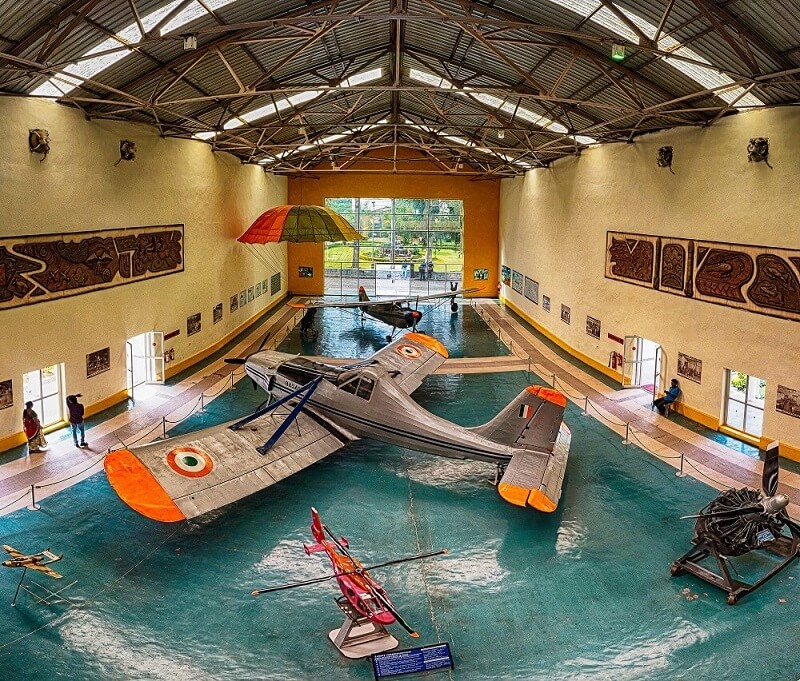 The Hindustan Aeronautics Limited (HAL) Heritage Centre and Aerospace Museum was built up in the year 2001. It is the first of its kind in India and aimed to educate the general public about the historical and scientific journey of one of the largest and most important aeronautical companies of Asia. The museum proudly showcases the commercial as well as technological achievements of the Indian aviation.At the same time, it gives the visitors an opportunity to learn the insights of aerospace engineering. Witnessing the powerful possession and endless possibilities of Indian Air Force is unique experience which makes every Indian proud.
The HAL Aerospace Museum is located in Marathalli at a distance of 18 kms from the city centre. The Museum opens from 9:00 A.M. to 5:00 P.M. The entrance tickets are priced at INR 50 for adults and INR 30 for children below 18 years of age.
Distance from Bengaluru Railway Station- 13.6 KMs
Things to Do:- The Museum has a display of different Aircraft models. Additionally, PSLV model and radar systems give an insight into the innovations. Apart from this, there is also a play area for children, a garden and a souvenir shop.
#20 Anthargange Trek: Amazing Places to Visit Near Bangalore
Anthargange Trek is located 65 kms from Bangalore and is famous for rocky hills and caves. These caves are situated at an altitude of 1226 meters. The trek gives a thrilling opportunity to explore the mystical caves formed out of volcanic rocks. The trek through the rocky terrain is 4 kms long. It is filled with the charming view and picturesque beauty filled with nature's surprises.
Expert guides ensure the trekkers wander in the caves safely at the same time share interesting trivia along the way. As the terrain is rocky, temperatures go quite high and the most recommended season is from November to February. Although the difficulty level of trekking is easy, individuals with past trekking experience make the most of the opportunity.
Distance from Bengaluru Railway Station:- 67.4 KMs
Things to Do:- Giving the best option for the weekend gateway, this place offers plenty of activities as trekking, rock climbing and cave exploration etc.
#21 Night Trek in Skandagiri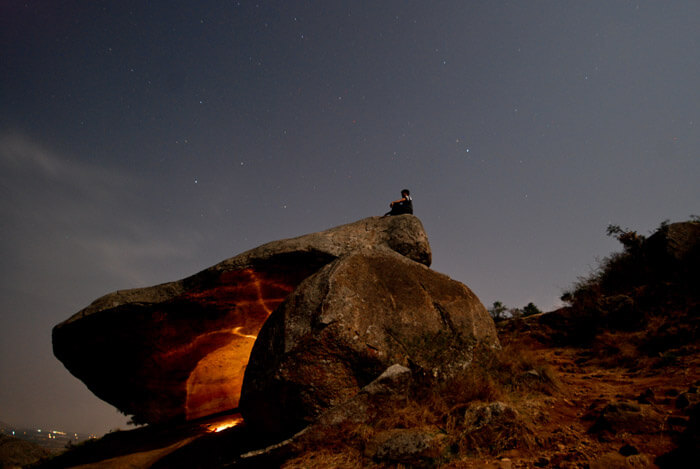 If you thought that trekking is an activity for early morning with plenty of sunlight then be ready for surprise. Located around 70 kms from Bangalore, Skandagiri is basically a fortress of the Tipu Sultan's reign on a mountainous terrain. The 10 km trek is categorized as a moderately difficult trek. But the entire ascending and descending can easily be completed in around 5 hours.
The trek can be a bit tiring at times but the serene atmosphere and thrilling experience make up for it. The spectacular journey amongst the dense shrubs is highly recommended for both beginners as well as professional trekkers. As you climb up the tricky mountain, you find yourself walking above clouds. There is an abandoned fort at the top containing what's left of once the glorious Tipu Sultan's era. It's a common sight for the trekker to light up at bonfire on starry night and sleep inside their tents. In the morning you are greeted with a breath-taking view of the misty valley. Underneath with cool winds blowing across your face as the sun rises from the clouds. The magical experience is bound to leave you with memories of a lifetime.
Distance from Bengaluru Railway Station:- 57.8 KMs
Things to Do:- The trekkers are sure to love the view of sunrise from Skandagiri, enjoy team campfire, do hiking, spending night at the historical hill, visit Papagni Mutt Temple etc.
Best Weekend Gateway from Bangalore for Two Day Trip
#22 Coorg: Naturally Rich Places to Visit Near Bangalore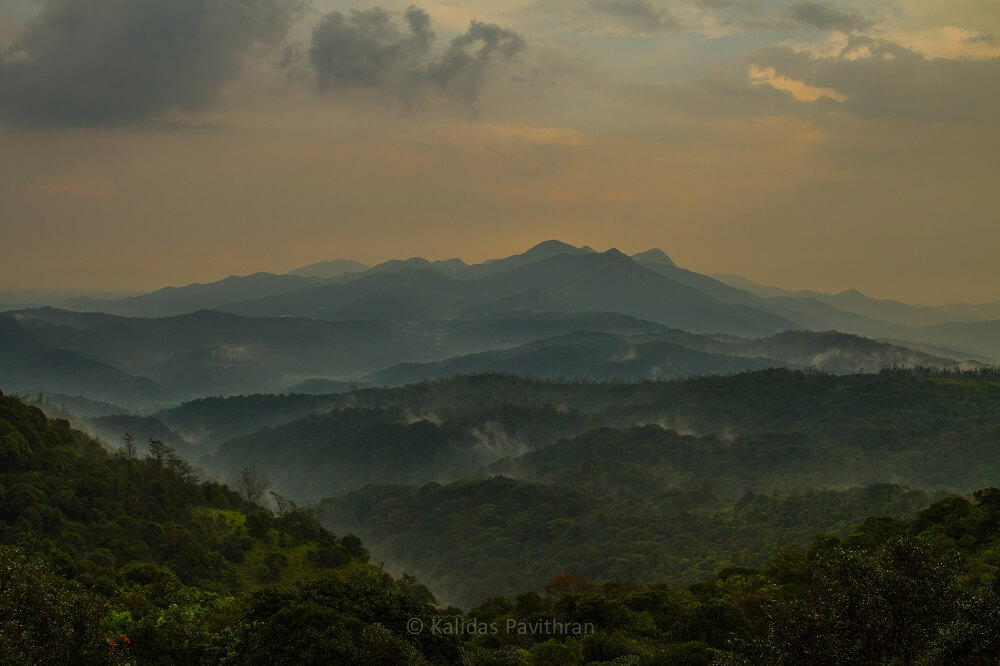 The picturesque town of Coorg (also known as Kodagu) is rated as one of the top hill stations of India. Located at 276 km from Bangalore, the place offers a popular weekend getaway due to its pristine atmosphere. Coorg has a number of pretty hills. The lush green forests make Coorg top in the list of the best place for 2 day trip near Bangalore.
The town of Coorg is blessed with natural beauty and is home to many lakes, streams, and foggy mountains. On the banks of Talakaveri, there is a beautiful temple of Lord Brahma. This is one of the only two temples dedicated to Lord Brahma in entire Southeast Asia.
To have a detailed glance, here is a – Coorg Expedition from Bangalore Travelogue
The Nagarhole National Park in Coorg has plenty of diverse flora and fauna. The flora of the jungle includes timbers like Indian Mahogany, Teak and sandalwood, and spices of cardamom and black pepper. Coorg offers a wide variety of birds in addition to Asian elephants, tigers, leopards, and several species of deer. The town has become a popular tourist destination in the state. It attracts many visitors for weekend stays in hotels in resorts across all price ranges.
Distance from Bengaluru Railway Station:- 241 KMs
Things to Do:- The hilly terrain is ideal for adventure enthusiasts and offers activities like trekking, dirt biking, and paintballs. Popular tourist destinations in Coorg and among the best places to visit near Bangalore are the scenic Abbey Falls, Kootu Poley Dam, Brahmagiri Hill, and Talakaveri.
#23 Chikmagalur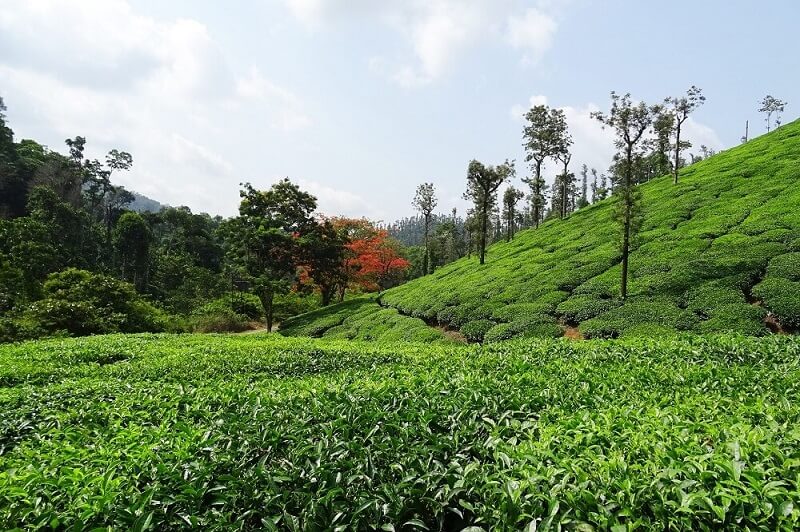 The town of Chikmagalur has located 280 km from Bangalore city. It is considered the birthplace of coffee in India. The scenic town is situated on the foothills of the Mullayanagiri range. It has become a favorite destination of tourists due to its favorable climate and vast estates of coffee.
Chikmagalur has emerged as one of the wonderful places to visit near Bangalore with many tourist spots. From pilgrimage sites to coffee plantations, from wildlife tourism to adventure sports; it has something to offer for everyone. This makes Chikmagalur one of the best places for 2 day trip from Bangalore. The town offers solitude and serene environment and beautiful mountains carpeted by green forests. Accommodation options are available across all price ranges from budget hotels to luxurious resorts to suit the pocket requirements. The climate of the town is pleasant throughout the year; the best time to visit is after the monsoon from September to March.
Distance from Bengaluru Railway Station:- 241 KMs
Things to Do:- Hirekolale Lake, Baba Budangiri, Bhadra Wildlife Sanctuary, and Manikyadhara Falls are some of the important tourist places to visit near Bangalore in Chikmagalur.
#24 Wayanad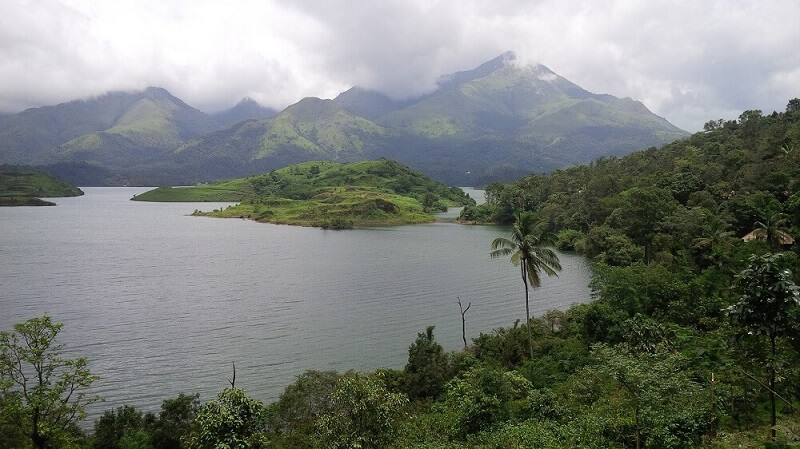 Wayanad is a rural district in Kerala and is located at a distance of roughly 280 km from Bangalore. The green paradise of Wayanad is nestled among the mountains of Western Ghats and is full of plantation and forest life.
Vast stretches of mist-laden hills, the valley's green meadows, white water springs, blue water lakes and wild forests reflect natural beauty. Wayanad is surely one of the best places for a 2 day trip near Bangalore. The region is said to be inhabited by about fifty-strong tribes for almost 3000 years.
Distance from Bengaluru Railway Station:- 298 KMs
Things to Do:- The densely covered forests in an elevated terrain make the region perfect for trekking. Wayanad Wildlife Sanctuary, Edakkal Caves, Pookote Lake and Chethalayam Waterfall are the prime tourist attractions of the place. The region also gives the opportunity to stay at tree top houses and mud huts amongst the thrills of the jungle.
#25 Sakleshpur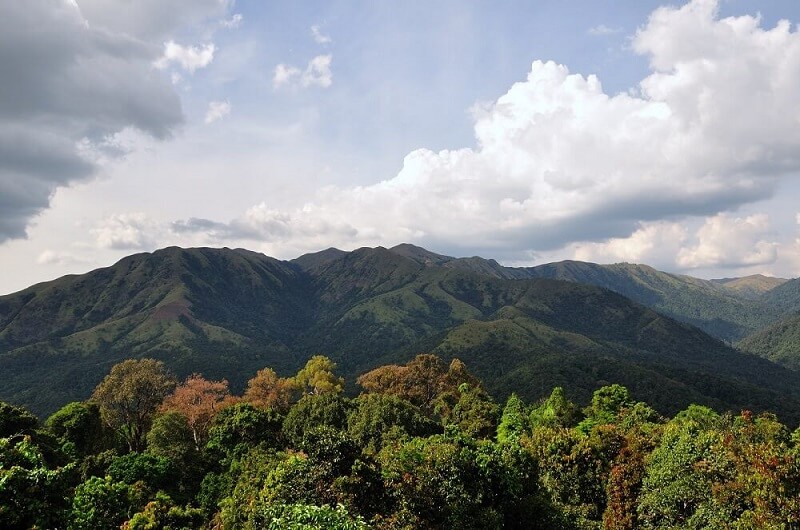 Sakleshpur is a hill station town situated in Hassan district and is located 220 kms from Bangalore. The place is best known for the green and charming landscapes of Western Ghats. The temperate climate is surrounded by green hills of coffee and cardamom plantations. All nature lovers should surely choose sakleshpur as the best places to visit near Bangalore.
Distance from Bengaluru Railway Station:- 219 KMs
Things to Do:- The mountainous elevations present an ideal stage for trekking enthusiasts amidst the bittersweet aroma of coffee. The place has a perfect setup to recharge the soul, mind & body by indulging the beauty of breath-taking sights. Bisle Reserve Forest in the region is listed among the 18 most diverse spots in terms of flora and fauna. Manjarabad Fort and Bisle Ghat are popular tourist places to visit near Bangalore in Sakleshpur.
Whats the take-Away?
It is no surprise that Bangalore has plenty of hidden gems to inflict solitude and peace. From the fast city life and admire the biodiversity as well as historical glory of the city. There are loads of options of places to visit near Bangalore to ensure that your weekend is never dull and boring. Getaways mentioned in article were selected to ensure that your next holiday is vacation for your body, mind & soul. Whether you're city dweller or a tourist, here are 24 compelling reasons to pack your bags and head to your destination.
As mentioned in the beginning, it is practically impossible to include every place in Bangalore in a single article. Are you planning to visit a place that was left out in this article? Do let us know so that we can help you with the details about the place.
FAQs about Places to Visit Near Bangalore
Where can I travel to near Bangalore?
Devanahalli Fort, Wayanad, Sakleshpur are really great places to visit near Bangalore.
Where can I go for weekend near to Bangalore?
Tipu Sultan's Summer Palace, Anthargange Trek, Bangalore Palace are best option near Bangalore.
Which is best hill station location near Bangalore?
Wayanad Sakleshpur Nandi Hills,is the best hill station