For a vacation filled with rich culture, unparalleled natural beauty, and lots of fun opportunities, South India is one of the best places to visit. There are many different places across this region that offer something for everyone – from historical monuments to picturesque beaches. With its temperate climate in summer months, South India can be explored comfortably without the fear of oppressive heat. So if you are wondering where to spend your next holiday break, read on as I will reveal my top picks for some exotic places in South India to visit, perfect for an unforgettable summer getaway.
Best Places to Visit in South India
So without further delay, here's our comprehensive guide to the best places to visit in South India for you and your friends to beat the summer heat.
1. Ooty – Queen of the Hills: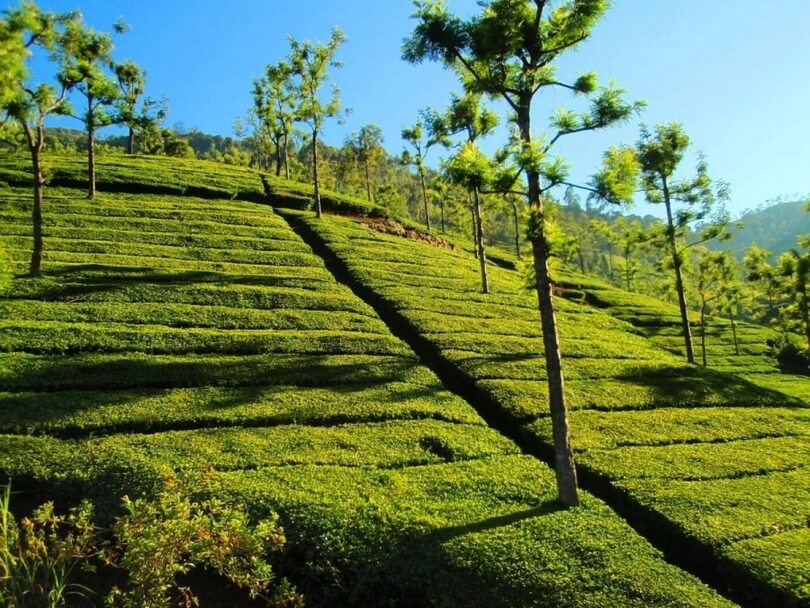 Ooty is deservedly known as the majestic queen of the Hills. It boasts an ethereal view of towering mountains, lush green cover, plentiful tea estates, and vegetable fields. Those who visit Ooty can experience something that is unforgettable – a ride on the Nilgiri Mountain Railway. As you travel up the mountain in the train, you are treated to a captivating view of nature, with winding tunnels snaking their way through forests of eucalyptus trees, providing a vista that will stay with you for years to come.
Things to do in Ooty: Take a nature walk, go for night safari in Shola forest, enjoy boat ride and have a taste of homemade chocolates.
Best time to visit Ooty: April to June and September to November
2. Kodaikanal – Famous Hill Station in Tamil Nadu: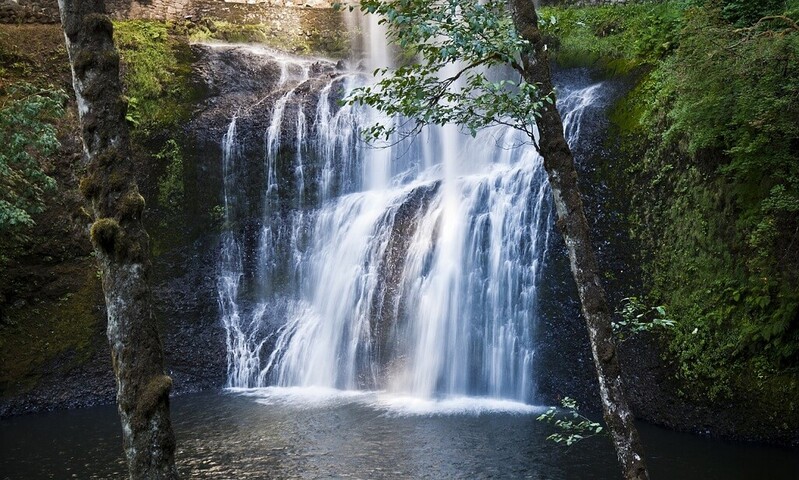 With its lush green forests, mist-covered cliffs, and fascinating waterfalls, Kodaikanal is one of the best tourist destinations in South India for couples looking to get away from the hustle and bustle of the city. Meaning 'the gift of the forests', Kodaikanal stretches to an altitude of 7200 feet above sea level. Get your adventure on by exploring the region's winding biking trails or embark on a romantic trekking jaunt through its vast well-kept forests. Once you head up north, you'll be amazed by all that this paradise has to offer.
Things to do in Kodaikanal: Enjoy boat rides in Kodaikanal lake, stroll through Bryant park, and hike through dense jungles and valleys.
Best time to visit Kodaikanal: October to June
3. Coonoor – Most Popular Hill Station in Nilgiris: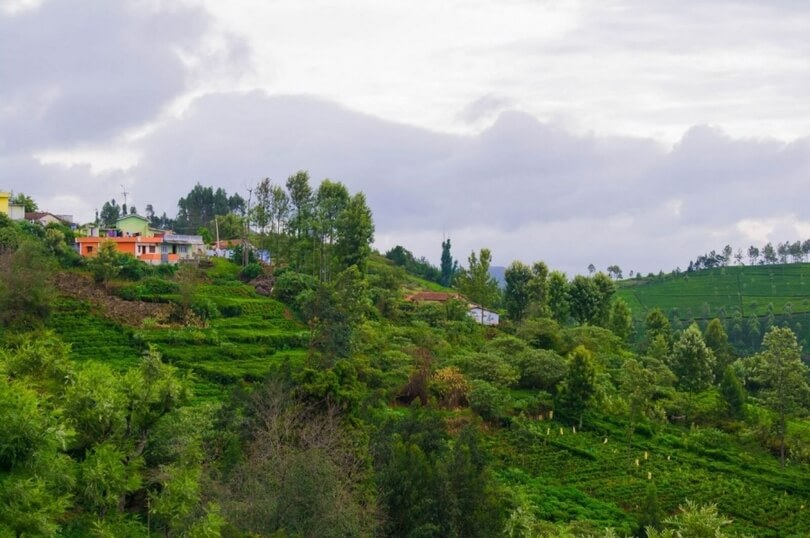 Coonoor is a secluded retreat renowned for its lush green landscape, tea gardens, and tea factories. Those who visit Coonoor are rewarded with some striking vistas of ravines, valleys, and waterfalls spread across the rolling hills. The area also hosts an array of bird species such as cormorants, pipits, thrushes, parakeets, skylarks and Nilgiri verditer – making it an ideal place for bird-watching enthusiasts.
Things to do in Coonoor: Take a stroll through tea gardens, find trails for trekking and hiking to enjoy breathtaking views of spectacular mountainscapes.
Best time to visit Coonoor: October to March is the best time to visit Coonoor. Summer starts from March and lasts till June. During summer also Coonoor offers a wonderful escape from the scorching heat.
4. Munnar – Best Hill Station in South India: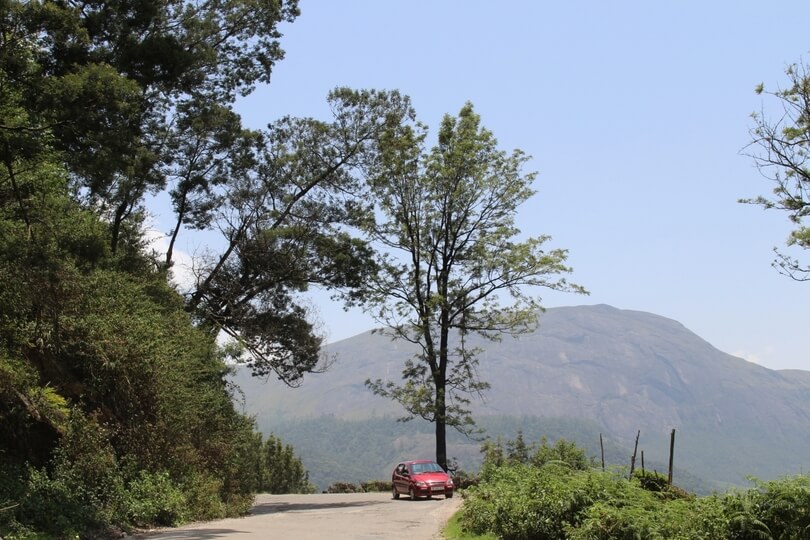 Nestled among the majestic Western Ghats of Kerala lies one of its most stunning hill stations – Munnar. This must-visit place in South India is located 1,600 meters above the sea level and is surrounded by the three mountain streams – Mudrapuzha, Nallathanni and Kundala. Highly popular as a honeymoon destination, Munnar offers a charming escapade amidst nature's many wonders. The town is strewn with sprawling tea plantations, picturesque towns, winding lanes and holiday facilities that cater to different budgets making it an ideal place for both long stays and quick getaways.
Things to Do in Munnar: You can enjoy camping, trekking, rock climbing, mountain biking, treehouse stay and ATV ride in Munnar.
Best Time to Visit Munnar: December to February is the best time to visit Munnar. However, you can also enjoy pleasant weather in Munnar during the summer season that starts from March and lasts till May.
5. Periyar – Popular Wildlife Sanctuary in Kerala: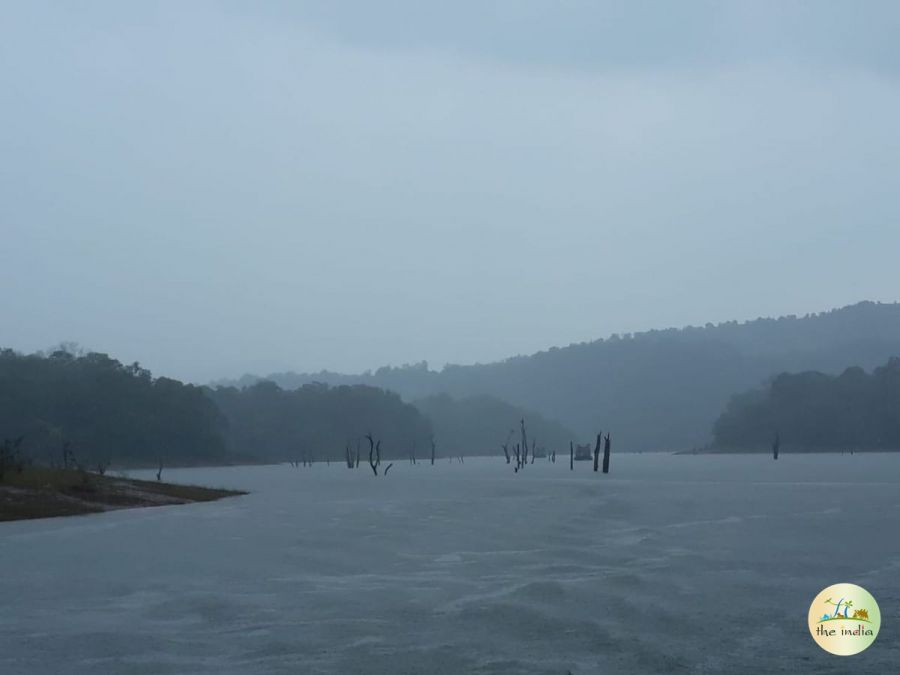 South India's Periyar Wildlife Sanctuary offers an incredible landscape for experiencing nature at its finest. Located within the hills of the Western Ghats mountain range, the reserve boasts vast woodlands, craggy mountains, and a lake encircling it all. Visitors can expect sightings of wild Indian elephants, bison, sambar, wild boar, barking deer, Indian wild dogs, and langur. Those who are luckiest may even get to spot a tiger – although this is extremely rare. Furthermore, birdwatchers will be delighted by the array of birds inhabiting the park – from Indian darter to black-necked stork to great Indian hornbill and many more. Another highlight of the sanctuary is its critically endangered Nilgiri Tahr which sadly continues to diminish in numbers – making every sighting an invaluable one.
Things to Do in Periyar: Enjoy bamboo rafting, hiking, trekking, camping, elephant ride and stroll near Periyar lake.
Best Time to Visit Periyar: April to July
6. Alleppey – Must-See Tourist Attraction in Kerala: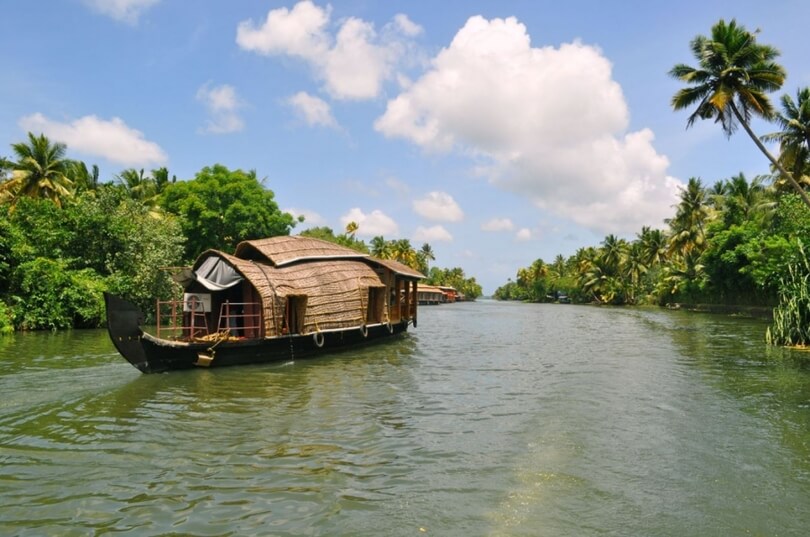 Alleppey or Alappuzha is one of the most stunning cities in Kerala and rightly nicknamed as the 'Venice of the East'. It is strewn with an astonishingly serene network of backwaters, dotted with thousands of houseboats spread abundantly throughout the length and breadth of this gorgeous city. Travelers from near and far come to explore the grandiose beauty of Alleppey's natural environment, combined with its picturesque backwater. The exquisite view of nature here has ensured that Alleppey holds the position of being one of the most beautiful holiday destinations in South India.
Things to Do in Alleppey: Enjoy kayaking, witness snake boat race, stay in backwater resorts, go to beaches to enjoy sunsets.
Best Time to Visit Alleppey: November to February. During summer, you can enjoy the afternoon and evening around beaches and backwaters.
Read Also: Best Beaches & Waterfalls For Summer Vacation Holidays In India
7. Wayanad – Most Refreshing Mountain Destination in Kerala: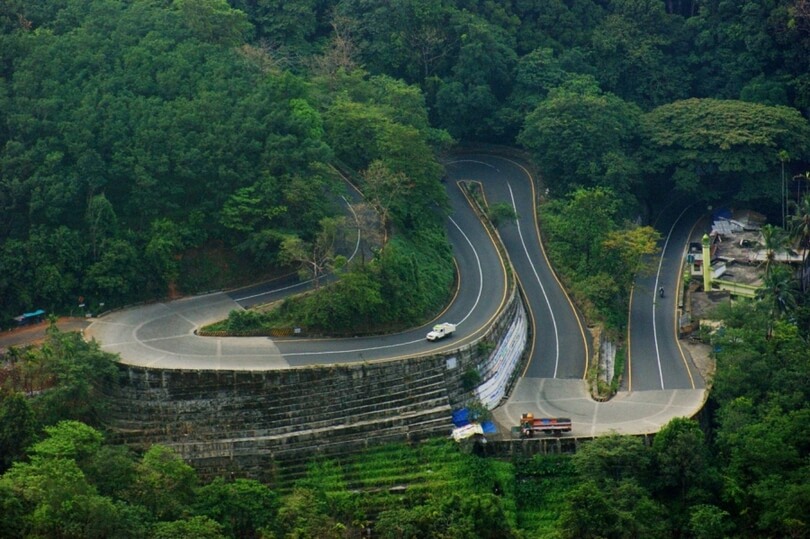 Wayanad is the green paradise nestled among the mountains of the Western Ghats forming the border between Kerala and Karnataka. Here, clean and pristine landscapes will enchant and hypnotize you with their beauty. It promises an unforgettable experience with its many plantations, forests, and wildlife. Wayanad is also rich in history and culture, having been inhabited since prehistoric times. With 76 kilometers separating this verdant hill station from the beautiful sea shores of Kozhikode, it is one of the most beautiful holiday destinations in South India for those longing to immerse in nature's grandeur.
Things to Do in Wayanad: Visit Wayanad wildlife sanctuary, enjoy boat ride, take nature walk, experience jungle trekking, and stay in a tree house.
Best Time to Visit Wayanad: October to May
8. Yelagiri – Peaceful Hill Station in Tamil Nadu: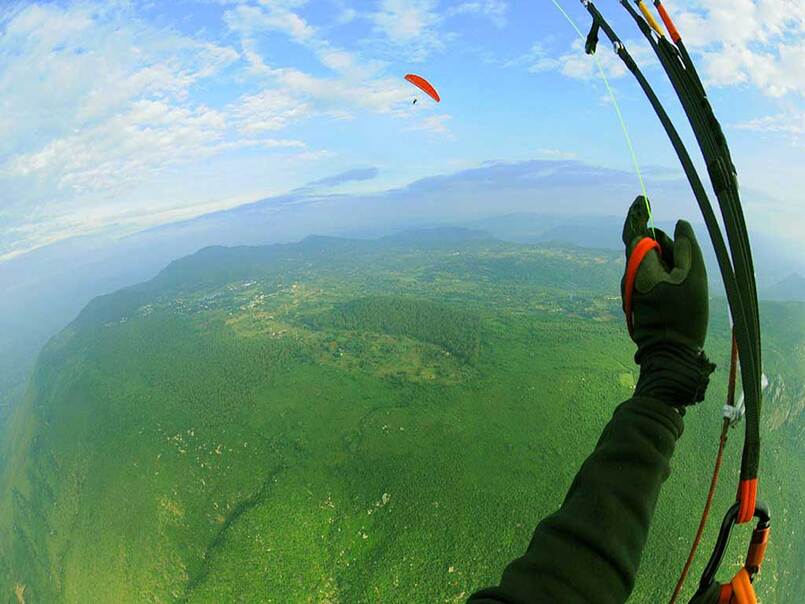 Yelagiri, a well-known hill station in the Tamil Nadu region of India, is an ideal destination for anyone looking for a peaceful getaway. Nestled between Vaniyambadi and Jolarpettai, Yelagiri dates back to the British colonial era and stands at 1410.6 meters above sea level. The lush greenery and serenity of the area draw in not only travelers looking for solace but also avid trekkers, with Swamimalai Hill being their most popular spot.
Things to Do in Yelagiri: Enjoy trekking, boating, and the beautiful view of nature.
Best Time to Visit Yelagiri: Any time of the year is good for visiting Yelagiri.
9. Gokarna – Best Beach Town In Karnataka: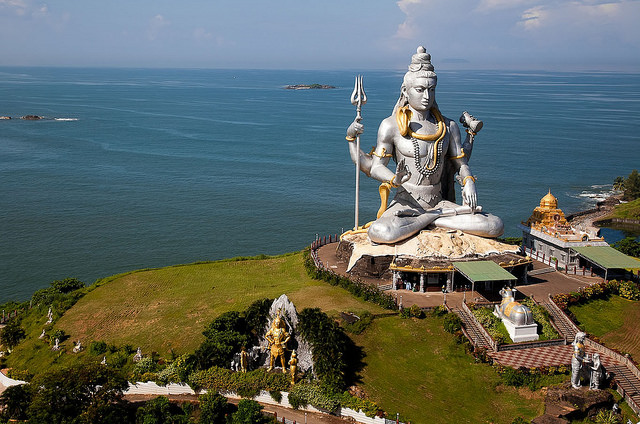 Gokarna is a true hidden gem in the south of India, with its picturesque beaches and stunning landscapes. It has been long recognized as a Hindu pilgrimage spot, but in recent years it has become an increasingly popular destination for those who love beaches and seclusion. Located on the coast of the Karwar district, Gokarna offers something for every kind of traveler – from those seeking spiritual connection to those looking to simply relax and unwind. There's nothing quite like soaking up the sun on one of Gokarna's pristine beaches lined with coconut and palm trees and boasting clean sands.
Things to Do in Gokarna: Take a spiritual trip to Mahabaleshwar temple, do beach trekking, enjoy a banana boat ride, experience parasailing, and other water adventure activities.
Best Time to Visit Gokarna: October to March
10. Andaman & Nicobar Islands – Top Beaches and Islands: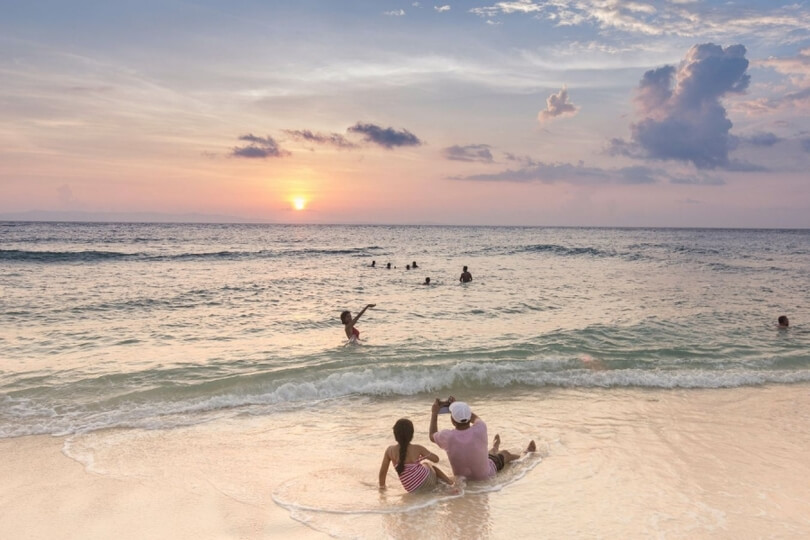 The weather in the Andaman and Nicobar Islands during summer may be hot and humid but that doesn't stop the destination from being a premier paradise destination. After all, these far-flung spots offer turquoise waters, jungle scenery, some of the world's best diving, white beaches, and unforgettable sunsets. Comfortable accommodation options round out the perfect escape, allowing travelers to rest their heads in resorts that embody beauty with striking views over the archipelago.
Things to Do in Andaman & Nicobar Islands: Go for treks and hikes through jungle trails leading to hidden gems like waterfalls and lakes, watch wildlife in its natural habitat, and join snorkeling excursions or kayak around untouched coral gardens.
Best Time to Visit Andaman & Nicobar Islands: October to May
11. Araku Valley – Popular Tourist Destination in Visakhapatnam:
Araku Valley, nestled in Visakhapatnam district of Andhra Pradesh and showcasing the beauty of the majestic Eastern Ghats, is a paradise for nature lovers looking for a refreshing break. With all its plantations of tea and coffee, the biodiversity of this place is noteworthy. If you're looking for accommodation near Araku Valley, you'll find plenty of options to choose from both traditionally furnished cottages to luxurious resorts.
Things to Do in Araku Valley: Engage in activities like trekking, bird watching, paragliding, and riding ATVs.
Best Time to Visit Araku Valley: September to May
12. Kudremukh – Best Trekking Destination in Karnataka: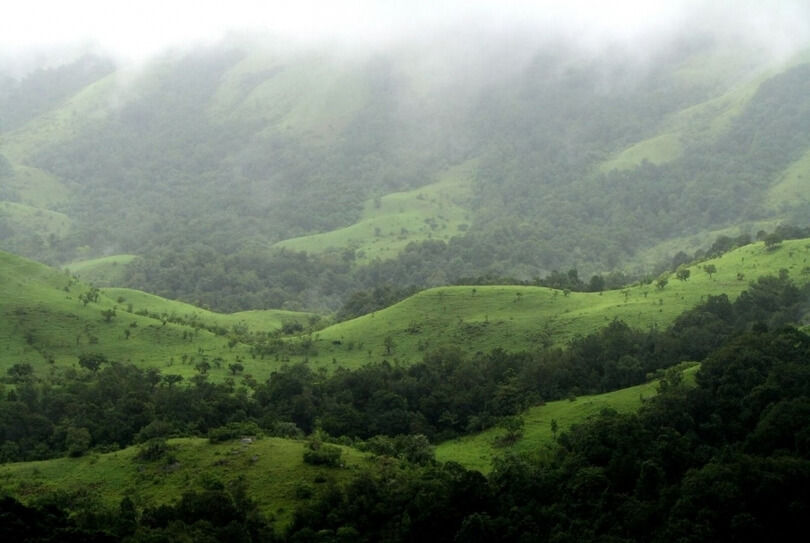 Kudremukh is a sublime paradise tucked away in the western ghats of Chikkamagaluru district. It is protected under the Kudremukh National Park, the second-largest wildlife-protected area in the western ghats and stands tall at 6,207 ft above sea level, making it Karnataka's third-highest peak after Mullayyangiri and Baba Budangiri. Home to many mystic plants, animals, birds and other wildlife species, it promises to be an incredible journey of exploration while trekking. You will find yourself mesmerized by its rolling green hills, lush forests and many trickling streams cutting through the paths.
Things to Do in Kudremukh: Explore Kudremukh National Park or just soak up nature's beauty and rejuvenate yourself.
Best Time to Visit Kudremukh: March to May
13. Coorg – Famous Hill Station in Karnataka: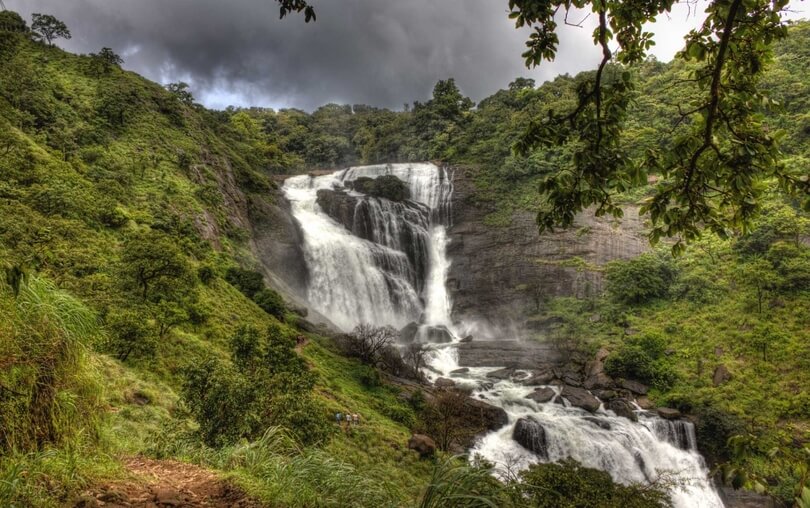 Surrounded by hilly terrains and cool climate, Coorg, also known as Kodagu, is the perfect place to experience rejuvenating peace. Thick forests cover the undulating hills, coffee and tea plantations add to its special charm – something that can be experienced only when one sets foot in Coorg's warm embrace. Rejuvenation comes naturally as one expands their lungs with fresh air under orange groves and strives to capture mere glimpses of rolling clouds and distant mountain ranges through misty valleys.
Things to Do in Coorg: Enjoy trekking, coffee plantation tour, camping. Booking, bird watching and rappelling.
Best Time to Visit Coorg: September to June
The bottom line,
South India is a beautiful place to visit during the summer for its lush jungles, misty valleys, lofty hills, and serene beaches. This unrivaled experience provides visitors with a great opportunity to explore and enjoy the diversity of nature present in the region. From activities such as water sports, hiking, wildlife safaris, and cultural exploration to gastronomy delights available throughout these destinations, South India offers many fascinating ways to spend your summer holiday wonderfully. So, pack your bags and plan a trip to South India this summer to make memories that you can cherish your whole life.
FAQs:
Are there any beach destinations in South India that are suitable for visiting in summer?
Andaman & Nicobar Islands, and Gokarna are some of the beach destinations in South India that can be enjoyed During summer as well as winter.
Which wildlife sanctuaries in South India are open during summer and worth visiting?
Periyar National Park, Mudumalai National Park, Bandipur National Park, Anamudi Shola National Park, Muthanga wildlife sanctuary, Pushpagiri wildlife sanctuary, etc. are some of the best wildlife sanctuaries in South India that are worth visiting during Summer.
Are there any waterfalls in South India that are best to visit during summer?
Athirapally Waterfalls, Shivanasamundram Falls, Bear Shola Falls, etc. are some of the most famous waterfalls that can be visited during Summer.
What are the best backwater destinations to visit in South India during summer?
Alleppey is one of the best backwater destinations that you can visit in south India.
What are some cultural festivals in South India that take place during summer?
Ooty summer festival, Thrissur Pooram, Kadammanitta Patayani, Ram Navami, etc. are some noteworthy festivals celebrated in South India during Summer.
What are some family-friendly destinations in South India to visit during summer?
Ooty, Coorg, Coonoor, Alleppey, Periyar, etc. are some must-visit destinations in South India that you can enjoy with your family during Summer.
What are the best places to go for a romantic getaway in South India during summer?
Munnar is one of the best places in South India where you can enjoy a romantic getaway with your loved one during Summer.
What are the best modes of transportation for traveling to different places in South India during summer?
Local buses can be availed. Also, you can rent a bike to travel to different places in a city.
What are some must-try foods and drinks in South India during summer?
During summer, you can try some amazing South India special coolers that can hydrate you all day long. The most popular drinks in South India are Kulluki Sherbet, Neer Mor, Panakam, Jigarthanda, and Ragi Malt. You can also try curd rice, Chicken Chettinad, Special Prawn curry, and Fish Molee.