The Union Territory of Ladakh is holding an apricot flower festival this April to showcase the flower's beauty. This festival with beautiful Apricot flower blooms enchanting you. The festival will be starting from 4th April to 17th April 2023.
Spring brings beauty and divinity into our lives. Ladakh, the surreal and beautiful Ladakh, is the perfect place to spend this season. The Department of Tourism Ladakh has recently alerted its Twitter followers that the Union Territory of Ladakh will soon be home to the Apricot Blossom Festival.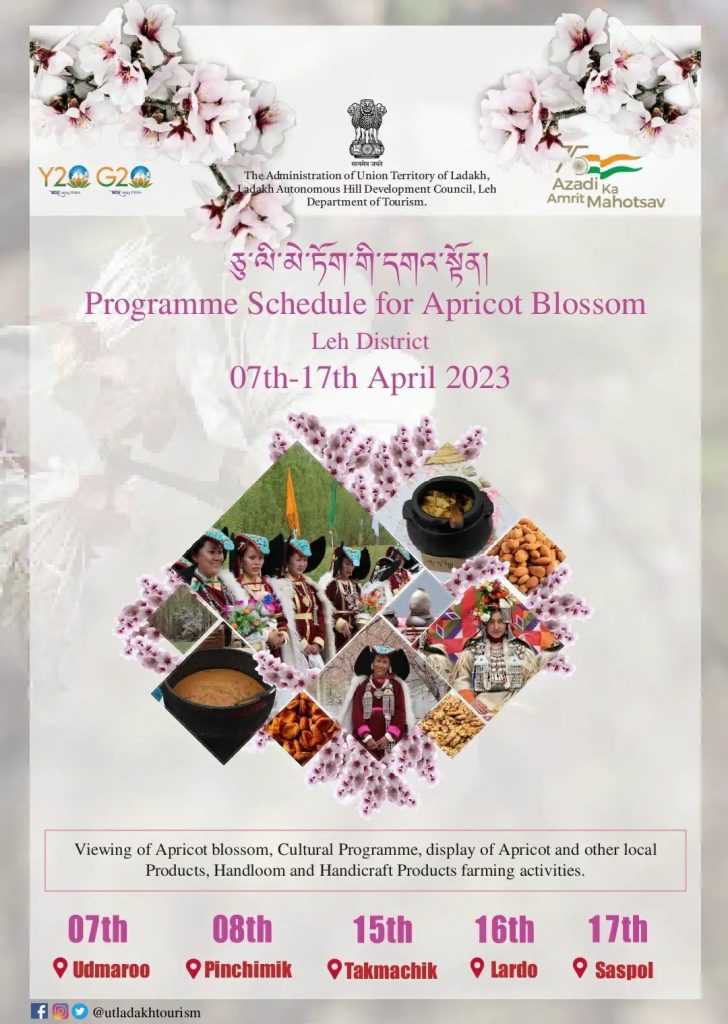 Apricot was first introduced when Ladakh was a famous Silk route and this event was organized to celebrate such exclusive beauty of nature.
Apricots are celebrated in Ladakh in April. This festival is happening during the spring season in Ladakh, so we recommend that you attend if you are visiting this region
Rakstep Karpo is a unique variant of Apricot that consuming only in Ladakh. That is why locals celebrate the day as Apricot Blossom Festival.
Here you can see the food exhibition during the Apricot blossom festival which arranges by locals.
Ladakh is one of the most popular places for tourist destinations and tourists can also celebrate the festivals of Apricot blossom. As a part of the festival, visitors can enjoy the local cultural programs, and different exhibitions and experience apricot trees blossoming. Moreover, they can purchase the products of apricots as a souvenir. 
Apricot is also known as chuli. And based on the theme of Apricots, this festival celebrates in Ladakh. This festival helps tourists to learn about the importance of nature and brighten the festival.
Important Details for Apricot Blossom Festival Ladakh 2023:
| | |
| --- | --- |
| Apricot Blossom Festival Place | April 4 (Lhardo), April 5 (Saspol), April 10 (Udmaroo), April 8 (Garkone), April 11 (Sumoor), April 16 (Hardass/Shilichiy), April 17 (Karkitchoo/Chanigound) |
| Apricot Blossom Festival Dates | April 4, 2023 to April 17, 2023 |
Glimpses of Apricot Blossom Festival Ladakh 2023:
How to Reach Apricot Blossom Festival:
In Leh, The closest airport to reach Ladakh is Kushok Bakula Rimpochee Airport.
The nearest railway station is Jammu Tawi which is 700 km from Ladakh and well-connected with Delhi, Kolkata, and Mumbai.
And by road, people can use jeeps and cabs from Srinagar to Manali trip or alternatively, a bike trip to Leh from Srinagar is also available.
For more information like this check out our lesser-known festivals of India blog to explore our culture.
FAQs for Apricot Blossom Festival:
What activities are available at the festival?
The festival usually offers a variety of activities such as food and craft vendors, live music, cultural performances and more.
When is the Apricot Blossom Festival held?
The festival is usually held during the peak bloom period of the apricot trees. This year 2023, it is celebrated between April 4th to April 17th.