There is nothing quite like discovering the lush beauty of Goa away from its hustle and bustle. A farm stay in Goa can give you a unique opportunity to experience nature up close and personal, while also allowing you to explore the different cultures of this coastal state and get close to animals and natural resources. In addition, staying in a farmhouse offers benefits that extend beyond just sightseeing – fresh produce and activities like yoga are among some of those advantages. From relaxing on cottages amidst nature to taking part in local festivals, here is our pick for the best farm stays in Goa – each offering something special for all ages!
Top 10 Places for Farm Stay in Goa for Natural Beauty
Let's dive into this post to explore more about the best farmhouses for accommodation in Goa to have a refreshing break for weekend trips.
1. Porsu Eco Village in Agonda – Best Farmhouse with Swimming Pool in Goa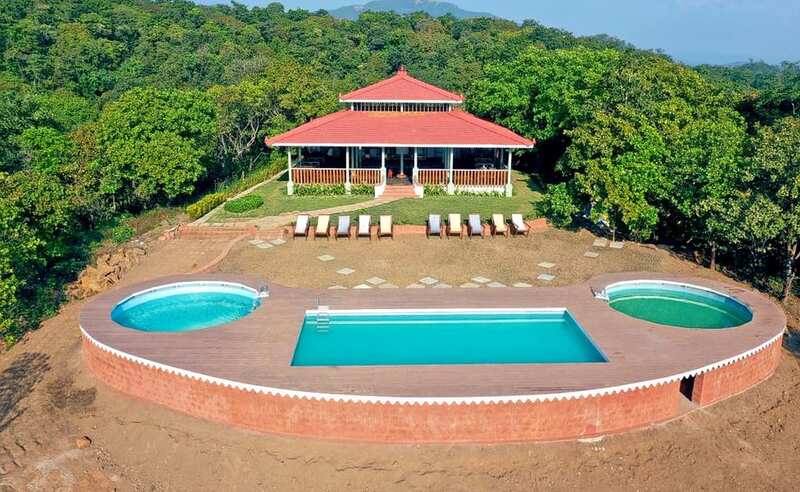 Whether you wish to spend your weekend away from the chaos with your loved ones or be one with nature, this is the perfect destination for all those looking for some respite. Give this farmhouse with a swimming pool in Goa for an overnight stay a try and reconnect with yourself, your family, and your friends in a wonderful way.
Location: Porsu eco village is located around 5KM from Agonda village in South Goa. It is around 60KM from Dabolim airport and 33KM from Madgaon railway station.
Food: Enjoy a delicious meal from an in-house restaurant by paying extra charges.
Amenities:
King suite with king-size beds and attached bathrooms
Free private parking space
Outdoor swimming pool
In-house bar
2. Mangaal Farmstay – Best Farm House in South Goa for Picnic: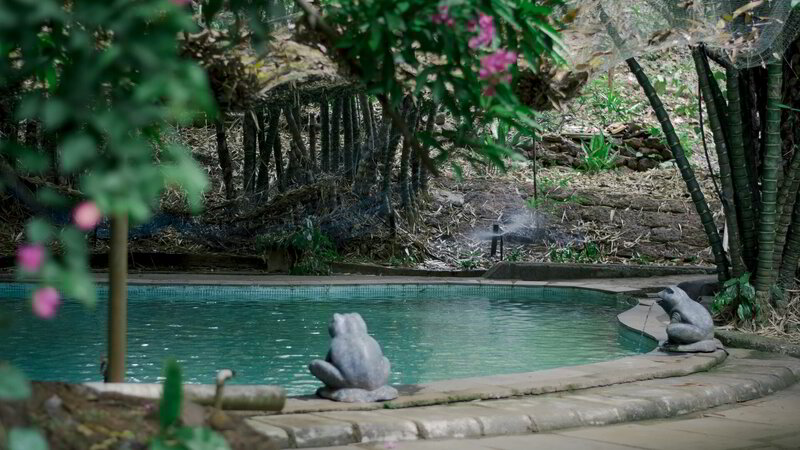 If you are looking for an eco-friendly farmhouse in Goa for an overnight stay, Mangaal Farmstay Goa is the ideal option. This Goa guest farmhouse is spread across 300 hectares of fertile tropical land. Staying in this farmhouse in Goa for rent will give you an opportunity to enjoy local food and experience local culture through eco-friendly practices.
Location: Located in Mangal village on tropical grounds. This farmhouse is 74.9 km away from Goa international airport.
Food: Wholesome, healthy, and nutritious local food items are available.
Amenities:
Comfortable wooden bed
Cozy canopies
Ensuite bathrooms
High-speed internet connection
Read Also: A Guide To Goa Carnival 2023 Dates, Venue, History, Parades, Celebrations
3. Tanshikar Spice Farm – Best Farm in South Goa for Picnic: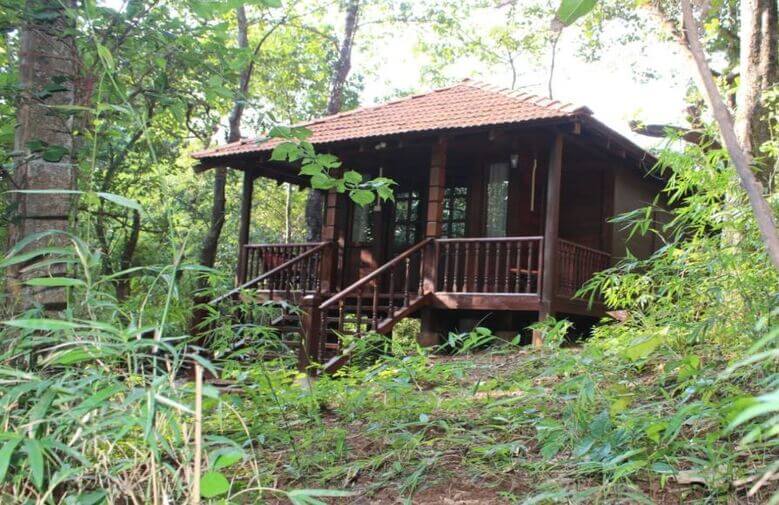 Tanshikar Spice Farm and Ecological Rest House are spread around 40 acres of land where 25 acres of land is under the organic spice farm. While staying in this farmhouse, one can enjoy nature trek, bird watching, bathing under waterfalls, and various adventure sports.
Location: This overnight stay farm in Goa is located inside the rainforest of the western ghats at Netravali village.
Food: Traditional "GOAN' food items, organic fruits, and farm-grown spices are available.
Amenities:
Free Wifi
Laundry service
24/7 room service,
Free toiletries
Power backup
Clean and well-lit bathrooms
4. Mhadei Jungle Camp by Ojas Agro Farm: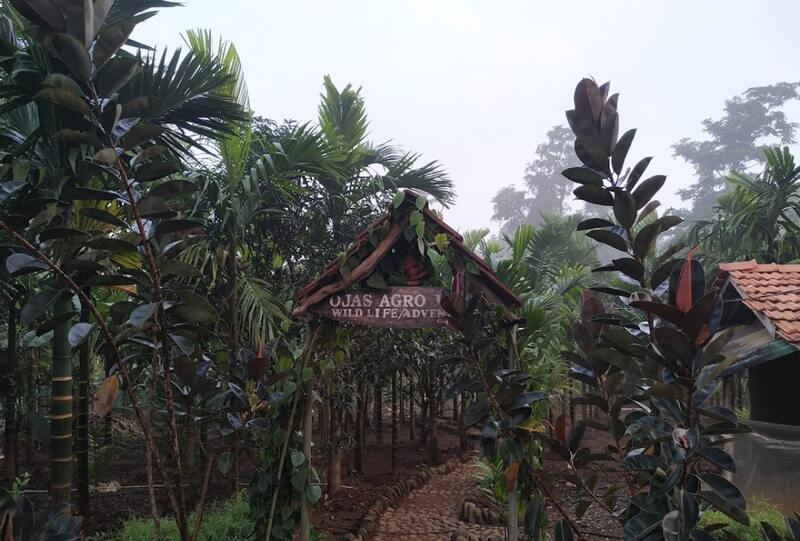 If you're looking to experience the beauty of Goa in a different light, consider checking out this farm stay. From thrilling jeep rides through winding trails to a captivating waterfall visit and a daring night jungle trail that's sure to get your adrenaline pumping; this farmhouse in North Goa for picnic has it all! Once the sun sets, enjoy some star-gazing in the night sky from its semi-wooded area.
Location: Located on Bambar Nanoda road, Satari, Goa. The place is 67.3 km away from Goa international airport.
Food: You can enjoy a delicious meal at the farm's restaurant.
Amenities:
Comfortable tents
Jungle safari ride
Access to adventure sports
Bike rental
Read Also: Check These 10 Tips I Wish Everyone Knew About Goa
5. Natures Nest Goa – Best Farms in North Goa for Picnic:
Do you want to enjoy a comfortable and relaxing Goan village home experience during your next trip to Goa? Then book your stay at Natures Nest for a farmhouse in Goa for overnight. If you are a nature and wildlife lover, and photography enthusiast, then you will simply love Natures Nest.
Location: The place is situated just beside Bhagwan Mahavir Wildlife Sanctuary in the Western Ghats, 55.5 km away from Goa airport.
Food: The in-house restaurant named The Kokum Tree offers traditional Goan cuisine and other pan-India cuisines.
Amenities:
Independent cottages and twin cottages with AC
Buffet breakfast
Complimentary use of the spring pool and fish spa
Read Also: Best 10 Luxury Villas In Goa With Private Pool For Rent To Unwind & Relax
6. Saligao Farm Cottages – Best Goa Guest Farm House: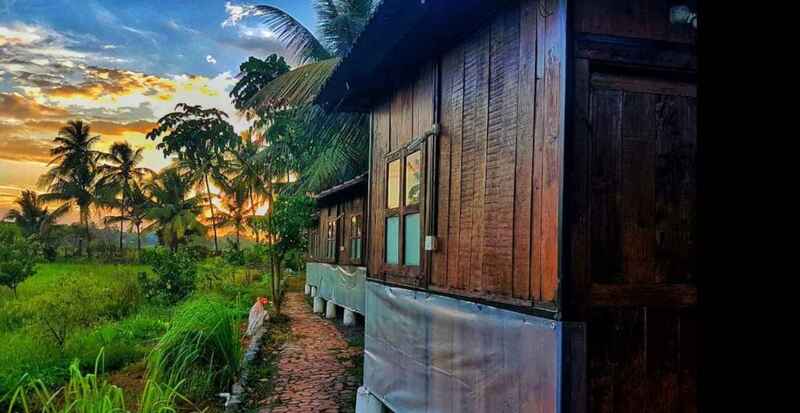 Nestled in a peaceful and serene environment, this property provides quality rooms and suites with all the comforts of home. The farm cottages provide a stunning view of the picturesque surrounding landscape, making it an ideal retreat from the hustle and bustle of everyday life. Plus, it is close to the famous Calangute Beach which is one of the most popular tourist spots in Goa.
Location: Located in Mudda Vaddo, Muddavaddi, Saligao, just a few minutes away from Calangute Beach in Goa.
Food: The in-house restaurant offers breakfast and a buffet with a kid-friendly menu.
Amenities:
Comfortable wooden rooms with AC
Bar, barbeque, and play area
Room service
Swimming pool
Power backup
Free wifi
Free Parking
Read Also: 14 Most Beautiful Villages In India You've Probably Never Heard Of
7. Dudhsagar Plantation – Best Farmhouse in Goa with Swimming Pool: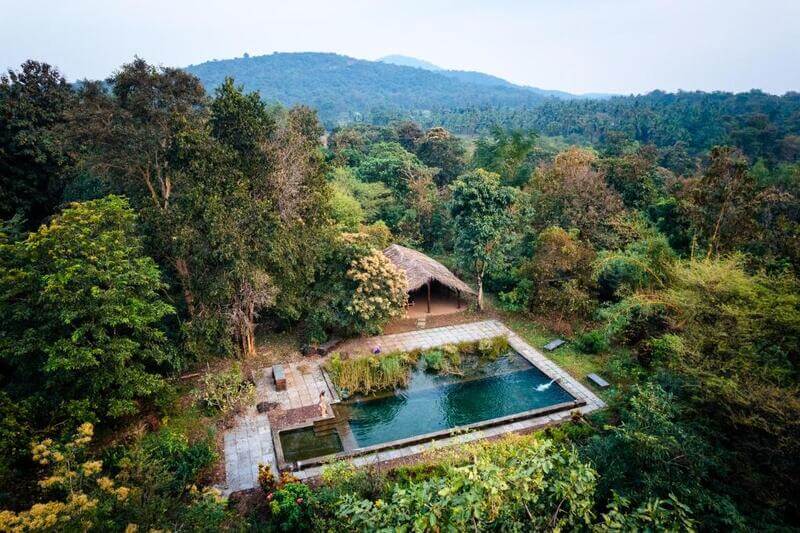 Are you looking for farms in Goa with pools for a picnic? Book your stay at Dudhsagar Plantation. It includes five farm stay cottages surrounded by 50 acres of landscape. This best farm in Goa for picnic with pool gives you a chance to enjoy your living amidst tropical palm gardens, exotic plants, and wildlife.
Location: Located in Karmane Village, Mollem National Park, 46.7 km away from Goa international airport.
Food: Veg and nonveg Indian cuisines, especially authentic Goan cuisines are available.
Amenities:
AC accommodation with a natural pool
Nature walk
Spice garden visit
Also Read: 21 Best Beaches In Goa To Enjoy Most Exotic Holidays
8. Zuperb Farms and Cottages – Best Farms in Goa for Picnic with Pool: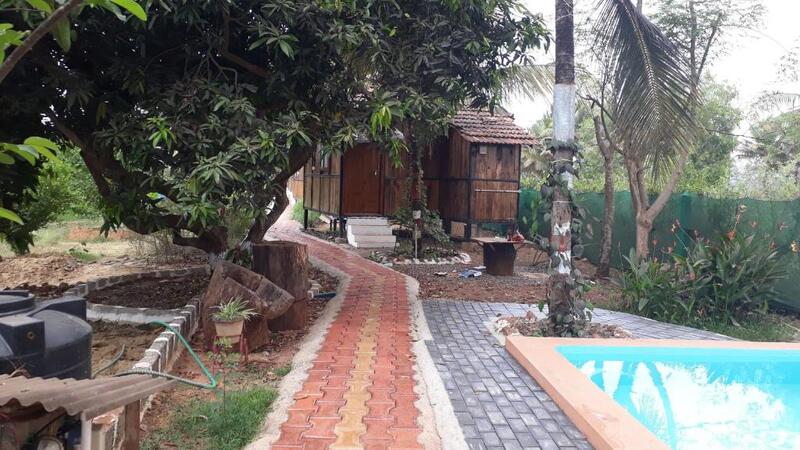 Who wouldn't want to escape the hustle of everyday life and embark on a relaxing journey to Goa? With this exotic farm stay experience, you can immerse yourself in South Goa's culture, heritage, and rural lifestyle; explore local flora and fauna while simultaneously taking in much-needed peace and serenity.
Location: Located in Muddavaddy Saligaon, Bardez in Goa Velha, just 19.2 km away from Goa international airport.
Food: The in-house restaurant caters to individual tourists' needs with mouthwatering food.
Amenities:
Air conditioning rooms
Room service
Free toiletries
Outdoor patio
Outdoor dining area
Clothes rack
Outdoor swimming pool
Bike rental service
Free wifi
9. Shivaaz Holiday Farms – Best Farms for Night Out in Goa: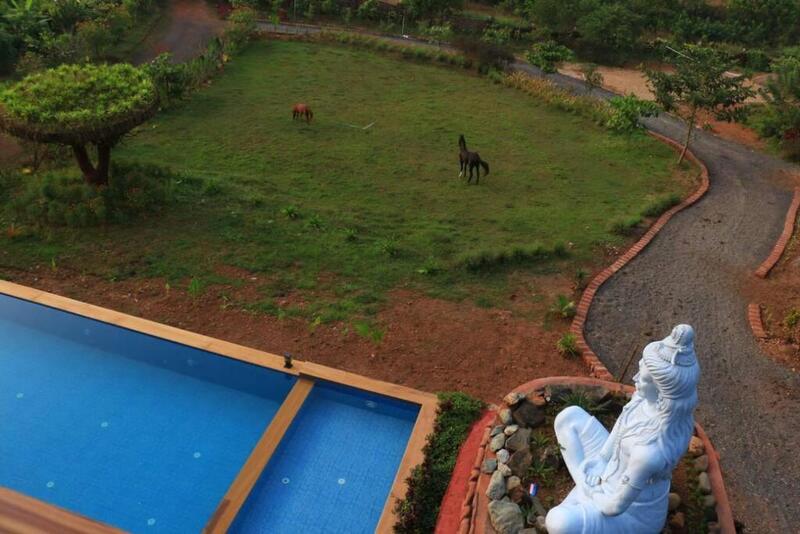 Set within the comforting embrace of the hills, this farm stay's peaceful surroundings welcome guests with only the sound of birdsong to be heard. Beyond just taking in nature's wonders, Shivaaz brings its welcoming environment together with inner peace and harmony.
Location: Nestled in the foothills of Western ghats, in Kajuwadi village. It is just a few minutes away from Goa beaches and the hills of Maharashtra.
Food: The in-house restaurant offers delicious Indian cuisines. Also, you can enjoy having fresh organic fruits, vegetables, and herbs.
Amenities:
Luxurious rooms with beautiful views
Free wifi, laundry service
Swimming pool
Outdoor barbeque
Organic farm
Covered car parking
Table tennis playing area
Pool table
Power backup
Read Also: Goa Beyond Just Tourism – Understand Current Situation Of Goa From Local Goenkar
10. Nandanvan Spice Farm – Best Farm in Goa for Picnic: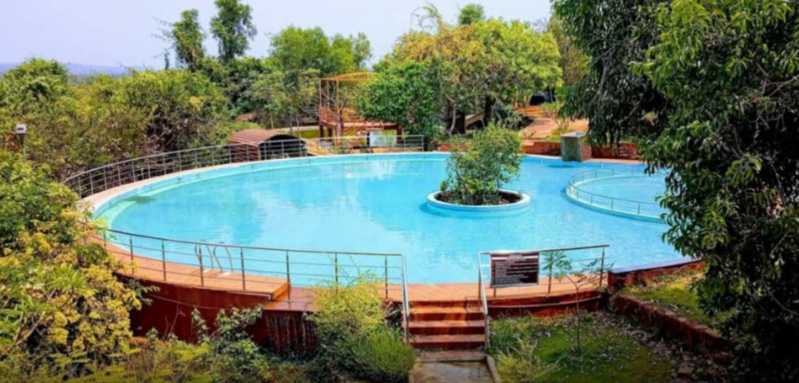 Nandanvan Goa offers overnight stays at their jungle cottages and farm stays. Enjoy a tranquil forest feel with large glass walls that give you spectacular views of nature while allowing you to take in the sounds of birds chirping during early morning valley walks and spice tours.
Location: Located on Panjim-Belgaum Road, Near opa Water Works. This place is 36.2 km away from Goa international airport.
Food: You can enjoy an unlimited Goan lunch buffet here.
Amenities:
Wooden cottages or woodhouses with AC, minibar, and TV
Exclusive infinity pool
Game room
Guided Spice garden tour.
Access to various adventure sports
.
Final Verdict:
If you are looking for a unique and memorable experience while in Goa, I highly recommend staying in one of the above-discussed farm stays. Not only will you enjoy beautiful surroundings and great hospitality, but you will also get to learn about life on the farm and how the locals live. Have you stayed on a farm stay before? What was your favorite part?