While planning a vacation, quite often, our focus is on the destination, and we often tend to ignore the journey part of the holiday. If you want to travel quickly, then air travel is undoubtedly the best option. But, if you are the adventurous kind who wants to enjoy every moment of the journey, then you might want to consider traveling by road or sea. Earlier, cruise holidays were available only for traveling abroad, which were quite costly and weeks long. However, all that is going to change with the Mumbai to Goa cruise service. This luxury cruise liner service is the perfect way to experience 5-star hospitality with world-class amenities and several onboard entertainment options.
What Makes Cruise Holidays So Enticing?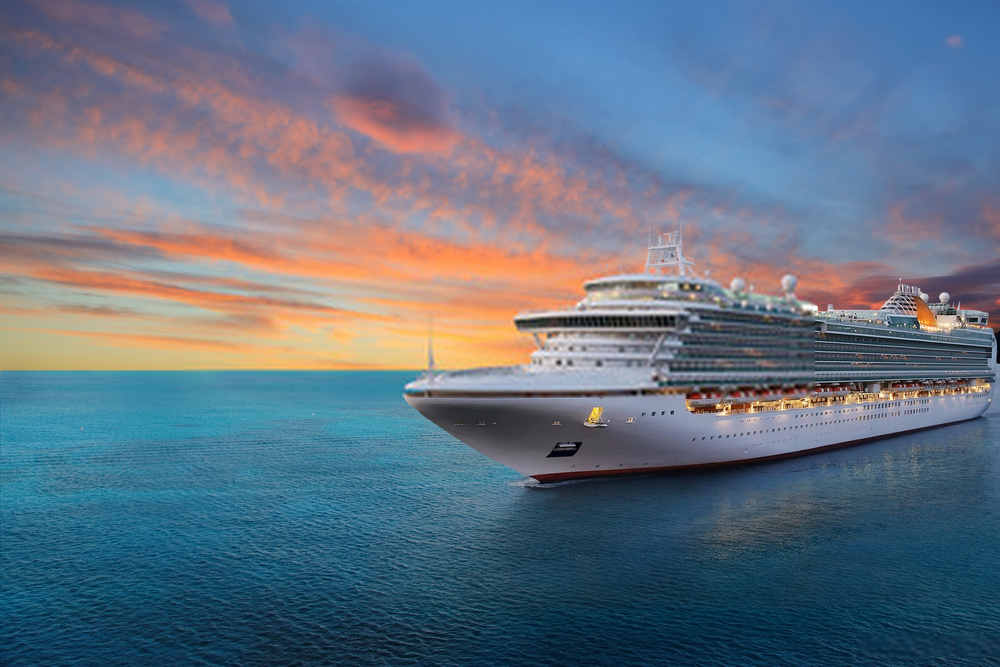 1. Cruise Holidays Offer More Value for Your Money
A typical holiday means spending on travel, accommodation, food, entertainment, sightseeing, etc. A cruise holiday package optimizes every aspect of your holiday to provide an all-around luxury experience that works out more cost-effectively. More importantly, unlike flight tickets, the ticket price for cruise holidays doesn't fluctuate much, making it ideal for last-minute travelers.
2. Cruise Holidays Save You From the Stress of Planning a Vacation
A cruise holiday package organizes and manages every aspect of your journey so that you don't have to spend time and effort planning your vacation. By opting for a cruise holiday, you don't have to worry about checking the availabilities of journey tickets, accommodation, tour operators, etc. Everything is taken care of automatically just by booking a cruise holiday.
3. Your Vacation Begins the Moment you Step in the Cruise
One of the most peculiar things about cruise holidays is the fact that your holiday starts instantly. Just by stepping inside the cruise, you have the option to select from many experiences. You can chill at the bar or enjoy the mighty ocean from the deck. Also, you can rest in your room or work out at the gym. You can get a relaxing massage at the spa or try your luck at the casino. The opportunities are endless. Compare this to air travel where you have to wait till you reach your hotel to enjoy these facilities. On a cruise, your journey is as beautiful and memorable as the destination
4. Cruise Holidays are Perfect for Every Group
Whether you are traveling with colleagues for a corporate trip or with friends, with your spouse or family for vacation, cruise holidays have something to offer for everyone. Especially for family holidays when you are traveling with kids and elder parents or relatives, cruise holidays have plenty of activities for every age group. For example, kids can enjoy art and craft activities or magic shows, while older people can use yoga or enjoy broadways. Most of the luxury cruises have onboard doctors with in-house medical facilities.
5. Lip-smacking Dining Experiences
On a cruise holiday, you get a luxury dining experience without splurging a fortune on it. Most of the cruise packages allow you to enjoy the food of your choice in any of their multiple restaurants serving different cuisines. These specialty restaurants take pride in dolling out dishes that can satisfy all palates.
Currently, Angriya Cruises and Jalesh Cruises offer luxury cruise services between Mumbai and Goa. Let's take a look at the cruise details and amenities available at them.
Mumbai to Goa Cruise Packages
The journey from Mumbai to Goa by cruise takes about 14 to 16 hours. Let's take a detailed look at some of the best Mumbai to Goa cruise packages to plan a cruise holiday.
1. Angriya Cruise Amenities
Angriya is a 131-meter long luxury cruise with a capacity to host 400 passengers. The cruise departs from Mumbai at 16:00 Hrs and arrives in Goa at 09:00 Hrs. The 7-deck ship features the following amenities: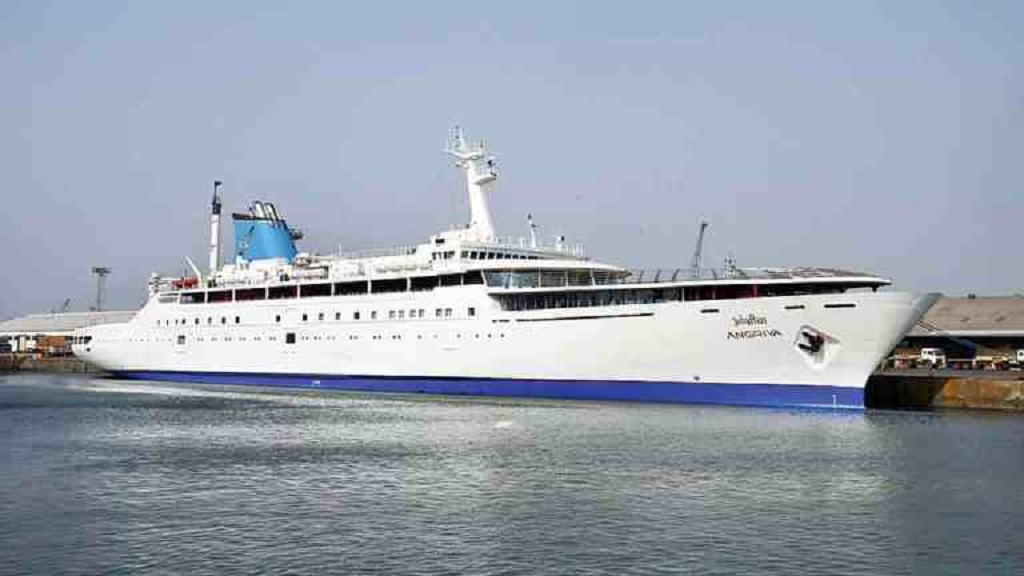 Three multi-cuisine exquisite restaurants
Six unique bars to offer a wide range of drinks and cocktails
Infinity Pool
Rejuvenating Spa
Three open decks that offer a 360-degree view
2 Lounges to shake your leg and party like never before
Angriya Cruise offers 11 different types of onboard accommodation to attract every customer base. In addition to the beds, you get complimentary welcome drinks and meals in all categories. Depending on your budget and companion, you can select from the following options.
A] Dormitory
The cheapest room tariff in dorms is ideal for a vacation with a large group of friends or office colleagues.
Price: INR 6500 per person (GST included)
Three types of dorms are available with a capacity of 14, 16, and 18 single bunk beds.
Common washroom.
B] Luxury Pods
A novel concept to attract solo travelers and couples, these pods offer maximum privacy.
Price: INR 6700 per person (GST included)
Available in the single and double capacity
Common washroom.
C] Buddy Rooms
Offer the opportunity to stay together while traveling with a friend without compromising privacy or comfort.
Price: INR 7500 per person (GST included)
Two separate beds in a room.
Common washroom.
D] Bunk Rooms
If you are traveling in a bigger group of friends and want to enjoy the stunning view of the sea, the bunk room is a perfect option.
Price: INR 7900 per person (GST included)
Large window for sea-view.
Bunk beds for 4 persons.
Common washroom.
E] Family Rooms Without Window
If you are traveling with your family and looking for a comfortable stay, you can consider the family room.
Price: INR 8500 per person (GST included)
Double bed with kids' bunk to accommodate 4 persons.
Attached washroom.
F] Couple Rooms Without Window
These rooms offer privacy and comfort, and are ideal for couples.
Price: INR 8500 per person (GST included)
A double bed to accommodate the couple
Attached washroom.
G] Couple Rooms with Portholes
Specially designed rooms that offer you glimpses of the mighty Indian ocean.
Price: INR 9000 per person (GST included)
A double bed
Attached washroom.
H] Buddy rooms with Large Window
The large window makes traveling with a friend an even more memorable experience.
Price: INR 9000 per person (GST included)
Two separate beds
Attached washroom.
I] Family Room with Large Window
Unique accommodation with a window to keep your kids enjoy every moment of the cruise.
Price: INR 9500 per person (GST included)
Double bed with kids' bunk to accommodate 4 persons.
Attached washroom.
J] Couple Room with Large Window
If you want to enjoy the cruise with an exclusive and spacious personal space, then this room is for you.
Price: INR 10000 per person (GST included)
Double bed.
Attached washroom.
2. Jalesh Cruise Itinerary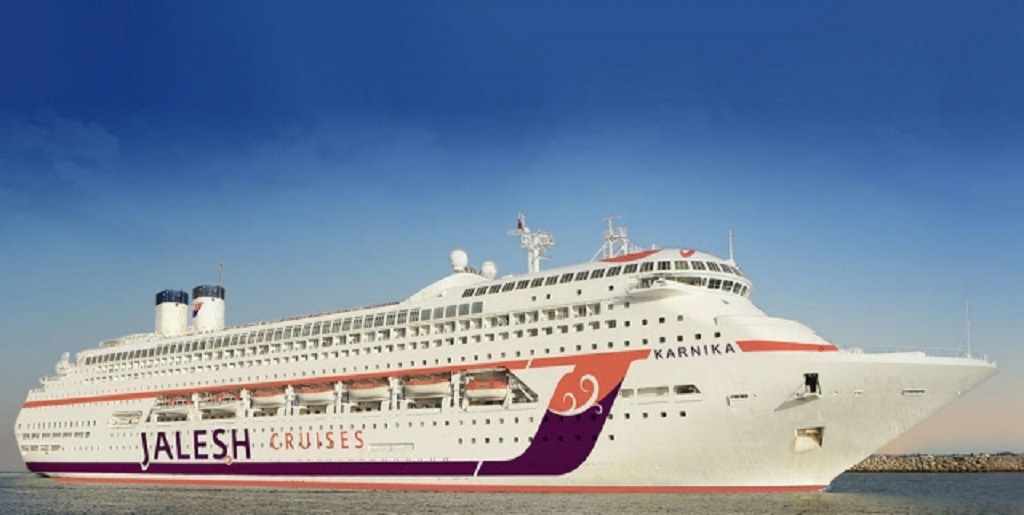 The ship Karnika is a 400-meter long maritime marvel that can host up to 2000 guests. The majestic 14-deck cruise offers the following amenities
Tranquil Spa and Saloon
Broadway Experience and Movie Screen
Discotheque with in-house DJ
14 different restaurants to choose from
Swimming Pool
Gym and Fitness Centre with trainers
Fully functional casino with table games and slot machines
Jalesh Cruise Mumbai to Goa offers accommodation in four categories with twin, double, triple, and quad share bedding configurations. These rooms provide a spacious and comfortable stay with world-class amenities that are akin to any 5-star hotel.
Interior Rooms
Price: INR 9044 (plus taxes)
Cabin Size: 190 sq feet.
Capacity: 4 persons.
Ocean View Rooms:
Price: INR 10564 (plus taxes)
Windows/portholes
Cabin Size: 190 sq feet.
Capacity: 4 persons.
Balcony Rooms:
Price: INR 13604 (plus taxes)
Private Balcony
Cabin Size: 190 sq feet.
Capacity: 2 persons.
Mini-Suite:
Price: INR 22724 (plus taxes)
Private Balcony
Cabin Size: 336 sq feet.
Capacity: 3 persons.
Goa to Mumbai Cruise Holiday Booking
The easiest and simplest way to book your dream cruise location is by visiting the respective websites of Angriya Cruise and Jalesh Cruise. You can check the accommodation available in different categories and Mumbai to Goa cruise price on your preferred date of travel. You can also check for early-bird offers and discounts on their websites.
Jalesh cruise offers one of kind 4 Day/3 Nights premium cruise service twice every month between Goa and Mumbai. The round-trip journey begins from Goa and covers Mumbai & Beaches of Goa.
Package Price: Starts from INR 54264 onwards for a couple (plus taxes)
Package Inclusions
Cabin accommodation
Complimentary buffet and dining at any of the ten multi-cuisine restaurants
Broadway Experience and movie night.
Usage of Swimming Pool
Entry to the DJ Night
Complimentary usage of Gym and Fitness Centre
Entry to the on-board casino.
Brief Itinerary
Day-1: Departure from Goa at 17:00 Hrs
Day-2: Arrival at Mumbai port. You can opt to go for off-shore excursions or enjoy the facilities on the ship. Departure from Mumbai at 17:00 Hrs.
Day-3: High Sea.
Day 4: Return to Goa at 09:00 Hrs.
A vacation should be about enjoying every moment away from your busy, mundane life, Bombay to Goa cruise lets you do that. And that too in style! Whether you want to get a relaxing spa or dance till your shoes drop, the luxury cruise promises a unique experience that lasts a lifetime. With plenty of on-board activities, the cruise offers a wholesome holiday for every member of your family. Now what are you waiting for gear up and start your journey of exploring Goa in cruise.
Whether you go in the sailing season from July to October or fair-weather season from November to March, you can expect the perfect trip with your friends or family. Hopefully, this short yet comprehensive guide helps you in planning your Mumbai to Goa cruise holiday for an unforgettable experience.
FAQs about Mumbai to Goa Cruise holiday
Is cruise available from Mumbai to Goa?
Yes, two cruise ships (Angriya and Jalesh ) are available from Mumbai to Goa route.
How much cost of Jalesh cruise?
Jalesh Cruise costs Rs 54264 onwards for two people to cruise between Mumbai to Goa