Being a moderator at Ahmedabad's most popular Facebook group "Travelaholics of Ahmedabad" & "TheIndia", we used to receive hundreds of queries about best places to visit near Ahmedabad. And the most common queries are:
Which are the best picnic spots near Ahmadabad?
Suggest best resorts near Ahmedabad to go and relax with family for overnight stay.
Which are the best places to visit near Ahmedabad for one day picnic with family, friends or office staff?
Any resorts near Ahmedabad having games & other fun activities where we can spend whole day?
Which is the best weekend getaway from Ahmadabad?
Suggest best places near Ahmedabad for school picnic etc..
And the list is very long, but I tried to include the most common questions we received so far. In this article, I have compiled a list of places which are located near Ahmadabad and easily accessible by road which includes resorts, parks, historical monuments and public places. If you are looking for places located within city, this article covering places to visit in Ahmedabad is for you.
Ahmedabad being the seventh largest city in India and the biggest in Gujarat is a major base of occupation, business and trade for industrial and financial growth of the state. Being unknown from the nearby city's wealth of picnic spots and resorts, Amdavadis complaint about finding no nearby picnic spot and resort to spend the weekend with family and friends in complete peace and have fun altogether. If you are in Pune or Mumbai or Delhi, you can find plenty of weekend getaway but when it comes to Ahmedabad, you will have limited options to explore.
Common FAQs related to one / two days picnic places near Ahmedabad
Which are the best picnic spots near Ahmadabad?
The answer to this question is very tricky as the choice will be different from person to person depending upon his / her interest. We will list down all different type of picnic spot you can choose from in this article.
Which is the best resorts near Ahmedabad to go and relax with family for overnight stay or a day trip?
If you visit any resort / hotel listing website, you will find mix list that not just include resorts around city but will also include resorts within city. In this article, we manually compiled the list of resorts which are not just offer over night stay but also offer day trip with all amazing amenities.
Is it safe to travel in covid situation for picnic / resort stay near Ahmedabad?
The answer is Yes and No! it is purely depend upon present situation and we strongly recommend following government guideline whenever you are traveling to nearby places. Wear mask and follow social distancing + obey local organization / hotel rules.
Will you help us in hiring taxi to plan weekend trip near Ahmedabad?
Sure, we have a great experience with various taxi providers in Ahmedabad. We would love to share their details with you or if require, we can co-ordinate with them to plan your weekend trip near Ahmedabad.
Please note that, this article is categorized in two different sections mentioned below:
Public places where you can directly visit without prior booking or with due permission from government
Private places like resorts / hotels or fun park you can direct visit or can book your trip in advance
Here we are presenting a list of fantastic picnic places and amazing resorts near Ahmedabad for a weekend or day trip. Lets start our list with Public places first:
Part 1 – Public Places Near Ahmedabad
In this section of article, you will find 12 most popular and easy to access public places near Ahmedabad. This includes places like historical monuments, temple, public park, forest area or bird sanctuaries. Please note that the places may closed due to Covid situation. Kindly follow government guideline before you plan your trip to these places.
12 most popular picnic spots near Ahmedabad.
Our list will start with one of my favorite place I have explored thrice from Ahmedabad.
1. Polo Forest
Polo forest is my favorite picnic place to spend quality time in nature and I strongly recommend spending one night here to reveal out its natural beauty. I recommend this place to visit during monsoon season where you can also go for trekking. Popped between sanctified hills on the east and west, polo forest holds the stories from past. It sounds horrifying but there are ancient temples, several still carrying out their pujas deep inside this thick jungle. This forest itself is one big temple and the trees themselves are the gods. Polo forest is considered as one of the most popular weekend getaway near Ahmedabad where the government of Gujarat organizes Polo utsav every year.
You can easily find places to stay and food in Polo forest but you need to make prior booking, especially during weekends by considering rush. If you are planning for a day trip, you can easily conduct road trip to Polo forest where you can start early in the morning from Ahmedabad and can return by late evening. Please note that, there is no entry fees to visit Polo forest as it is open and public place.
Activities to Do:
Traveler can do trekking and photography of ancient temples and go on a forest trail at Polo forest. During polo utsav, you can also participate in cycling and enjoy the various cultural activities at Polo forest. You can hire guide from polo campsite who can help you to plan trekking activities around. Please note that, don't go inside forest without experience guide.
Distance from Ahmadabad: 156 Km
Here is the video from my recent trip to Polo forest from Ahmedabad:
Resorts in Polo Forest:
If you really want to experience the nature, book you stay (If you are lucky to receive reply) at Polo campsite operated by forest department and the most economical place to stay in Polo forest. As explained, Polo forest is surrounded by nature and the only activity is touristy. You will find few luxury resorts in Polo forest but most of them are located bit far (1 to 5 KM) from Polo camp site and they are bit expensive too.
If you are looking for luxury stay in Polo forest, you can check Fern Sattva Resort.
2. Adalaj Stepwell
Set in the noiseless village of Adalaj, Adalaj Stepwell aka Adalaj ni vav has worked as a relaxing place for hundreds of years for numerous travellers and convoys during their trade ways. There is an opening in the ceilings which permits the light and air to come in the octagonal well. Though, straight sunshine does not touch the flight of steps or quays excluding a short-term in noon. Therefore it is believed that the atmosphere inside the well is 6⁰ cooler than the outside. Another extraordinary feature of this step-well is that out of the several stepwells in Gujarat, it is the only one with three entering steps.
Activities to Do:
Clicking pictures of walls engraved for embellishment, with epic scenes with everyday extracts of women whipping buttermilk, dancers amidst musicians, women prettifying themselves and a king sitting on a stool. There is a garden outside the step-well where you can seat and relax with the friends and family.
Distance from Ahmedabad: Around 19 Km
3. Indroda Nature Park
Indroda Nature Park is a valuable paragon extent over an area of around 400 hectares on the bank of Sabarmati River in Gandhinagar. It is deliberated to be the 2nd biggest hatchery of dinosaur eggs in the world. Considered as India's Jurassic Park, it is managed by the Gujarat Ecological Education and Research Foundation and is the only dinosaur gallery in India.
Activities to Do:
Visiting zoo, enormous carcasses of sea mammals like the blue whale, in addition to a huge botanic garden, auditorium, elucidation center and camp out facilities.
Distance from Ahmedabad: Around 25 Km
4. Akshardham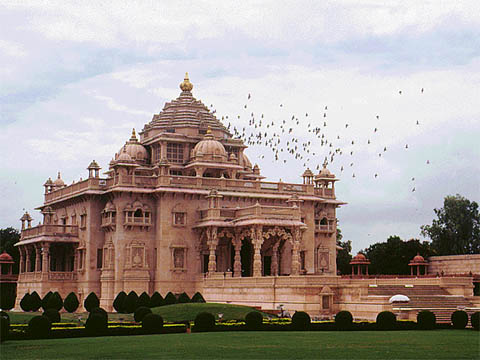 Be spiritual and spent your weekend at Akshardham In Gandhinagar. A place of teaching, amusement and enlightenment where you can witness the customary stone architecture, prehistoric astuteness, and the best of contemporary technology to make the most influential experience of Indian Culture ever to exist. Devoted to Lord Swaminarayan, it is a wonder worked by the detriment of thousands of candy striper. You can have food inside the temple premises in Food Hall.
Activities to Do:
Watching short movies in Hall 1, 2, 3, 4 and 5 with the Sat-Chit-Anand Water Show, the Sahajanand Van, and much more.
Distance from Ahmedabad: Around 30 Km
5. Thol Lake Bird Sanctuary
It is a narrow lake enclosed by swampland's on the verge and thin forest boarding the sides. Thol Lake Bird Sanctuary covers an area of 7 kms2 and a paradise for bird watcher. You can see flocks of bird winging together and making arrays in the sky whereas long-legged stretched necked cranes keep pestering for fishes and small bugs. The environment gets harmoniously pleasant with the resonating of several birds.
Activities to Do:
Natural beauty, click pictures of birds like cranes, geese, flamingos, egrets, herons, spoonbills, ducks, whistling teals and self. You can go for a long walk surrounding the lake and enjoy the beautiful sound of birds. Please note that, the entry fees for the camera and your vehicle will be charged at Thol Lake.
Distance from Ahmedabad: Around 28 Km
6. Nalsarovar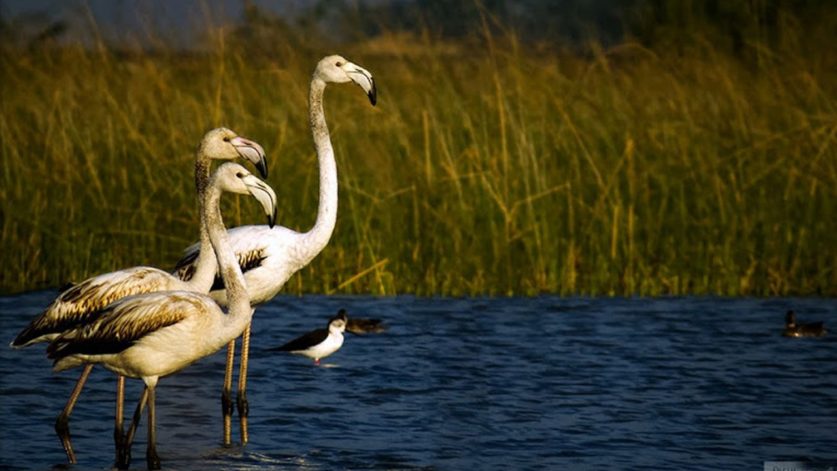 Before you plan to visit Nal Sarovar, please note down the time as it remains open from 6:00 AM to 6:00 PM. It holds an area of 120.82 kms2 with a lake and ambient swampland. It is mostly populated by nomadic birdies in winter and spring. Being the biggest marshland bird nature reserve in Gujarat, and one among the largest in India, it is worth visiting. You can capture ducks, geese, pelicans and flamingos during morning and evening hours. Vehicles are obtainable from parking to the lake site for around 1km. Lake Water is almost 4 feet deep. You can also take a horse ride along lake.
Activities to Do:
Tourist can enjoy the beauty of nature and also click pictures of birds and self. The best attraction of Nal sarovar is boating operated by the locals who can take you to the deep in sarovar where you can spot the migratory birds.
Distance from Ahmedabad: Around 64 Km
7. Sant sarovar dam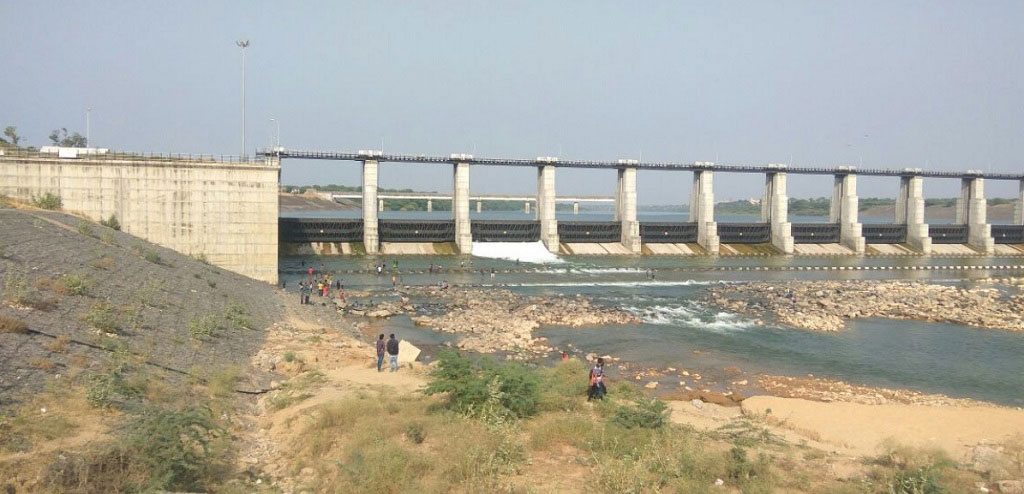 Sant sarovar dam is a picnic place near Gandhinagar where you can enjoy with your family and friends. Located at just 26KM from Ahmedabad and 4KM from Gandhinagar, you can explore this place within half day. Monsoon is the best season to visit San sarovad dam where you can experience the spectacular view of the water flowing from the dam.
Activities to do:
As this is a dam site, you can have bath but make sure to follow safety instructions. You can also visit Sarita udhyan and Indroda park nearby and can spend entire day within state capital Gandhinagar.
8. Zanzari Waterfalls
Zanzari waterfalls is located on Vatrak River with a series of cascades. The definite fall is around 25 feet high with numerous rocks, stones and basins. The water throughout and instantly after the monsoons is perfidious as the current will be hasty. It is only then the sound of water splashing down the falls can be overheard from far away. In summer, the river is condensed to a rivulet and there are spots to take a seat and appreciate the scenery. Visit the Zanzari falls from September to February. Be attentive while enjoying at Zanzari falls.
Activities to Do:
You can do hiking, camel ride and photography at Zanzari waterfalls.
Distance from Ahmedabad: Around 74 Km
9. Statue of unity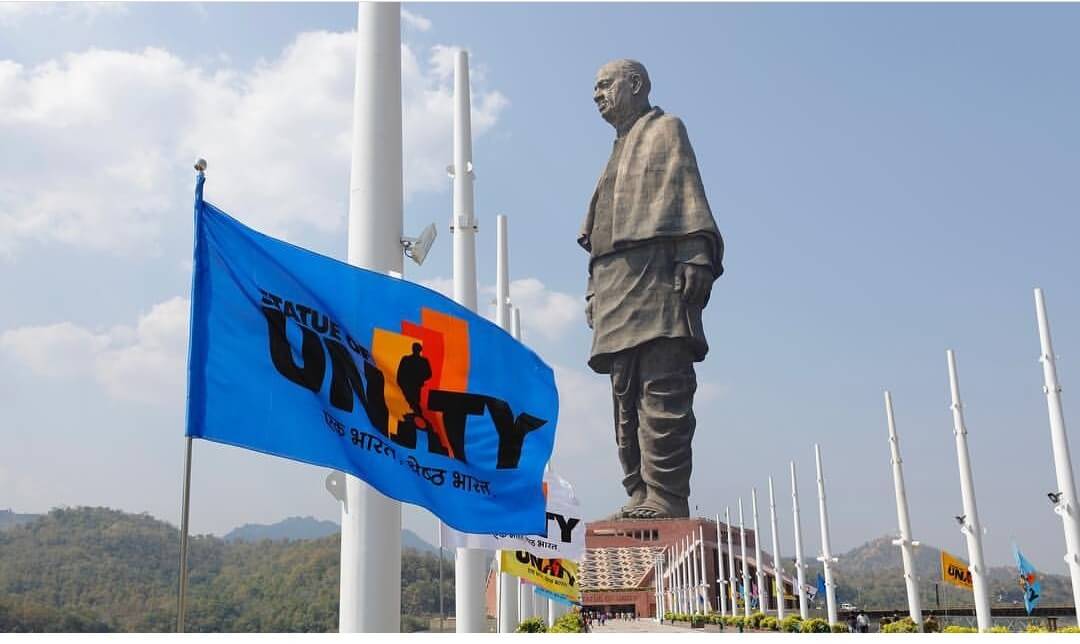 Recently inaugurated by Narendra Modi the prime minister of India, Statue of Unity is world's tallest statue with the height of 182 meters. It is Sardar patel statue located at Sardar Sarovar Dam, Kevadiya village, Gujarat. Statue of unity can be best destination if you are planning for a day trip from Ahmedabad. If you are having 2 days, you can also explore Champaner UNESCO heritage site located near Pavagadh.
Activities to Do at Statue of Unity:
We have published detailed tourist guide for statue of unity where all the information about activities to do, timing and ticket price are provided with great details. You can also visit our detailed blog post about places to visit near Statue of unity to plan your detailed itinerary accordingly.
Distance from Ahmedabad: Around 197 Km
10. Lothal
Lothal is an archeological site which is having a museum divided in three galleries. The front gallery portrays an artist's imaginary idea of Harappan town of Lothal. The gallery at left side displays beads, terracotta ornaments, replicas of seal and sealing, shell and ivory objects, copper and bronze objects, tools and potteries yielded from excavations. The gallery at right shows objects animal and human figurines, weights, painted potteries, objects recovered from burials and ritual objects, miniature potteries, bricks. It is closed on Fridays.
Activities to Do:
Cherishing the memories from past and click the museum galleries.
Distance from Ahmedabad: Around 76 Km
11. Rani Ki Vav Patan
If you love heritage, you should also include Rani ki vav in your list and can plan a day trip from Ahmedabad. Located at just 127KM from Ahmedabad, you can make plan to visit Patan, Modhera sun temple and other nearby places in a day.
If you are in Gujarat around December, make sure you check about the music festival being organized every year. It can have great experience must say.
Activities to do at Rani Ki Vav
It is located in Patan village which is also famous for hand crafted patola which you can explore in the market. Do some photography and explore modhera sun temple located at just 35KM from Rani ki vav.
12. Modhera Sun Temple
If you are planning for a day trip from Ahmedabad, this can be best option if you want to explore historical places and best architecture from 1026-1027 CE era. This temple is dedicated to god Sun which was built by Bhima I from the Chaulukya Dynasty.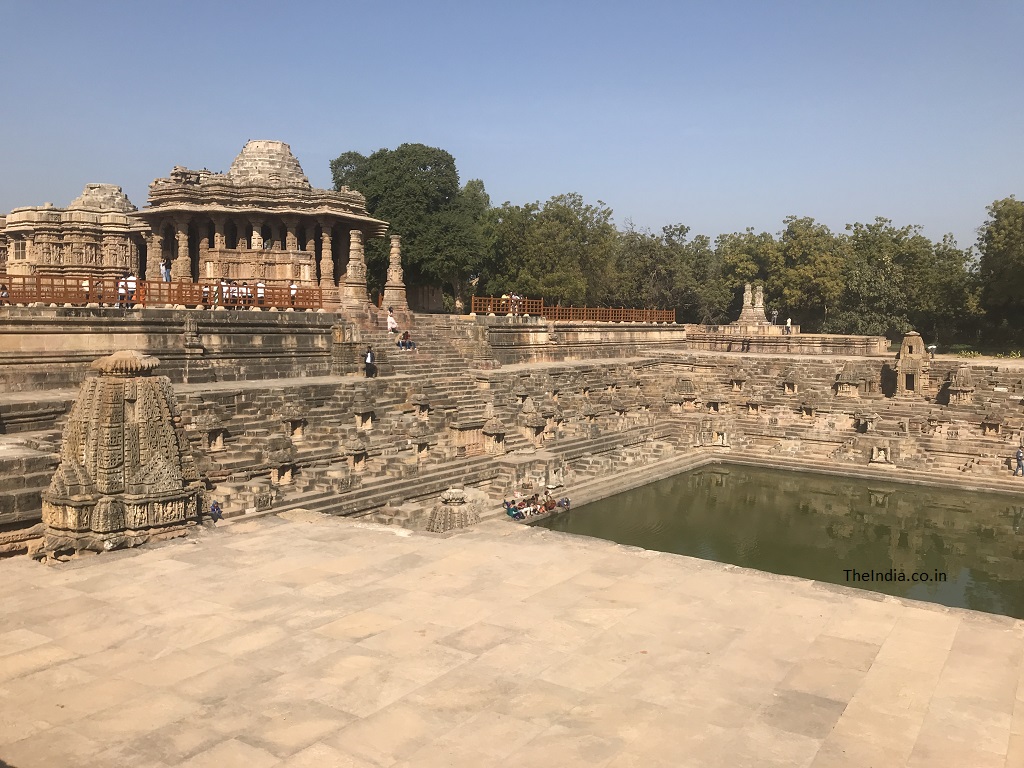 Modhera Sun Temple is located around 100KM from Ahmedabad and can be reached in around 2 hours. You can plan a trip to this place along with Patan (Rani Ki Vav) in a single day.
Part 2 – Resorts / Hotels
This section of article includes private properties which offers day trip or weekend packages.
Note – If you are corporate and looking for best resorts for one night 2 days trip near Ahmedabad, we have published detailed article for companies in Ahmedabad who are looking for best resorts in Udaipur for office tours. Have a look and share your feedback.
13 Luxurious resorts and theme park near Ahmedabad for weekend getaways.
If you are looking for luxurious resorts near Ahmedabad for a day trip, there are plenty of options available. In this list, we have listed 11 resorts and 2 theme parks located near Ahmedabad (mostly around Sanand, Nadiad, Anand and Gandhinagar) offers various packages for weekend or a day trip.
1. 100 Acres Resort Sanand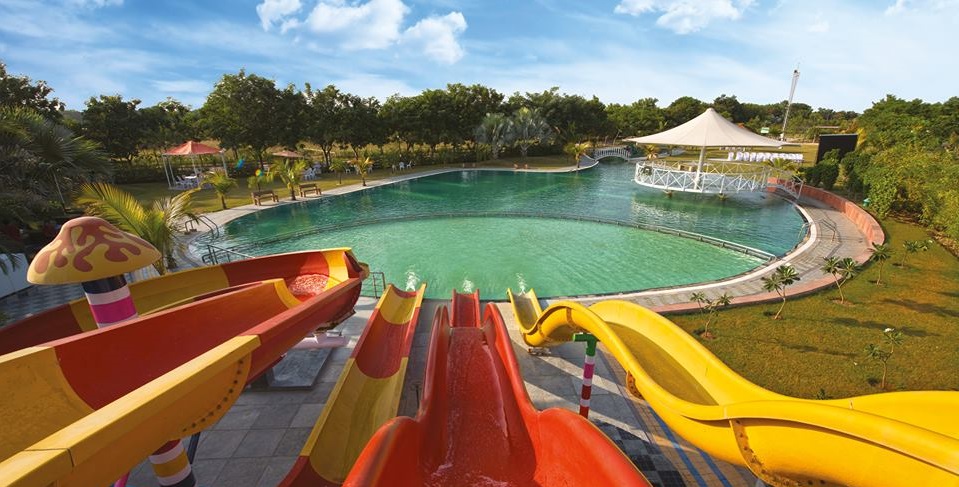 If you are looking for best resort near Ahmedabad, 100 acres resort is for you. Located at just 30KM from Iscon cross road Ahmedabad, 100 acres resort is one of the best destination for one day, two days or weekend holidays for family, friends or corporate. It offers indoor and outdoor activities, aqua activities and awesome restaurant. If you are planning for a night stay, you will find plenty of options to enjoy your holiday. They also offers deluxe, super deluxe and premium rooms for overnight stay.
Activities to do:
Outdoor activities – You can play games like cricket, basketball, lawn tennis, valley ball etc. Checkout detailed information about various activities being offered by 100 acres resorts.
Outdoor Activity
Indoor Activity
Aqua Activity
Table Game
Cricket
Archery*
Pool table
Swimming Pool
Chess
Lawn Tennis
Balancing Wheel*
Table Tennis
Water Slides
Carrom
Basketball
Tug of war
Hand Soccer
Rain Dance
Snake&Ladder
Badminton
Dart*
Carrom
Aqua Handball
Sequence
Volleyball
Skating*
Chess
Aqua Basketball
Zenga
Football
Gilly Danda
Zenga
Aqua Ball
Connect Four
Maze Garden
Satol/Pittu
Board Games
Aqua Ring
Twister
Kids Zone
Paddle Scooter*
Air Hockey*
Dive ring
Shadow Match
Housie
Skate Board*
Conference room*
Changing Room
Domino
Karoake
Cycling*
Restaurant*
Playing Cards
Giant Chess
Solitaire
Luxurious Rooms*
…Many more
*Chargeable . Sports kit and games are available on refundable deposit .
Amenities and activities are available as per club timings and policy .
What are you waiting for? Just do your booking and enjoy the most amazing weekend trip in Ahmedabad.
2. Palm Green Club, Highway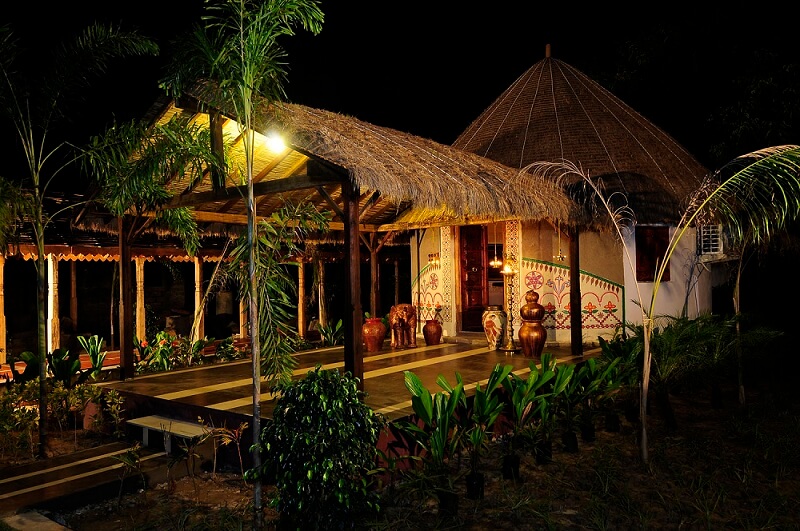 Plam Green Club is a must visit place if fun during the outing is your primary motive. Situated on the prime location, just on the verge of Ahmedabad, it saves you from the trouble of travelling and sufferings of traffic jams. It has a private movie theater with most recent releases to amuse PGC members. Surplus of indoor and outdoor activities, make it a most preferred option amongst individuals of every age group.
Activities to Do:
Relaxing spa rooms, in-house water activities, festival specific activities, watch movie and timely concerts.
Distance from Ahmedabad: Around 30 Km
3. Gulmohar Greens Golf and Country Club Ltd., Highway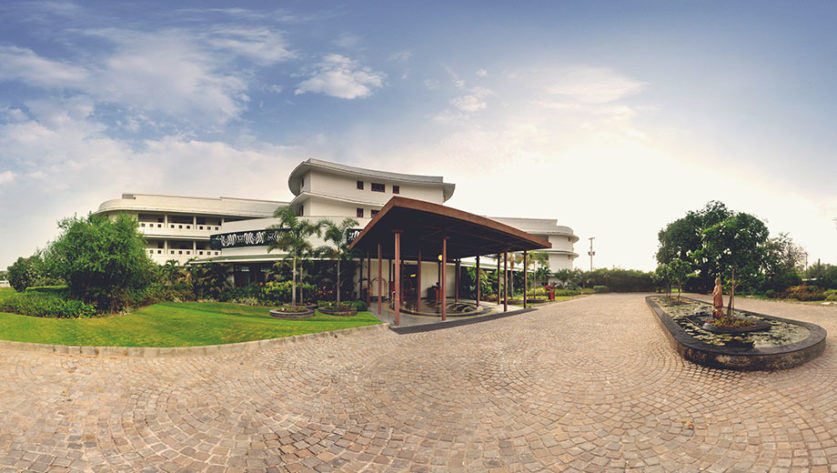 An appealingly attractive golf club, Gulmohar Greens will steal your heart. Its lush green pastures, spread-out golf course, stunning interiors besides luxurious accommodation beautify its 75 acres of land making it as one among the largest resorts neighboring Ahmedabad. As it is not so far off Ahmedabad, the traveling irritations are almost nothing. You can enjoy a golf retreat with your friends or have a soothing weekend with your family, choice is yours. In both cases, visiting here would be paisa wasool!
Activities to Do:
Playing Golf, regular entertaining activities, picture clicking amidst greenery around.
Distance from Ahmedabad: Around 18 Km
4. Club Kensville Golf Resort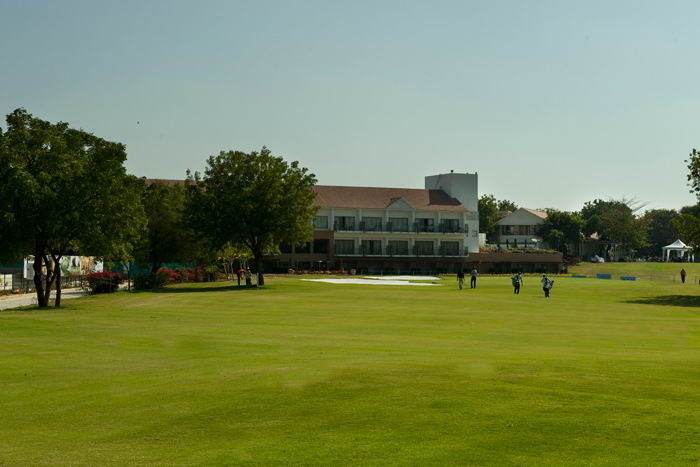 If you are a golf lover, this resort is meant for you. Kensville Resort has Golf Academy, Golf Living, Golf Courses, Golf Club and much more. Its posh accommodations and exceedingly skilled staff assistants, make your golfing retreat worth. You can feel supreme recreation and peacefulness because of it being established in quiet environment. The entry charges and visiting here is affordable even if you are a normal 9-5 working person.
Activities to Do:
Playing golf and having fun in the big farmland.
Distance from Ahmedabad: Around 52 Km
5. Shanku's Water World Resort, Mehsana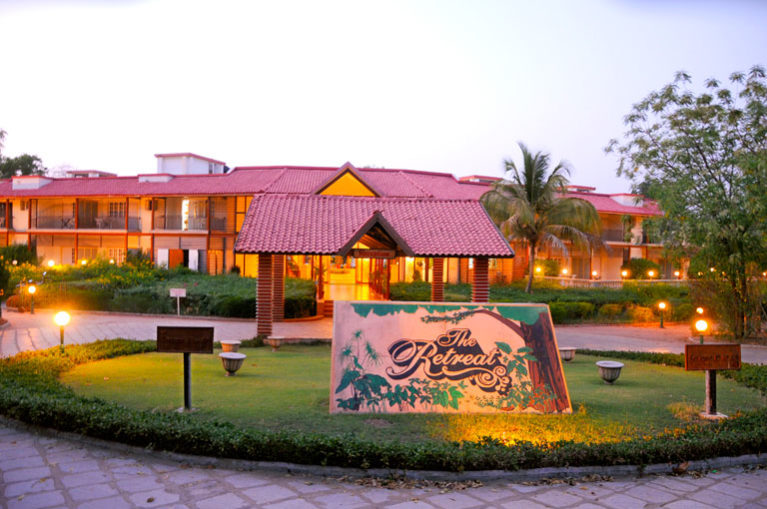 The only concept resort near Ahmedabad. Clubbed with a water park, Shanku's resort has certain remarkable water activities and slides to enjoy with your beloveds. A wide range of rooms like deluxe rooms, Mughal cottages, and Suites are available which adds to its attractiveness of being the finest resort near Ahmedabad. The garden here has a variety of beautiful flowers; hence if you are a nature lover, this place will excite you.
Activities to Do:
Water activities, have fun on water slides of different heights and spent time in lazy river.
Distance from Ahmedabad: Around 62 Km
6. Boulevard9 Luxury Resorts and Spa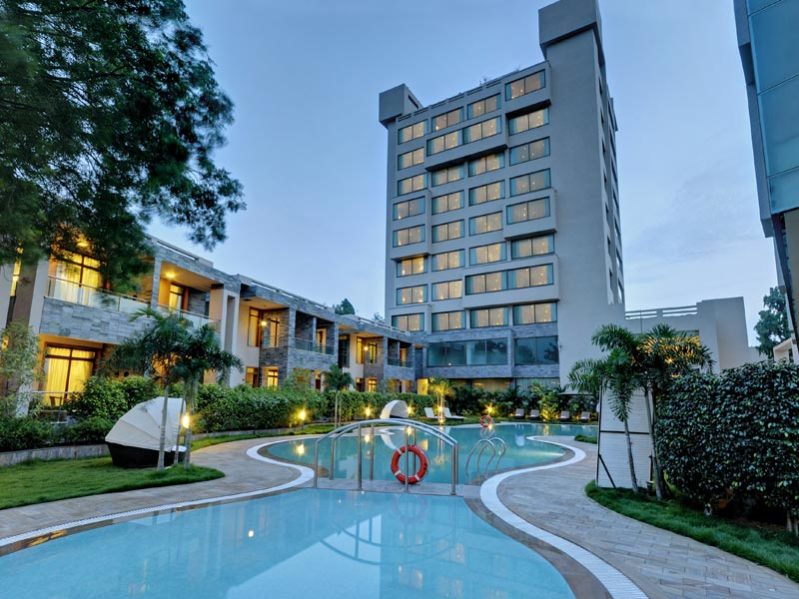 The luxurious greenery of Boulevard 9, united with all other facilities, makes it the perfect endpoint for day-long picnics. There are 3 different package starting from Rs.1500/- to Rs.2000/- But you need to have minimum 10 persons for a day's picnic to get package. All three packages include Hi-Tea and Lunch. Rooms are also available here but they are charged from Rs.4000/- onwards.
Activities to Do:
Badminton, Swimming Pool, Volley Ball, Cricket, Chess, Carom, Table Tennis, Playing Cards etc.
Distance from Ahmedabad: Around 57 Km
7. Madhubhan Resorts & Spa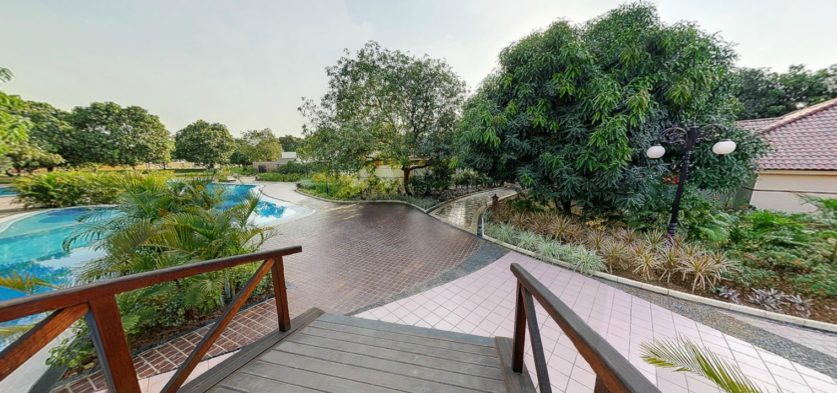 Madhubhan Resorts & Spa is a wonderful superfluity resort and spa casing 25 acres and has been formed within lush vegetation. Multiple food options are available here. You can spend time in the Spa treatment and even organize picnics, parties and weddings. It has Gujarat's largest swimming pool and spa. Accommodation is also available here; hence you can plan to stay here for weekend.
Activities to Do:
Outdoor and Indoor activities, Spa and Food Courts.
Distance from Ahmedabad: Around 78 Km
8. Royal Safari Camp, Bajana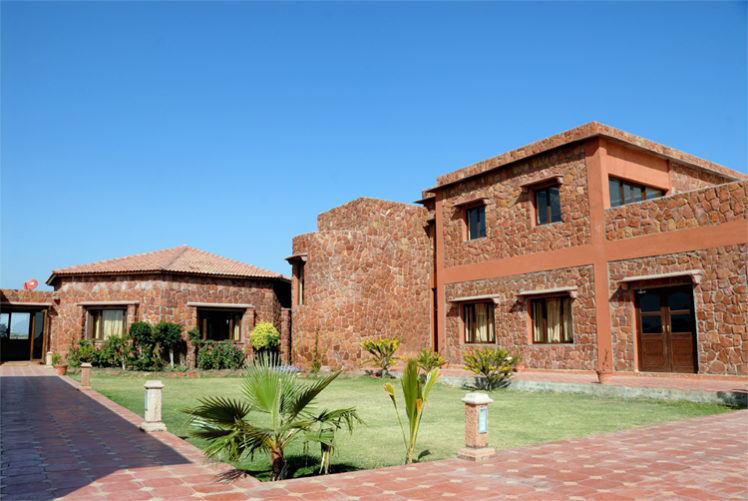 Royal Safari Camp is intended and developed to offer you a special hideaway; a peaceful, poised, passive and calming atmosphere bashed with the enthusiasm of discovering Desert in the adjoining locality of Wild Ass Sanctuary in the Little Rann of Kutch, yet not conceding on opulent and traditional régime. It is in around 18 acres of land and is constructed by local artisans, constructed using red stones, giving it an antique and inheritance look.
Activities to Do:
Camping in Desert.
Distance from Ahmedabad: Around 93 Km
9. Nal Safari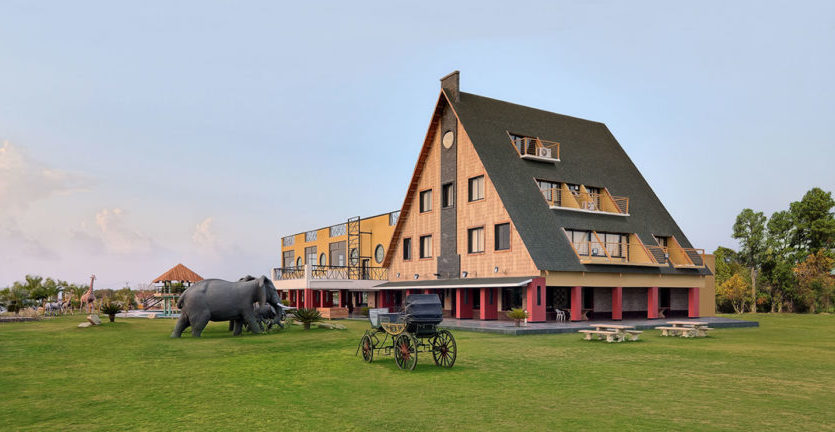 Nal Safari is an African theme based scheming and weekend home system close to the world famous bird sanctuary Nalsarovar. You can spend entire weekend here with family and friends enjoying in swimming pool, boating, children's park, indoor activities, horse riding, playing outdoor games and food-court. The safari is among the best options for spending weekends.
Activities to Do:
Various occasional activities like kite flying, Garba and Arabian nights etc.
Distance from Ahmedabad: Around 44 Km
10. Radhe Upavan Resorts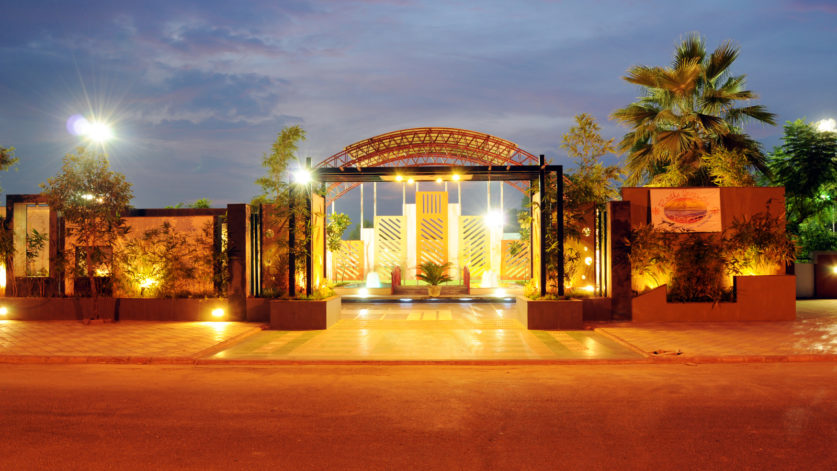 By coming here you can find hotel, swimming pool, restaurant, club all at one place. There are indoor, pool-side, and garden restaurant available where you can have multi-cuisines at one call. The Radhe Upavan resort is perfect to spend entire weekend with class-apart accommodation facility. You can plan for picnics, parties and weddings.
Activities to Do:
Swimming pool and Outdoor games.
Distance from Ahmedabad: Around 16 Km
11. Greenwoods Lake Resort& Spa
Greenwoods Lake Resort is a perfect place for a day's picnic with family and friends. Luxurious green parks, pond, pollution free atmosphere, well-mannered staff to take care of all your requirements and very home-like Indian food all this and the place is not too far from the city. What else one demands on a weekend?
Activities to Do:
Swimming pool and Outdoor games
Distance from Ahmedabad: Around 23 Km
Weekend trips are always considered to be the best part of the week as they re-energizes for the next week and does not even bit the pockets. So, the above mentioned places are the best picnic spots and resorts near Ahmedabad where you can spent weekends.
12. Tirupati Rushivan Adventure Park:
Tirupati Rushivan adventure park is a well-planned theme park on the banks of Sabarmati River. Its affordability makes it a must visit place with family. The rides and slides of water park are simply fun. There are three free rides with the entry ticket. Outside food is allowed; hence you can enjoy home-cooked food in the gardens here. It being a family place, does not tolerates vulgarity. I strongly recommend avoiding this place during summer due to hot climate.
Activities to Do:
You can enjoy water activities, pools, play games and rides at this adventure park.
Distance from Ahmedabad: Around 77 Km
13. Maniar's Wonderland [Theme]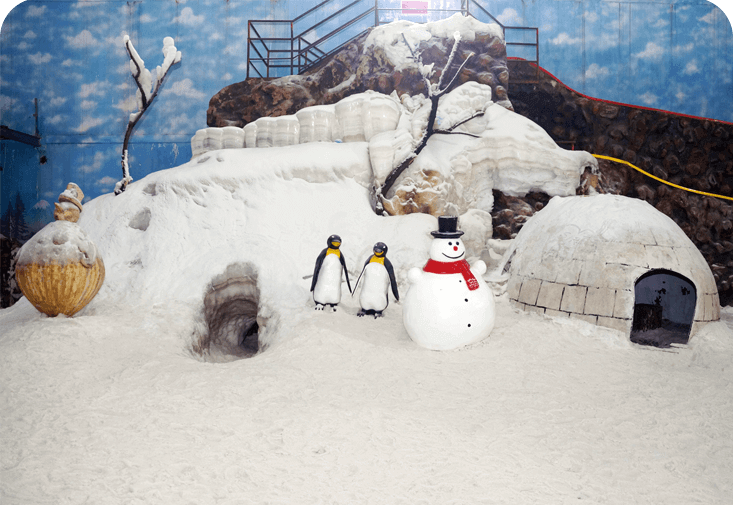 This snow themed fun park is among the best choice for those who want to spend one complete day and take rest on the other day of a weekend. The park is divided into 2 parts named as Wonderland and "First in Gujarat" Snow Park. Maniar's Wonderland has everything that would be enjoyable for the young and the old similarly. Park remains open on all days of the week from 10:00 AM to 8:30 PM. There is a food court inside the park where you can find snacks and fast food of your choice. You can plan visit here with either friends or family. The nearness to Ahmedabad makes it feasible for you to ride or drive yourself.
Activities to Do:
Rides like the Jumping Jack, Desert Bike, Zip Line, Buggy Ride, Aqua Roller, Aqua Ball, Traffic Island and Wonder Chair etc. in the Wonderland whereas Snow Park contains a snow field that proposes snowball combats and blast-from-the-past Ice Age experiences. You can also have in Water Slides.
Distance from Ahmedabad: Around 13 Km
I recommend visiting given picnic spots during day time as most of the destinations are public places and will be open during day time. If you want to chill and relax by spending night as well? Check out some of the luxurious resorts near Ahmedabad where you can enjoy your weekends with family or friends.
Disclaimer:
I have tried my best to compile the list by doing research and by studying the information provided on official resources. Still I do not claim the authenticity of information and it may change periodically. Please note that the all listed places in this article are shared for your reference only. Kindly make your own research before you plan a trip as the information is provided "as is", and without warranties.