Gujarat state is the land of colors, festivals, food, and stories, and Vadodara (Baroda) – the cultural capital of Gujarat state is honored with some of the best tourist attractions in and around the city itself. It never fails to impress anyone, whether you are an artist, tourist, or photographer. There are several monuments and tourist sites such as Laxmi Vilas Palace, EME Temple, Baroda museum and picture gallery, Sayaji garden in the city itself.
In this article, we have tried to cover the best places which are located near Vadodara (Baroda) by considering various factors mentioned below:
It should be easily accessible from Vadodara via road or railway
Suitable for a weekend getaway near Vadodara for group or families
Maximum 1 to 4 hours of traveling and you can reach at the place
The places are most suitable for day trip or an overnight stay around and you can return back to Vadodara within 2 days without spending more time in traveling.
We have divided the entire article into two parts (1) Public places which are own / operated by government or local organization. This may includes park, historical monuments, natural places etc. and (2) Places owned by private party like eco tourist stay, resorts or water park.
Lets begin this article with public places first:
18 Best Picnic Spots In / Near Vadodara (Baroda)
In this part of the article, you will learn about the best public places to visit near Vadodara for a one or two-day's trip. It features the best heritage places, picnic spots, parks or some of the famous monuments near Vadodara for a weekend trip.
1. Champaner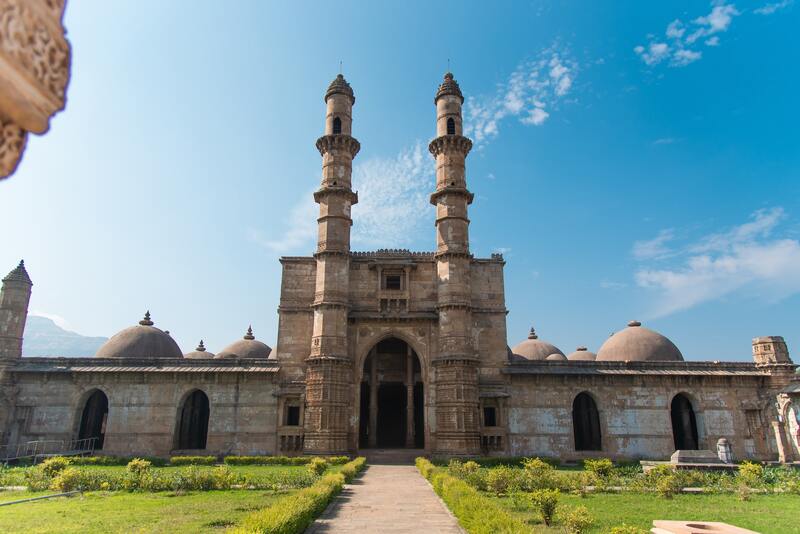 Champaner, a walled town located in the foothills of Pavagadh hill is among the most popular tourist sites near Vadodara and also one of the best historical places in India. UNESCO WORLD HERITAGE SITE Champaner-Pavagadh is an archaeological park found in the 8th century. In Champaner you can witness a mixture of the architecture of Hindu & Muslim monuments attributing to variable kingdoms with time. The impressive ruins such as forts, temples, mosques are scattered all around the majestic town of Champaner.
Distance from Vadodara: 50 km
Hours: 8:30 am to 5:00 pm
Activities to do Sightseeing forts and other archeological structures, enjoying photography, learning history.
2. Pavagadh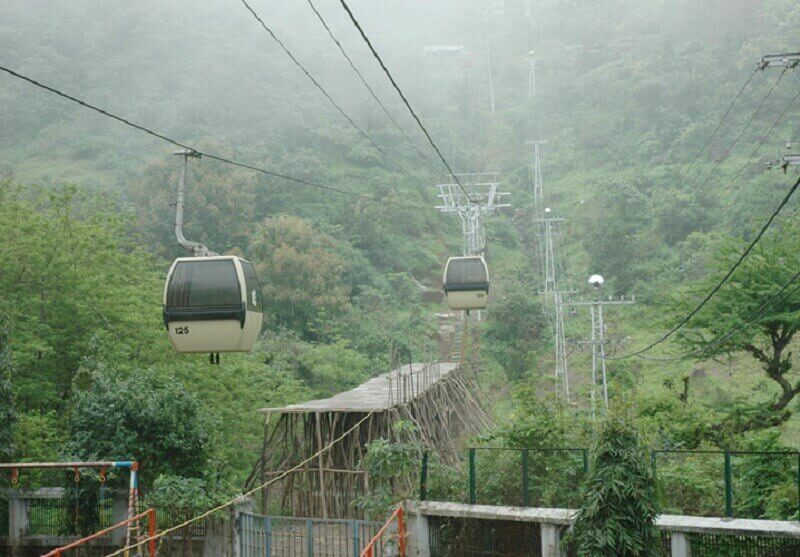 Pavagadh hillock is famous for the century-old Kalika Mata temple (older than the civilization of the Champaner town) located at an elevation of 762 m. One trek up to the temple through a paved way or can reach conveniently to the Kali Maa temple through a ropeway cable car and enjoy the beautiful journey to the temple. It is on the top of the hill, best tourist places near Vadodara. Where you can have the most amazing panoramic view of the Champaner town
Hours: 6:00 am to 7:30 pm
Distance: 60 km
Activities to do: trek to the temple, enjoy the view on the top, rope-way journey, photography.
3. Zarwani Waterfalls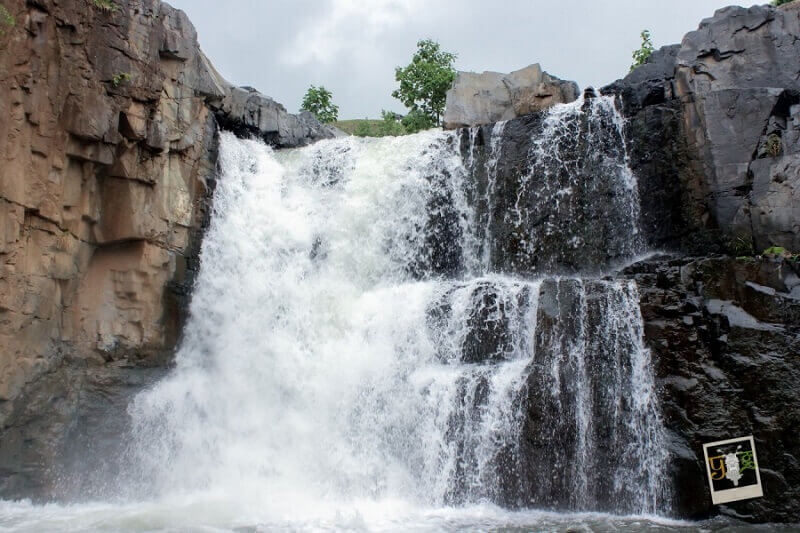 Zarwani waterfall is located in the heart of the Shoolpaneshwar wildlife sanctuary and is the perfect place for a picnic away from the city's chaos. Once you are near the sanctuary, you can hear enchanting water splashing through the rocks. These blissful waterfalls offer a lot more than just bathing, you can even enjoy trekking or even go on a safari to discover the flora and fauna. The best time to visit waterfalls is during monsoons.
Distance: 90 km
Hours: 9:00 am to 5:00 pm
Activities to do: Bath in waterfall and stream, trekking in the forests nearby, and photography
4. Shoolpaneshwar Wildlife Sanctuary
Shoolpaneshwar wildlife sanctuary is a massive sanctuary spread in an area of 607 square kilometers. Sanctuary is surrounded by a hilly tract covered with thick deciduous forests. It is home to a large range of fauna and flora. If you are fond of wildlife and nature then, the Shoolpaneshwar wildlife sanctuary will definitely leave you awestruck. You can spot a leopard, leopard cat, rhesus macaque, chousingha, barking deer, pangolin, chital, and many other animals in the Sanctuary. Shoolpaneshwar wildlife sanctuary is the best picnic spot near Vadodara. It is very near to the world-famous Statue of Unity.
Distance: 145 km
Hours: open 24 hours but visit according to your safety
Activities to do: Trekking and hiking in forests, wildlife photography
5. Kabirvad Bharuch
Kabirvad is a place located on a beautiful island in the center of the magnificent Narmada river, near Vadodara, Gujarat. One can reach Kabirvad by a joyful boat ride that operates to and from the Shuklatirth Shiva temple. It is an amazing place with a decade-old banyan tree covering up to three kilometer area. You will be surprised to know that the grand Banyan tree is nearly 800 years old, one of the oldest tree alive. As you are guessing, the place is named after Saint Kabir. The peaceful and serene environment of Kabirvad makes it the perfect place to spend time with your family.
Distance: 80 km
Hours: 9.00 am to 5.00 pm
Activities to do: Picnic spot, visit Kabir temple, relaxing place, boating.
6. Hathni Mata Waterfalls
One of the most picturesque waterfalls around the area falling from an elevation of 100 meters offers a fabulous sight to the visitors. These mesmerizing waterfalls are covered with lush green carpet all over. You will be awestruck with the beauty of waterfalls imparting the melodious sound of water on rocks. Amidst the scenic beauty, you can find a spot of your choice for the picnic. Name Hathni waterfall attributes to the resemblance of rock at the base of the waterfall to a baby elephant. End your trip by visiting the Hanuman temple located inside the cave. The best time to visit Hathni waterfalls will be Monsoon.
Distance: 75 km
Hours: 6:00 am to 7:00 pm
Activities to do: nature gazing, bathing, visit Hanuman temple
7. Jhambughoda Wildlife Sanctuary
Jhambughoda wildlife sanctuary is one of the notable sanctuaries of Gujarat, covering an area of about 130 square kilometers. If you are planning to go for one day trip near Vadodara This sanctuary is full of a variety of flora and fauna. If you really want to be close to nature, you can opt to stay in cottages by the forest department. But for hiking and wildlife sightseeing one should go on a track with forest-appointed guides only, considering safety purposes. Also, visit the majestic Zand Hanuman temple inside the sanctuary.
Distance: 85 km
Hours: 6:00 am to & 7:00 pm
Activities to do: Safari rides, trekking, camping, sightseeing, hiking and wildlife photography
8. Ajwa Nimeta Garden
Ajwa Nimeta garden is a mesmerizing place; all decked up with beautiful lush green lawns and tall slender palm trees. It is a perfect place to spend a leisurely weekend not just because of its green beauty but also due to the amazing fountain show. The 100-meter row of perfectly aligned musical fountains shooting water out in different patterns and colors is the most eye-pleasing thing to witness at night at Ajwa Nimeta garden.
Distance: 25 km
Hours: 8:00 am to 9:00 pm
Activities to do: relax in the garden, admire beautiful lawns, and watch the fountain show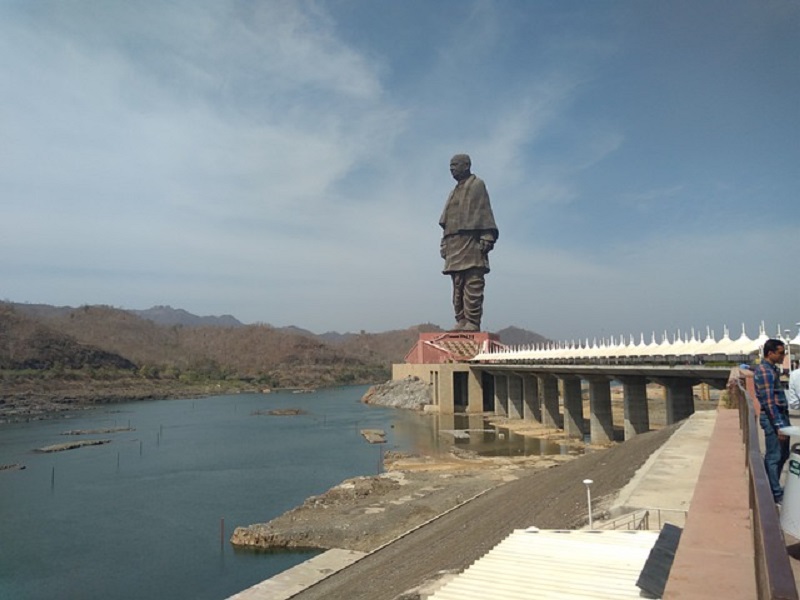 The Statue of unity is the statue of the Iron man of India – Sardar Vallabh Bhai Patel, recognized as the tallest statue in the world. The monument constructed near the Narmada dam, in the middle of the Narmada River is one of the marvels of engineering. It was one of the dream projects of Prime Minister Shri Narendra Modi constructed with a vision to increase tourism in Gujarat and to pay tribute to the Iron man of India. Other than that, it has a viewing gallery located at 135-meter height inside the statue offering a fabulous panoramic view of the reservoir and tall mountain ranges. A valley of flowers situated in front of the monument which has more than 100 varieties of plants, the wall of unity, Selfie point, Laser light, and sound show and Museum, all this make Statue of unity one of the must-visit places of Gujarat. If you are planning a trip to visit the Statue of Unity also visit places near Statue of Unity.
Distance: 145 km
Hours: 7:30 pm to 5:00 pm
Activities to do: Enjoy the view from the viewing gallery, roam in the valley of flowers, laser light, and sound show.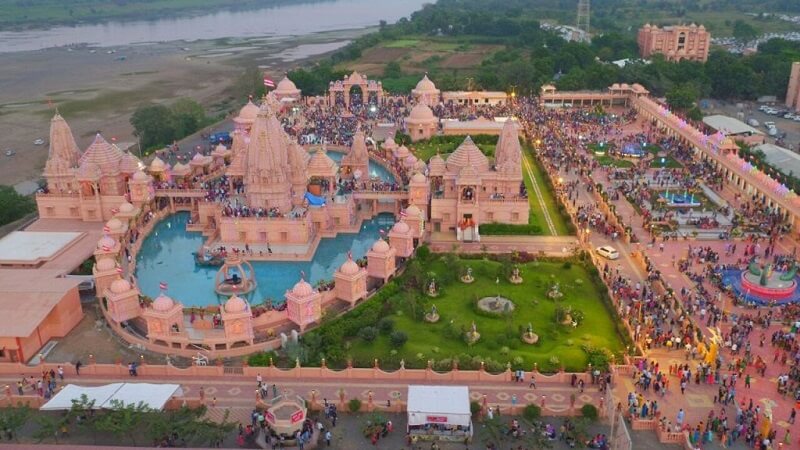 Nilkhant Dham is one of the amazing Swamy Narayan temples, located in Poicha village, on the banks of the River Narmada. The place is really beautiful surrounded by lush green gardens. It attracts several tourists due to its various sectors like the exhibition zone, the parking zone, Kids Play Zone, food court, and many others. One can have divine experience in Navaka Vihar and Shajananda universe. You can witness the most spectacular sight of the temple in the evening when all the light glows and the light show begins.
Distance: 60 km
Hours: 5:00 am to 8:00 pm
Activities to do: Visit the temple, exhibition zone, park zone, Navaka vihar, Shajananda universe and admire the beautiful gardens of Nilkanth Dham.
11. Kuber Bhandari Temple
Kuber Bhandari temple is situated in the village of Karnali in Vadodara. This famous temple is located on the bank of the river Narmada just opposite Nilkanth Dham. There is one more Shaktipeeth temple of Ma Gayatri near the Kuber Bhandari. The place is an ideal outing for one day trip from Vadodara giving the pleasure of a peaceful and divine experience. Temple management also offers tasty Gujarati meals free of cost to all the pilgrims. One can enjoy boating during night hours. You can also take a dip in the holy Narmada River.
Distance: 60 km
Hours: 4:00 am to 10 pm
Activities to do: participate in grand aarti, boating, take a dip in holy water.
12. Sindhrot dam
Sindhrot dam is a wonderful check dam over the River Mahi. You can enjoy a picnic here along with your family and can also have a nice bathing experience. But one should be really careful during bathing as the flow of water can be dangerous sometimes. The best time to enjoy the dam is during monsoon.
Distance: 16 km
Hours: 8:00 am to 6:00 pm
Activities to do: enjoy sightseeing, picnic spot
13. Stambheshwar Mahadev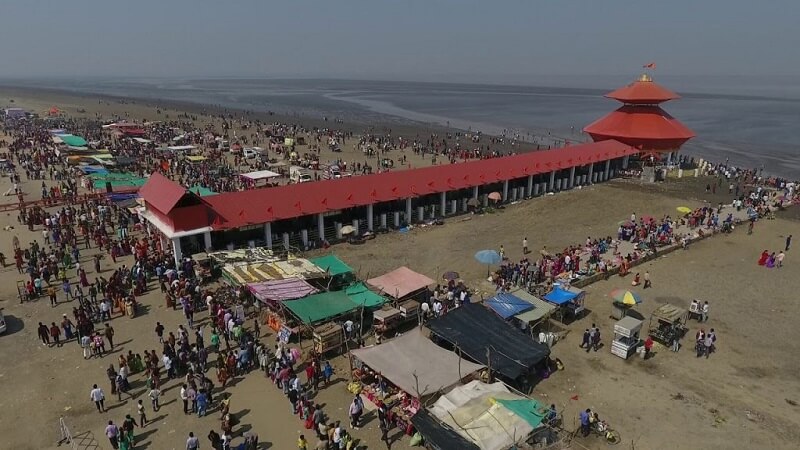 The Stambheshwar Mahadev temple located in the Arabian sea in KavuKumboi is known as one of the unusual Shiva shrines in India. Stambheshwar Mahadev is not just famous for its religious belief among the masses but also because the temple submerges entirely in the sea and reappears. This interesting spectacle occurs on a daily basis. Hence, it is popularly known as the disappearing Shiva Temple in India. Here natural Jal Abhishek of Shivlinga is done by Moter Earth. One should plan a trip in such a way that they can witness the whole phenomenon of submerging and again reappearing of the temple. Plan a trip for at least one whole day and night. Temple is a must-visit place once in a lifetime.
Distance: 75 km
Hours: Darshan time varies according to tithi. (Before visiting check the official website of the temple)
Activities to do: Visit the temple, witness submerging of the temple, enjoy beach activities.
14. Dakor
Dakor is a well-known city located inside the province of Gujarat, India. The town of Dakor is elevated 161 feet above the sea level. The most portion of land could also be a jagged plain. The climate of Dakor is said to be moderate in nature. Dakor possesses many beautiful tourist places where travelers come from different places for sightseeing with family or friends such as Ranchhodraiji Dakor Temple. Here you can enjoy a variety of breathtaking outdoor activities.  Dakor has many famous and popular restaurants, food joints & eatery points which offer delicious foods. Dakor is often easily reached from Vadodara (78 km), Ahmedabad (90 km) as the state travels and runs multiple buses to this holy place.
Distance: 70 km
Hours: 6:45 am to 12 pm
Activities to do: Explore the memorable city, sightseeing
15. Jambughoda Wildlife Sanctuary
Jambughoda is a wonderful wildlife sanctuary based in the Panchmahal district of Central Gujarat. Kada has the facility of a forest rest house where tourists and travelers can relax and enjoy the wildlife. There isn't any Jeep Safari within the sanctuary however if you want to enjoy the nature of wildlife then you have to take a walk thru the dense woodland of teak, bamboo, mahuda. Also, there are a few terrific camping sites within the sanctuary. Kada is an excellent area to live and camp in which a big range of cottages had been built close to the reservoir via way of means of the Forest Department. The woodland close to the sanctuary additionally makes for a marvelous tenting site.
The best time to go to Jambughoda Wildlife Sanctuary is from July to February.
Distance: 70 km
Hours: 6 AM – 7 PM
Activities to do: Explore the Wildlife, watching birds, hiking and camping
16. Toranmal hill station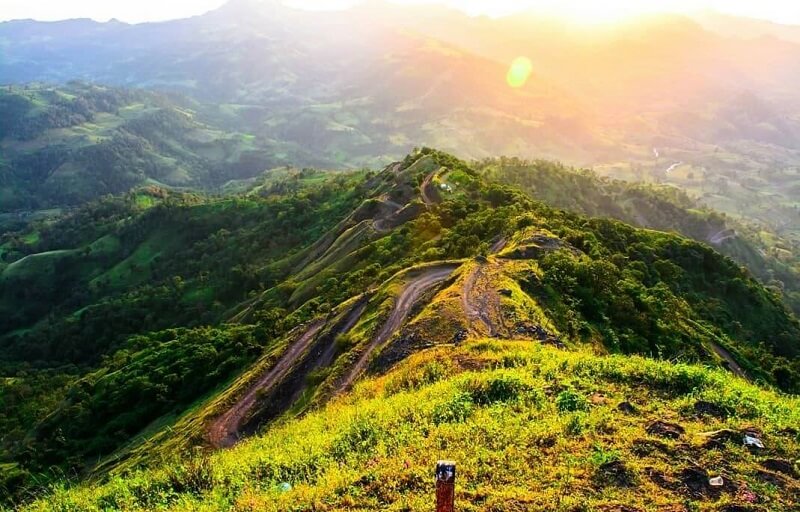 Toranmal is an ideal place for foreign as well as tourists from other states. The area is blessed with mesmerizing scenic attractions which are said to be the photographer's pride that gives big nature's treasure to seize in the lenses. Toranmal mountain cliffs are decorated with difficult and rocky terrains which attract many tourists towards its beautiful valley with greenery around. The main attraction at this place is the waterfall which improves the natural beauty and charm of the area. Additionally, the echo point here makes it popular among the people who come here too.
Distance: 270 km
Hours: Open 24 hours but visit according to your safety
Activities to do: Caving, explore the sightseeing, shopping, and trekking area
All the destinations mentioned in the blog are really beautiful spots and one of my personal favorite. One can spend quality time with friends and family in these places.
17. Kotna Beach Vadodara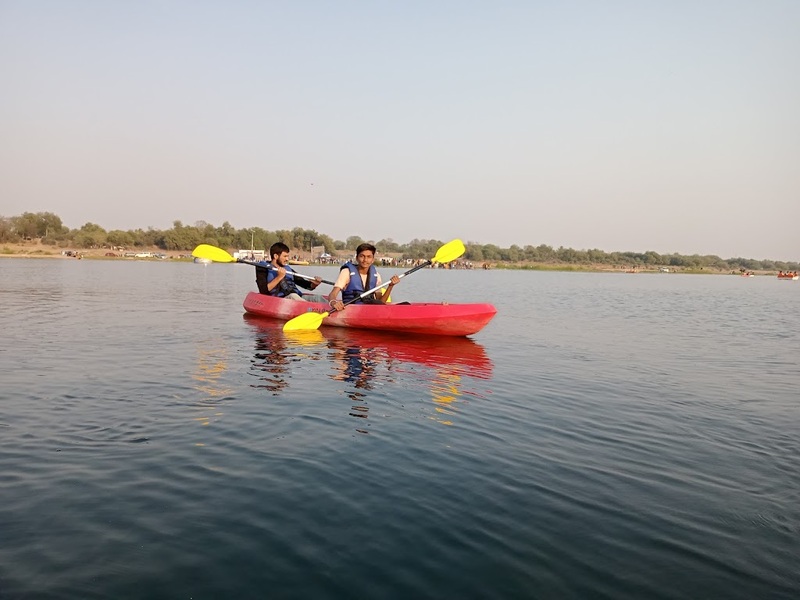 Kotna Beach is located at just 17KM from Vadodara which is famous for various water sports activities like Kayaking and boating. You will see tourist visiting Kotna Beach for photography, do sightings and many more activities. Sunrise and sunset both look amazing at Kotna and gives you mesmerizing view of river flowing around.
Distance: 17 Km
Hours: There is no specific time to visit but most tourists prefer day time.
Activities to do: Boating, Kayaking, photography, sighting and the best picnic spot for families.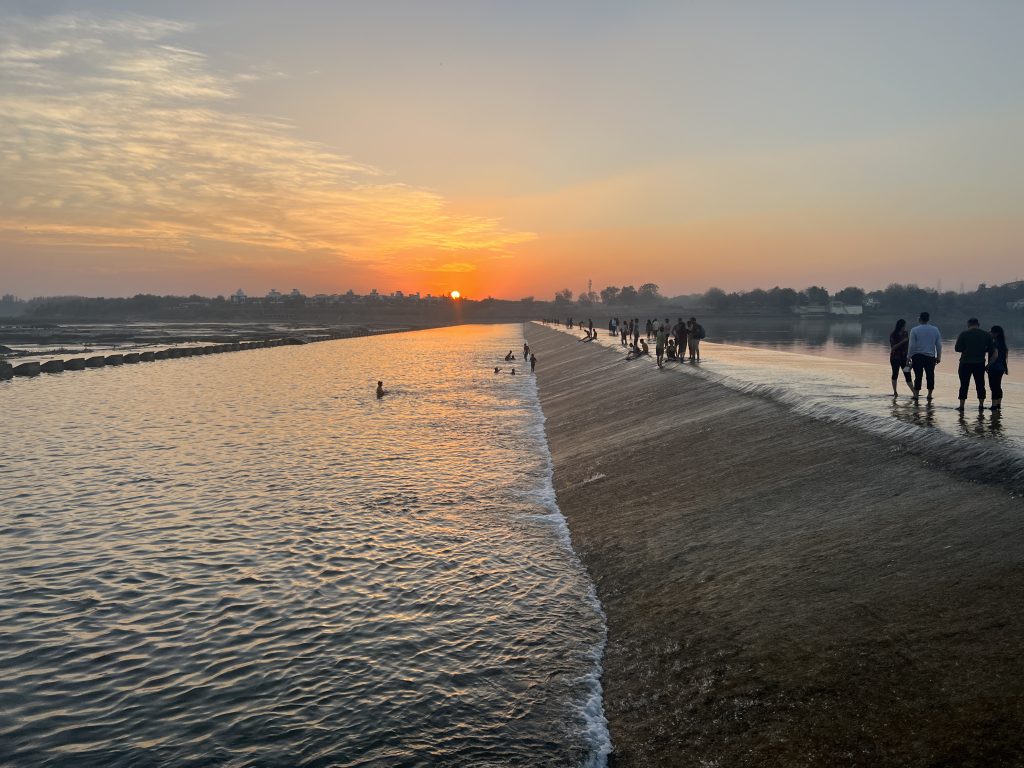 Sindhrot Check Dam is another beautiful place you can plan with Kotna beach. Located at just 3KM from Kotna beach and around 14KM from Vadodara, this is a beautiful place for family picnic. Here you can enjoy swimming in special area which is 3-4 fit deep and safe for non swimmers as well. Make sure you take extra care while traveling with kids as the other side of check dam is slippery and deep and should be avoided.
Distance: 14 Km
Hours: There is no specific time to visit but most tourists prefer day time.
Activities to do: Bath
10 Best Resorts, Campsite, Amusement Parks Near Vadodara For Weekend Outings or a Day Trip
If you are looking for weekend getaway to relax in some luxurious resorts, or to break routines and have some adventure in the amusement parks or campsites then Vadodra has it all. From best resorts offering therapies and spas to world-class camps and amusement parks.
1. Udhal Mahuda – An eco camp site at Ratanmahal
Located at just around 160KM from Vadodara, Udhal Mahuda eco camp site can be best destination for you if you love staying in nature. The camp site is nicely developed and can give you beautiful view of forest and Ratanmahal dam.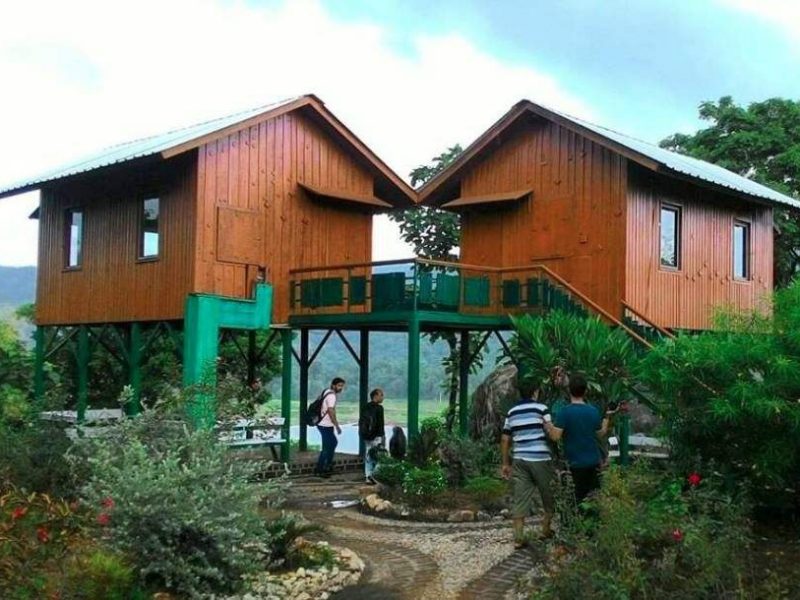 "Udhal Mahuda" is a well-known Eco- campsite located near the Ratan Mahal Lake on the Gujarat-Madhya Pradesh border. The sanctuary is the ideal location for admiring nature's beauty while staying in the thick green forests.
The camp is spread out over a large area, which is loaded with lots of modern-day amenities like the AC Tree House. Additionally, you can also book both tents and cottages for accommodation. Staying in houses built on top of trees will be an unforgettable experience for any traveler.
The months of October to February are ideal for visiting this camp. It's a fantastic experience to watch the sunset and sunrise from Ratan Mahal. The sanctuary's main attraction is said to be the Mira waterfall, which is accessible via a 4-kilometer hike. It is an excellent location for adventure and sightseeing.
How to Book Your Stay?
This camp site is owned and operated by forest department and can be booked from official website mentioned here => https://vadodarawildlife.in/
Distance from: Vadodara – 160KM, Godhra – 90KM, Dahod 60KM.
Best Time to visit: During the monsoon, the sanctuary is closed. From October to February is the best time to visit.
Activities to do: Sightseeing, enjoying photography.
2. Orsang Camp Resort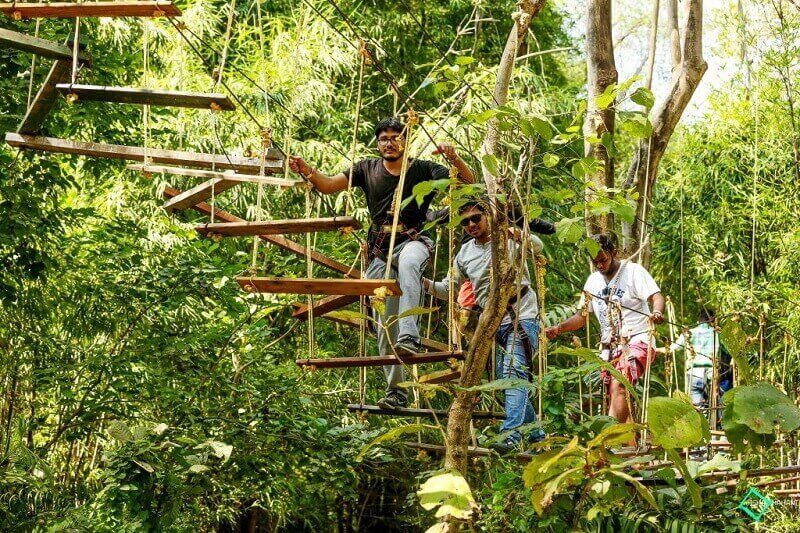 If you are fond of adventure and always long to do something extraordinary then you will definitely find this place interesting. Orsang resort is situated on the magnificent bank of Orsang River. The camp is spread in a 125-acre area with an excellent fusion of comfort, luxury, and adventure within the resort. It is surrounded by lush green vegetation all over. You can enjoy an ample number of activities fear-free in the lap of nature like country's longest zip line, 50 meters high rope adventure, Kayaking, Eco go-cart, Flying Fox, tyre tumble and many more. The resort also provides you with a wide choice of accommodation with a tranquil ambiance. Orsang camp resort is a perfect place to break the mundane routines and have a relaxing weekend with 24-hour services and finger-licking food.
Distance: 60 km
Activities to do: Camping, Kayaking, Zip line, Flying fox, go-carting, tyre tumble and lot more.
3. Riparian- The riverside camp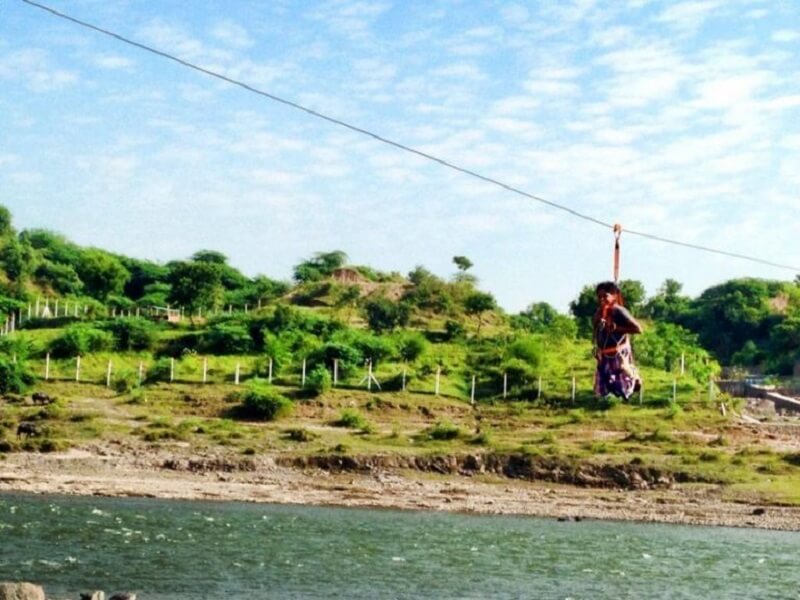 Riparian is the most recently started adventure resorts in Gujarat along the banks of the Mahisagar River near Rasulupur. Its serene and peaceful surroundings make it a perfect place for a weekend outing away from the city buzz. You can enjoy a variety of activities such as zip line, high rope, low rope, rappelling, river rafting, and riverside camping.
It is also planning to include paintball and mountain biking among other activities. For accommodation purposes, Riparian resorts have 10 tents with attached washrooms and 20 cottages.
Distance: 40 km
Activities to do: Camping, zipline, River rafting, rappelling, rest and enjoy beautiful surroundings
4. Aum Health Resort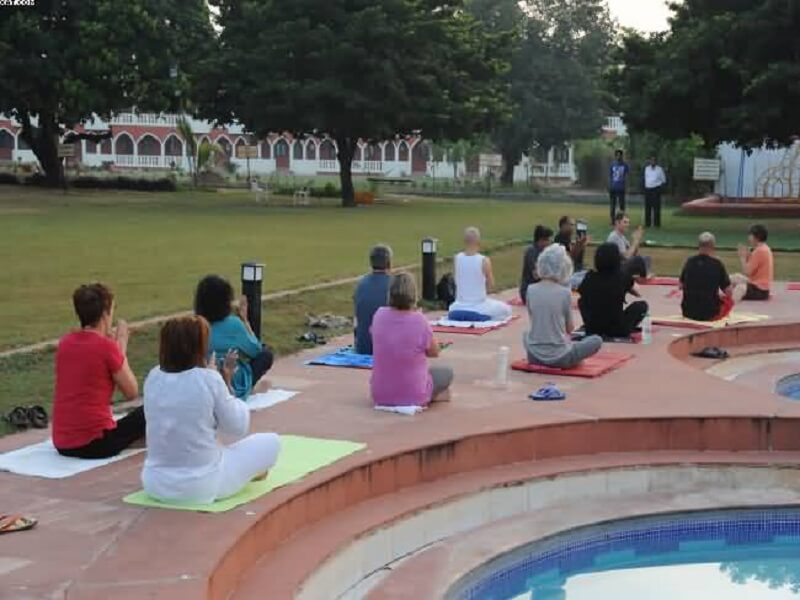 Aum health resort is a perfect blend of luxury and traditional therapy style. It has a unique facility that helps to restore the natural balance of the mind, body, and spirit through modern medical advancements and traditional therapies. Here you can have a perfect break from exhausting daily life and relax with a variety of therapies offered by the resort. One can get mud therapy, reflex therapy, acupuncture, naturopathy or aromatherapy packages booked. All the therapies in the resort are conducted under the special guidance of the best medical professionals and therapists. You can spend the weekend here with relaxing meditation and yoga sessions, well designed luxurious suites and swimming in the private pool.
Distance: 30 km
Activities to do: Meditation, yoga, therapies like mud therapy and swimming
5. Kamdhenu Resort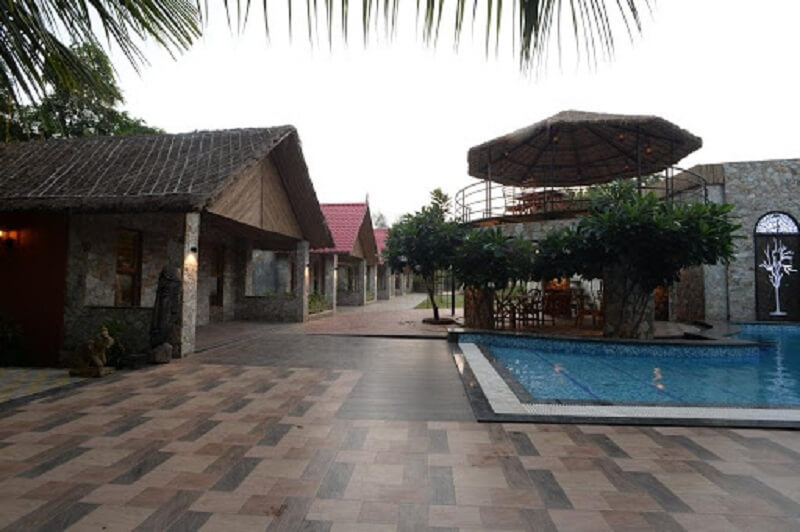 Kamdhenu is an exotic resort located near Sindhrot Bridge, surrounded by lush green lawns that roll down to the boundary of the resort. The atmosphere around the resort is quite serene and peaceful making it an ideal place for the weekend getaway. You can have a pleasant time here playing carom or chess or burn some calories in badminton court or basketball court. You can also enjoy in 32 seater air-conditioned home theater. If you are looking for romantic outings then also the resort is perfect.
Distance: 20 km
Activities to do: play carom, chess, badminton, basketball and cricket, swimming, Candlelight dinner, social gatherings.
6. Champaner heritage resort
Champaner resort is nestled in a beautiful orchard, surrounded by hills and lakes at the foothills of Pavagadh, Champaner Heritage Resort is a more than 100-year-old palace that features an outdoor pool and year-round outdoor pool. The resort is also children-friendly with a playground for them and mesmerizing view of the mountain, and guests can enjoy a lip-smacking meal at the restaurant in the resort itself. Rooms in the heritage resort are quite lavish and luxurious.
Distance: 50 km
Activities to do: enjoy the scenic view, rest in lavish rooms, swimming
7. Caravan Serai Resort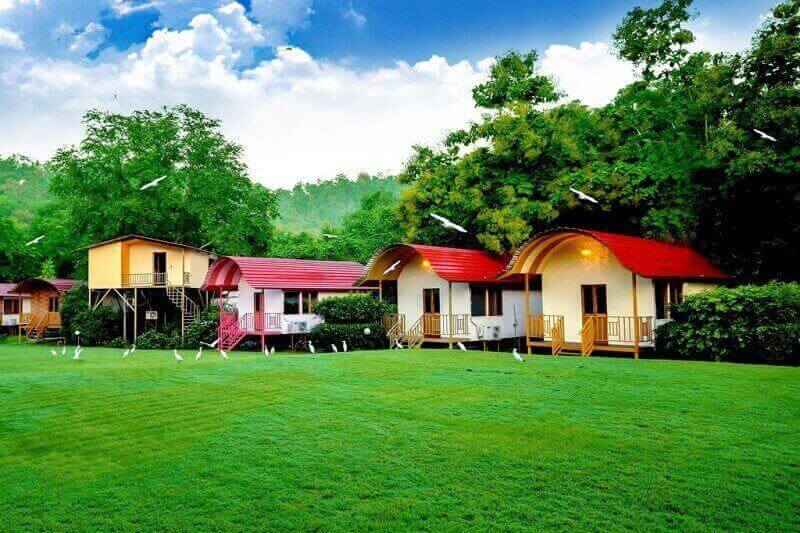 The Caravan Serai resort is the only one of its kind in India. It is surrounded by lush green teak plantations in the pristine foothills. The Jambughoda resort is a paradise for nature lovers. It is designed in such an excellent manner that no matter where you stand, you will get a panoramic view of nature from everywhere. For accommodation purposes, caravans are placed on the banks of the river stream providing you an experience of a lifetime. The Caravans are quite luxurious and well equipped with all the modern amenities. Caravan Serai is not just about nature, you can also have various eco sports adventures such as zipline, rappelling, and many others
Distance: 65 km
Activities to do: Enjoy luxurious caravans, rest in nature's lap, Rappelling, Zipline, Picnic, Jungle Trekking, Night Camping.
8. Aatapi Wonderland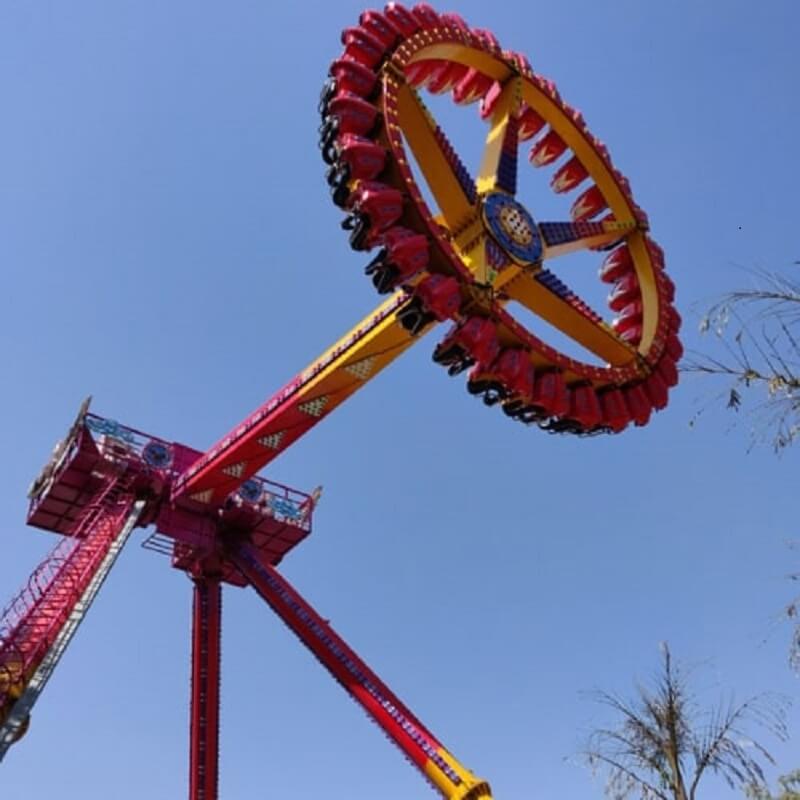 Aatapi wonderland is the first of its kind theme park in Gujarat. It is the biggest amusement park based on the wonderland theme in the state. Now no need to travel all the way to Mumbai to experience the thrill of the rides, it's just 25 kilometers away from you. You can enjoy all your favorite rides and adventure in the park. Ajwa theme park is absolutely loved by children. They are also starting a new concept of theme village of Chota Bheem – in which the real village of Bheem is to be developed with all the characters in of animations in the real. Aatapi wonderland is one of the best places to have fun with your families and friends near Vadodara
Distance: 25 km
Hours: 10:00 am to 8:00 pm
Activities to do: have fun in amazing rides, watch the wonderland creatures parade.
9. Enjoy City Waterpark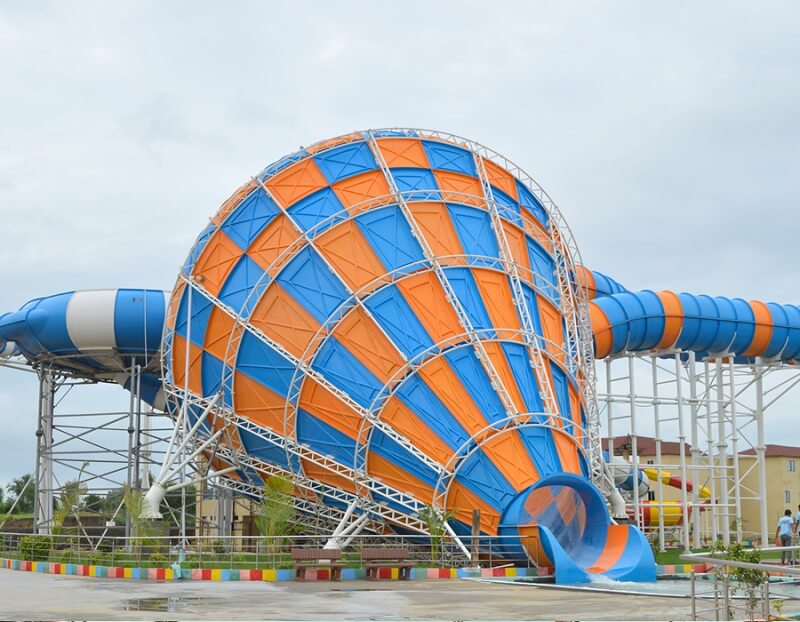 Enjoy city is constructed in 200 acres of land, about 150 rides, and 280 luxurious hotel rooms. Enjoy City claims to be the largest water park in India. If you are a water lover then this place is for you. It includes all the recent water activities and slides. Other than Water Park it also includes Adventure Park, a colorful flower garden and an amusement park. If you are fond of the sports then park also have sports ground where cricket and football can be played.
Distance: 35 km
Hours: 10:00 am to 6:00 pm
Activities to do: have fun in the water park, amusement park, play sports.
10. S-Cube Water Park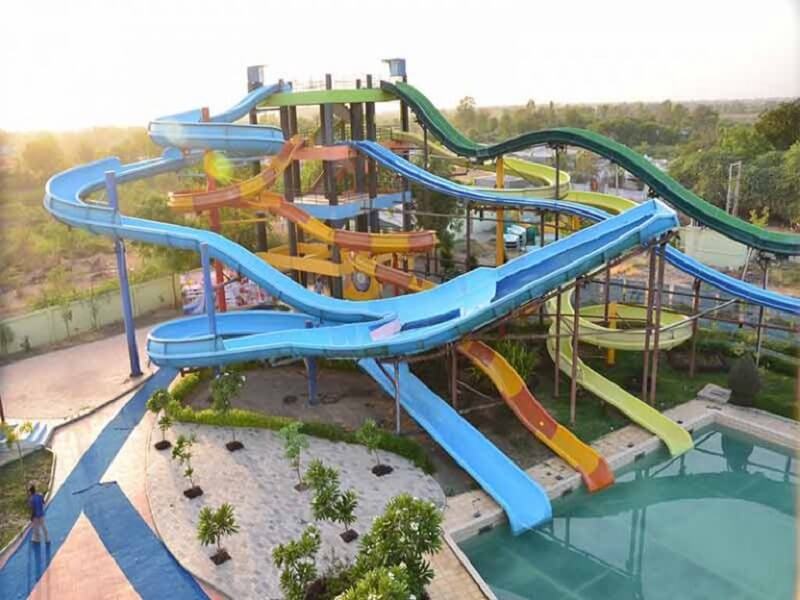 S-cube water park is located just 25 kilometers away from Vadodara city, opposite to famous Ajwa gardens. It is one of the most popular family spots in the city. Water Park consists of all the modern rides including cyclone bowl, boomerang, double screamer, lemon sweep, and the blue ripple. It is friendly for kids and has kids zone with smaller rides for children. Other than waterpark there is a beautiful garden area where you can do your photoshoots. It is advisable to carry your own swimsuit, towel, and other accessories.
Distance: 25 km
Activities to do: Enjoy slides and water park rides, admire gardens.
In this blog, we have tried to provide all the information regarding the best places near Vadodara. Still, we recommend that you check the official website of the places that you are planning to visit. And also, don't forget to share your travel experience with us below in the comment section.