Are you looking for a weekend places to visit near Guwahati? Guwahati provides a lot worth exploring for the local. It is not just the largest city in the state of Assam, but also one of the largest urban areas of the Northeastern India. Many breathtaking and scenic destinations make it a popular weekend terminus. All these places to visit near Guwahati are just a weekend away from the city. A visit to them can be planned effortlessly. One can take days to explore the city as it has many exciting places for late-night hangouts. It is also a major music destination. Guwahati has awesome spots that are just a couple of hours away. These places help to explore the culture and best of the Northeastern India.
You can also add a huge variety to your experience of the region and indulge in trips that are just a small car ride or bus ride away. Places like Shillong offer stunning views. You can also explore the well-kept secrets of Northeast India like Cherapunji from Guwahati Assam. The huge variation in activities ensures that different types of travellers get something worth exploring. Guwahati is also one of the top spots for anyone who wishes to get a memorable outing with a lot of cultural essences.
Places to visit near Guwahati City
There are certain top spots to be enjoyed near Guwahati as a weekend destination.
1. Cherapunji: One of the Great Tourist Places Near Guwahati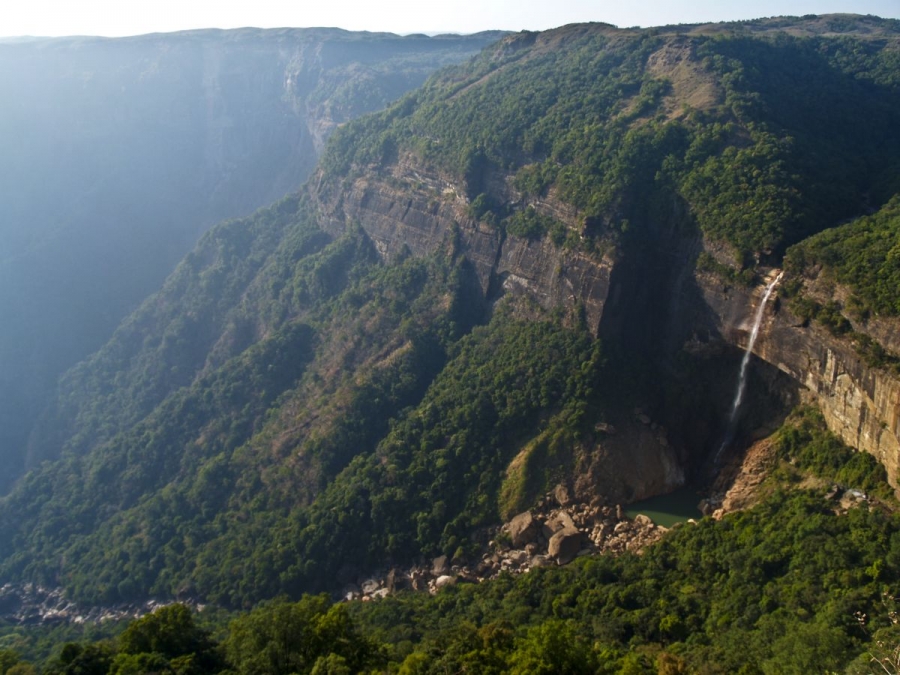 This is one of the great tourist places near Guwahati located at a distance of 56 km from Shillong. Cherapunji is known among tourists due to being the second wettest place in the world. It received rain throughout the year. The rain in the region gets absorbed by the plains and gorges. It is a great place for trekking and enjoying the scenic beauty.
Distance from Guwahati – 148 km
Major Attractions – Double Decker Living Root Bridge, Mawlynnong, Nohkalikai Waterfalls
2. Kamakhya Temple Guwahati
One of the most popular tourist attractions of Assam is the Kamakhya Temple. It is situated on the Neelachal Parbat or hill also known as Kamagiri. It being the major religious landmarks has a rich historical value. The Temple is dedicated to Goddess Kamakhya also known as Sati or Goddess Shakti. The temple is open for visitors all-round the year. The temple has a rich mythological history and it is believed that Goddess Sati's corpse that got cut into many parts and her 'Yoni' fell on that the very spot on which the Kamakhya temple is situated. It is a major Shakti Peetha and is visited by many people around the year.
Distance from Guwahati – 8 km
Major Attractions – Ambubachi Mela
3. Guwahati Zoo
The Assam State Zoo cum Botanical Garden are popularly called the Guwahati Zoo. It is one of the largest zoos in Northeastern India and covers an area of 175 hectares. The zoo has about 900 animals and birds. It is also home to several endangered and rare animal and bird species. The main attractions of the zoo are the Tiger, one-horned Indian Rhinoceros, Golden Langur, Clouded Leopard, Serow, Gibbon, Elephant, Brow-Antlered Deer, Himalayan Black Bear, and Leopard along with about 250 types of birds. The zoo also has a forest museum and a lake. It is open from 7 AM to 4.30 PM and is closed on Fridays.
Distance from Guwahati – It is located in the center of the city
Major Attractions – Museum and Lake inside the zoo premises
4. Sivasagar: Famous for It's Architecture
This is a major attraction in Assam and was ruled by the Ahom Dynasty. This only part of Assam was not under the Mughal rulers. It has many beautiful monuments and temples. The wonderful craftsmanship and architectural skills of the historical times are at display here. A popular spot here is the Rang Ghar which was the royal amphitheater. The city is a testimony to the historical treasure of India.
Distance from Guwahati – 363 kms
Major Attractions – Rang Ghar, Joy dol, Shiva dol, Kareng Ghar, Talatal Ghar, Sivasagar tank.
5. Majuli: One of Most Attractive Places to Visit Near Guwahati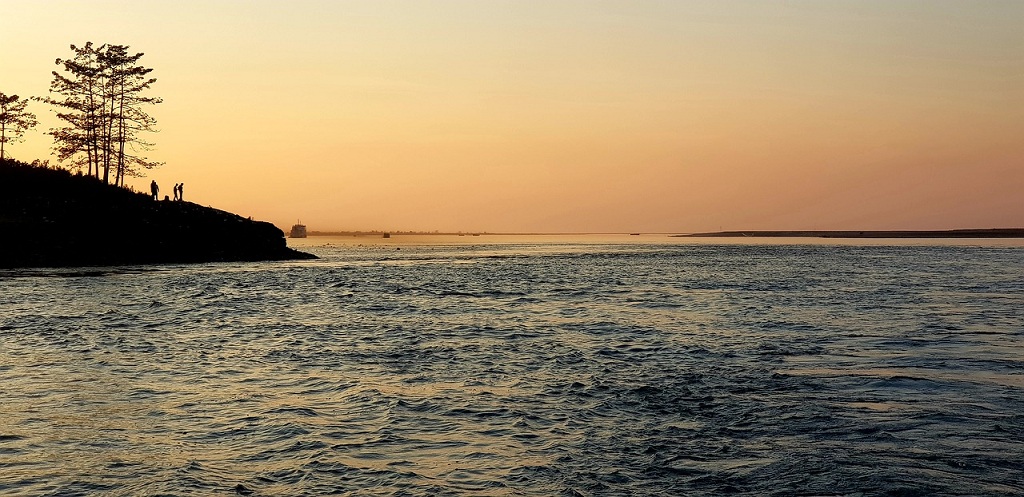 One of the most beautiful islands that are located on River Brahmaputra. Majuli is spread on an area of 421 sq. km. The island is depleting every day due to the washing away of the sediments. The island can be explored by a private boat and also by a ferry. The place has immense beauty and is not very crowded. There are some beautiful monasteries like the Dakhinpath Satra, Garamur, and Auniati Satra.
Distance from Guwahati – 345 km
Major Attractions – Kamalabari Satra, Tengapania
6. Elephant Falls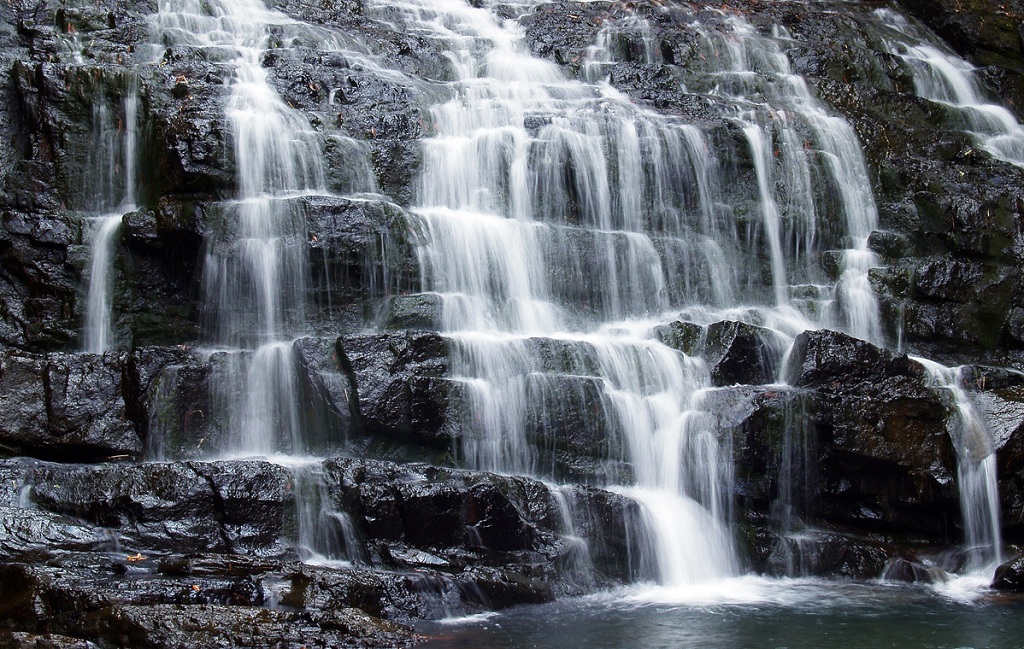 These elephant falls near Shillong are popular in North-East due to the elephant-like stone that is located on its foot. There are three layers of falls that are accessible from different points. This is a great place to spend in the lap of nature and savoring the spectacle of water.
Distance from Guwahati: 105 kms
Major Attractions – The Vantage point of the falls
7. Mawsynram
This is one of the wettest places in the world and is also a village with breathtaking beauty. Mawsynram is located about 61 km from Shillong. The place is a delight for nature lovers and is a perfect weekend destination. Mawsynram is the most perfect destination and is ideal for a short weekend trip from Guwahati. It is close to Cherapunji when it comes to the record of the wettest place in India.
Distance from Guwahati: 154 kms
Major Attractions – Mawsmai Caves and Mawsmai Falls
8. Manas National Park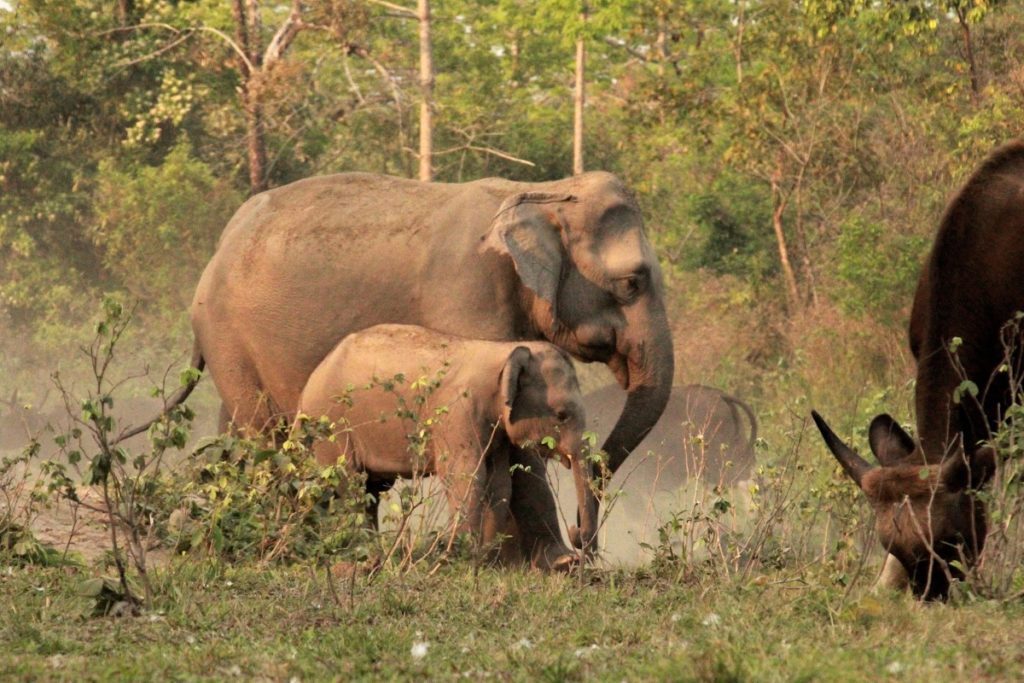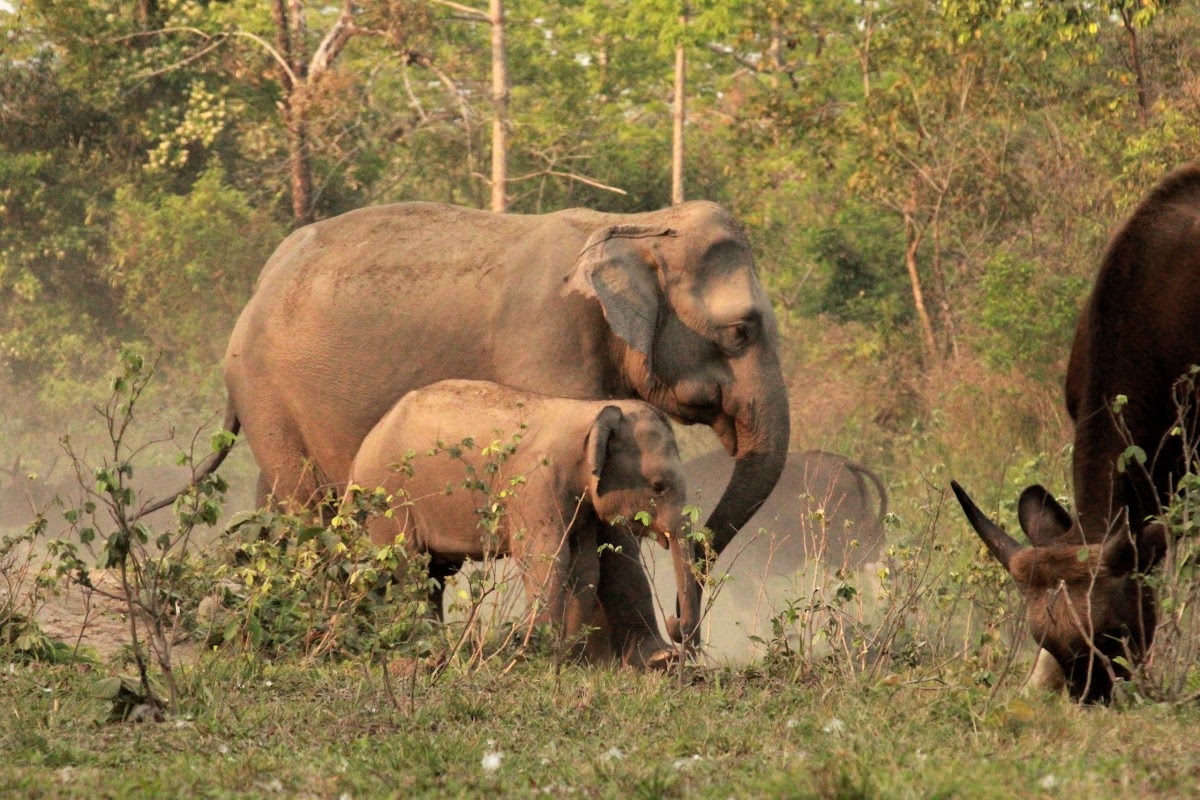 This is national park is located on the Himalayan foothills.It has many rare and endangered species like Assam roofed Turtle, Golden Langur, Hispid Hare, and Pygmy Hog. It also has a Tiger reserve and is a UNESCO World Heritage site. The Manas River is a major attraction of the park and is a tributary of River Brahmaputra. The park also has a rich flora.
Distance from Guwahati: 135 kms
Major Attractions – Manas River
9. Mawlynnong
This place has its attraction as it is located in the Khasi Hills of Meghalaya. Mawlynnong has been declared as the cleanest village in Asia and is also popular due to the matrilineal society that is a unique concept in the region.
Distance from Guwahati: 166 kms
10. Kaziranga National Park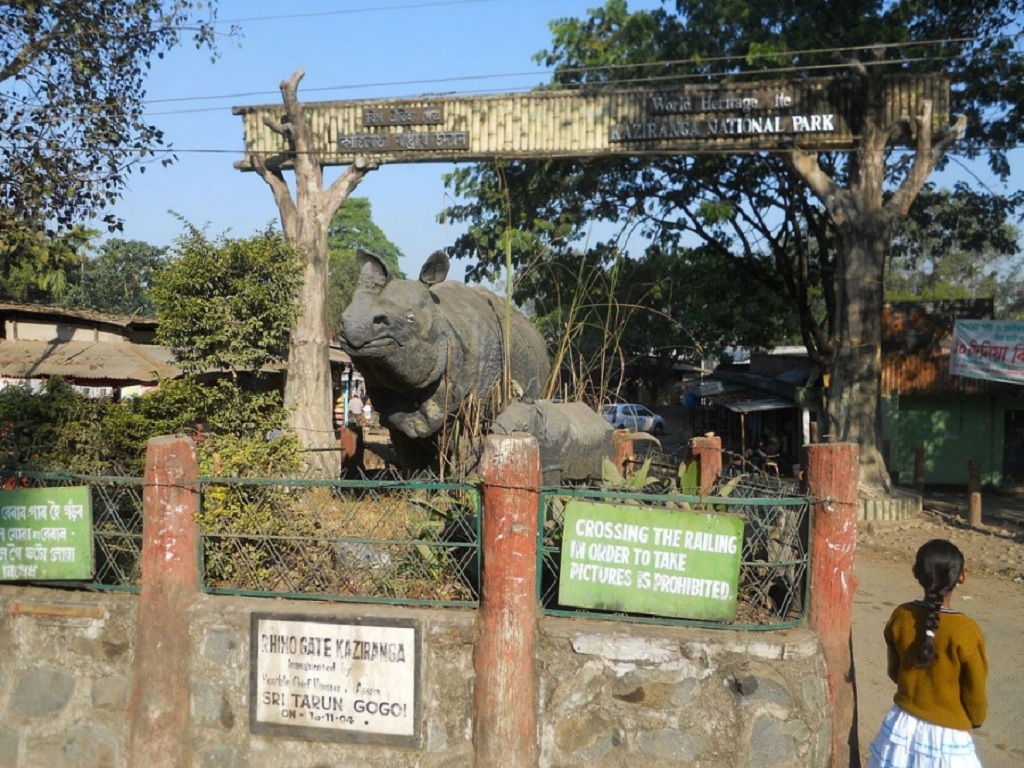 This is one of the popular places in Assam and is home to the one-horned Rhinoceros. The wildlife sanctuary has about two-thirds of the total population of the world's Rhino. Other animals include the Elephant, Swamp Deer, and Wild Water Buffalo. It is situated on the flood plains of River Brahmaputra and has tea estates on both sides. The popular animals include the Asiatic Water Buffalo, Herbivores Elephants, Eastern Swamp Deer, Tiger, Sambhar, Indian Mangoose, Bengal Fox, Civets, Golden Jackal, Gray Mangoose, Sloth Bear, Greater Adjutant, Ferruginous Duck, Lesser Adjutant, and Indian Pangolins are spotted in the Kaziranga National Park.
Distance from Guwahati: 200 kms
11. Pobitora Wildlife Sanctuary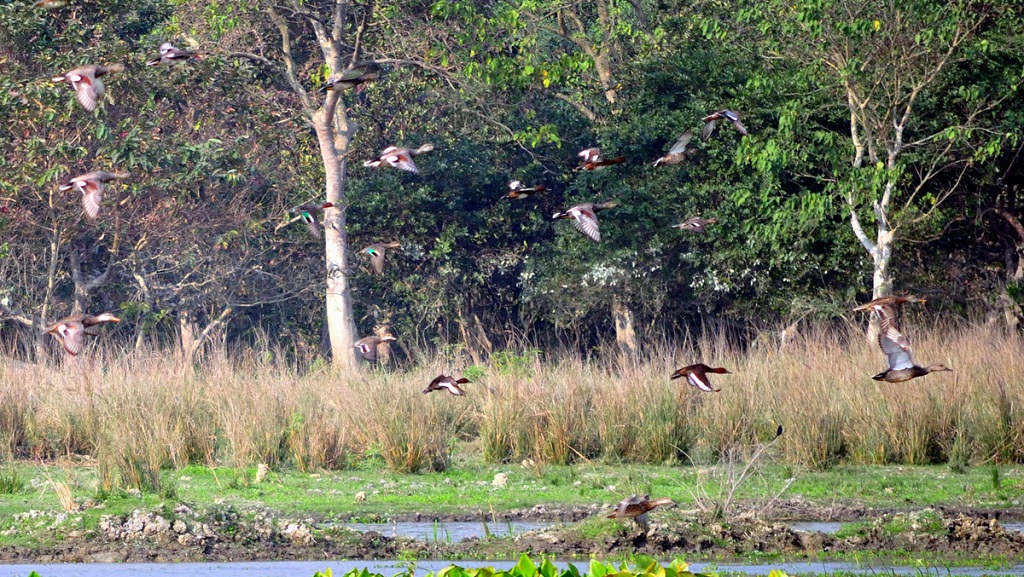 This wildlife sanctuary is home to the one-horned Rhinos. It also has a unique diversity of birds. This place is loved by bird watchers. The Wildlife Sanctuary is on the route to Kaziranga National Park and thus is often visited by tourists on the way.
Distance from Guwahati: 49 kms
Major Attractions – one-horned Rhinoceros
12. Shillong: Most Amazing Places to Visit Near Guwahati
This is one of the most stunning locations near Guwahati and is a great weekend getaway away from the chaos of city life. The ride from Guwahati to Shillong is a picturesque one and you will experience gorgeous landscapes here. All adventure lovers and nature enthusiasts love to visit here. It is also a great culture trail and is loved by the music aficionados as many music concerts are held here. Shillong has many spots to enjoy over the weekend.
Distance from Guwahati: 100 kms
Major Attractions – Sweet Falls, Elephant Falls, Wards Lake, Lady Hydari Park
13. Thimphu
Also known as the heart of Bhutan, Thimphu is the most picturesque city of the Himalayan region. It has many cafes, restaurants, and pubs and is a modern city of Bhutan. The city has great nightlife and has many architectural structures. The Buddha Dordenmais also a highlight of the city. The Textile Museum and Art schools of the city are popular and this makes it a cultural centre. Thimphu has both modernity and tradition
Distance from Guwahati: 450 km
Major Attractions – Textile Museum, Library, Art schools, and the weekend market
14. Darjeeling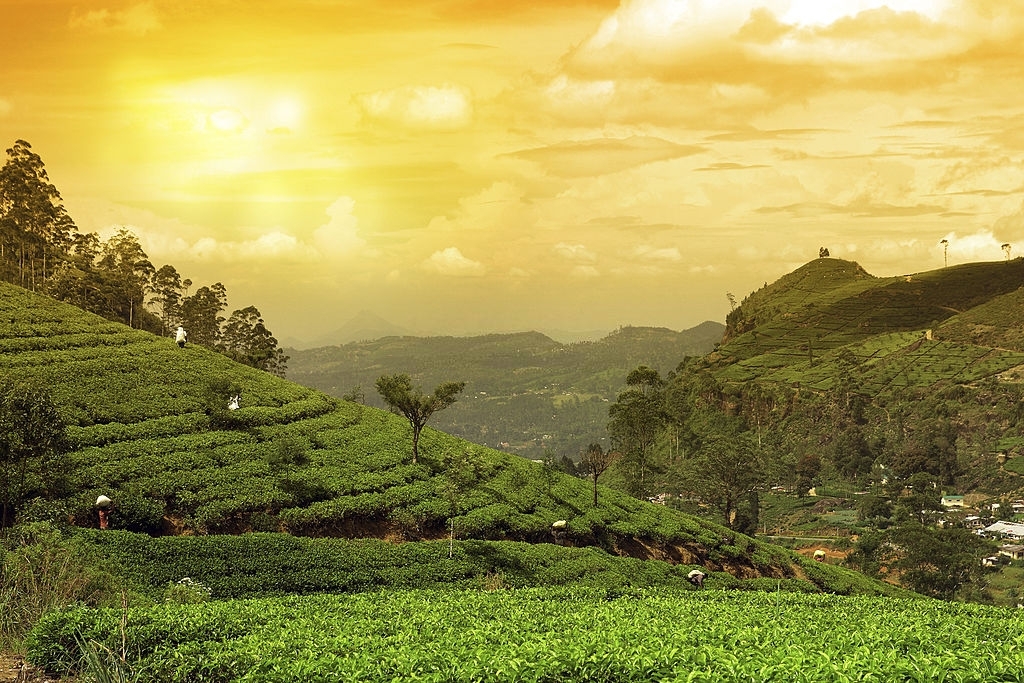 One of the best places to enjoy spectacular sunrises and mind-blowing natural beauty with the serenity of the hills. Darjeeling has long been a popular tourist spot in the eastern part of India. The city is located on a steep mountain ridge and has lush green tea plantations. Darjeeling has a pleasantly cool climate and is a scenic hill station which is a perfect getaway for family outings or romantic outings
Distance from Guwahati: 503 km
Major Attractions – Kanchenjunga Mountain, Tiger Hill, Padmaja Naidu Himalayan Zoological Park, Japanese Peace Pagoda
15. Sela Pass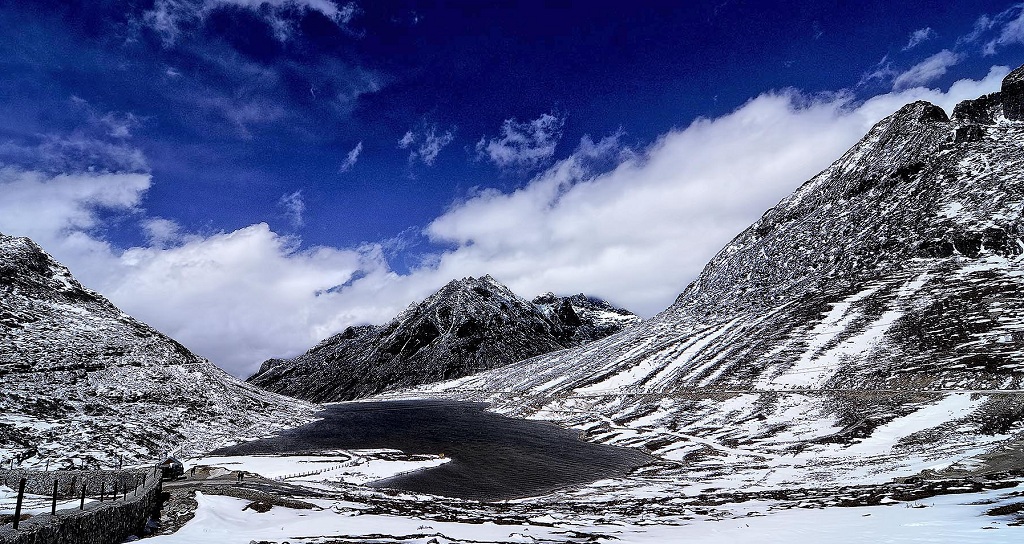 This is a great place to enjoy the Himalayan beauty and this pass is extremely important for Arunachal Pradesh. Sela Pass has a breathtaking beauty and is a stunning spot with lots of natural beauty. It is covered in snow and gives some beautiful views of the Himalayan range.
Distance from Guwahati: 374 km
Major Attractions – Sela Lake
16. Umananda Island
In the heart of the Brahmaputra River, the smallest river island in the world is called Umananda Island. Human settlements coexist harmoniously with the wildlife on this island. Lord Kamdev, also known as Lord of Love, was said to have been turned into ashes here when he interfered with Lord Shiva's meditation.
Distance from Guwahati: 7 km
Time to Pack Bags
With so much places to visit near Guwahati on weekend; you are left with a little time to pack bags and move on for a magical weekend trip with family and friends.
Keep checking this place more such wonderful travel write-ups.