Are you from Pune or planning to visit Pune in near future? Have you already explored nearby places of Pune and looking for more existing weekend getaways near Pune? This article is for you.
We have published articles featuring the best weekend getaways near Ahmedabad & Kolkata and started receiving emails asking for the best places to visit around Pune and Mumbai.
Think of Pune and the beautiful temples, lush green gardens, comfy weather and warm people will come to your mind. This is what Pune is known for. Visit Pune and you ought to lose your heart here. You can never go wrong for outings when you are in Pune. With breathtaking hill stations, spell bound forts, mesmerizing beaches; it is a visual treat for sure. Here we go!
Best Places to Visit Near Pune for a Weekend Trip
Forts near Pune
As I already visited Pune a few years back, it helped me to compile information from the places I have explored. Mostly, this article will focus on public places easily accessible from Pune for 1 day or two-day trip. You will find the places best for trekking, hiking, adventure sports, and forts. You can choose the one that best suited your requirement to plan a short trip from Pune.
1. Shivneri Fort – A Hill Fort near Pune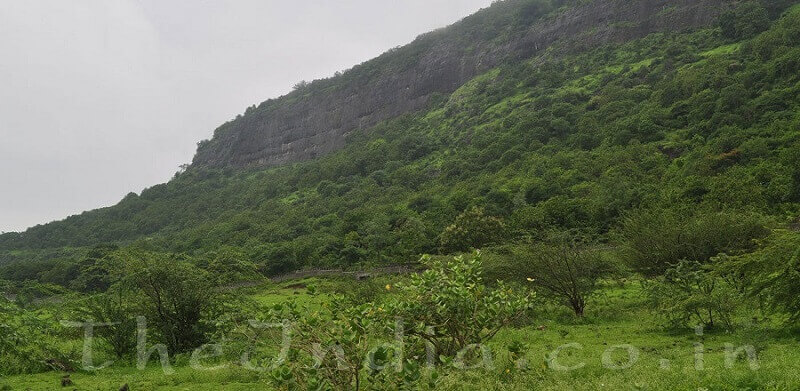 If you are looking for 1 day trip near Pune then Shivneri fort would be the best place for it. Known as the birthplace of Shivaji Raje, the fort is triangular in shape which is very unusual from the usual forts. A 17thcentury old fort built in Junnar has much to offer. The architecture of this fort makes it worth a visit. This fort has 7 doors namely –
Hatti (elephant) Darwaza,
Kulambkat Darwaza,
Maha (great) Darwaza,
Parvangicha Darwaza
Peer Darwaza,
Phatak (door) Darwaza,
Shipai (soldier) Darwaza,
Things to Do
Shivneri Fort is a famous hiking spot near Pune that can give you the best hiking experience. Standing in the middle, you can capture the magnificent forts of Narayangad and Harishchandragad. Further from Shivneri Fort, there are few dams which you cannot give a miss are Manikdoh, Pimpalgao, Yedgao, and Vadaj.
Distance from Pune: 94 km
2. Rajmachi Fort – Trekking Place near Pune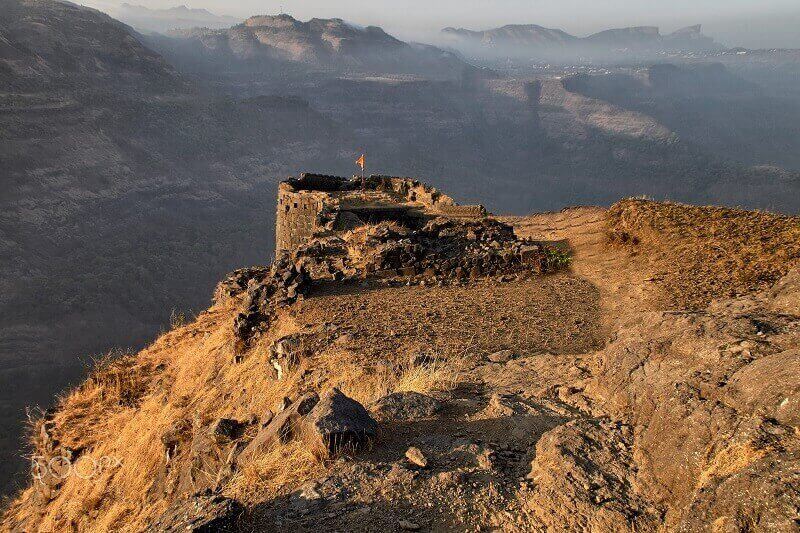 If you love trekking, you ought to love this place. Rajmachi fort is situated in the Sahyadri Mountains, stands Rajmachi with its head high. It is one of the picturesque places for nature lovers and one of the best places to visit near Pune within 200 km. You shall find clouds dropping onto you. The weather remains pleasant throughout the year.
There are pastures that keep this place so bountiful. Rajmachi has two stronghold forts namely ShriwardhanBallekilla and Manaranajan Balekilla. This fort has some great water reservoirs to see.
Distance from Pune: 168 km if you take NH48
Things to do
Trekking and outdoor camping for sure. You can pay a visit to the temples of Kalbhairav and Jogeshwari. Not to forget to take a tour of the Shriwardhan and Manaranajan Forts as well.
3. Sinhagad Fort – Best Place for Day Trip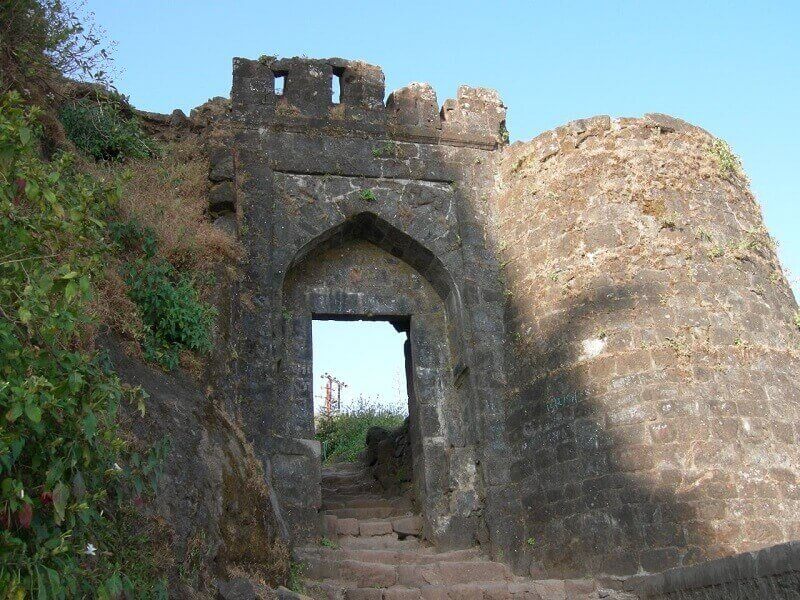 Built 2000 years back, the fort has two gates to enter: at the south-west lies the Kalyan Darwaza and to the north-east end lays the Pune Darwaza. At the Bhuleshwar Range of the Sahyadri Mountains is the fort of Sinhagad, which essentially means Lions Fort.
This fort is one of the popular tourist places to visit near Pune within 50 km and an ideal for one day trip near Pune. The main purpose of this fort was to provide natural protection. This fort has witnessed many battles. Today there are shacks made serving you hot PitlaBhakri, Bhajji, and cold Yogurt. A thing you cannot give a miss.
Things to do
Apart from trekking, do not forget to click the carvings of Kaundinyeshwar Temple which stands strong for the last 2000 years. You can also visit the ISKCON NVCC temple 16 km. from this place. Katraj Jain temple is 14 km. away from Singhagadh, Khadakwasla Dam is merely 8 km. Down the hill; for kids, Rajiv Gandhi Zoological Park is 15 km. away.
Distance from Pune: 37 km
4. Rajgad Fort – A Beautiful Trekking Place in Maharashtra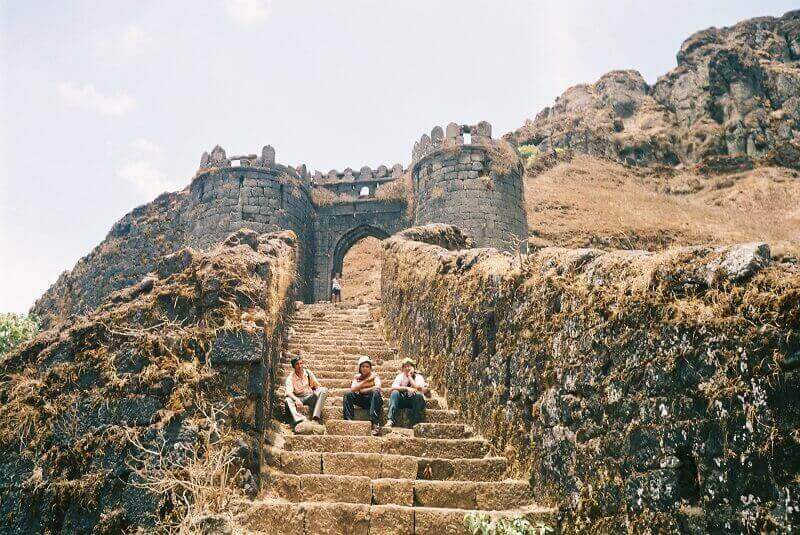 The historic Rajgad fort has seen it all from conquering the fort by Shivaji Raje or inspection of the idol Bhavanimata by Jijabai, Rajghad holds a strong history. The Royal fort (Rajghad) was built on Murumba Devi Dungar (mountains).
The fort was built with the treasure found from the nearby forts. Today one could see the water reservoirs, caves, and remnants of palaces. It is this place, where Shivaji Raje said to have spent most of his time.
Things to Do
It is an absolute pleasure to do trekking here. You could visit Torna Fort too. It is 15 km. away from Rajgad Fort.
Distance from Pune: 58 km
5. Raigad Fort – Majestic Fort in Maharashtra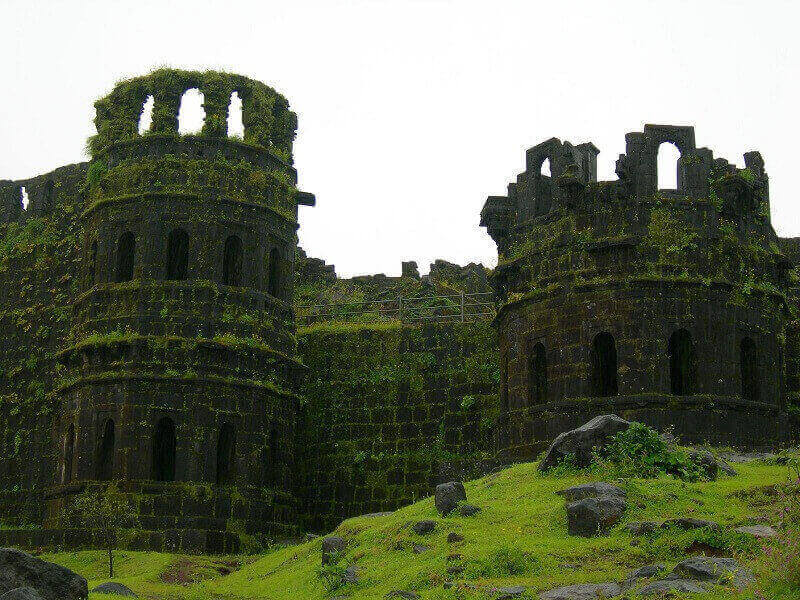 This is one of the most important forts during Marathas time. Positioned in the Raigad district of Maharashtra, this is the king of all forts. Shivaji Raje was crowned here as the Raje of the Maratha Kingdom. You will see a huge statue of Shivaji Raje showcasing his charismatic charm.
Things to see
The Samadhi of Shivaji Raje has been kept intact which is worth praise. Other places to visit are Raj Sabha, Holi Cha Mal. The Balekilla fort offers a majestic view of the Sahyadris.
The Rameshwar Mandir, Wagh Darwaja are other places to have a stopover at. Ganga Sagar Lake, a significant water reservoir for the fort. Come what may don't forget to enjoy the ropeway experience.
Distance from Pune: 131 kms.
Hill Stations near Pune
6. Panchgani – Best Hill Station near Pune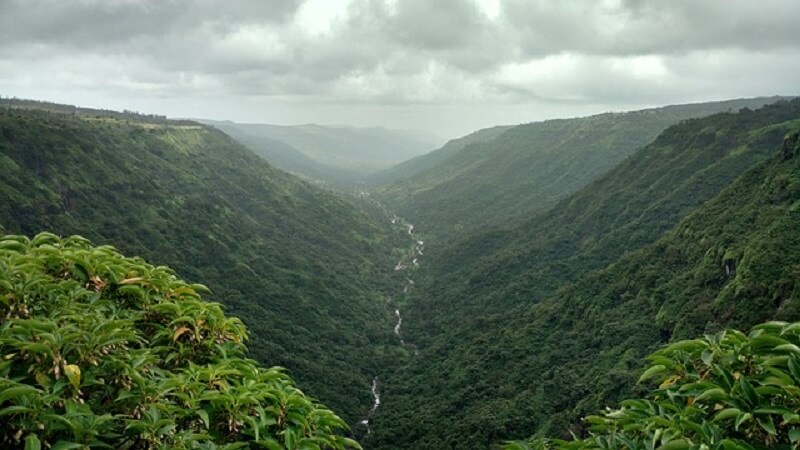 Panchgani is a place to fall in love with. It has a beautiful view as it is located between the five hills of Sahyadri Mountains. The Krishna Valley attracts many. It has remained a holiday destination for many newly married couples. True enthusiasts and nature lovers find this place extremely good. It holds many educational centers.
Things To Do
Must visit places are table land hosting a range, Mapro Garden (not to forget to buy your organic strawberries), Parsi Point. Panchgani has many advanced forms of paragliding, and experience to this is a thrill.
Distance from Pune: 98 km
7. Lonavala – Popular Hill Station in Maharashtra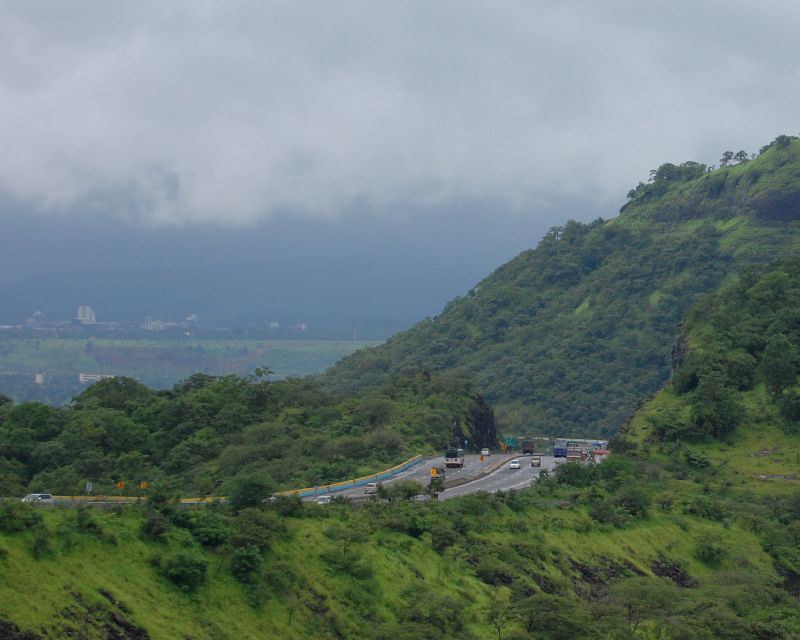 Think of Pune; Lonavala ought to be in your minds. This is the nearest destination that you could visit and one of the popular tourist places to visit near Pune within 100 km. It is a hill station surrounded by a lush green valley all around.
This is a place you can go to any time of the year. The summers are pleasant, winters are chill and monsoons are extravagant. Lonavala offers various points to go at and witness the beauty of nature.
Things to do
Visit Bhushi Dam, Tiger's Leap ( a point you cannot miss), Amrutanjan point to get the panoramic view of the town Khopoli, Duke's Nose Point, Sausages Hill, and Tungarli Lake. The Celebrity Wax Museum attracts many tourists. Trekking is a good way of exploring the place.
Visit the Ryewood Park, Botanical Park for kids to play in natural surroundings with tall trees and a clean environment. It is a picnic spot for many.
Distance from Pune: 65 kms.
8. Matheran – Smallest Hill Station in India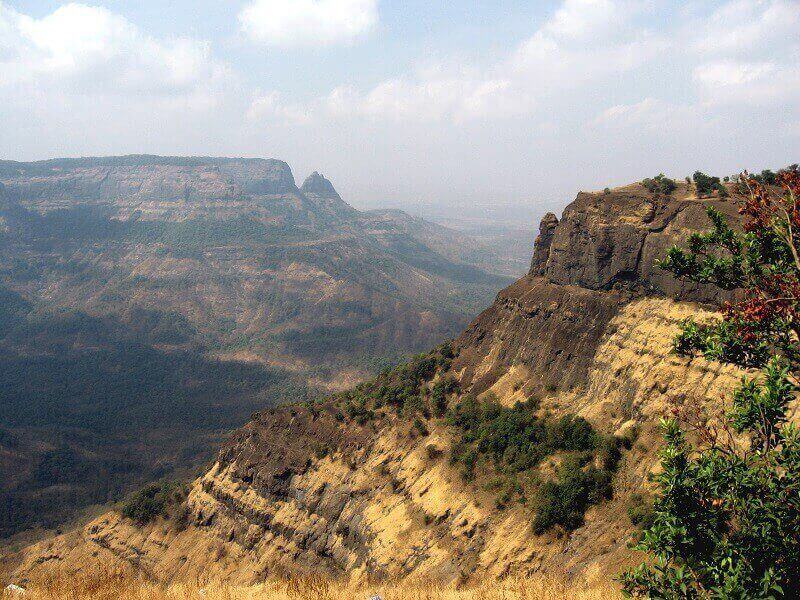 This beautiful place is located in the district of Raigad of Maharashtra. You could visit this place any time of the year. The government has stated Matheran as an 'Eco-Sensitive Region'. This is why you cannot take any kind of vehicles inside the town. So basically, if you are looking for peace of mind, this is the place. There are a bulk of points to visit, lakes to adore and temples to get solace at.
Things to do
Visit the points such as the Echo point, Alexander point, Khandala Point, Rambaug Point, Chowk Point, porcupine point, monkey point, Garbutt point, hart point. It will be interesting to know that each point offers to keep you mesmerized with their spectacular view. Charlotte lake, Panther's caves, paymaster park are other places you must make it to.
Distance from Pune: 120 km
9. Mahabaleshwar – Beautiful Hill Station near Pune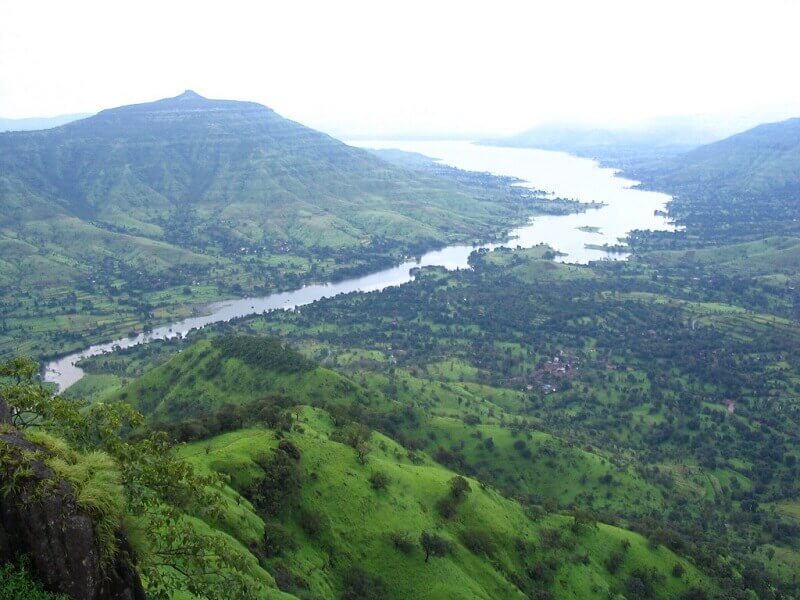 Mahabaleshwar is a place of sheer joy and relaxation. It is one of the famous hill stations near Pune which you can visit at any time of the year. Surrounded by forests of the Western Ghats, features many destination points to visit. If you are looking for a weekend trip or even 3-4 days of the trip, Mahabaleshwar hill station is one of the best places to visit near Pune or Mumbai.
Things to Do
Points such as Arthur's Seat a picture-perfect view. Pratapgad Fort has historical importance. Enjoys the Lingmala Waterfall and take a boat ride on the Venna Lake. Points such as Monkey, Carnac, Falkland, Helen Elphinstone, Marjorie, and Babington are such places to visit.
Distance from Pune: 117 km
10. Lavasa – One of the Largest Hill Cities in India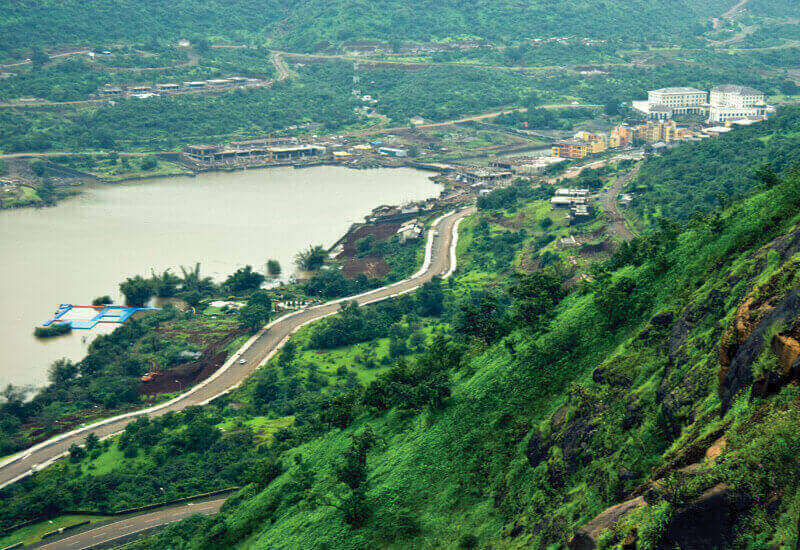 Based on the Italian town of Portofino, this planned city of Pune calls for a visit for sure. Placed in the Western Ghats of Maharashtra, it has all the scenic and natural beauty that it deserves.
Things to do
Sightseeing and enjoying the planned architecture of the city.
Distance from Pune: 57 km
11. Kamshet – One-Day Picnic Spot Near Pune
Based 2200 ft. above sea level, you can see Kamshet with green pasture all-around. The hilly landscapes, lakes make it all so dreamy. Kamshet is covered around with ancient cave temples. This is why it has a number of visitors all through the year. It is famous for its paragliding activities.
Things to Do
Trek up towards the Tower Hill. Take a glance at the Shelar cliff. The Kondeshwar Cliff is equally amazing. Besides, Bhandar Dongar(hill) is one of the must-visit lists. The Bhairi Caves and the Kondeshwar Temple to end your perfect holiday at Kamshet.
Distance from Pune: 49 km
Beaches near Pune
12. Velas Beach – One of the Best Beaches in Ratnagiri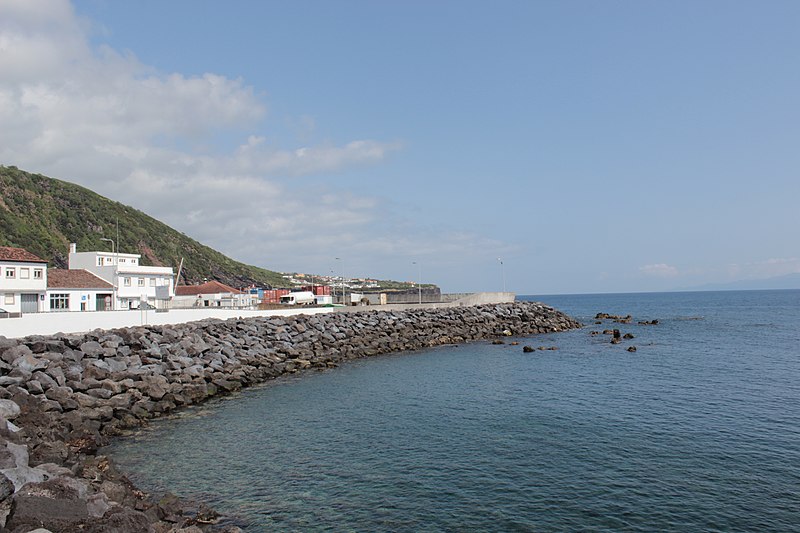 A Velas beach par excellence situated in the Ratnagiri district of Maharashtra. Velas beach is one of the best places to visit near Pune within 200 km and it comes in the well -kept natural beaches. It is amazing to see how locals cultivate turtles and this is the reason, Velas is also called the turtles' paradise. Olive Ridley turtles can be seen in abundance.
These turtles are conserved by an NGO named Sahyadri Nisarg Mitra. It is a clean atmosphere where breathing in the fresh air will only rejuvenate you. Meanwhile, the Konkani cuisines are going to keep your taste buds watering.
Things to do
You could visit the Bankot Fort and the Hari Hareshwar temple. Enjoying the sight of a baby turtle from the egg is a priceless moment to be captured. Kindly inquire before you go to see the turtle as there is a fixed season for it.
Distance from Pune: 158 km
13. Harihareshwar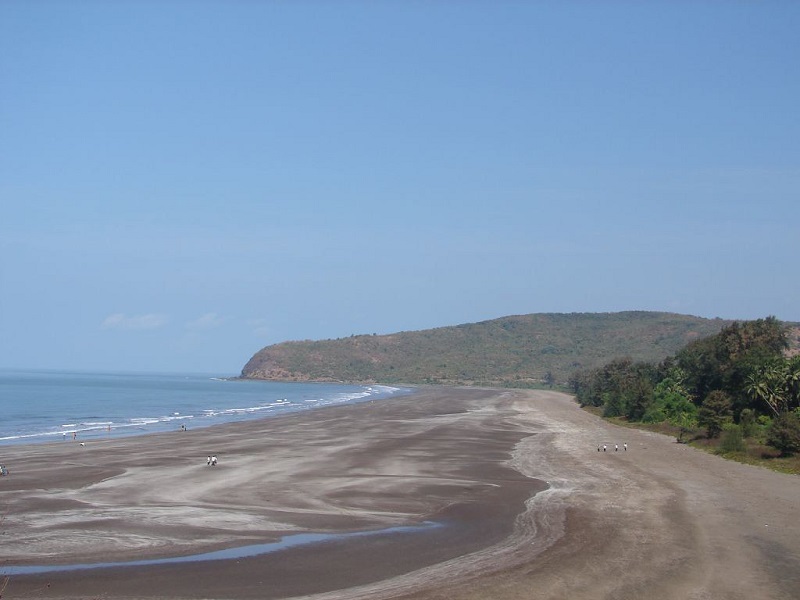 You won't believe it till you have an experience at this place. Surrounded by three hills of Harihareshwar, Harshinachal, and Puspadri, Harihareshwar has the best of nature.
You can enjoy nature to the fullest when you plan a trip to Harihareshwar from Pune. Here I recommend doing a 2-day trip at least to explore the place and surrounding.
Things to Do
Do visit Harihareshwar Beach, Diveagar Beach, Srivardhan beach, and the Kalbhairav Temple. Ganesh cully (a narrow road between two mountains) is quite a thrill.
Distance from Pune: 171 km
Temples near Pune
14 Bhimashankar Temple – One of the 12 Jyotirlingas of Shiva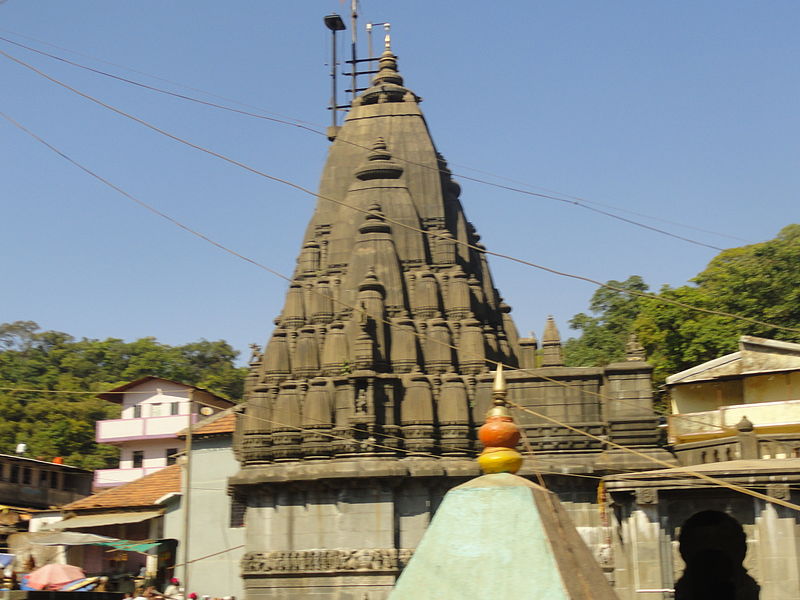 It is a pious place with one among the twelve 'Jyotirlinga' of Lord Shiva. Nestled at the Sahyadri range in the village of Bhorigiri, it is surrounded by hills. The weather is fairly good throughout the year. If you are looking for a pilgrimage near Pune, Bhimshankar jyotirlinga is the place you can explore.
Things to Do
After seeking blessings from the Bhīma Shankar Temple, trekking is a favorite sport amongst tourists. There is a Bhīma Shankar Wildlife sanctuary for the kids to feel happy about. The Hanuman Lake will keep you aghast with the natural view, the birds chirping and the squirrels playing.
Distance from Pune: 105 km.
15. Neelkantheshwar Temple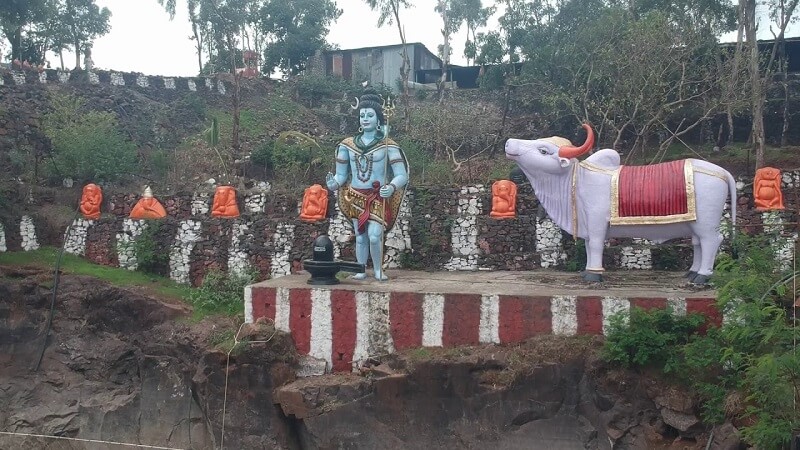 Neelkantheshwar Temple is one of the popular tourist places to visit near Pune within 50 km. It is a beautiful and least discussed place to visit near Pune. You can see the number of sculptures from the mythology of India and enjoy the serene view from the top of Neelkantheshwar Temple. You can visit this temple from either side of the Kadhakwasla Dam from Pune:
Route 1: During this route, the Kadhakwasla Dam dam will be on your left side and you can enjoy the beautiful waterfalls during monsoon season. This route includes (Swargate – Anand Nagar – Khadakwasla Village – Kudje – Mandvi – Jambhali – Neelkantheshwar Road – Temple and will take around 50KM
Route 2: This is another route from a different side of the Kadhakwasla dam and will give you a closer look at the dam and Khadakwasla Chaupati road. Route includes (Swargate – Anand Nagar – Khadakwasla Village – Sinhagad Road – Khanapur – Sonapur – Velhe Panshet Road – Cross Mutha River by Bridge – Neelkantheshwar Road – Jambhali – Temple) and will take around 60 KM
Caves near Pune
16. Bedse Caves – One of the Unexplored Places near Pune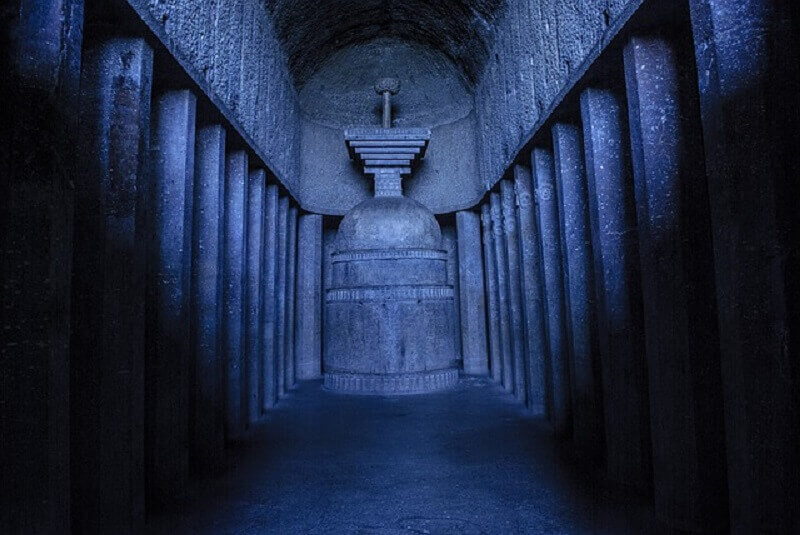 Bedse caves is a much lesser-known holiday destination near Pune, but whoever has gone, has recommended this place. This cave exists ever since the 1st century. The Bedse Caves comprise two main caves: Chaitya and Vihara. The carvings inside are a fantastic work of art.
The early morning scene at the caves is splendid as both the caves face eastwards. Situated in the Maval Taluka of the Pune district, the lush green view during the monsoons ought to make it your favorite holiday spot. There are many small waterfalls that you could experience.
Things To Do
A good place for hiking. Apart from that, the forts adjoining the Bedse areas are Lohagad, Visapur, Tung, and Tikona. The Pawana Dam is quite a sight to be there at.
Distance from Pune: 55 km
17. Karla Caves and Bhaja Caves – Famous Monument in Maharashtra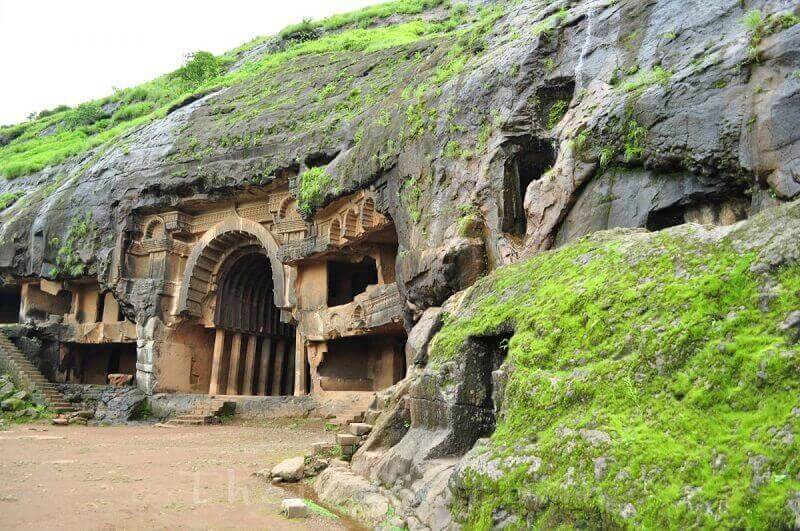 The Karla caves and Bhaje Caves have a lot of Buddhist affiliation. Situated near the hill station of Lonavala, the caves remain an ancient trade avenue from the Arabian Sea to the Deccan Plateau. The Bhaja cave temple is safeguarded and is regarded as a National Monument.
The inscriptions are worth paying heed to. None of the caves are complete with Stupas, Chaitygarha is one of its kind. You will find this influential Stupa at Cave no.12. It is huge and magnificent. The caves are rock-cut chambers near the valley of River Indrayani.
The Karla caves have some enormous rock cut prayer halls measuring somewhere around 148 ft. in length and 46 ft.in breadth. The sculpturing includes men and women with a combination of animals like lions and elephants. The caves have homes for monks as well. It is probably the only style of carving through wooden architecture that can be seen here.
Things to do
The tour is very imprecating. There is also a temple outside Karla caves. You can climb the Bhaja cave which is around 20 minutes from the base of the mini bazaar hill. There are other stupas that are equally interesting to watch. You can do photography of Stupas and caves around.
Distance from Pune: 60 km via NH 48
Tourist Places to Visit near Pune within 200 km
18. Kaas Plateau – Valley of Flowers in Maharashtra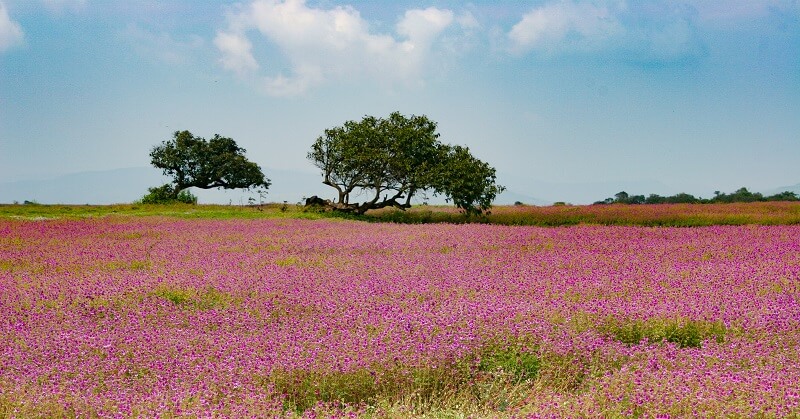 Situated to the west of Satara city in Maharashtra, this royal Kaas Plateau is a part of UNESCO – A world Natural Heritage site. This place is beyond beautiful. It is here where true nature exists.
With blossomed wildflowers and butterflies around, Kaas plateau is a magnificent experience. Kaas Sadas, Kaas Pathar, or Kaas Plateau, as you may call it, has more than 850 species of flowering plants including orchids to shrubs to carnivorous plants as well. Only 3000 tourists are allowed to visit a day to protect the sanity of the place.
Things to Do
You may visit Kaas Lake which is ringed with dense forests. Not to forget to witness one of India's highest waterfall the Vajrai Waterfall. You can also do the Bike trip to Kaas plateau from Pune to experience the serenity en-route.
Distance from Pune: 132 km
19. Koyna Wildlife Sanctuary – Popular Wildlife Sanctuary near Pune
Natural World Heritage site is our very own Koyna Wildlife Sanctuary. With dense forests comprising of Vasota Maharkhor and Indavali Met, there is some exquisite flora around.
It is a visual treat to the eyes to see Bengal Tigers, Indian Leopards, Indian Bison, Sloth Bears, Sambhar Deer, and Gray Langurs. You must carry your binoculars to spot the Woodpeckers, the Asian fairy Bluebird, Crested Goshawk, and more.
Things to Do
You may also visit Chandoli National Park and Radhanagari Wildlife Sanctuary which is connected by a forested corridor of Koyna Sanctuary. Not to forget to visit Koyna Reservoir, 11 km away from the Koyna wildlife sanctuary.
Distance from Pune– 143 km
20. Imagica – Adventure Park near Pune
Imagica is located near Lonavala. The stunning sights of India never looked so beautiful! We will soar like a bird above the gorgeous landscapes; so buckle up as the ride elevates you to amazing heights.
This spectacular film, shot from a helicopter, is displayed on a 90 feet wide screen. The only way to fly!
Make your weekends from wonderful to awesome!