There was a time when hardcore adventure sports like skydiving were considered dangerous and impractical. A civilian jumping out of a flying aircraft has since then been accepted by more and more adventure enthusiasts as a sport that raises adrenaline levels. The sport can be enjoyed by everyone with proper training. If you take the right kind of training then skydiving can be both safe as well as thrilling. The hard-core skydiving enthusiasts like to indulge in this adventure sport regularly.
This Adventure sport has gained a lot of popularity lately through movies and social media shares. Although, India has a couple of safe and certified skydiving destinations with good instructors and proper equipment infrastructure yet the major skydiving destinations that are considered by civilians are out of India. Apart from sky diving in India travelers can enjoy other adventure activities such as Scuba Diving & Paragliding in India.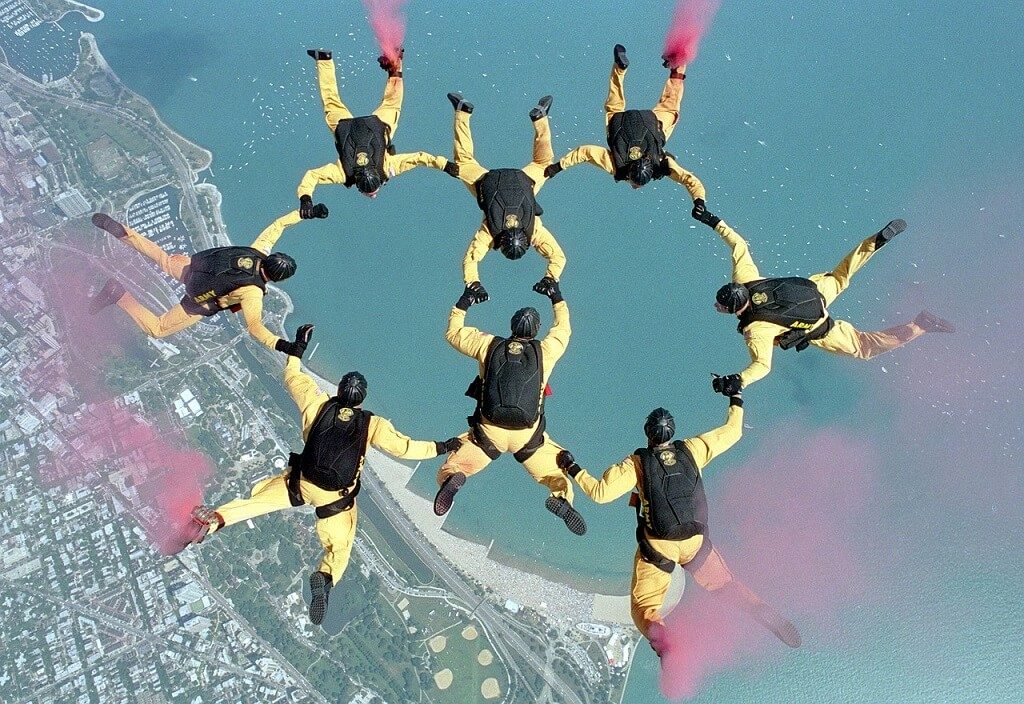 As most skydivers are unaware of the major skydiving destinations in India, they have questions in their minds that "Where can we do skydiving in India?" , "Where is Skydiving in India?". So most Skydivers avoid Skydiving in India. As a result, they prefer destinations for skydiving outside India. Countries like the USA, New Zealand, Spain and Africa are still considered the chief skydiving destinations with world-class equipment and facilities. Most people through word of mouth go to these places for indulging in adventure sport. But very few skydivers have awareness about the major skydiving destinations in India.
Several Types of Jumping
1) Tandem Jump
Tandem skydiving is the best choice for first-timers. In this jump, you will be attached to an experienced instructor and they operator the equipment and do the maneuver. These skydivers are essentially students and they do nothing except playing a part in the sport. The passengers are trained about the position to exit and the correct posture to make and lifting their legs up. This is a good way to experience skydiving with a safe and experienced diver. All the passenger does is enjoy the experience.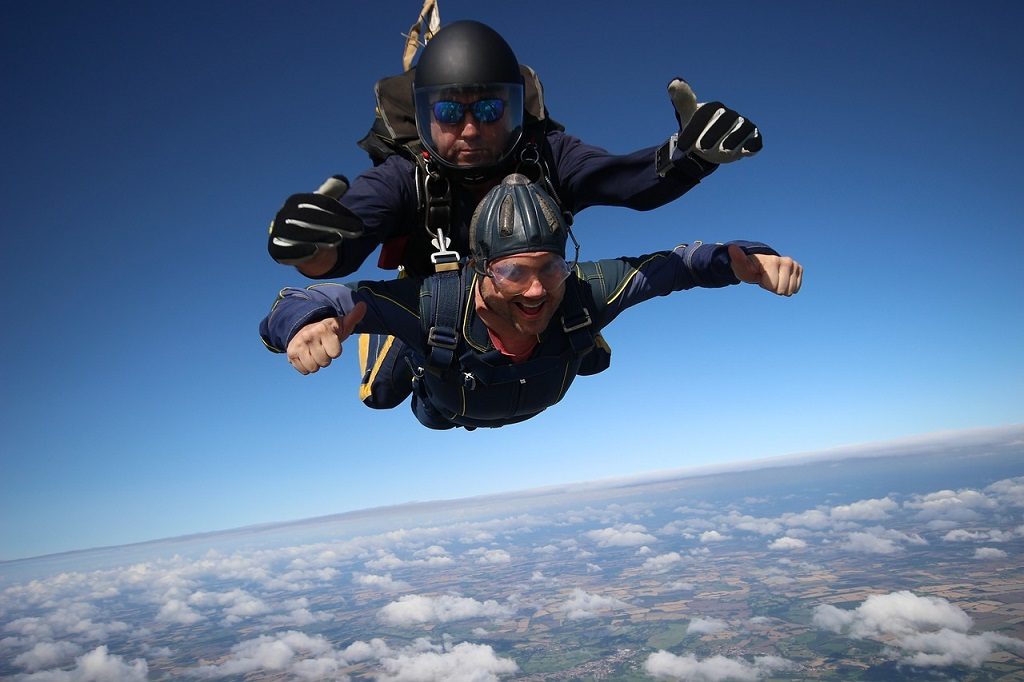 2) Static Line Jump
This type of skydiving requires a day of training and it is done solo. The jump is done from 4000 ft above ground and it is called static line jump as the parachute opens by static-line attached to aircraft. So technically there is no freefall. The skydiving is done by you alone but there is a supervisor who looks after the exit and later descents. This is an ideal group activity and s a great way for adventure enthusiasts to expand their horizons.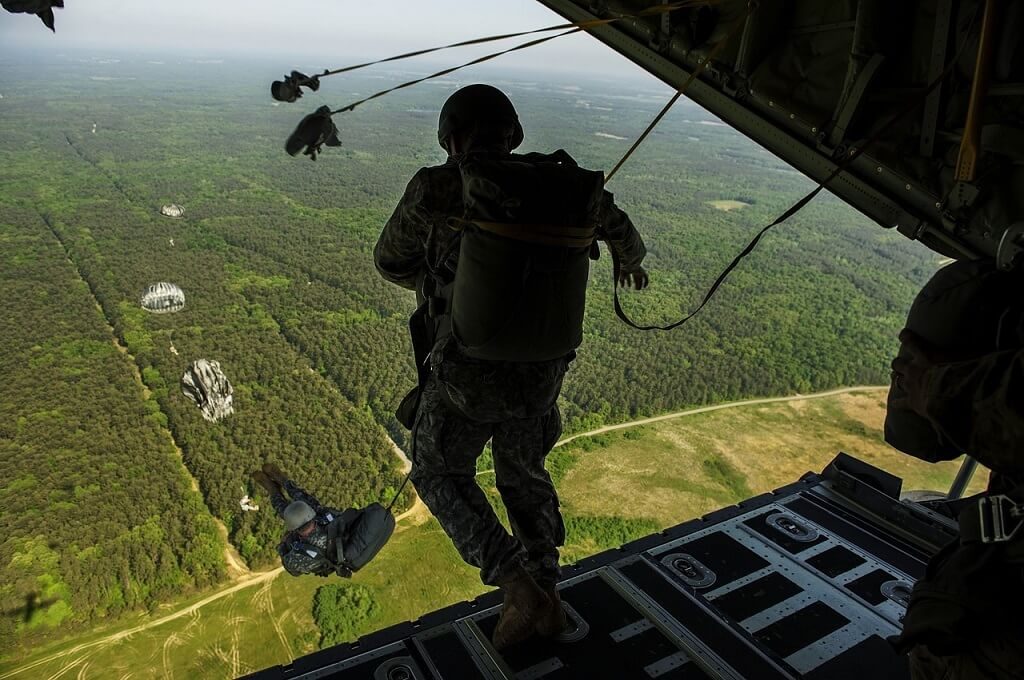 3) Accelerated Free Fall – Feel The Feeling of Free Fall
This is the ideal type of jump that is best to teach new skydivers. It is an efficient way to learn and you need the training to understand how to fly your body and use the parachute to go back to the ground. The ground training equips the riders what all contingencies. There are instructors who help you jump but they will hold you first and slowly leave you on your own. Post certain jumps, the rider gets a license.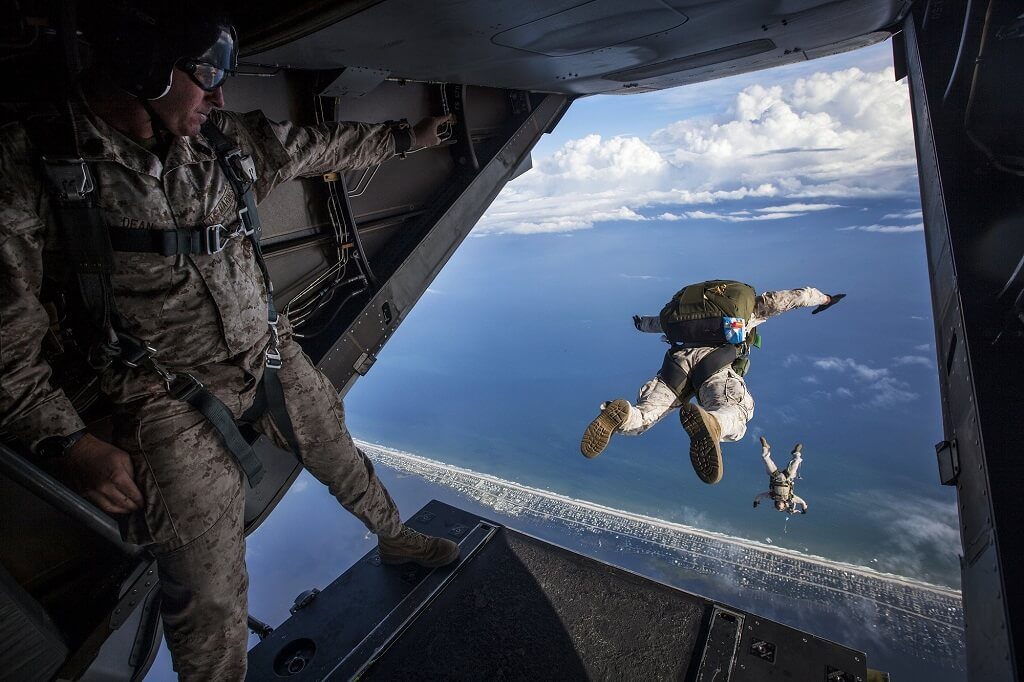 Top 8 Places For Skydiving in India
1) Mysore, Karnataka – One of The Best Places to Skydive
One of the best destinations for skydiving in India, Mysore has recently gained popularity due to its closeness to the biggest metro city of Karnataka, Bangalore. Due to the many professional camps in the region, these skydiving camps provide options for tandem jumps, accelerated free falls and static line jumps. Their team provides professional training for a few days before the dive. Mysore ensures the best views and is a great place to enjoy the safe and professional experience to get the adrenaline rush.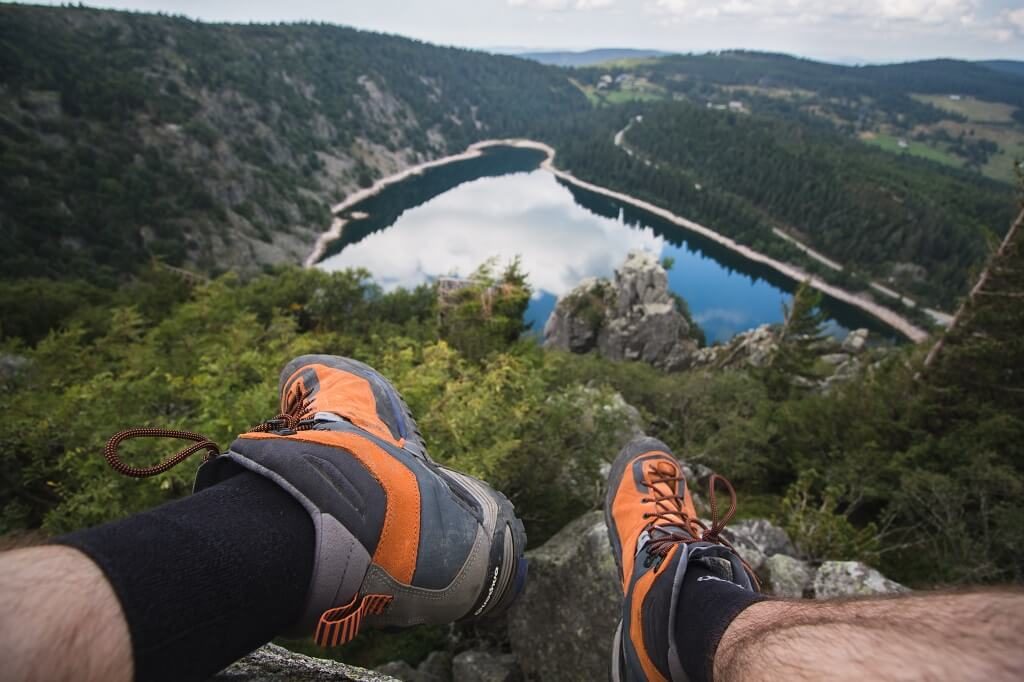 The cost of skydiving in Mysore ranges from Rs. 35,000 to Rs. 42,000.
2) Deesa, Gujarat
Deesa is a gorgeous city close to Ahmadabad in Gujarat. It is located on the lakeside and is one of the popular destinations for skydiving. The place gives a lot of thrill and has favorable weather for enjoying the sport. This place is good for both the beginner level diver as well as experienced ones. The adventure freaks get the most fun from their skydiving experience in the region. This region has a drop-zone that is certified and is among the top 8 skydiving destinations. Many skydiving camps are organized by the Indian Parachuting Federation and the Sports Authority of Gujarat. Deesa can be reached by taxis or buses from Ahmadabad (140 km).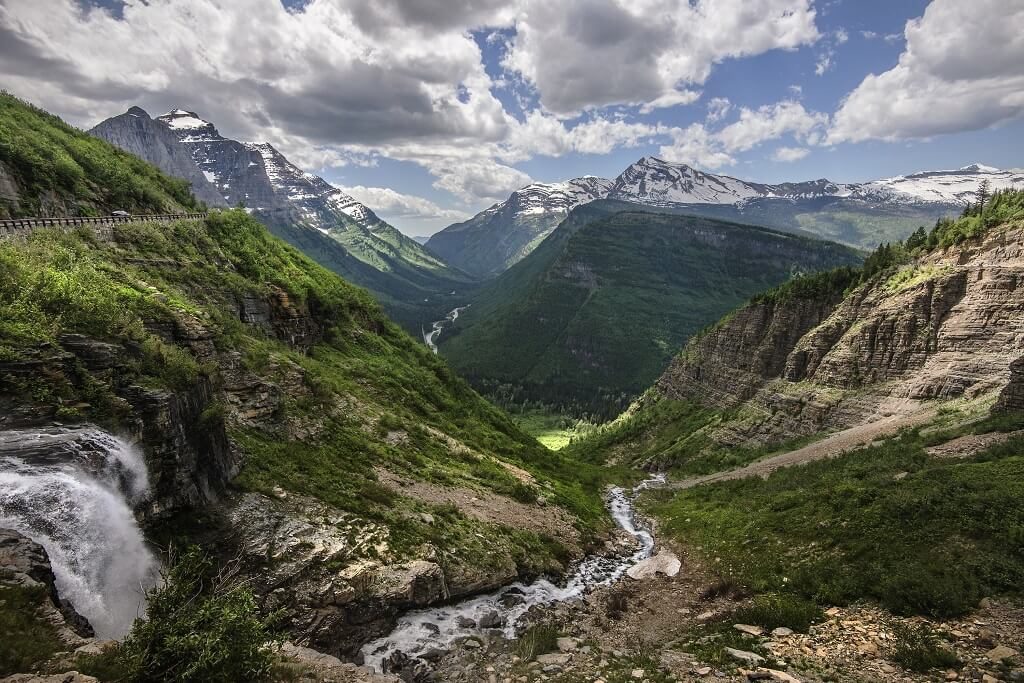 The cost of skydiving in Gujarat ranges from Rs 20000 to Rs 40000
3) Pondicherry, Tamil Nadu: Paris of the east
Pondicherry is a stunning town in the state of Tamil Nadu with a strong influence of French culture. It is a popular skydiving location and is loved by adventure sports seekers who visit here. Many skydiving camps have been organized in Pondicherry and they offer tandem jumps as well as static line jumps. The experience of skydiving in the region is exhilarating. Pondicherry can be reached from both Hyderabad and Bangalore through flights.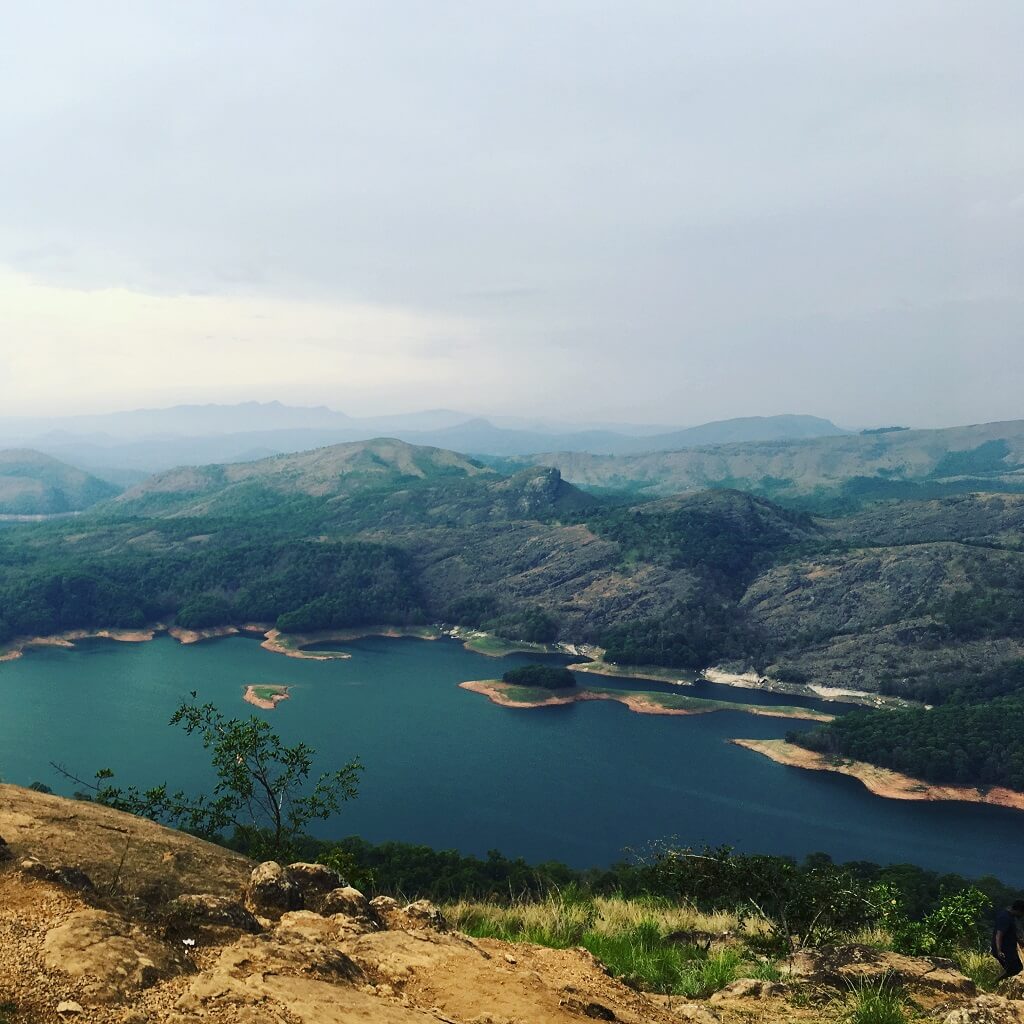 The cost of static jumps and Skydiving in Pondicherry is Rs 18,000 to Rs. 62,000.
4) Aamby Valley, Maharashtra
The Aamby Valley region near Pune is popular for a great skydiving fall and is a must-visit for an adventure lover. There is a breathtaking landscape in the region and it is Aamby Valley is worth experiencing. The 10,000 feet jump is a memorable skydiving experience. Aamby Valley is reachable from Mumbai airport, located at a distance of 130 km from Mumbai.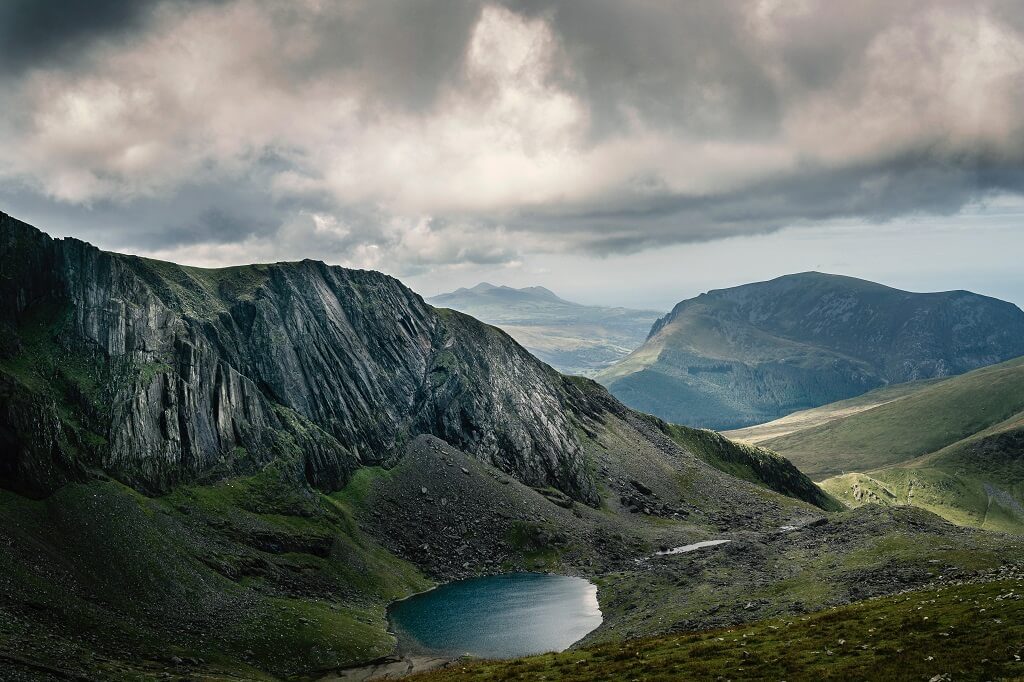 The cost of skydiving in Aamby Valley ranges from Rs 30000 to Rs 40000
5) Dhana, Madhya Pradesh
The Dhana region in Madhya Pradesh offers tandem and static line jump and tandem jump. The small town near Bhopal has been a popular lace for skydiving enthusiasts and is a very picturesque beauty with proper resources and equipment for skydiving lovers. The fall can be experienced from a height of 4000 feet. Many skydiving camps are organized in this region and many adventure seekers participate in these camps. This town can be reached from Bhopal or Jabalpur through road,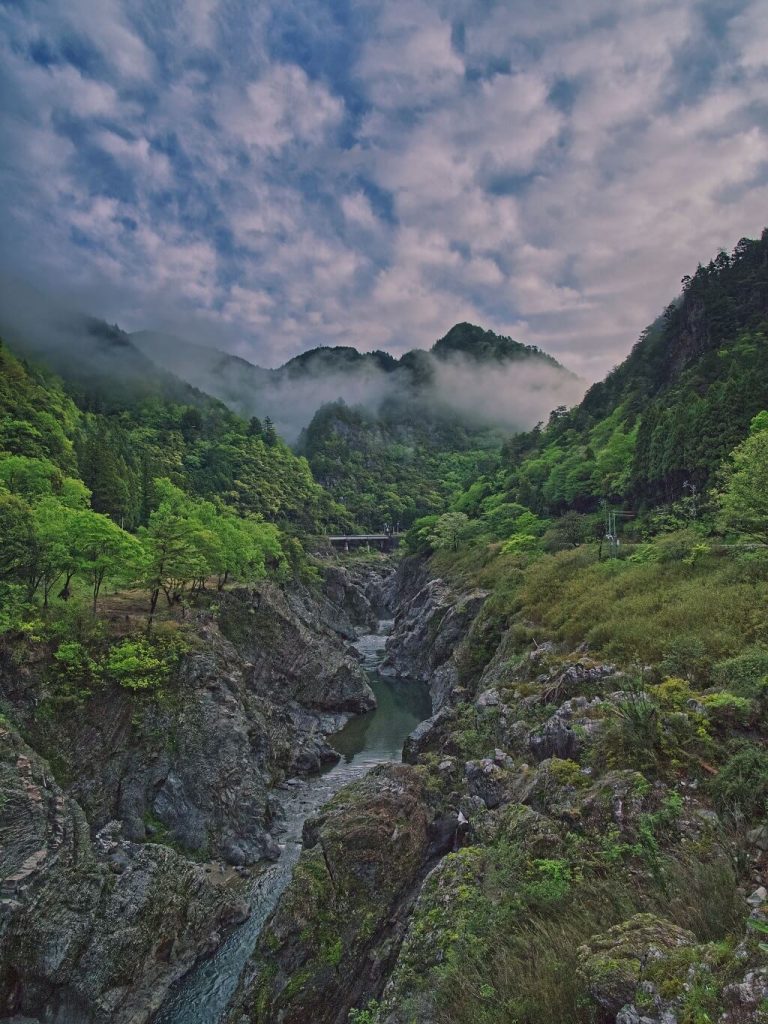 The cost of skydiving in Dhana ranges from Rs 15000 to Rs. 40000.
6) Hyderabad, Telangana
If you're an adventure junky and wish to travel skydiving in India, then Nagarjuna Sagar Airport, Hyderabad is essentially the only and best place. Here you will get many choices of trying Tandem Skydiving additionally to Static Jumps Skydiving. Licensed by the US Parachute Association, the experienced trainers will meticulously prepare you during the 3-day training before you get the go-ahead to need the last word dive.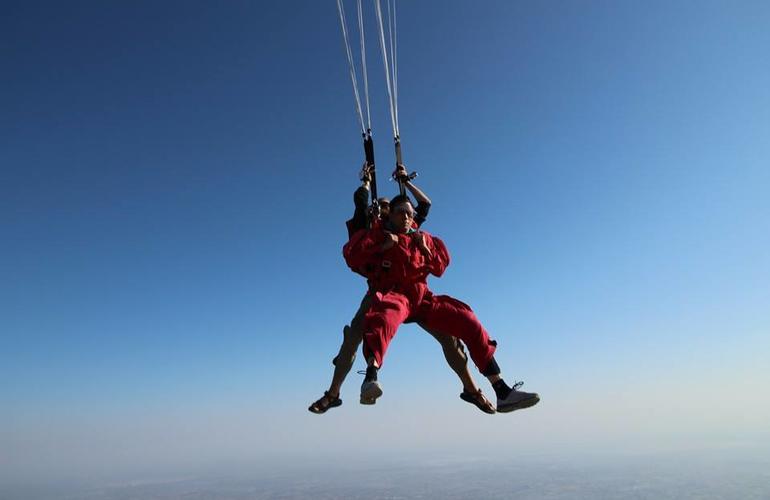 The cost of Skydiving in Telangana is Rs 19,500
7) Aligarh, Uttar Pradesh
Skydiving is often mind-boggling for a few and a lifetime experience for others. The Aligarh skydiving is basically the foremost incredible place that is prepared to impress you with its fantastic skydiving. Skydiving in Aligarh gathers attention which offers a tandem jump. This place is sweet for both the beginner levels of divers also because of the experienced ones. The jump is out there in two slots available at the airstrip of which one starts within the morning from 10 am to 12 pm, whereas the opposite one starts from 1 pm to five pm.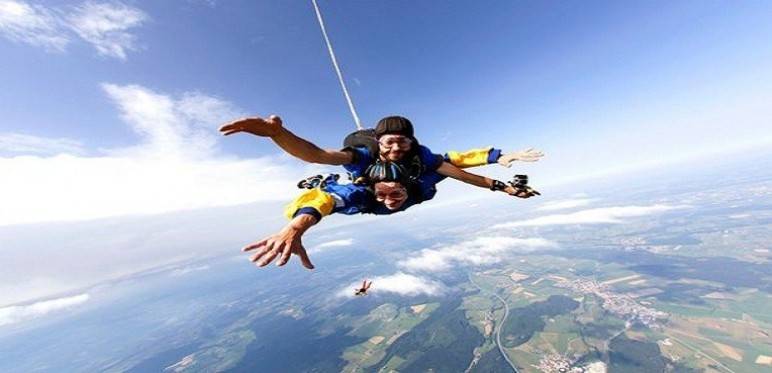 The cost of Skydiving for Tandem Jump is Rs 27025 and for other Jump is Rs 31625
8) Narnaul, Haryana
Narnaul, Haryana is developing as a popular objective among individuals that like to experience sports like skydiving. This game has been started by the Haryana Government to showcase the experience the travel industry inside the state. Skydiving here is among the least complex exercises that bring thrill-seekers from all over. This is regularly additionally the opportune spot to settle on a choice among skydiving and paragliding.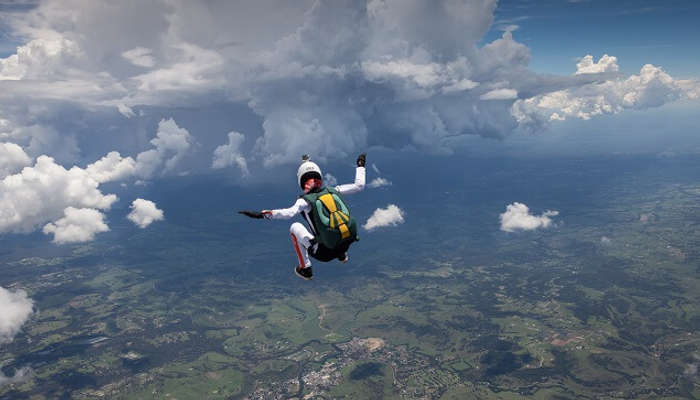 The cost of Skydiving for Static Line Jumps is Rs 18,500 and for Tandem Jumps is Rs 27500
Dive Now
Now, that you are all packed with information about skydiving and skydiving camps in India; plan your first or whichever it may be skydive now and get the thrilling experience for at least just ones in your life.
FAQs about Skydiving places in India
Is it safe to try Skydiving in the current pandemic?
Yes, No doubt it is perfectly safe to visit these places but recommended to take full precautionary measures and use sanitizer and put mask because this virus is spreading through the air.
Is Skydiving available in India?
Yes, Skydiving is available in India. If you want to enjoy this adventure skydiving activity in India then you can visit several places in India for this experience.
How much does it cost to Skydive in India?
The cost of Skydiving in India varies depending on the place and the service provider. The cost of skydiving is between 18K to 45K depending on places and services.
Which is the best place for Skydiving in India?
There are many places of Skydiving available in India including Dhana, Aamby Valley, Pondicherry, Deesa, and Mysore. The cheapest skydiving place in India should be Dhana, Madhya Pradesh.
Is there Skydiving in Goa?
No, currently there isn't any skydiving in Goa but you can surely enjoy other adventure activities in Goa including paragliding and jet ski.