Planning for your trip to Uttarakhand? If you are visiting Dehradun, this article will help you to plan a perfect short trips to best tourist places & hill stations near Dehradun you can explore within a day.
Dehradun, the capital of Uttarakhand is full of tourist attractions and religious centers. The scenic views of Garhwal Himalayas, wildlife in Rajaji National Park and religious centers like Buddha Temple make it a popular tourist destination. Here are some of the best places, you should visit when you are in and around Dehradun.
Hill Stations Near Dehradun
1. Mussoorie
The nearest hill station from Dehradun is Mussoorie. It lies in the foothills of Garhwal Himalyas and is also famous as the 'Queen of the Hills'. Mussoorie is located at 6500 ft. above sea level.
Things to do:
You can enjoy bathing under waterfalls at Kempty Falls and Bhatta Falls. At Company Garden, you can ride the boats and enjoy paddle boats at Mussoorie Lake.As Mussoorie was established during British rule,you can still see the churches,hotels and historical buildings of that era.
Lal Tibba and Gun Hill are the highest point of Mussoorie, from where you can enjoy the panoramic views of surrounding hills and the whole town.You can go for a 4KM long walk on Camel's back road.
If you love to see wildlife, then visit the Benog Wildlife sanctuary.You can enjoy the evening at the Mall road,which is the main market of Mussoorie.If you want to explore religious places,you can visit Shedup Choepelling temple,Naag Devta temple, JwalaJi temple.
Distance from Dehradun (ISBT): 40KM
2. Dhanaulti
This beautiful hamlet is located on the Mussoorie – Chamba route, about 24KM from Mussoorie. As Dhanaulti is visited mostly during winters, it has many trails which are almost unexplored. The land is full of oak,deodar and rhododendron trees. Situated at the altitude of 7500 ft., it is very quite place as compared to Mussoorie.
Things to do:
The most famous spot here is Eco Park,which is divided in 2 parts: Amber and Dhara. You can see a variety of birds and animals there. The sunrise and sunset views from here are just breath-taking.There is also a Potato Farm (Aaloo Khet) from where you can enjoy the beautiful sunrise.
On the Dhanaulti-Chamba road, you can visit Surkanda Devi temple which is 8KM from Dhanaulti. It is situated at the height of 10,000 ft. from where you can enjoy the 360 degree view of the Garhwal region.
Distance from Dehradun (ISBT): 65KM
These two hill stations are nearest to Dehradun, which you can easily visit within 1-2 days. If you have more time, you can go further towards Chamba and Kanatal.
Other Nearby Places to Visit
Spread across 2000 acres of land, this Forest Research Institute is an old architectural building. The main building was built in the Greeko – Roman architecture in 1929 and it's a National Heritage. FRI is located on the Chakrata road, Dehradun.
Things to do:
You can go for long walk amidst the peaceful green fields and trees. A variety of trees and plants from all over the world are brought here for research. Apart from the fields there is Botanical Garden, a famous picnic spot. In the FRI campus, there are 6 museums that you can visit here – Timber, silviculture, pathology, social forestry, entomology and non-wood products.
Visiting hours: 9 am – 5:30 pm
Distance from Dehradun (ISBT): 9 KM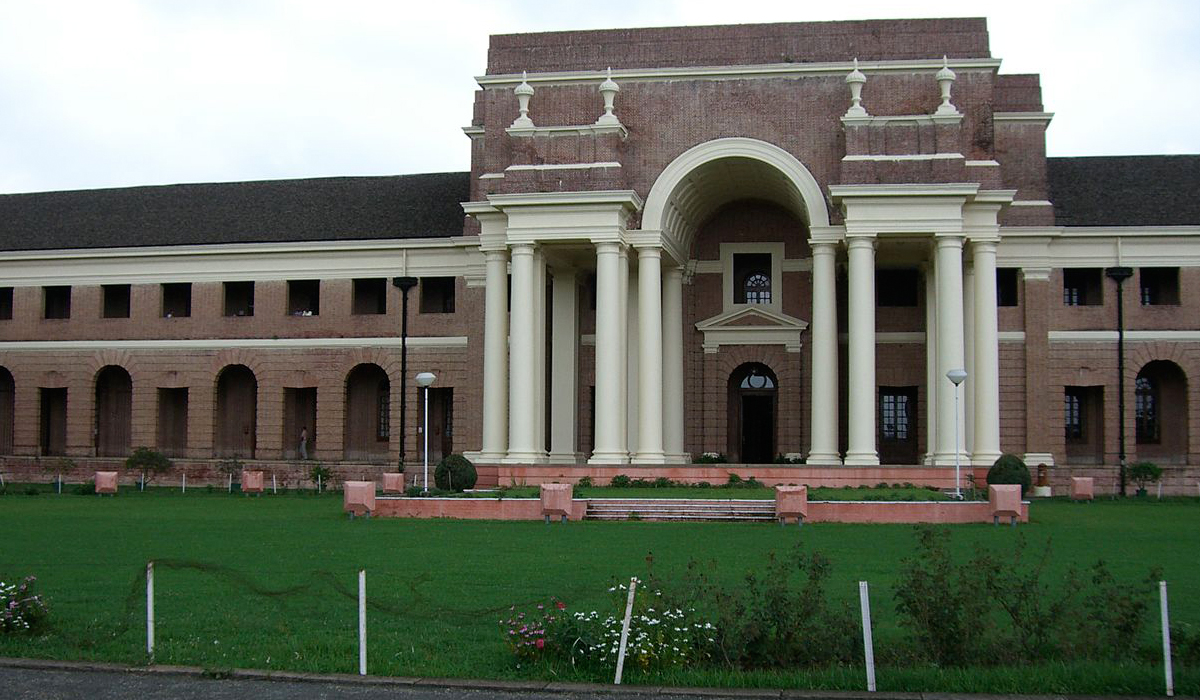 2. Buddha Temple (Mindrolling Monastery)
This monastery in Dehradun is the biggest Buddhist learning center in India. Located in the Clement Town area, this is a place to study many ancient sciences like calligraphy, astronomy, medicines and research of old Buddhist scriptures. The Monastery was built in 1965 by Kochen Rinpoche. The architecture style of the monastery is Japanese and its height is about 220 feet.
Things to do:
The first three floors are decorated with the wall paintings which are depicted with many events and life of Buddha. These paintings were painted using pure gold color. You can also see the shrines of Guru Padma Sambhava and Lord Buddha. To reach the fourth floor, you have to climb a steep wooden ladder. There you will see a open platform, from where you can see the 360 degrees view of the entire Doon Valley. There is a very beautiful and well maintained garden in the temple complex and some shops, where you can get food and do some shopping. You can buy books about Buddhism, handicrafts, souvenirs and artifacts there.
Visiting hours: You can visit the monastery only on Sunday between 9 am – 7 pm, while the temple garden and shops remain open throughout the week.
Distance from Dehradun (ISBT): 4 KM
3. Sahastradhara
The meaning of Sahastradhara is "thousand fold water spring". Located at the Baldi river, this is a very beautiful and highly popular picnic spot. The view made by various cascading and shining streams of water coming down the limestone outcrops is just amazing. The water pools thus become the sulphur springs having medicinal values.
Things to do:
The ideal time to visit there is during the monsoon, however it attracts the visitors all around the year. A man-made waterpark called 'Joyland Water Park' is also there to visit. You can also enjoy the ropeway ride and reach the top of the mountain. The view of the hills and waterfall from the top is just amazing.
Visiting hours: 7 am -7 pm
Distance from Dehradun (ISBT): 20 KM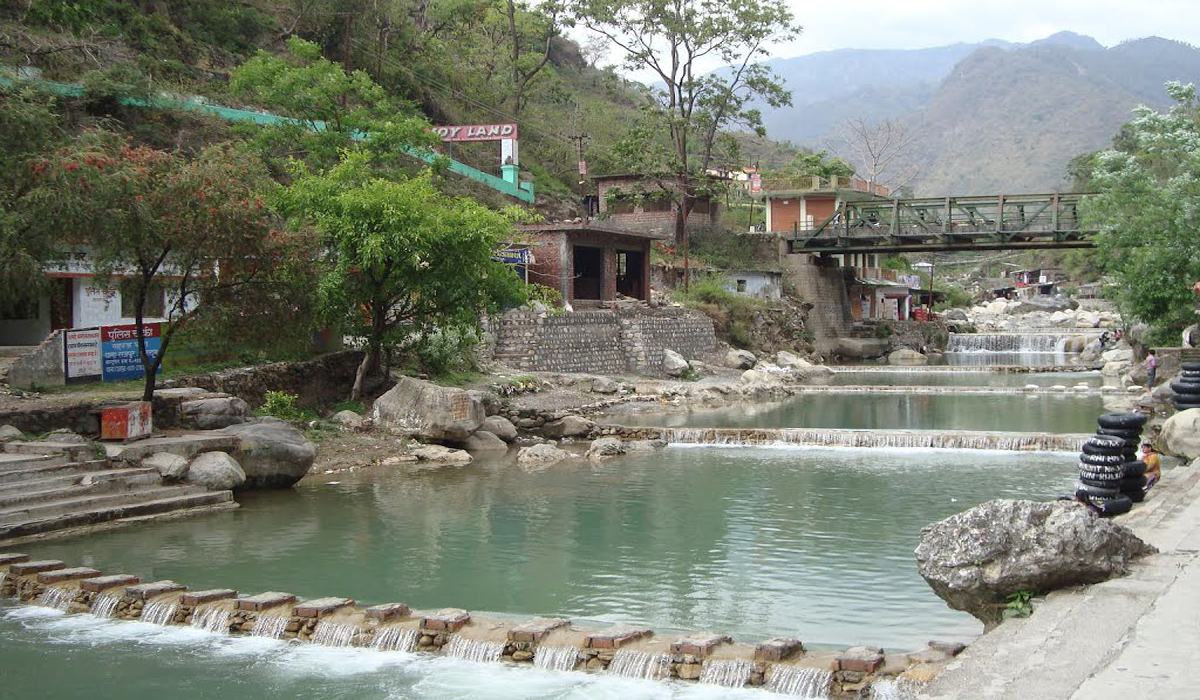 4. Lachhiwala
Lachhiwala is now renamed as 'Nature Park'. Located on Dehradun – Haridwar road and surrounded by Sal trees this is another popular picnic spot near Dehradun, which is favorite especially among the couples. A number of pools are made there in which water from Suswa river stream is collected.
Things to do:
You can enjoy bathing in the pool, watch the birds in solitude environment. You can also go for some trekking. In the evening, you can enjoy beautiful sunset views. If you want to stay there for the night, then you can find accommodation at Forest Rest House. During the summer season, especially on the weekends this place becomes full of tourists.
Visiting Hours: 8 am to 6 pm
Distance from Dehradun (ISBT): 15 KM
5. Guchhu Pani
Also known as Robber's Cave, this place is a long natural cave. This cave is located near Mussoorie road at Anarwala village. Surrounded by the hills, this is a famous tourist place for the picnic and trekking.
Things to do:
You will see cold springs of water going underground inside this cave. As you go inside, you can see some waterfalls. So just fold your pants and enter the freezing water. The natural atmosphere of this place with waterfalls makes it a favorite place among the couples. So carry some extra clothes and have fun in the water. Don't forget to use slippers while walking in the water as there are sharp stones on the bottom.
Visiting hours: 6 am – 7:30 pm
Distance from Dehradun (ISBT): 14 KM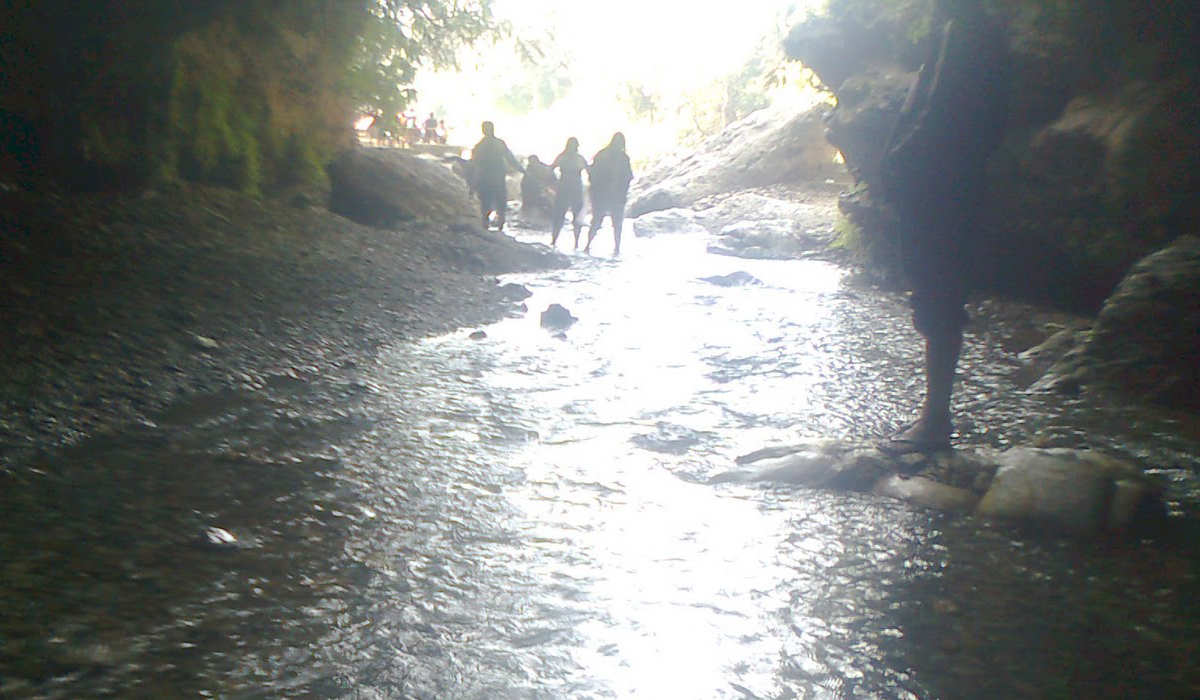 6. Dehradun Zoo
Dehradun Zoo was earlier known as Malsi Deer Park. If you are wildlife lovers, it's favorite spot to visit after Rajaji National Park. Spread across 25 hectares of land, this zoo is located on the Mussoorie Road, Malsi.
Things to do:
You can see animals like Neelgai, deer, Ostrich, Turkey, Crocodiles and birds like Owl, Parrot, Peacock, Parakeet in their natural habitat. There are also some slides in the park installed for the kids. You can roam around in the garden or enjoy the delicious food in the cafeteria.
Visiting hours: 10 am – 6 pm. (Closed on Monday)
Distance from Dehradun (ISBT): 15 KM
7. Tapkeshwar Temple
This is a famous temple dedicated to Lord Shiva. It is built on the banks of a seasonal river named 'Asan' at Garhi Cantt road near dehradun. There are two natural made shiv-lingas inside the temple. The main shivling is inside a natural cave. The temple is said to have one of the oldest shiv-linga. As the water droplets continuously trickle over it, hence it is called 'Tapkeshwar'.
Things to do:
If you visit during the shivraatri festival, a fair is held at the temple. Thousands of pilgrims and devotees visit this temple. You may see a very long queue of people waiting for the Darshan of Tapkeshwar Mahadev. During the fair, you can enjoy the local delicacies like 'Bhang Juice' and 'Bhang ke pakode'. However, the temple remains open throughout the year. You can see the scenic beauty of the mountains around this place.
Visiting hours: 6 am to 7 pm
Distance from Dehradun (ISBT): 10 KM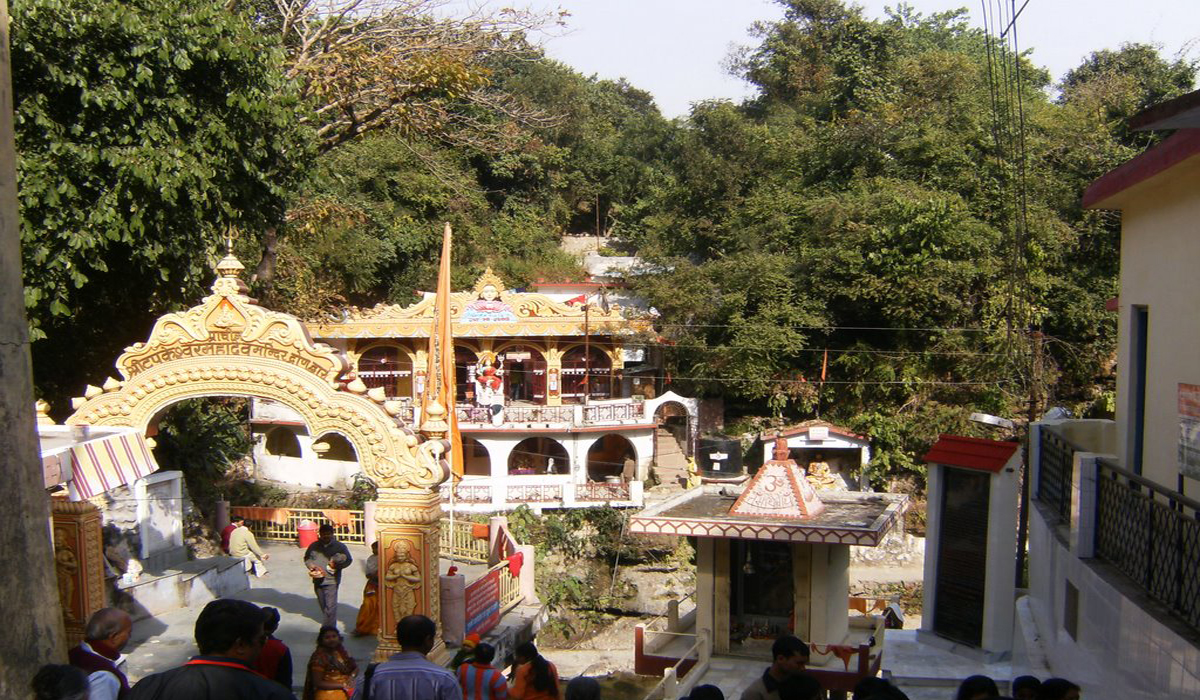 8. Regional Science Center
It's a newly built science center, which is popular especially among the children. The center is located in Vigyan Dham,Prem Nagar, Dehradun
Things to do:
You can see the main attractions of the center which are 3D theatre, library, exhibition hall and Dinosaurs Park. There are also some interactive exhibits to educate and entertain the children. Some of these are Birding Cage, Eco Tube, Whispering Garden, Sympathetic Swing and Gravity Chair. A planetarium is also built, where the visitors can view the night sky.
Visiting Hours: 10 am – 5 pm
Distance from Dehradun (ISBT): 13 KM
9. Fun Valley
Fun Valley is an amusement park located at 28KM from Dehradun. It is equi-distant from Haridwar, Rishikesh and Dehradun. It is popular among the kids and adults alike, as there is a lot to do for amusement and leisure. This place becomes crowded especially on weekends. It has a shopping center, motel and multi-cuisine food court.
Things to do:
You can enjoy the rides like Kiddies Pool, Baby Train, Water Disco, Jumping Frog, Wave Pool, Dragon Coaster. You can also use some other facilities like Swimwear on hire, Conference halls, Amusement Park, Water Park
Visiting Hours: 9 am to 6:30 pm
Distance from Dehradun ISBT: 30 KM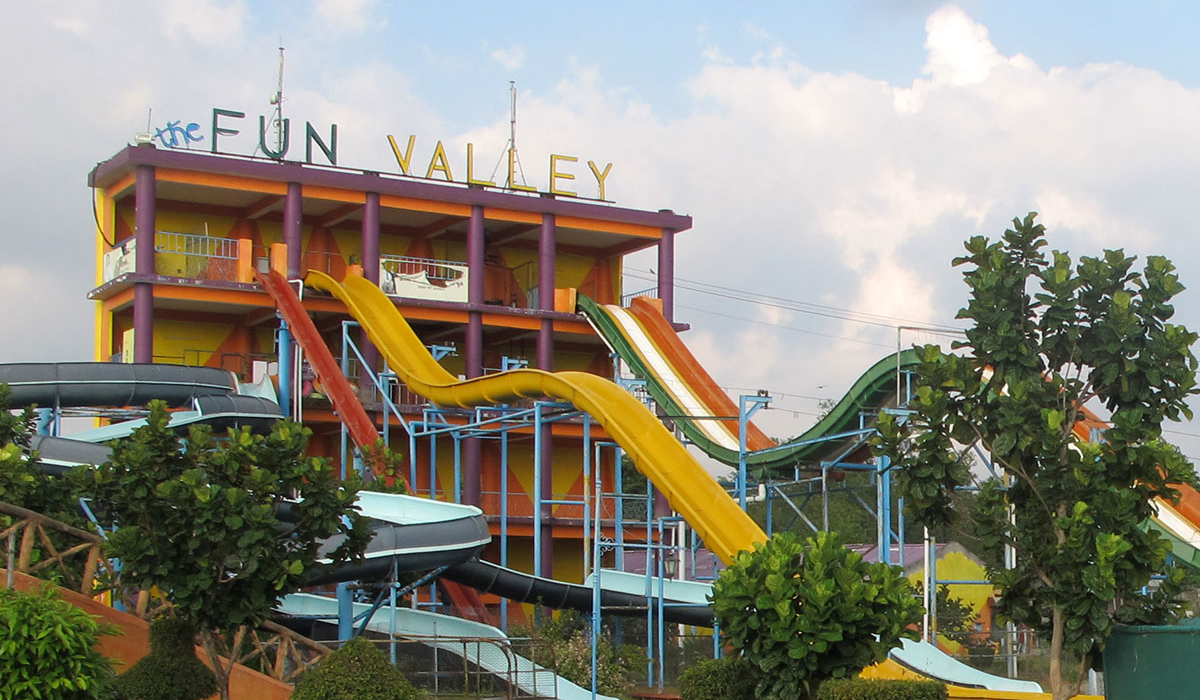 10. Khalanga War Memorial
It is a famous place in dehradun depicting the bravery of Gorkhas. During the battle of Nalapani in 1814, Nepali Gorkhas fought against the British Army in Khalanga. The Gorkhas were short of food and water for 6 days, but they kept protecting the fort. The British Army General Gilaspy was impressed with the unmatched bravery of the Gorkhas. In the memory of General and Gorkhas, this memorial was built by British. Perhaps it's one of its kind, where an army built a memorial for their opponent army. This memorial is located on the Sahastradhara road, dehradun.
Things to do:
This place has significance for the history lovers. Although it's not a picnic spot, but a quiet place worth a visit
Visiting Hours: 9 am to 5 pm
Distance from Dehradun (ISBT): 14 KM
11. Zonal Anthropological Museum
If you have interest in culture and history of Himalayan people, then you must visit this place. This museum is located at Pearson Road, Dehradun. Anthropological Society of India built this museum in 1971.
Things to do:
The Garhwali culture and their customs are beautifully depicted in the museum. You can see how the first inhabitants of the Garhwal region were living here.
Visiting hours: 10 am – 5 pm (remains closed on Sunday and 2nd Saturday)
Distance from Dehradun (ISBT): 8 KM
————————————————————————————————–
Conclusion:
There are some more places to see, but I have selected the best and most famous tourist places of Dehradun. You can easily cover 4-5 places in a single day. So visit these beautiful places and make your trip a memorable one.