Great news for Journey seekers around the world! Get ready for an amazing journey as MV Ganga Vilas Cruise offers the world's longest river cruise tour experience.
Designed to encompass the art, culture, history, and spirituality of India and Bangladesh, this truly luxurious 51-day tour will take you through five Indian states and Bangladesh. Demand for this ride is high, with bookings already full till March 2024; however, availability opens up from April 2024 onward. Don't miss out on this unique chance to explore India's riverside region like never before!

Inauguration of MV Ganga Vilas Cruise:
On Friday 13th January 2023, Prime Minister Narendra Modi inaugurated the world's longest river cruise 'MV Ganga Vilas' via video conferencing from his Lok Sabha constituency of Varanasi. This extraordinary event held great significance as he flagged off the MV Ganga Vilas from Varanasi in Uttar Pradesh all the way to Dibrugarh in Assam.
Not only does this mark a milestone for India as a nation, but it also marks progress in terms of sustainable tourism and provides an opportunity for people from all walks of life to explore the unique beauty of India's riverside provinces.
Ganga Vilas Cruise Route Map: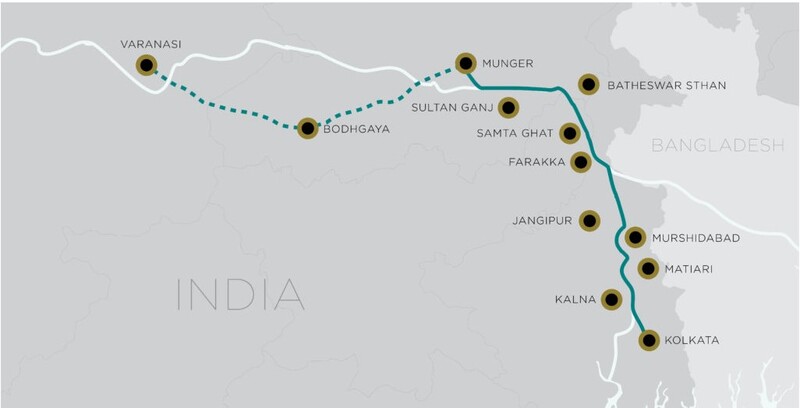 The Ganga Vilas cruise route includes some of the most iconic locations in India and Bangladesh, via 27 river systems.
Begin your adventure with the holy city of Varanasi's famous Ganga Arti, followed by an exploration of one of Buddhism's holiest pilgrimage sites at Sarnath.
Then step into ancient times at Mayong, known for its mysterious Tantric craft-making workshops.

Make a stop at Majuli, Assam's largest river island for a glimpse of Vaishnavite culture, or head over to the Bihar School of Yoga to learn from the masters.
As you journey further east along the Bay of Bengal Delta, you will be surrounded by breathtaking views and thriving wildlife in the World Heritage Sites of Sundarbans National Park.
As you make your voyage across Bangladesh's beautiful waterways of Meghna, Padma, and Jamuna; you will be awe-stricken by the grandeur of nature's magnificence.

Reaching Assam as you eventually join the captivating Brahmaputra river may prove one of your most memorable moments yet.
End your unique, captivating journey with a bang as you arrive in Dibrugarh – after an unforgettable cruise that promises to be filled with excitement, mystery, and culture all around!
Duration of Ganga Vilas Journey:

In the course of 51 days, this magnificent voyage covers 3,200 kilometers of stunning river views and 50 destinations, including World Heritage Sites and National Parks. Notable river stops include Patna in Bihar, Sahibganj in Jharkhand, Kolkata in West Bengal, Dhaka in Bangladesh, and Guwahati in Assam. Embark on an expedition of a lifetime that celebrates this vibrant region's unique culture and traditions!
Top Features of Ganga Vilas Cruise:

Step on board the glamorous MV Ganga Vilas for a luxurious and relaxing experience that is sure to be unforgettable. Measuring 62 meters in length, 12 meters in width, and having a draught of 1.4 meters, this vessel will make sure your journey is smooth and peaceful with noise-cancellation equipment and a pollution-free system.
The ship is divided into three decks featuring 18 suites, a 40-seater restaurant, and the capacity to accommodate 36 individuals. If you're looking for some pampering, the cruise also offers amenities like a gym, spa, and salon.
Tourists can enjoy vegetarian Indian cuisine and all kinds of non-alcoholic beverages whilst admiring India's art, culture, spirituality, and history during their voyage.
Interior Attractions & Activities in MV Ganga Vilas Cruise: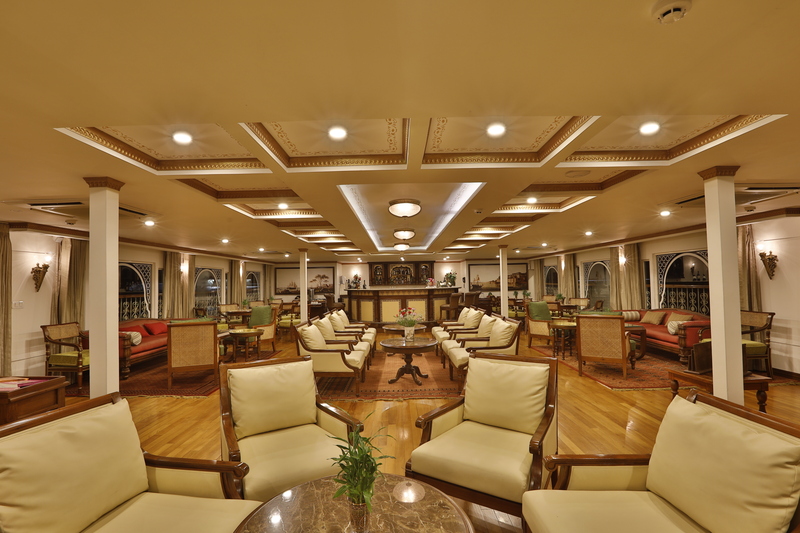 The cruise is equipped to accommodate up to 36 tourists with personalized suites that come complete with convertible beds, an LED television, a French balcony, as well as a bathroom with a shower.
The cruise has 18 suites and three decks. You get convenient access to safety vests and sprinklers when needed. From its outdoor observation deck, one can enjoy picturesque views. It has a gym for those wanting to keep fit while traveling, a spa for pampering yourself on your voyage, and a private butler service catering to all your needs.
Furthermore, interesting cultural events and music give you additional entertainment options onboard.
MV Ganga Vilas Cruise – Destination & Itinerary: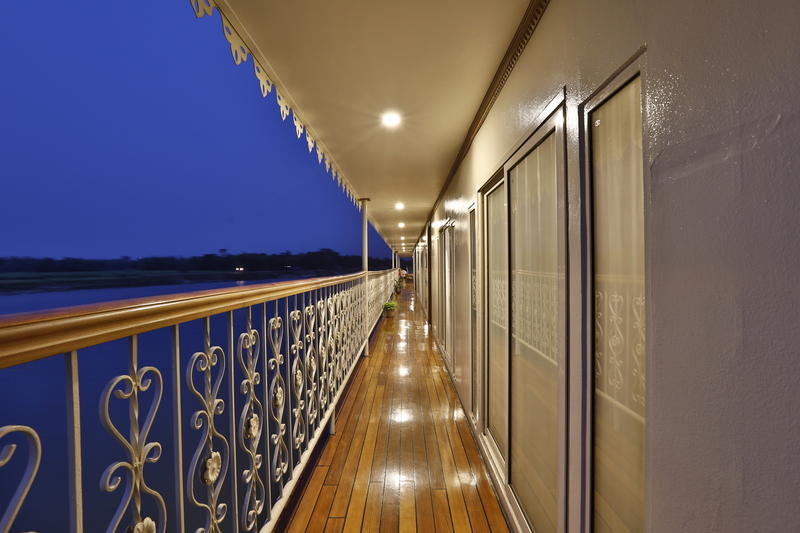 If you've ever been interested in traveling to India, Bangladesh, and Assam in style, this luxurious cruise is perfect for you! Taking 27 waterways, it will include the three primary rivers of Ganga, Brahmaputra, and Meghna. For those who are nature lovers and looking for some adventure in their travels, the voyage also stops by 50 tourist spots – including many national parks and world heritage sites.
Who Sails MV Ganga Vilas Cruise?
The Ganga Vilas Cruise is operated by The Antara Luxury River Cruises. It has 39 professional crew members. The captain of the ship is Mahadev Naik. With his 35+ years of sailing experience, there's no doubt that it would be an amazingly smooth ride for all the passengers.
Ganga Vilas Cruise Booking Tips:
Ganga Vilas cruise booking is available for people from all over the world. Simply visit the Antara Luxury River Cruises' official website, find the details and make your booking.
How Much Does Ganga Vilas Cruise Trip Cost?
Although the ticket prices of this cruise may seem high, they include all manner of modern comforts and facilities. For those looking to take a one-day sail, Ganga Vilas cruise price per person in India is between INR 25,000 and 50,000. However, you can also choose longer packages costing around INR 20 lakh for a full passage.
The bottom line,
Ganga Vilas is quickly becoming a sought-after luxury cruise experience in India. By boarding this joyride, you will be able to witness the beauty and richness of Indian culture at its best. The advance booking for Ganga Vilas is opening soon after the first voyage ends in March. So, if you are wondering what to do to break away from your daily hustle and bustle of life, choose this joyful ride. With amazing amenities and activities full of humming fun, the passengers on board will experience some unparalleled moments that last for a lifetime.
Image Credit: Antaracruises.com
FAQs on Ganga Vilas Cruise:
How long is the Ganga Vilas Journey?
The MV Ganga Vilas will travel roughly 3200 kilometers in 51 days to reach Dibrugarh in Assam via Bangladesh, crossing 27 rivers.
Where will the Ganga Vilas Cruise be stopping?
The 51-day cruise will visit 50 tourist destinations, including national parks, river ghats, and significant cities like Patna in Bihar, Sahibganj in Jharkhand, Kolkata in West Bengal, Dhaka in Bangladesh, and Guwahati in Assam.
What is the ticket price for Ganga Vilas Cruise?
The MVA Ganga Vilas cruise would range in price from Rs 25,000 to Rs 50,000 per day. The journey will cost approximately Rs. 20 lakhs for each passenger.
Who is the Ganga Vilas cruise owner?
The Ganga Vilas cruise owner is Raj Singh, the CEO of Antara Luxury River Cruises.