Get your Gujarat trip to a great start with an incredible stay at The House of MG, a premier boutique heritage hotel in Ahmedabad. This property is a unique destination that offers not just Gujarati hospitality and a home-like atmosphere but also facilitates responsible tourism. It celebrates exceptional local craftsmanship and cuisine; guests can find themselves surrounded by culture and pleasure, learning about the local history through exploring the authenticity of arts, culture, books, and music.
Truly, it's an insight into a way of life that feels both special and exclusive. Feeling intrigued? Let's get to know more about The House of MG Ahmedabad and why you should book your stay at this amazing place on your next trip to Ahmedabad.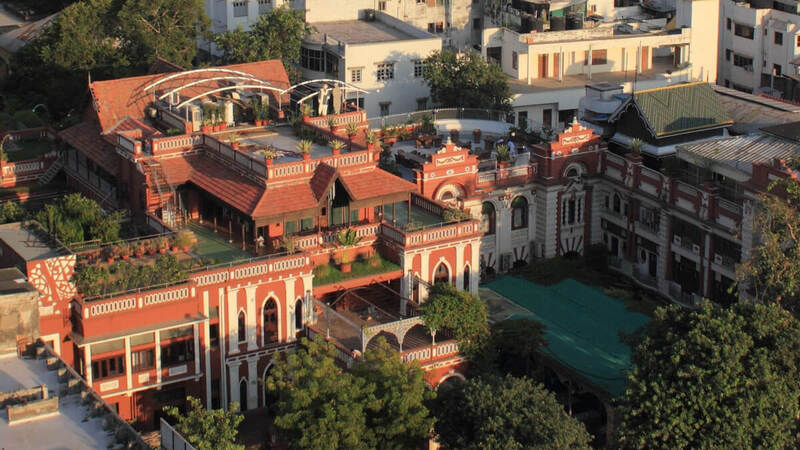 The Rich History of The House of MG – The Culture & Heritage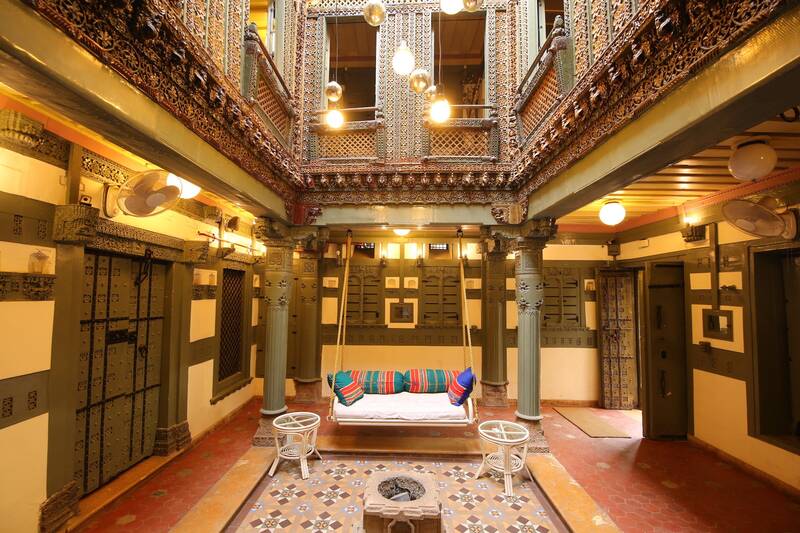 The House of Mangaldas Girdhardas is an ode to the colonial heritage of the early 20th century. As one of the oldest buildings in the city, it is truly a wonder to behold with its verandahs and courtyards, engulfed in a sea of greenery.
From its thirty-seven beautifully restored rooms to two visually appealing restaurants and a gallery showcasing traditional Mangaldas family textiles, jewelry, and silver, this place has something for everyone – including a special play section dedicated to children.
And did you know Mahatma Gandhi himself was a guest here during his return journey from South Africa in 1915? All this is thanks to their team of locals from neighboring villages who proudly uphold The House of MG's timeless traditions.
Accommodation at The House of MG: Book Now!
The House of Mangaldas Girdhardas has four wonderful properties, giving you luxury staying options. These properties include:
1. The House of MG Bungalow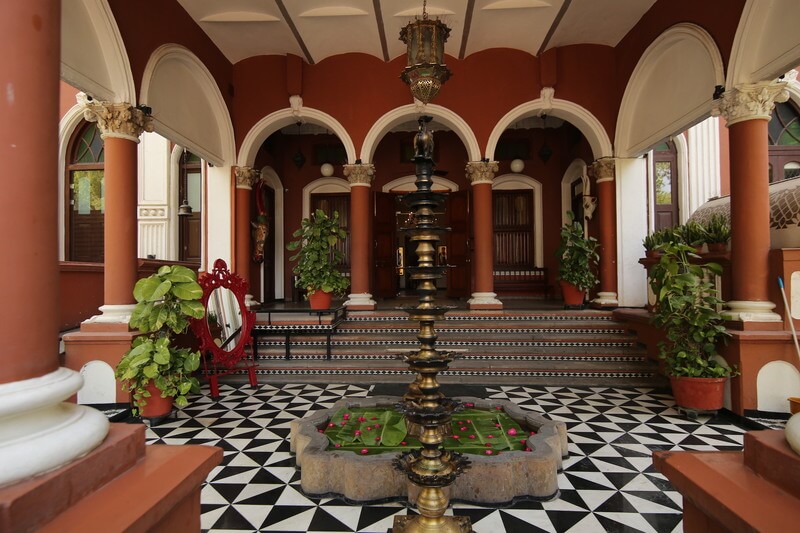 This full-service hotel, formerly the home of the Mangaldas family, offers an experience like no other. Choose between their three room options – the Modern Heritage Classic Room, Grand Room, and Grand Suite.
2. Mangaldas Ni Haveli  I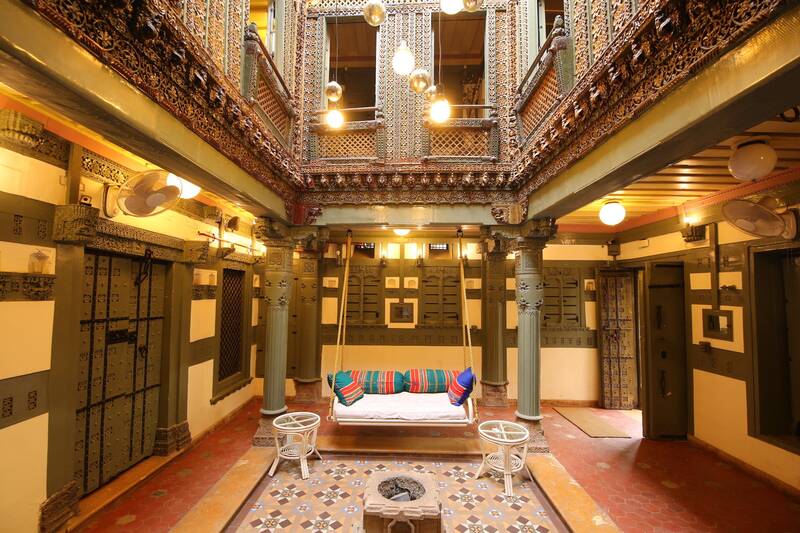 This breathtaking 250-year-old ornately carved wooden villa is a real gem and has been stylishly restored to include modern amenities. Its WHC Heritage Terrace Suite offers stunning views of the city skyline and WHC Heritage Courtyard Suite comes with a cozy lounge boasting a delightful swing and seating area.
3. Mangaldas Ni Haveli  I I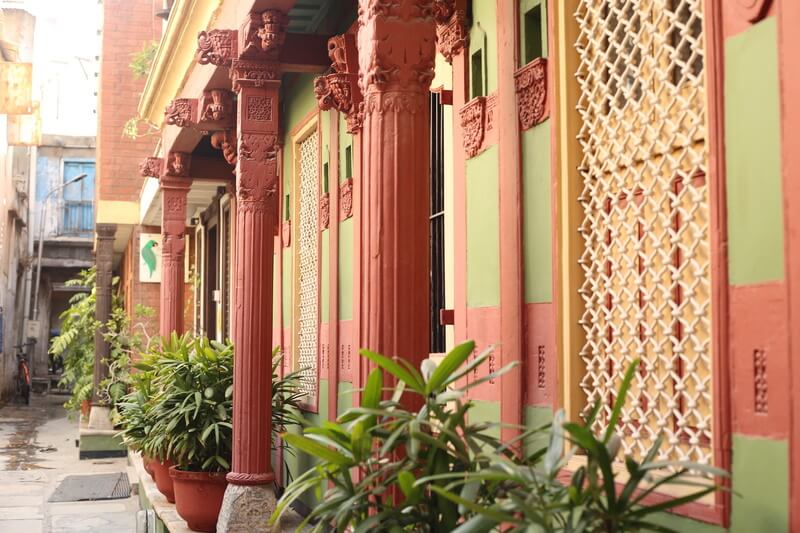 With modern luxurious furnishings and artworks by local artists, this momentous building has been revamped to offer an unparalleled blend of luxury and style. Here you can book WHC contemporary heritage classic rooms, junior suites, and penthouse suites.
4. Mangalbaug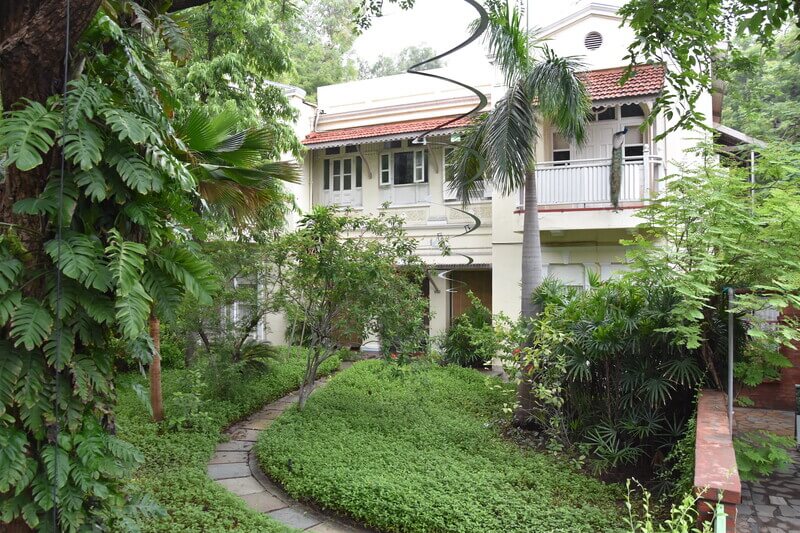 This idyllic getaway is perfect for a city-dweller needing some relaxation and peace within nature's embrace. This charming B&B, nestled in a 90-year-old residential bungalow amidst a beautiful garden, offers its guests 5 ensuite rooms with all the comforts of home and fresh air.
Come check The House of MG out and let yourself be enveloped in peace and tranquility!
Enjoy Delicious Gujarati Food at Agashiye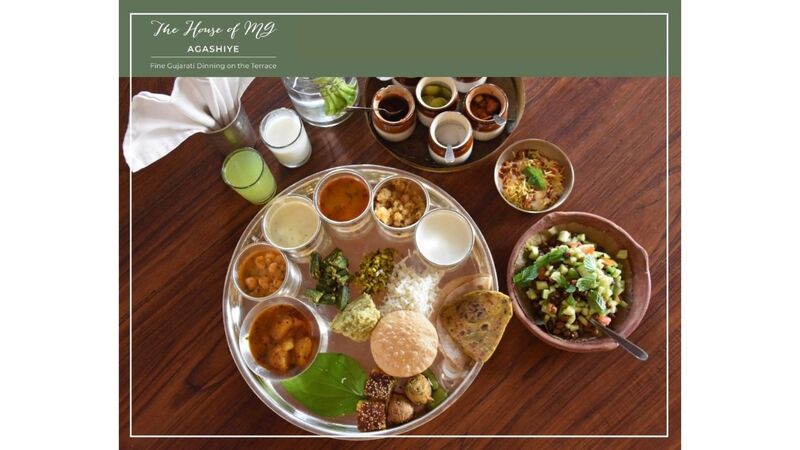 If you're looking for a true taste of Gujarat, Agashiye restaurant, located on the grand terrace of The House of Mangaldas Girdhardas, is not to be missed. You can choose from two kinds of thalis–Silver and Kansa–from Heritage Grand or Heritage Classic formats. What's more, the cuisine will delight you with its fresh, seasonally reached, and nicely spiced ingredients. On top of that, their warm hospitality and luxurious atmosphere will make you feel right at home in this grand private palace.
Make Every Moment Special in The House of MG
Experience a taste of royalty as you celebrate your special occasion in The House of MG – without the stress of taking care of all the preparation yourself. Let The House of MG take care of all the details, so that you can just relax and enjoy your event. Its palatial setting combined with its homelike charm makes it a perfect place for celebrating any special occasion!
Just drop a mail at reservation@houseofmg.com
Discover Indian Craftsmanship at Its Best – Shop Unique Handcrafted Products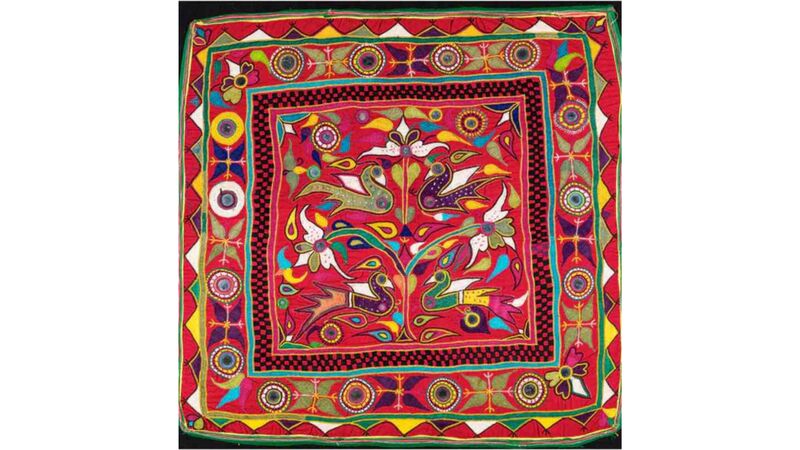 The House of MG's renowned in-house boutique, Ahmedabad Trunk showcases a variety of Indian crafts from all across the country – from handcrafted Pashmina from Kashmir to Palm leaf art from Tamil Nadu, from iconic Bandhani fabrics of Gujarat to traditional Kantha embroidery from West Bengal. Shop from here and take home something that narrates India's vibrant and intangible cultural heritage.
Subscribe to Ahmedabad Trunk today to get special offers, free giveaways, and the best deals.
Hours of Fun for Kids of All Ages at The House of MG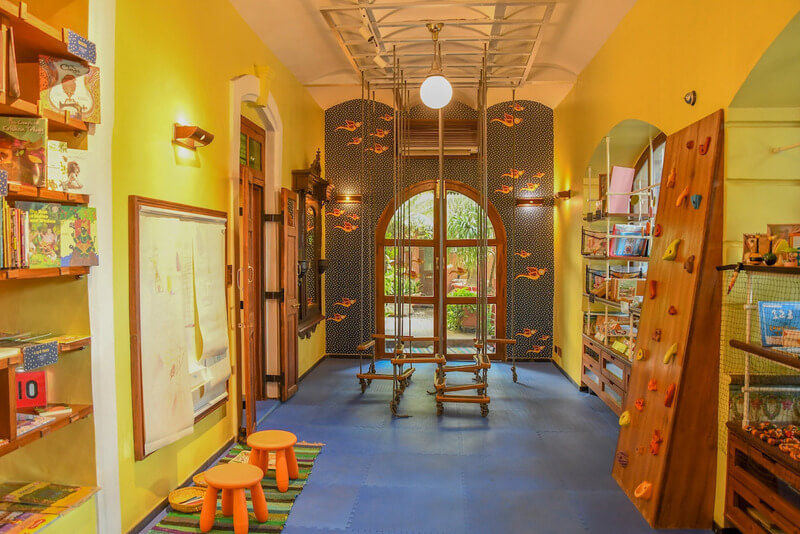 Gammat is a place where your little ones will love to be! With board games and handmade toys designed to encourage their curiosity and fuel creativity, they'll be occupied for hours. Kids can also take part in art and craft workshops, fun DIY projects, or explore their favorite books. Plus, the Gammat Kids Cafe serves up delicious and nutritious snacks. So make sure you stop by Gammat House of MG – it's the ideal space for your kids to learn, grow, and have lots of fun!
Book Your Stay in a Piece of History Today and Enjoy These Perks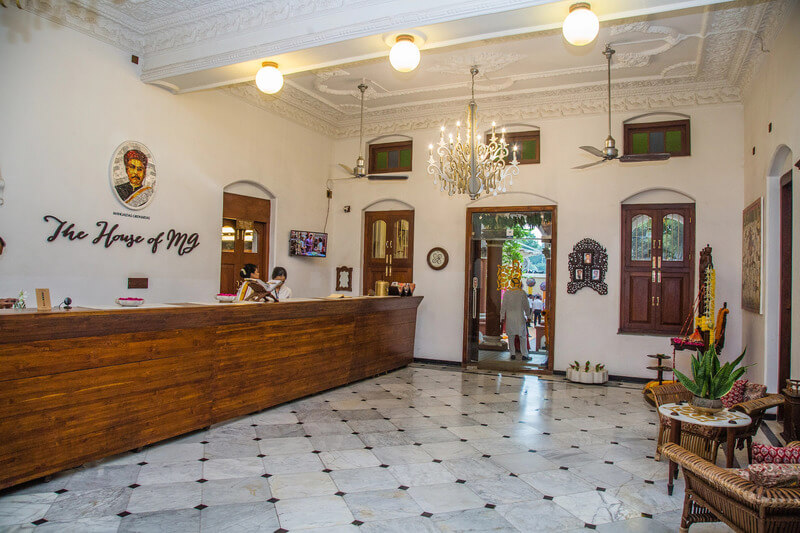 Free Wifi
Onsite dining
Takeaway meal
Free valet and self-parking
Full-service spa, swimming pool, and gym
Spacious rooms with all modern conveniences
Free newspaper
Mini bar
Laundry service
Guest Reviews
Suranjana Bhowmik: Me and my family stayed in The House of MG last year. We booked the modern heritage grand room and needless to say, it was a wonderful stay. The luxury, comfort and hospitality we received are seriously unforgettable. Plus, they organized a Ahmedabad city tour for us with an expert guide and in a comfortable car. Thanks The House of MG. We will keep coming back to you.
Rajneesh Sawant: We attended a children's birthday party in Gammat. The accommodation and children's play area are quite impressive. They offered a variety of activities for kids which were both educational and enriching. My kids enjoyed spending time there.
Deepti Ahuja: Staying in The Mangal Das Ni Haveli made my trip to Gujarat a memorable experience. The hotel is spectacular. Its Agashiye restaurant is a must-visit. The food is mouth-watering. The courteous staff and their hospitality made me feel like home.
Mukund Acharya: The house of MG is a stunning boutique hotel located in the heart of Ahmedabad. During our stay, we stayed in their grand suite which was beautifully spacious and well-equipped. I must admit that staying in the grand suite made our stay so much more comfortable and enjoyable! But what really impressed us the most was the food served in the hotel; it was simply delicious! The combination of flavors were amazing. I highly recommend that you give it a try if you're ever around this area – you won't regret it.
Get a Taste of Luxury at The House of MG – Book Your Stay to Feel a Home Away from Your Home
The perfect way to end your sojourn in this historic city is by staying at The House of MG, a heritage hotel that captures Ahmedabad's old-world charm. With its luxurious rooms, picturesque views, and attentive staff, The House of MG will make you feel like royalty. So book your stay today and experience all that Ahmedabad has to offer!
FAQs
Which room amenities are available at The House of MG?
If you are planning to do The House of MG booking, here are the room amenities you will get :
AC, blackout curtains, electric kettle, TV, housekeeping, safe, sofa, telephone, wardrobe, bottled water, toiletries, clothes rack, minibar, fridge, hair dryer, etc.
What is the Check-in and Check-out time at The House of MG?
You can check in at 2 pm and check out at 12 pm. If there is any early check-in or late check-out, it can be arranged according to availability and there will be charges associated.
Is Parking Available at The House of MG?
Yes, valet and self-parking are available for free.
What is the price of the House of MG Gujarati thali?
The price of the House of MG Gujarati thali varies from silver to kansa thali and it costs approximately 1000 INR per person.