Holi is one of the most prominent festivals of India. During Holi, you will see people running and throwing colors at each other and shouting Bura na mano Holi hai!! (giving message to unite together forgetting all resentments and all types of bad feeling towards each other), dancing and singing on the streets. Food stalls are loaded with delicious dishes and off course bhang wali Thandai. It is celebrated all over India with great enthusiasm and zeal, Every region has its own recipe, customs, and traditions to celebrate the festival and this reflects the diversity of the country. But few places listed below are among favorite places of tourists because of their amazing and unique style of celebration.
Holi, the festival of joy and love is celebrated for two days, starting from the evening of Purnima (full moon day) of month Falgun with Holika Dehan or Choti holi and ending with playing colors on the following day often called as Dhuleti. Holika Dehan is lighting of pyre which signifies the triumph of good over evil.
According to Hindu Mythology, A demon king Hiranyakashyap ordered people of his kingdom to worship him and to consider him as their only God. But his righteous son Prahlad was a devotee of Lord Vishnu and he was determined to offer prayers to Lord. Getting furious with his son, Hiranyakashyap decided to kill him. He told his sister Holika to sit in blazing fire holding Prahlad in her lap as she had the boon of immunity from fire. Later, when the fire stopped Prahlad was sitting still praying while Holika was burnt to ashes. Legends say that Prahlad was saved by God himself for his extreme devotion. Hence the celebration of victory of good over bad takes place with colors on the second day.
As there are only a few days left in Holi, you must have already started planning on how to celebrate Holi 2020. Still, there must be some question in your mind like,
Which is the best place to celebrate Holi festival in India?
What is the most famous dish to taste during Holi?
What are some popular Bollywood songs about Holi celebration?
What are the different types of Holi celebrations in India?
What is the history behind Holi celebration?
In India, Holi festival is renowned for several styles at various places. People from one state may enjoy it while dancing or playing the DJs, whereas; in some other states Bhang is taken as a ritual drink. Yes, of course, colors are played everywhere around the country and that's the primary thing about this festival. "Festival of Colors" – This thought comes to mind whenever someone hears or thinks about Holi festival and not just in India, but across the whole world. Every Indian state celebrates Holi in its own way which is very special.
Foreign travelers find the atmosphere very delightful during Holi. The food like gujiyas, Masala Mathri, Samosa, Puran Poli, and Chaats like Papri Chaat and Dahi Vallah, mal pua, and kheer and drinks like thandai and sharbat are made to make the festival more pleasing and exciting. Music pulls them to sing and dance without withstanding security anxieties. Many foreign tourists just come with their back-packs, all unaccompanied, deprived of travel guides. They mix with the natives and go camping during the time of Holi Festival and contribute at the basic level.
Take a look at how various places from different states of India celebrate Holi / Dhuleti and what they call it across India:
Best Places to Celebrate Holi in India
1. Hola Mohalla| Anandpur Sahib, Punjab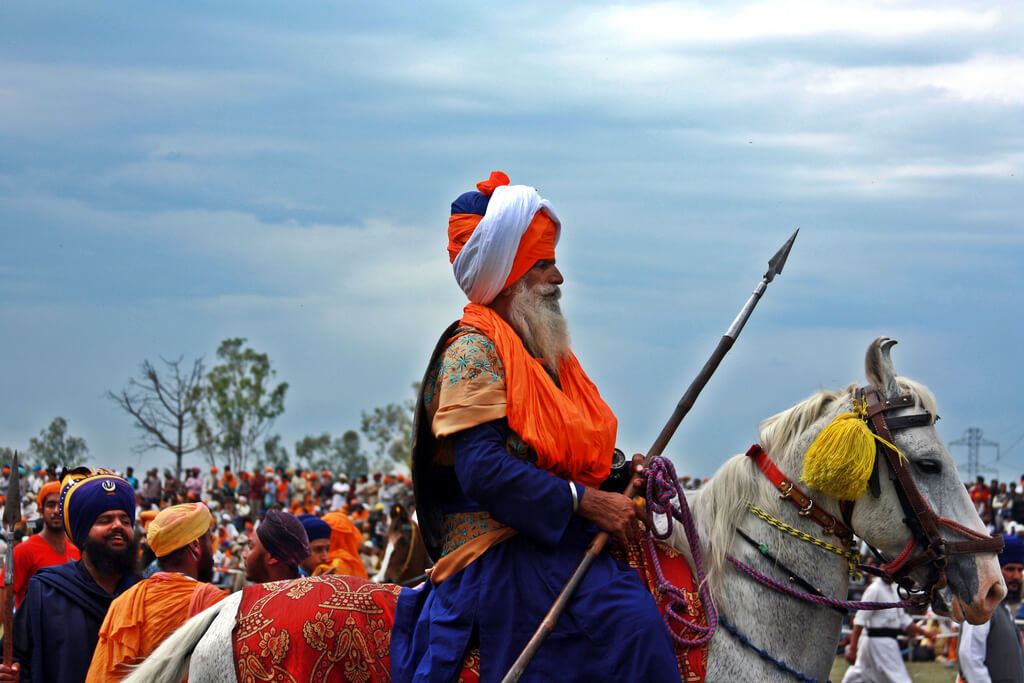 Holi in Sikh's sanctified city Anandpur Sahib is really quite different. Regardless of the country celebrating Holi with colors', the Holi of Punjab additionally renowned for signifying pseudo fights, an exhibition of weapons, presentations, soldierly skills, saddle less horse-riding, tent fastening, and standing stiff on two fast-moving horses, etc performed by the daredevils of Punjab. It is a perfect place for action lovers. This event is known as Hola Mohalla, Hola is a masculine form of Holi while Mohalla represents an organized procession like an army march. It was started by Sri Guru Gobind Sahib in 1701. It is a three-day-long fair. Hola Mohalla is not just about mock battles or weapons. It includes literature mastery, poetry competitions, music and lots of Bhangra (folk dance of Punjab). Free langar is also organized by the community.
Dates: Tue, 10 Mar, 2020 – Thu, 12 Mar, 2020
Address: Anandpur sahib, Punjab
2. Phakuwah, Assam
Assamese called Holi as Phagwah which is celebrated with a lot of joy and excitement for 2 days. On the 1st day, mud huts are burnt representing the fable of Holika Dahan. On the 2ndday, the natives celebrate with colors.
Dates: Mon, 9 Mar, 2020 – Tue, 10 Mar, 2020
3. Lathmar holi | Barsana, Uttar Pradesh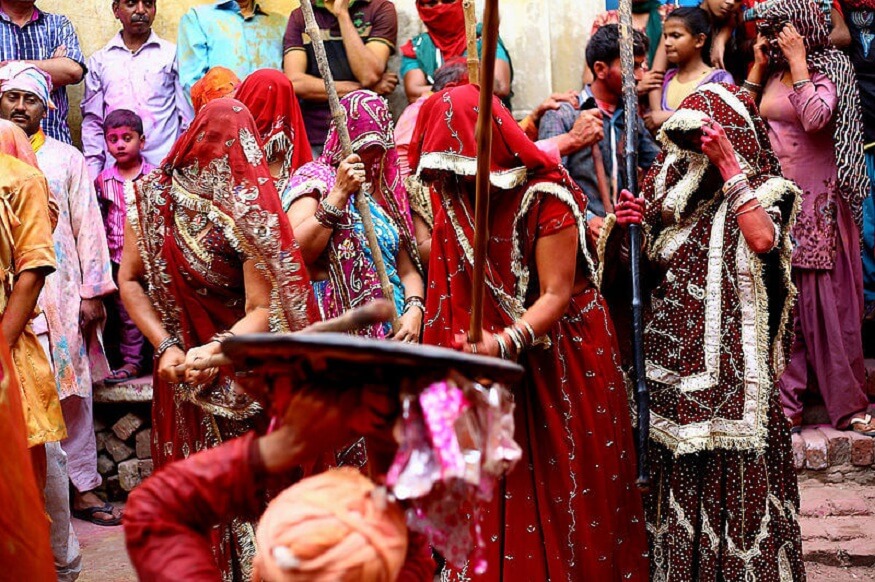 Barsana Holi is famous because of Hindu God Krishna and Radha. According to folklore, Lord Krishna visited his beloved Radha's village 'Barsana' and tried to tease Radha and other Gopis. In return, Radha and her friends got offended with such gestures of Shri Krishna and drove him out of the village using bamboo sticks. Today also this tradition is followed on holi festival, men from Nandgaon (village of lord Krishna) visit Barsana to play holi with girls of Barsana and hoist their flag over Shri Radha's temple while girls and women are ready to greet them with sticks (lathi) and if by chance any men are caught by them, gets good thrashing and are dressed in female attire. The Lathmar Holi celebration starts a week before holi, where people dance, sing, engross themselves in color and drink lots of thandai.
Dates: Mon, 9 Mar, 2020 – Sun, 15 Mar, 2020
Address: Barsana, Uttar Pradesh
4. Modern holi | Delhi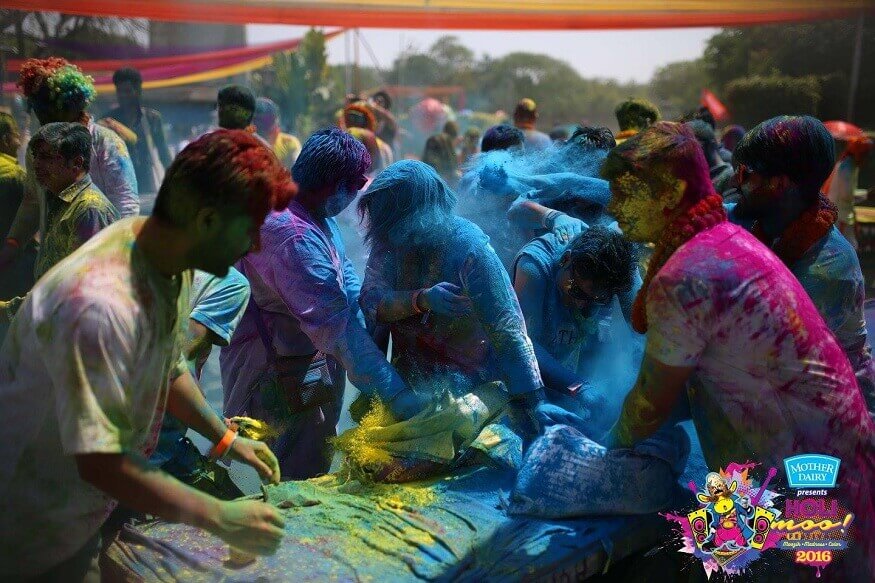 Holi of Delhi is full of modern taste from loud music to DJs and EDM, from Desi finger-licking food to videshi lip-smacking cuisines, from Punjabi lassi to bhang thandai and undeniably a lot of colors. Many parties are organized for holi celebration. But the most special among all of them is Holi Cow Festival (Holi Moo Festival), an amazing way to enjoy the modern style of Holi at its best. So if you are in Delhi this year then don't forget to visit this 8 hours celebration with over 40 artists. Some of the outstanding holi parties to go in the year 2020 are listed below
Dates : Tue, 10 Mar, 2020
Unite Holi music festival

Date: Tuesday, 10 March, 2020
Address: Jawaharlal Nehru Stadium, New Delhi
The Rangleela

Date: Tuesday, 10 March, 2020
Address: The Friends Republic Cafe, Gurugram,
Holi India color festival

Date: Tuesday, 10 March, 2020
Address: Golden Triangle Tourist Circuit, New Delhi
Holiyappa 2020

Date: Tuesday, 10 March, 2020
Address: The Junction, Green Park Delhi
Holi Sangria

Date: Tuesday, 10 March, 2020
Address: The Game Forest club, Archview Drive, Sector- 58, Gurugram
Holi Moo festival

Date: Sunday, 8 March, 2020
Address: Asiad Tower Lawns, Sirifort, New Delhi.
5. Hampi, South India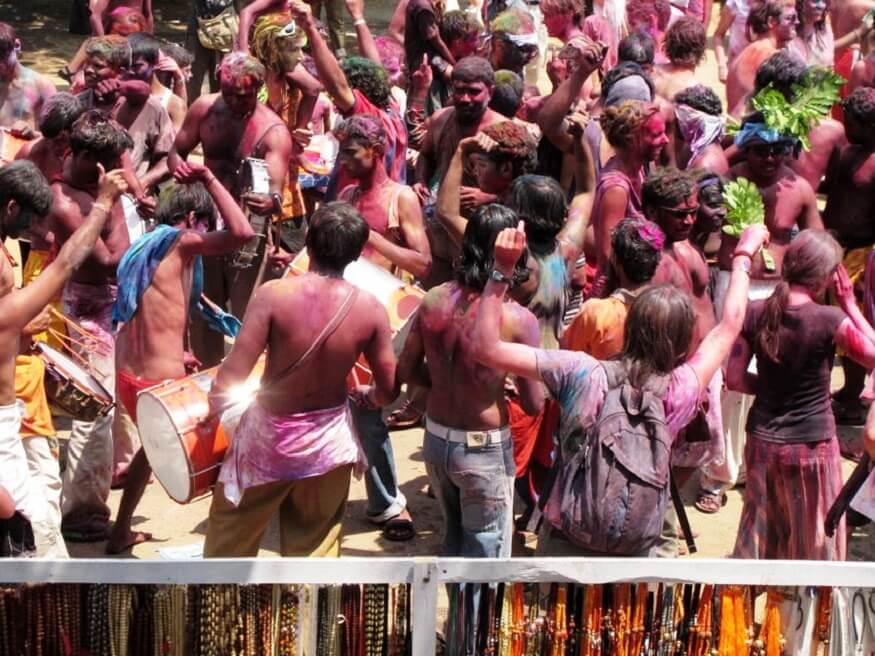 Hampi is one of the popular backpacker destinations for foreign as well as Indian tourists. Hampi is among the world heritage sites in India, also renowned for celebrating the enthusiastic Holi festival. Holi is primarily North Indian festival so don't expect many people celebrating Holi in south India. Here, Holi's importance is limited to religious aspects except for Hampi. This town is located in Karnataka and during Holi, the whole town celebrates with drumming & dancing and later slowly moving towards the river to wash all the colors. You can also spot many foreigners painted in colors.
Dates: Mon, 9 Mar, 2020 – Tue, 10 Mar, 2020
Address: Hampi, Karnataka
7. Khadi Holi | Kumaon region, Uttarakhand
In Kumaon, Holi rituals continue for around two months and are celebrated in a very different way. There are three forms of Holi celebrations in Kumaon region, Baithiki Holi, Khadi Holi, and Mahila Holi. Baithiki Holi is customarily a melodic get-together in a different form while for Khadi Holi festivity; locals wear old clothes, sing Khari songs and have group dances on the tune of dhol and drums. They move in groups and meet the people who pass over. Mahila Holi is similar to baithki Holi, the only difference is that it comprises of only ladies.
Dates: Mon, 9 Mar, 2020 – Tue, 10 Mar, 2020
Address: Kumaon, Uttrakhand
8. Rang Panchami | Maharashtra & MP
People play with colors on the 5th-day post-Holika Dahan, and is known as Rang Panchami. Huge procession of people covered in colors can be seen singing and dancing together and celebrating Rang Panchami which is also known as Holi Krishna or Shimga. People in Maharashtra are quite enthusiastic about Holi. On the special occasion of Holi, Pooran Poli- a special dish of Maharashtra is prepared.
Dates: Sat, 14 Mar, 2020
9. Manjal Kuli | Kerala
It is celebrated in the Konkani temple of Gosripuram, Thirumala with name as Manjal Kuli. Gulal is mostly used here for playing colors.
Dates: Mon, 9 Mar, 2020 – Tue, 10 Mar, 2020
10. Mathura and Vrindavan | Uttar Pradesh
Every Indian aims to visit Mathura & Vrindavan once in a lifetime during the Holi festival. The Banke-Bihari Temple in Vrindavan is a place to relish the celebrations as it hosts a week-long Holi party here. In these days, Bihariji is dolled up in white clothes and is moved further closer to his disciples to play Holi. Vrindavan Holi is frolicked with colored water and gulal, a form of color made using natural ingredients like flowers and Kesar. While in Mathura one can witness, the best sight of holi through Dwarkadheesh temple. A colorful parade with dhols and drums begins from temple to river and marked at holi gate.
Dates- Mon, 9 Mar, 2020 – Tue, 10 Mar, 2020
11. Phaguwa, Bihar
It is essential to burn the Holika before playing Holi. Post which, Holi is played with traditional songs, water and crushed colors derived from usual sources.
Dates: Mon, 9 Mar, 2020 – Tue, 10 Mar, 2020
12. Purulia, West Bengal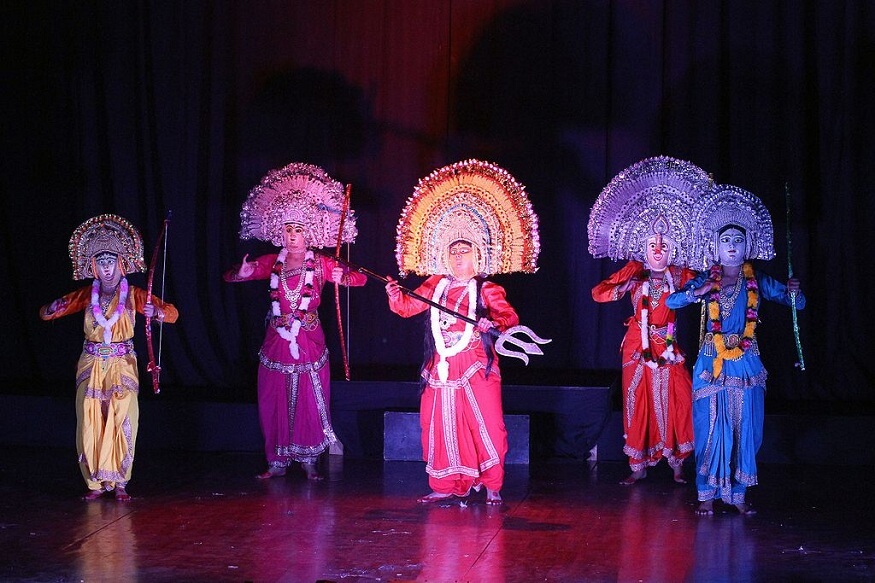 Holi is celebrated here by playing with colored powder and seeing the Chhau Dance. You can enjoy the variety of folk art in Purulia district of West Bengal during Holi. Pack your bags and enjoy Darbari Jhumur, Natua dance, and songs of West Bengal's wandering Baul musicians. Festival is organized by the villagers and accommodation is also provided in cottages and tents for tourists.
Dates: Sun, 8 Mar, 2020 – Tue, 10 Mar, 2020
13. Basant Utsav| Shantiniketan, West Bengal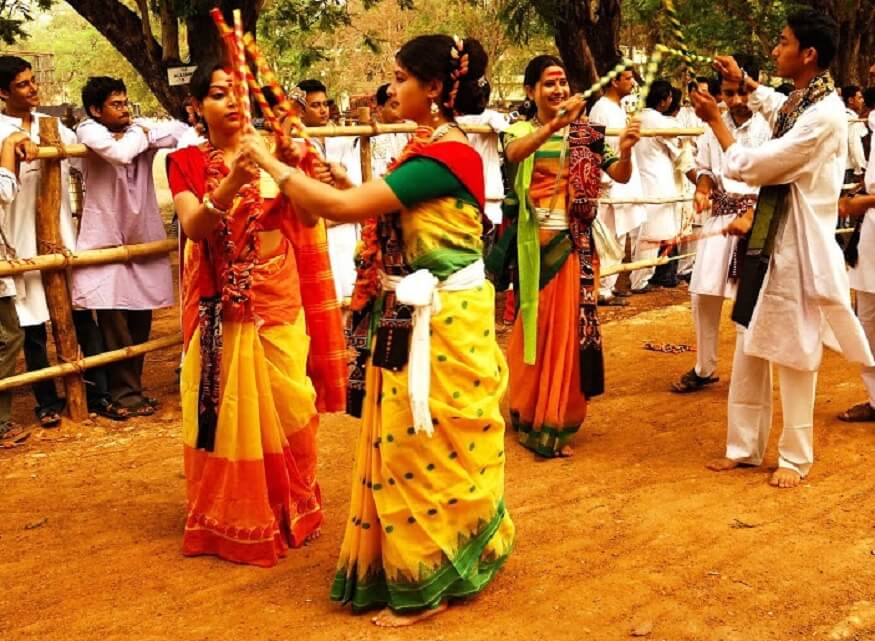 Rabindranath Tagore hosted Basant Utsav in Shantiniketan, Birbhum. During Basant Utsav, the students of this campus attired themselves in yellow shaded clothes. The sight of all these youths festooned in such cheerful colored dresses is certainly attractive. The cultural program that they erect is simply superb. The function of two days is very pleasurable and offers the students a great break to divulge their capabilities. Basant Utsav is considered an important part of Bengali heritage and is joined by large numbers of tourists at Shantiniketan.
Dates: Mon, 9 Mar, 2020 – Tue, 10 Mar, 2020
14. Shigmotsav | Goa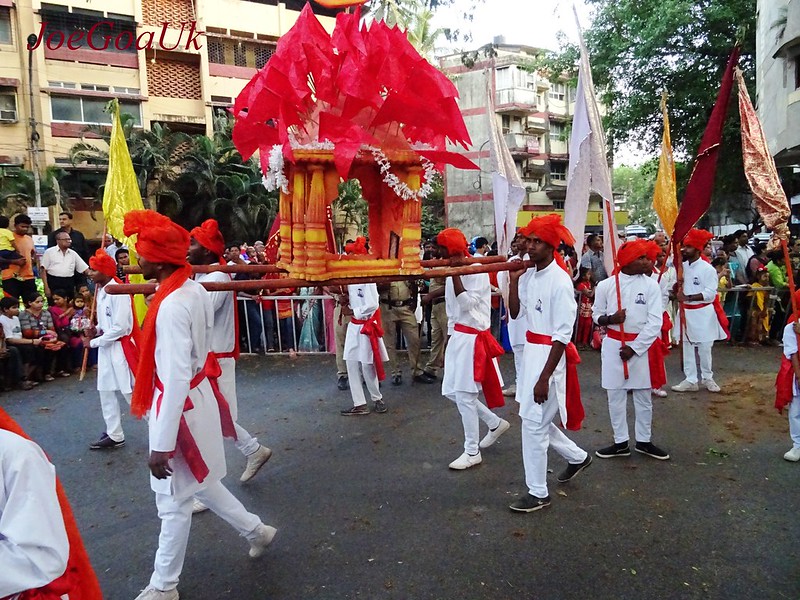 It is one of the main festivals of Hindus. This Fourteen-day long festival is celebrated with a lot of joy and fervor. It is a fusion of Holi and Carnival. The main attraction of 14 days festival is the marvelous procession of street dancers, traditional and folk, and troops depicting scenes from mythology. In Goa it's never too late to party and so is the case with Shigmo Parade which goes on till late with loud cheers, dancing, and playing music. On the last day, everyone is painted with the Gulal. Even beaches of Goa turn colorful, rejoicing this festival with scores of exhilaration. Foreigners in Goa also finds this festival quite mesmerizing and playful.
Dates: Mon, 9 Mar, 2020 – Sat, 21 Mar, 2020
15. Royal Holi | Udaipur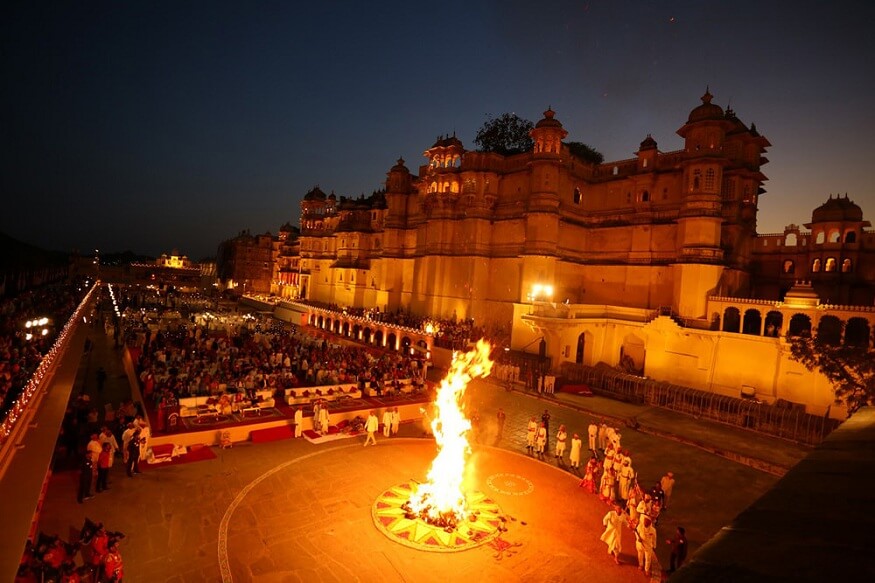 On the evening before Holi, citizens light blazes to mark the event and dispose of the evil spirits in the Holika Dahan. This festivity is executed at an outstanding level by Udaipur's Mewar imperial family. The extravagant parade embraces adorned horses and the regal band. Later, the customary consecrated fire is lit by current Maharaja and an image of Holika is burnt at City Palace, Udaipur. On the next day, everyone is out throwing colors on each other.
Dates: Mon, 9 Mar, 2020 – Tue, 10 Mar, 2020
16. Elephant festival | Jaipur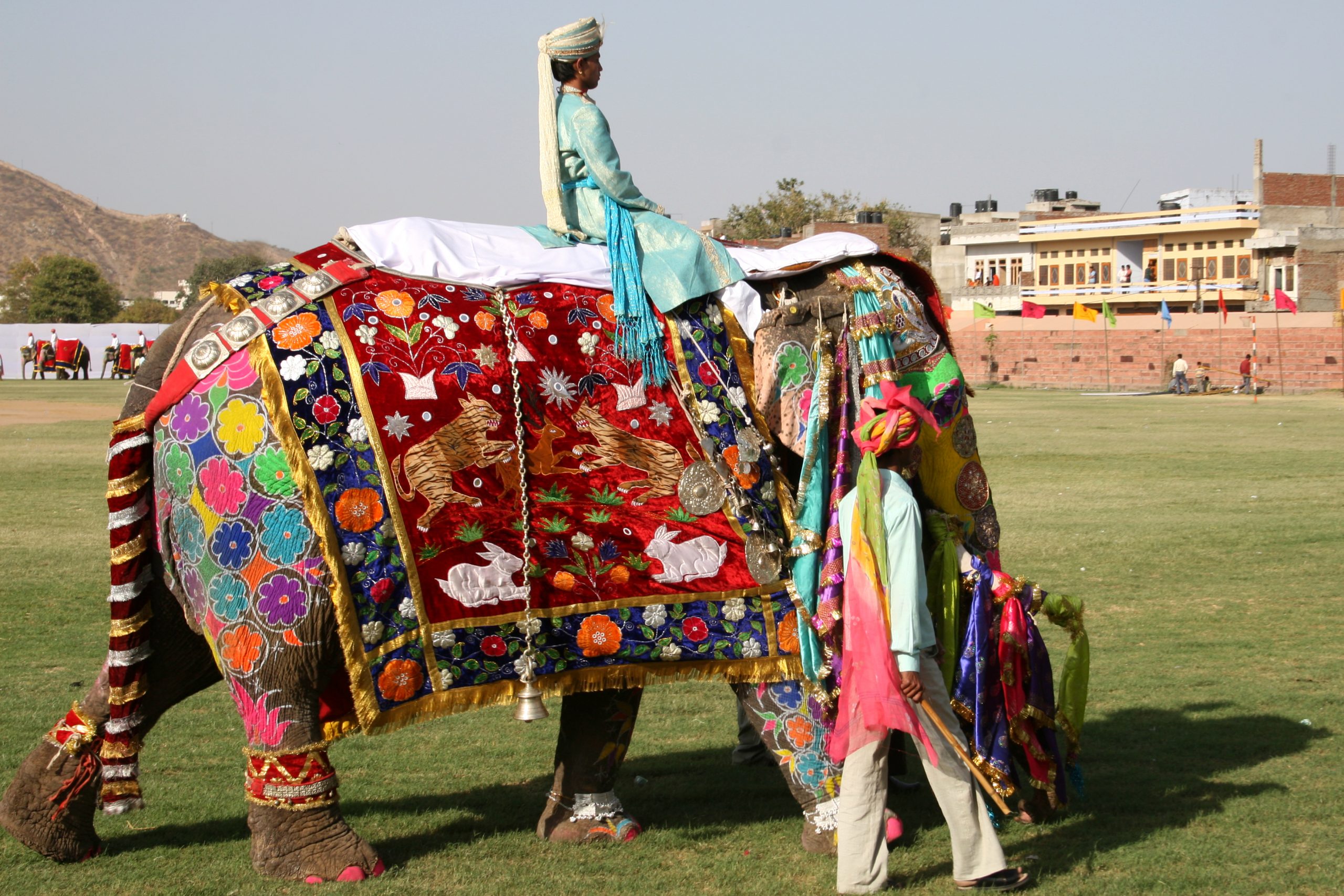 Holi is an extraordinary affair in the Pink city, Jaipur. As on this occasion, the elephant festival is organized annually by Rajasthan tourism. The festival kick starts with a grand and magnificent procession of royal elephants painted with different shades of colors, decorated and embellished with heavy silver ornaments and embroidered clothes. They enter in the polo ground with their mahouts, thumping to the sound of nagadas and loud blows of bankiya (a musical instrument). Various competitions are held among elephants such as tug of war, Elephant beauty contests, elephant polo, and an elephant race. Horses and camels are also present on the ground.
Dates: Mon, 9 Mar, 2020 – Tue, 10 Mar, 2020
17. Yaosang | Manipur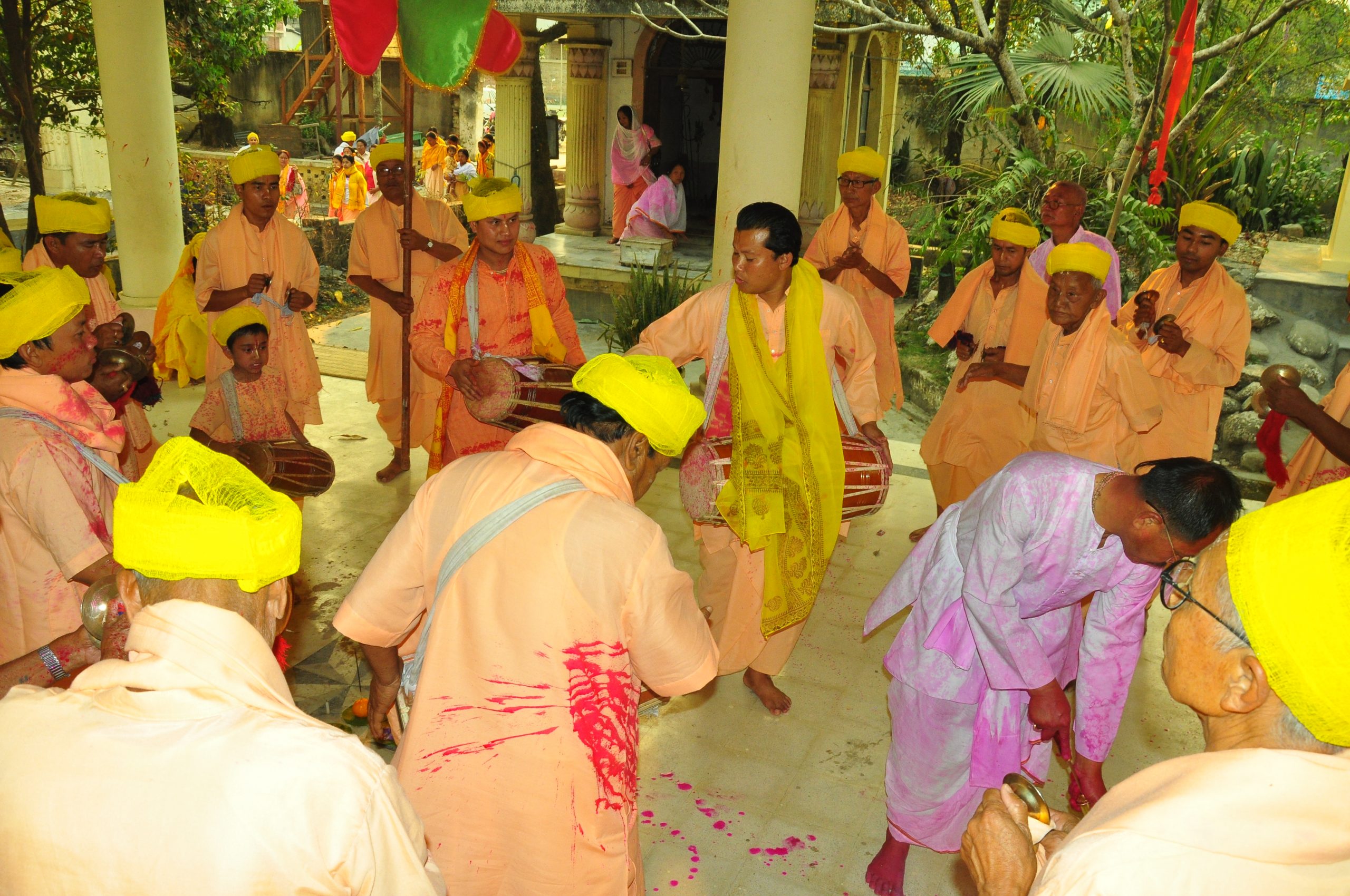 It is celebrated here for six days. It begins on the day of the full moon and is eminent among Hindu and native societies. The best part of the fiesta is the Thabal chongba, a Manipuri folk dance that is executed during this festival. To swell to the civilizations and uphold consistency, the Hindus of Manipur play this festival with colors as well.
Dates: Tue, 10 Mar, 2020
Holi is to be celebrated in India this year on Monday, the 9th of March. This year Holi is coming on Monday and Dhuleti on Tuesday so, you can have a long weekend on this festival. You can plan from now, which state and what kind of Holi you would like to play with your loved ones. Also, avoid using chemically treated colors as they harm your skin leaving behind side-effects. Use naturally made colors from Palash k Phool and enjoy this festival without wasting much water.
Top 5 Food Dishes to Eat/Taste or Enjoy During Holi / Dhuleti Festival

Gujiya – Gujiya is basically Rajasthani snack made of Maida or Flour and filled with khoya and dry fruit mixture. You just can't miss to taste this dish during the Holi festival.
Phirni – Phirni is delicious Punjabi style milk and rice which makes it a sweet desert and is served in clay containers.
Crisp Snacks – People enjoys different crisp snacks in their states during Holi.
Bhaang & Thandai – Recently during Mahashivratri festival people might have enjoyed Bhaang so get ready to taste it once more during Holi. Bhaang is an intoxicating drink prepared during this festival. Apart from Bhaang people also enjoys Ice Creams.
Chaat – Gol Gappe, Bhalla Chat, Bhel Puri, Dahi Puri, Sev Puri and several more dishes can be enjoyed during Holi Festival
Music is the most important thing in India. Bollywood has every type of song to play on various occasions and festivals. Party people always prepare their playlist just before the festival. This playlist includes all the famous Holi songs from Bollywood movies. If you are also preparing for the same then here are some popular songs to add to your playlist. Some famous Bollywood songs are Rang Barse, Balam Pichkari, Holi ke Din, Holi Khele Raghuveera.
Top Bollywood Hindi Songs to Play on Holi
Holi celebration is the integral part of the Bollywood movies and the famous dialogue from the movie Sholey, "Holi Kab hai…Kab hai holi?" is the best example of it. Here are few most famous Hindi songs depicting the importance of Holi festival and the celebration in India.
1. Rang Barse – SilSila
2. Balam Pichkari – Yeh Jawani Hai Deewani
3. Holi Ke Din – Sholay
4. Holi Khele Raghuveera – Baghban
Holi is celebrated in almost all parts of India in one or another ways and has a special place in people's heart. Let us know in comments how you are going to celebrate this Holi festival.