Mahabalipuram is a town in the Chengalpattu district in Tamil Nadu and it is also known as Mamallapuram. It is one of the best UNESCO world heritage sites and a famous place among tourists. Mahabalipuram has a rich history and heritage that is preserved till date. It is heaven for history enthusiasts as they can visit various great monuments, sculptures, and cave sanctuaries. Apart from historical places, Mahabalipuram also has beautiful beaches, monoliths, stone carvings, and temples.
The temples that were built under the rule of King Narsimhavarman portray the events of Mahabharata. Mahabalipuram was found in the 7th century AD by the Pallava king Narsimhavarman I. Winters are considered the best time to visit Mahabalipuram. Ancient mariners know Mahabalipuram as the town of 'Seven Pagodas'.
History of Mahabalipuram Temple
It is one of the oldest South Indian temples and it was built in the 7th century. The shore temple was constructed in the Dravidian style and it is one of the major tourist attractions. It is situated on the banks of the Bay of Bengal and was built under the rule of King Narsimha Varma.
The shore temple is built of cut stones and has three shrines. Two shrines are dedicated to Lord Shiva and the third shrine is dedicated to Lord Vishnu. The shore temple comprises five stories and the top of the temple is decorated with carvings and sculptures. The pyramidal structure of the shore temple is 60 feet high and it sits on a 50 feet square platform.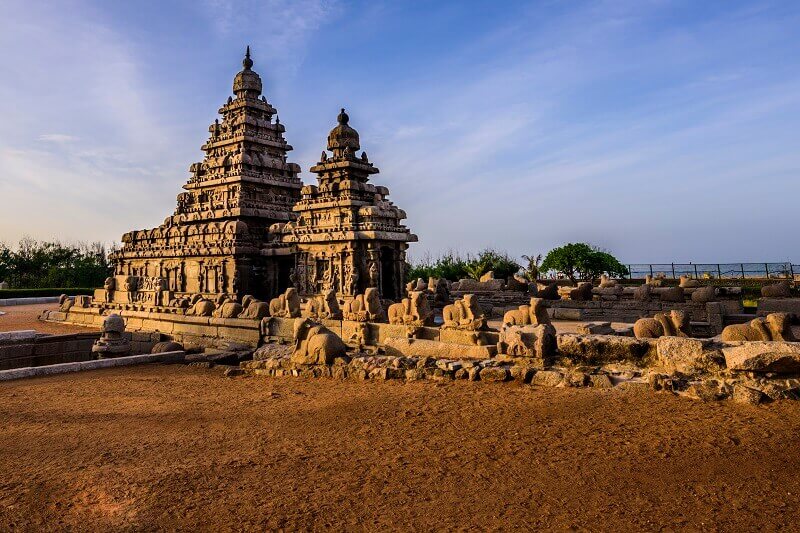 There is a smaller Lord Shiva temple, and it is a double-storied structure with an octagonal shikhara that is built on a circular griva. There is a monolith sculpture erected inside the compound wall of the temple complex that has partly sculpted lion with a hole in its torso and this monolithic lion is also known as Durga's lion. With recent excavations, there are still various unrevealed structures that are lying under the sand.
Overall, the shore temple is an amazing piece of architecture that is visited by numerous tourists all over the year. The best time to visit the shore temple is between October to March. However, if you want to witness and be a part of the Mahabalipuram dance festival then January and February is the perfect time for you.
Places to Visit in Mahabalipuram (Mamallapuram)
Below are the best places of interest near Mahabalipuram and enjoy your holidays with friends and families.
1. Mahabalipuram Beach: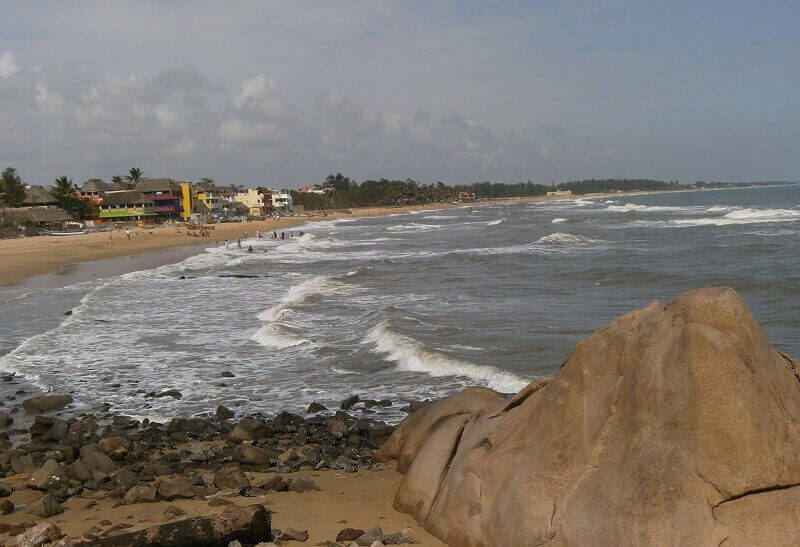 Mahabalipuram beach is visited by numerous tourists throughout the year and the main reason behind it is water sports. Here you can enjoy some amazing water sports like diving, motor boating, windsurfing, etc. It is on the shore of the Bay of Bengal and has some scenic views. It is a perfect place to enjoy with the family and take a break from the hectic schedule. There are a lot of resorts along the beach where you can find delicious food and the beach has golden sand which makes it even more beautiful.
Best time to visit Mahabalipuram Beach – Between November to February.
2. Pancha Rathas: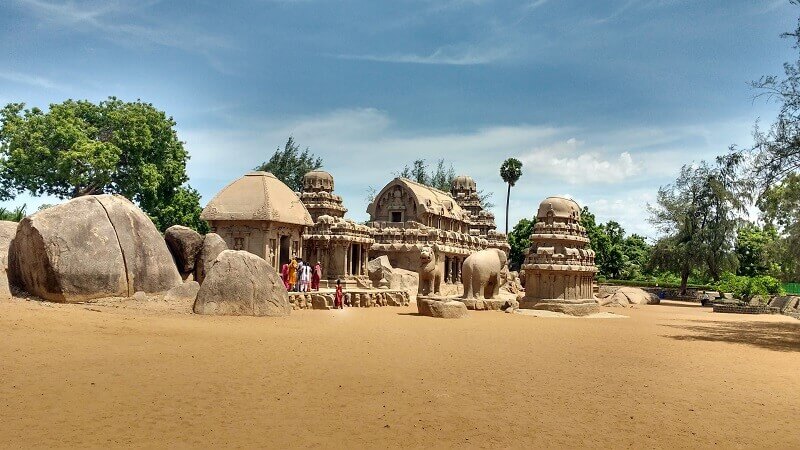 Pancha Rathas is a monument complex and it is also known as 'Five Rathas' or 'Pandava Rathas'. These five monuments are carved over a single stone or monolith of granite. The name of these five Rathas are 'Dharmaraja Ratha', 'Bhima Ratha', 'Arjuna Ratha', 'Nakula Sahadeva Ratha', and 'Draupadi Ratha'.
The largest among all the Five Rathas is Dharmaraja Ratha. Here, you can see the diversity of the Dravidian architecture. They were built in the 7th century during the rule of King Mahendravarman I and his son Narsimhvarman I. The construction of the five Rathas stopped after the death of Narsimhvarman I. Even though the Pancha Rathas are unfinished it is still one of the most famous tourist destinations in Mahabalipuram.
3. Arjuna's Penance: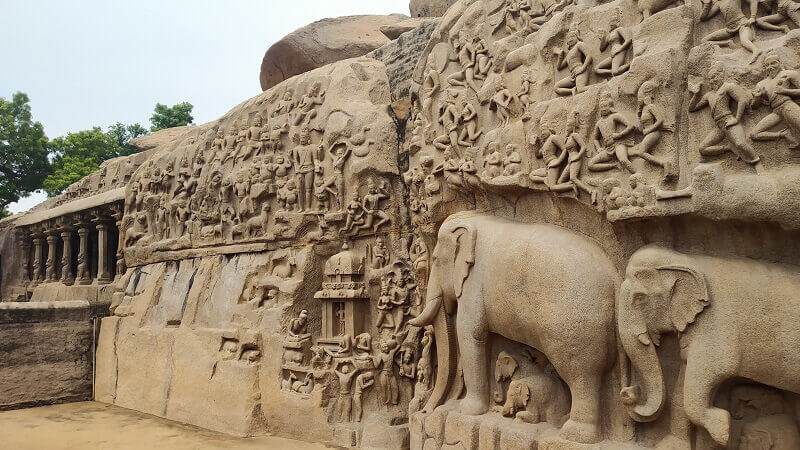 The Arjuna's Penance is one of the largest rock-cut relief in the world and it is also known as 'Descent of Ganges'. The length of the Arjuna's Penance rock structure is around 30 meters and it stands tall at the height of 15 meters. Here, you can see figures and patterns of Hindu mythology. There are life-size figures of animals like elephants, lions, deer, and cats. It is an amazing place for history enthusiasts as they can learn and understand the importance of every stone carving.
4. Alamparai Fort – Seaport of Historic Times: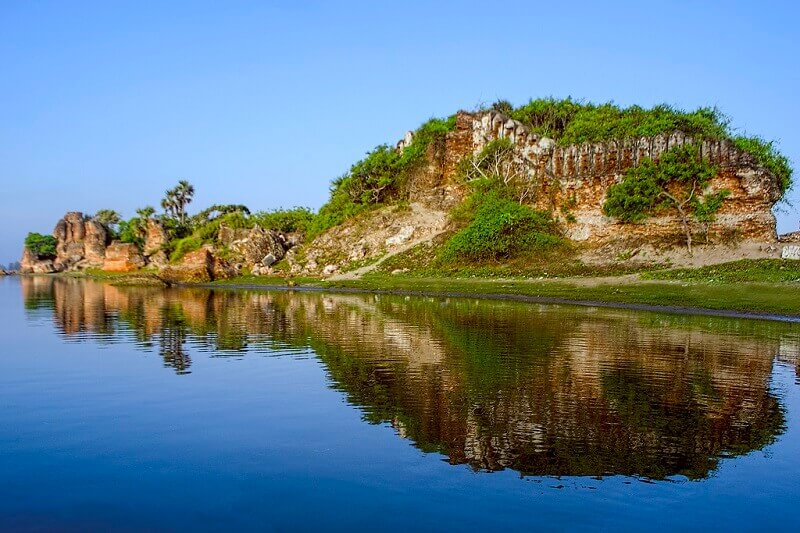 Alamparai fort is located at 50 km distance from Mahabalipuram and it was a seaport in historical times. The Alamparai fort is an offbeat place that has some astonishing and beautiful views. The fort is built with bricks and limestones and it is also known as Alamparva and Alampuravi. A large portion of the fort was damaged by the Tsunami in the year 2004 but this place still looks mesmerizing and you can spend some quality time here with your friends and family.
5. Sadras: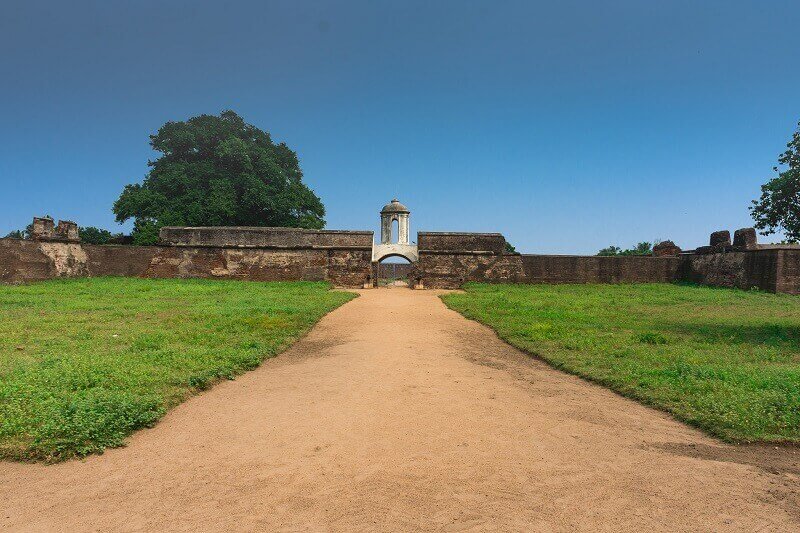 Sadras has a beautiful landscape and it is located at around 13 km distance from Mahabalipuram. It was established as a part of the Dutch Coromandel in the 17th century. If you are a history enthusiast, then you can also explore Dutch history here. Here, you can find a ruined Dutch fort and a Dutch cemetery. Overall, Sadras is an amazing place with astonishing views and beautiful beaches.
Read Also: Best Places To Visit In South India In 2023 To Beat The Summer Heat
6. Tiger Cave – Hidden Place in Mahabalipuram: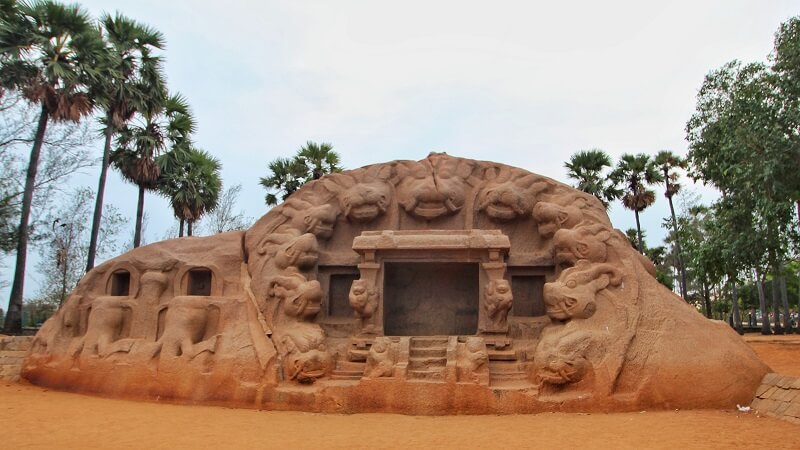 There are 11 tiger head carvings at the face of the cave and that is why it is known as Tiger cave. Here, you can find a carving of Goddess Durga on top of these tigers. Tiger caves are more of a picnic spot and you can spend a day here with your friends and family. Tourists can enjoy nature along with the architectural beauty at Tiger cave. Inside the cave, you can find the ruins of a small temple dedicated to Lord Subramanya.
Best time to visit Tiger Cave – Perfect time to explore Tiger cave is between November and February as the weather is pleasant during that period.
7. Crocodile Bank – A Reptile Zoo in Tamil Nadu: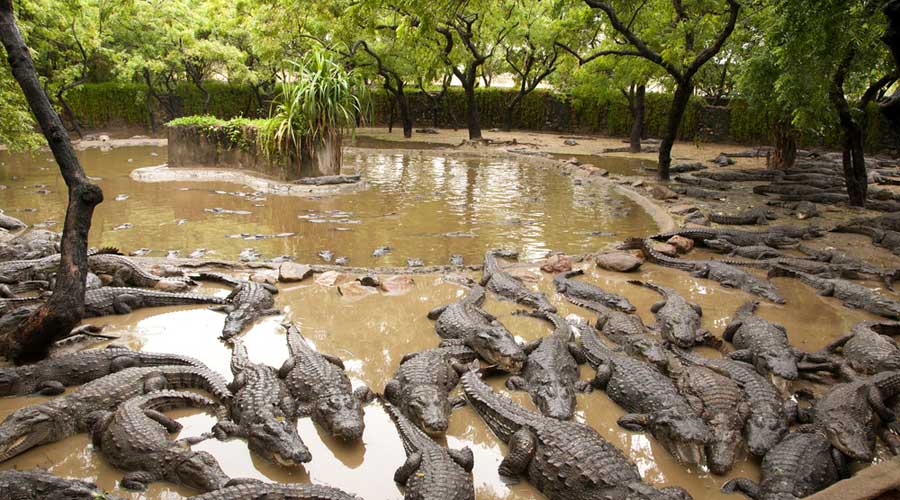 It is a Crocodile conservation center that is located at a distance of 14 km from Mahabalipuram. At Crocodile bank, you can find various species of Indian and African alligators and crocodiles. There is also a snake farm located at this site and the process of extracting snake venom is a popular tourist attraction.
8. Covelong Beach – Best Visiting Place near Mahabalipuram: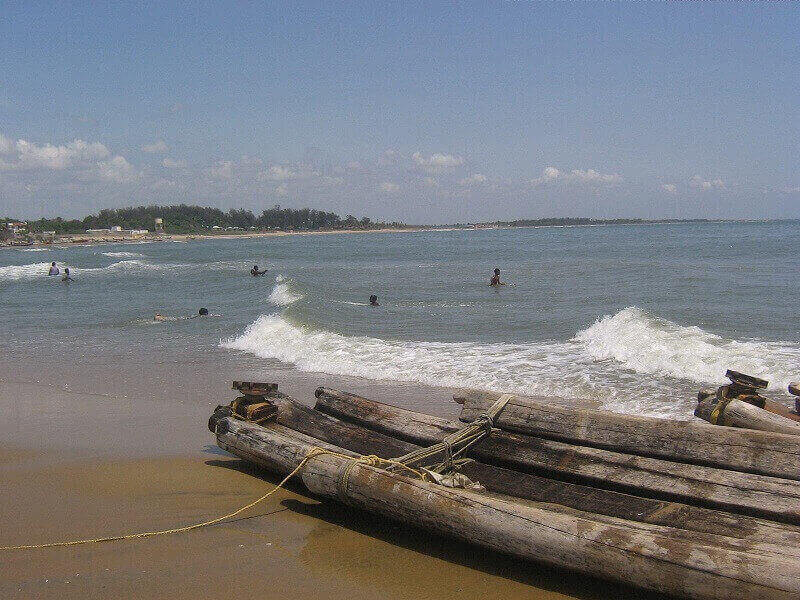 Covelong beach is basically Kovalam beach that is located on the coast of the Bay of Bengal. It is a beautiful beach with ravishing views, and it is visited by over a thousand tourists every day. The Cavelong beach is famous for the fishing activities and fishing is the main occupation of the people here. It is a very calm and peaceful place where you can enjoy the sunset with your loved ones. Here travelers can also engage in various fun activities like Surfing, Parasailing, Boating, etc.
9. India Seashell Museum – Second Largest Seashell Museum in World: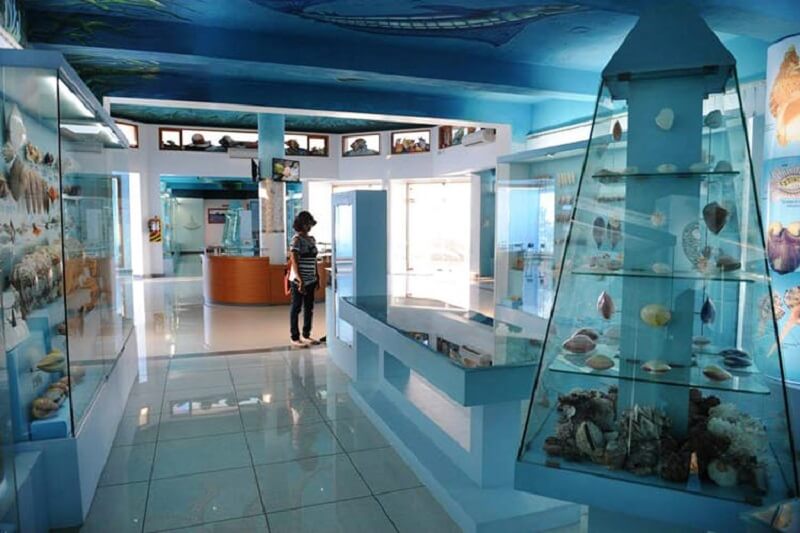 The India seashell museum is one of the largest in Asia. The museum has a massive collection of over 40,000 different specimens of unique shells. The main objective of the India seashell museum is to educate tourists. There is a total of four galleries and tourists can learn a lot about seashells that are on display.
10. Krishna's Butter Ball – Best Place to See Around Mahabalipuram: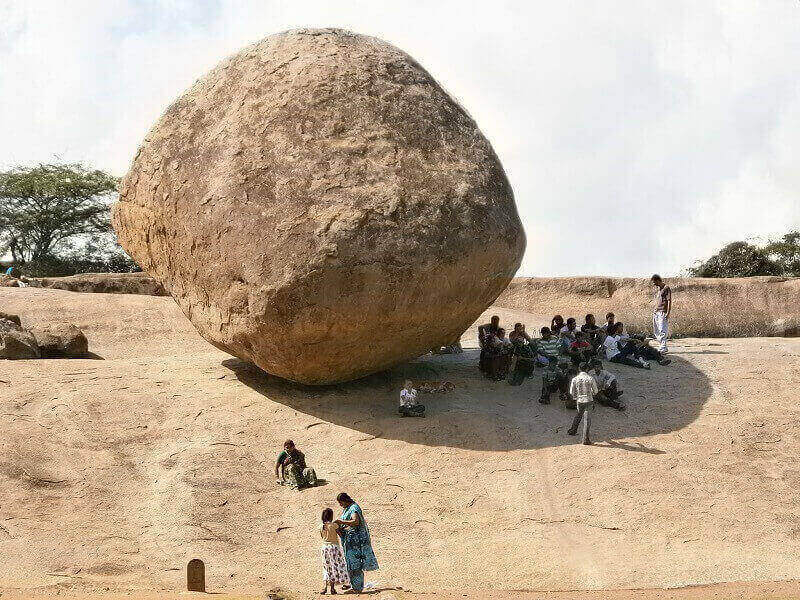 Krishna's Butterball is a huge granite boulder that is 6 meters high and 5 meters wide. The weight of the ball is around 250 tons and it is resting on a short incline. Krishna's Butterball is in the same position for more than 1200 years. In 1908, Arthur Havelock who was the governor at that time tried to move the boulder with seven elephants but has no success. A lot of visitors come here to see this tricky rock.
11. Krishna Cave Temple – Best Place of Interest Around Mahabalipuram: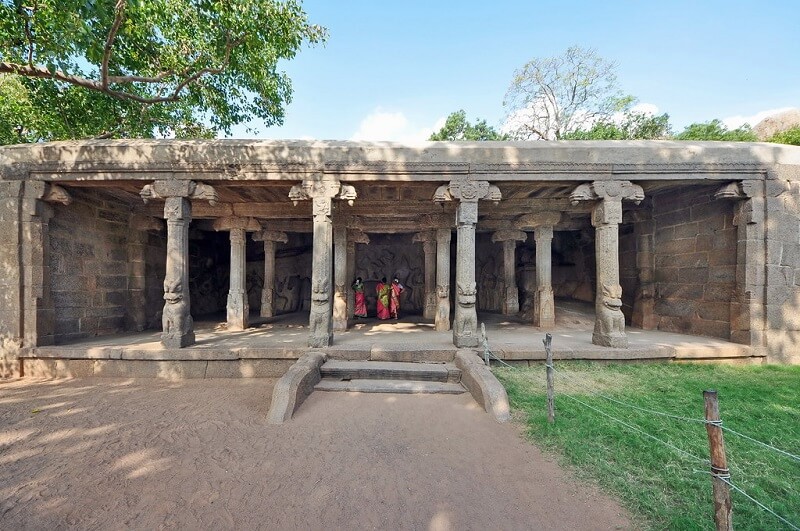 The Krishna cave temple is also known as Krishna Mandapam and it is located on the Coromandel Coast of the Bay of Bengal. Here, you can see various carvings on the monument that shows Lord Krishna lifting Govardhan mountain to protect the Gopis and herd from the heavy rains. Tourists can witness the amazing architecture and see the beautiful carvings here at the Krishna cave temple.
Read Also: 11 Valparai Tourist Places In Tamil Nadu You Should Visit Straight Away
12. Ganesh Ratha: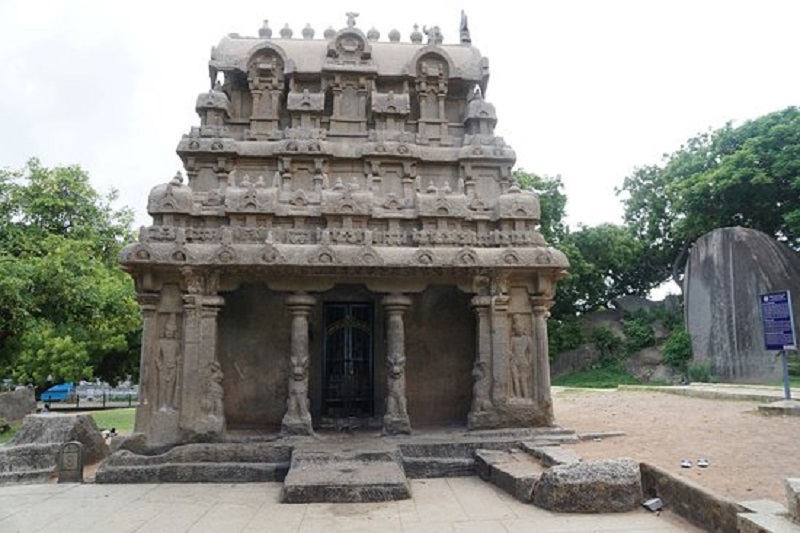 The Ganesh Ratha is an example of monolith Indian rock-cut architecture that was built during the rule of Mahendravarman I. It is carved out of pink granite and initially, it was constructed with a Shiva Linga, later the Linga was removed, and Lord Ganesh is worshipped there now.
13. Trimurti Cave: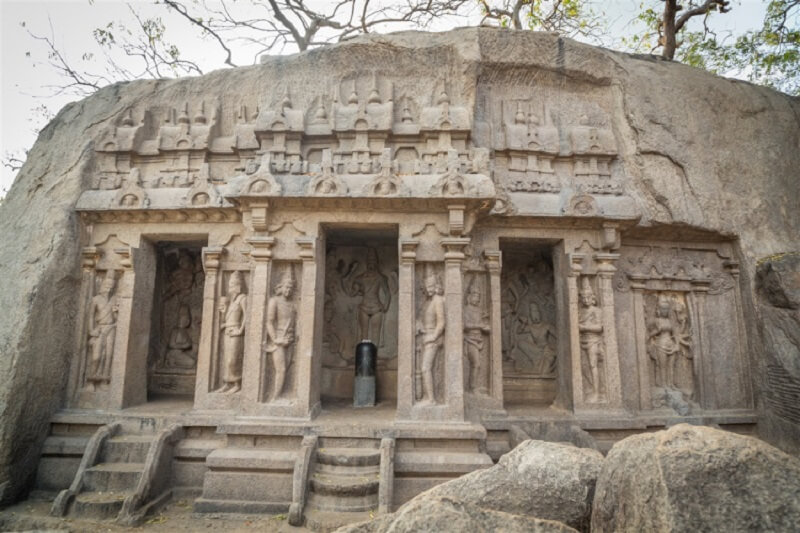 It is dedicated to the holy Hindu trinity – Brahma, Vishnu, and Mahesh. Tourists can see the amazing architecture of the Pallava dynasty. The three shrines are decorated with carved gatekeepers. Here, you can also find a small shrine that is dedicated to Goddess Durga.
14. Sculpture Museum – One of the Best Places to Visit in Mahabalipuram: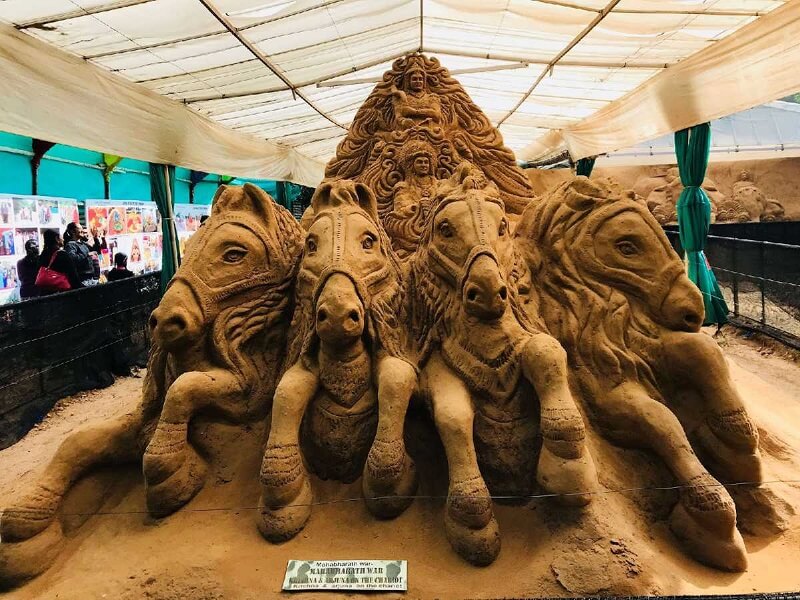 It is situated near Mahabalipuram bus station and here you can find more than 3000 sculptures of Hindu mythological characters, Gods, and Goddesses. There are various stone, wooden, cement, and brass sculptures that represent the historic significance. If you are a history enthusiast, then this is a must-visit place for you.
Sculpture Museum Entry Fees & Timings
There is a small entry fee of 10 ₹ and the timing of the Sculpture museum is from 10:00 AM to 5:00 PM.
15. Mamallapuram Lighthouse: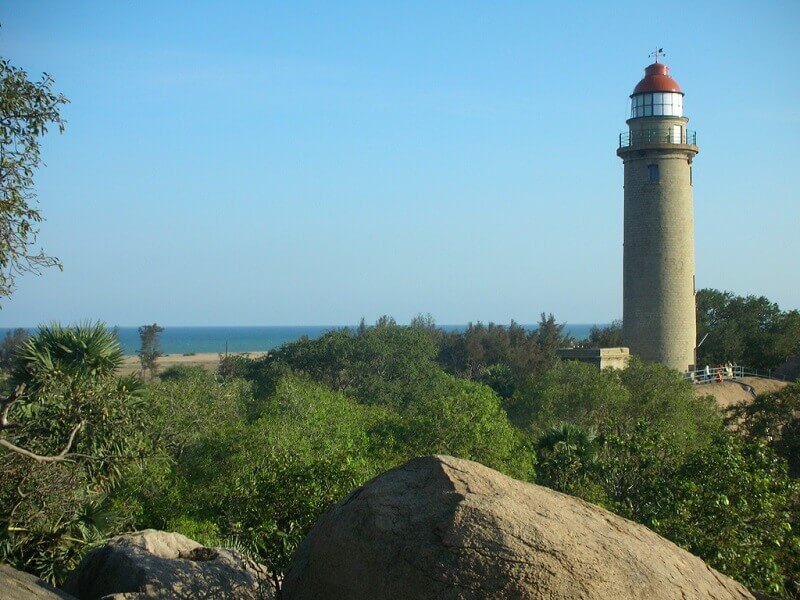 The lighthouse in Mahabalipuram has been open to the public since the year 2001. It is made up of natural stones and it is completely functional. Visitors can climb to the top of the lighthouse and from the top, they can enjoy the captivating and breathtaking views.
Mahabalipuram is a beautiful place where you can enjoy nature and visit various places of historical importance. There are also various museums where you learn about Hindu mythology. Overall, it is a perfect place to explore with friends and family.
FAQs on Places to See near Mahabalipuram:
What is the best time to visit Mahabalipuram?
The best time to visit Mahabalipuram is from October to March.
What are the famous attractions in Mahabalipuram?
Some of the famous attractions in Mahabalipuram include Shore Temple, Pancha Rathas, Arjuna's Penance & the Krishna Mandapam.