If summers don't stop you, food keeps attracting you, you love to explore wild animals and natural beauty, and being urban is in your blood; then Raipur is all for you. The most significant city and the capital of the Indian state of Chhattisgarh; Raipur exists ever since the 9th century. It is popularly referred to as the "rice bowl of India", as there are more than 50 varieties of rice grown here. Being a city with energetic people of ever-fresh mood, Raipur has some fantastic places to explore and be amazed by its culture and tradition. Let's take a look at them one by one by categorizing who you are:
Top 15 Places to Visit in Raipur
1. Gadh Kalewa – A Place for Chhattisgarhi Food Culture:
Food for all times has been a basis for turning back to the olden times and giving us enormous happiness and pleasure. Chhattisgarh has an extensive variety of cuisines that are accessible in rural regions but are scarcely offered in the city culture. With the aim of preserving these cultural cuisines, Gadh Kalewa was established on January 26, 2016, on the premises of the Mahant Ghasidas Memorial Museum. It serves around 36 different cuisines in the state. The settings of Gadh Kalewa give an ephemeral overview of the arty culture and convention of Chhattisgarh. Delicious cookeries like Cheela, Farra, Bafouri, Chausela, Dhuska, UradBada, MoongBada, Paan Roti, Pidiya, Babra, GulGula, Dehrouri, Khurmi, Curry Laddu, and lot more are served in bronze plates on reasonable rates. If you love tasting food from different regions, do visit this place when you are in Raipur.
2. Night Choupati – Street Food in Raipur:
This night choupati opens from 9:00 PM to 1:00 AM every day. Run by Municipal Corporation, this choupati has around 150+ vendors serving you a variety of food ranging from North Indian to South Indian to Italian and Chinese as well. The charges are nominal, and you can have all sorts of tastes here in food and beverages. The vendors are dressed unanimously, and the best part is that only the licensed vendors are allowed to sell their food. All the Thelas look similar, and the hygiene factor is given utmost priority.
3. Street Food Opposite to Marine Drive:
Yes, like Mumbai; Raipur has its own Marine Drive, and the best street food is served here. From Egg Role, Kabab, and Keema to Poha, Mangoda, and Jalebi. You just name the food item, and you will find it here. But the best among all is Litti Chokha, and Danda Role served here. If you love to explore a variety of food items then Danda Role will surely surprise you. Though the food items are sold throughout the day hours the best time to visit is around sunset. There is also a shop that serves you around 15+ different varieties of Milk drinks. The base is regular milk but, the additional ingredients vary. They also have a chart showing the benefits of each type of drink.
4. Shri Ram Mandir Raipur: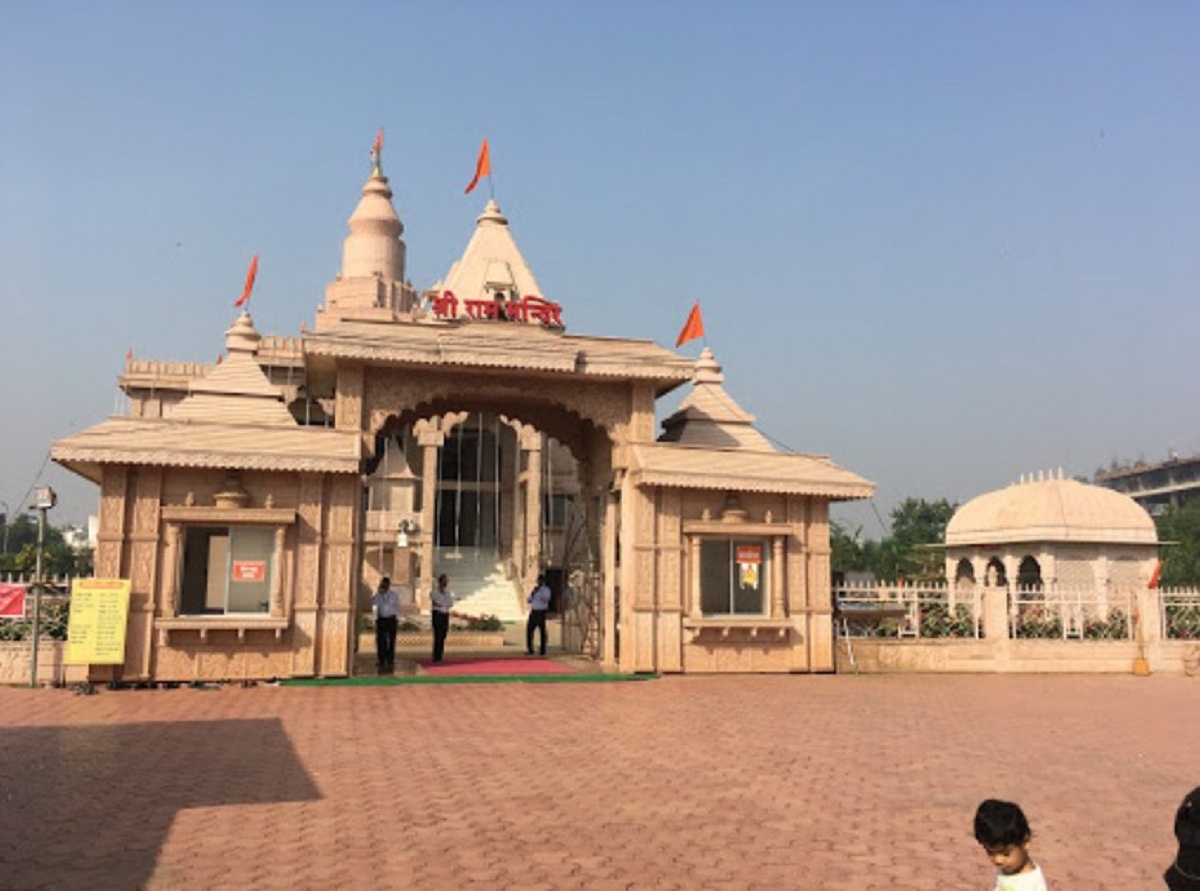 According to the folklore, Lord Ram with his wife Sita Mata and younger brother Laxman Ji; has spent ten out 14 years of their Vanvaas in various parts of Chhattisgarh including Bastar and a few other districts. It is also said that Chhattisgarh is Lord Ram's Nanihaal (Maternal Grand Mother's Place). Because of these two reasons, Chhattisgarh is supposed to be blessed by him. Shri Ram Mandir is not only devoted to Lord Ram but to all the Dashavtaars (10 Incarnations) of Lord Vishnu; Lord Ram is emphasized explicitly in the form of Ram Darbar. It is located on the airport road. You must visit this temple for the extreme feeling of spirituality and calmness in the mind and soul.
Shri Ram Mandir Raipur Location: VIP Road, Raipur
Best time to Visit Shri Ram Mandir Raipur: The temple opens at 5:30 AM and closes by 10:00 PM. Though the doors remain closed from 12:15 PM to 4:30 PM
5. Kevalya Dham – Jain Tirth in Chhattisgarh: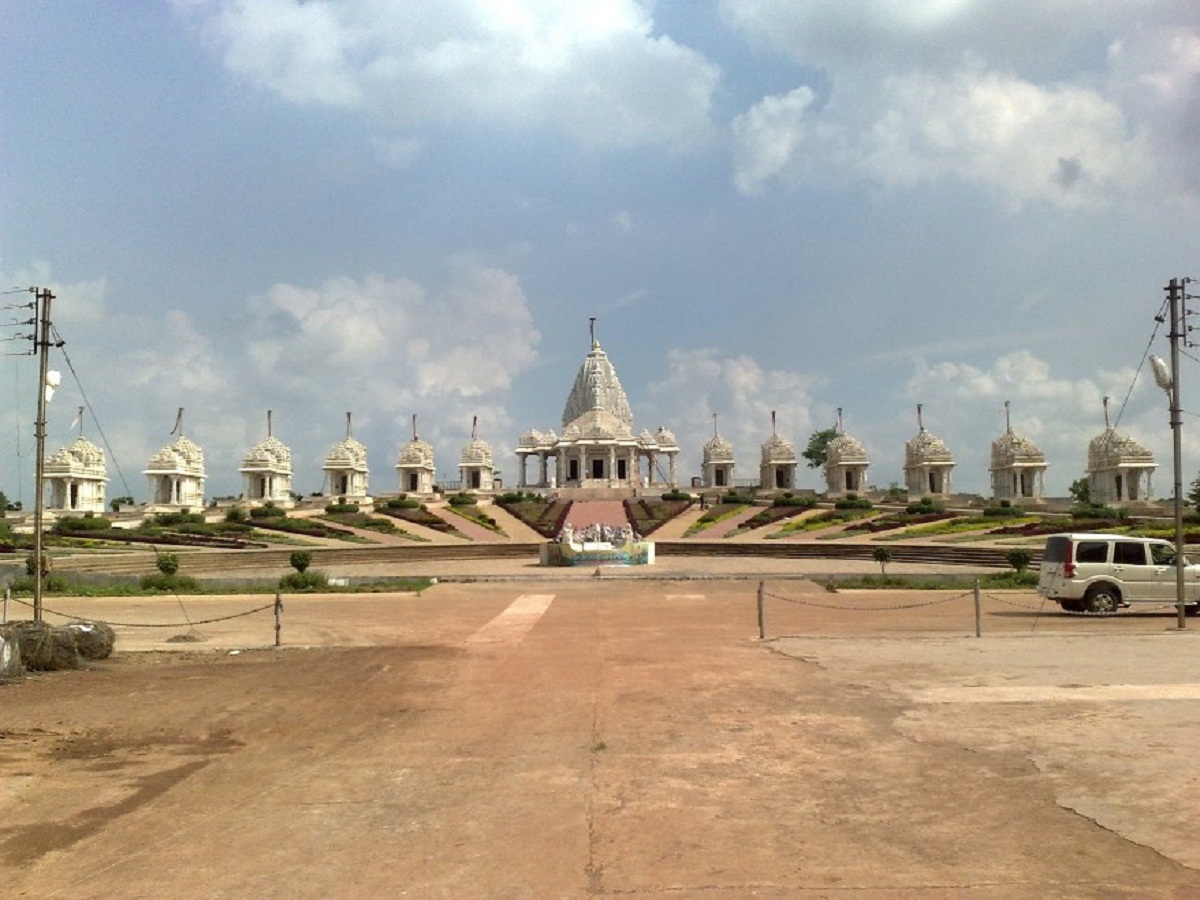 Kevalya Dham is a holy place for Shwetamber Jains. Also recognized as Shri Aadinath Jain Shwetambar Tirth. It is a collection of 26 small and huge Jain temples superbly constructed with marble. The temple cherishes the idols of all 24 Tirthankars in small temples along with one large temple multifaceted with the idol of Shri Rishabhdev or Aadinath. The curved wall inside the temple conveys an accurate depiction of Sri Shatrunjay Maha Tirtha. A Dada Bari is also built adjacent to this temple. There is also a Dharamshala(Rest House) furnished with all up-to-date amenities. Travelers and disciples from faraway places in India visit these temples consistently.
6. Sri Sathya Sai Sowbhagyam – Centre for Human Development: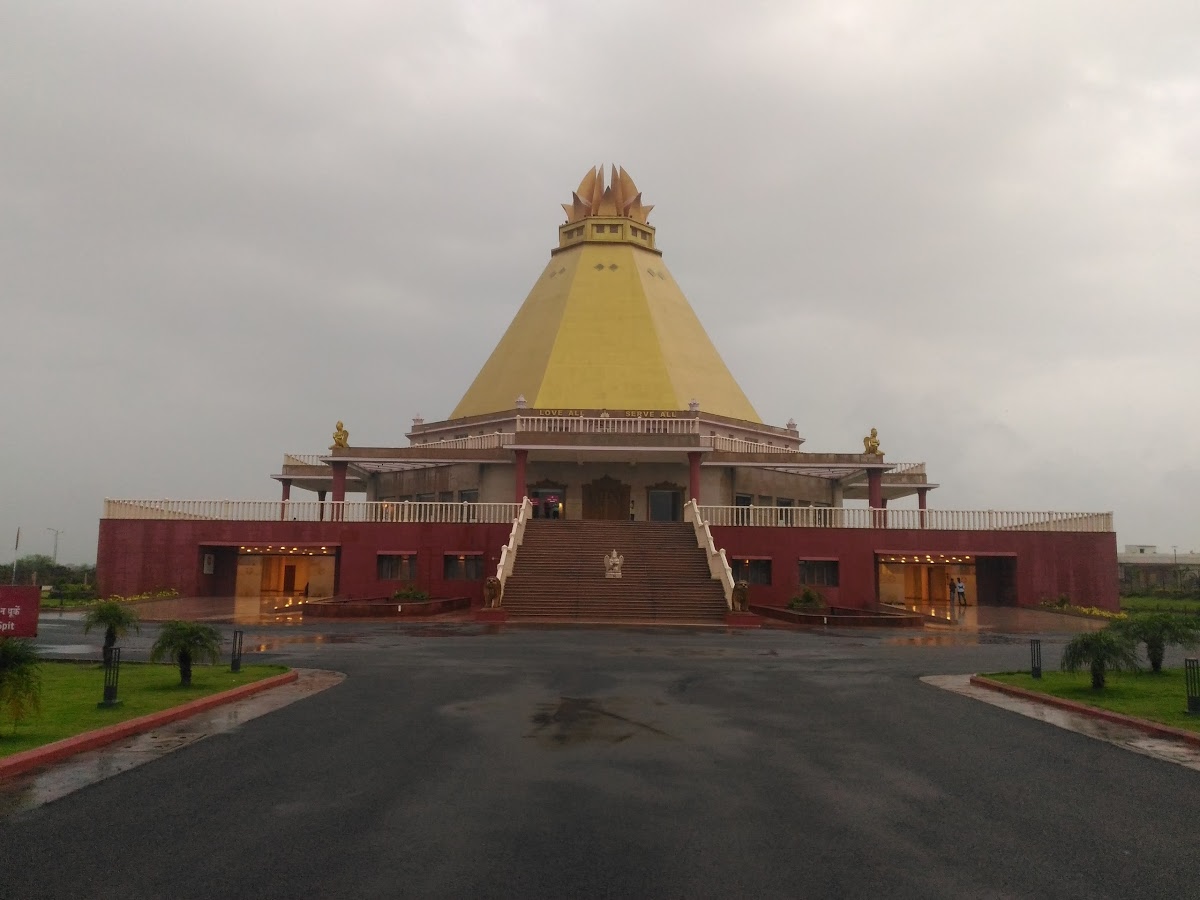 Sri Sathya Sai Sowbhagyam has an exquisitely carved 5'3" figurine of Lord Sri Sathya Sai Baba. Appealingly located, in Naya Raipur, it is a Celestial Edifice, constructed beside the heart-formed Sri Sathya Sai Sanjeevani Centre for Child Heart Care. It is an extraordinary union of the premium and politest thought and its countenance, made to stimulate the study of humanity. This building is iron-less.
7. Marine Drive – Telibandha Talab: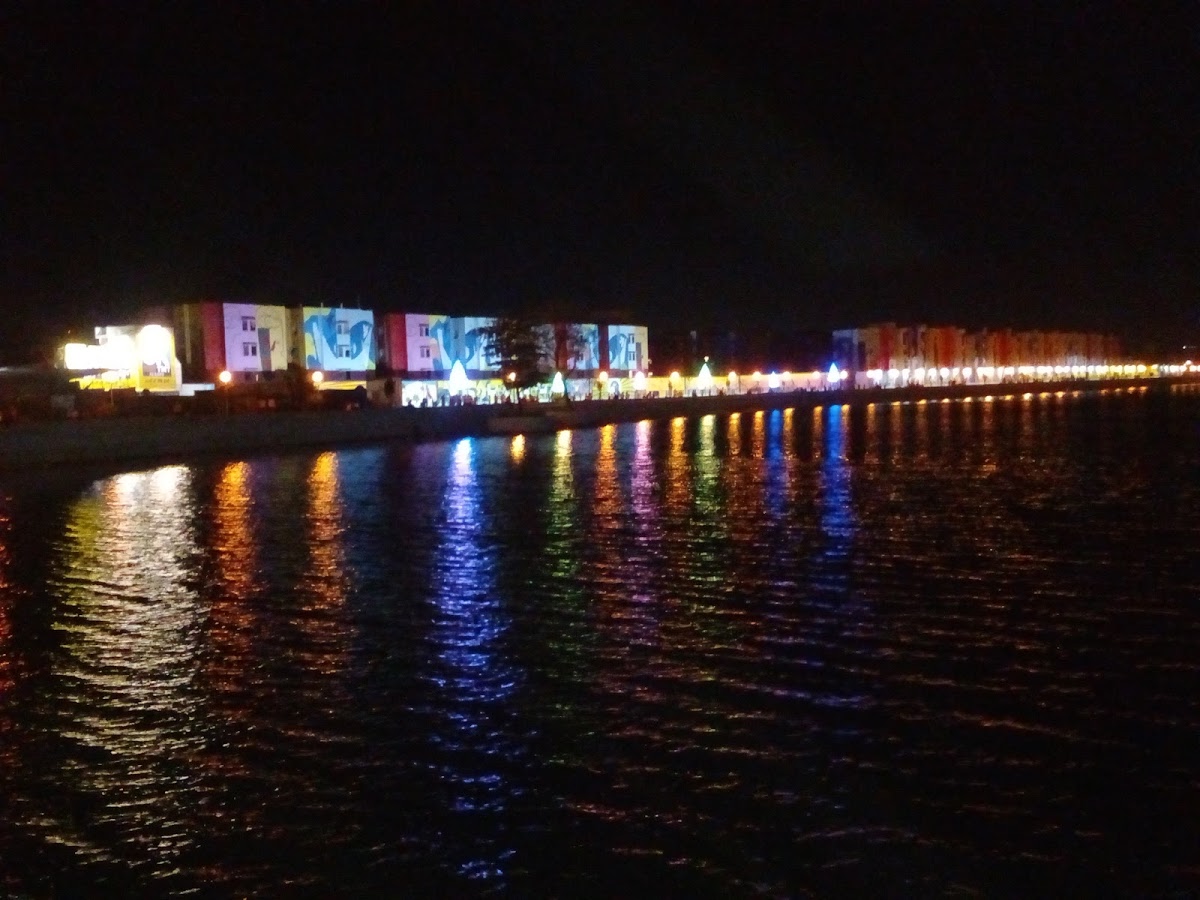 Telibandha Lake is recognized as Marine Drive It is developed by the department of tourism board of Chhattisgarh. This place has India's 5th tallest National Flag Post which is around 90 feet long. Considered the best selfie zone amongst the youth of the city. It is an open Wi-Fi zone. Evening hours are the best to visit the lake as it looks beautiful with colored lights and fountains. Two sides of the lake have a walking space with a number of the thelawalas, chanawalas, and balloon sellers at your service.
8. Ambuja City Center – Unexplored Place near Raipur:
The eternal Indian impression of the Clock Tower works as a terminus to come across, converse, and be thoughtful. It has composed of green and non-green zones, shades, elevations, and places. The mall also has distinguished edifices like Feasting Street, Kids' Street, Broadway, Valentine Café, Garden of Senses, and Friendship Street, amid others interlaced nearby inimitable designs, and attractive innovation. It is entirely air-conditioned with megastores, food courts, a multi-screen cinema, clubhouses, an administrative center, and bars.
9. Nandanvan Jungle Safari Naya Raipur:
Spread across a gross area of 202.87 hectares, Nandanvan jungle safari is divided into 8 zones namely; Monument Zone, Parking Zone, Administrative Zone, Water Zone, Waiting Zone, Zoo Zone, Safari Zone, and Management Zone. The Safari Zone is further subdivided into four more zones known as Herbivore Safari, Bear Safari, Tiger Safari, and Lion Safari. The aim of Wild Life Conservation & Awareness is to make a natural, wild learning, research-cum-amusement center for the people of Raipur and Naya Raipur it was planned.
10. Man Made Lake:
This Lake is spread over an area of 130 Acres. Said to be the largest man-made lake in the state; it has a cruise service for visitors. For a cruise of 45 minutes, you are charged Rs.100/- The cruise hours are 10:00 AM to 5:00 PM. Voyage has a music system to make your voyage a beautiful one. An island is formed in the middle of the lake to shelter the migrated birds across the state and nation.
11. Mahakoshal Art Gallery – Best Weekend Getaway near Raipur: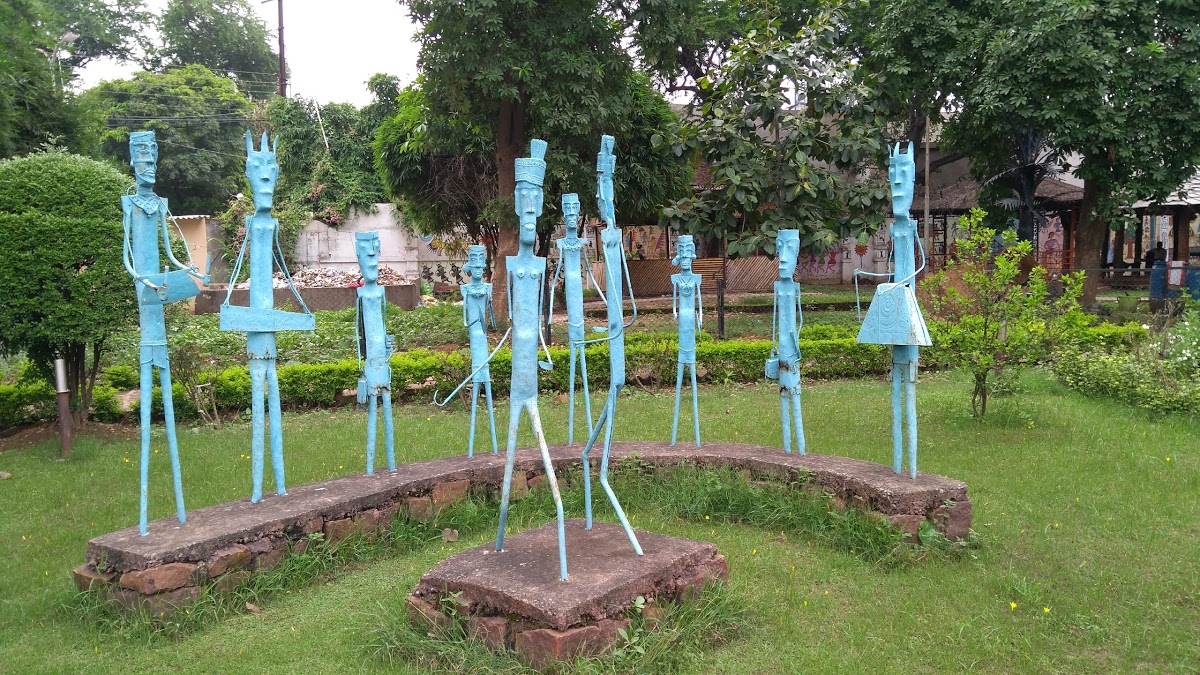 Mahakoshal art gallery is more than an era-old octagonal building built of white stones. The gallery itself is a magnum opus of structural design and prompts us of the magnificent past of the city enchanting into the eras when it was just a minor and inconsequential town in Central India. Though this building hosts numerous art shows the building itself is distinctive. It is recommended to visit albeit you have an hour of time-out in the city. It stands elevated in the soul of Raipur adjacent to the Mahant Ghasidas Museum.
12. Purkhouti Muktangan, Naya Raipur: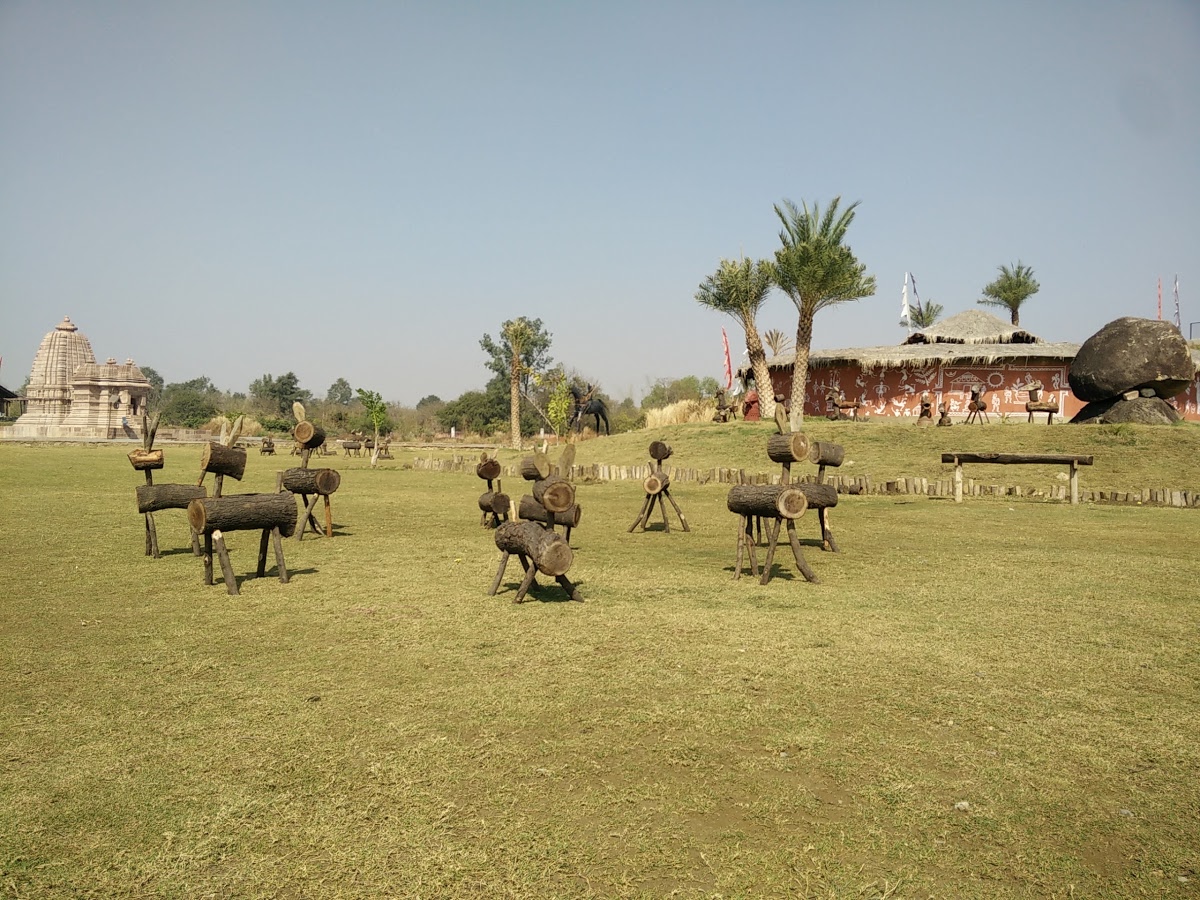 Purkhouti Muktangan is heaven if you are a hardcore art lover. A "Mini Bastar" is made on a land of 10 acres inside it. It is named as "Aamcho Bastar". It took five months, 500 artisans, and Rs. three crores to develop this place. Based upon the lines of Bastar; the huts are made out of stones, sand, and bamboo which are similar to the ones used by the people of Mudiya, Maariya, and Abujhamadiya to live in. The entire Muktangan is a selfie zone in itself.
Purkhouti Muktangan Timings: 8 a.m. to 6 p.m.
13. Telibandha Square – Tourist Place near Raipur Within 50 Kms:
With the baseline of "Kabaad se Jugaad" and to promote the use of Indian items; the mono of the Make In India concept; a 20 Tons weighted Lion is made here from waste items. This Lion is 30 feet in height and 60 feet in length. Made by Railway engineers, it is perhaps the biggest ever mono of Make In India in the country.
14. Central India's Biggest Library:
If you are a bookworm; then this place is going to be your oxygen. This library has around fifty thousand books available if you are aiming at cracking a competitive exam. Being the biggest ever library in Central India; approx. five thousand students have availed of its lifetime membership.
15. Wall of Kindness in Gandhi Park:
To promote humanity, Gandhi Park has a Wall of Kindness; where anyone can hang new/old clothes, footwear, and other stuff and anyone in need can take them up. During winters the woolens hung over there offering warmth to many poor people in the city.
Thus, no matter what you are and what you love; Raipur has something to treat you with unforgettable experiences. Being well connected from all the major cities of India across India through railways, airways, and roadways; it can explore any time around the year except from March to June. So, what are you waiting for… plan a weekend to Raipur soon.
FAQs on Picnic Places Near Raipur:
Are there any waterfalls near Raipur that are good for a picnic?
Yes, there are several waterfalls near Raipur that are great for a picnic, such as Amritdhara Waterfall, Chitrakot Waterfall, Tirathgarh Waterfall, and Kanger Dhara Waterfall.
Are there any parks or gardens near Raipur that are good for a picnic?
Yes, there are several parks and gardens near Raipur that are great for a picnic, such as Nandanvan Garden, Purkhouti Muktangan, and Urja Park.
Are there any historical sites near Raipur that are good for a picnic?
Yes, there are several historical sites near Raipur that are great for a picnic, such as Mahant Ghasidas Memorial Museum, Sirpur Heritage Site, and Bambleshwari Temple.