Are you planning to visit Ahmedabad? your trip is incomplete without heritage walk! Yes, it is a must if you want to experience the rich heritage of the Ahmedabad city.
More of the beauty and rich heritage culture of Ahmedabad could be explored by taking a heritage walk. Wondering what is that? Heritage Walk Ahmedabad supported by Ahmedabad Municipal Corporation is organized to make people aware of the heart of the Ahmedabad city. The walk starts from at 8AM from Kalupur Swaminarayan temple and ends at Jumma (jama) masjid by 10AM to 10:30AM. It covers altogether 20 destinations in around 2 hours and 30 minutes. Recently, one more heritage walk has announced by the authority during night time. It starts at 8:45PM from Sidi Saiyyed Mosque and ends at around 10 PM at Manek Chowk. Checkout last portion of this article to learn about night heritage walk in Ahmedabad.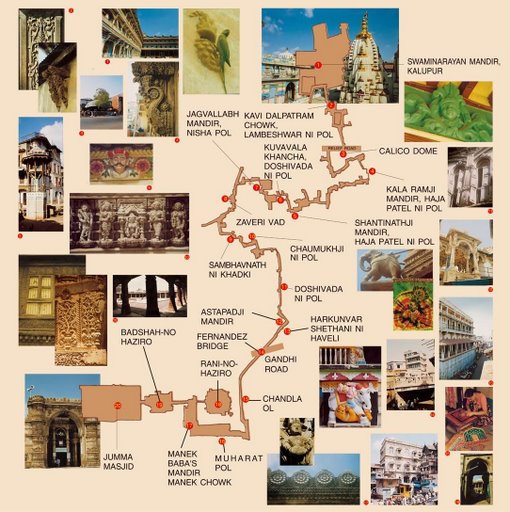 Ahmedabad Heritage Walk Timing, Packages and Fees
Ahmedabad Heritage walk are conducted in different timing and different routes. And the above mentioned route is highly recommended for the people who want to experience the real heritage of the city. Here is the brief about above route walk timing and tickets:
Morning Ahmedabad Heritage Walk
Time: The walk starts from at 7:45AM from Kalupur Swaminarayan temple and ends at Jumma (jama) masjid by 10AM to 10:30AM.
Ticket price (at the time of writing) – As the heritage walk is organized by Ahmedabad municipal corporation, the fees for this entire guided tour is very nominal. Standard ticket charge is INR Rs 200/- per person for Indian citizens, and for foreigners it is Rs.300/- per person including tax.
Evening Ahmedabad Heritage Walk
Ye, you can now attend the evening heritage walk in Ahmedabad which is recently announced by AMC. Here the route of this Heritage will is very different from Morning walk and will take you through the different part. Here is the brief about this evening heritage walk:
Starting point: Sidi Saiyyed Mosque where you will have to report by 8:45PM and the walk will start by 9PM.
End point: Manek Chowk – a famous night hangout of Ahmedabad. Evening walk will end around 10:00pm to 10:30pm at this point.
Fees : 150 INR for Indian and 200 INR for foreigners
Remember: The tour doesn't operate on Monday
Dress code:
As temple and mosque will be covered during heritage walk, there is a pre-defined dress code which need to follow when you go on Ahmedabad heritage walk. Here is the brief about recommended dress code for you:
Upper Wear: Kindly wear a clothes which must cover the shoulders, chest, navel, and upper arms
Lower Wear: You must wear the clothes below knee-length.
Places covered in Heritage Walk
The places covered in Heritage walk are very close to the heart of the people and connected with Ahmedabad heritage. You will get a glimpse of around 22 places which includes Pol, Temple & Mosque during the walk. Checkout the list of few places you can visit during heritage walk below:
#1 – Swami Narayan Temple, Kalupur: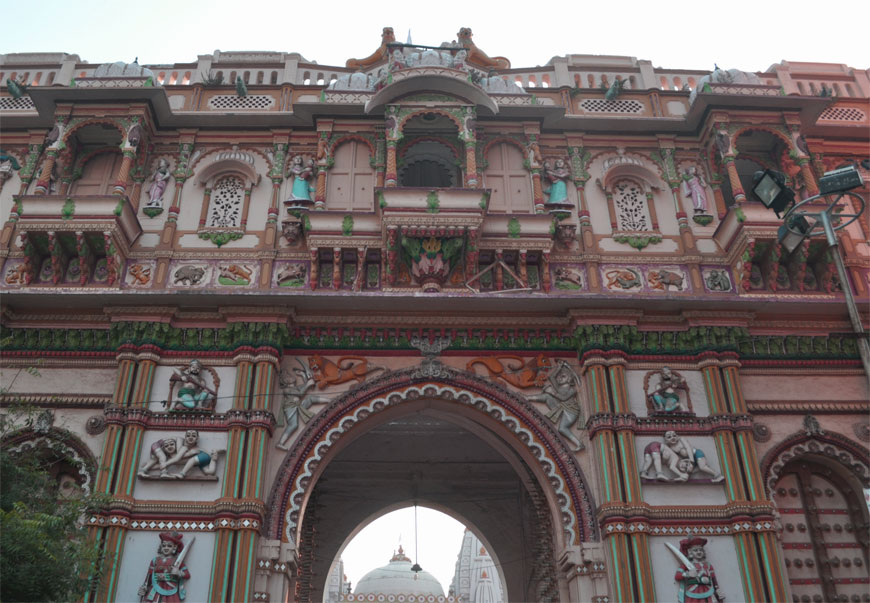 Kalupur Swaminarayan mandir is the first temple of the Swami Narayan Sampraday which was built in Feb 1822. It is constructed with Burma teak wood with beautiful carving. Every coloured arch and bracket is in lively diverse shade. It has a multi-storey AC boarding house and a well-appointed clinic within its compound. The heritage walk starts from this point after small introductory session about the history of Ahmedabad city. Here you can see old pictures, map and can learn about how the king Ahmed Shah decided to lay the foundation stone of the city.
#2 – Kavi Dalpatram Chowk, Lambeshwar Ni Pol: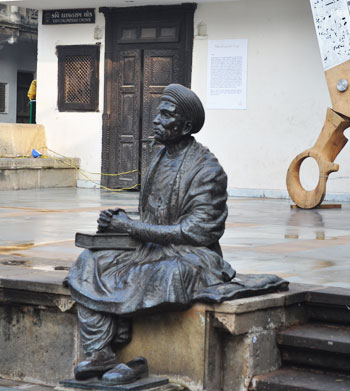 It is well-known to be the residence of the renowned 19thcentury Gujarati poet Dalpatram. The chowk has a statuette of him with details like – the Kathiawari needle work on his kurta, the worn-out right foot and the thoughtful look in his eyes. In background you can see the structure of his ancient house and with a scissor representing his style of poem. We still remember the contribution of Shri Kavi Dalpatram in Gujarat literature and I am sure all child studied in Gujarat still remember the poems we used to study during our school days. "દાખે દલપત રામ અન્ય નું તો એક વાંકું, આપણા તો અઢાર છે  (Dakhe Dalpat Ram anya nu to ek vanku, apna to adhar chhe)"
#3 – Calico Dome: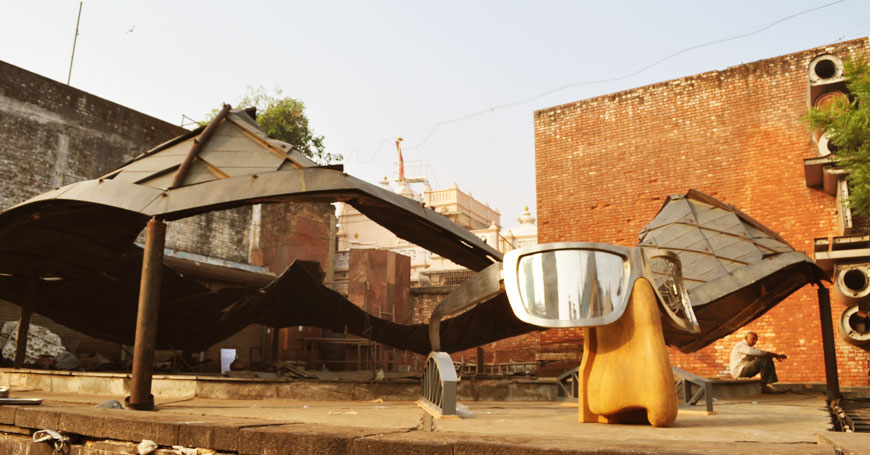 It is a geodetic dome motivated from designs of Buckminster Fuller. It was a shared outlet and shop for Calico Mills and was initiated in 1962. The dome, extent over 12 meters, provided shade for the concealed shop and showroom.
#4 – Kala Ramji Mandir at Haja Patel ni Pol: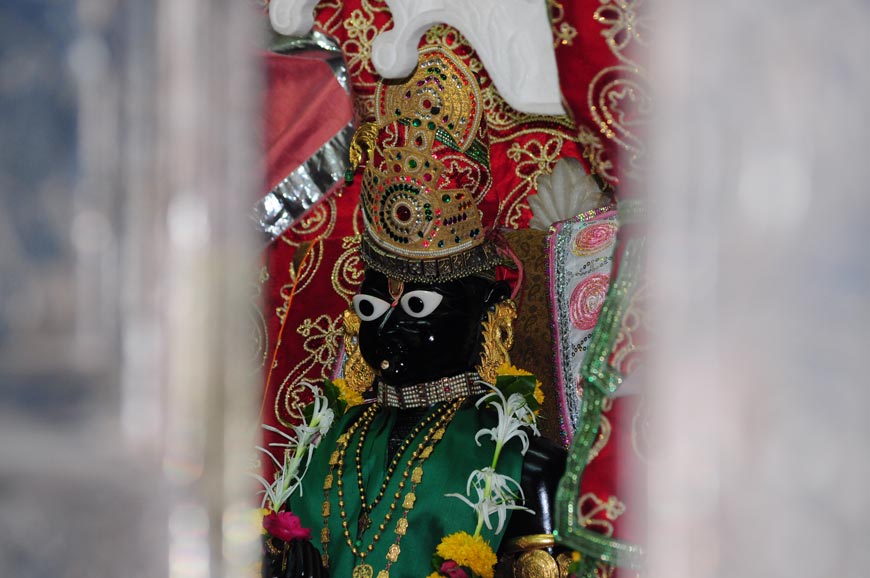 This exceptional temple has a dark idol of Lord Rama in a sitting pose. The idol was concealed by the priest of the temple to safeguard it in Mughal period. It is supposed that the idol reemerged on its own after numerous years. It gives divine experience visiting this temple located at Haja Patel ni Pol.
#5 – Shantinath ji Mandir, Haja Patel ni Pol:
It is a housing bunch which encompasses numerous families of a specific group, connected by caste, job, or religious conviction. Being among 174 Pols of Ahmedabad, this pol has much more capture than just the life-style.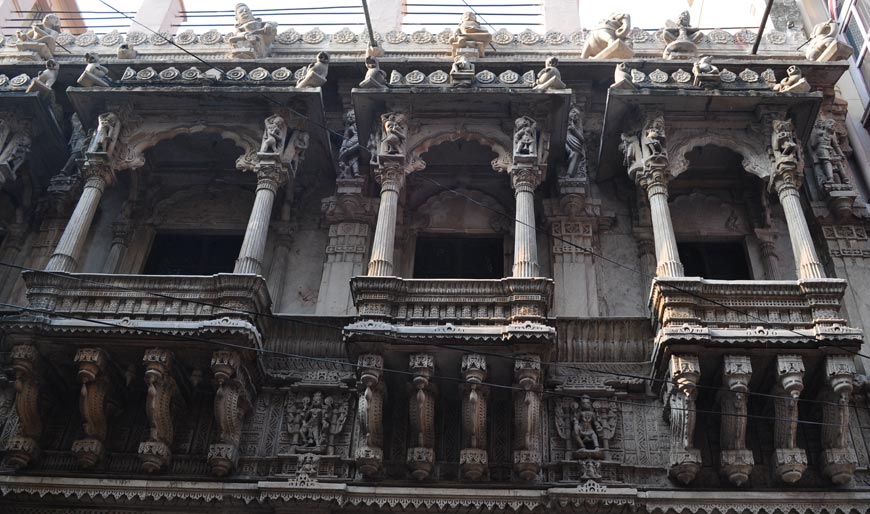 #6 – Kuvavala Khancha, Doshiwadani Pol:
It has 4 houses tangled, all constructed in diverse styles. One made of bricks in the British architectural style another wooden house has been made the Mughal way, whereas one home has been constructed in the Maratha style. And one in Persian style can easily be recognized due to its woody brackets. Here is the click from my last heritage walk depict Maratha style construction.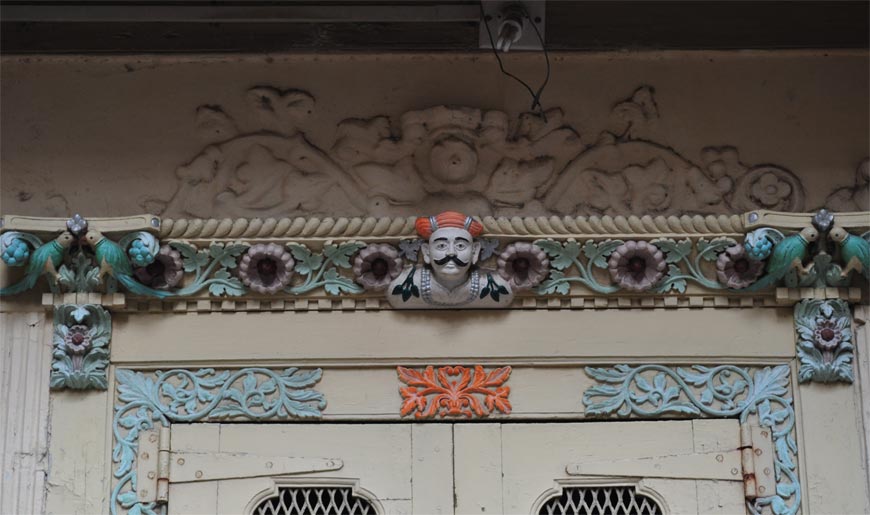 #7 – Jagvallabh Mandir at Nisha Pol:
The idol established here is wonderful that if you wish to see the 6ft. Jain Tirthankar Jagvallabh Sahastrafana Parshwanath, it takes a gold coin. The idol states the pinnacles Jains achieved in sculpture and artistry.
#8 – Zaveri wad:
This place is personification of rich legacy of Jain conviction and dedication. It is named after the Seth Shantidas Zaveri who was mistreated by Mughal King Aurangzeb's hostility. The idol of first Jain Tirthankar Lord Rishabhnath here is 6ft.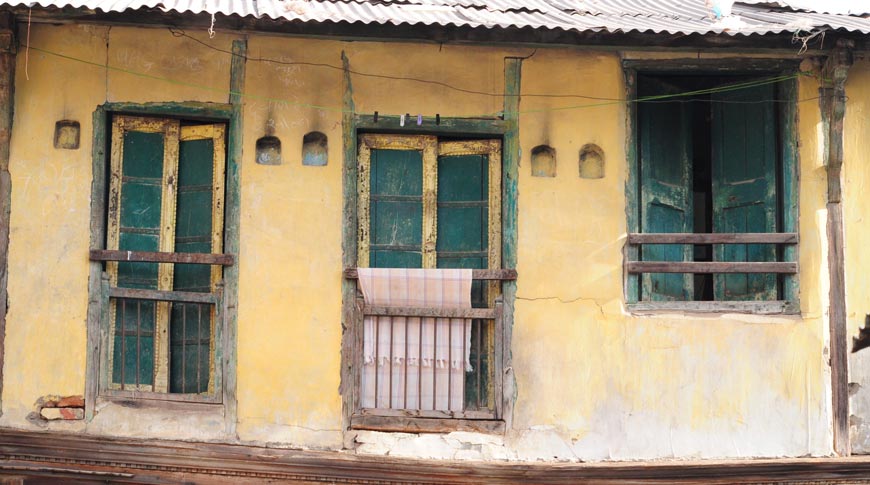 #9 – Sambhavnath ni Khadki:
This place is known for its inimitable architectural design of Sambhavnath Derasar which is said to be the oldest Derasars in Ahmedabad. A glimpse of the lord is possible only through a window placed in the dome.
#10 – Chaumukhji ni Pol:
One among the oldest Jain temple in the country, the Ajithnath Dersar is located in Chaumukhjini Pol. The temple is famous for metal idols which are around 500 to 700 years old. You can also capture the traditional Gujarati culture here at its best.
#11 – Doshivadani Pol:
The Derasar here holds unique religious significance. The idols are known for vibrant marbles and were said to be built in 1856. The pol people are always live and energetic and will give you warm welcome all the time.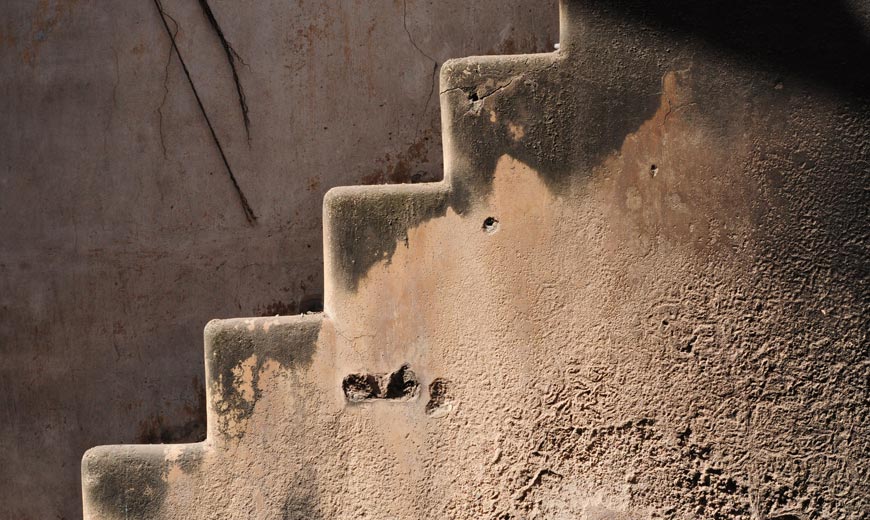 #12 – Astapad ji Mandir:
This Mandir again has idols of Jain Tirthankars, ShriRishabhnath and ShriMahaveer Swami. It is named after the footprints of Shri Rishabhnath which are safeguarded under a yellow berry tree.
#13 – Harkunvar Shethani ni haveli:
This 180-year-old Haveli has 60 rooms, most of which open on to never-ending pillared galleries, sustained by the lengthiest imprinted wooden bracket in Ahmedabad.
#14 – Fernandez Bridge:
It is famous to be a place from where vendors start their workday assesses books onto tabletops. The under bridge space is known to be a book market and a place where vendors sale books for livelihood.
#15 – Chandla Pol:
You can shop for the ethnic Indian wear and junk jewelry from here. During the heritage walk in the morning, this place is not that much crowdy but as day starts the more people starts their business and you can come back to this places for shopping after your heritage walk complete.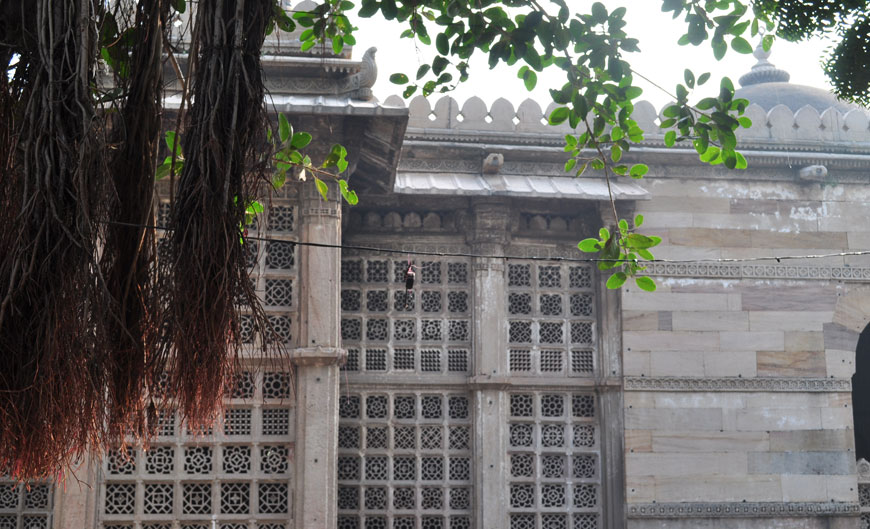 After visiting Chandla pol, guide will take you through the below remaining places:
Muharat Pol:It was built in 1500s known for more than 100 shops of jewelry.
Manek baba's mandir, ManekChowk:From last 600 years, the progenies of Baba Maneknathwinch a flag at ManekChowk on the day of Vijayadashmi.
Rani no Haziro:It was built in 15th century by the great Sultan Ahmed Shah. The hajiro is a dome for tombs as the last relaxing place for queens of this empire.
Badshah no Haziro:Ahmed Shah's Tomb, recognized as Badshah no Hajiro or Raja no Hajiro, is a feudal mosque and the group of vaults. It is situated near to Jama Mosque and ManekChowk.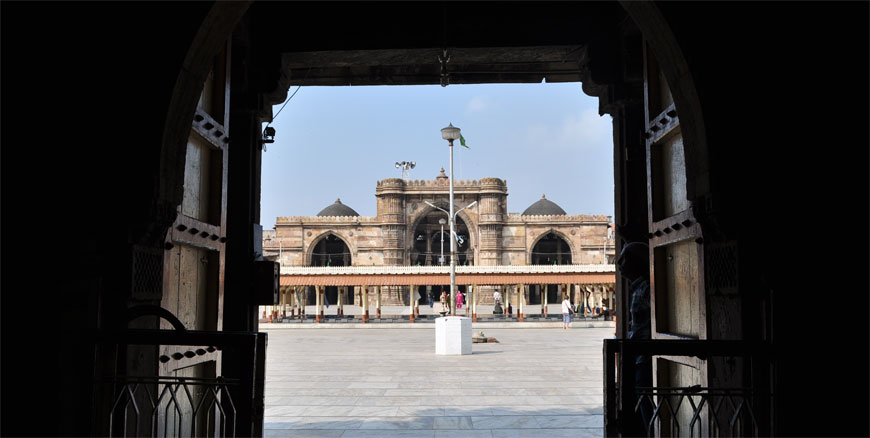 And at last the most significant and beautiful place famously known as Jumma Masjid. It is perhaps the biggest mosque in the Indian subcontinent built during this period. It is situated south of the ceremonial axis that runs from the Maidan-i Shah at the gate with three arcs, Teen Darwaza.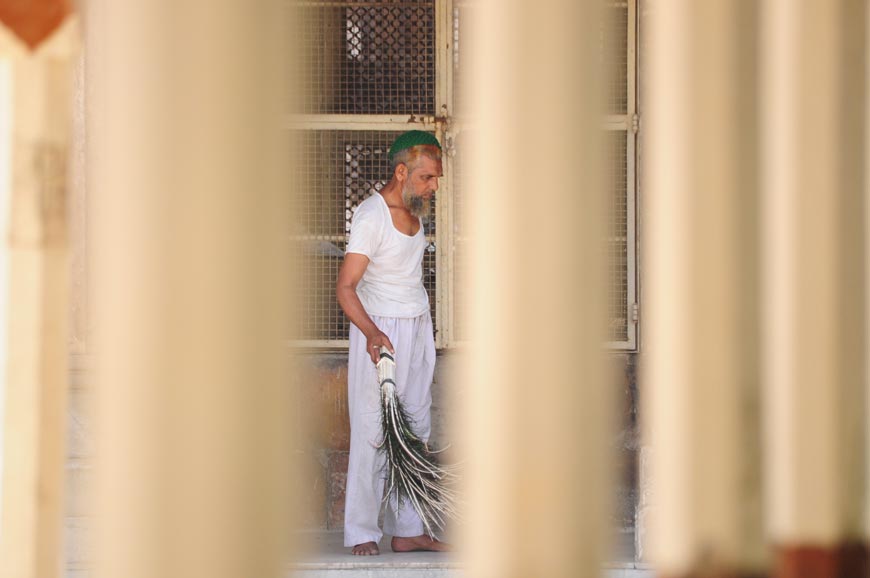 Heritage Walk ends here!
Ahmedabad being the biggest city of Gujarat; known for significant constructions, exceptional arts center, reasonable cafés and wonderful night markets. It has always been recognized for its rich past that retells us of the Mughal, Maratha and Delhi Sultanate rule as well as the freedom fight of India.The Sabarmati Ashram is among the major traveller charms that must be in your "to be visit" list while you are in Ahmedabad. The Kankaria and Vastrapur Lakes offer you a soothing seat aside experience. Lalbhai Dalpatbhai Museum exhibits Indian monuments, wood works, landscapes, documents, bead works, figurines, sketches and coins. Jama Masjid is said to be oldest mosque in the city. Shopping is always fun here. To be precise, Ahmedabad has everything to offer to every age-group.