Tour de Satpura is one of the unique cycling tour in India that will take you through the Satpura hill range of central India. This 4 day cycling tour will cover around 400KM at the elevation of 3000+ meters and will give you thrilling experience cycling across the hilly range. Tour de Satpura is organized by Cycle Safari with the support of M P Tourism.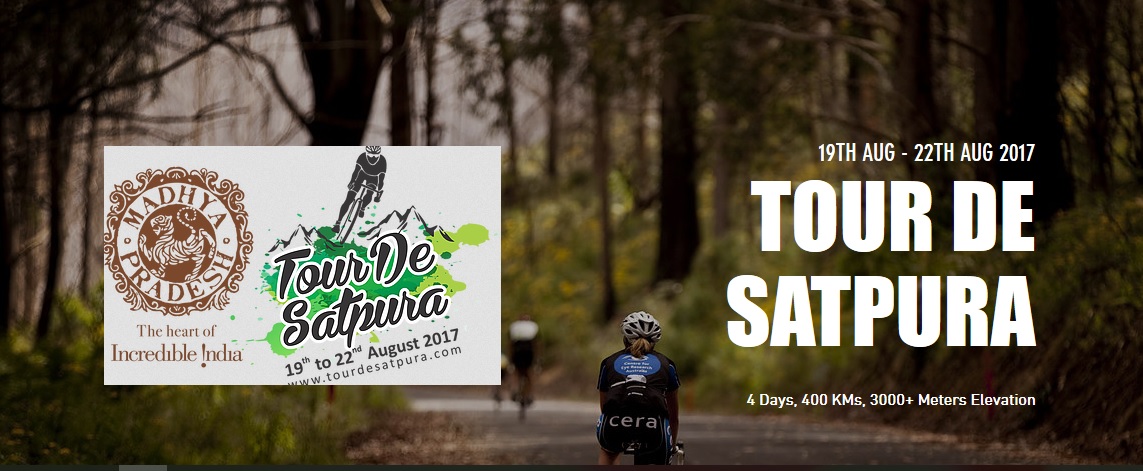 Brief about Tour de Satpura 2017
Number of Days: 4 Day
Distance: 400KMs
Places covered: Patalkot, Pachmarhi, Madhai, Tawa
Dates: 19th to 22nd August 2017
How to participate in Tour De Satpura?
To participate in tour de satpura 2017, you will require to register through their official website. Here is the steps to follow:
Visit Tour De Satpura official website here : https://www.tourdesatpura.com
Click on registration button or directly visit the registration page from here: https://www.tourdesatpura.com/registration
Now follow the steps mentioned on registration page and its done.
Note: Make sure you read all information carefully before you register.
Here is the detailed cycle tour itinerary for your reference:
Start Point: Ramakona
End Point: Tamia
Distance: 97 KMs
Elevation: +1452 m/ -844 m
Start from Nagpur by bus at 6 am.
Reach Ramakona at 8 am. After breakfast start ride.
Reach Tamia by 2 pm.
Sightseeing visit to patalkot, stay at Tamia.
Day 2: 20th Aug 2017
Start Point: Tamia
End Point: Pachmarhi
Distance: 81 KMs
Elevation: +1266 m/ -1166 m
Start  at 6 am. Reach Pachmarhi by 12 noon.
Visit to Bee fall, Pandav Caves.
Night Stay in Pachmarhi Hotel.
Day 3: 21st Aug 2017
Start Point: Pachmarhi
End Point: Madhai
Distance: 120 KMs
Elevation: +1080 m / -1771 m
About 25 KMs riding in Pachmarhi, after that leave for Madhai.
Night Stay in Madhai.
Day 4: 22nd Aug 2017
Start Point: Madhai
End Point: Tawa
Distance: 94 KMs
Elevation: +648 m / -640 m
Ride to Tawa via Itarsi.
Closing party at Tawa.
Night Stay at Tawa Dam & Reservoir.
Registration for this Tour De Satpura cycling tour has already been started and can be done through their official website. Here you need to bring your own bike with you where as stay and other facilities will be provided by organizers.
We will keep updating this post with latest information and updates from the organizers.