Indian food, culture, and festivals are diverse, making the country an exciting destination for travelers. Ladakh is perceived as a land surrounded by snow-covered peaks. Yet they do not know that the festivals and customs of Ladakh are equally intriguing. You'll have a lot to see and experience on your trip this year to the north. Locals and tourists both enjoy the famous festivals of Ladakh.
The Administration of the Union Territory of Ladakh has finally made an official announcement of the Ladakh Festival on Twitter. This Ladakh festival 2022 will be held from 13th to 16th of October.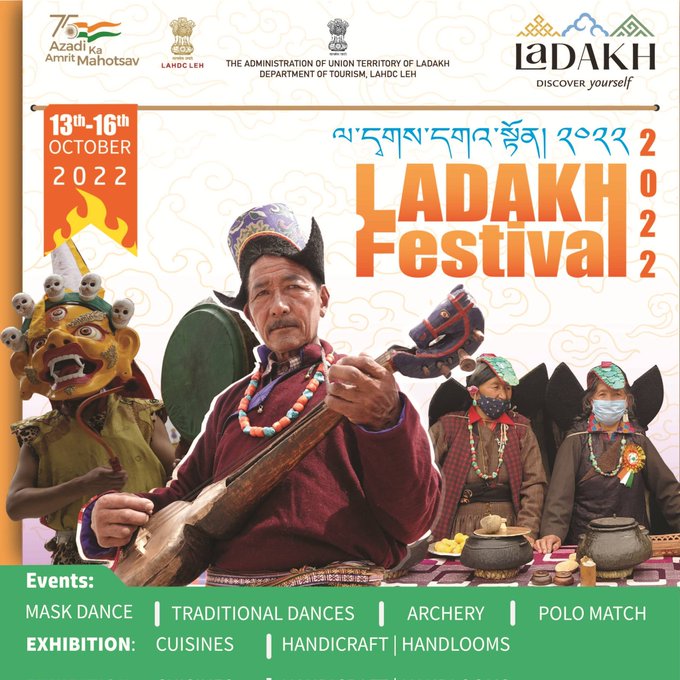 Major Attractions of Ladakh Festival 2022
There are always different attractions to celebrate the festival of Ladakh and for this festival, different events will be organized. Here are the details of the events and exhibition.
Mask Dance: Every year, Ladakh's festivals are celebrated in Buddhist monasteries' courtyards with great fervour. During cham (sacred mask dances), monks wear colourful robes and frightful masks, representing purification of the mind and victory over evil. The festivals are an important part of Ladakh's cultural life.
Traditional Dances: There is an enchanting richness, color, and splendor associated with Ladakh's cultural and musical heritage. The performing arts of the land reflected the influences of various tribes and communities, including Tibet, Balti, Mons, and Brokpa.
Archery: Ladakhi culture has been dominated by archery for generations. Traditionally, it was used for hunting. However, it still plays a significant role in Ladakhi culture and local customs. Archery, a traditional sport involving bows and arrows, is considered one of the few remaining cultural remnants of the past. It symbolizes a vibrant socio-cultural heritage.
Polo Match: The polo match is a part of the Ladakhi culture. It becomes more enchanting because of the link between Polo and music.
Cuisine: Food is a vital insight into the culture and history of a place. There are varieties of dishes that are popular in this ladakh food festival such as momos, thukpa, Skyu, Chhutagi, Tingmo, Chhurpe, Butter Tea, Aprikot Jam and many more.
Handicraft: Thangka painting, traditional tie-dyed woolen shoes with a leather sole, pashmina shawls, carpets, hand woven woolen clothes and hand prayer wheel. These handcraft items is a part of the ladakh festival.
Important information about Ladakh Festival 2022:
Ladakh festival dates: 13th to 16th October 2022
Official Website: Ladakh Tourism