Udaipur, a jewel in India's travel crown, captivates visitors with its rich history, mesmerizing architecture, and tranquil lakes. As tourism booms, there's a rising trend among travelers craving an upscale experience. Private villas in Udaipur have become the go-to option, meeting the demand for luxury and exclusivity. These plush stays offer comfort and add an extravagant touch to the Udaipur experience.
Attractions of Private Pool Villas in Udaipur:
Luxury villas in Udaipur are becoming the first choice for travelers who want more than just a hotel stay. These villas offer privacy, personal touches, and high-end extras that make a trip truly special. Above all, one of the best features of these villas is the private pool. Having your own pool means you can relax without crowds, swim whenever you want, and enjoy amazing views in peace. These private pools become the centerpiece of a lavish holiday. Thus, these villas in Udaipur with swimming pools let you unwind in a setting that feels like a slice of paradise.
Top Villas in Udaipur on Rent:
Here are the most popular Udaipur villas available for rent:
1. Sarasiruham – Private Pool Villa in Udaipur: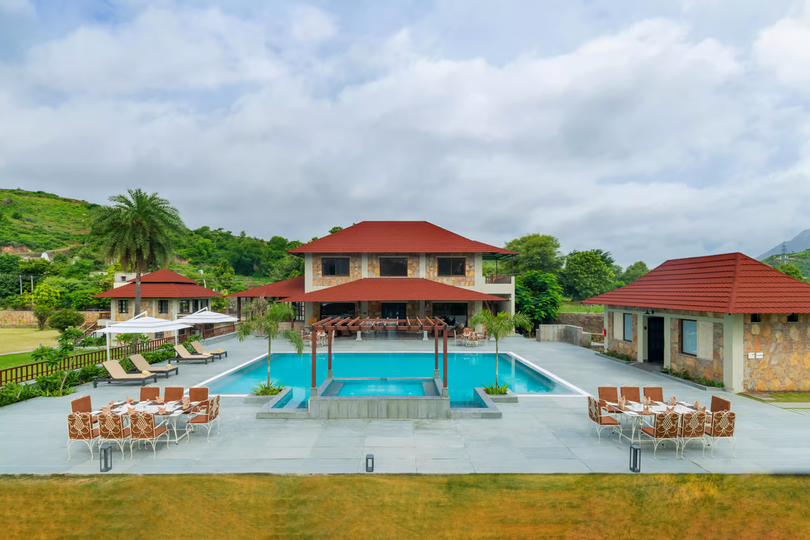 Sarasiruham Resort is a private pool villa in Udaipur. It is a haven of luxury and natural beauty. With its private pool and lush gardens, you'll feel like you're in your own secluded paradise. Located in Nagda, Eklingji, this resort is just beside Lake Bagela. Here total 24 luxurious suites are available. You can choose from luxury pool suite, lake view suite and garden view suite.
Amenities: Swimming pool, free wifi, restaurant and bar, banquet, lush green lawn, gym, free parking, kids play area, spa
2. Parijat – Luxury Villa in Udaipur for an Affordable Stay: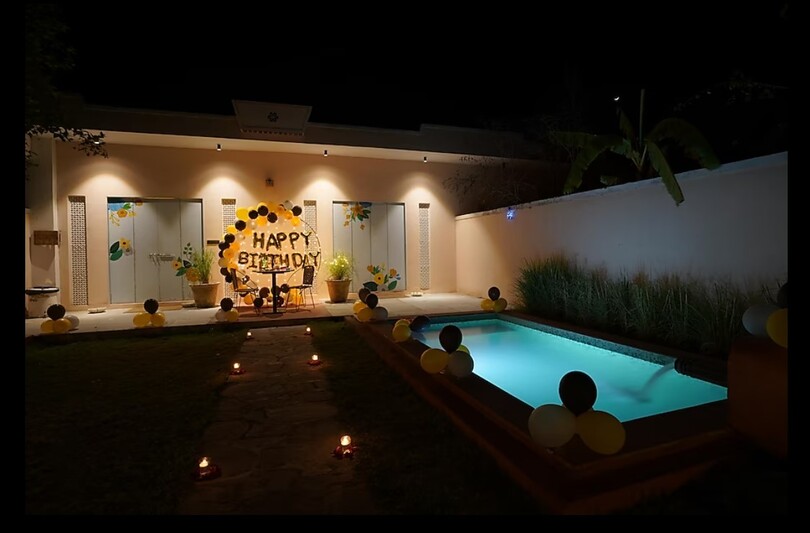 Parijat is just 10 minutes drive away from Udaipur city in Rajasthan. The Parijat private pool villa is spacious and features an exquisite private pool. Here, you can see a blend of classic and contemporary decor. It's ideal for couples seeking romantic seclusion.
Amenities: Private house, free parking, deluxe rooms with mountain and garden views, swimming pool, 24-hour front desk.
3. Lavanya Villa – Best Holiday Rental in Udaipur: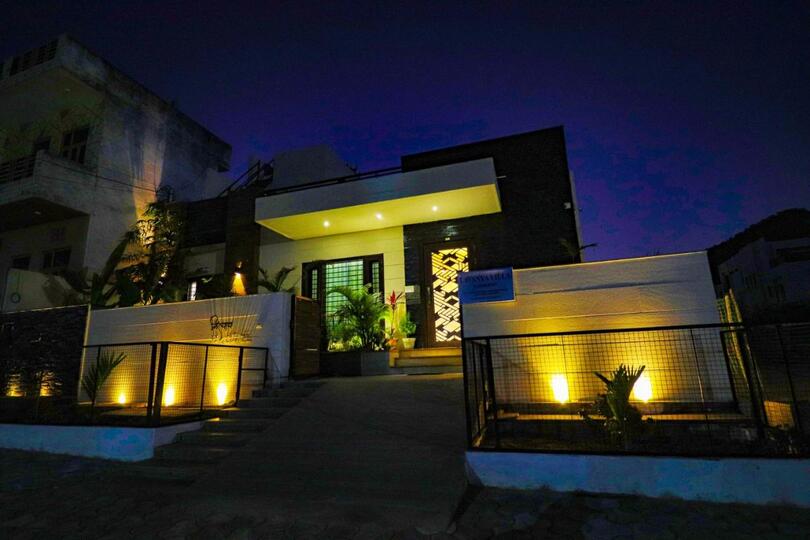 Lavanya is a blend of opulence and comfort. The villa comes with a private pool overlooking scenic views, offering an intimate experience without skimping on luxury.
Amenities: Room service, Laundry, free parking, free wifi, indoor swimming pool, AC, heating
Must Read: Best 10 Luxury Villas In Goa With Private Pool For Rent To Unwind & Relax
4. Nine Hill Villa – Best 2BHK Private Villa with Pool: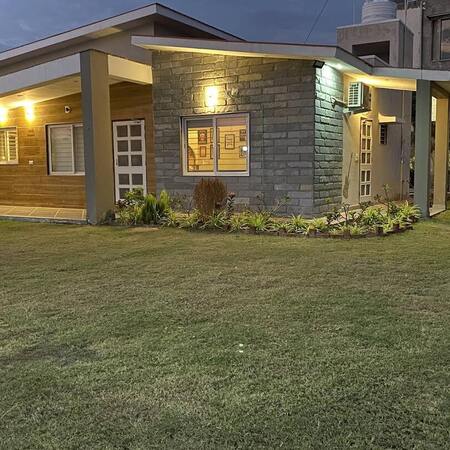 Set on a hilltop in the Debari part of Udaipur, this villa offers breathtaking panoramic views. Its unique location provides an unmatched experience of Udaipur's beauty. You can relax here with your friends and family. The place has a private kitchen option for cooking.
Amenities: Shared swimming pool, private kitchen, shared parking access, free wifi, Airport transfer, barbeque, bar, housekeeping, 24-hour security, Doctor on call, spa, movie room, music system, bonfire, and outdoor and indoor activity assistance.
.
Must Read: 7 Best Resorts In Udaipur For Corporate Tour
5. Royal Heritage Villa, Udaipur: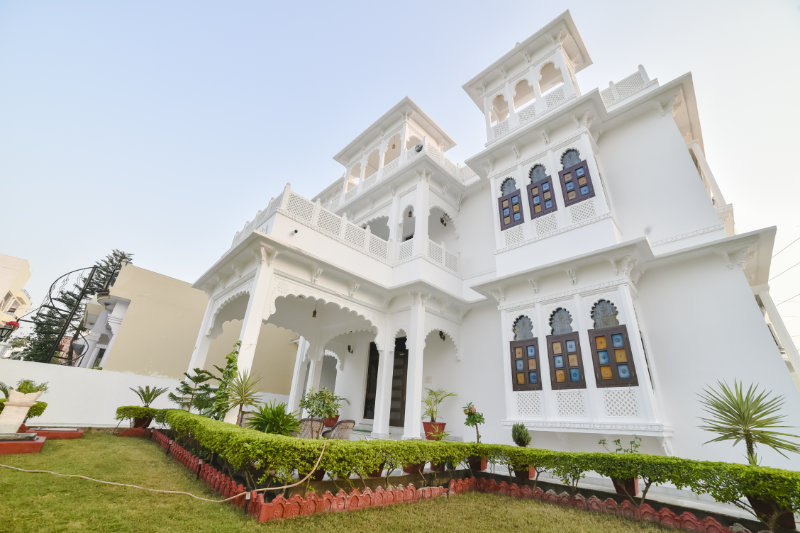 The Royal Heritage Villa is a Heritage-style building conveniently located in the heart of Udaipur's New City in a neighborhood away from the tourist crowds, yet close to all the city's top sights.
Amenities: AC rooms, free parking, meals, free Wi-Fi, large terrace, private garden access.
6. Mountain Majesty Farms: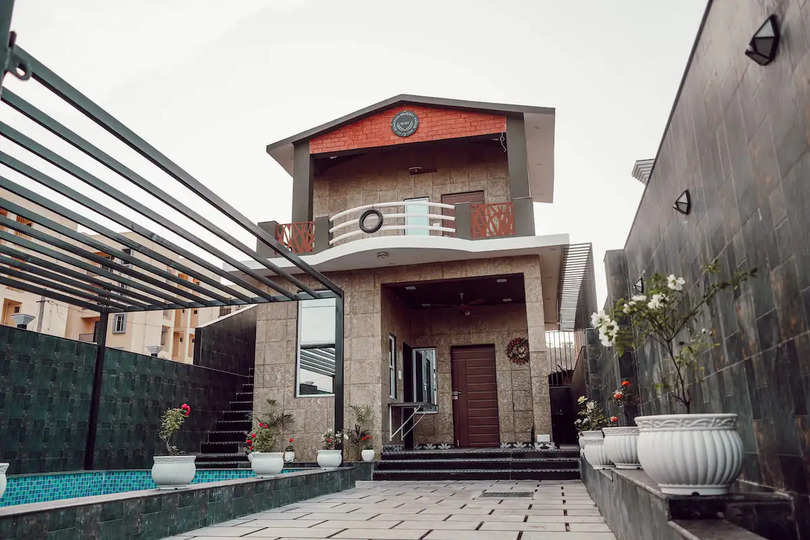 Imagine waking up to mountain views! This farm villa offers rustic charm combined with modern luxuries. Therefore, it is an ideal escape for nature lovers. Located in Titardi, a Village in Girwa Tehsil in Udaipur division, Mountain Majesty Farms is a beautiful, peaceful stay. Here you can enjoy beautiful mountain views and breathtaking night views.
Amenities:
Accommodation with TV, geyser, private bathroom, bathrobe, and hairdryer
Access to outdoor kitchen and seating area
Tour desk
Luggage store
Outdoor WFH table
Complementary tea and breakfast
Room service
7. Sisarma Villa – Dream Villa in Udaipur With Swimming Pool: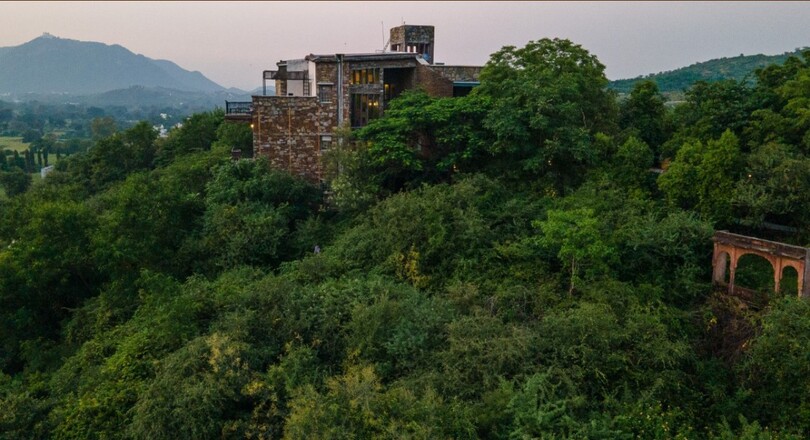 Sisarma is a boutique villa that focuses on personalized experiences. Its intimate setting creates a cozy, home-like atmosphere. The place is surrounded by forests of Mewar. It is built on the top of a hill. From here you can have a breathtaking view of valley, lush green forest and Aravalli Mountain range. So, if you want to spend some relaxing days in the lap of nature and enjoy the serenity of Rajasthan, Sisarma Villa is the best place for you.
Amenities: AC rooms with spacious balconies, free wifi, private pool, terrace area access, free car parking
8. The Oberoi Udaivilas – Ideal Haven for Serenity: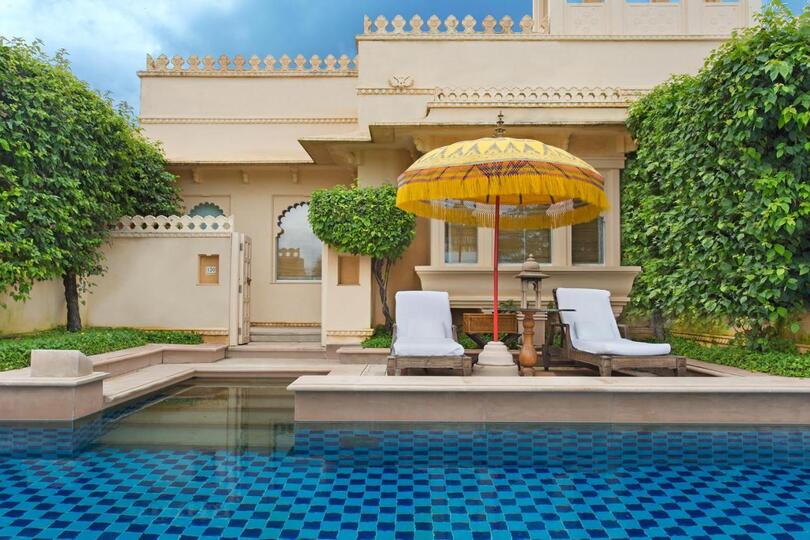 This is the epitome of luxury. Known for its grand architecture and impeccable service, Oberoi Udaivilas sets the gold standard for opulent stays in Udaipur. The villa is situated on the banks of Lake Pichola. Here at Oberoi Udaivilas, you get mainly five types of accommodation options – Premier rooms with garden view, Premier rooms with pool view, Premier rooms with semi-private pool, luxury suites with private pool, and Kohinoor suites with private pool.
Amenities: Luxury suites, fine dining restaurants, Swimming pool, fitness center, spa, cooking with chef.
.
Must Read: Most Famous Forts And Palaces In Rajasthan
9. Devraj Villa – Best Homestay in Udaipur: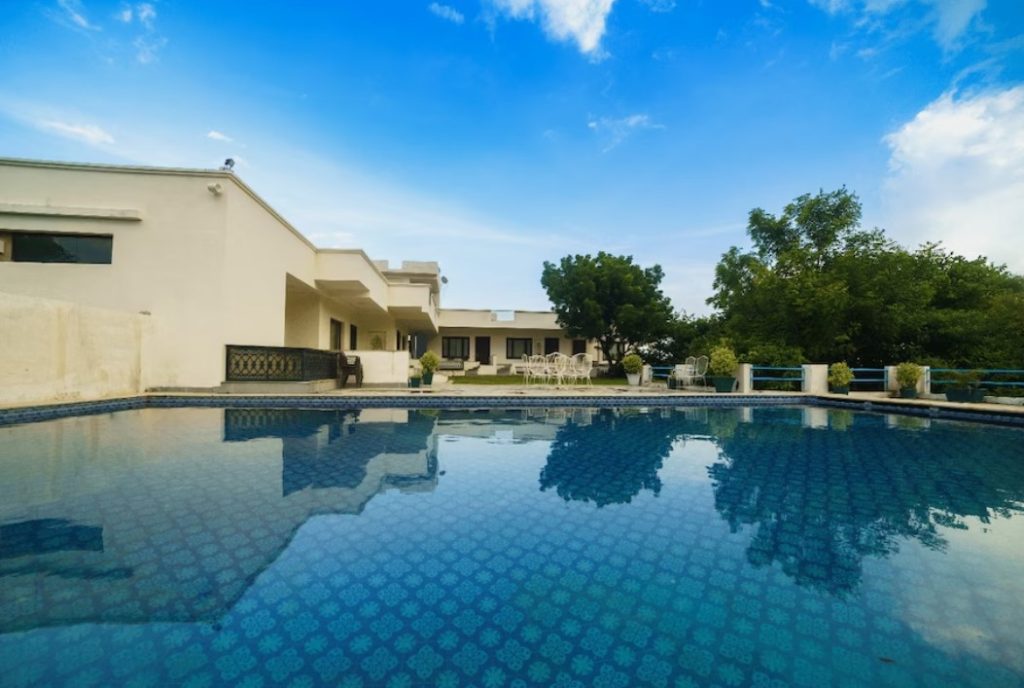 Devraj is a harmonious blend of modern luxury and traditional Rajasthani elements. With a focus on comfort and elegance, it's a must-visit for culture enthusiasts. Here you will get 7 types of room options – Honeymoon golden suite, Royal golden suite, Purple suite, Red suite, Green suite, Blue suite and Pink suite. All the rooms are wonderfully painted and spacious.
Amenities: AC rooms with wooden furniture, hot and cold water around the clock, reading lounge, free wifi, laundry service, travel reservations, massage on request, doctor on call, cycle/scooter rental, free parking.
10. Mewar Mansion: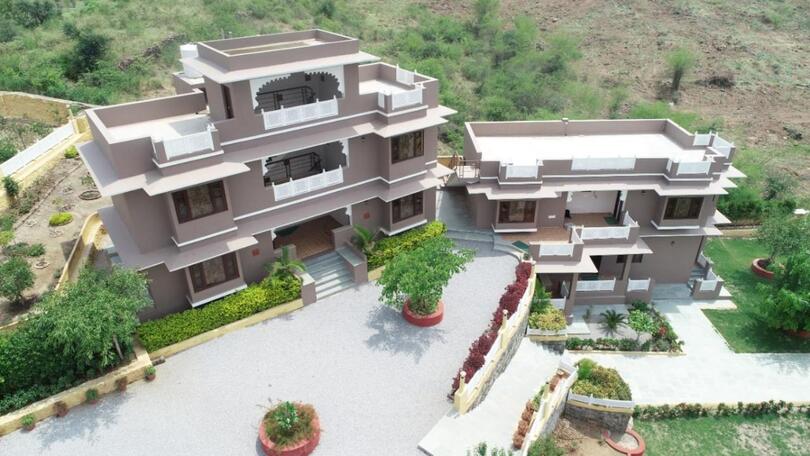 Mewar Mansion in Udaipur offers stunning views of the city and lakes. The staff provides excellent service to make you feel at home. With its central location, you can easily explore Udaipur's attractions.
Amenities: Room service, 24-hour front desk, 24-hour security, free wifi, free parking, swimming pool.
11. Boheda Villa – A Luxury Home Stay: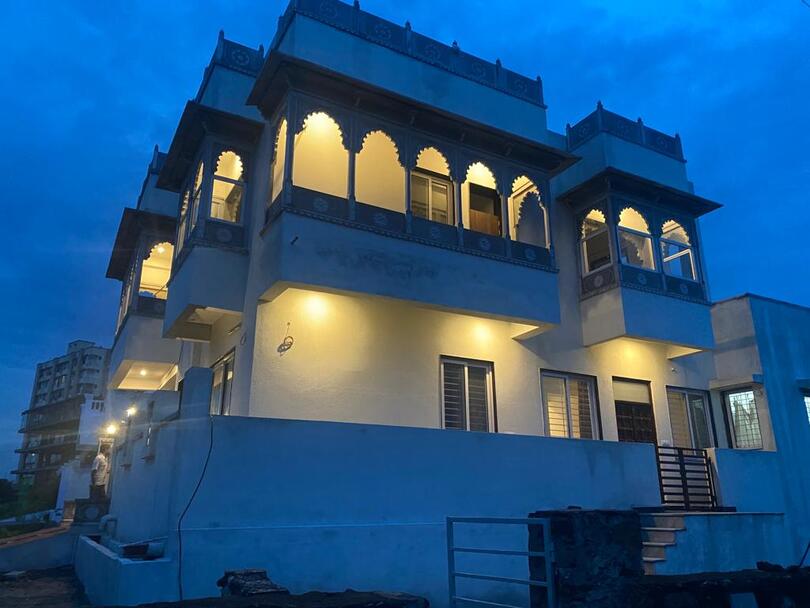 Boheda Villa covers about 5000 square feet. It is situated in the quiet New Polo Ground neighborhood. It's close to Jaisamand Road in Udaipur. Here, you get budget-friendly rooms that allow you to spend relaxing time while enjoying with friends and family.
Amenities: 24-hour security, airport transfer, laundry and dry cleaning service, free parking, horse riding
.
Each villa brings something unique to the table, ensuring there's something for every kind of traveler in Udaipur.
Final thoughts,
In Udaipur, luxury villas with private pools are more than just a place to stay. These elevate your trip to a whole new level of opulence. These villas in Udaipur with a swimming pool offer the ultimate combination of privacy, personalized services, and plush amenities. All this against the backdrop of Udaipur's rich history and stunning architecture. The city seamlessly blends its historical charm with modern luxury, making it a dream come true for travelers seeking an extravagant getaway. Whether it's a romantic escape or a lavish family vacation, Udaipur and its luxury villas deliver an unforgettable experience.
FAQs:
What makes Udaipur a popular destination for luxury villa rentals?
Udaipur's rich history, stunning lake views, and magnificent architecture make it an attractive destination for luxury villa rentals, offering a royal experience in a beautiful setting.
Are these villas suitable for couples, families, or groups?
Luxury villas in Udaipur provide various traveler types, including couples seeking romantic getaways, families looking for space and privacy, and groups celebrating special occasions.
What is the best time to visit Udaipur and rent a luxury villa?
The best time to visit Udaipur and rent a luxury villa is during the cooler months from October to March when the weather is pleasant and ideal for outdoor activities.
Are these villas located near popular tourist attractions?
Yes, several luxury villas in Udaipur are strategically located near famous attractions like City Palace, Lake Pichola, Jag Mandir, and Jagdish Temple, ensuring easy access to sightseeing.