Porbandar is well known as the birthplace of Mahatma Gandhi. Over time Porbandar has developed a lot and has become a significant place for tourists. Earlier Porbandar was known as 'Pao Bandar' because of the bread factories. Porbandar is a coastal city that is located on Saurashtra's western coast in Gujarat. There are so many tourist places to visit in Porbandar. You can find beautiful beaches, wildlife sanctuaries, museums, the architecture of historical importance, etc. and this makes it a perfect place for everyone.
Porbandar has a hot semi-arid climate and the best time to visit Porbandar is between October to March. It is also a place of historical importance because it is the birthplace of Sudama and the traces of Harapan civilization have also been found here.
Porbandar Tourist Places for Sightseeing
There are numerous places to visit in Porbandar and tourists can enjoy with their friends and family. Some of the famous Porbandar tourist places for sightseeing are mentioned below,
1) Kirti Temple – Mahatma Gandhi's Birth House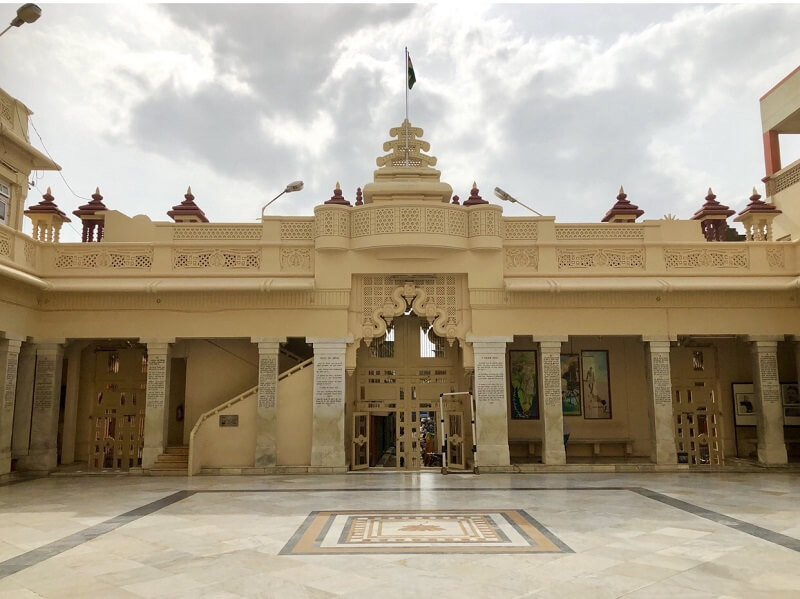 It is a very popular place in Porbandar as it is dedicated to Mahatma Gandhi. Kirti Temple was inaugurated by Sardar Vallabhbhai Patel. Kirti temple includes the area surrounding Mahatma Gandhi's home that is renovated in such a way that it shows the 79 years of the life journey of Mahatma Gandhi. It is also known as the Temple of Peace. Kirti temple has a big library, spinning hall, prayer hall, and paintings of Mahatma Gandhi. There are big paintings of Mahatma Gandhi and his wife Kasturba Gandhi in the center of the temple. It is an amazing place to learn about the life of Mahatma Gandhi.
2) Krishna – Sudama Temple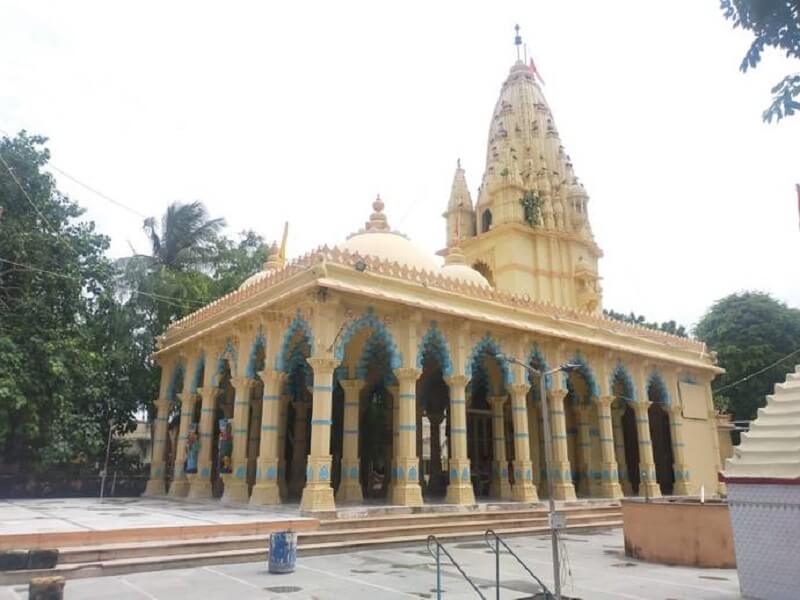 It is located at around 1 km distance from Porbandar railway station. The temple is dedicated to Sudama who was a childhood friend of Lord Krishna. There is a maze in the temple, and it is believed that if anyone crosses the maze puzzle then they can rid of all his past sins. The architecture of the temple is also very beautiful. The temple is open from 6:30 AM to 8:30 PM and the entry is free of cost.
3) Shri Hari Temple
Shri Hari temple is one of the most beautiful temples in Porbandar and it is located at a distance of 8 km from Porbandar railway station. The temple covers 85 acres of land and its height is 105 feet. The temple comprises 66 pillars and there are idols of numerous Hindu deities like Goddess Durga, Lord Ganesh, Lord Krishna, Goddess Parvati, etc. There is also an auditorium and it used for cultural and spiritual activities.
4) Chowpatty Beach – One of the Serene Beaches in Gujarat
It is one of the beautiful beaches in Gujarat with mesmerizing and scenic views of the blue Arabian sea. The soft sand along the shoreline adds to the beauty of the Chowpatty beach. There are numerous food stalls around the beach and the tourists can sit along the shore and enjoy the food while watching the sunset and the scenic beauty of the Arabian sea. Every year, the Janmashtami fair takes place on the Chowpatty beach. There are a proper walking track and seating arrangements for the visitors. Tourists can also visit an ancient port nearby and see numerous ships and boats winding and unwinding.
5) Porbandar Bird Sanctuary – Smallest Bird Sanctuary in Gujarat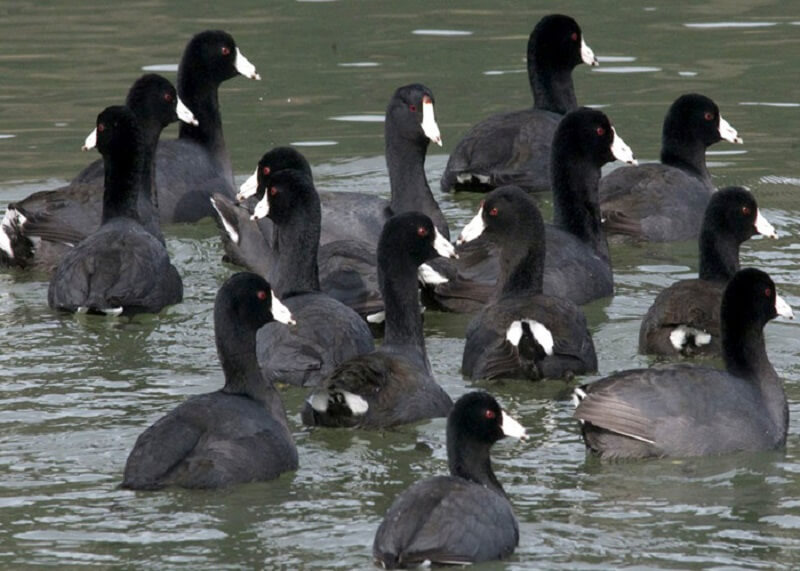 It is one of the smallest bird sanctuaries that is located at around 1 km distance from Porbandar railway station. Porbandar bird sanctuary is home to both local as well as migratory birds and you can see birds like a flamingo, ibis, curlews, teal, fowl, grebes, pelicans, avocets, stork, etc.
Best Time to Visit the Porbandar Bird Sanctuary
winter is the best time to explore this bird sanctuary as you can see various migratory birds
Porbandar Bird Sanctuary Timings
Porbandar bird sanctuary remain open from 8 AM to 6 PM and the entry is completely free.
6) Sartanji Choro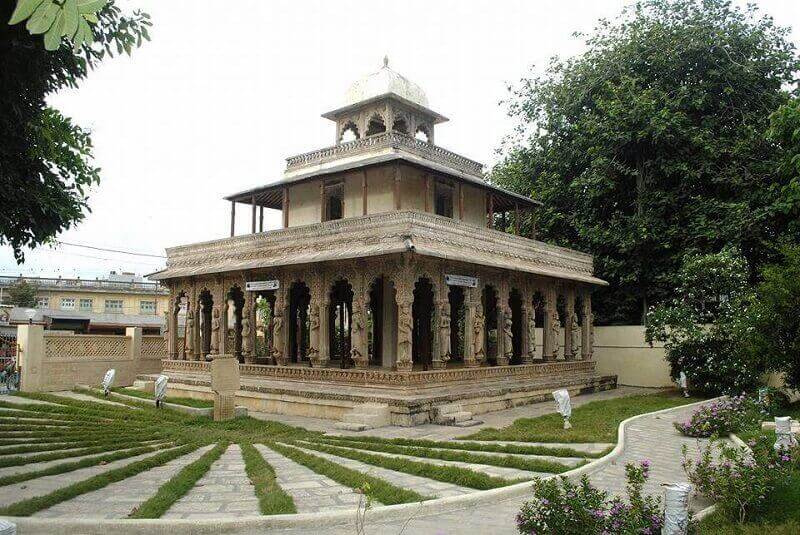 It is a very popular heritage place that is located very near to the Krishna-Sudama temple. Sartanji Choro is a three-storeyed summer pavilion that has Rajput style architecture and has carvings of musicians on the pillars. In the lower section, there is a center stage area and it is believed that it was made for musical performances. Rana Sartanji used to compose poems here at the pavilion. Sartanji Choro attracts a lot of tourists because of its amazing architecture and the entry is also completely free.
7) Jambuvan Cave – Historical Place in Gujarat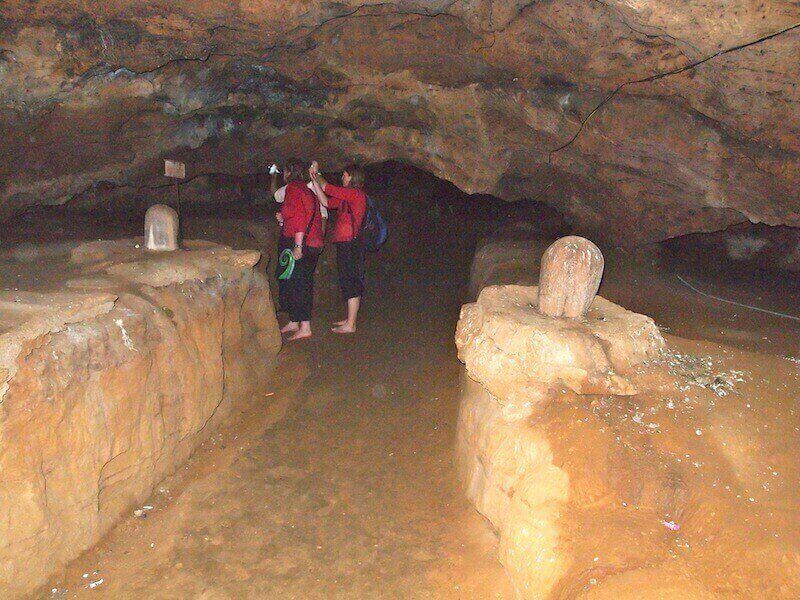 It is an ancient cave located at a 17 km distance from Porbandar railway station. There are more than 50 Shivalinga's naturally formed in the Jambuvan cave. Jambuvan cave is believed to be the resting place of warrior Jambuvan who played an important role in Ramayana and Mahabharat. Inside the cave, you can find two tunnels where one leads to Dwarka and the other leads to Junagadh, and every year a big fair is celebrated at this place.
8) Huzoor Palace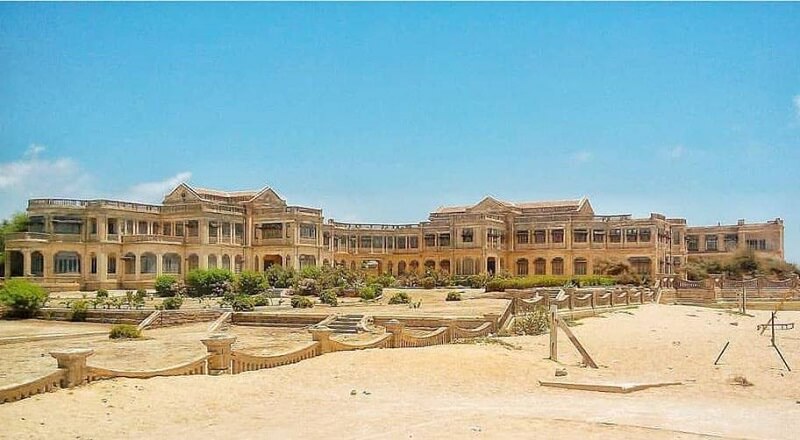 Huzoor palace is one of the best places to visit in Porbandar that was built in the early 20th century by Rana Natwarsinhji. It is also known as Raj Mahal and this place is used as a residence by the successor of Maharaja. Huzoor palace has the Indo-European style of architecture and according to historians, Huzoor palace still has personal belongings and photographs of the king. A lot of tourists visit this place to view the amazing Indo-European style of architecture.
9) Bharat Mandir
Bharat Mandir is known as the 'Temple of India' and it is located opposite Nehru Planetarium in Porbandar. It is a two-storeyed temple, and it is a must-visit place for history lovers. The temple has a map of India that was created with white marble and there are statues of Indian freedom fighters. It also has stone carvings and brass reliefs of heroes from Hindu mythology. It is a beautiful temple where you can learn about the rich culture of the country.
10) Ghumli – Famous Archaeological Site in Gujarat
Ghumli is a small village that is located at around 42 km distance from Porbandar and it is famous for its archaeological ruins. Earlier Ghumli was the capital of the Saindhava dynasty and later it became the capital of the Jethwa dynasty of Gujarat. It is a famous archaeological site in Gujarat and some of the major points attractions in Ghumli are Navlakha temple, Ghumli Ganesh Temple, Ashapura temple, Son Kasari Temple, Kileshwar Mahadev Temple, etc.
11) Bileshwar
Bileshwar is majorly famous for Bileshwar Mahadev Temple and it is located at a 40 km distance from Porbandar. Bileshwar temple is dedicated to Lord Shiva and annually three fairs are held here. The Bileshwar Mahadev temple also has idols of Goddess Parvati, Devi Ganga, and Nandi.
12) Harsiddhi Mata Temple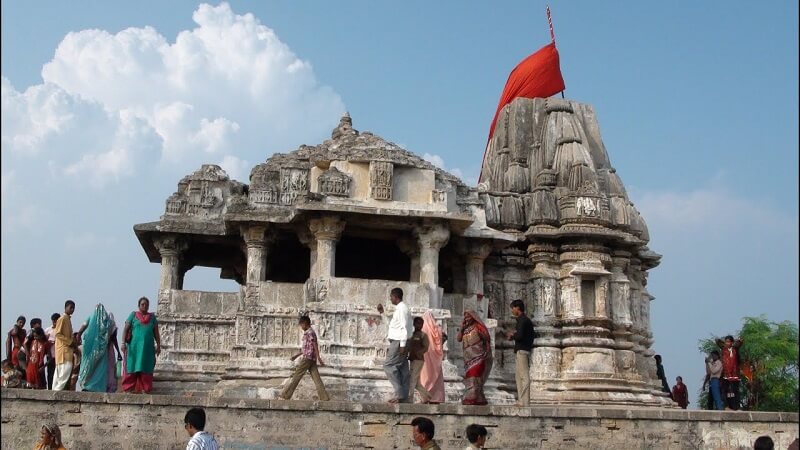 The Harsiddhi Mata temple is also known as Harshal Mata temple and it is located atop Koylo Dungar hill at Gandhvi village, which is at a 40 km distance from Porbandar. Krishna wanted to defeat the asuras and Jarasandha and with the blessings of Ambe Mata, he was able to defeat the Asuras. Later, to celebrate his success he built the Harsiddhi Mata temple. You must climb 300 steps to reach the original Harsiddhi Mata temple on the top of Koylo Dungar hill.
13) Tara Mandir – Famous Tourist Spot in Porbandar
Tara Mandir is known as Nehru Planetarium and it is one of the famous tourist places to visit in Porbandar. It was established in the year 1977 and here you can learn about celestial bodies and aeronautical science. There is an overhead round screen where the celestial bodies, planets, galaxies, and information about the solar system are projected.
Things to do in Porbandar
Apart from sightseeing, there are various other fun activities that you can do in Porbandar. You can enjoy a camel ride at Chowpatty beach and view the world from a whole new angle. Camel ride along the shoreline enjoying the view of the beach is a very popular fun activity at Chowpatty beach.
Porbandar is a very famous spot for people who love shopping. Tourists can find beautiful traditional fabrics like Bandhani sarees, odhani, suits, etc. You can also buy Gold, Silver, Kundan, and Judau jewelry. Overall, Porbandar is a beautiful place and it is perfect for people of every age group. You can spend some quality family time or also enjoy yourself with your friends.