If you have ever had seen a canvas painting of white and purple, the virtual reality is going to get real this autumn. Mark this date on your calendar, November 14th to 17th 2018 when the India international Cherry Blossom Festival is going to begin. Yes, it is happening, and it is happening in this Autumn season at the mystic Khasi hills of Meghalaya, Shillong. The most sorted festival in Japan is now near you. No need to fly to west when you can enjoy the season's best time here. This international India Cherry Blossom festival is being held in Shillong where the celebration of flowering is going to take place.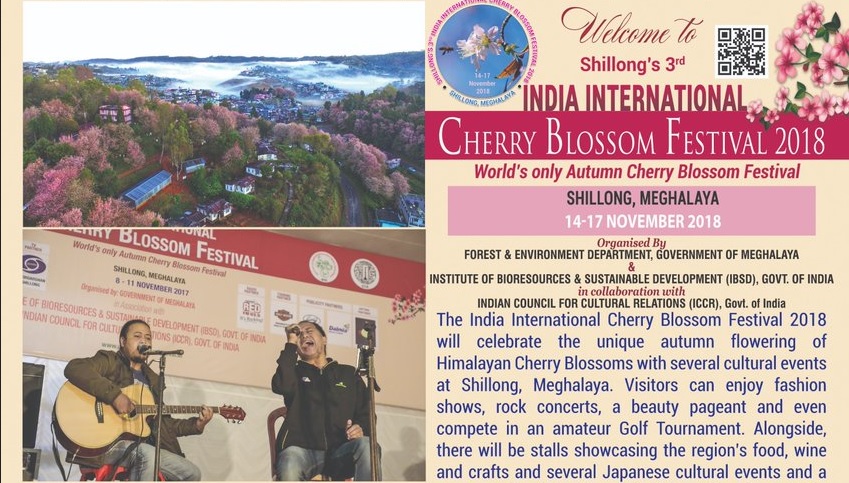 The Event
The Autumn Cherry Blossom Festival is organized by the Meghalaya government is associated with the Institute of Bio-resources and Sustainable Development and the Indian Council of Cultural Relations. It is here that the plantations of thousands of cherry blossom trees can be seen placed well alongside the guards of the bamboo tree.
Event: Autumn Cherry Blossom Festival 2018
Venue: Shillong
Start Date: Wednesday, 14-Nov-2018
End Date: Saturday, 17-Nov-2018
What To Expect At The Carnival?
It is just not a carnival of blossomed flowers but is a celebration of life. At the venue, you are going to be witnessing not only the flowering festival but also a vast range of activities lined up for its enthusiasts. The best part is it is free for all and open for all, whether natives or foreign nationals. A lot of crowds is pulled in during this course, and the activities and programs keep them on toes.

Happenings
There is a host of community events lined up for its fanatics such as the guided night walks, the live music, beauty pageants and various lip-smacking stalls to enhance your taste buds. Some of the best delicacies and art crafts can be seen here.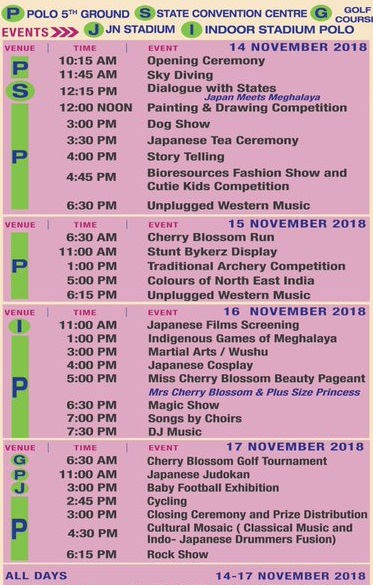 The Guided Night Walks
Imagine under the illuminated cherry blossom, strolling under the path at the Ward Lake merely is phenomenal. This step is made available in the evening from 5 p.m to 8 p.m. You can take a picture perfect capture for you and feel mesmerized altogether.
Enjoy The Live Music
You cannot miss coming here for there are some severe rock concerts, traditional folk music and unplugged western music is being played. Some of the feet tapping numbers keep you in total awe. The maestros all over the world come to this platform to give the audience a soft feel.

The Dance Zone
The dance performances from the North-east India are going to keep you captivated. The soothing music and choir at the backdrop, it is all so fascinating. It lightens up the entire atmosphere. The energy put up by the dancers are great to admire at.

Story-Telling Sessions
This is a kind of story-telling comprising of stories from local and international folklore. The way these courses are held that it keeps you glued to the line. You will forget that you ever had a mobile to capture the edges of the story-teller.
Sports Enthusiasts
The Autumn Cherry Blossom festival has little for every aspirant. If you are sports enthusiasts, you must enjoy the bicycle rallies. These are a kind to participate at. Besides, there is Golf cup tournament held. It is open for all, and you can attend too if only you have your golf set.
The Event Flow
For all the visitors coming over this festive season, here is a quick recap of what you can expect throughout the event and when. The facts are held at various venues comprising of Ward's lake, Tara Ghar, the Polo 2nd ground and the JN stadium.
14 November 2018
The day begins with Opening ceremony, followed by drawing and painting competition. Thousands of wait for the storytelling sessions to start. The very first day there is a dog show and sky diving as well.
15 November 2018
This is where the Cherry Blossom run begins. It takes you around the entire area and keeps you spellbound at its beauty. There is also traditional archery competition held which is again open for all. The stunt bikers' display is an event you cannot live a miss. It is sure to give you goosebumps. Start grooving with the unplugged western music. It is this day when you can witness the dance performances of the place known as 'Colors of the North -East India'.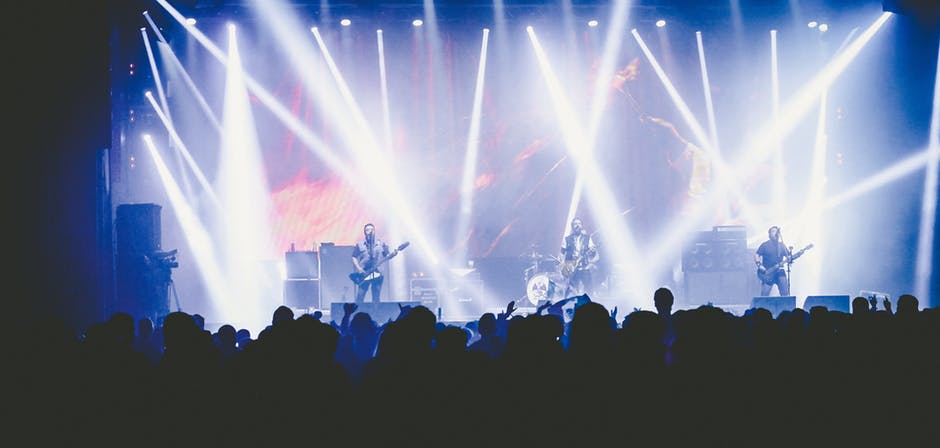 16 November 2018
Japanese Extravaganza has much more in store for its audience to keep them hypnotized throughout. There will be a film screening of Japanese movies. Miss Cherry Blossom Beauty Pageant and cute kids competition, on the other hand, has every reason to be here at. The little champs flaunt their naughtiness with ease and the hearts of the visitor's melt. The crowning of Miss Cherry Blossom Beauty is crowned here. Enjoy the live DJ music and the cuisines which are scrumptious to the core can be enjoyed to the fullest.
17 November 2018
There is a Cherry Blossom golf tournament is on seen on the last day of the event. All the golf masters with their set of golf kits are seen to master their skills on this day. Even football matches are held. A grand closing ceremony is followed by J pop and Rock show.

Where To Stay
Shillong has number of hotels and guest houses for its visitors. You get air-conditioned rooms as well as non-air-conditioned rooms. The rooms are well equipped with modern amenities. You could use either book beforehand from the sites such as MakeMyTrip, OYOrooms,Trivago, Goibobo and on. You can also get rooms to stay on arrival. However, it is preferable to book beforehand, as there are chances of non-availability of places due to the peak season.

How To Reach Here
The nearest airport to Shillong is 35 kms away which is Barapani, or you can take Guwahati which is 128 km away. From there local taxis can be made to drive to the venue.
Goodbye Note
Now that you have come to Shillong, you can also pay a visit to the nearby vicinity. You can take time off or have an extended stay to go around and see. Nohkalikai Falls in Cherrapunji, the Don Bosco Centre for Indigenous Cultures in Mawlai in Shillong, Capt. Williamson Sangma State Museum in Secretariat Hills and more to see. It is for sure that these memories are going to be there with you forever.